Instant pot Upma recipe | Rava upma | Sooji upma | South Indian tiffin recipe | healthy upma with step-by-step pictures and video recipes. Check out the instant pot Upma recipe and if you like the video pls SUBSCRIBE to my channel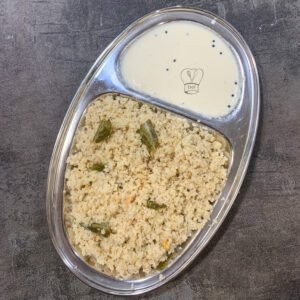 Jump to:
Sooji upma
Upma is a popular south Indian breakfast recipe. Upma is prepared with roasted rava cooked in hot water, tempered with the spice of your choice. I have used wheat rava for this Upma variety which makes a great healthy tiffin option for breakfast/ dinner.
Instant pot Rava upma
Many a time rava upma tends to turn lumpy. Upma made on stovetop requires constant stirring. The best part of IP upma is a less-effort, lump-free upma with less than 5 minutes of preparation, Upma is super easy to make.
What kind of Sooji should I use for upma?
Always use roasted rava for Upma. If you are using unroasted rava, roast well then prepare upma. I have used Udupi Roasted Upma rava, wheat. YOu can use regular sooji too or cracked wheat but adjust the water accordingly.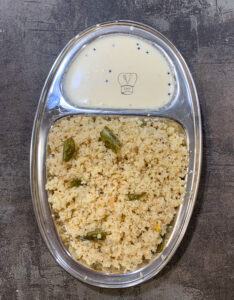 Variations for Wheat upma
Onion, vegetables of your choice can be used
whole garam masala, or add the masala powder and prepare masala upma
Amount of water?
Always use room temperature water. Avoid hot water. The exact amount of water might vary based on the brand and variety of wheat rava you use and also based on the texture you prefer upma. If you prefer mushy upma add around 3 cups of water.
Why does my Upma burn?
Always make sure nothing is stuck to the pan. Deglazing the pan is essential for no burn IP cooking. I would recommend Low-pressure cooking as it gives the best upma texture.
For the Rava upma video recipe in Tamil
Ingredients
1

cup

Roasted rava

i used Udupi roasted Upma rava, wheat

2

+ 1/2 cup water

room temperature (refer notes)

required salt
to temper
1

tablespoon

coconut oil

1/2

tablespoon

urad dal

curry leaves few

1/2

teaspoon

mustard seeds

2

green chilli

adjust according to your taste

1/2

tablespoon

chana dal

asafoetida generous portion
Instructions
Firstly add 1 tablespoon of coconut oil and turn on IP in "saute" mode

when the display shows "Hot" add mustard seeds, chana dal, and urad dal; let them splutter

Furthermore, add curry leaves, and green chilies; mix well, and roast

Add Asafoetida and give a quick mix

Furthermore, add roasted rava and Press "cancel"

mix well and make sure nothing is stuck to the pan

Add 2 +1/2 cup of water if you prefer fluffy upma. Make it 3 cups if you prefer mushy upma

Furthermore, add the required salt and mix well and make sure nothing is stuck to the pan

Cook for 5 minutes at low pressure and do Natural pressure release

Mix well and fluff the upma
Video
Notes
Always use roasted rava for Upma. If you are using unroasted rava, roast well then prepare upma

I have used Udupi Roasted Upma rava, wheat. You can use regular sooji too or cracked wheat but adjust the water accordingly

Always use room temperature water. Avoid hot water. The exact amount of water might vary based on the brand and variety of wheat rava you use and also based on the texture you prefer upma

If you prefer mushy upma add around 3 cups of water

Deglazing the pan is essential for no burn IP cooking
Variations for Wheat upma
Onion, vegetables of your choice can be used

whole garam masala or add the masala powder and prepare masala upma
Ingredients
1 cup Roasted rava (i used Udupi roasted Upma rava, wheat)
2 + 1/2 cup water, room temperature (refer notes)
required salt
to temper
1 tablespoon coconut oil
1/2 tablespoon urad dal
curry leaves few
1/2 teaspoon mustard seeds
2 green chilli (adjust according to your taste)
1/2 tablespoon chana dal
asafoetida generous portion
I am using IP DUO50
How to make Sooji Upma with step by step pictures
Firstly add 1 tablespoon of coconut oil and turn on IP in "saute" mode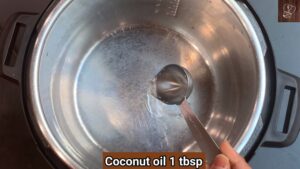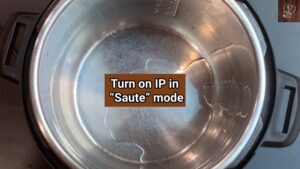 when the display shows "Hot" add mustard seeds, chana dal, and urad dal; let them splutter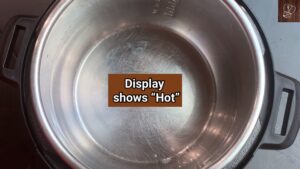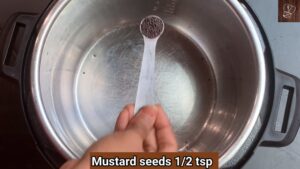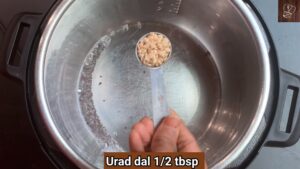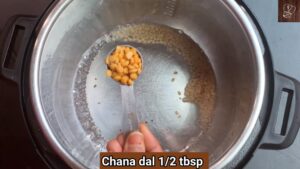 Furthermore, add curry leaves, and green chilies; mix well, and roast
Add Asafoetida and give a quick mix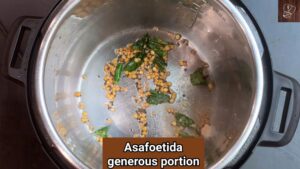 Furthermore, add roasted rava and Press "cancel"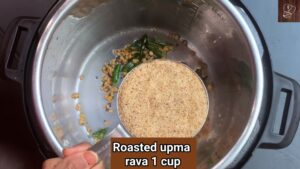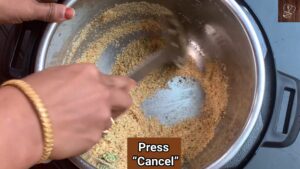 mix well and make sure nothing is stuck to the pan
Add 2 +1/2 cup of water if you prefer fluffy upma. Make it 3 cups if you prefer mushy upma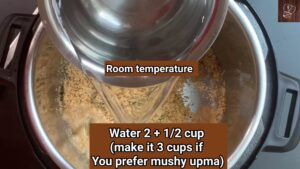 Furthermore, add the required salt and mix well and make sure nothing is stuck to the pan
Cook for 5 minutes at low pressure and do Natural pressure release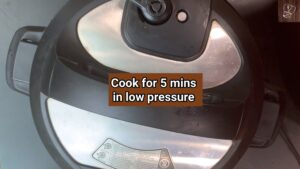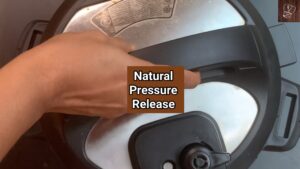 Mix well and fluff the upma