Javvarisi Vadam | Sago Papad with detailed step by step photo and video recipe. Check out the Arisi Vadam video and if you like the video pls SUBSCRIBE to my channel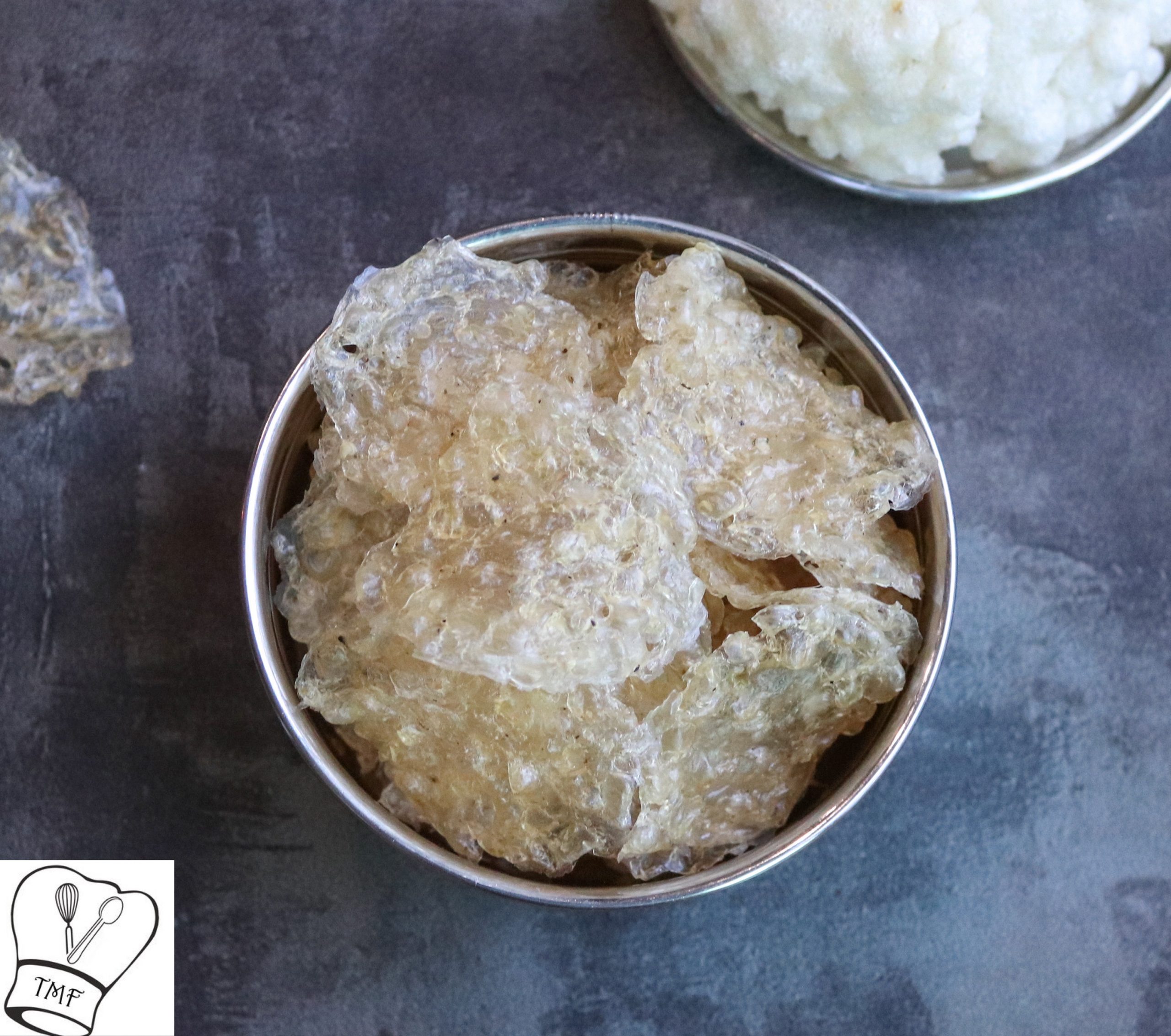 Javvarisi Vadam | Sago Papad is a tasty summer-special crispy homemade fryums. Vadam goes well with any variety rice, and is perfect when we are running out of vegetables.
Why Javvarisi vadam
Compared to Arisi vadam the cooking process of Javvarisi vadam is super easy, without complicated consistency requirements. Sago vadam is a great beginner-friendly recipe to try for the summer season. All you need is a spoon/small ladle to make sago vadam.
Without any additional ingredient, Sago makes this homemade vadam super crunchy and delicious. You can make it mild/ spicy by adding your favorite flavor. Javvarisi vadam can be made colorful with some turmeric powder/chilli powder/ herbs or add some food colors.
When to put Vadam?
Always plan ahead and put the Vadam. Make sure you get good sunlight for 3 consecutive days for Vadam to dry well in the sun.
What is the best surface to put vadam?
I always use parchment paper for making my vadam. I have seen people using plastic sheets for vadam but if you are opting for plastic sheets make sure it is of good thick quality. Most importantly the sheet should not have any wording /coloring as there is a high chance of Vadam getting impressions. Cotton cloth can also be used for making vadam.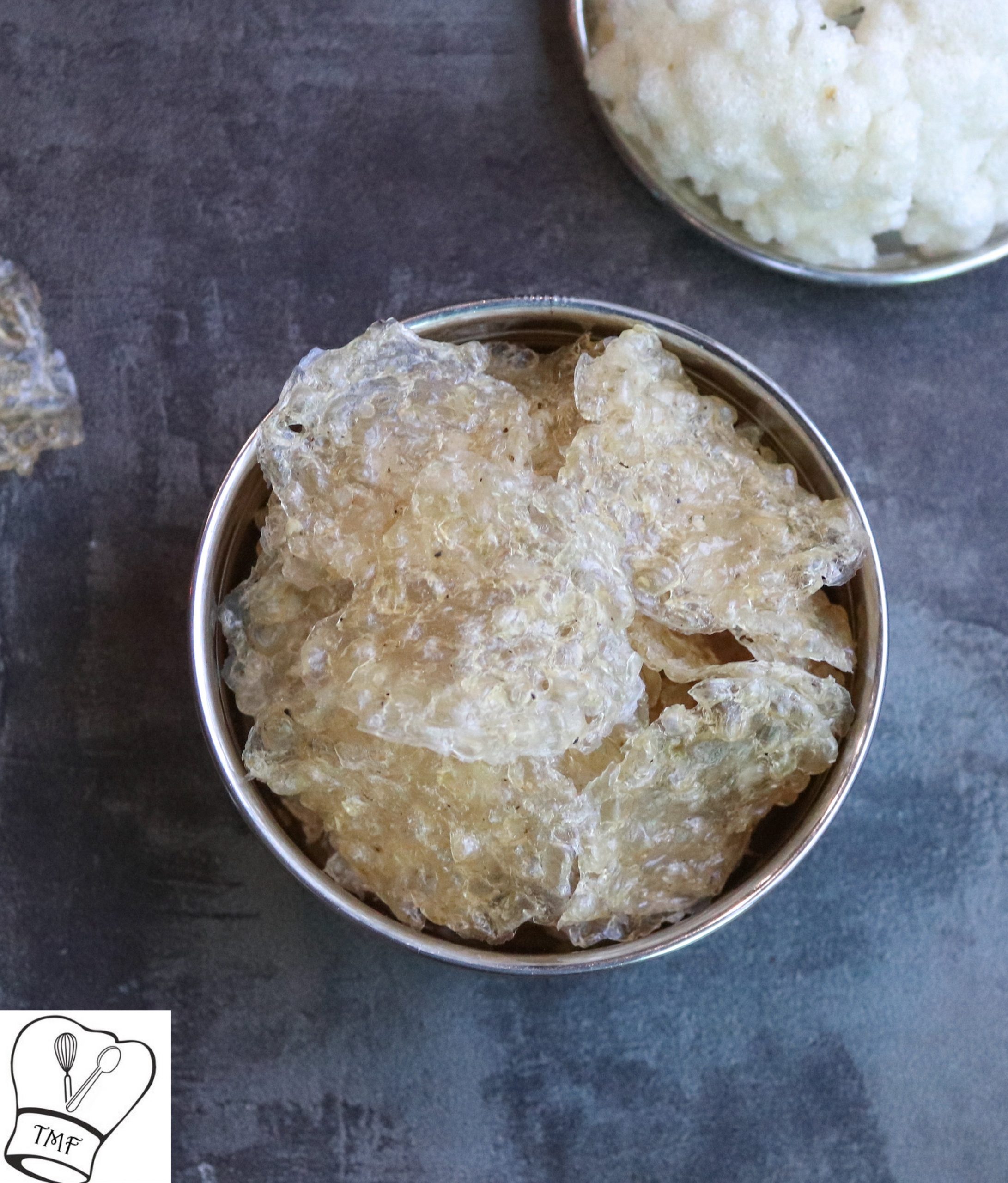 Should Sago be soaked overnight for Javvarisi vadam?
Sago needs to be soaked for at least 3-4 hours before cooking. Vadam is generally made in the morning so that it can be dried well in sun, so soaking it in the previous night makes it easy. If not we might miss the sun, or we need to soak early in the morning
Should I always cook sago in a pressure cooker?
Cooking sago in a pressure cooker is totally optional. My mother generally boils water and adds sago to hot boiling water. I usually follow the same but cooking them in a pressure cooker speeds up the process, so I have started doing it. Always make sure you use a separator while soaking sogo. If you cook it directly in the cooker there is a high chance of sago getting burnt.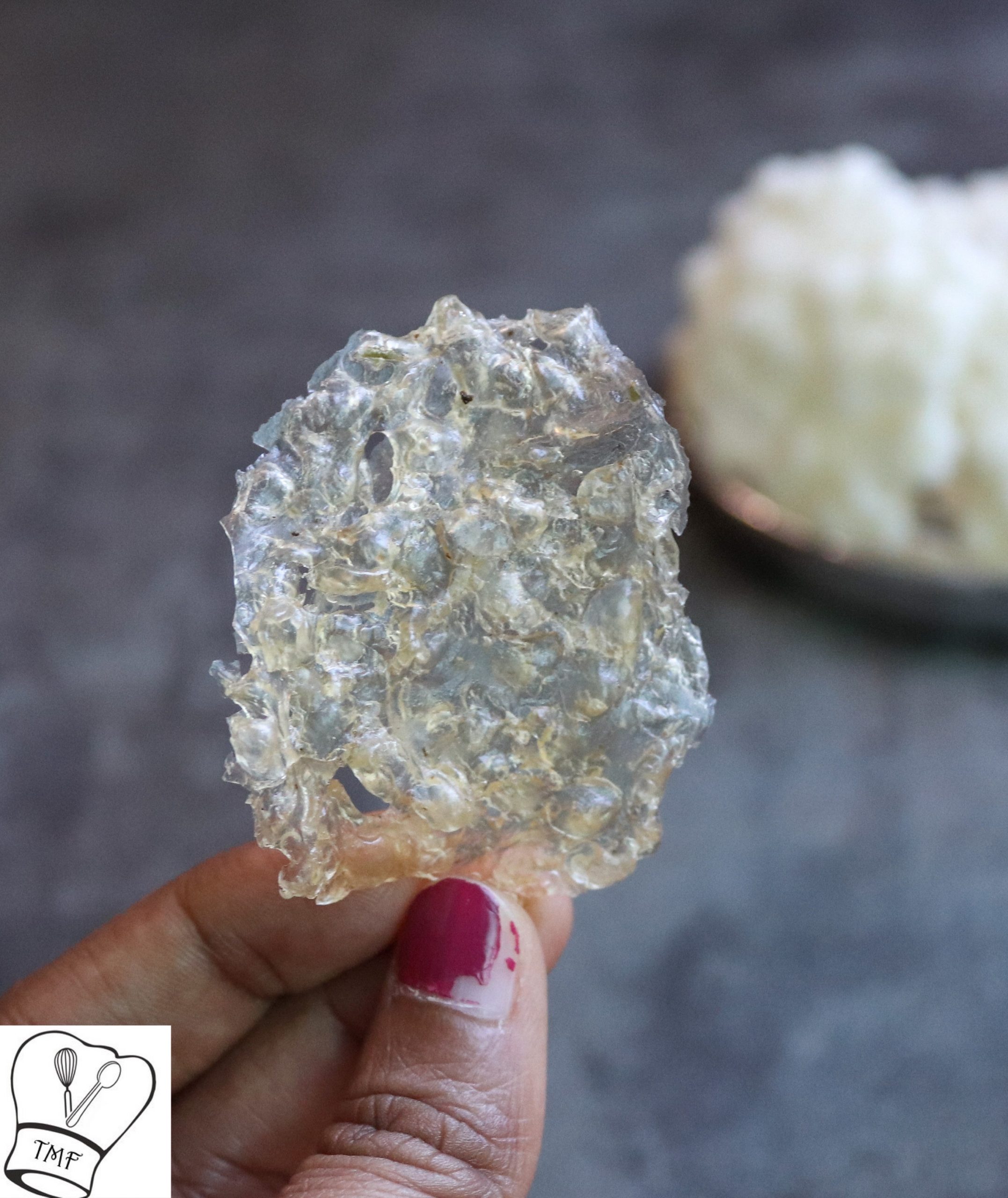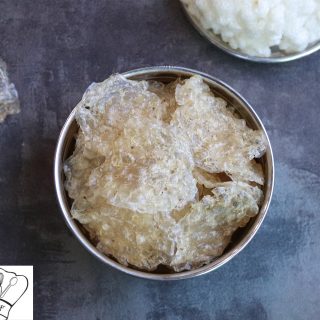 Ingredients
Javvarisi - 2 cups

use the small pearls

Water - 10 cups

Green chilli - 5

adjust according to your taste

Hing - generous pinch

Salt - as needed

Lemon juice - 2 tbsp

adjust according to your tang
Instructions
Wash sago once to remove any impurities. Avoid washing a lot as we need the starch for vadam

Soak sago at least for 2 - 3 hrs. I generally soak it overnight with 5 cups of water

Add the sago along with soaked water. Furthermore, add 3 cups of water and close with a lid

Pressure cook for 3 whistles and let the pressure release naturally

In a mixie jar add green chilli, hing, salt, and little water; grind the chilli

In a wide heavy bottomed vessel add 1 cup of water and ground green chilli; let it boil

When it is boiling well add the cooked sago

Add 1 cup of water to the cooked sago vessel. Mix well before adding water

I felt the javvarisi required some more hing flavor and some salt so added some hing and salt

Mix well and let it boil well

Turn off and let it cool down

Squeeze lemon juice and add a pinch of salt

Place a parchment paper or cloth in the yard and add stones or some firm object at the corners for support

Take a small portion of the mixture and add a little water if it's too thick. It should not be in a pourable consistency. Dry Vadam might stick to the cloth if it is in a pourable consistency

Add a small ladle full of mixture and place in a spreadable way

Leave a gap and repeat for the entire batch

Let it dry well in the sun. Based on the direction of the adjust the sheet during the day

If it is a good sunny day you can easily flip the Vadam past noon

Flip the Vadam when it is easy to flip and let it dry till sunset

Take it inside the home for the night. The next day dry it again. Flip once in a while for even drying

Repeat for 2-3 days till the Vadam is completely dry

Store it in an airtight container

Fry the Vadam in hot oil and flip for even cooking
Video
Notes
Adjust the water according to the type of sago you use
If you are cooking the sago directly it in the pan, press it in between the fingers. If it is soft in middle it means sago is cooked properly
If some sago is whitish in middle it doesn't mean it is not cooked. As it cools the whitish part will turn transparent
Sundry the javvarisi Vadam well before consuming
Avoid cooking sago directly in a pressure cooker as there is a high chance of them getting burnt
Always Store vadam in an airtight container and deep fry in oil when required
If you try to fry the vadam that is not dried properly it will burst in the oil because of the moisture so always dry vadam well
I have used only mild spice considering my son, but if you have a tolerance to spice, adjust accordingly
After the vadam porridge consistency is reached, taste the porridge and adjust the spice and salt.
Always for papad, we need to add a little less salt than usual because upon drying we feel the vadam is saltier
Ingredients:
Javvarisi - 2 cups (use the small pearls)
Water - 9 cups
Green chilli - 5 (adjust according to your taste)
Hing - generous pinch
Salt - as needed
Lemon juice - 2 tablespoon ( adjust according to your tang)
How to make Javavrisi vadam with step by step pictures
Wash sago once to remove any impurities. Avoid washing a lot as we need the starch for vadam
Soak sago at least for 2 - 3 hrs. I generally soak it overnight with 5 cups of wate

r
Add the sago along with soaked water. Furthermore, add 2 cups of water and close with a lid

Pressure cook for 3 whistles and let the pressure release naturally

In a mixie jar add green chilli, hing, salt, and little water; grind the chilli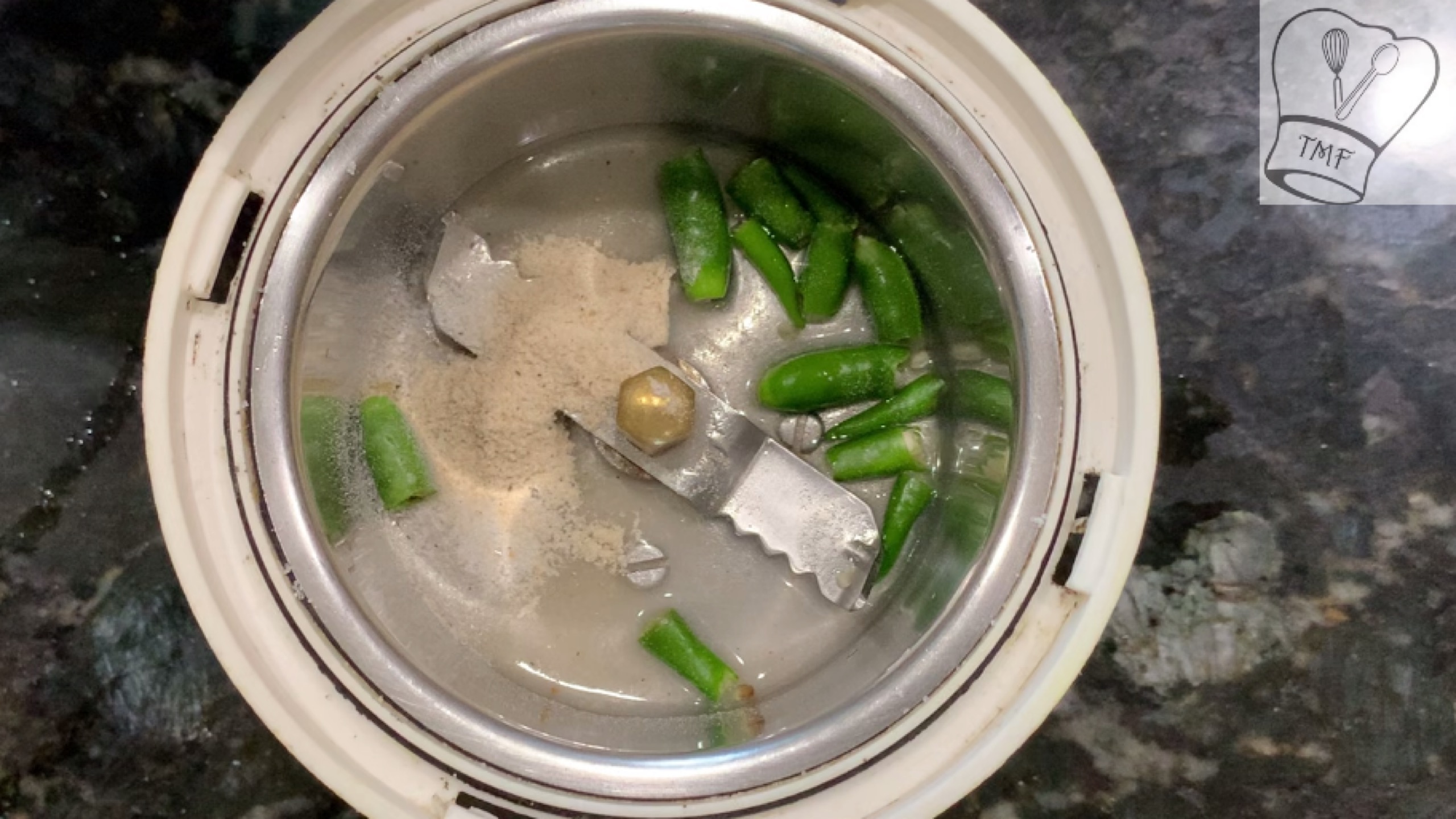 In a wide heavy bottomed vessel add 1 cup of water and ground green chilli; let it boi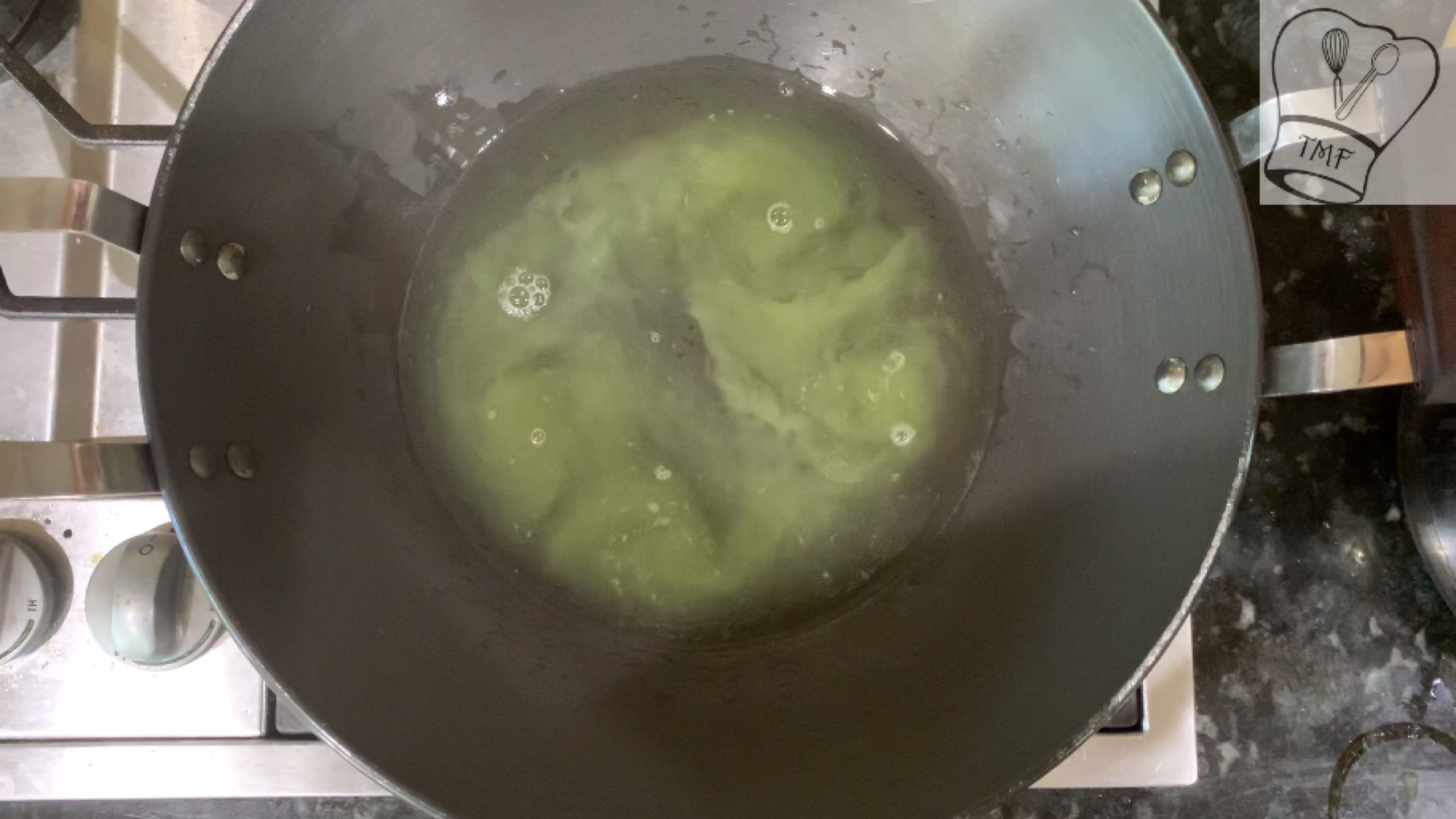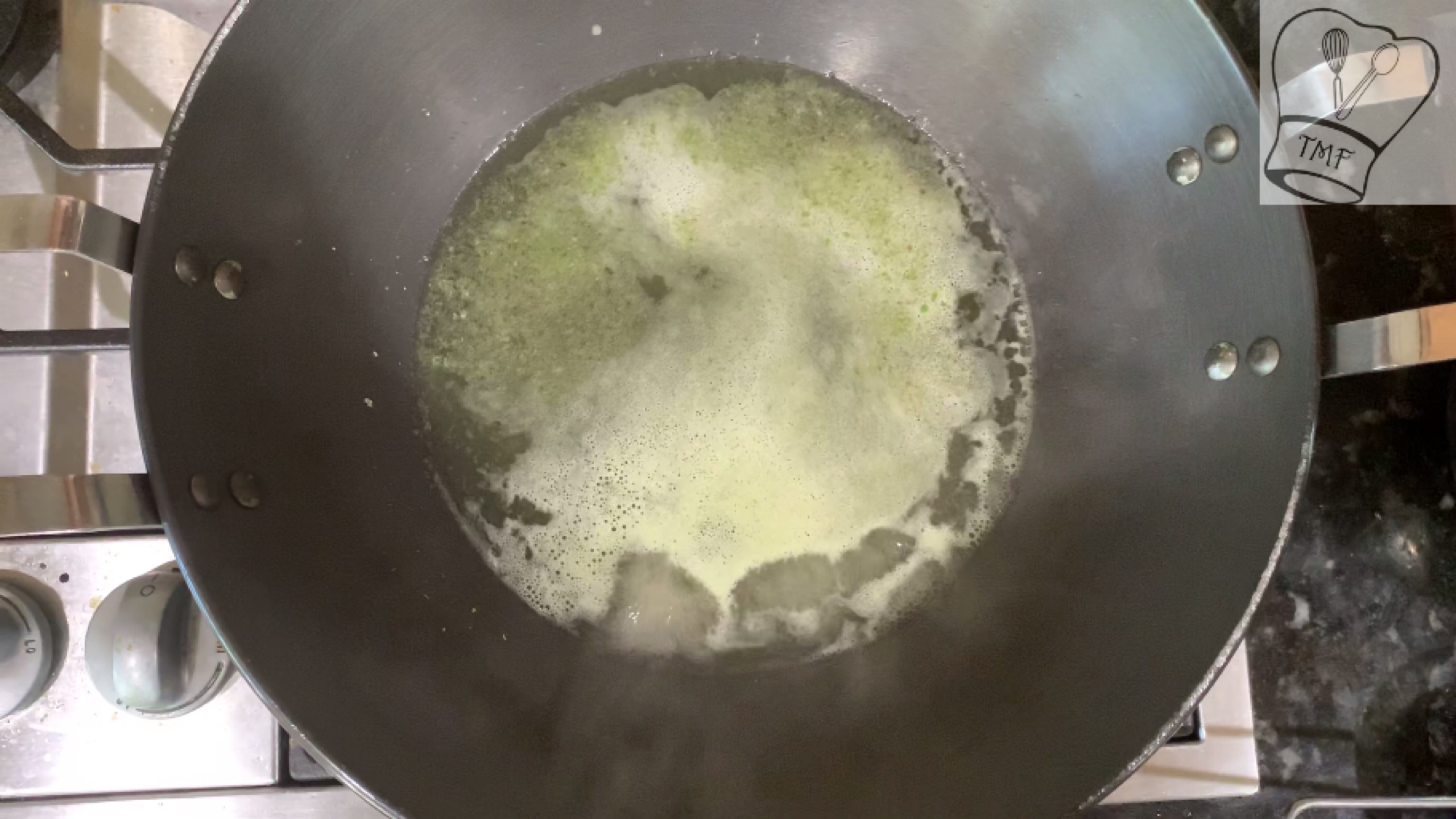 l
When it is boiling well add the cooked ago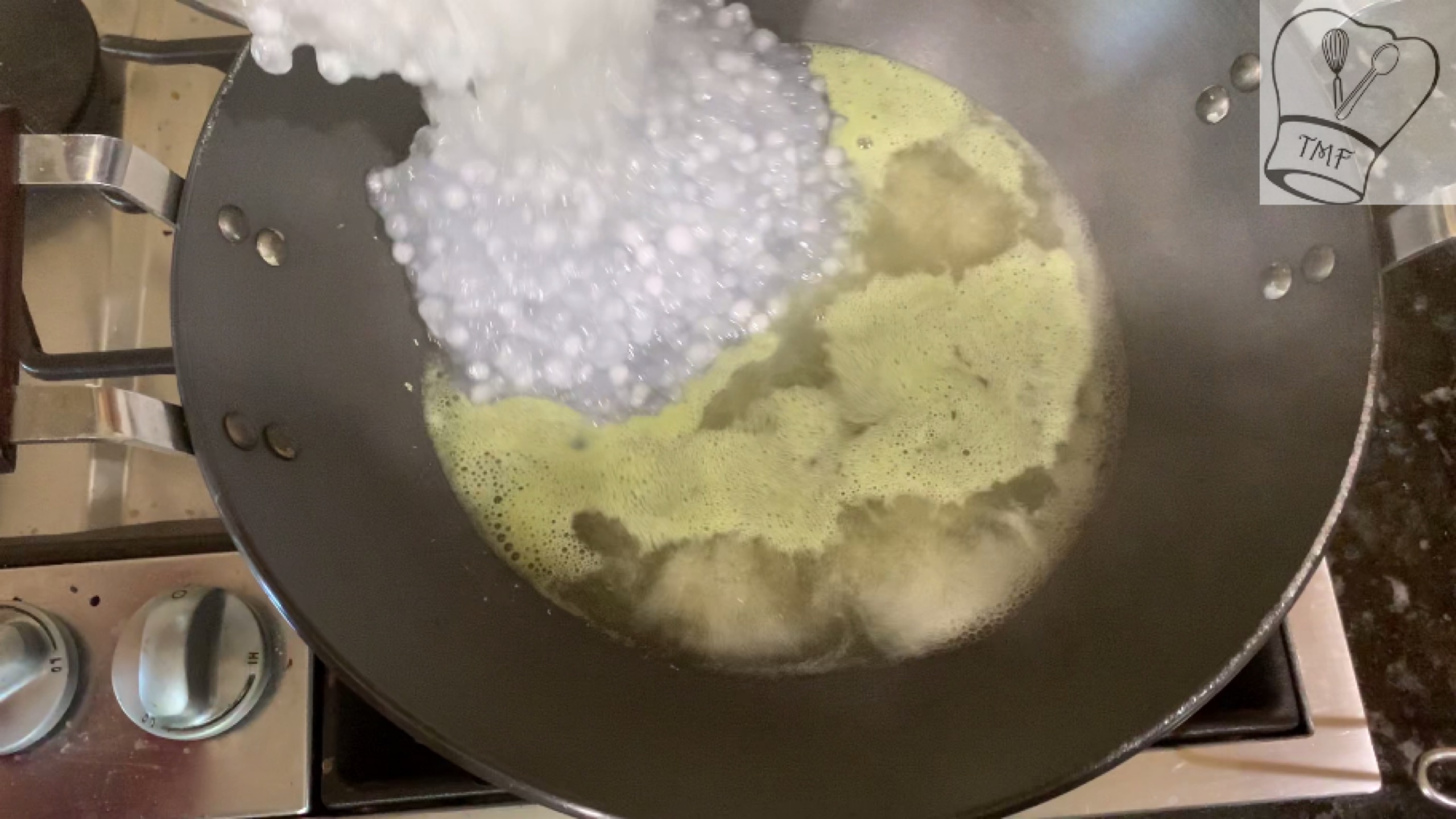 Add 1 cup of water to the cooked sago vessel. Mix well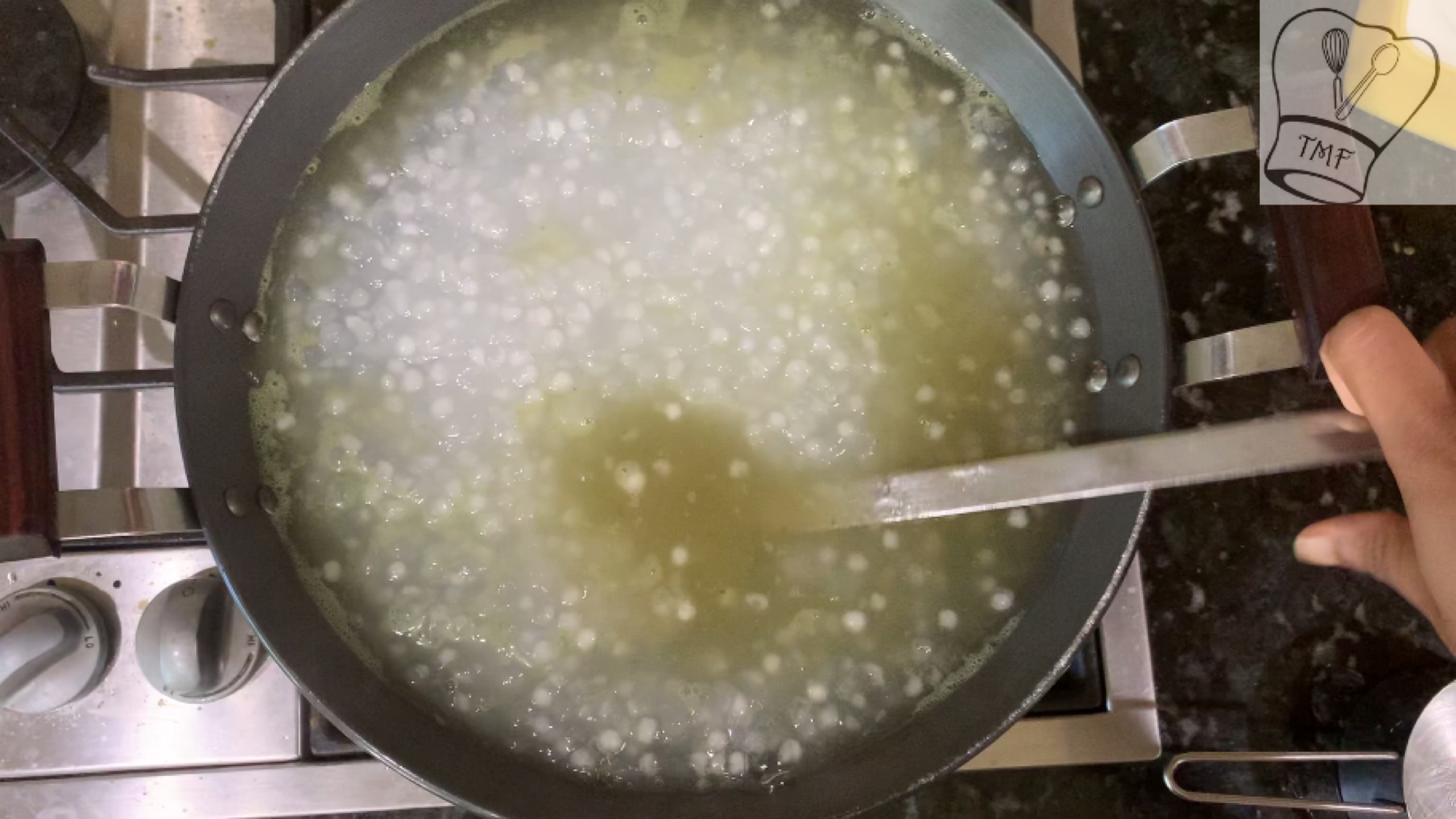 I felt the javvarisi required some more hing flavor and some salt so added some hing and salt
Mix well and let it boil well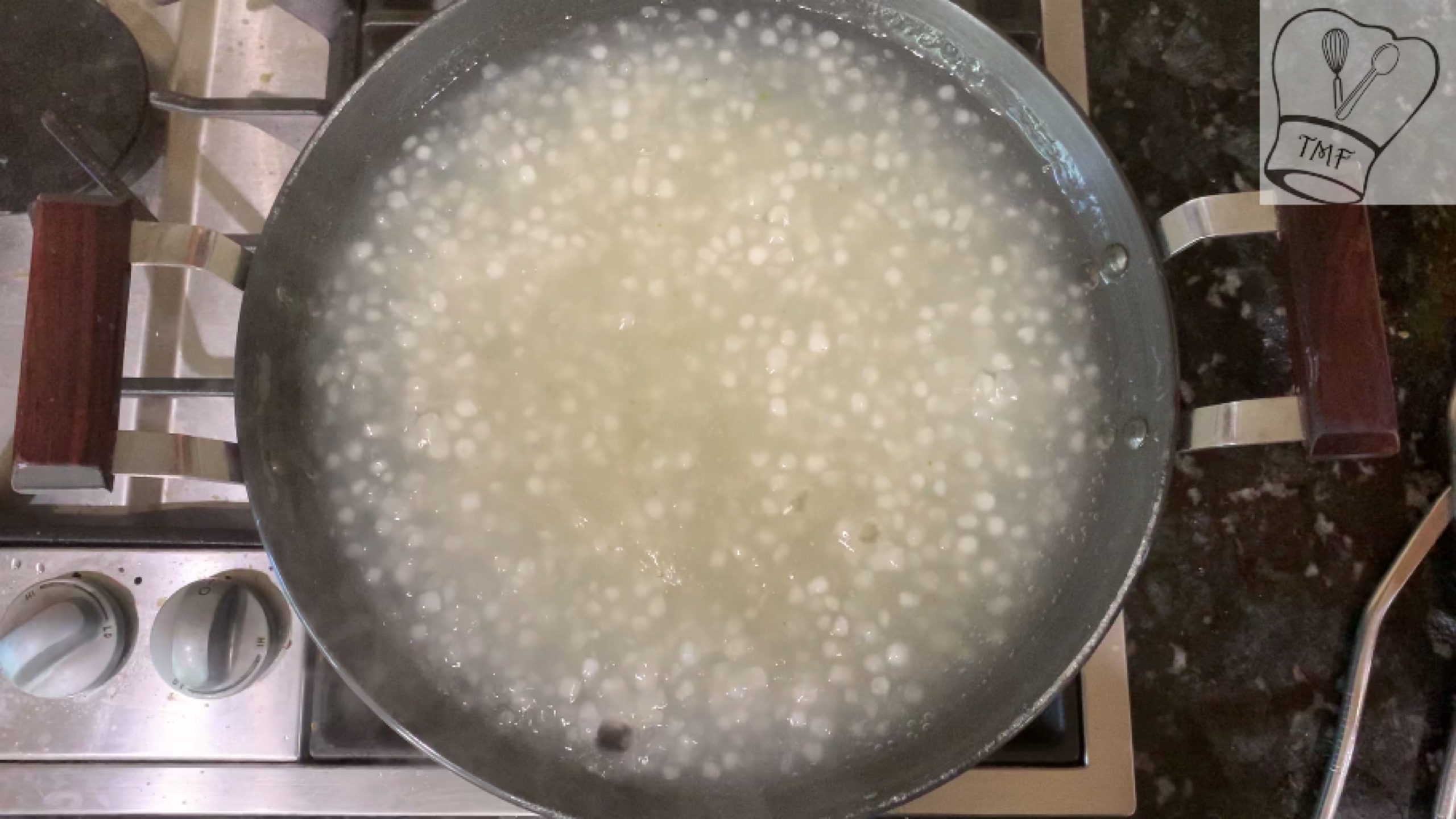 Turn off and let it cool down

Squeeze lemon juice and add a pinch of salt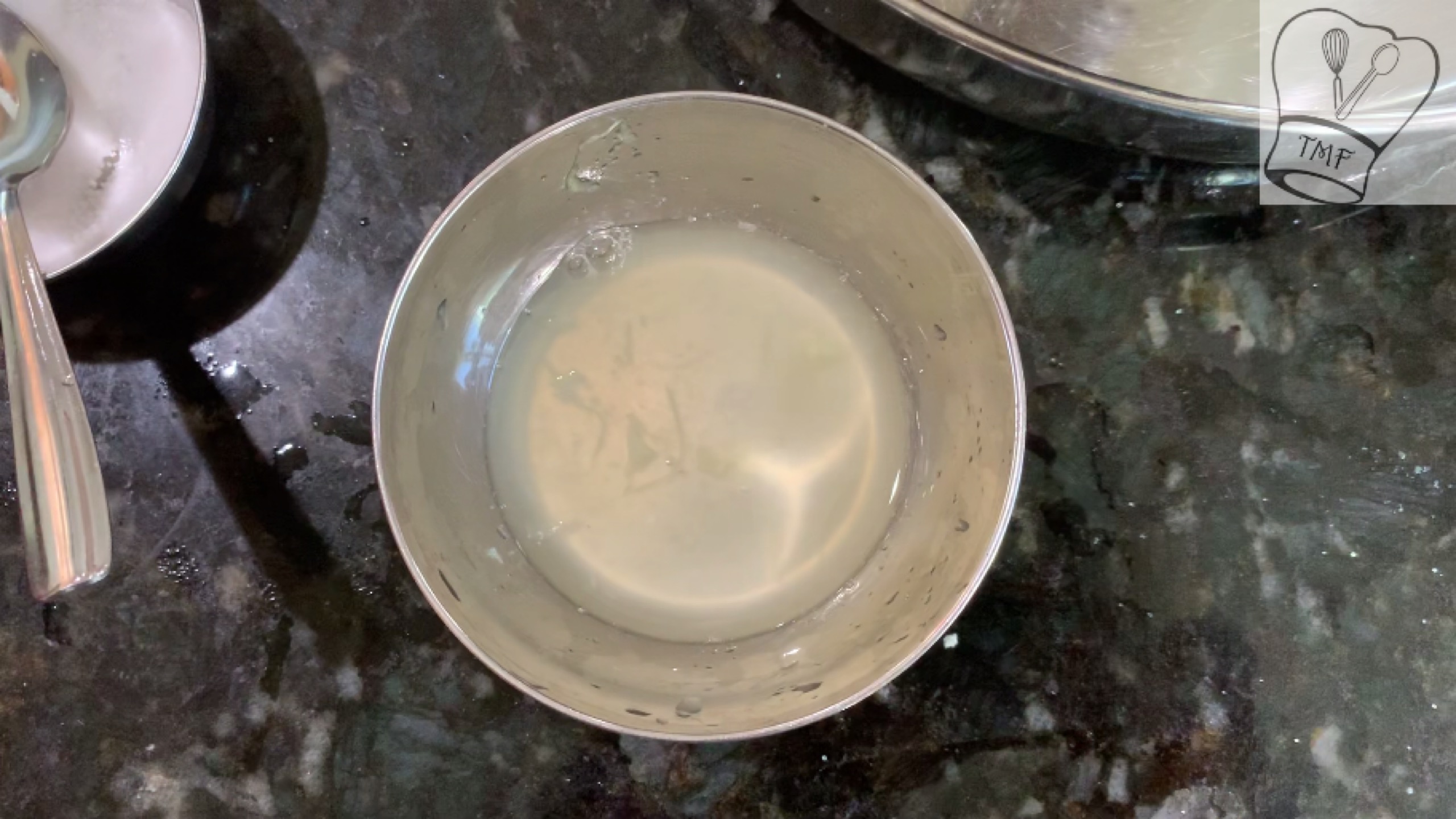 After the vadam maavu is cool add lemon juice
Place a parchment paper or cloth in the yard and add stones or some firm object at the corners for support

Take a small portion of the mixture and add a little water if it's too thick. It should not be in a pourable consistency. Dry Vadam might stick to the cloth if it is in a pourable consistency
Add a small ladle full of mixture and place in a spreadable way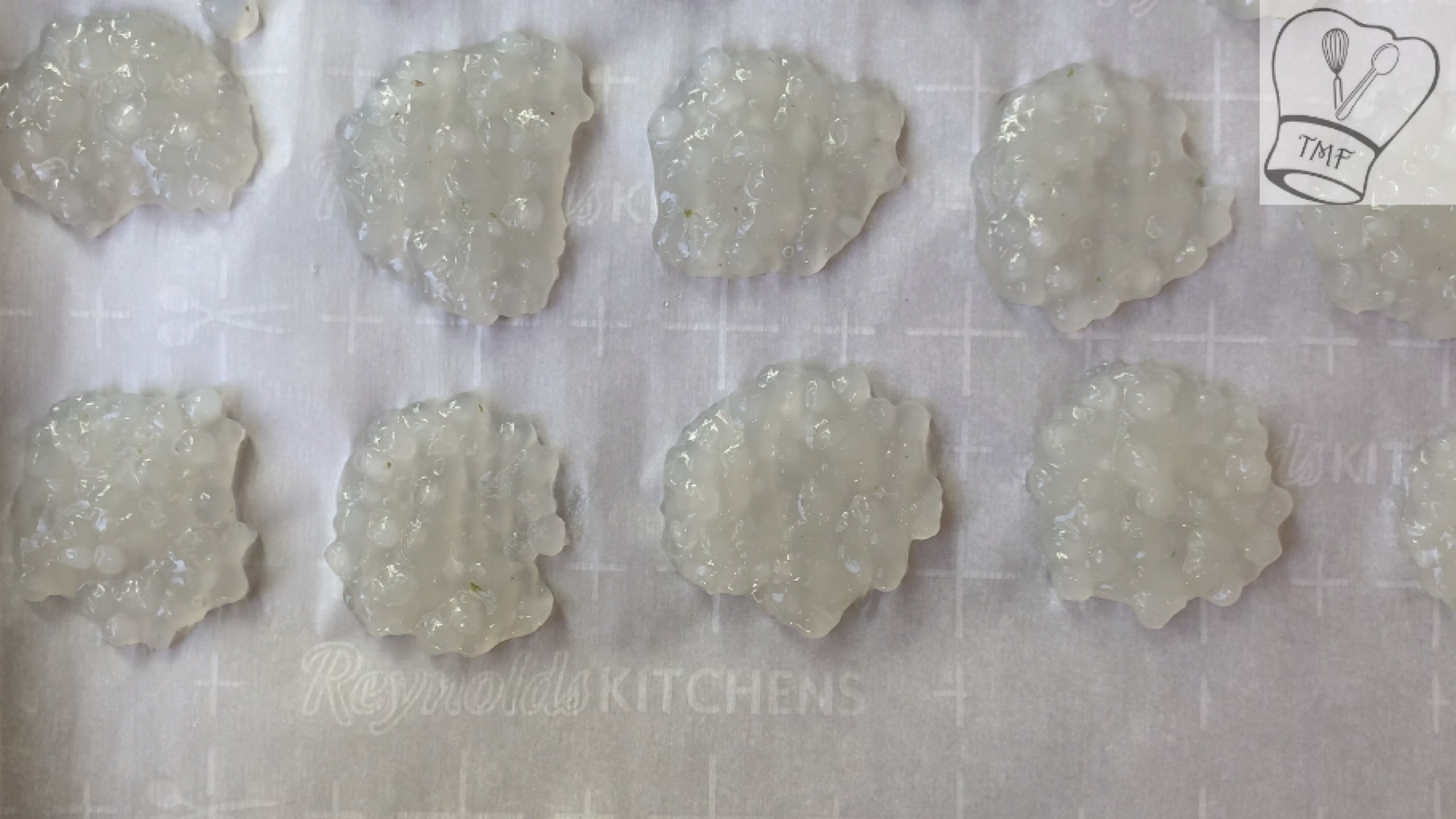 Leave a gap and repeat for the entire batch

Let it dry well in the sun. Based on the direction of the adjust the sheet during the day

If it is a good sunny day you can easily flip the Vadam past noon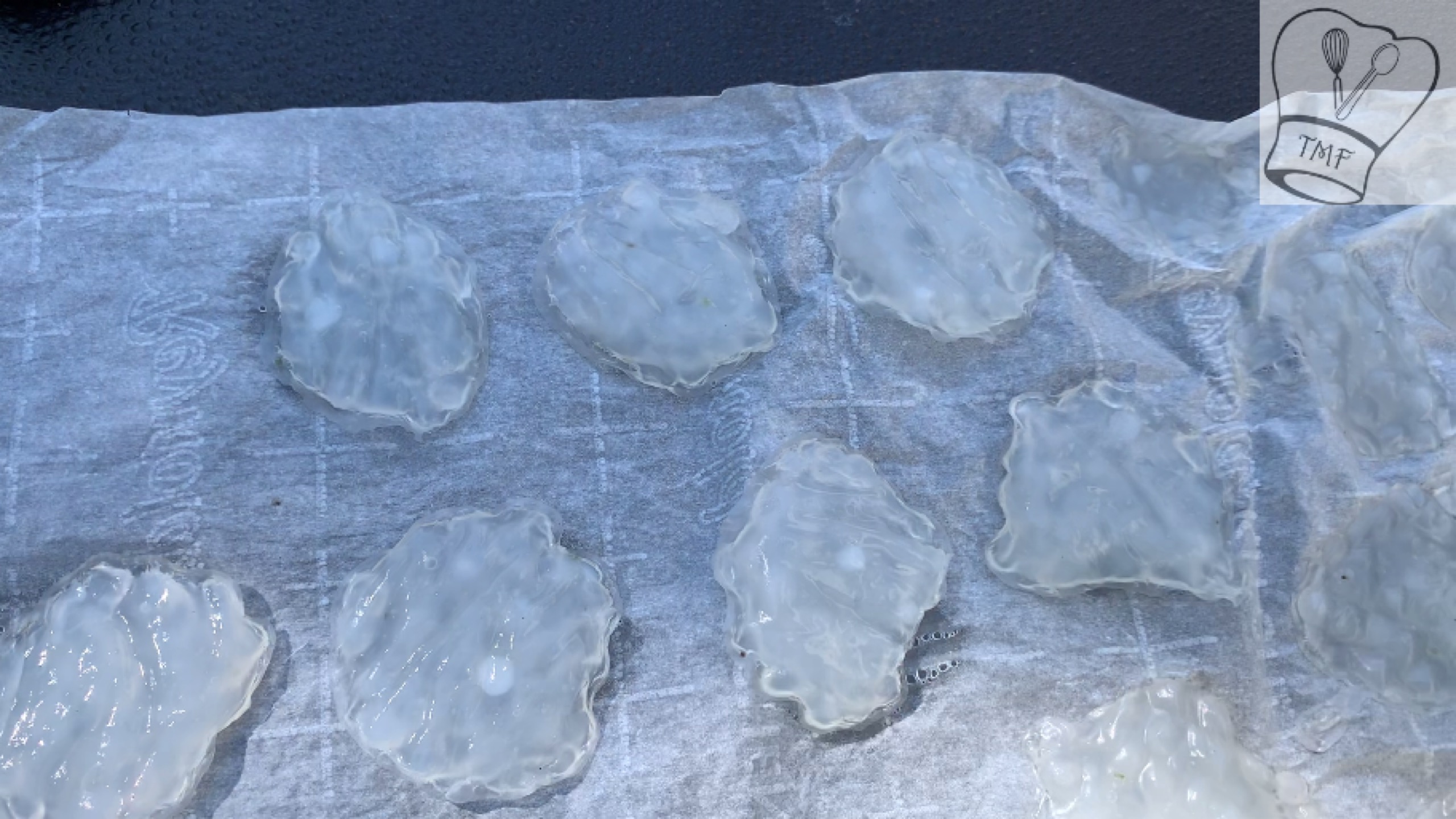 Flip the Vadam when it is easy to flip and let it dry till sunset

Take it inside the home for the night. The next day dry it again. Flip once in a while for even drying

Repeat for 2-3 days till the Vadam is completely dry

Store it in an airtight container

Fry the Vadam in hot oil and flip for even cooking