Karuveppilai podi | Curry leaves powder | Karuveppilai podi Saddam | how to make curry leaves podi | easy lunch recipe | south Indian podi variety | healthy and tasty podi | lunch box recipe | 10 mins rice| no onion no garlic Check out the Karuveppilai podi video and If you like the video pls SUBSCRIBE to my channel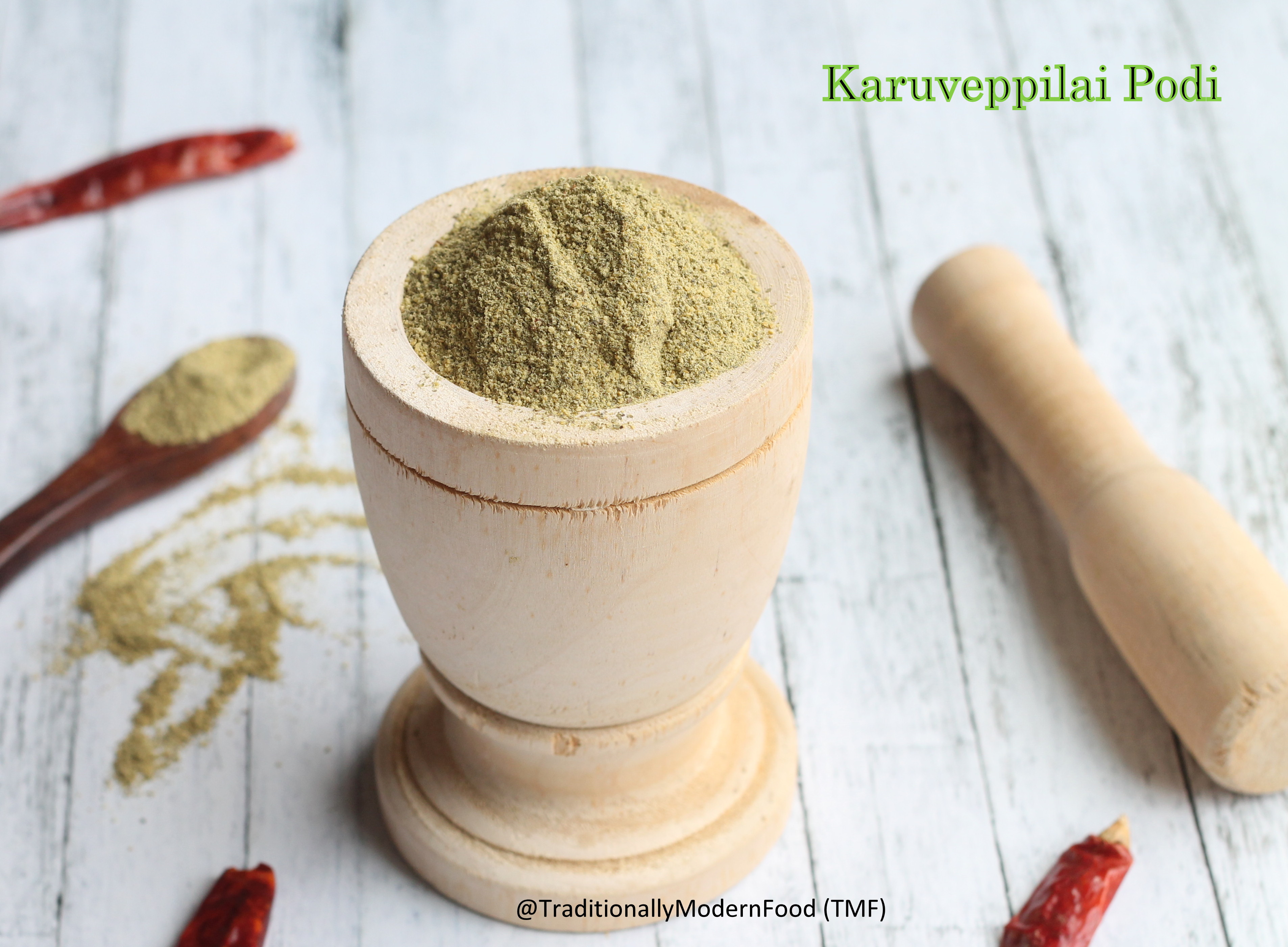 Karuveppilai Podi is a flavorful powder prepared with curry leaves and freshly roasted & ground spice mix. It tastes great when mixed with rice, tempering, and a generous amount of sesame oil.
Curry leaves podi is also a delicious side for Idli/dosa/curd rice. It is a tasty make-ahead podi that will stay good for months. Perfect for the lunchbox and travel food.
Curry leaves will be available in almost all South Indian dishes prepared in our home. Sometimes while tempering or garnishing, adding a few curry leaves gives flavor to the dish. My Amma buys groceries every day, I always see a few stems of curry leaves and coriander leaves in her grocery basket.
Ever since my childhood days, I am one of the few in our home who eats curry leaves. My sister always omits eating karuveppilai. I tell her not to waste (big sister 🙂 ).
Every summer we visit our uncle's house. Those days they had a big curry leaves the tree in the backyard. My aunt uses the fresh curry leaves from the tree for cooking. Whenever we play near the garden. I pick some curry leaves and munch on them. While coming back from the trip, my aunt gives us a big bag of curry leaves.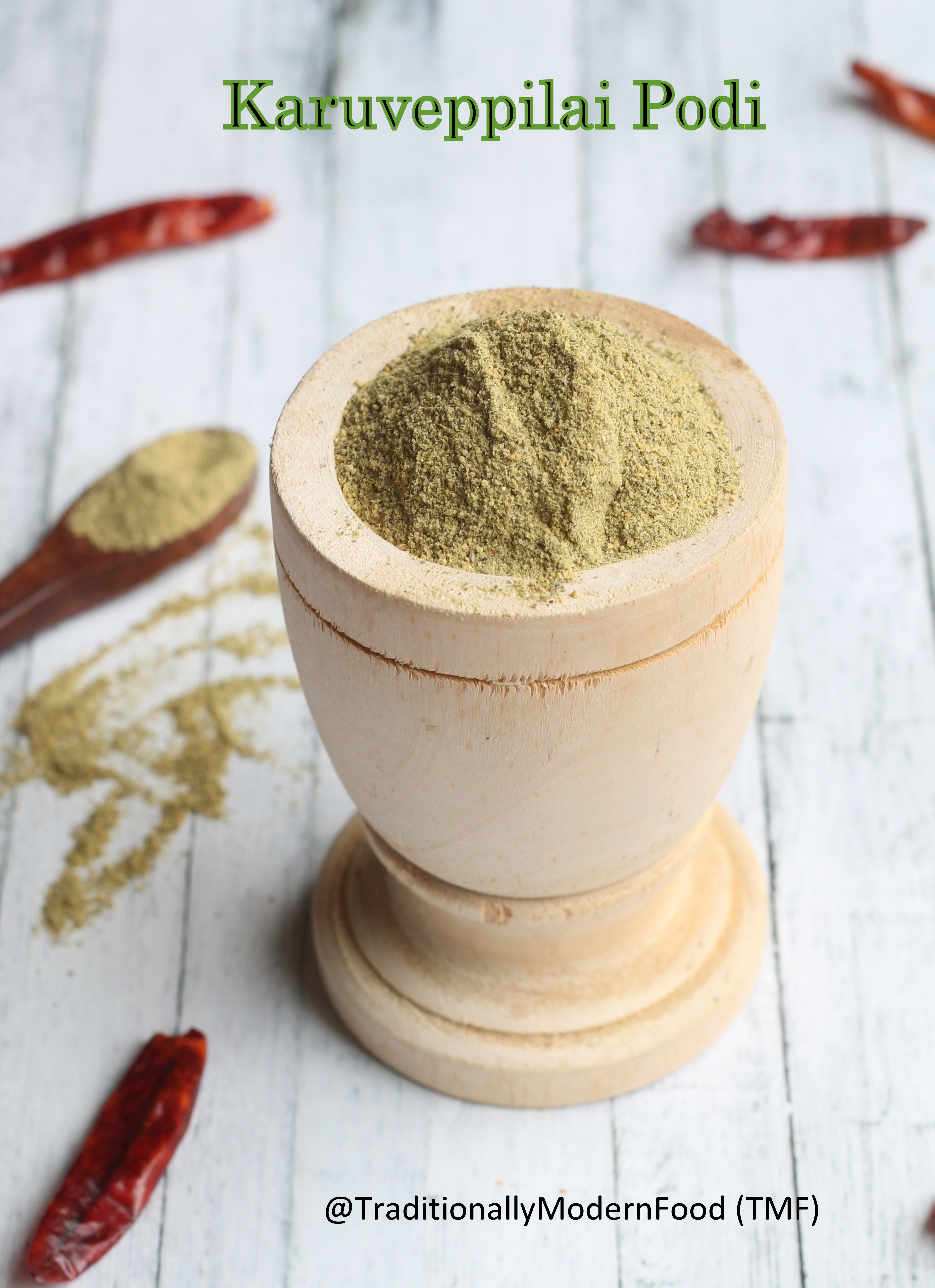 After every trip, Amma prepares this Karuveppilai podi with some of the leaves and puts it in a box. We like to eat it with rice. My father takes it as a milagai podi, adds some oil to the curry leaves podi, and uses it as a side for idli.
When I was in college, my close friend was a Mallu. I have visited her house many times. I love aunty's food. Knowing my sweet addiction, every time I visit her, aunty makes delicious sweets. She also adds lots of curry leaves in her cooking for me😊
Coming back to the Karuveppilai podi. This flavorful podi can be prepared within 10 minutes. If mixed with rice it makes tasty curry leaves rice. You can have it plain or make a tasty tadka (thalliupu) with mustard seeds, channa dal, and peanuts.
Here I generally buy a packet of curry leaves and use it for the entire week. Whenever my Amma sends me a courier, she prepares curry leaves podi, and coconut podi, and sends them. I use it for a month. It will stay good for months but freshness will be there only for some time.
Last summer when my Amma visited I went to Indian stores and saw offers on curry leaves. Immediately I thought about the Karuveppilai podi and asked my Amma to prepare it.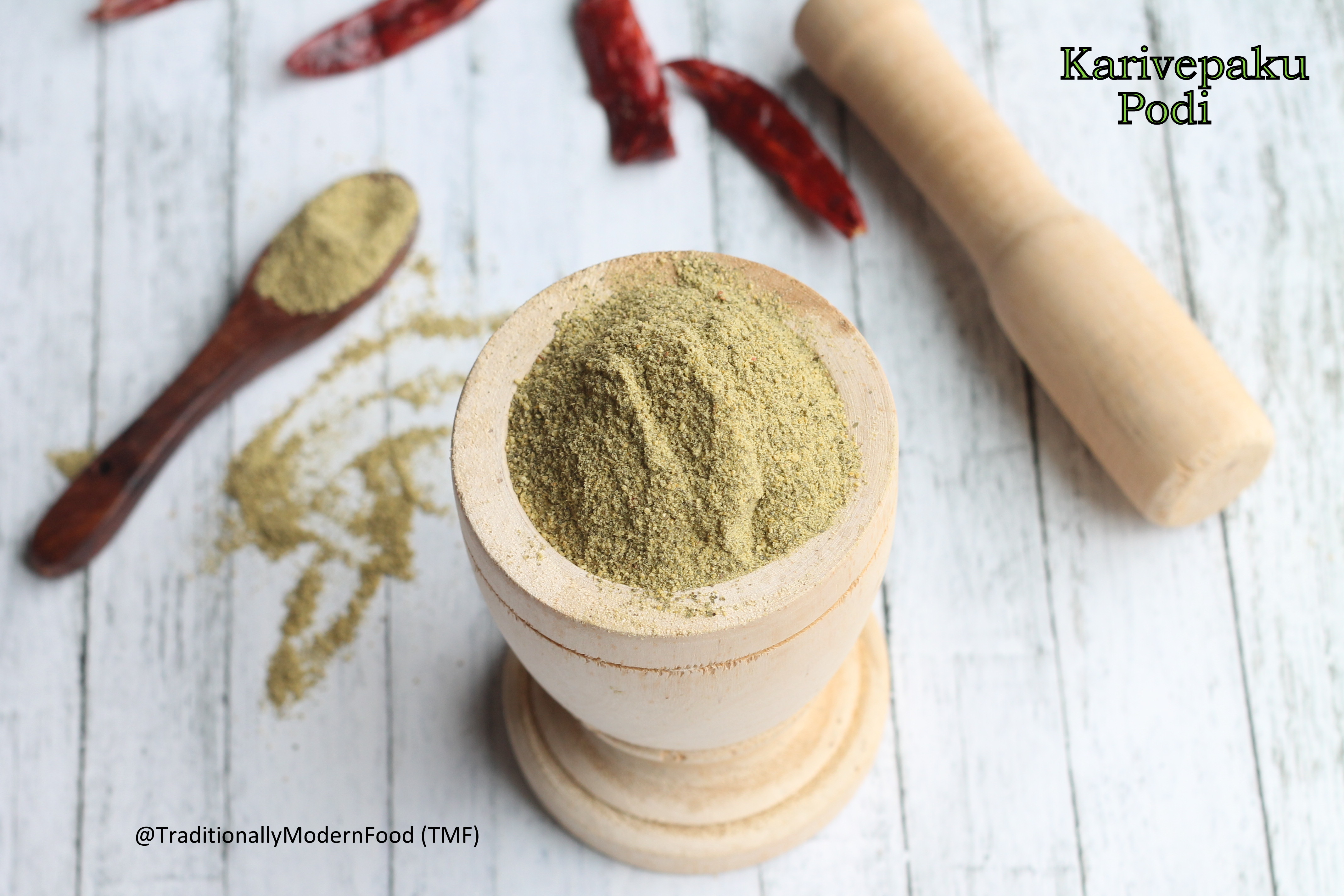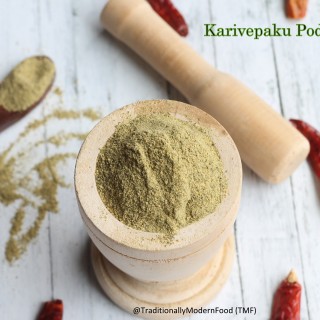 Ingredients
1

cup

Curry leaves tightly pressed

2

tablespoon

Channa Dal/ Bengal gram dal

2

tablespoon

Urad dal

1

teaspoon

Whole Black Pepper

3

Red Chillies

pinch

of Turmeric powder

Required Salt

1/4

teaspoon

Asafoetida
Instructions
Extract the curry leaves from the stem and wash them. Spread the washed curry leaves on a cloth/kitchen towel. Let curry leaves dry well

Dry roast urad dal, channa dal, red chilli, and pepper until starting to change color

Add curry leaves and saute till dal turn golden brown

Transfer the dal to a plate and place the curry leaves back to the hot pan and let curry leaves cool in the pan

After everything is cool first dry grind the dal, pepper, red chilli, salt, and turmeric powder

Furthermore add curry leaves and  asafoetida; grind curry leaves powder

Store it in an airtight container
Video
Notes
Store it in an airtight container so that podi freshness will be maintained
Roasted garlic can be added for extra flavor
Curry leaves can also be roasted in the microwave for 2-3 minutes
 Roasted coconut (2 tbsp) can be added to the podi
If you like tangy flavor small gooseberry size Tamarind can be ground along with roasted dal
 2 tablespoon of toor dal can also be dry roasted with other dal. In that case, reduce channa dal to 2 tbsp
 Oil is not required for dry roasting
 Adjust the spice according to your taste
Ingredients
1 cup Curry leaves tightly pressed
2 tablespoon Channa Dal/ Bengal gram dal
2 tablespoon Urad dal
1 teaspoon Whole Black Pepper
3 Red Chillies
pinch of Turmeric powder
Required Salt
1/4 teaspoon Asafoetida
How to Karuveppilai podi with step-by-step pictures:
Extract the curry leaves from the stem and wash them. Spread the washed curry leaves on a cloth/kitchen towel. Let curry leaves dry well

Dry roast urad dal, channa dal, red chilli, and pepper until starting to change color

Add curry leaves and saute till dal turns golden brown

Transfer the dal to a plate and place the curry leaves back in the hot pan and let the curry leaves cool in the pan

After everything is cool first dry grind the dal, pepper, red chilli, salt, and turmeric powder

Furthermore, add curry leaves and asafoetida; grind curry leaves powder

Store it in an airtight container