Kerala parippu curry | kerala style Dal curry | nadan kerala pariappu curry | onam sadya recipe | kerala sadya recipe | coconut dal | vegan dal | sadya special parippu | cherupayar parippu curry with step-by-step pictures, and video recipe. Check out the dal curry recipe if you like the video pls SUBSCRIBE to my channel.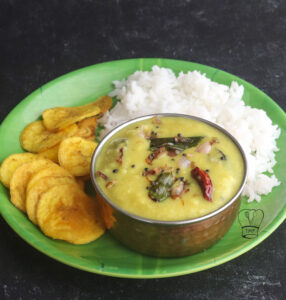 Keral-style Lentil curry
comforting parippu curry is must in Kerala special sadya. Without many ingredients, dal curry is super easy to make and tastes delicious.
CAN I SKIP SOAKING DAL?
Yes, soaking is optional but helps for mushy dal.
Can I use toor dal?
Traditionally moong dal is used for Kerala paruppu curry. For homestyle curry you can use any dal of your choice.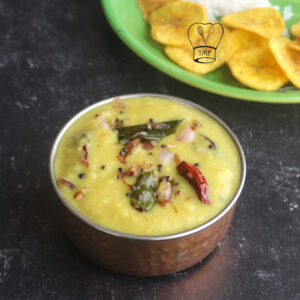 WILL IT BE SPICY?
No, pasi paruppu dal is with a subtle taste. If you prefer spicy paruppu curry adjust the chilli accordingly.
SHOULD I ADD THE GHEE TEMPERING?
For authentic Kerala lentil curry I have used coconut oil. You can use any oil of your choice. Serve it with a dallop of ghee
Can I skip coconut
Coconut gives the best flavour for the curry. Skipping it will alter the dal taste.
Can I skip onion?
Onion is optional. You can skip and prepare the curry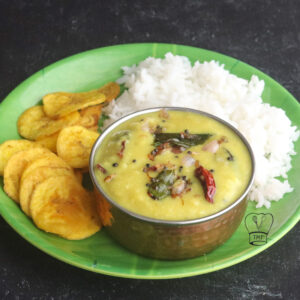 Ingredients
pressure cook
1/4 teaspoon sesame oil
1/2 cup moong dal
1+1/2 cup water
1/4 teaspoon turmeric powder
1/2 cup moong dal
to grind
1/3 cup coconut
1 green chilli
1/2 teaspoon cumin seeds
2 small onion
parippu curry
required salt
to temper
1 tablespoon coconut oil
1/2 teaspoon mustard seeds
curry leaves few
2 red Chilli
15 small onion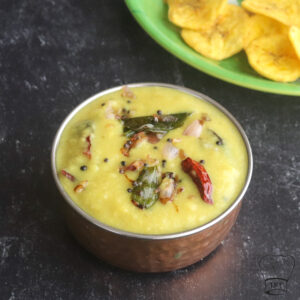 how to make Nadan Kerala parippu curry with step-by-step pictures
First, wash moong dal with enough water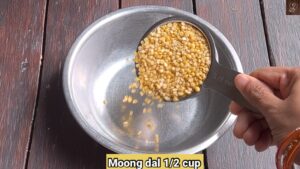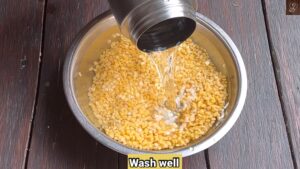 add hot water, sesame oil, and turmeric powder; soak for 3o minutes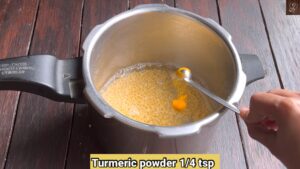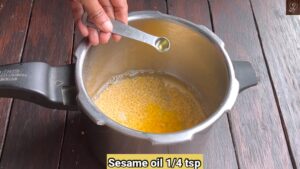 Pressure cook for 5 whistles and simmer for 1 minute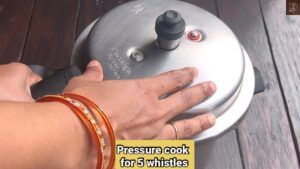 Grind coconut, green chilli, cumin seeds, small onion, and water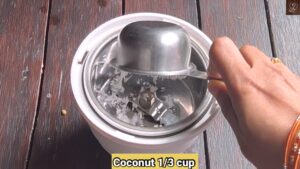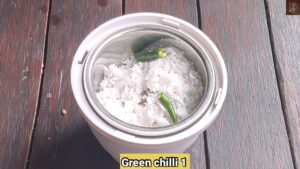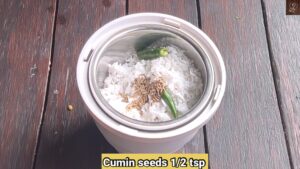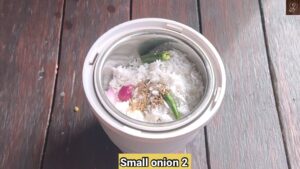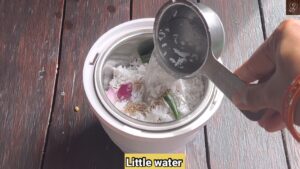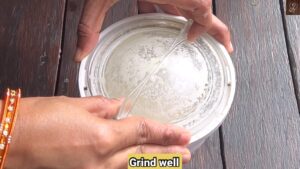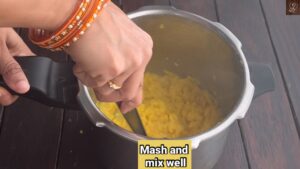 Furthermore, add hot water and mix well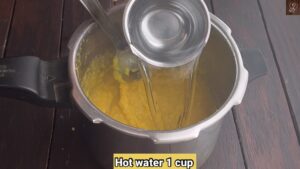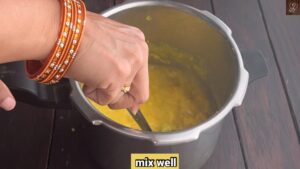 Add ground coconut, water and required salt; mix well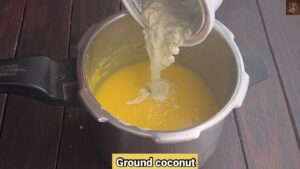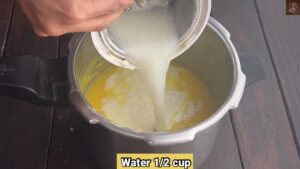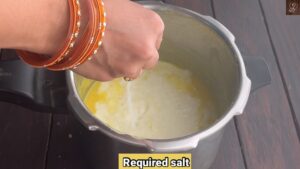 Boil for 8 minutes. Mix well in between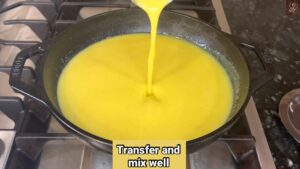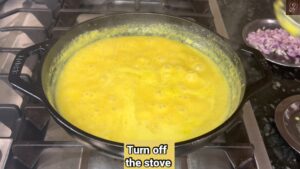 Add coconut oil to a pan and heat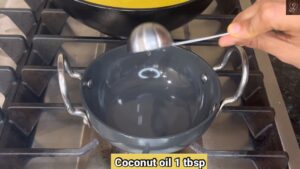 Furthermore, add mustard seeds; splutter
Add red chilli and curry leaves; mix well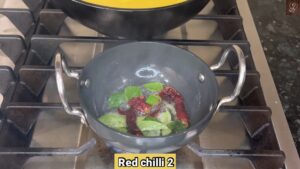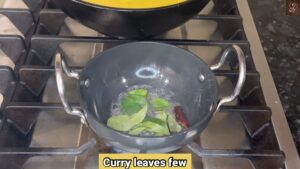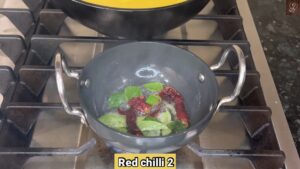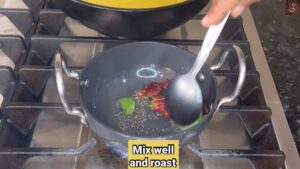 Add small onions; mix well and saute till they turn translucent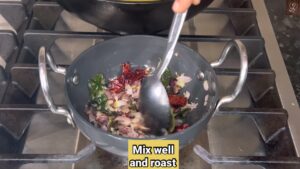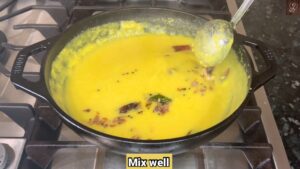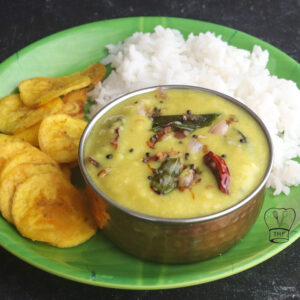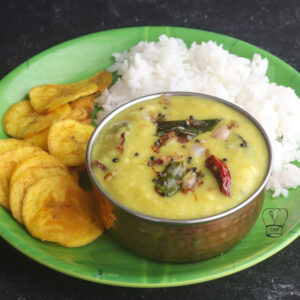 Ingredients
pressure cook
1/4

teaspoon

sesame oil

1/2

cup

moong dal

1

+1/2 cup water

1/4

teaspoon

turmeric powder

1/2

cup

moong dal
to grind
1/3

cup

coconut

1

green chilli

1/2

teaspoon

cumin seeds

2

small onion
to temper
1

tablespoon

coconut oil

1/2

teaspoon

mustard seeds

curry leaves few

2

red Chilli

15

small onion
Instructions
First, wash moong dal with enough water

add hot water, sesame oil, and turmeric powder; soak for 3o minutes

Pressure cook for 5 whistles and simmer for 1 minute

Grind coconut, green chilli, cumin seeds, small onion, and water

Mash and mix cooked dal

Furthermore, add hot water and mix well

Add ground coconut, water and required salt; mix well

Boil for 8 minutes. Mix well in between

Add coconut oil to a pan and heat

Furthermore, add mustard seeds; splutter

Add red chilli and curry leaves; mix well

Add small onions; mix well and saute till they turn translucent

Transfer to the dal
Video