Kondakadalai Sundal is a protein rich flavorful sundal prepared with chickpea. It is great protein rich after school snacks for kids.
Today being Varalakshmi Pooja, I had prepared Sweet Kozhukkatai, Sundal, Wheat Appam and paruppu Payasam. Kondakadalai Sundal is also prepared during Vinayaka Chaturthi and Navarathri. It goes well with rice and as a tea time snack.
Previously I had posted Channa Masala with kondakadalai, and this sundal is a no-onion no-garlic version, as it is prepared for pooja. Knowing today is pooja day, many of my friends asked for Kozhukattai recipe, knowing I would have prepared that. But to update the notes better, and to make a detailed recipe, I need to discuss with two Kozhukattai experts (my Mom and Mother in Law). Recipes for Sweet Kozhukattai and paruppu Payasam are coming soon.
Kondakadalai Sundal
Preparation Time : 5 min | Soaking Time : 8 hrs | Cooking Time : 25 min | Serves : 3
Recipe Category : Appetizer/Snack
Ingredients:
Chickpeas/Kondakadalai/Channa- 1 cup
Shredded Coconut (Fresh/Frozen) – 3 tbsp
Salt – as needed
To Temper:
Mustard Seeds – 1/4 tsp
Urad dal – 1/2 tsp
Dry Red chillies – 2
Channa Dal – 1/2 tsp
Curry leaves – 1 spring
Hing/Asefotida – generous pinch
Coconut Oil- 1 tsp
Method:
Soak Channa overnight, or at least for 8 hours. Drain the water, add 3 cups of fresh water and pressure cook for 3 whistles. Once the cooker comes to room temperature drain the water and keep Channa aside
Add oil to the pan, when the oil is hot add 'to temper' items let it crackle
Add chana and required amount of salt and mix well and cook it on low flame for 2 mins. Add coconut and saute for a minute and switch off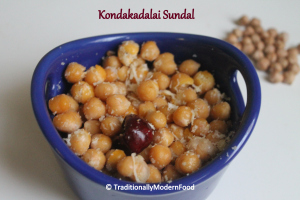 Ingredients
Chickpeas/Kondakadalai/Channa- 1 cup

Shredded Coconut

Fresh/Frozen - 3 tbsp

Salt - as needed

To Temper:

Mustard Seeds - 1/4 tsp

Urad dal - 1/2 tsp

Dry Red chillies - 2

Channa Dal - 1/2 tsp

Curry leaves - 1 spring

Hing/Asefotida - generous pinch

Coconut Oil- 1 tsp
Instructions
Soak Channa overnight, or at least for 8 hours. Drain the water, add 3 cups of fresh water and pressure cook for 3 whistles. Once the cooker comes to room temperature drain the water and keep Channa aside

Add oil to the pan, when the oil is hot add 'to temper' items let it crackle

Add chana and required amount of salt and mix well and cook it on low flame for 2 mins. Add coconut and saute for a minute and switch off
My Notes:
Coconut oil gives nice aroma for sundal, so it is preferable
Tinned Chickpea can also be used
Instead of adding coconut at the end, you can also add after tempering