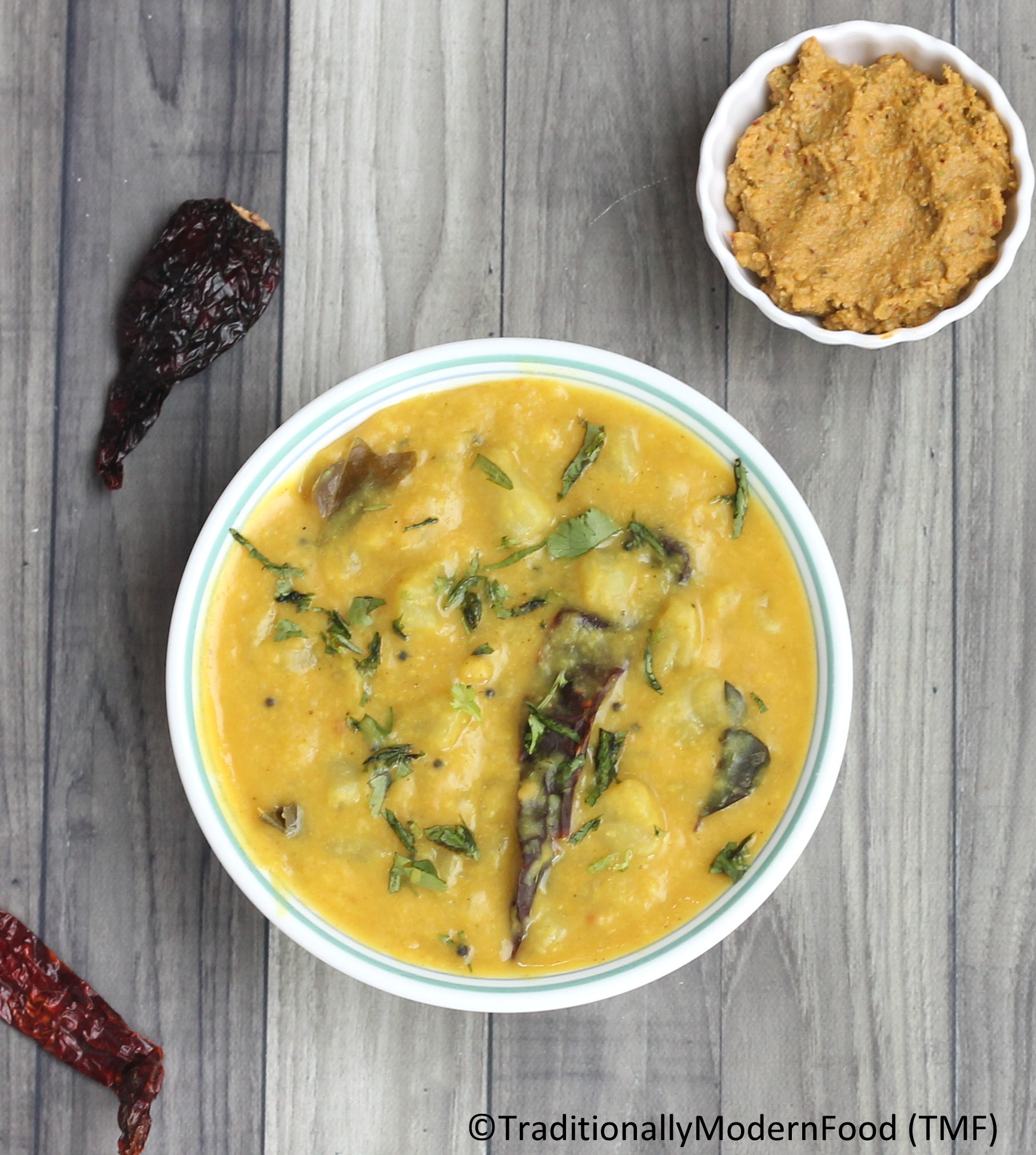 Chow Chow | Bagalore Kathirikai | Chayote kootu in Instant pot is a tasty rice accompaniment/side that can be prepared in less than 30 minutes. Sambar powder gives a nice flavor to the kootu. No grinding required for this vegan side dish. IP Chow chow kootu is perfect for busy days.
When it comes to easy South Indian cooking I am a big fan of Kootu. Everything can be cooked together which not only make it simple, but also the flavors blend well. Usually Kootu is considered as a side dish in many of the Indian household, but in our home sometimes I make the Kootu bit watery and we mix and have it with rice. Especially when I make vatha kuzhambu for us instead of making a separate rice accompaniment for my kid.
After I started using IP I have been using it for almost all my everyday cooking. Just one vessel to clean is another favorite part for me. I am exploring with my IP and soon you will be seeing lot of Indian recipes using Instant pot.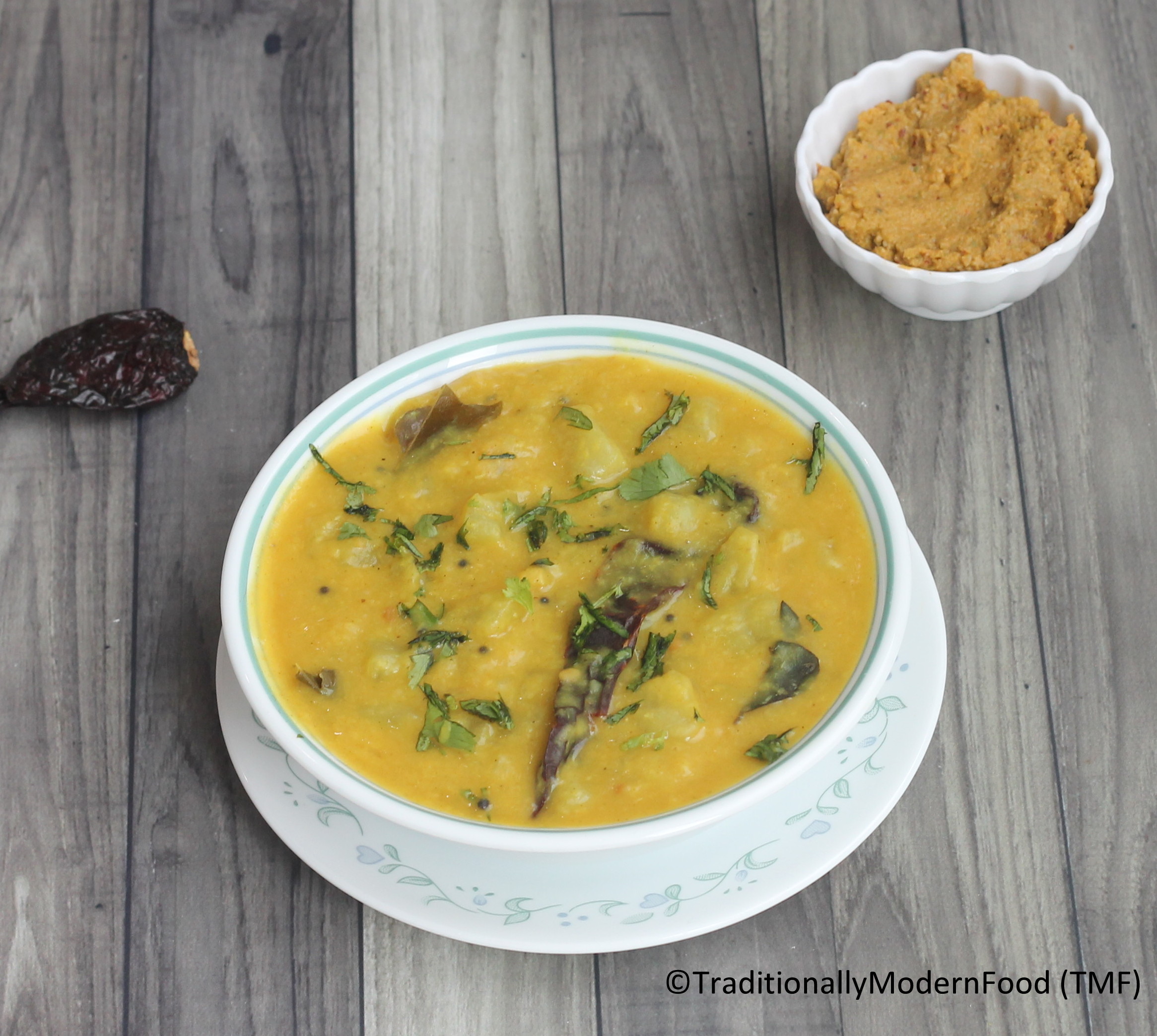 Coming back to Chayote Kootu. kootu is I one thing which is common in our home. Amma's version will mostly have coconut grinding or pepper-cumin powder. This version with Sambar powder is my MIL recipe. After marriage I saw her making kootu with Sambar powder. I was puzzled how Sambar powder will work on Kootu, but to my surprise I liked the taste and started following the recipe. Usually MIL pairs chayote and carrot for Kootu, but this time I have used just chow chow.
Coconut is not used for the recipe and tempering with Coconut oil is optional but I like the flavour of coconut oil so I prefer using it. Did I say that Kootu can be prepared within 30 minutes. That makes it perfect for busy working day.
Chow chow peel can be used for preparing Chayote peel chutney
Kootu recipe collection in TMF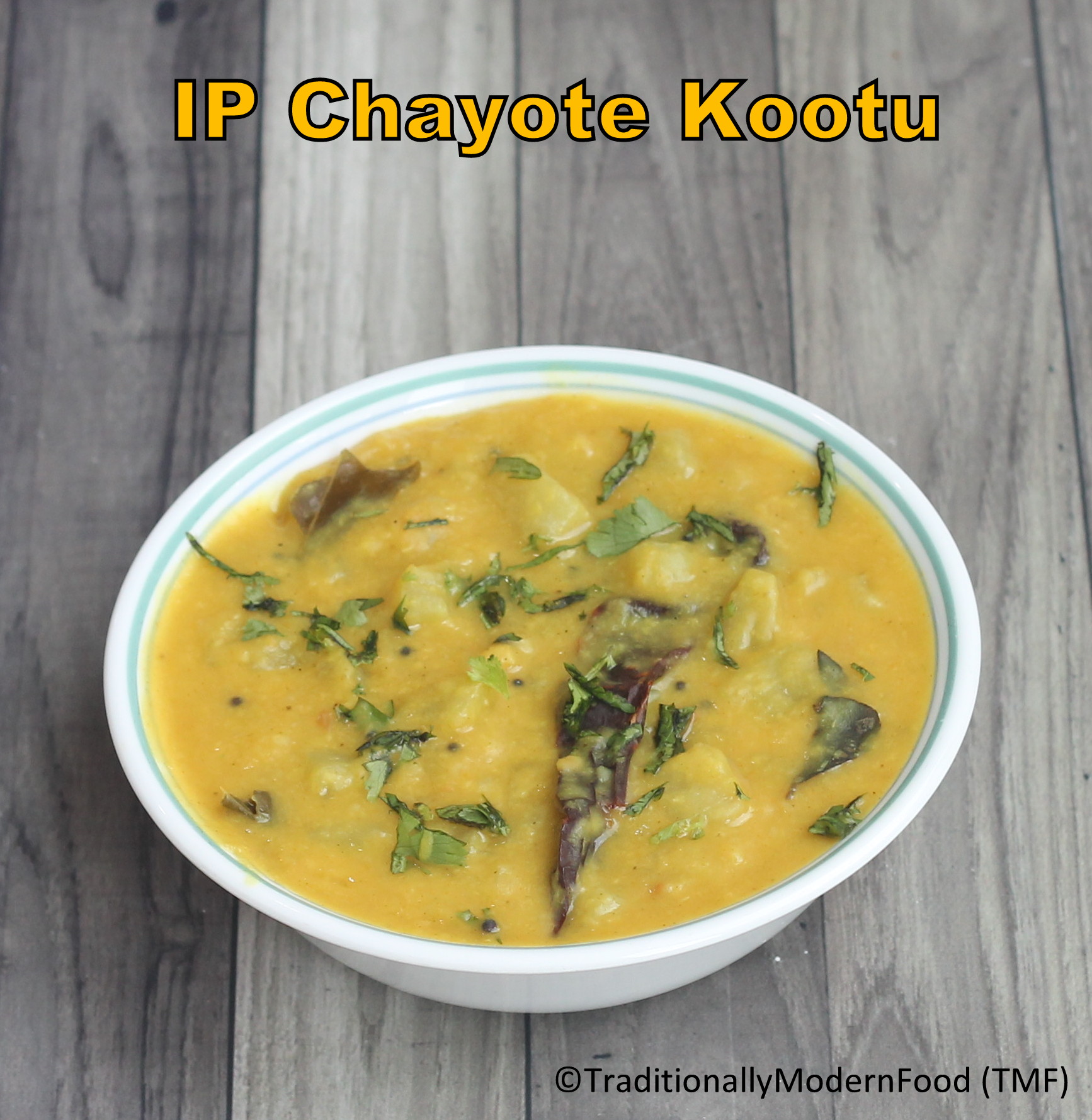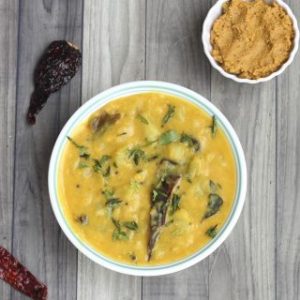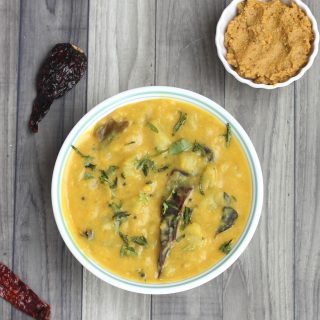 IP Chayote Kootu | Instant Pot Chow Chow Kootu without coconut
Chow Chow kootu in Instant pot is a tasty rice accompaniment/side that can be prepared in less than 30 minutes. Sambar powder gives a nice flavor to the kootu. No grinding required for this vegan side. IP Chow chow kootu is perfect for busy days
Print
Pin
Comment
Ingredients
Chayote - 1

peeled and roughly chopped

Moong dal - 1/4 cup

Turmeric powder - 1/4 tsp

Sambar powder - 1/2 tsp

Pepper cumin powder - 1/4 tsp

Salt - as needed

Jaggery - pinch

Hing - generous pinch

Coriander leaves - few

To temper:

Coconut oil - 1 tsp

Mustard seeds - 1/2 tsp

Urad dal - 1/2 tsp

Curry leaves - few
Instructions
Soak moong dal in hot water for half an hour

Turn on IP in sauté mode add oil and when the oil is hot add all the ingredients "to temper"; turn off IP

Add soaked moong dal, Chayote, turmeric powder, Sambar powder, pepper- cumin powder and water; turn on IP in manual mode and cook for 20 minutes - high temperature; let the pressure realases naturally

Mix well. Turn on the IP in sauté mode - add salt, hing, pinch of jaggery and give a quick 2-3 stir; switch off and garnish with coriander leaves
Video
Notes
Kootu can be cooked in pressure cooker or stove top
Soaking dal helps in faster cooking
Adjust the Sambar powder/ pepper- cumin powder according to your taste
Pinch of sugar can be used instead of jaggery
Coconut can be ground with cumin and green and added to the Kootu instead of adding Sambar powder
Ingredients:
Chayote - 1, peeled and roughly chopped
Moong dal - 1/4 cup
Turmeric powder - 1/4 tsp
Sambar powder - 1/2 tsp
Pepper cumin powder - 1/4 tsp
Salt - as needed
Water - 3/4 cup
Hing - generous pinch
Coriander leaves - few
Jaggery - pinch
To temper:
Coconut oil - 1 tsp
Mustard seeds - 1/2 tsp
Urad dal - 1/2 tsp
Curry leaves - few
How to make Chayote kootu with step by step pictures :
Soak moong dal in hot water for half an hour
Turn on IP in saute mode add oil and when the oil is hot add all the ingredients "to temper"; turn off IP
Add soaked moong dal, Chayote, turmeric powder, Sambar powder, pepper- cumin powder and water; turn on IP in manual mode and cook for 20 minutes - high temperature; let the pressure release naturally
Mix well. Turn on the IP in saute mode - add salt, hing, pinch of jaggery and give a quick 2-3 stir; switch off and garnish with coriander leaves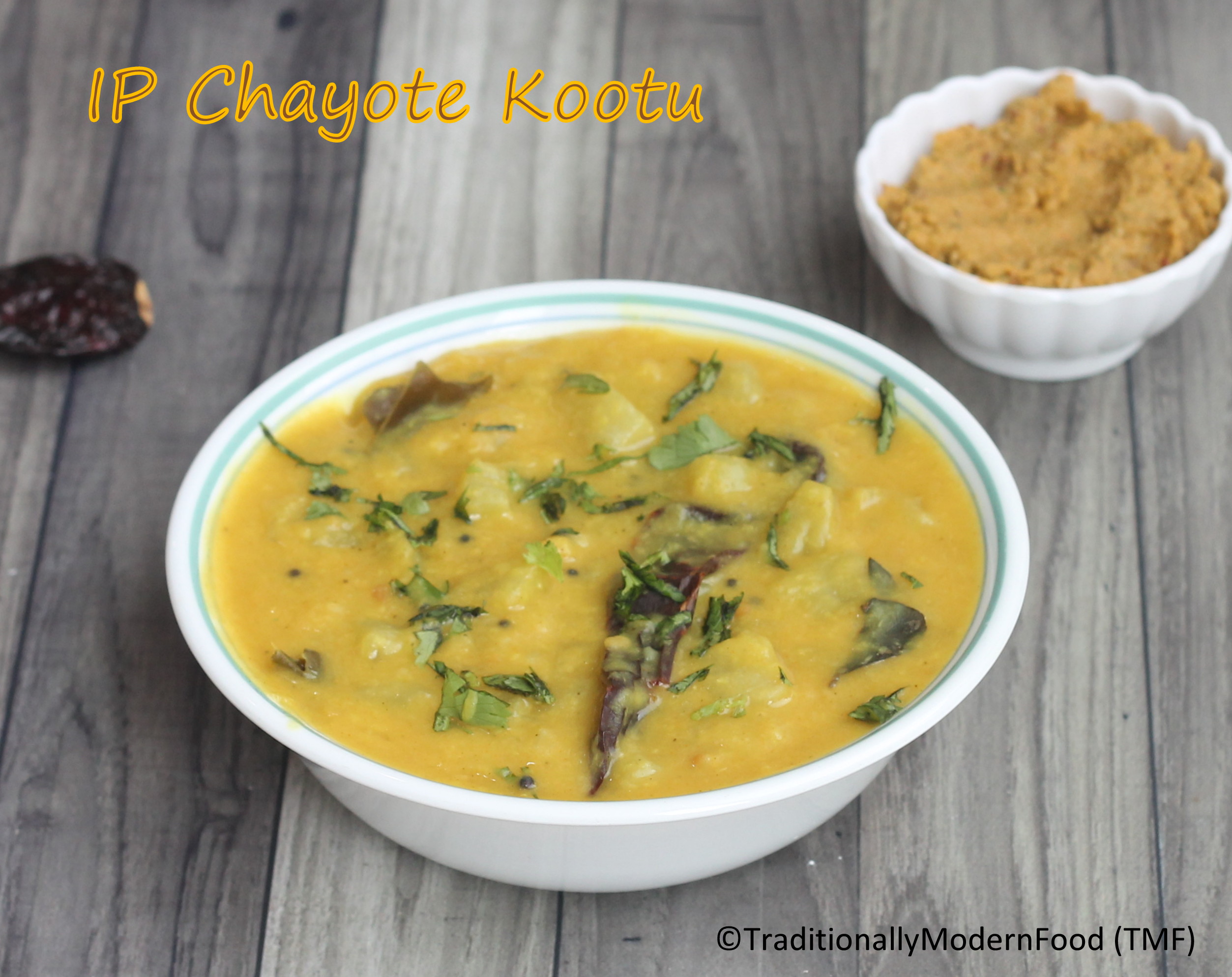 Pls. Follow TMF social media for recipes updates,