Leftover rice vadam | leftover rice fryums | pazhaiya sadam vadam |koozh vadam rice vadagam | leftover rice koozh vadam | arisi koozh vathal | pazhaya sadam vadam | easy vathal kool vadam | rice crackers | cooked rice vadam | summer recipe detailed step by step photo and video recipe. Check out the leftover rice vadam video and if you like the video pls SUBSCRIBE to my channel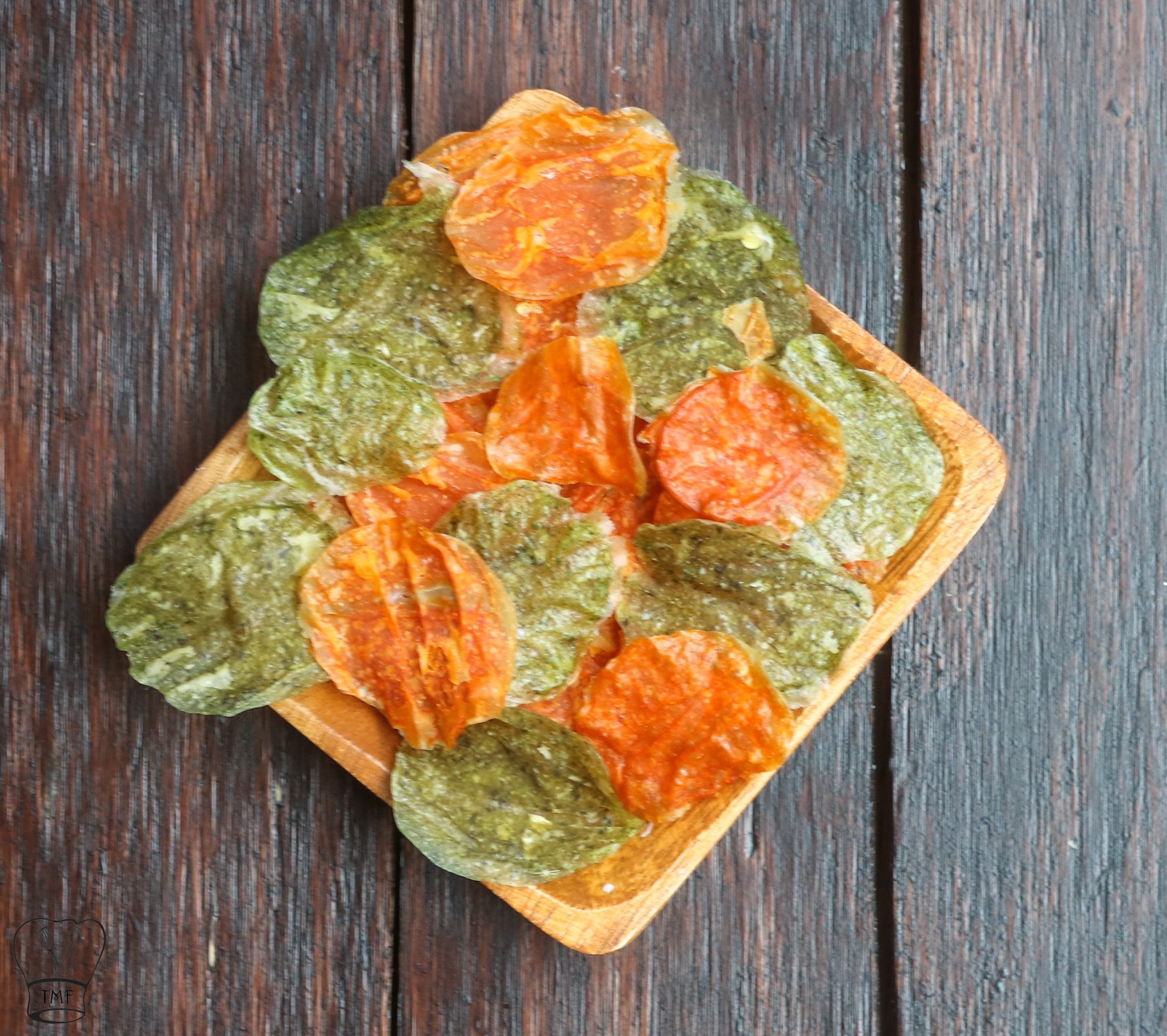 Leftover rice vadam recipe | Pazhaya sadam vathal is the easiest vadam recipe. No need to prepare koozh or steam cook vadam in batch. Soak rice overnight, grind, sundry vadam - perfect way to finish leftover rice on a sunny day. Without food color tasty flavorful beginner-friendly vadam recipe to try on hot sunny day
When to put Vadam?
Always plan and put the Vadam. Ensure you at least get good 3 consecutive sunny days for Vadam to dry well in the sun.
Should I soak cooked rice overnight for leftover rice vadam | vadagam?
Vadam is generally made during the morning so whenever I have leftover rice I soak them overnight and make pazhiya Sadam vadam the next day morning. If you forgot to soak the rice overnight, soak rice in hot water for some time and turn it soft then grind the rice.
How much water should I use for pazhiya sadam vathal?
It totally depends on the rice variety you use, how much water you used for cooking rice, how much water you discard in the colander. I used sona masoori rice and my cooked rice was not mushy.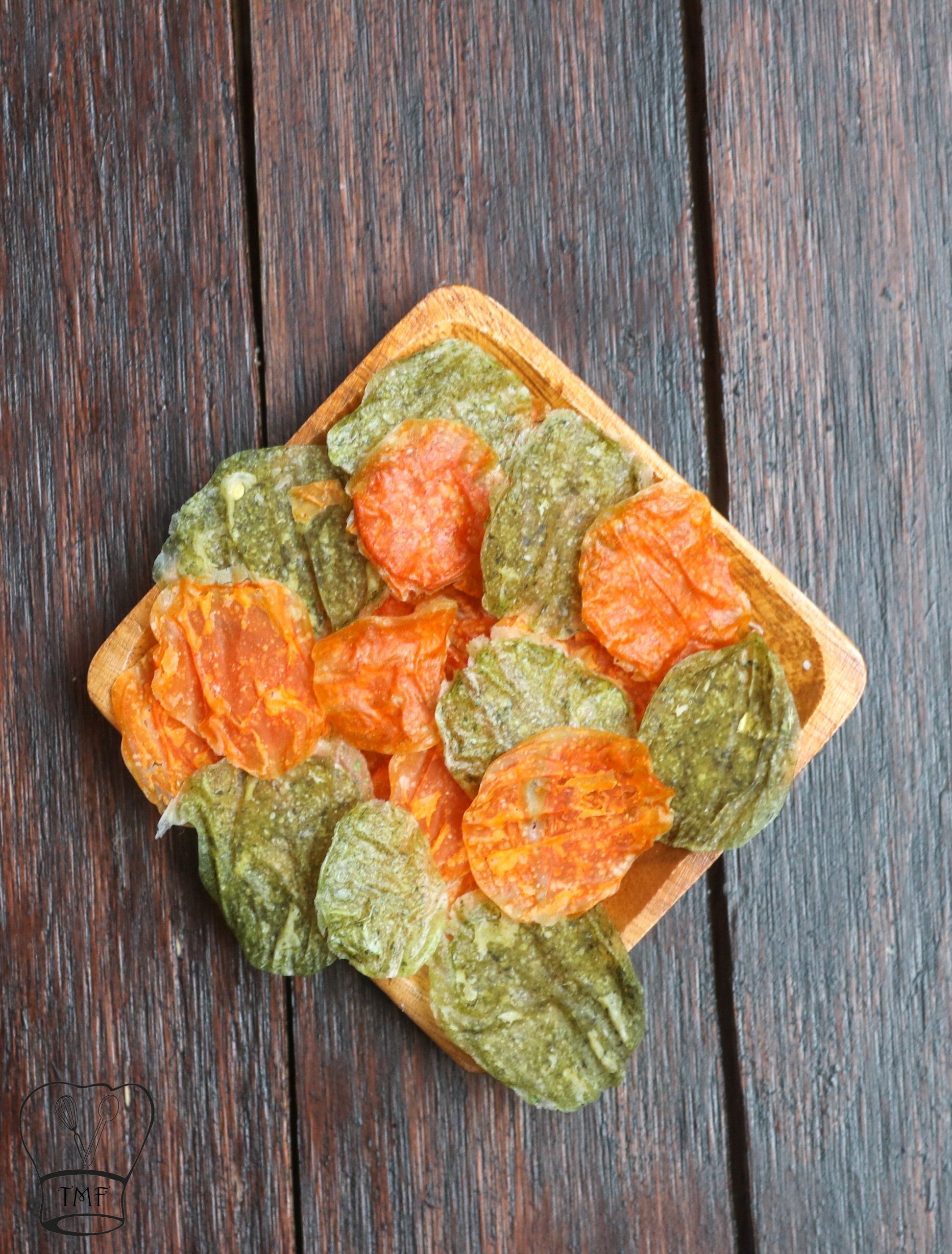 Should I use lemon juice?
Yes always add lemon juice while preparing leftover rice vathal. Adjust the amount according to the sourness of the lemon.
When to flip the vadam?
On a peak sunny day, vadam can be easily flipped in the late afternoon. Gently try to flip, if vadam is sticking then try after a few hours. Always keep the vadam indoors around sunset, again dry them on the next day. Once when the vadam dries it becomes lightweight might tend to fly/fall so after drying for two days third day I generally dry the vadam in a baking tray/ plate
How to store the leftover rice vadam?
After the fryums are sundried well use an air-tight container and store. It stays good for at least a year.
What goes well with pazhiya sadam vadam
In our home, we love snacking deep-fried vadam. It goes well with any rice variety dishes. It can also be taken as a side for rice accompaniment like rasam, kootu, kuzhambu variety
Can I fan dry leftover rice koozh vathal
No, you need good sun for the vadam to dry well. For peak Seattle sunny days it takes around three days to dry. Dried vadam turns glossy. It can be easily crushed into pieces without any moisture.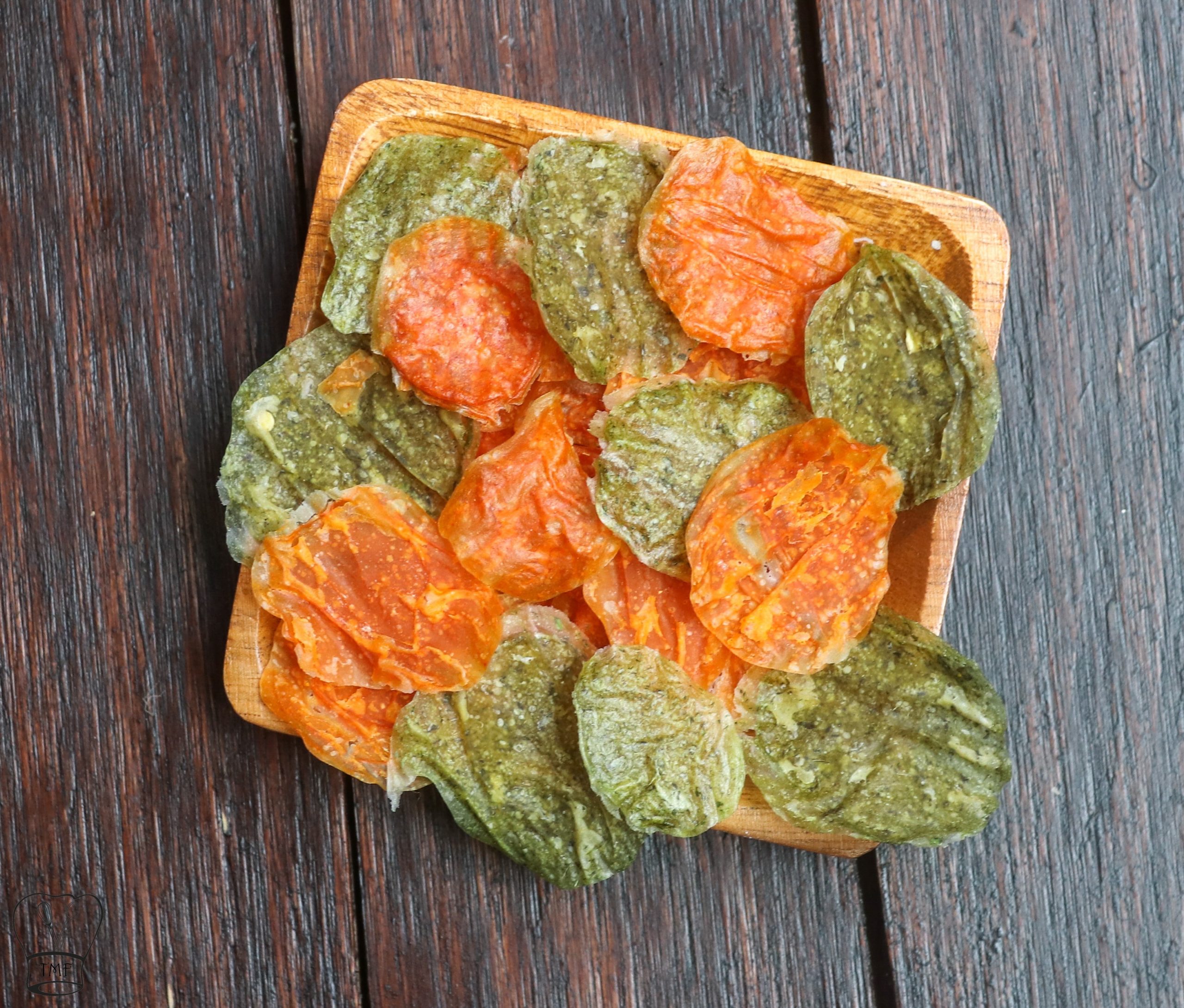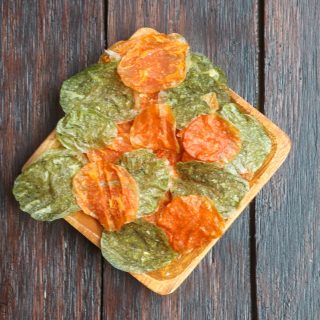 Ingredients
Soak:
1

cup

cooked rice

1

cup

water
To grind:
1/2

teaspoon

salt

1/2

teaspoon

Kashmiri chilli powder

1

teaspoon

lemon juice

1/4

teaspoon

turmeric powder

1/2

cup

rice soaked water

refer notes
Instructions
In a wide vessel add cooked rice and water; mix well and set aside for overnight

The next day transfer the soaked rice and water to a colander, save the water for the vadam and transfer the rice to a mixie jar

Add salt, turmeric powder,  Kashmiri chilli powder, lemon juice and grind into a fine paste

Furthermore, add 1/2 cup of water and grind into a fine koozh

Add 1/2 teaspoon of lemon juice and mix well

Keep parchment paper/ plastic sheet/ vinyl sheet ready for vadam

Take a ladle of koozh and add portions of the koozh on the paper. Leave space in-between the koozh

Finish the entire batch and let it get dry in the hot sun

if It is an extremely sunny day after few hours (3 or 4 hours) you could easily flip the vadam

Flip gently if it is coming easily do it for the entire batch but if it is difficult to flip wait for the Vadam to dry further

Let the Vadam be in sun till the sunset. Keep the Vadam inside during the night

The next day again dry the Vadam and flip around the noon for even drying

Repeat this process till the Vadam is completely dry

Depending on the weather it takes 3 or 4 days for the Vadam to dry. On the last day dry the vadam on a baking tray or plate to prevent from vadam falling as dried vadam turns light

After the Vadam is completely dry store in an airtight container

Fry the Vadam in hot oil and flip for even cooking
Video
Notes
You can add any masala powder of your choice
Adjust the water according to your rice. Koozh should slightly spread on its own but not pourable consistency. Avoid thick koozh Vadam. It won't dry properly. Refer to the video for the correct consistency. Adjust water accordingly
Soaking overnight is optional but it helps for easy smooth grinding
Always place the soaked rice in the colander then grind rice alone
Time to dry the vathal might vary
Store the Vadam only after the Vadam is completely dry
Keep a stone or some form of an object around the edges to prevent the Vadam paper from moving around
In India, people keep black umbrellas to protect Vadam from the crow
Vadam dough looks less salty but Vadam gets the salt as it dries so avoid adding excess salt
Avoid covering the Vadam with paper/cloth while drying
Never leave the Vadam outside overnight as the moisture will make the Vadam soggy
Always use dry hands while flipping the Vadam
Vadam tastes best if it is well sun-dried
While cooking vadam in hot oil if you see popping it means it is not dried properly
Always fry the Vadam in hot oil
Masala vathal
Ingredients:
Soak:
1 cup cooked rice
1 cup water
To grind:
1/2 teaspoon salt
1/2 teaspoon Kashmiri chilli powder
1 teaspoon lemon juice
1/4 teaspoon turmeric powder
1/2 cup rice soaked water (refer notes)
How to make Masala vathal with leftover rice
In a wide vessel add cooked rice and water; mix well and set aside for overnight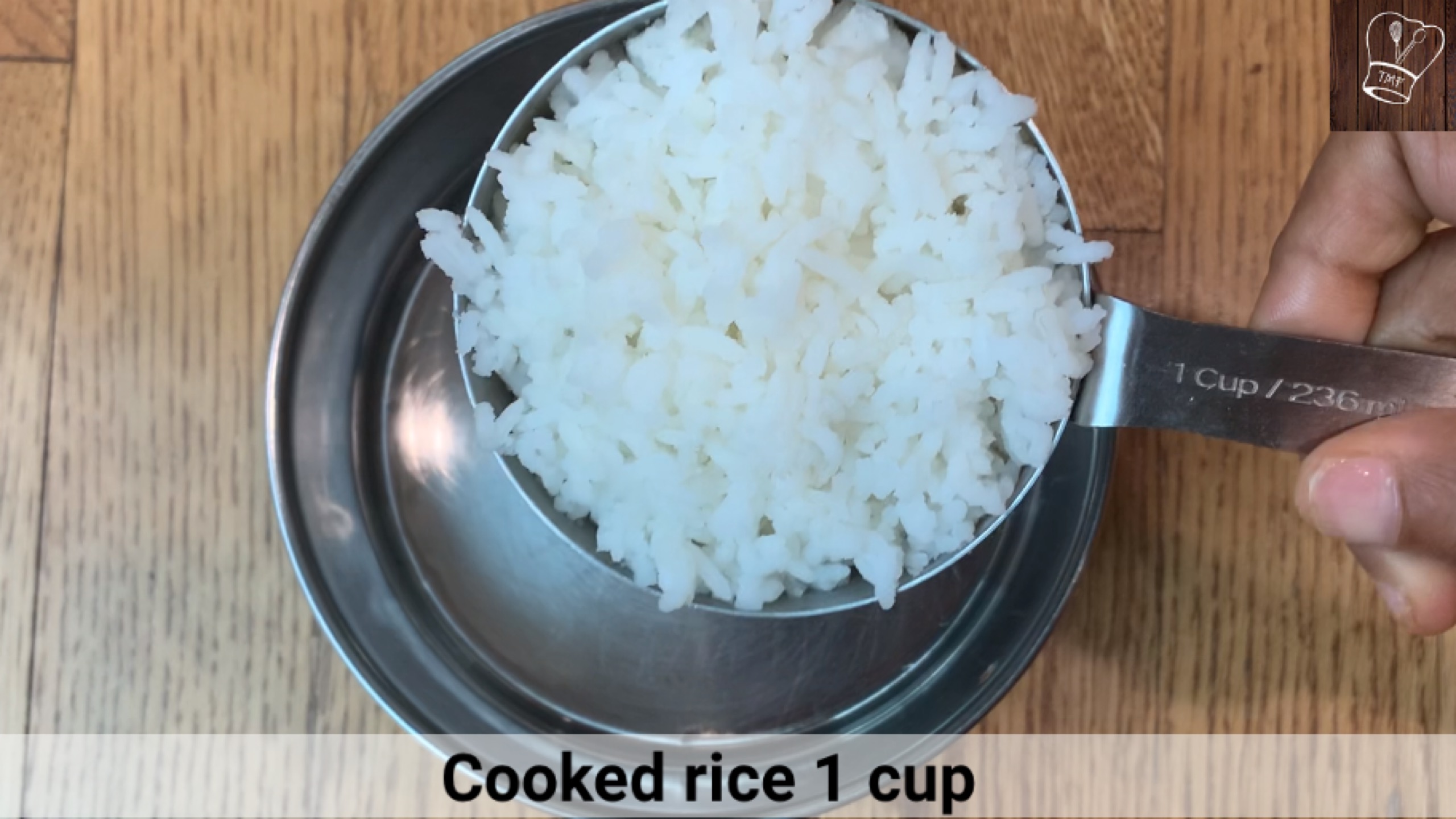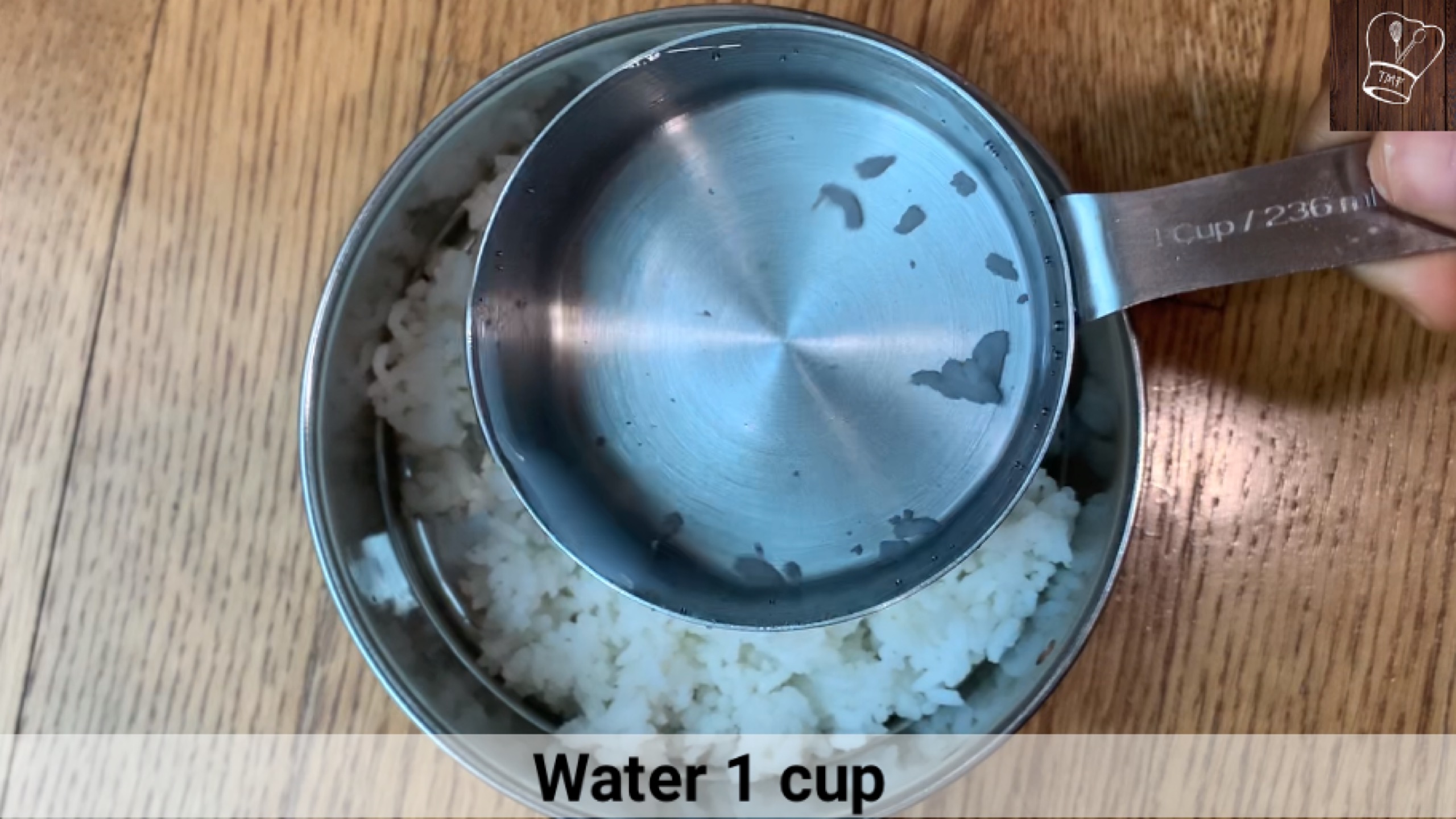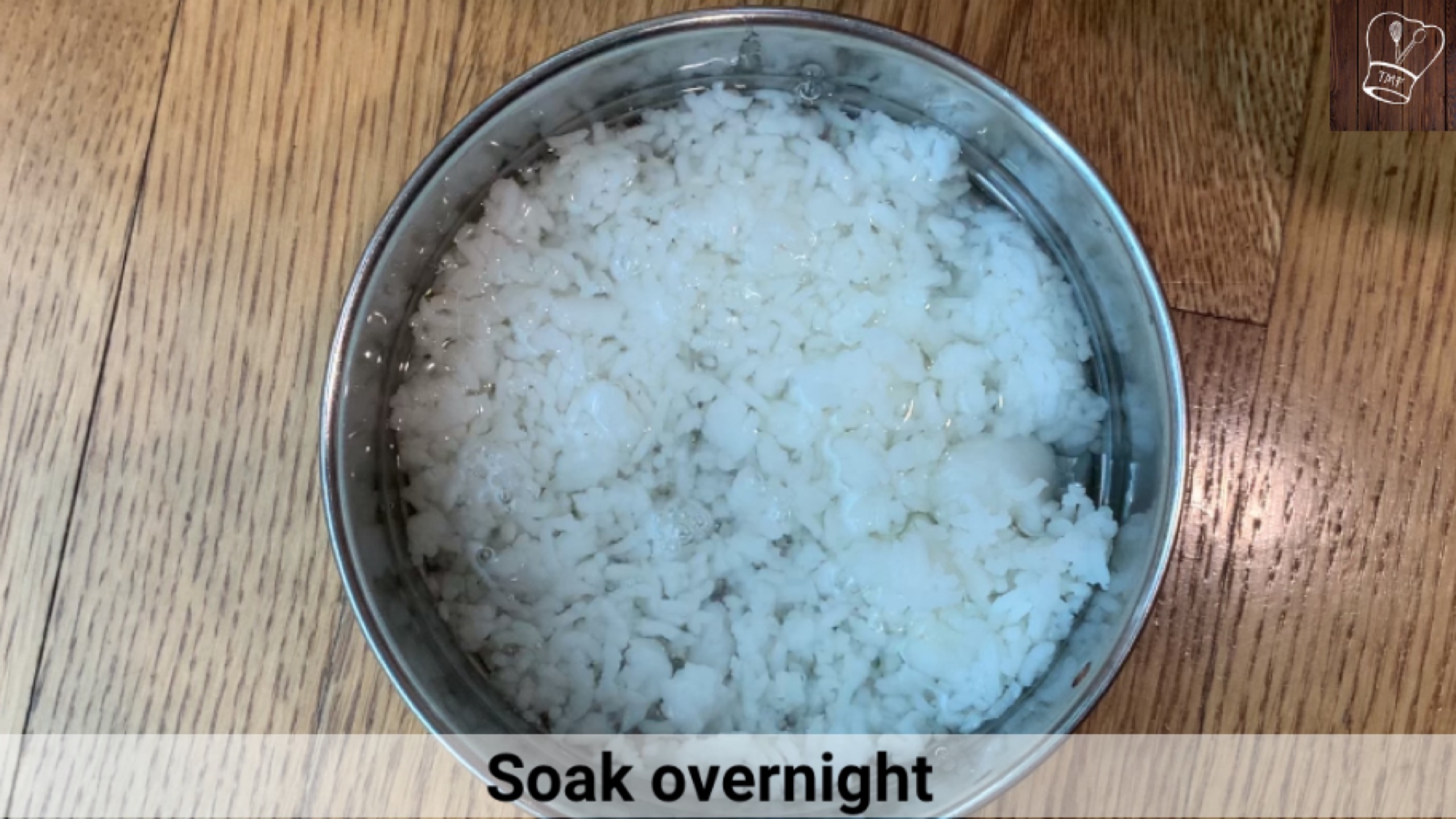 The next day transfer the soaked rice and water to a colander, save the water for the vadam and transfer the rice to a mixie jar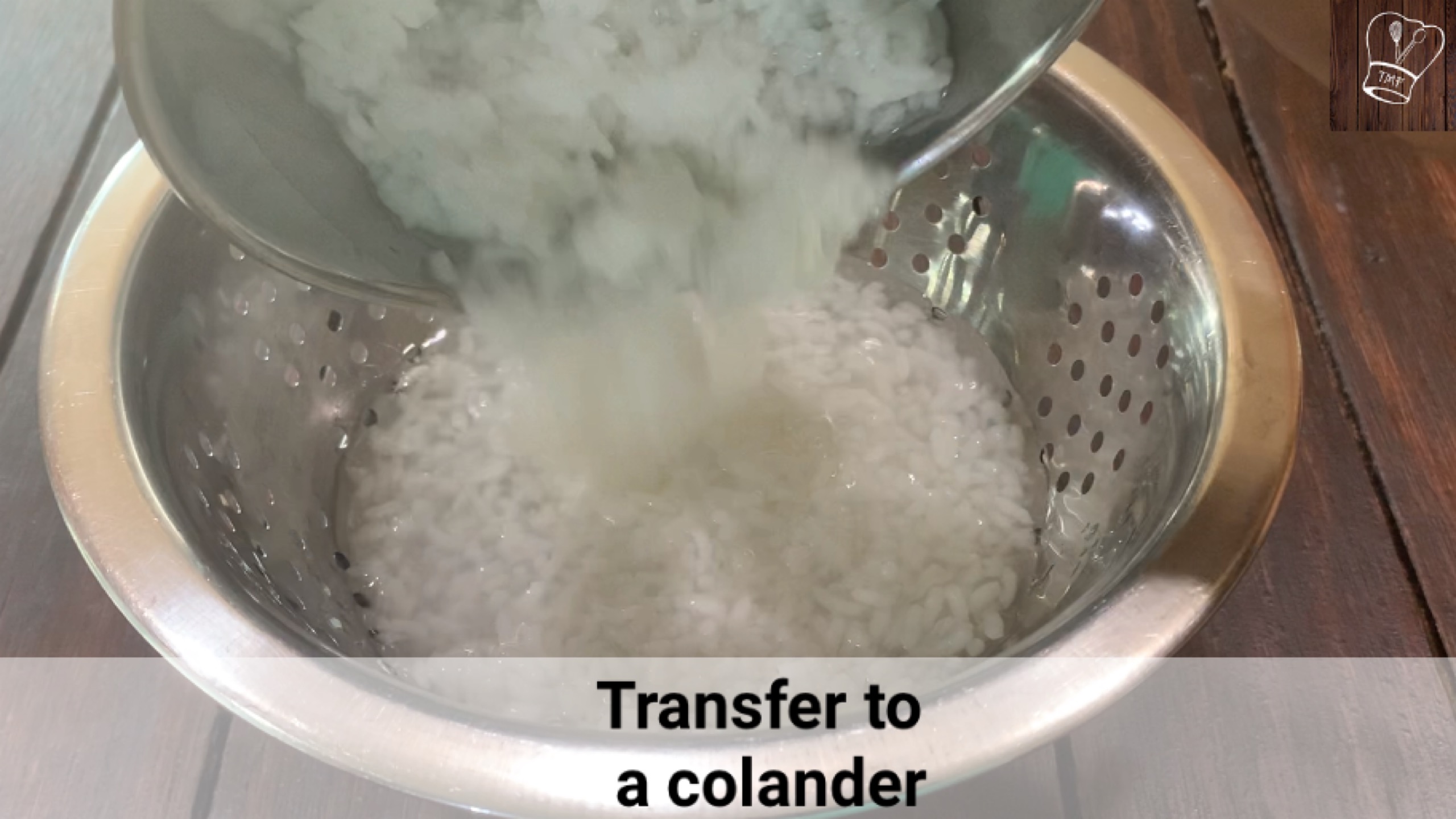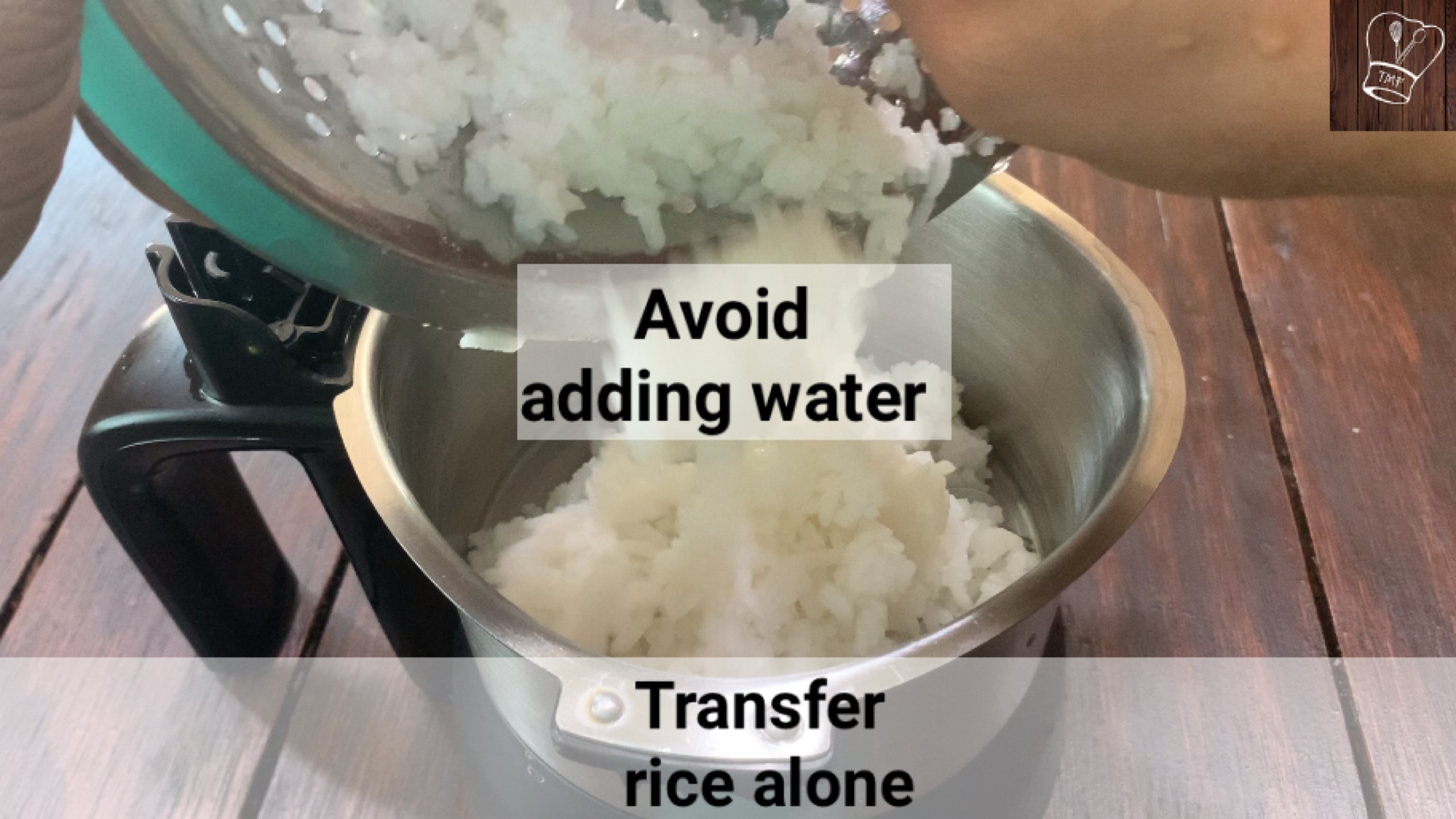 Add salt, turmeric powder,

Kashmiri chilli powder, lemon juice and grind into a fine paste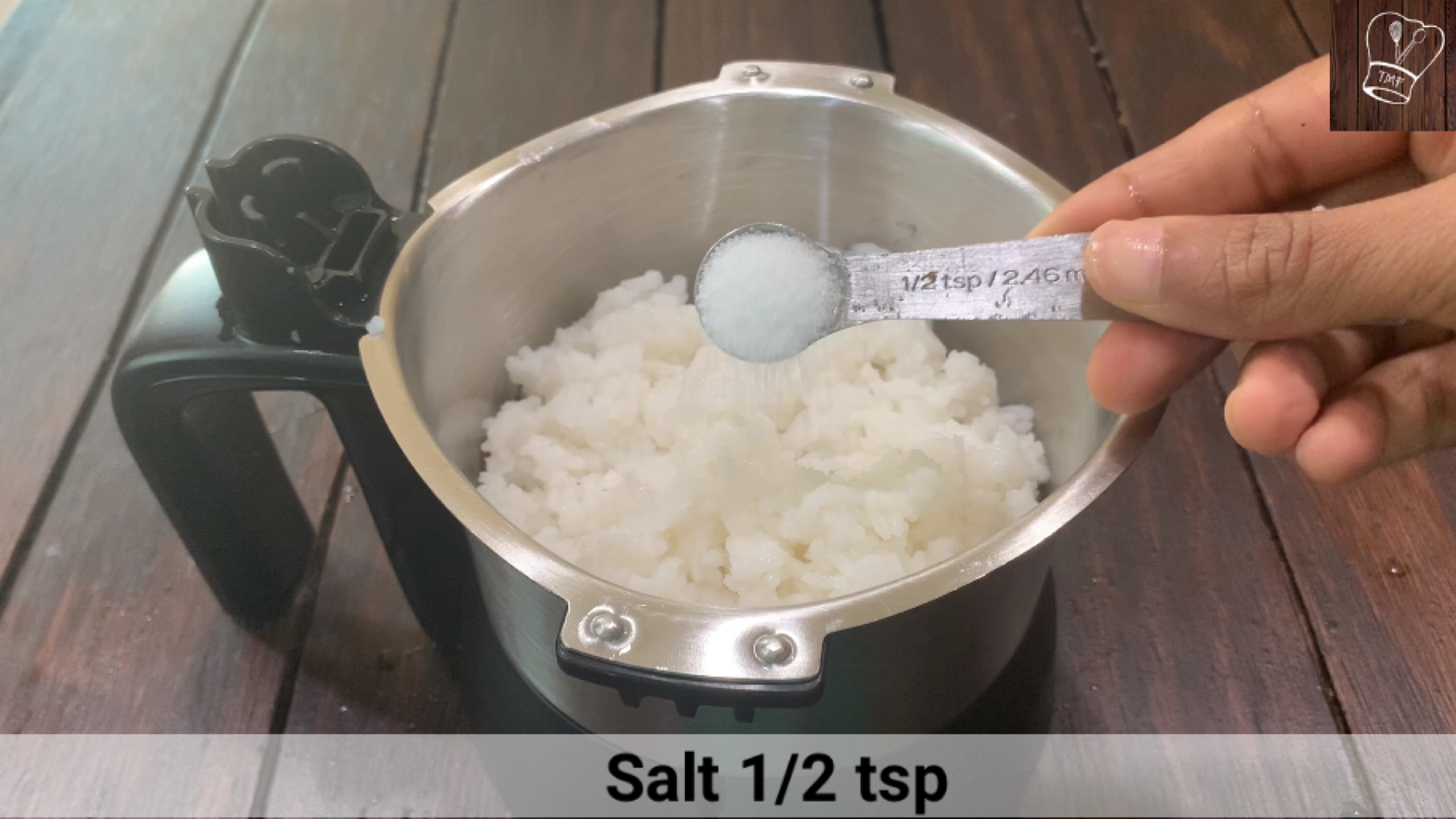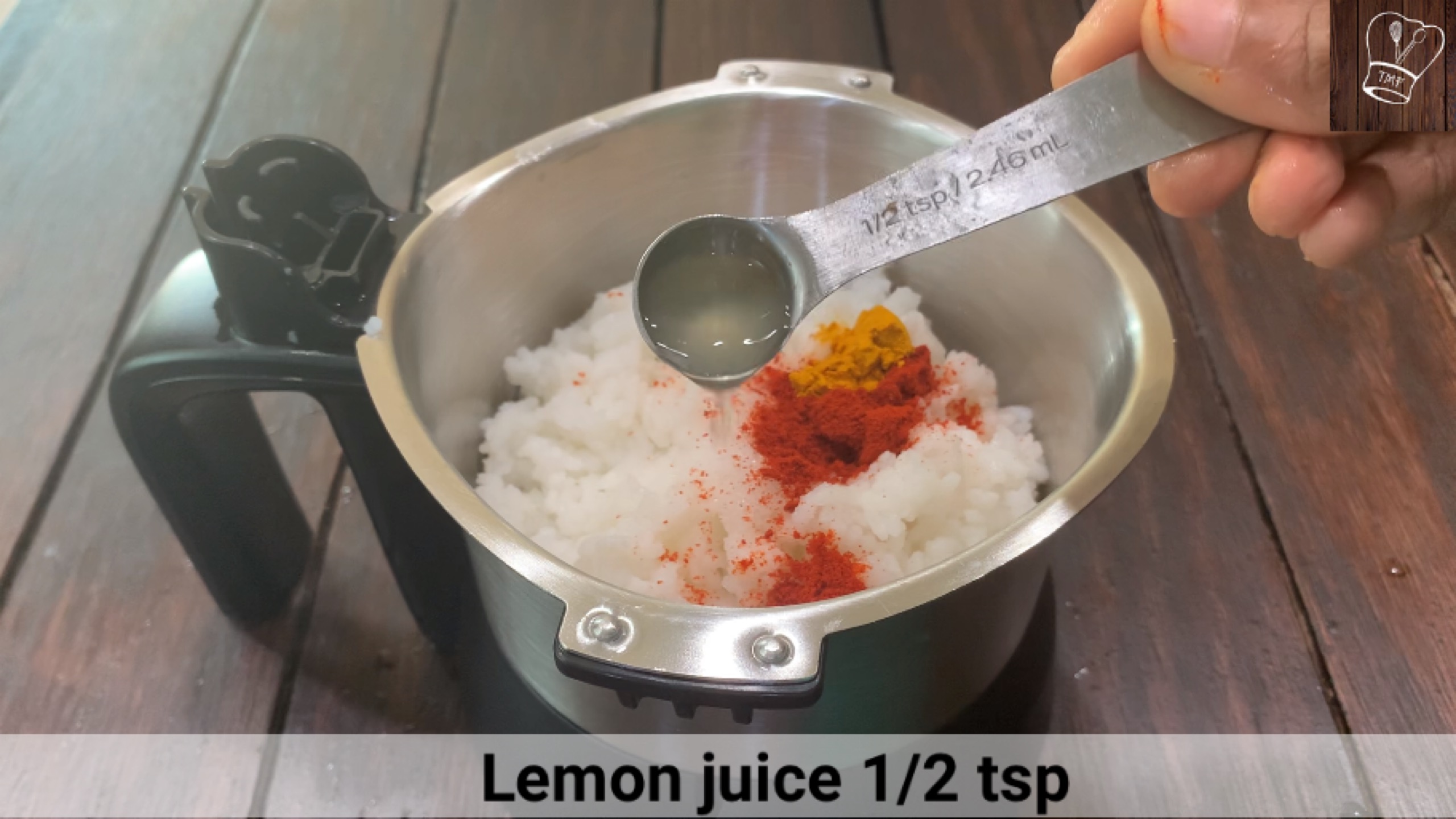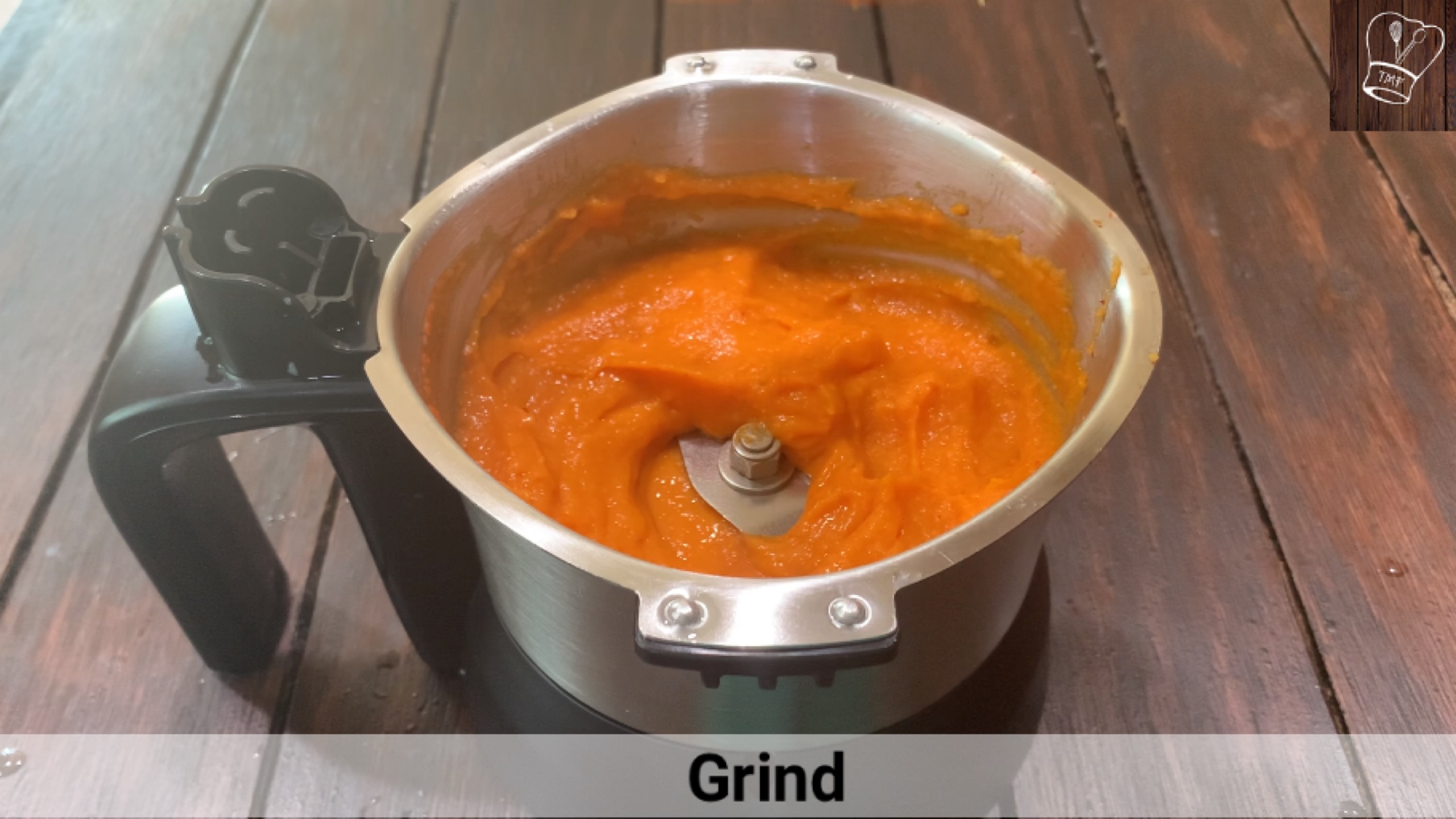 Furthermore, add 1/2 cup of water and grind into a fine koozh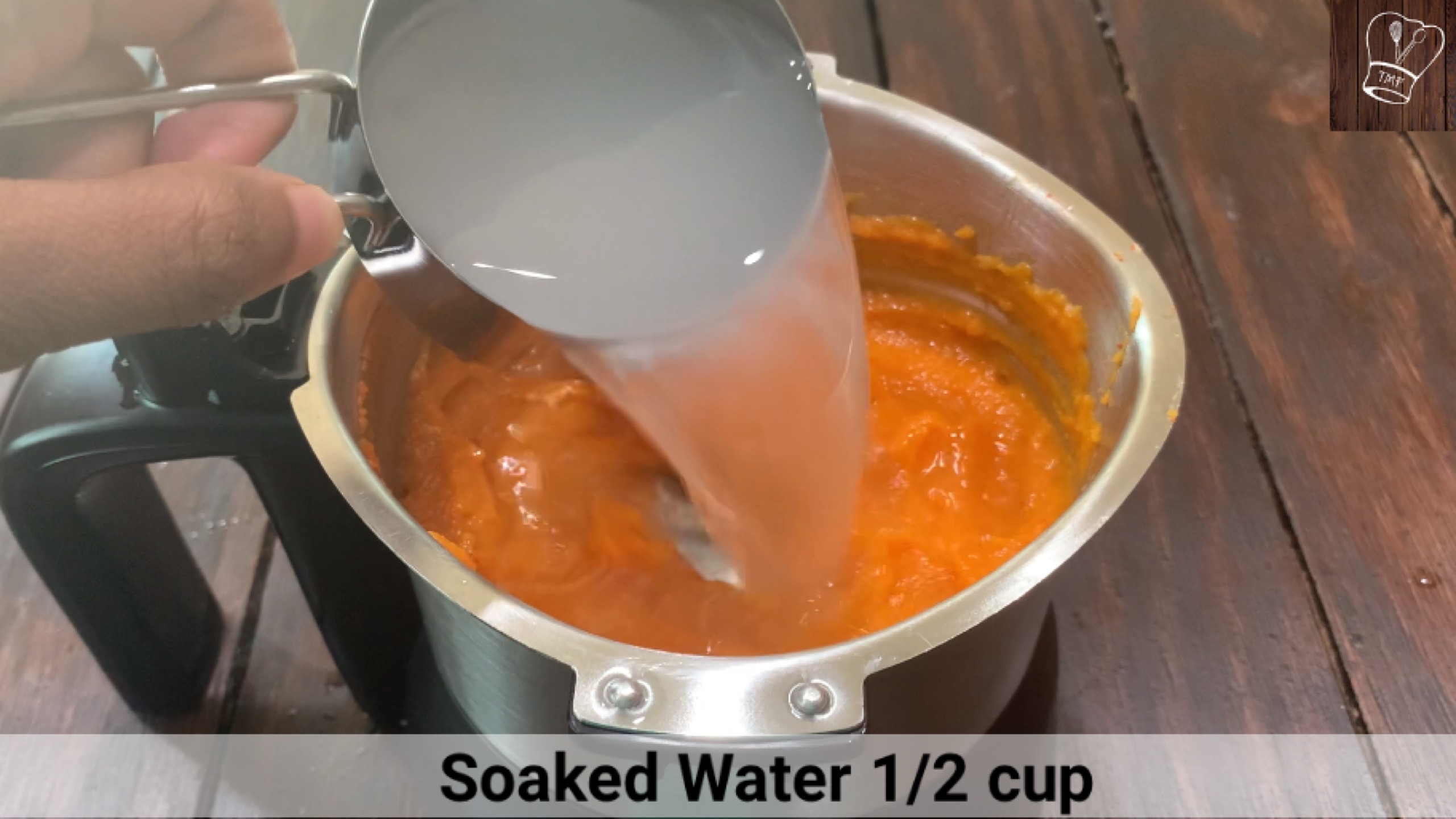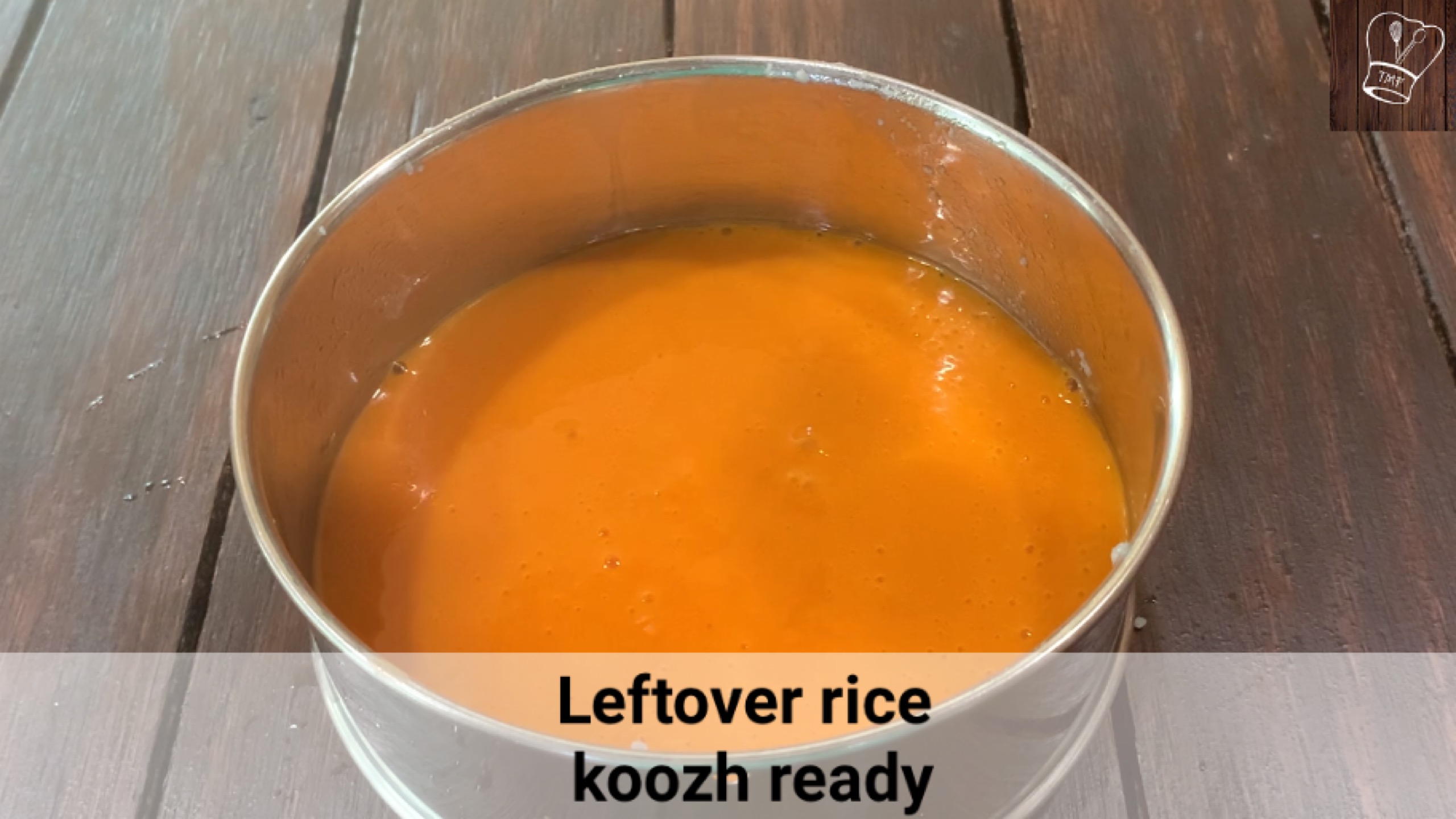 Add 1/2 teaspoon of lemon juice and mix well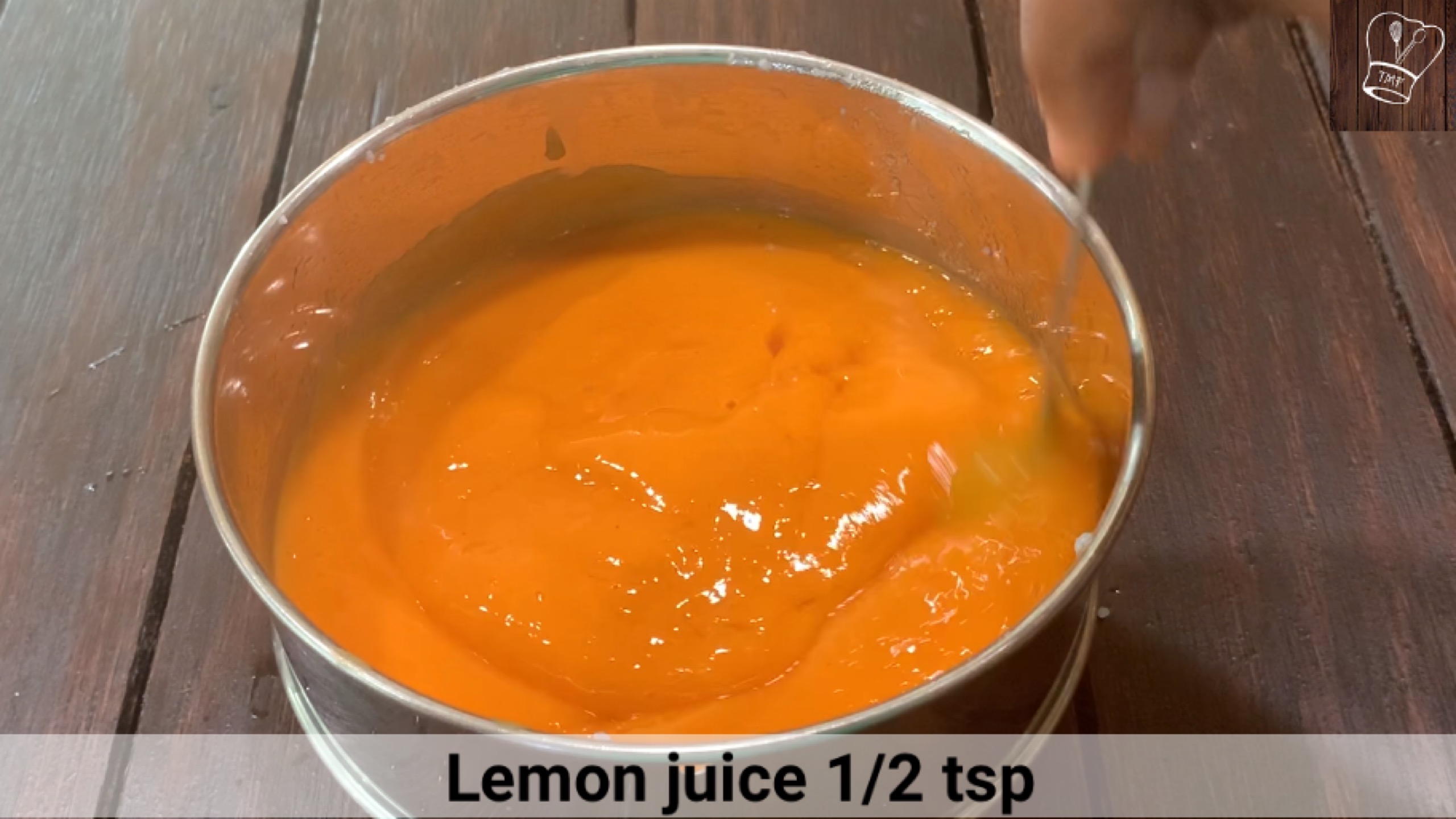 Keep parchment paper/ plastic sheet/ vinyl sheet ready for vadam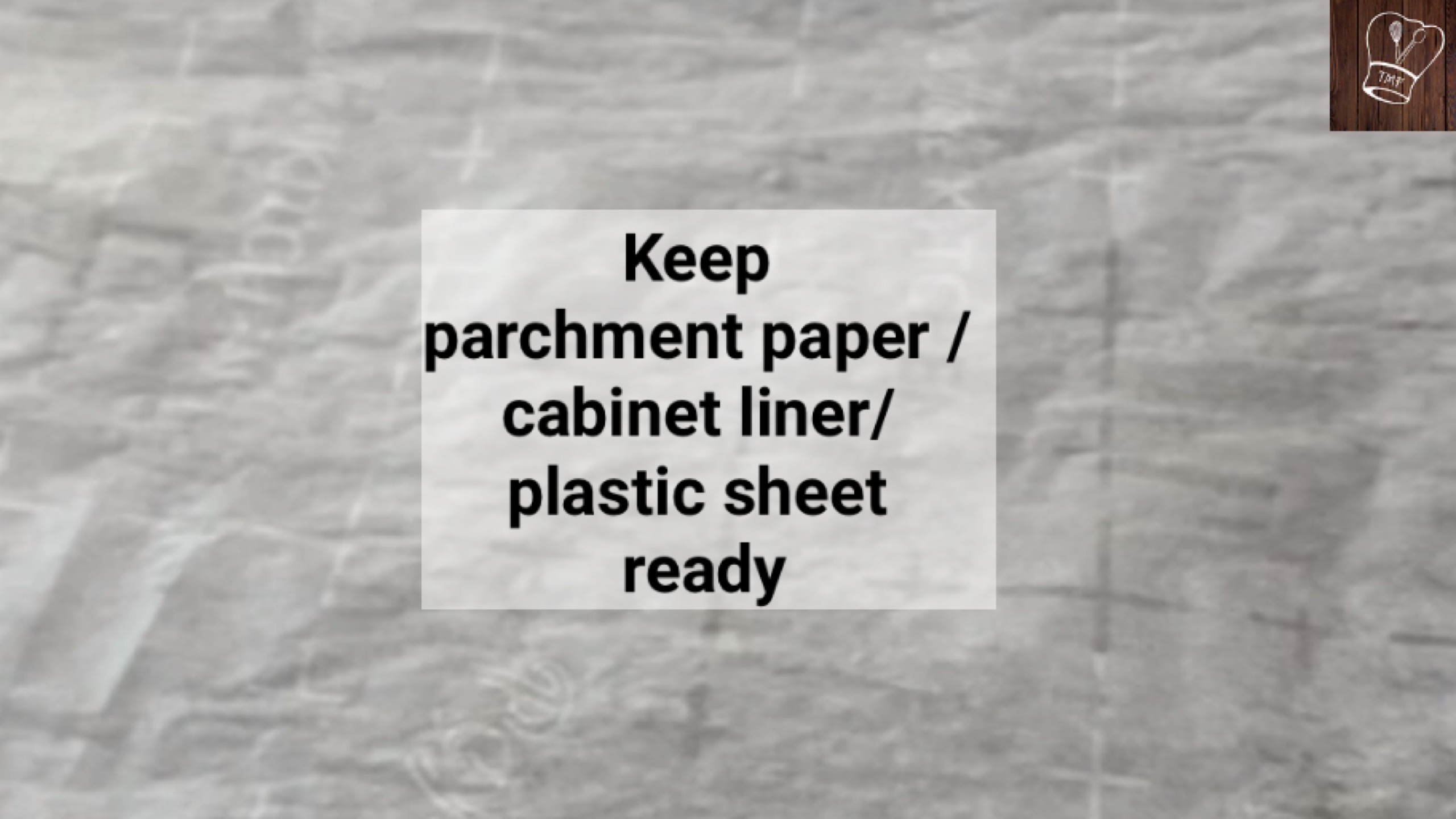 Take a ladle of koozh and add portions of the koozh on the paper. Leave space in-between the koozh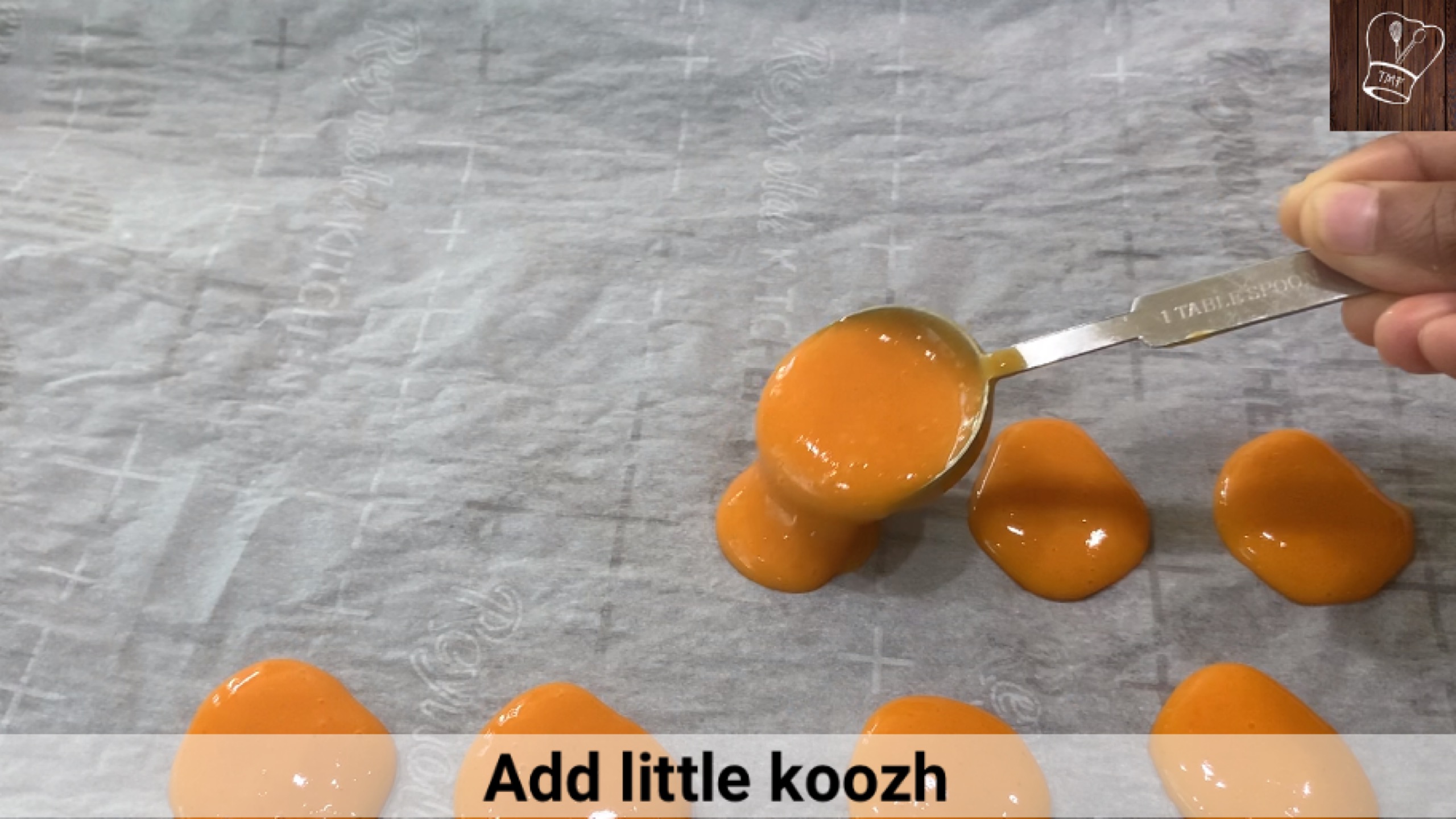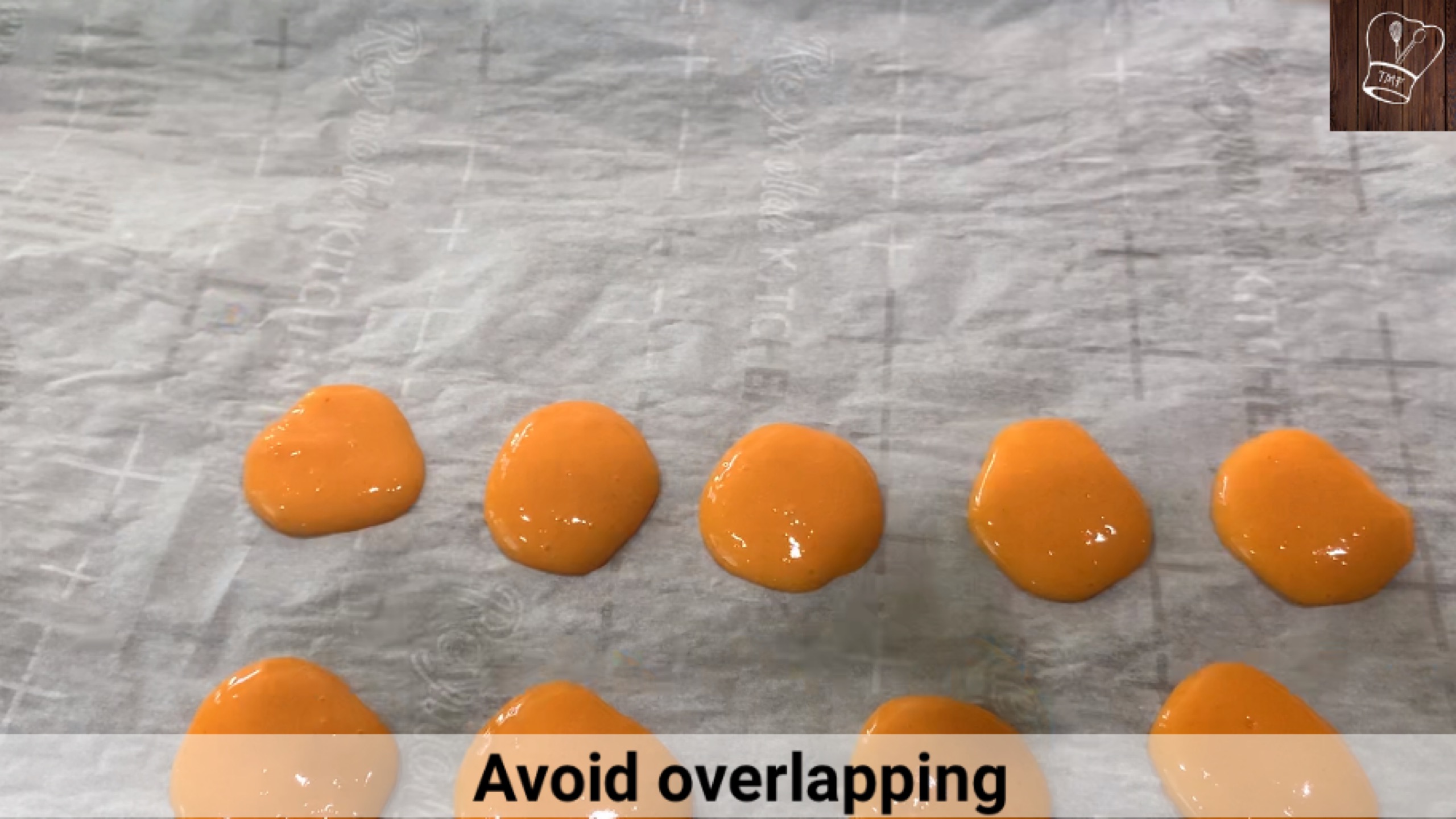 Finish the entire batch and let it get dry in the hot sun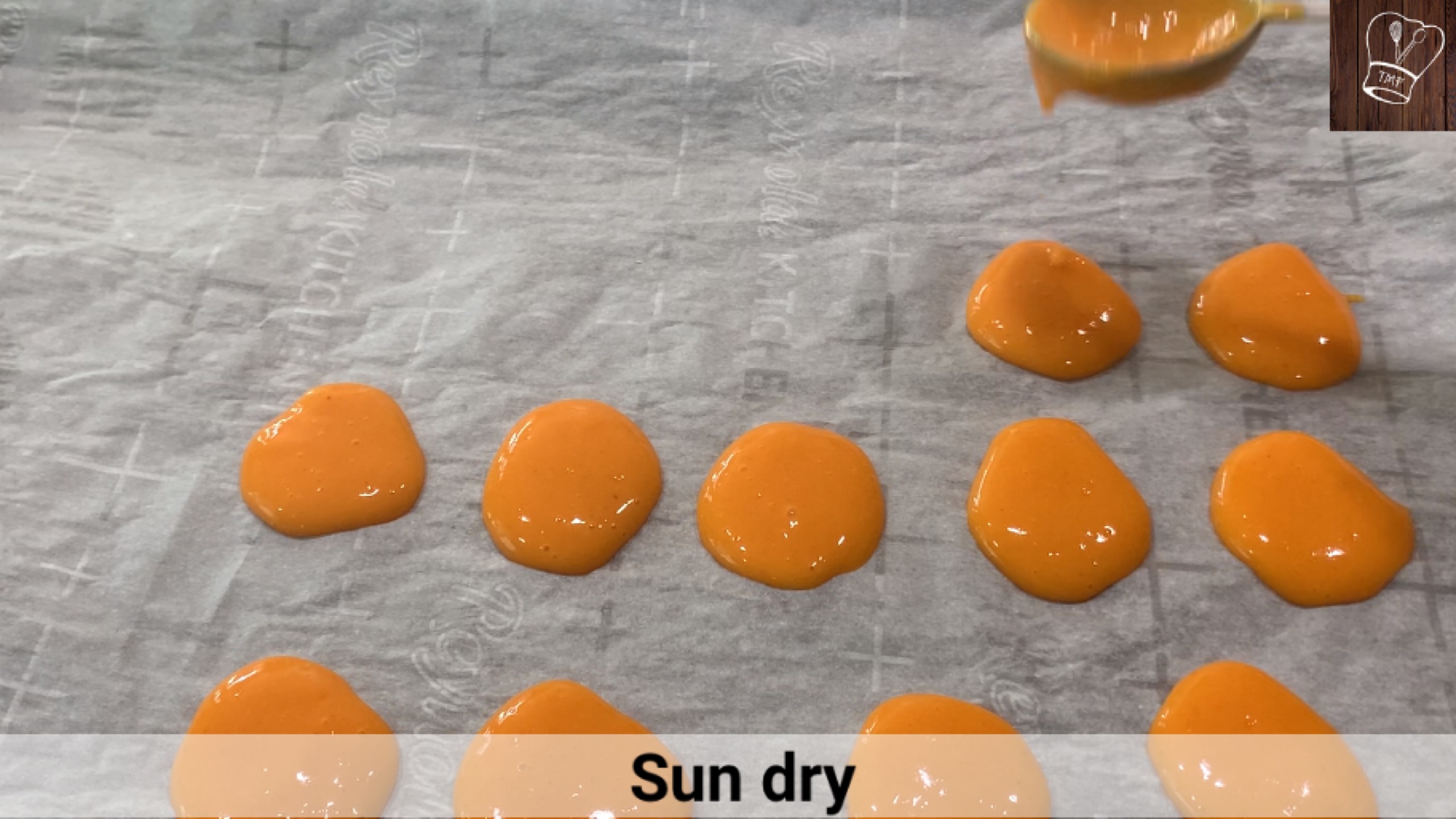 If it is an extremely sunny day after few hours (3 or 4 hours) you could easily flip the vadam

Flip gently if it is coming easily do it for the entire batch but if it is difficult to flip wait for the Vadam to dry further
Let the Vadam be in sun till the sunset. Keep the Vadam inside during the night

The next day again dry the Vadam and flip around the noon for even drying

Repeat this process till the Vadam is completely dry

Depending on the weather it takes 3 or 4 days for the Vadam to dry. On the last day dry the vadam on a baking tray or plate to prevent from vadam falling as dried vadam turns light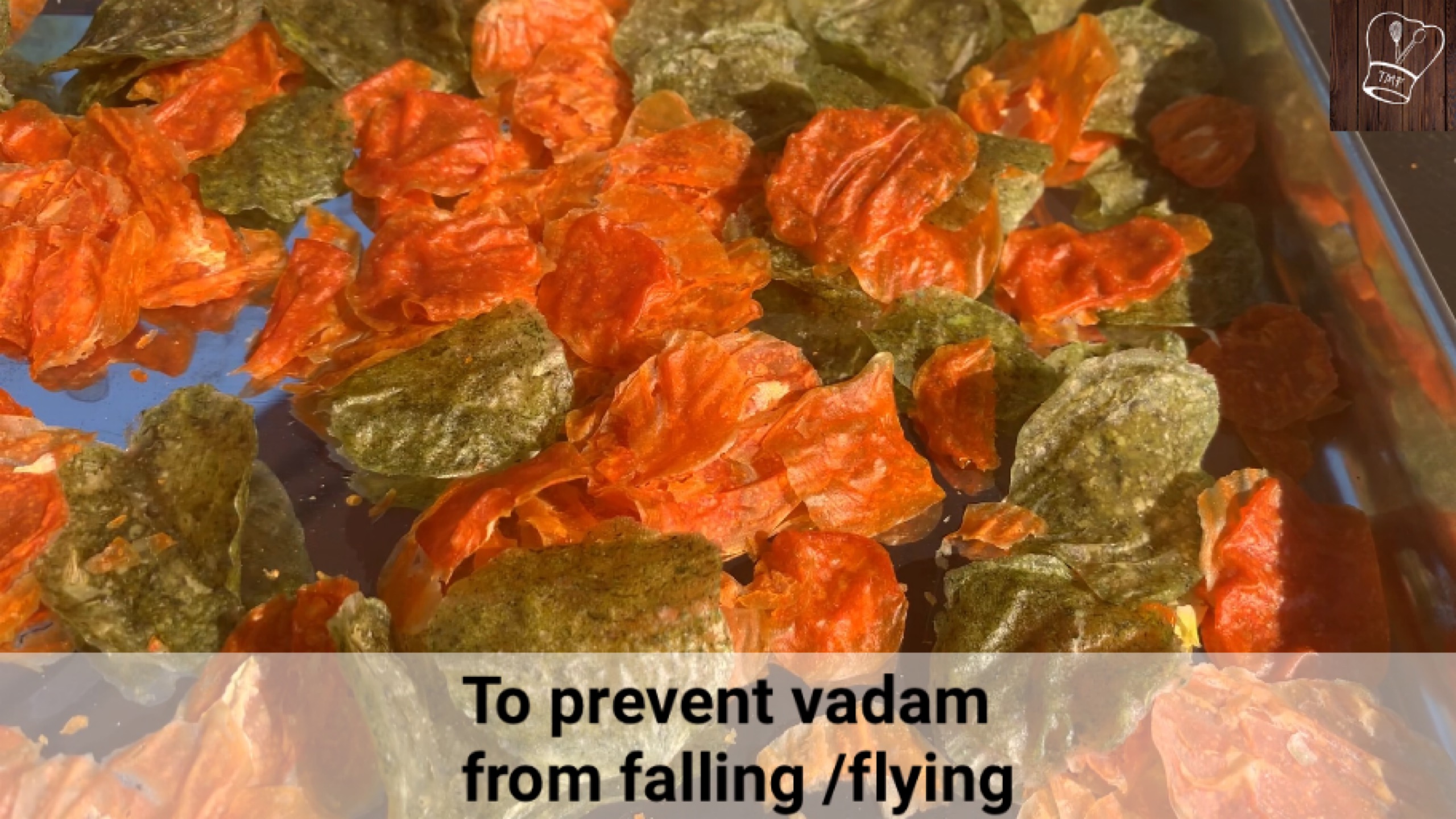 After the Vadam is completely dry store in an airtight container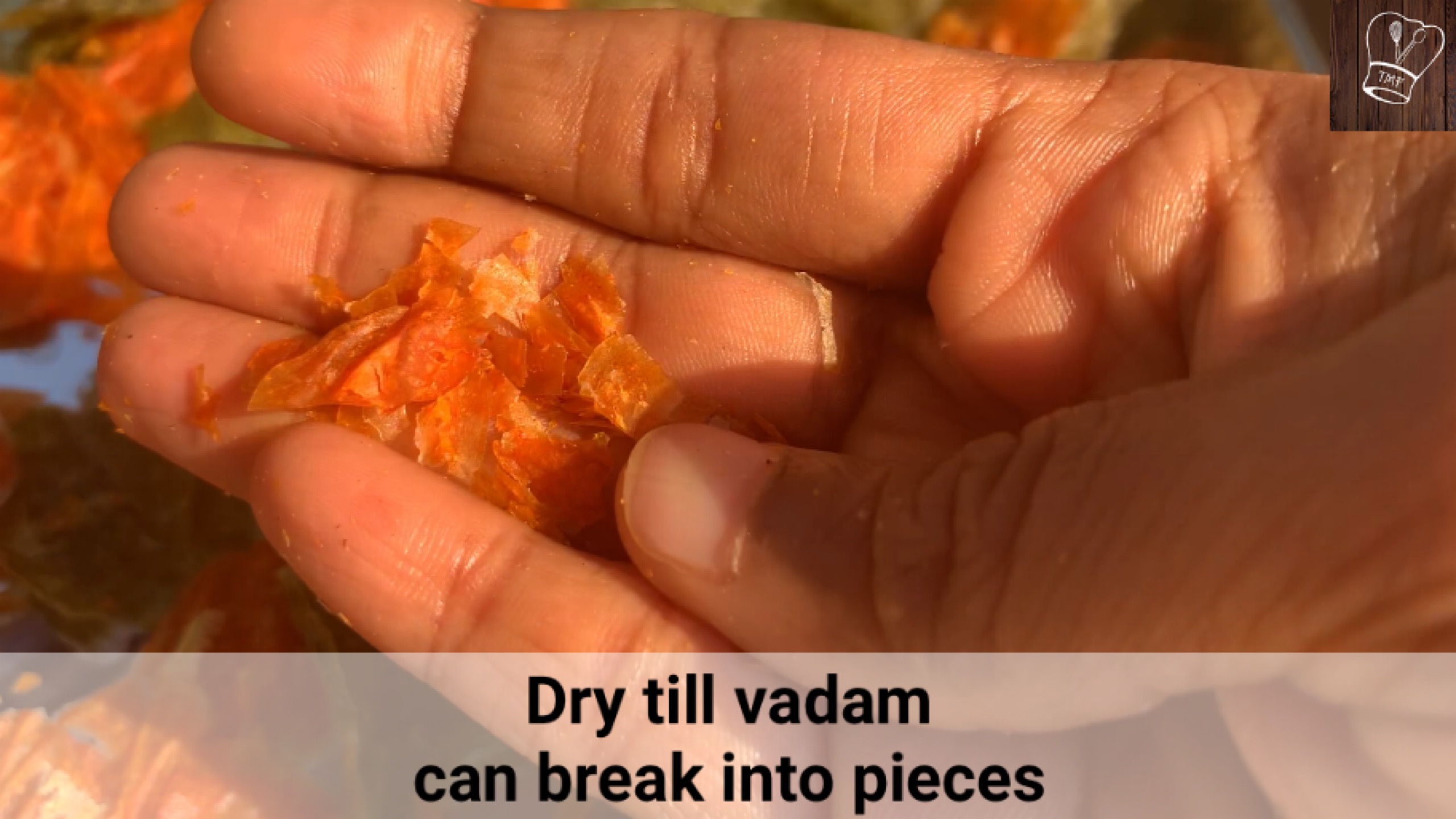 Fry the Vadam in hot oil and flip for even cooking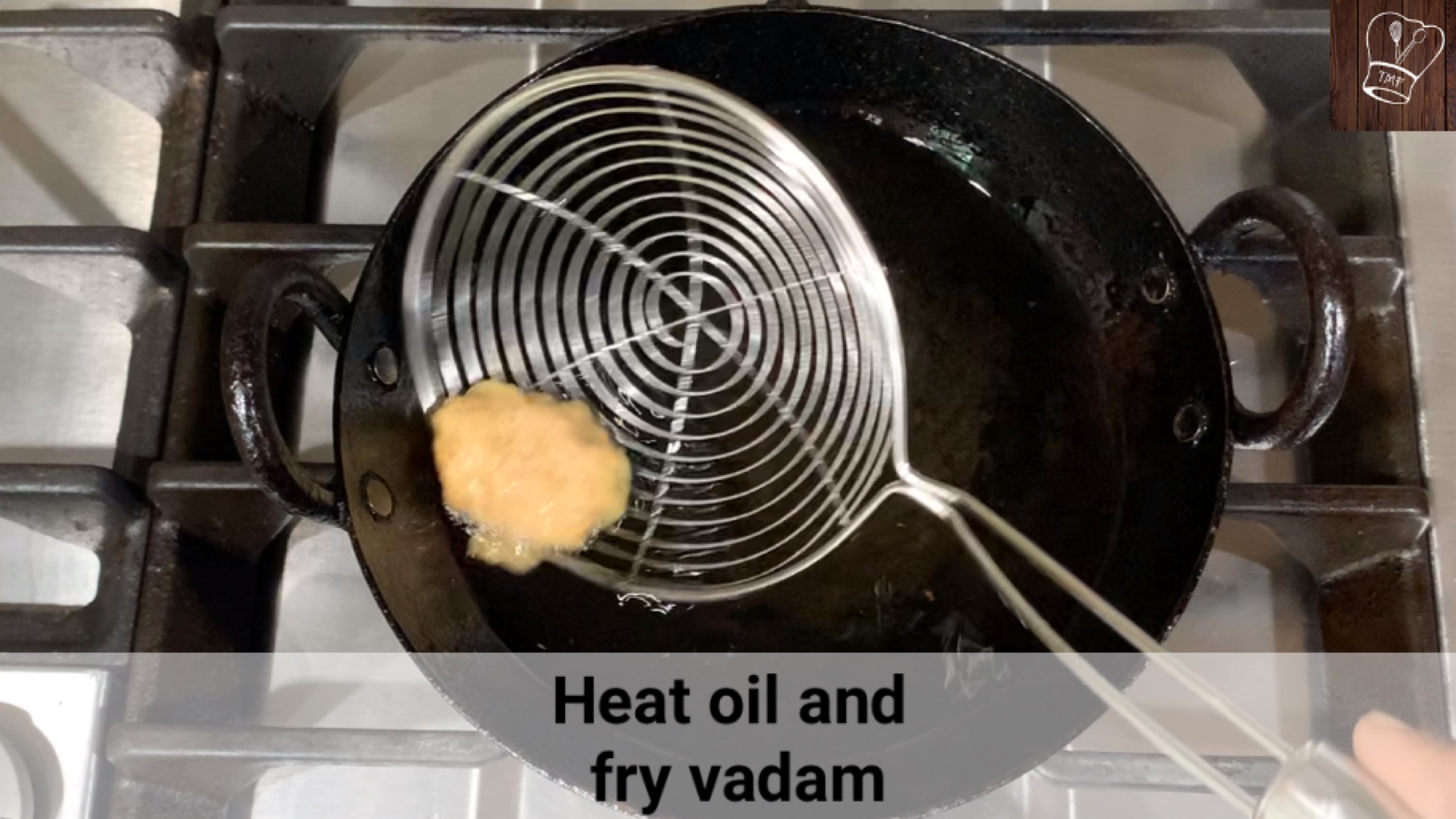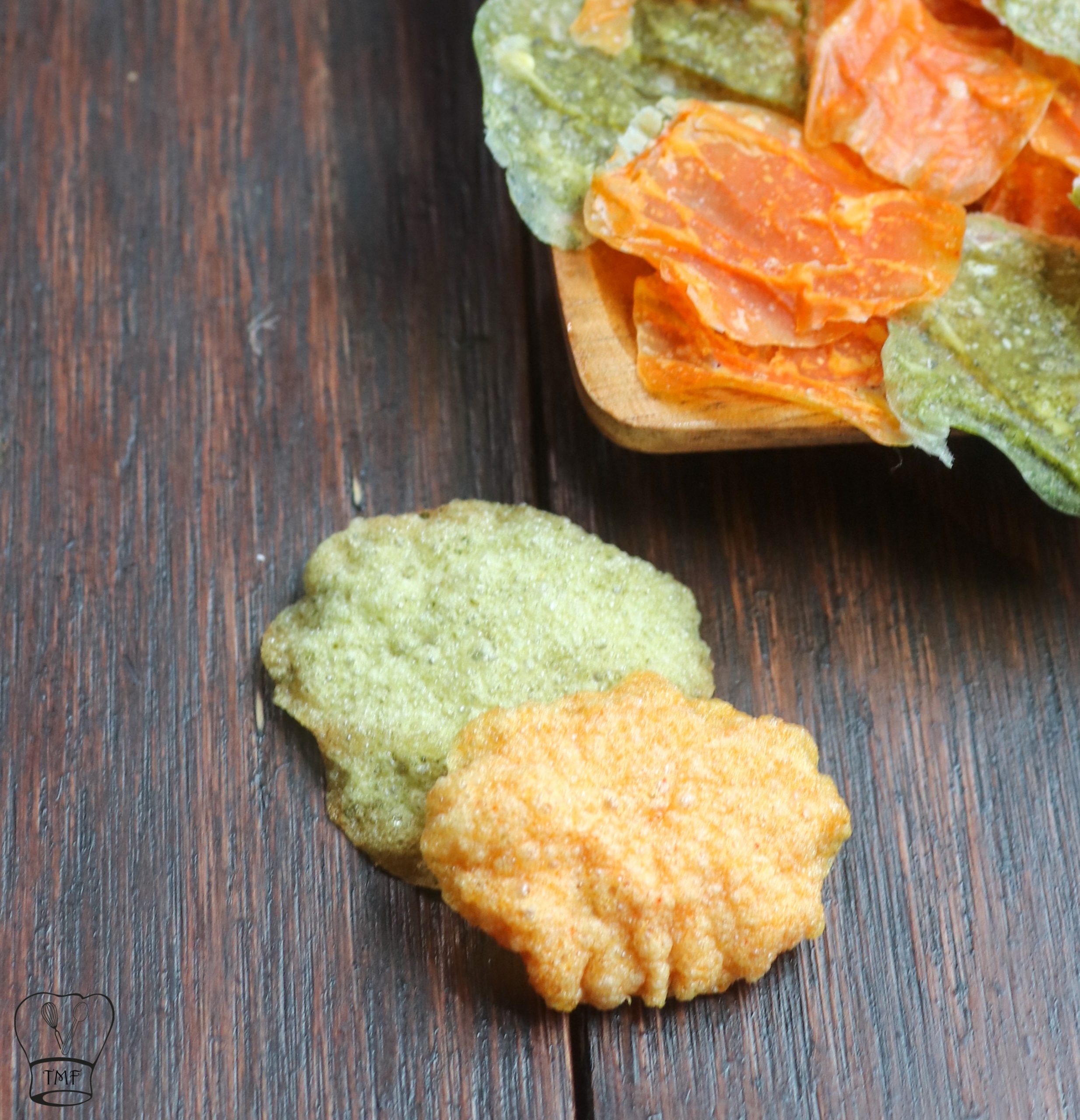 Kothamalli vathal | Corainder vadam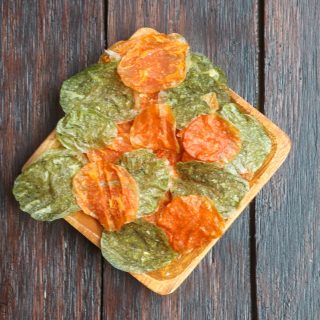 Ingredients
Soak
1

cup

cooked rice

1

cup

water
To grind
1/2

teaspoon

salt

2

green chilli

Generous pinch of turmeric powder

1

teaspoon

lemon juice

8

grams

coriander leaves

1/3

cup

rice soaked water

refer notes
Instructions
In a wide vessel add cooked rice and water; mix well and set aside for overnight

The next day transfer the soaked rice and water to a colander, save the water for the vadam and transfer the rice to a mixie jar

Add salt, lemon juice, water, and green chilli and  grind into a fine paste

Furthermore add coriander leaves, and grind well

Finally, add turmeric powder, and grind into a fine koozh

Keep parchment paper/ plastic sheet/ vinyl sheet ready for vadam

Take a ladle of koozh and add portions of the koozh on the paper. Leave space in-between the koozh

Finish the entire batch and let it get dry in the hot sun

It is an extremely sunny day after few hours (3 or 4 hours) you could easily flip the vadam

Flip gently if it is coming easily do it for the entire batch but if it is difficult to flip wait for the Vadam to dry further

Let the Vadam be in sun till the sunset. Keep the Vadam inside during the night

The next day again dry the Vadam and flip around the noon for even drying

Repeat this process till the Vadam is completely dry

Depending on the weather it takes 3 or 4 days for the Vadam to dry. On the last day dry the vadam on a baking tray or plate to prevent from vadam falling as dried vadam turns light

After the Vadam is completely dry store in an airtight container

Fry the Vadam in hot oil and flip for even cooking
Video
Notes
You can adjust green chilli according to your taste
Mint, curry leaves, or any other herbs of choice can be added
Adjust the water according to your rice. Koozh should slightly spread on its own but not pourable consistency. Avoid thick koozh Vadam. It won't dry properly. Refer to the video for the correct consistency. Adjust water accordingly
Soaking overnight is optional but it helps for easy smooth grinding
Always place the soaked rice in the colander then grind rice alone
Time to dry the vathal might vary
Store the Vadam only after the Vadam is completely dry
Keep a stone or some form of an object around the edges to prevent the Vadam paper from moving around
In India, people keep black umbrellas to protect Vadam from the crow
Vadam dough looks less salty but Vadam gets the salt as it dries so avoid adding excess salt
Avoid covering the Vadam with paper/cloth while drying
Never leave the Vadam overnight as the moisture will make the Vadam soggy
Always dry hands while flipping the Vadam
Vadam tastes best if it is well sun-dried
While cooking vadam in hot oil if you see popping it means it is not dried properly
Always fry the Vadam in hot oil
Ingredients:
Soak
1 cup cooked rice
1 cup water
To grind
1/2 teaspoon salt
2 green chilli
Generous pinch of turmeric powder
1 teaspoon lemon juice
8 grams coriander leaves
1/3 cup rice soaked water (refer notes)
How to make kothamalli vathal with leftover rice
In a wide vessel add cooked rice and water; mix well and set aside for overnight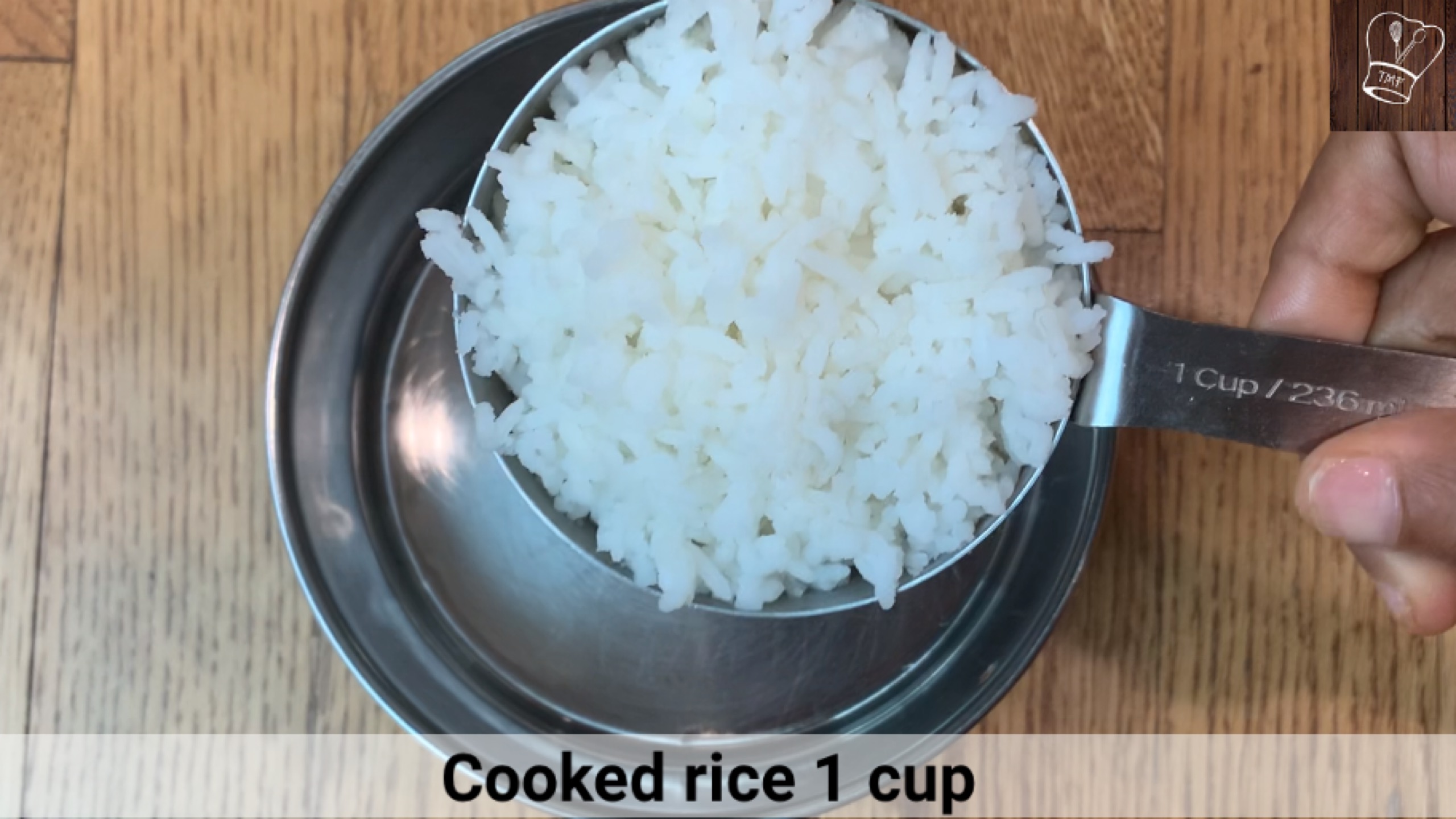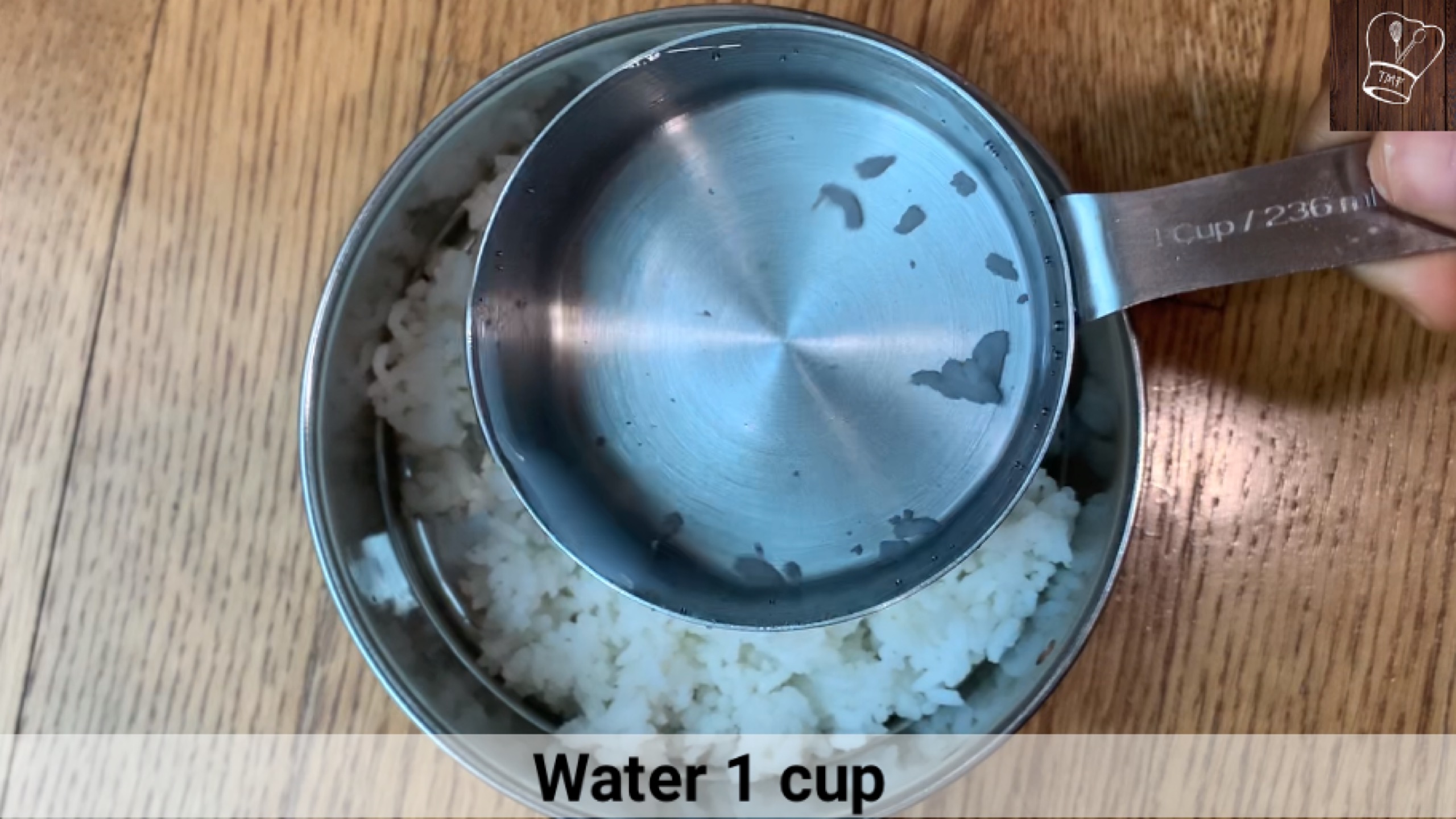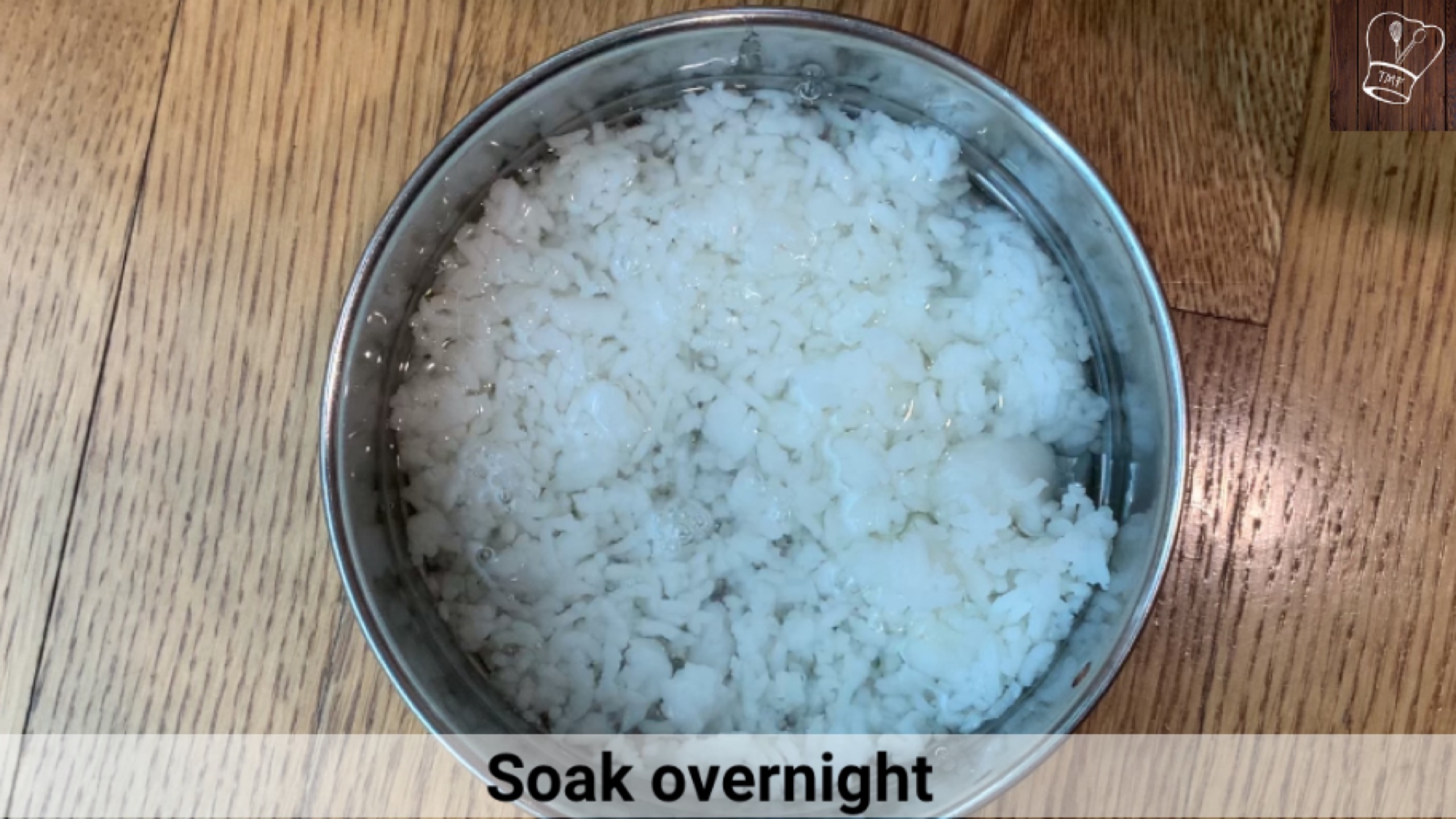 The next day transfer the soaked rice and water to a colander, save the water for the vadam and transfer the rice to a mixie jar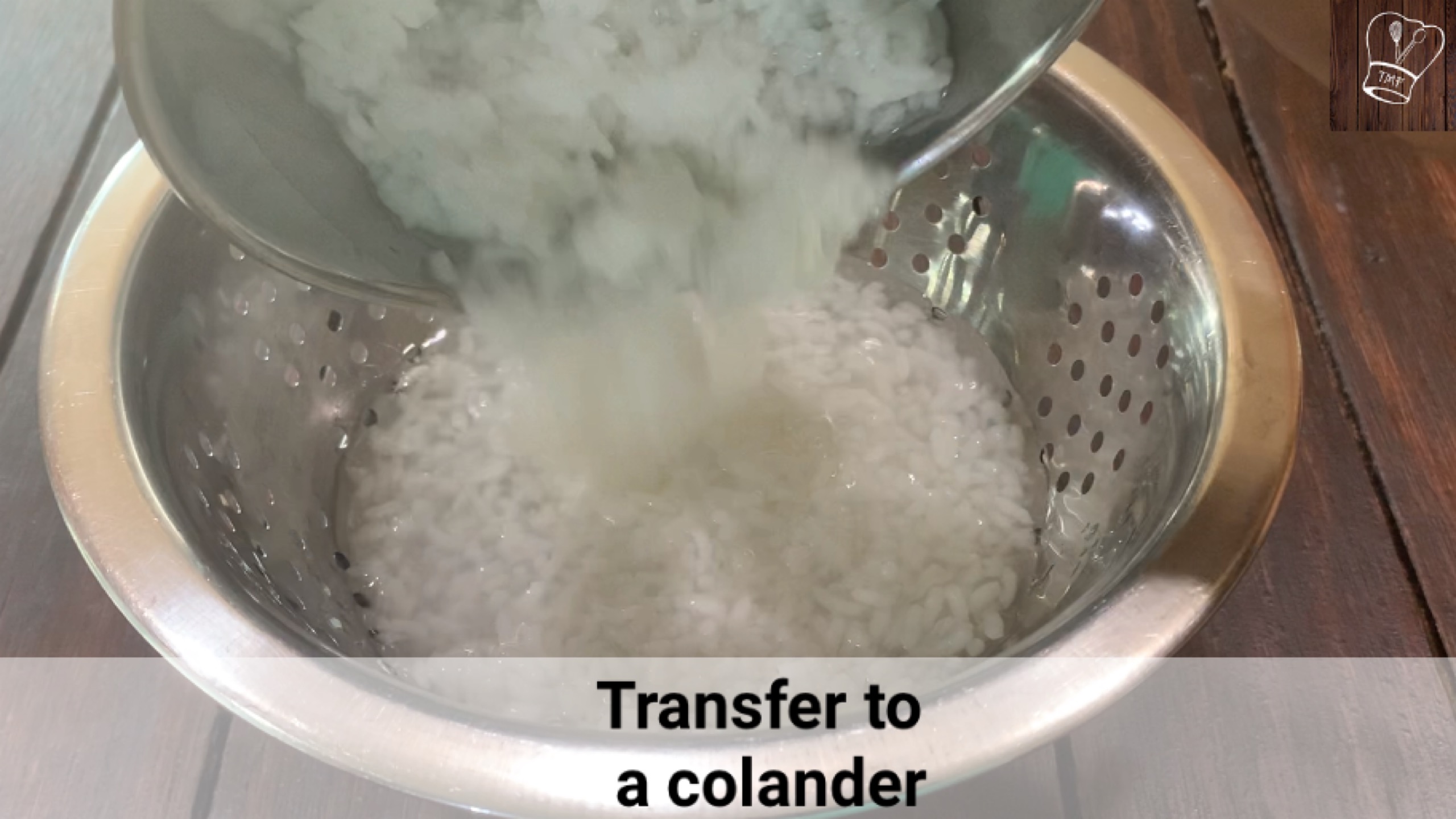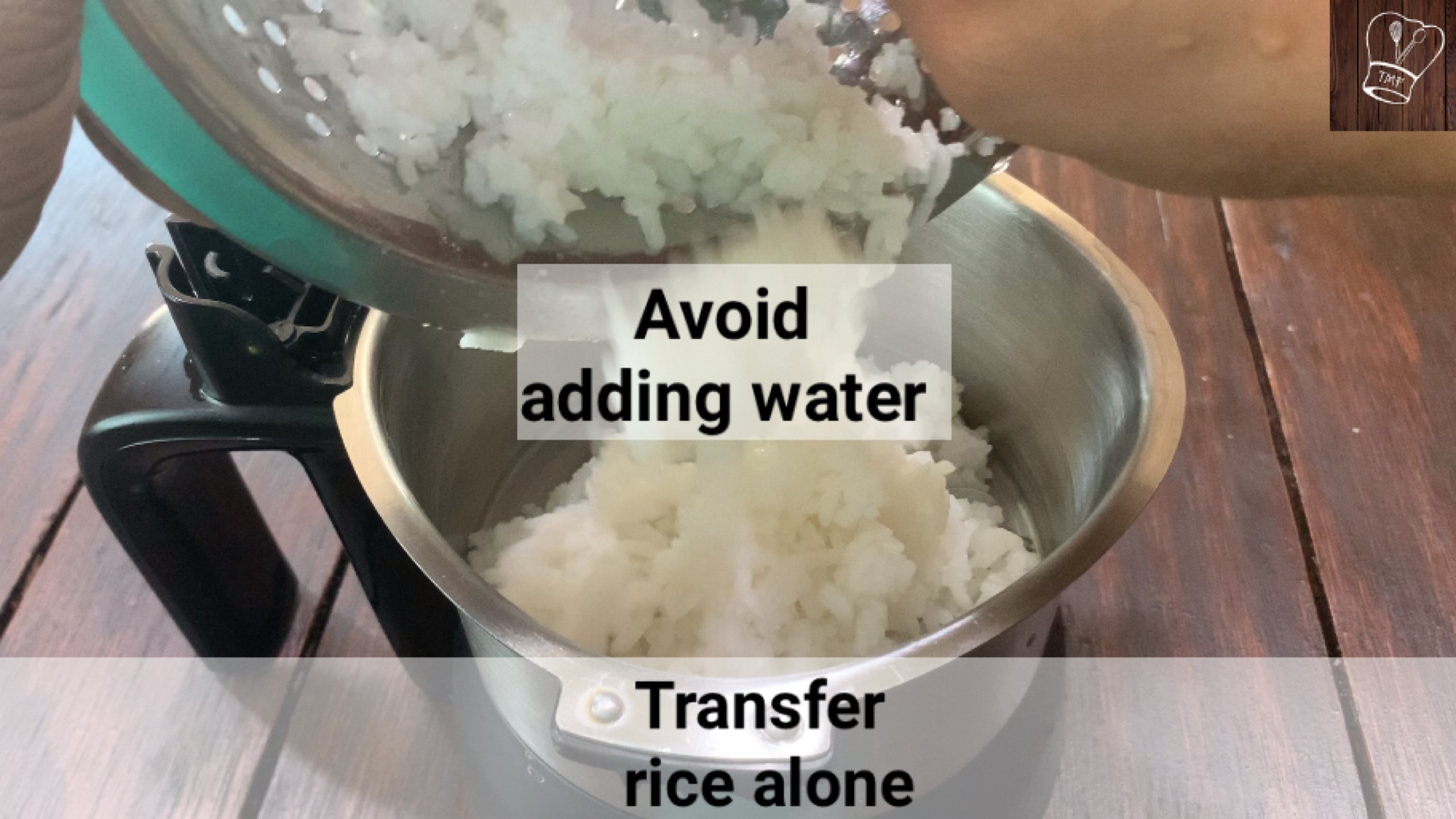 Add salt, lemon juice, water, and green chilli and grind into a fine paste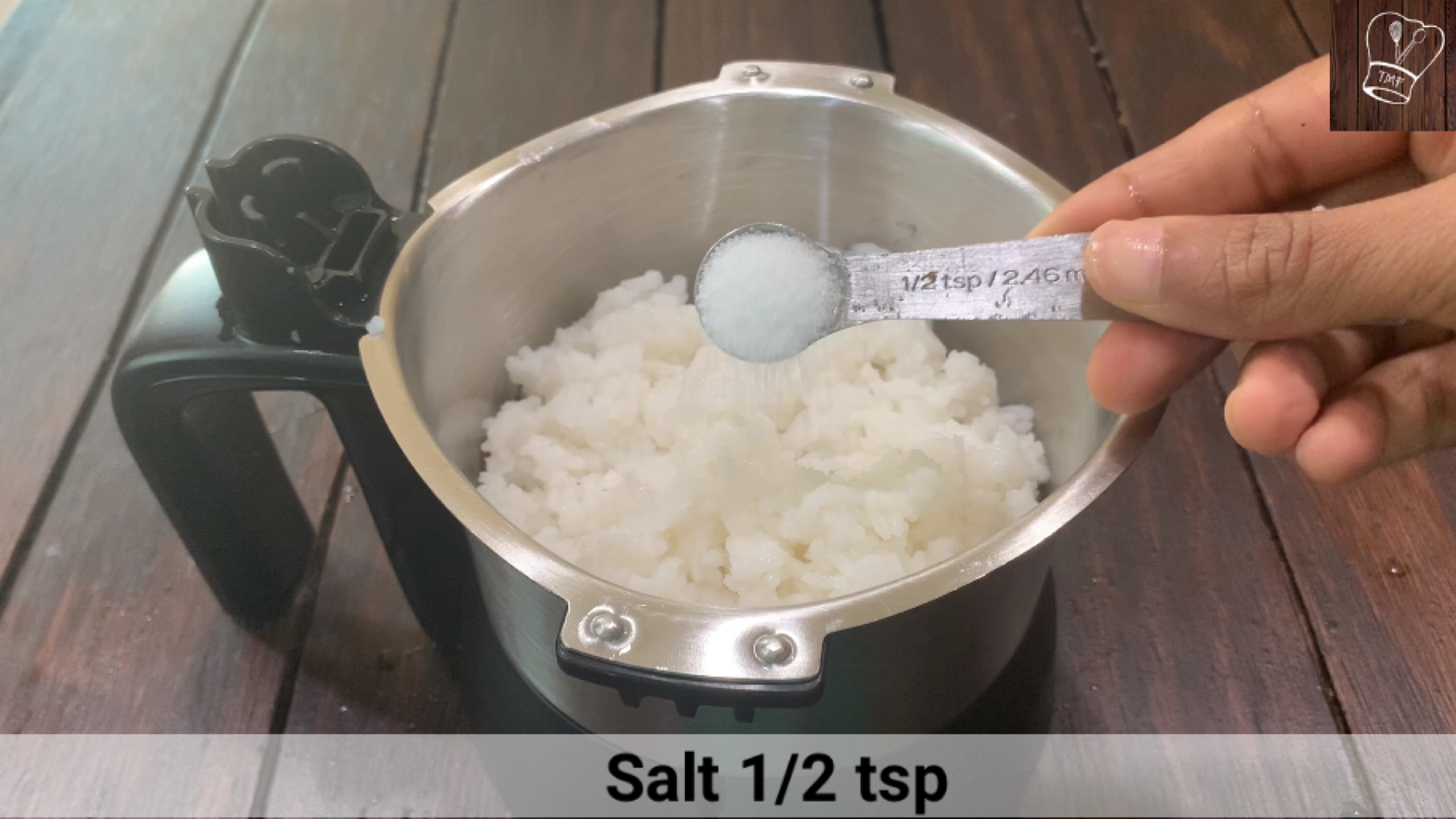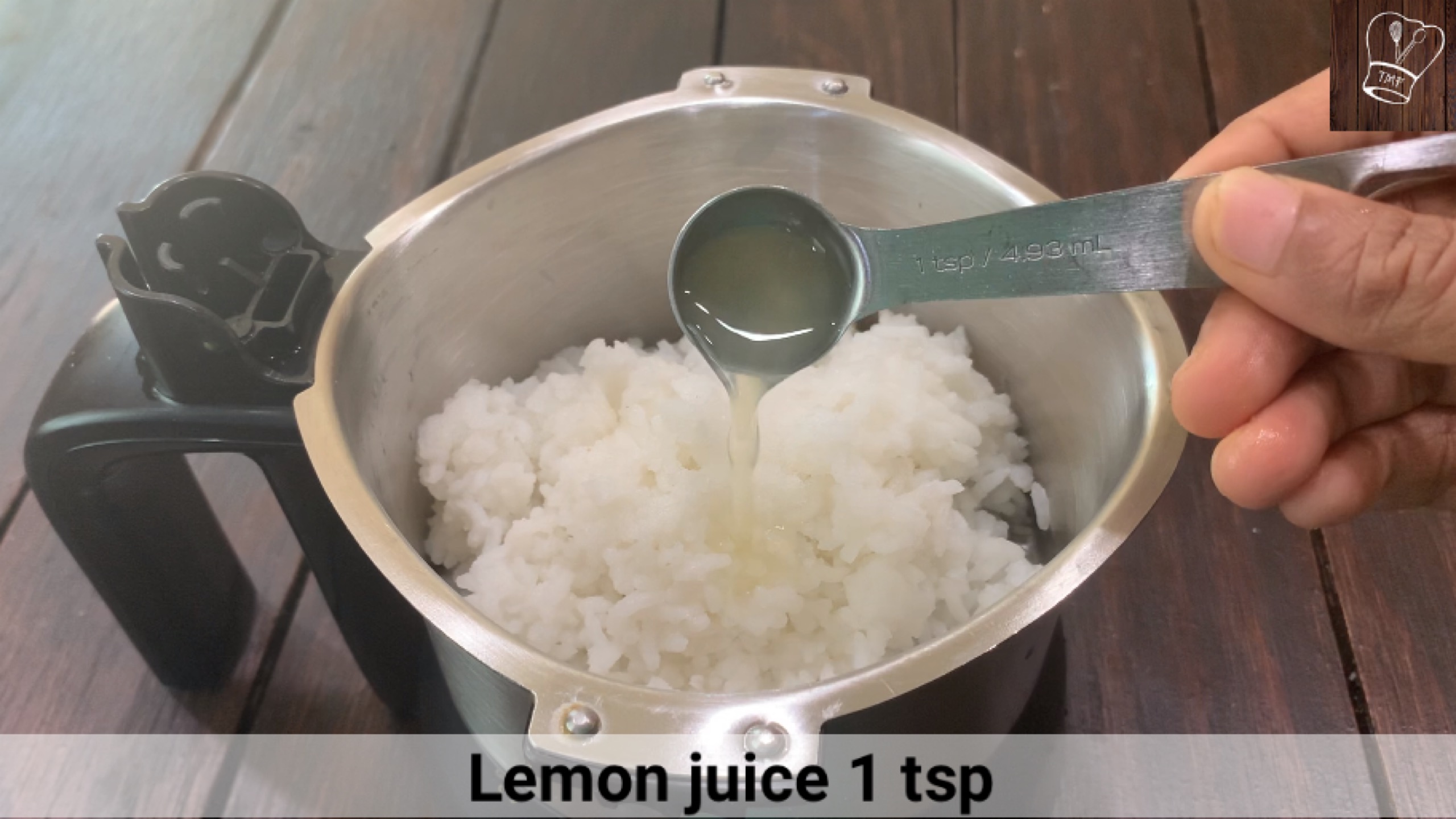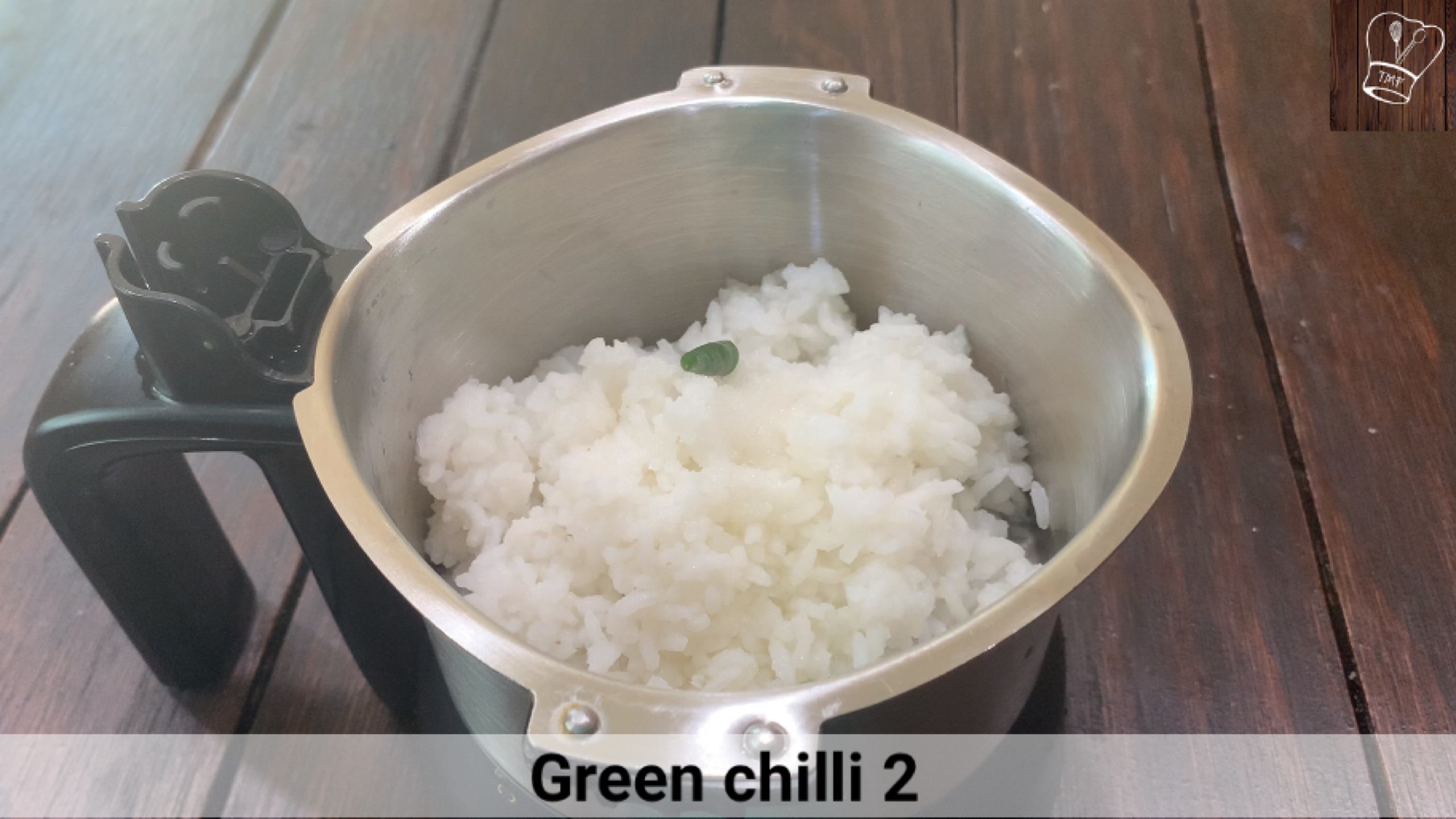 Furthermore, add coriander leaves, and grind well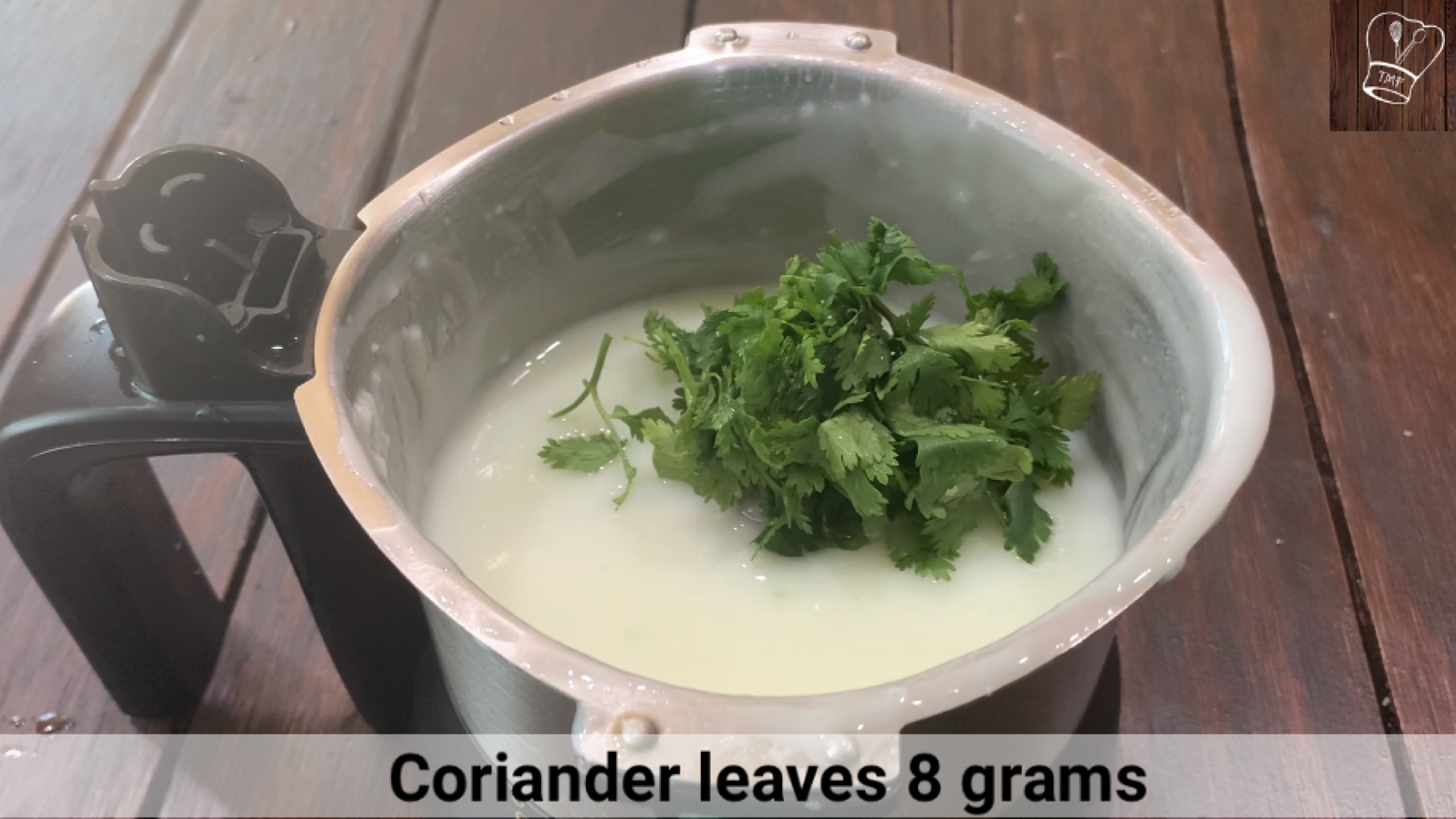 Finally, add turmeric powder, and grind into a fine koozh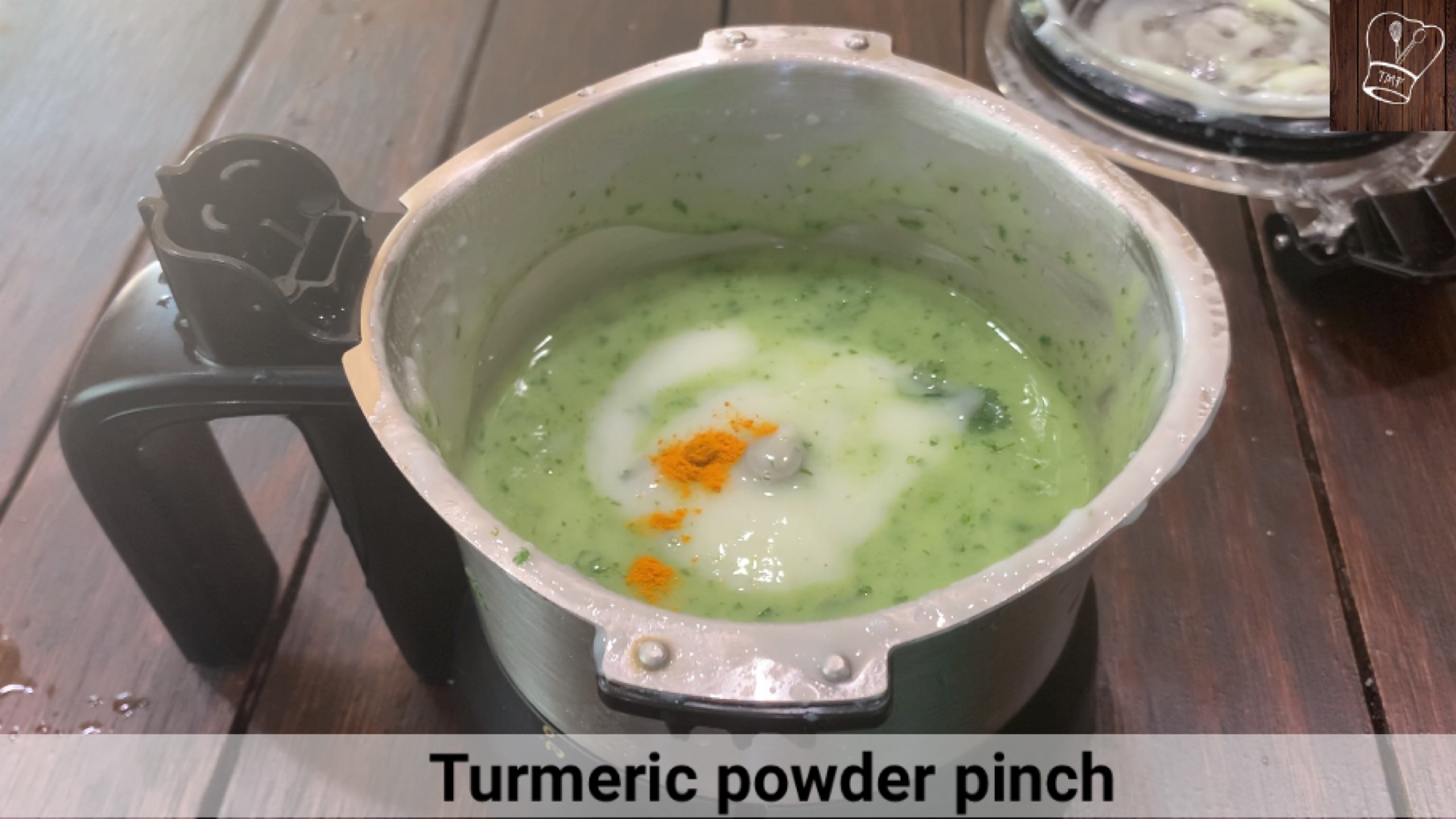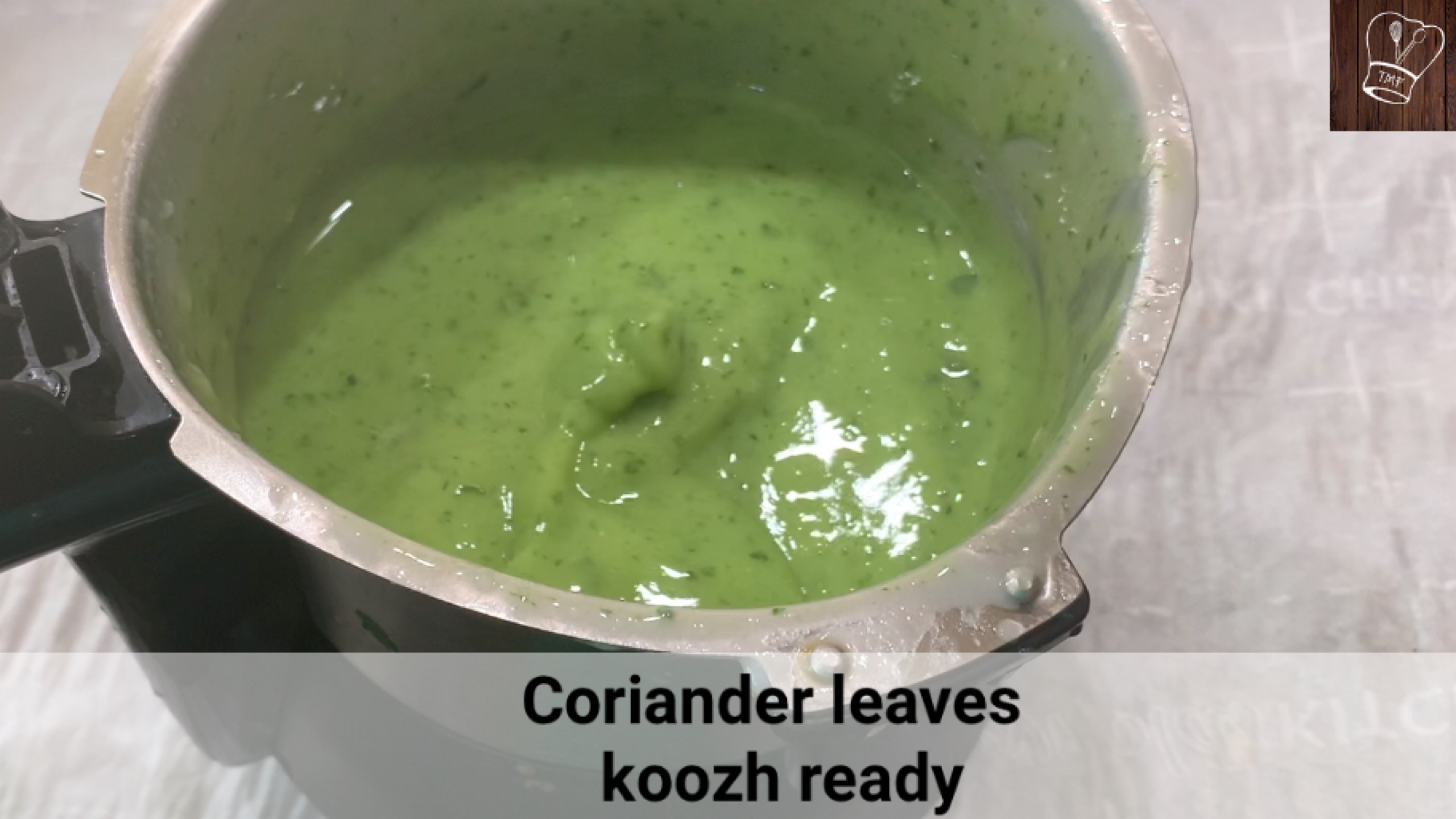 Keep parchment paper/ plastic sheet/ vinyl sheet ready for vadam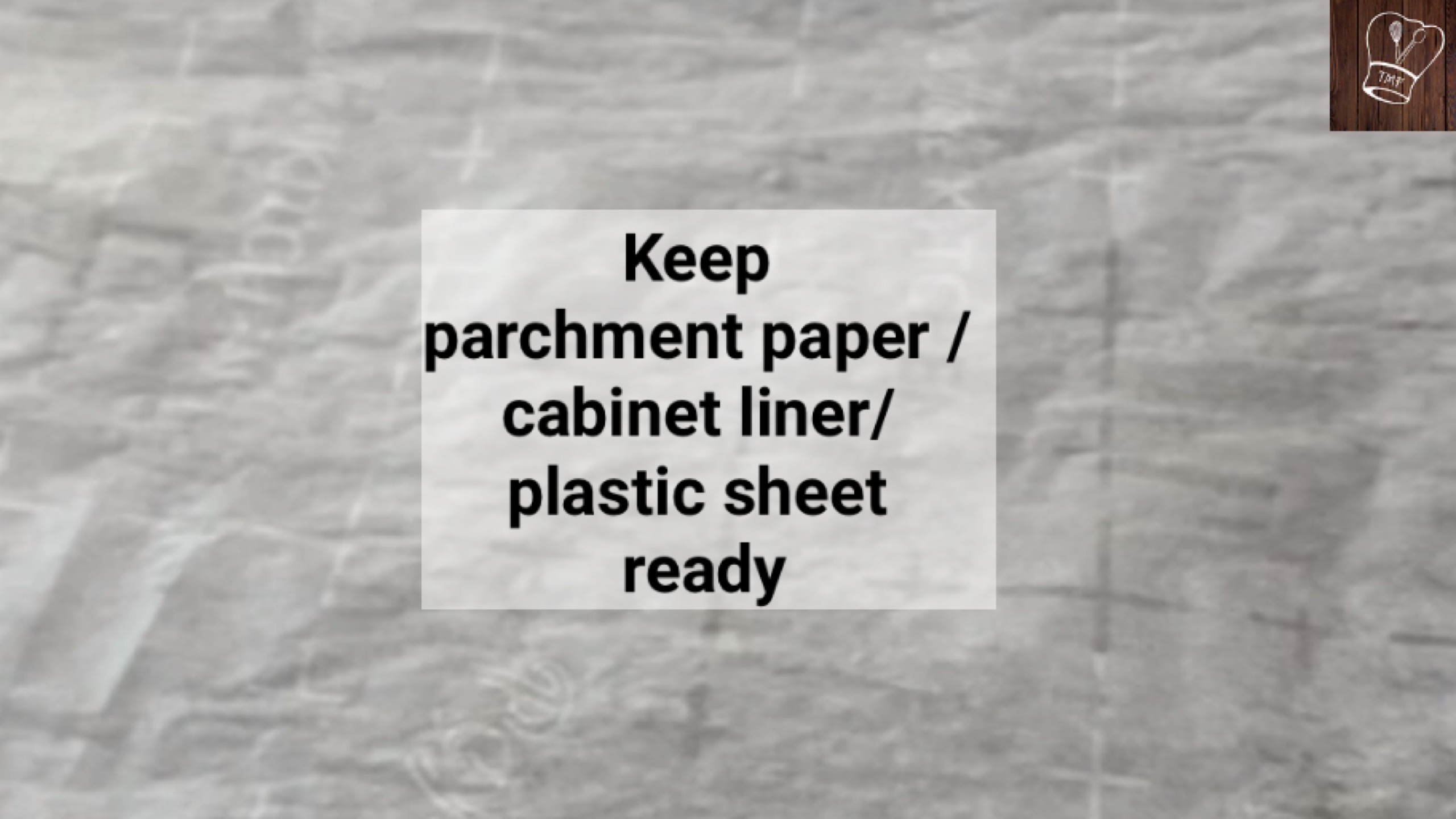 Take a ladle of koozh and add portions of the koozh on the paper. Leave space in-between the koozh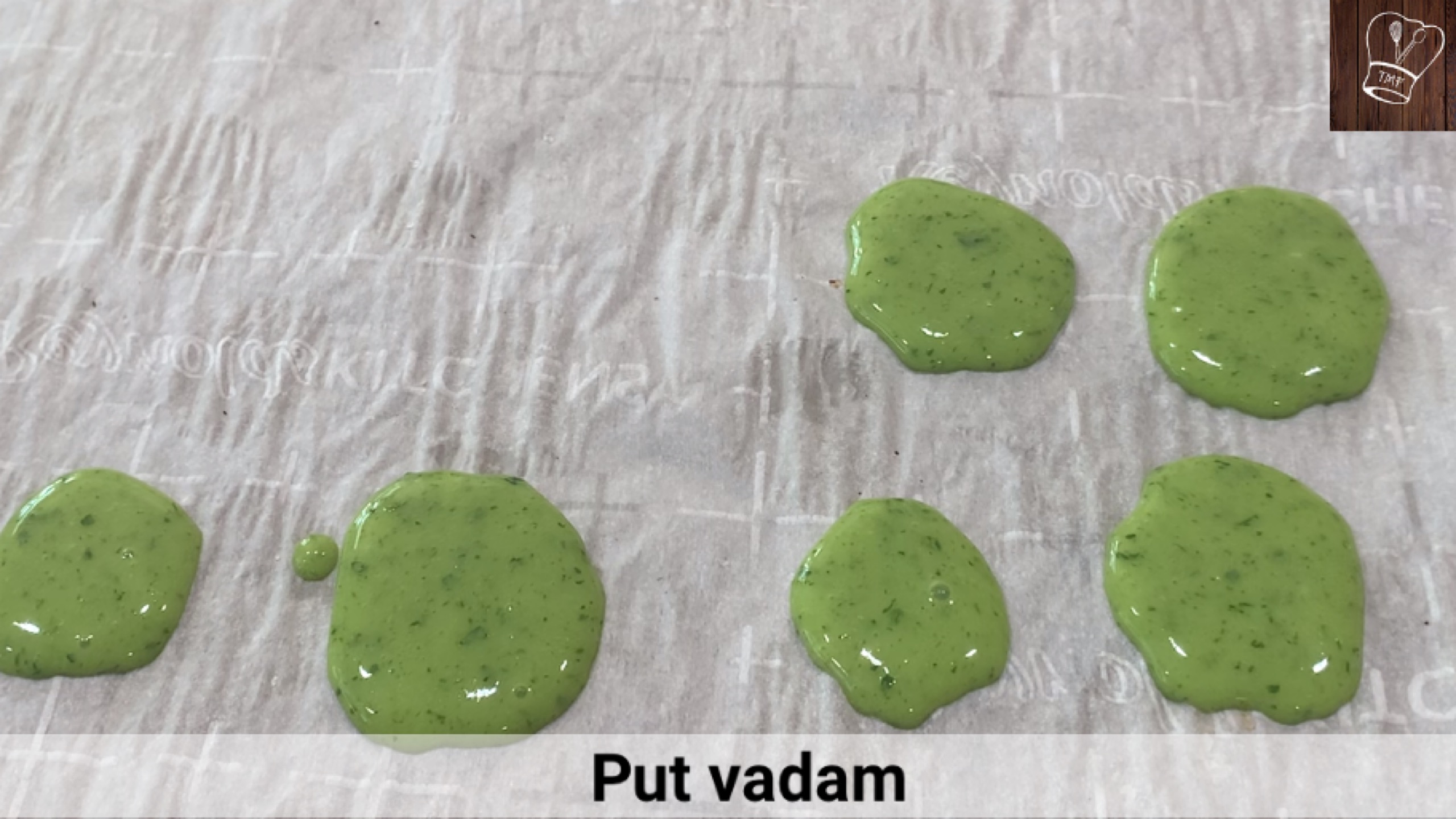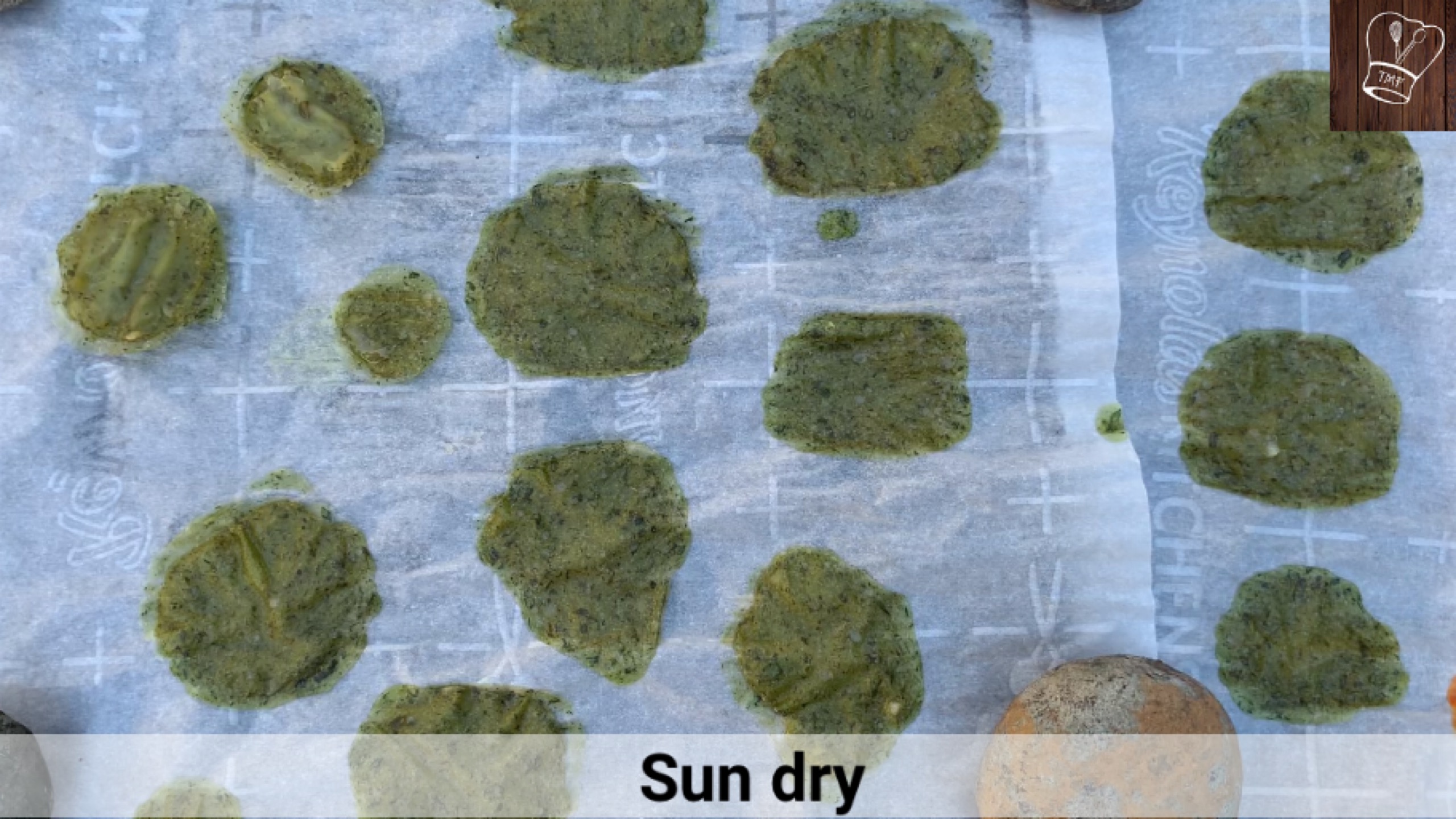 Finish the entire batch and let it get dry in the hot sun

If it is an extremely sunny day after few hours (3 or 4 hours) you could easily flip the vadam

Flip gently if it is coming easily do it for the entire batch but if it is difficult to flip wait for the Vadam to dry further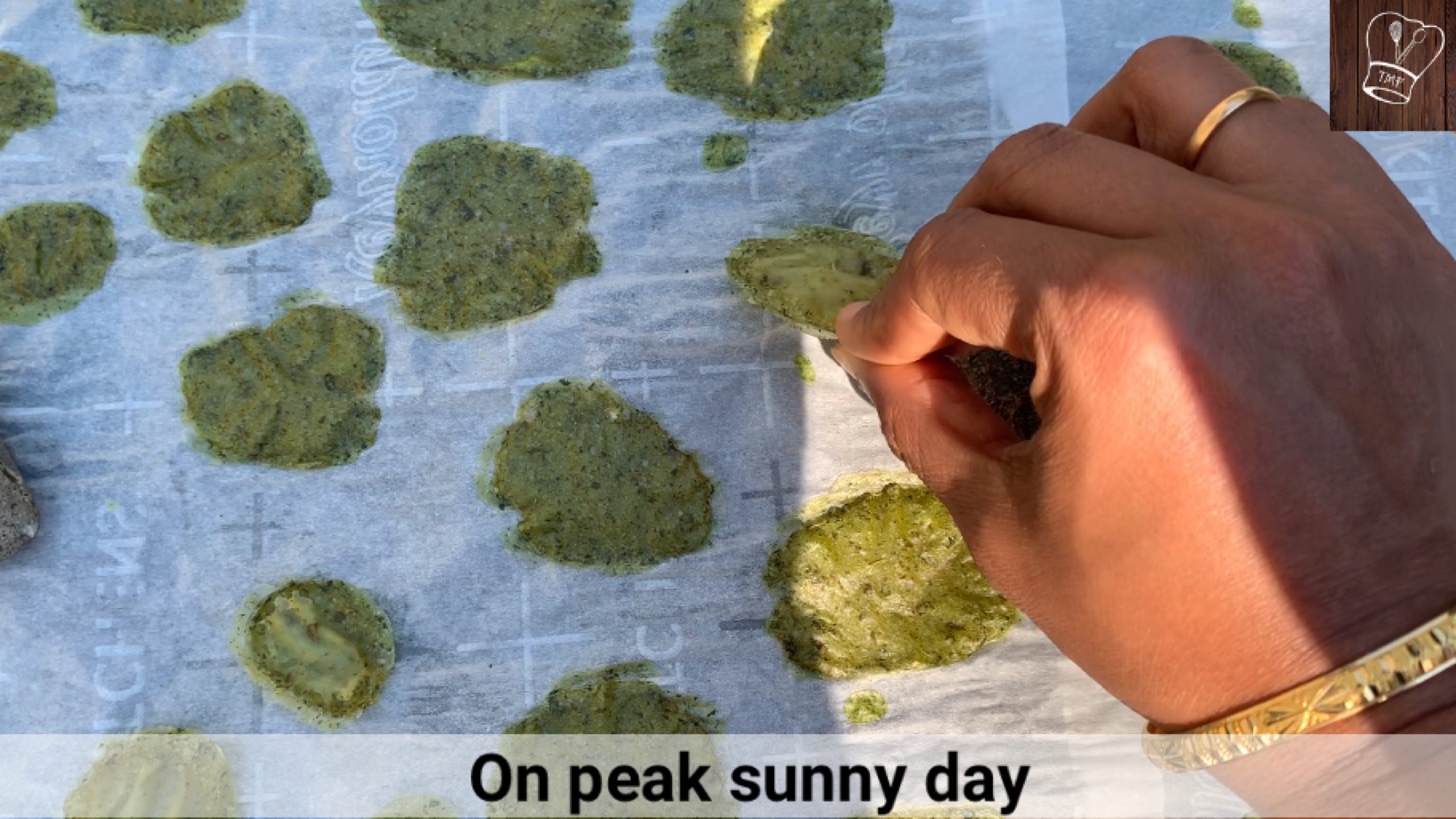 Let the Vadam be in sun till the sunset. Keep the Vadam inside during the night

The next day again dry the Vadam and flip around the noon for even drying

Repeat this process till the Vadam is completely dry

Depending on the weather it takes 3 or 4 days for the Vadam to dry. On the last day dry the vadam on a baking tray or plate to prevent from vadam falling as dried vadam turns light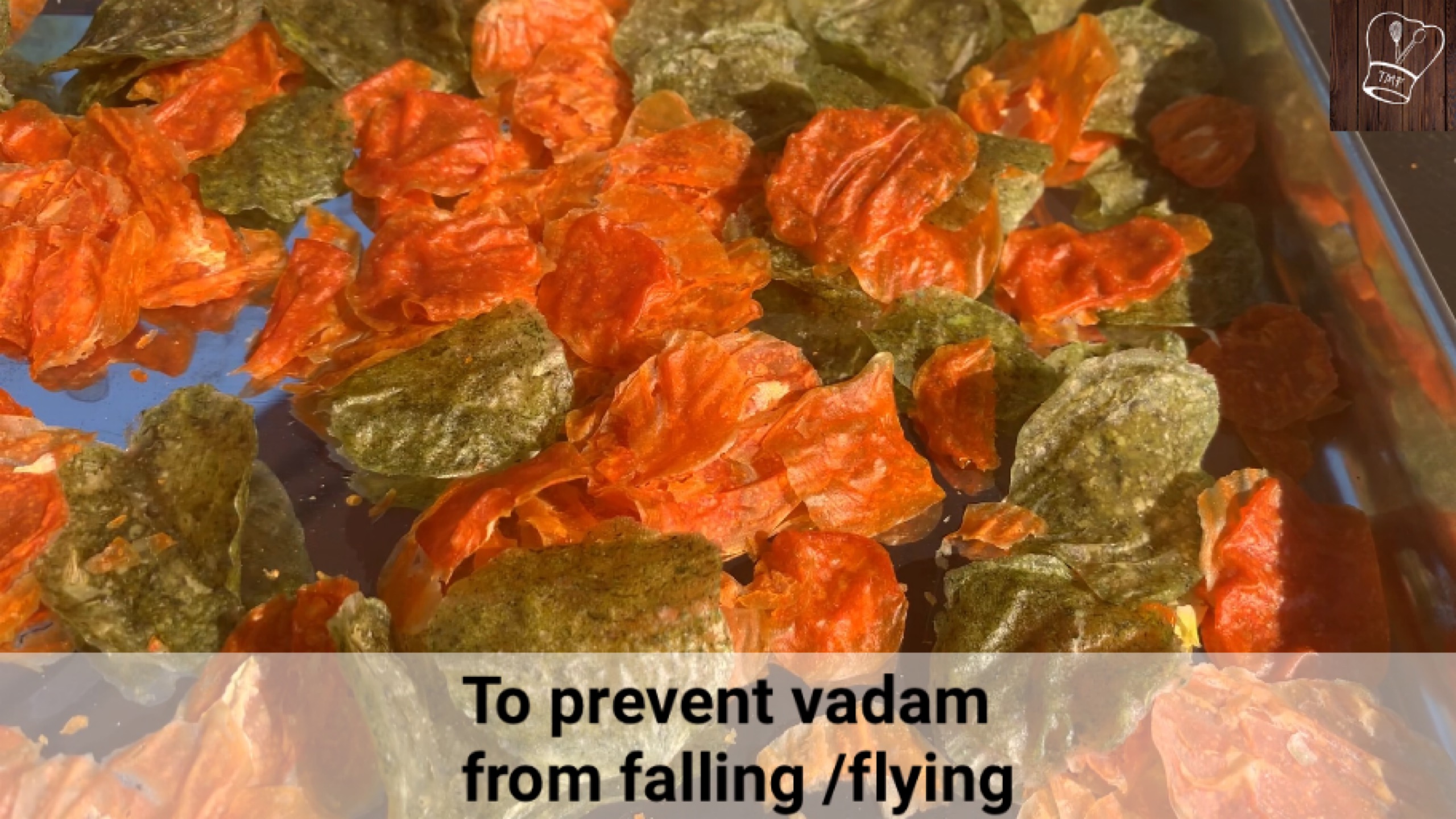 After the Vadam is completely dry store in an airtight container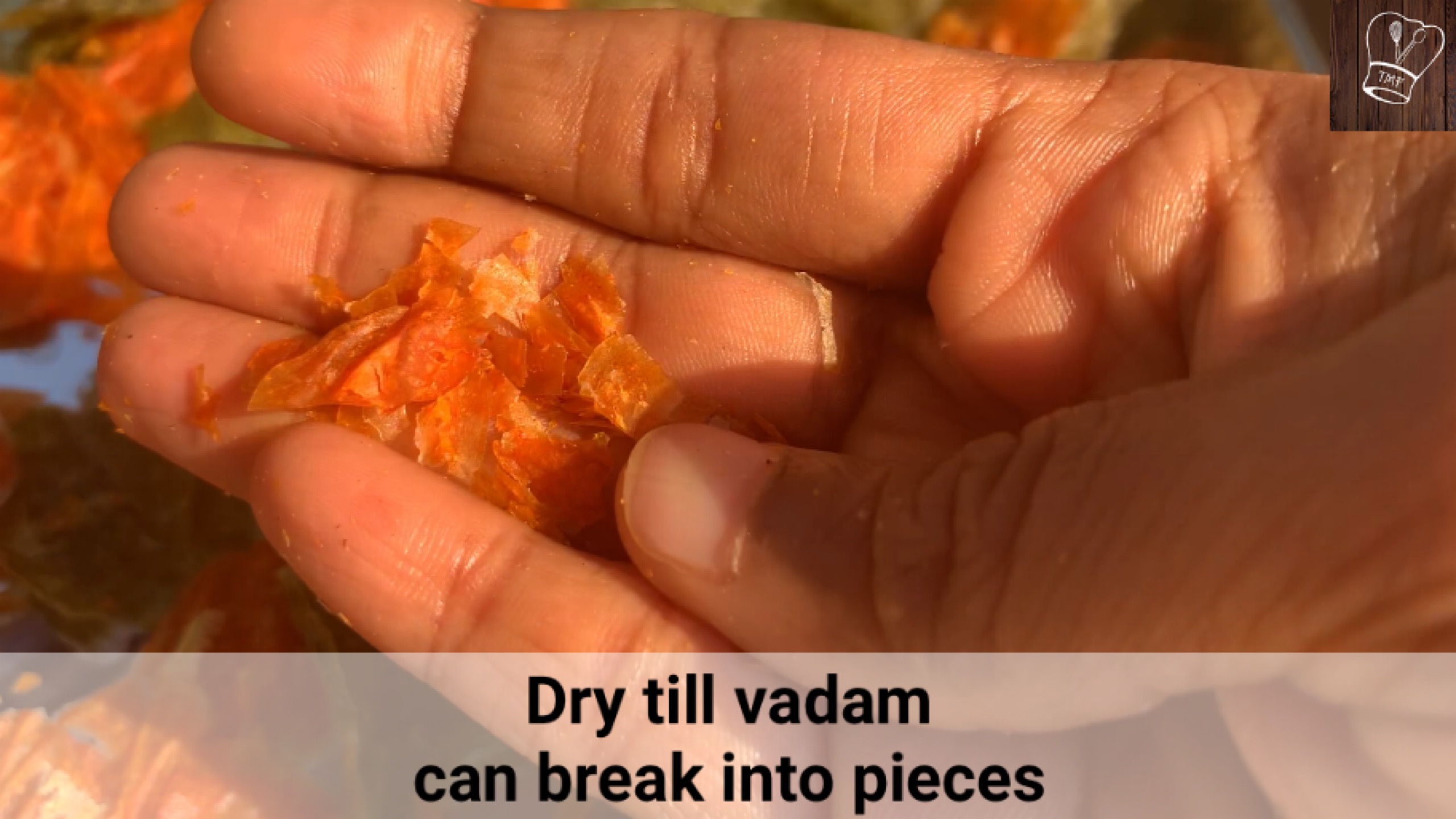 Fry the Vadam in hot oil and flip for even cooking