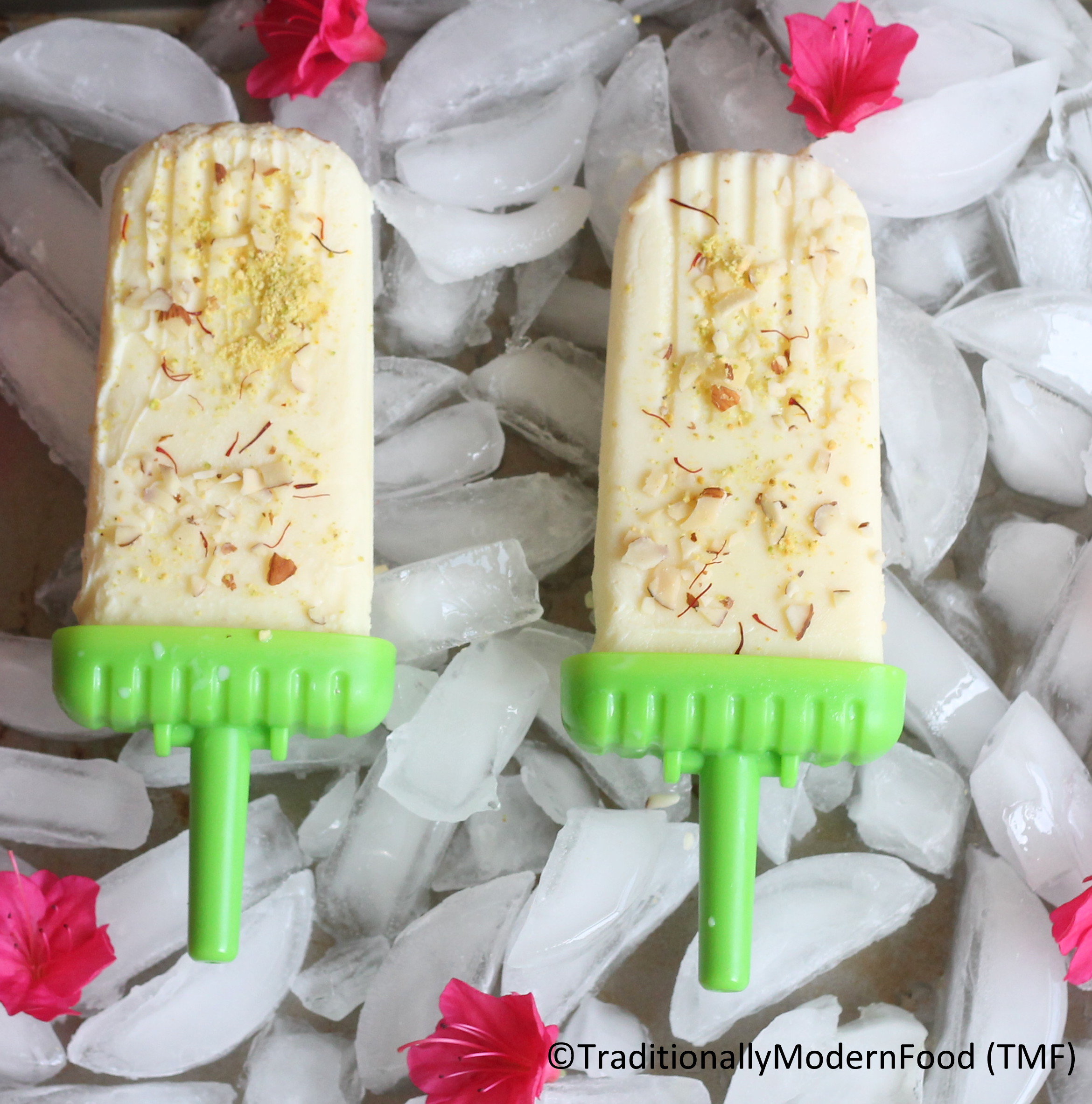 3 ingredient, lip-smacking Malai kulfi is so addictive. Malai Kulfi can be prepared within 25 minutes. Perfect summer/spring frozen dessert.
The moment I think about summer, ice cream comes to my mind. Along with ice cream, Kulfi was one of favorites ever since childhood days. During our summer holidays mostly we will go to my uncle's house to spend time with cousin, and to escape from chennai heat. Well living in Seattle at times I miss the chennai weather
Whenever we spend peak summer in chennai (Agni nakshtaram) Amma won't let's us go out in the noon. In between tv, sleep, computer games, I will wait for the bell. Yes kulfi vendor.
Those days the way he unmolds the kulfi gave me lot of fascination. I never stopped demanding for a second helping. In fact at times even before finishing first I would start thinking about second.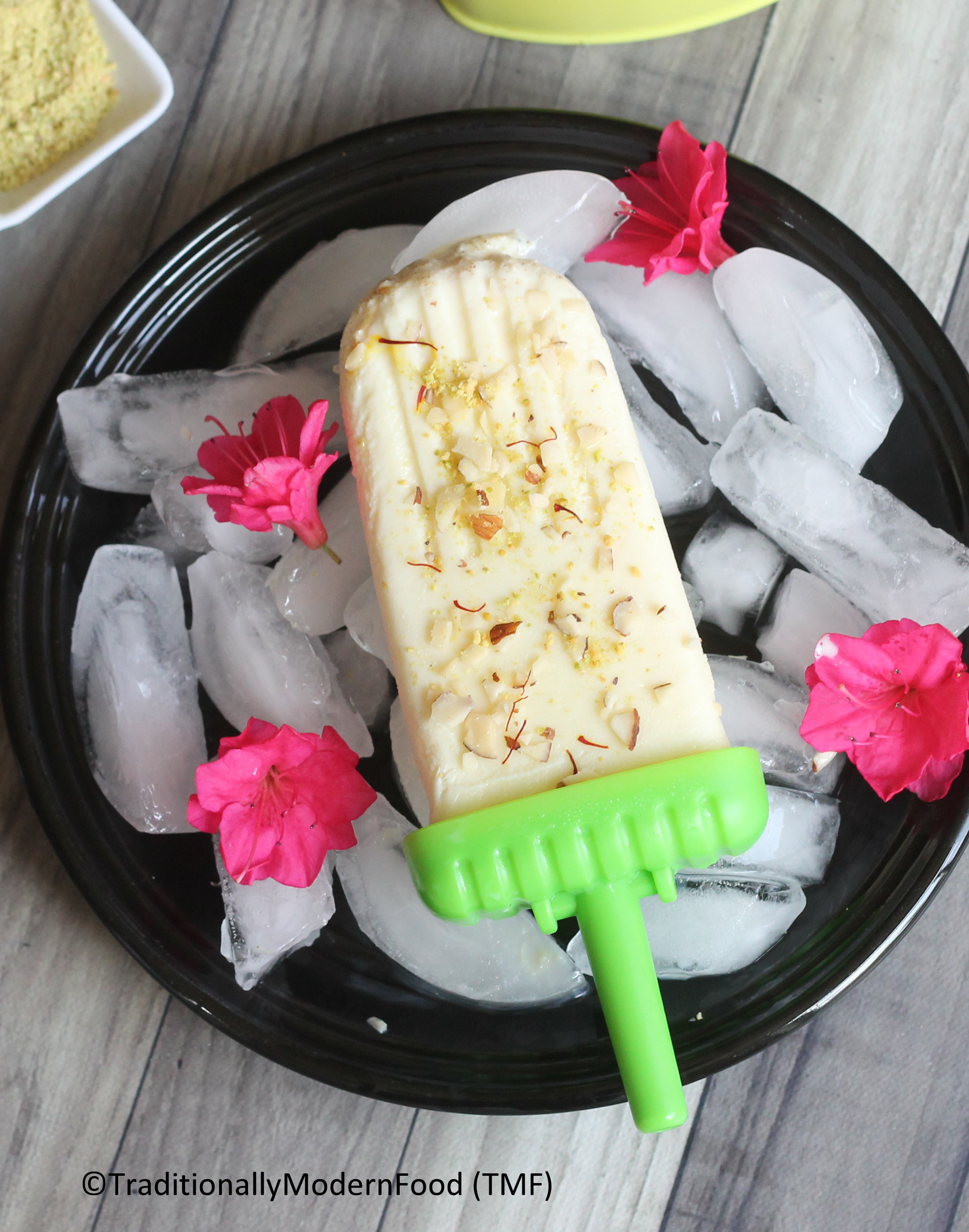 When it comes to Ice cream Vishvak is no exception. Pistachio ice cream is one of this favorites. Recently we went to my friend's place for dinner and after dinner we all were chit chatting and my friend said she got kulfi from Costco and asked what flavor we need. Moment I heard kulfi I was super excited.
Suddenly I realized why I haven't thought about making kulfi yet. Of late I started using lot of heavy cream - here is an ice cream without it.
Frozen dessert is super addictive believe me you can't stop with one . Well for my popsicle size I should. Cook for 25 minutes and freeze. If you are looking for no cook kulfi check out my 2 ingredients Mango kulfi.
Rich and Creamy Malai Kulfi. If you are looking for Mother's Day special creamy recipe, here is a melt-in-mouth tasty dessert.
Other frozen dessert in TMF,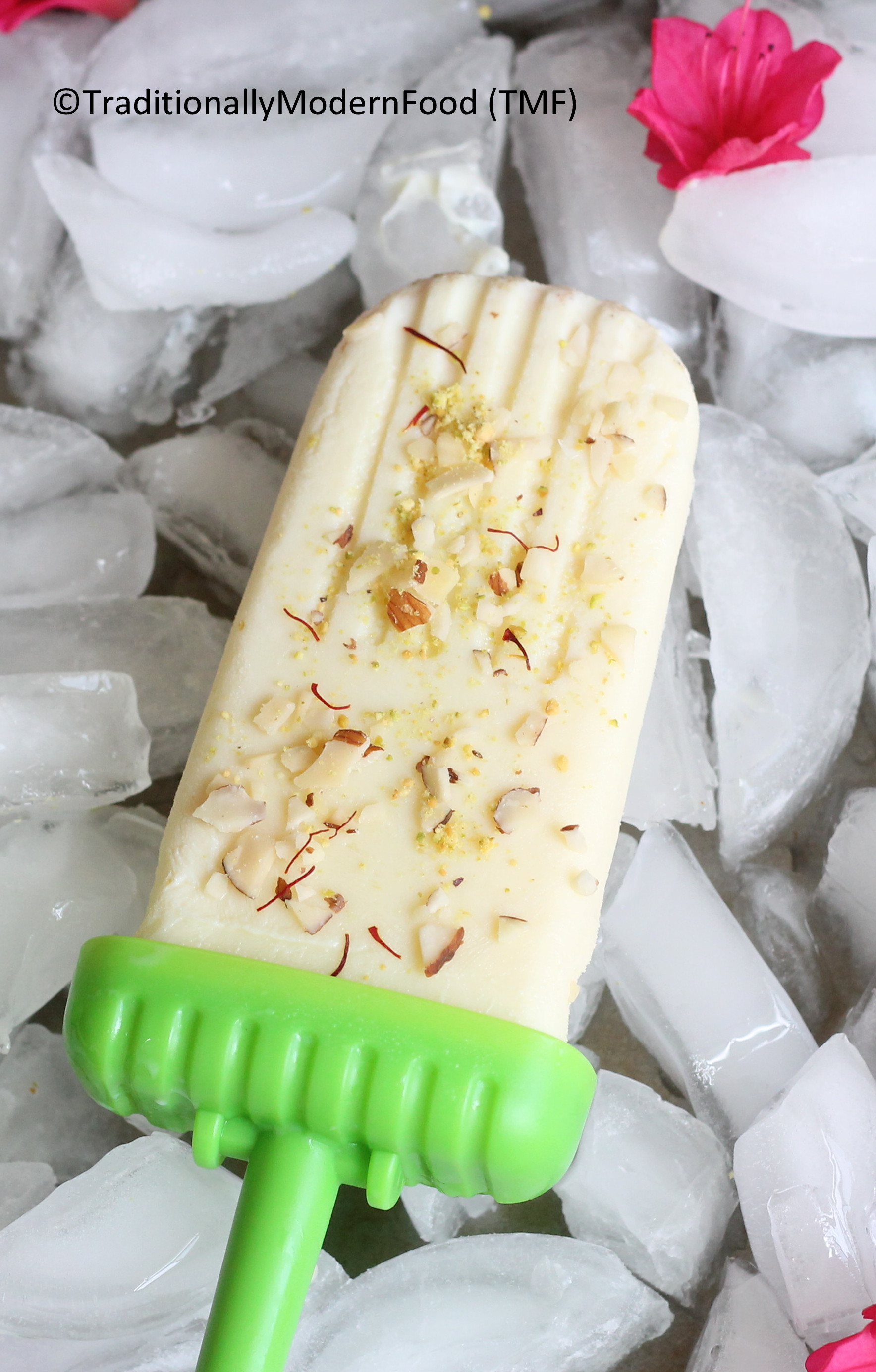 Ingredients:
Full fat milk - 2 cup + 3/4 cup
Condensed milk - 1/2 cup + 2 tbsp
Milk powder - 1/3 cup
Salt - pinch
Cardamom powder - 1/2 tsp
Saffron - 1/8 tsp
Nuts - to garnish
Method:
In a wide pan add milk powder and 1 cup of milk; mix well without lumps
Add condensed milk to the mixture and combine well
Add remaining milk, salt and cardamom powder; mix well

Cook the mixture on medium flame for around 25 minutes, stirring it occasionally and scrapping the sides.
Cook till the mixture reduces to 1/2. Switch off the flame add saffron; mix well and let it cook dish completely
Transfer the mixture into kulfi mold and freeze it overnight or preferably go at least 7 hours
In a wide bowl add hot water and let the kulfi sit for few second and unmold; serve immediately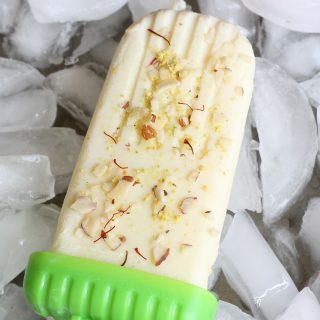 Malai Kulfi
3 ingredients lip smacking Malai kulfi is so addictive. Kulfi can be prepared within 25 minutes. Perfect summer/spring frozen treat.
Print
Pin
Comment
Ingredients
Full fat milk - 2 cup + 3/4 cup

Condensed milk - 1/2 cup + 2 tbsp

Milk powder - 1/3 cup

Salt - pinch

Cardamom powder - 1/2 tsp

Saffron - 1/8 tsp

Nuts - to garnish
Instructions
In a wide pan add milk powder and 1 cup of milk; mix well without lumps

Add condensed milk to the mixture and combine well

Add remaining milk, salt and cardamom powder; mix well

Cook the mixture on medium flame for around 25 minutes, stirring it occasionally and scrapping the sides. Cook till the mixture reduces to 1/2. Switch off the flame add saffron; mix well and let it cook dish completely

Transfer the mixture into kulfi mold and freeze it overnight or preferably go at least 7 hours

In a wide bowl add hot water and let the kulfi sit for few second and unmold; serve immediately
Notes
1.All the ingredients listed can be combined at one shot and cooked, I did step by step as it easy to mix milk powder
2.Using nuts is optional, it gives nice crunch to the kulfi
3.Saffron can be added while boiling the milk but I preferred adding it towards the ends so it won't change the kulfi color
4.Kulfi can be refrigerated for 5 minutes and unmold
5.Enjoy kulfi immediately after un molding else it night become watery
6.If you prefer to reduce cooking time increase the milk powder ratio