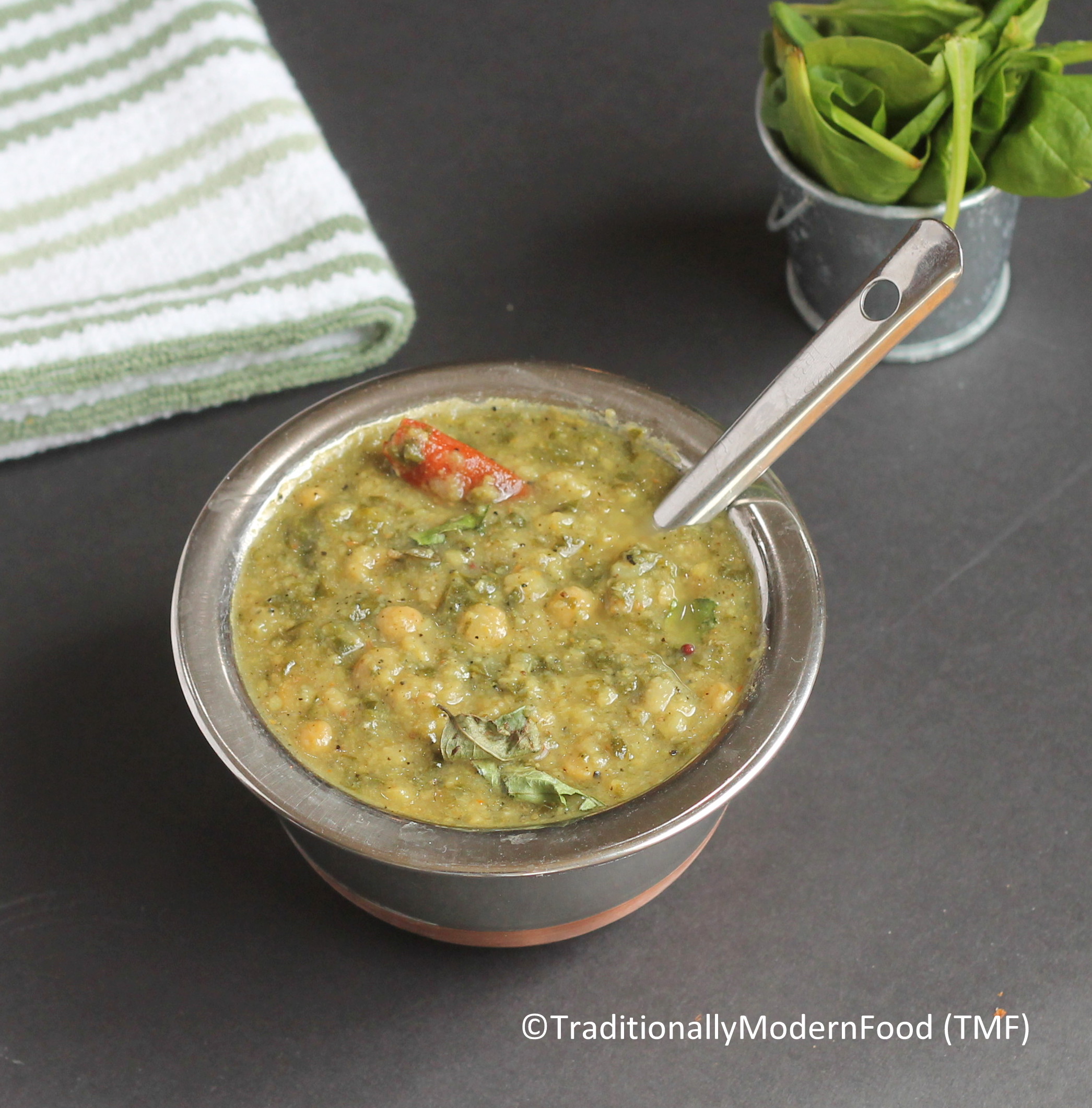 Keerai molagootal is a traditional palakkad special dish South Indian rice accompaniment/ side dish prepared with spinach and dal. Freshly ground spice-paste gives a nice flavor to the keerai kootu. Quick one-pot spinach dal curry which can be prepared with Instant pot/ Pressure cooker.
Keerai kootu and Keerai thengai curry are the dishes my Amma makes with spinach. Growing up I was not a big fan of spinach but because of its healthy benefits she somehow managed to make eat it. Coconut flavor in spinach dishes made me like this iron rich vegetable. Keerai pappu become my favorite in recent years.
Amma makes a thick kootu and we take it as a side dish for Rasam/ Milagu Kuzhambu/ Vethakuzhambu. Now a days I started making it in a gravy-like consistency and we mix it with rice use it as a rice accompaniment.
Keerai Molagootal is prepared with channa dal/ moong dal with some vegetable or combination of veggies. Freshly roasted and ground paste makes kootu super delicious. Usually I use green chilli for kootu like Cabbage kootu and Pumpkin kootu, and red chilli for Poricha kootu and Keerai Milagu kootu.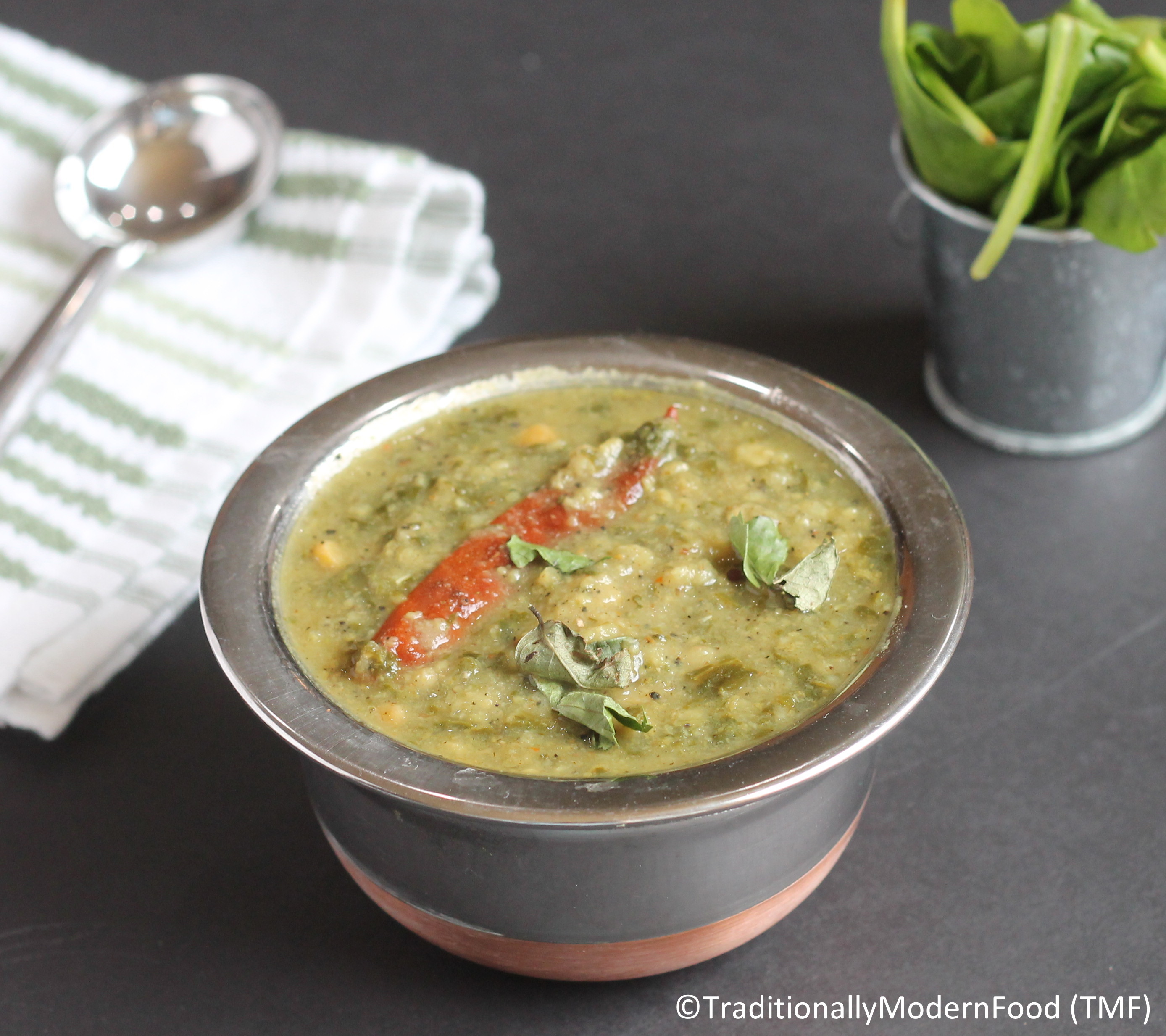 When it comes to keerai Molagootal both Amma and MIL use moong dal for the preparation. Sometime back we had South Indian thali in Indian restaurant, and keerai kootu was one among the dishes served. They added little channa dal to the kootu and liked that variation so now a days little channa dal always goes to my keerai kootu.
Spinach kootu can be prepared in pressure cooker and instant pot. Coconut gives nice flavor for the kootu. Friend of mine once told Kerala dish, keerai molagtal is also prepared in a similar way. In Keerai Molagootal, Urad dal is used, like in poricha kootu.
Roasted Coriander seeds give aromatic flavor to the kootu. This is tamil brahmin style, no onion - no garlic version kootu. If you are looking for quick one pot recipes, this one is perfect. Except the dry roasting part, kootu is pretty much easy. Put everything into pressure cooker/ instant pot stir once and cook, kootu is ready
Kootu recipe collection in TMF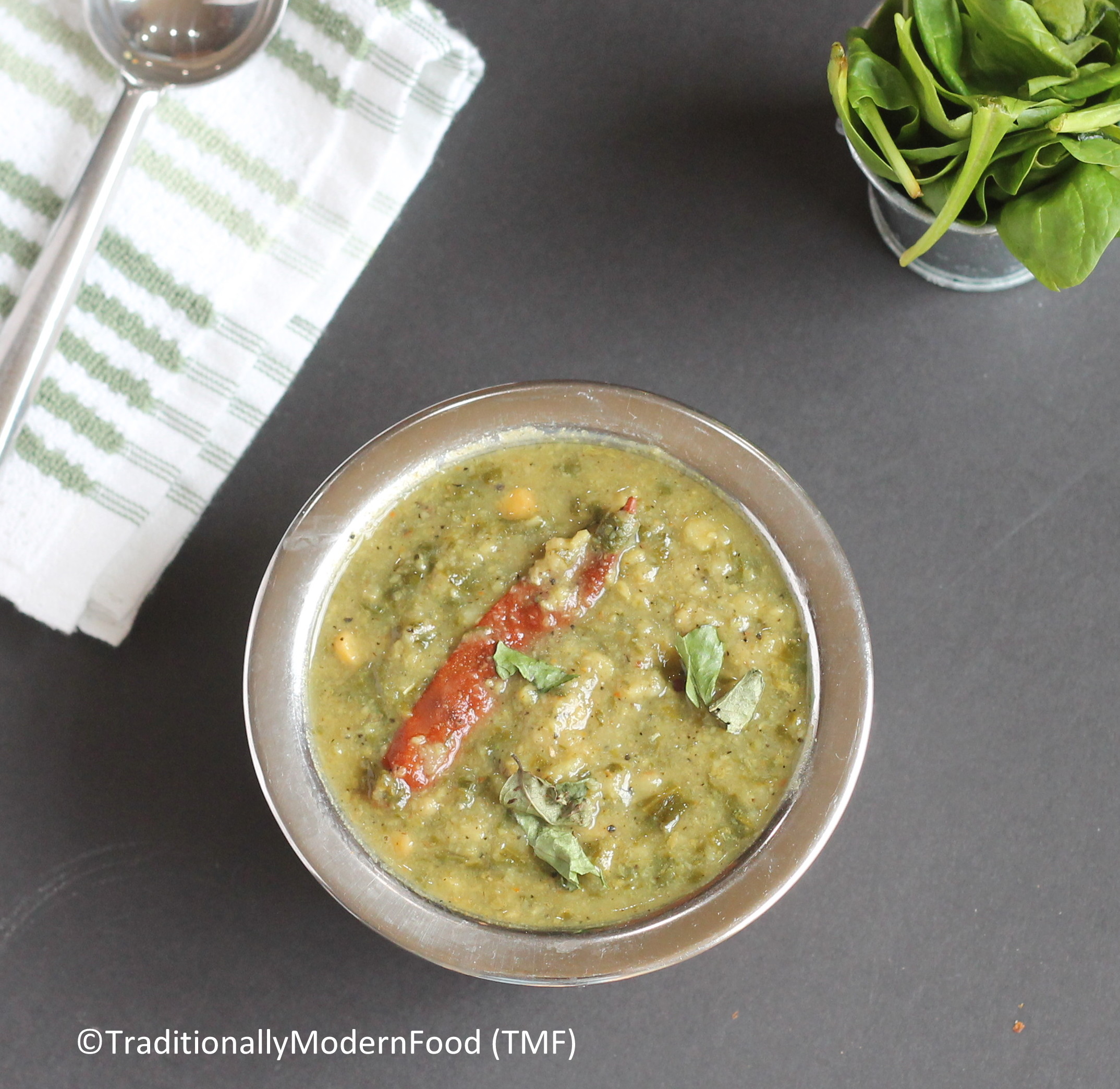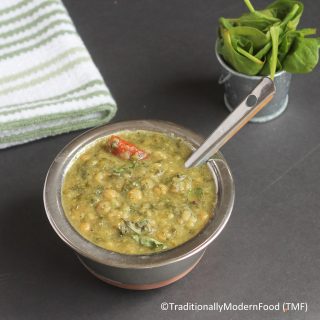 Keerai Milagu Kootu
Keerai milagu kootu is a traditional South Indian rice accompaniment/ side dish prepared with spinach, moong dal and channa dal. Fresh ground spice paste gives a nice flavor to the kootu.
Print
Pin
Comment
Ingredients
Spinach - 150 grams

Moong dal or toor dal - 1/3 cup

Channa dal - 2 tbsp

Salt - as needed

Turmeric powder - 1/8 tsp

Water - 1 cup + 3/4 cup
To grind:
Grated coconut

fresh/frozen - 1/4 cup

Urad dal - 1/2 tbsp

Cumin seed - 1/2 tsp

Pepper - 1/4 tsp

Red chilli - 2
To temper:
Coconut oil - 1/2 tbsp

Mustard seeds - 1/4 tsp

Urad dal - 1 tsp

Red chilli - 1

Curry leaves - few

Asafotida - generous pinch
Instructions
Dry roast the ingredients gives under "to grind" except coconut into golden brown. Add coconut give a quick stir. Switch off and let it cool down. Grind into a paste with litter water

Switch on the instant pot in sauté mode and add oil and when the oil is hot add the ingredients under "to temper" let it splutter

Add spinach, moong dal, Channa dal and mix well

Add the ground paste, turmeric powder, asafotida, water; mix well

Switch the instant pot to manual mode, cook on high temperature for 21 minutes. Let the pressure release naturally. Add salt; mix well
Notes
Coconut oil gives nice flavour to the Kootu, any other oil can be used used
Adjust the water according the consistency you prefer
If you think kootu is watery let it boil for sometime in sauté mode
kootu can also be cooked in pressure cooker. Put everything in pressure cooker and cook for 3 whistles
If you prefer to cut down coconut. Cumin-pepper powder can be used for instead of spice paste
Adjust the spice according to your taste
Ingredients:
Spinach - 100 grams
Moong dal - 1/3 cup
Channa dal - 2 tbsp
Salt - as needed
Turmeric powder - 1/8 tsp
Water - 1 cup + 3/4 cup
To grind:
Grated coconut (fresh/frozen) - 1/4 cup
Urad dal - 1/2 tbsp
Cumin seed - 1/2 tsp
Pepper - 1/4 tsp
Red chilli - 2
To temper:
Coconut oil - 1/2 tbsp
Mustard seeds - 1/4 tsp
Urad dal - 1 tsp
Red chilli - 1
Curry leaves - few
Asafotida - generous pinch
Method:
Dry roast the ingredients gives under "to grind" except coconut into golden brown. Add coconut give a quick stir. Switch off and let it cool down. Grind into a paste with litter water
Switch on the instant pot in sauté mode and add oil and when the oil is hot add the ingredients under "to temper" let it splutter
Add spinach, moong dal, Channa dal and mix well

Add the ground paste, turmeric powder, asafotida, water; mix well
Switch the instant pot to manual mode, cook on high temperature for 21 minutes. Let the pressure release naturally. Add salt; mix well