Mini Chocolate Chip Muffin - Eggless step-by-step pictures and video recipe. You can also check out the Eggless chocolate chip muffins recipe. If you like this recipe pls SUBSCRIBE to my channel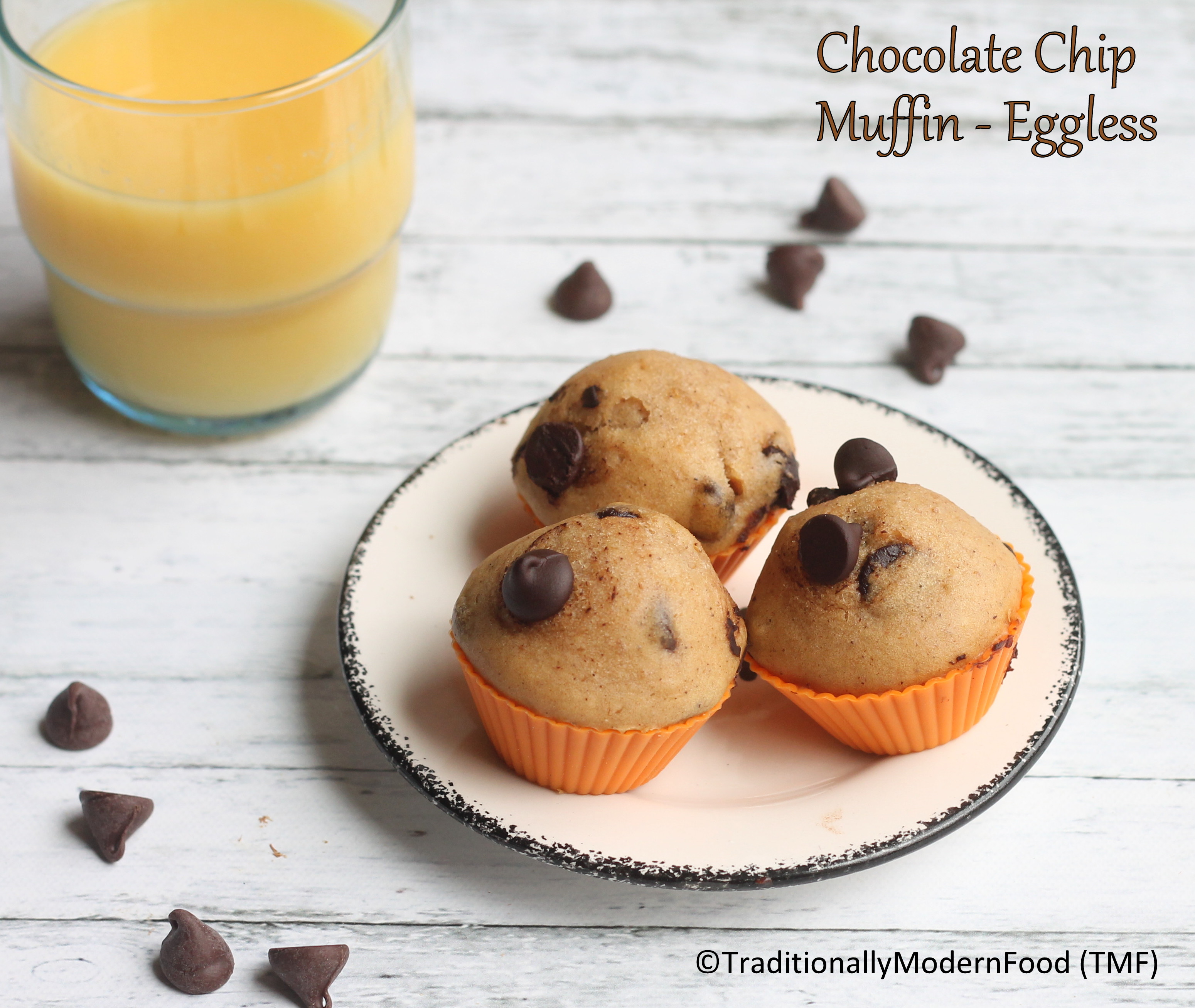 Mini Chocolate chip muffins - Eggless is a tasty mid-morning/ evening snack. Mini muffins are the perfect portion For kids. Chocolate lovers can't say no to these eggless yummy muffins.
Vishvak likes chocolate, and nowadays he wants chocolate in everything. Recently we went for a birthday party and he enjoyed Chocolate chip muffins. That's when I realized I haven't yet baked Chocolate chip muffins for him.
Muffin is great for breakfast. Make-ahead breakfast like this is a saver for me during busy mornings. If I give him chocolate chip muffins I can see a happy smile😃 Be it a breakfast or mid-morning, evening snacks one common problem in our home is muffin portion size. At times he can't finish the entire muffin and leave some leftovers. If I give him it after some time he demands a new one.
Back in the UK days when I tried baking for the first time, I got a silicon cake pan, mini cupcake pan. Recently we went to a play date for Vishvak, and my friend prepared a mini cupcake and the portion size was perfect for kids. So I thought of following her idea. This time it is mini muffins.
I don't have a mini cupcake/muffin tray. Instead of buying one used a mini silicone cup in a regular tray and it worked perfectly.
Nowadays I try to add almonds to most of Vishvak's snacks. Remember my Oats Almond Butter muffins? Tried to use Almond Butter in place of regular butter/oil. Almond Butter not only gave a nice texture to the muffin but also added some healthy touch to the Chocolate chip muffin.
Flaxseed is a great replacement for eggs. Reading about its health benefits I got a pack of flaxseed powder from the grocery store. Now a days trying to add a lot in my kid's snacks. Flax seeds make a Egg-free delicious chocolate chip muffins
Little cinnamon compliments the chocolate chip muffin, and cinnamon is very good for health too. If you have cinnamon at home trying adding it. I have posted lot of recipes with brown sugar. Recently I started using white sugar a lot here is a muffin with brown sugar.
I wanted to post this on Mother's day but the weekend I was held up with few things and couldn't.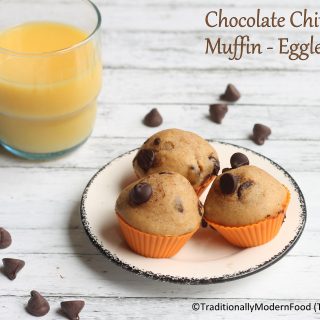 Mini Chocolate Chip Muffin - Eggless
Egg-less Chocolate chip muffin makes a tasty mid-morning/ evening snacks for kids. Mini muffins are perfect portion size for kids. Chocolate lovers can't say no to this eggless yummy muffins.
Print
Pin
Comment
Ingredients
Flour - 1 cup

All-purpose-flour/wheat flour

Baking powder - 1 tsp

Baking soda - 1/2 tsp

Salt - pinch

Cinnamon - 1/4 tsp

Brown sugar - 1/3 cup

packed

Milk - 1/2 cup

Almond milk

Almond Butter - 3 tbsp

Vanilla extract - 1 tsp

Flax seed powder - 1 tbsp

Water - 3 tbsp

Chocolate chips - 1/2 cup + for topping
Instructions
In a bowl add flax seed powder and water; mix well and let it sit for 2-3 minutes

Pre-heat oven to 350 degrees F and place the mini muffin cups in Muffin tray and grease it will cooking spray

In a wide bowl add flour, baking soda, baking powder, salt, and cinnamon; whisk well

Add brown sugar and mix well

Add milk and almond butter; mix well

Add vanilla extract and flax seed+ water mixture and stir well until combined.

Gently stir in the chocolate chips and give a final mix

Spoon the batter into muffin cups and top with some chocolate chips on each muffins

Bake in oven for 10 - 12 minutes or until golden brown. Let cool down and enjoy
Video
Notes
I didn't have mini muffin pan so used silicon cup on regular Muffin tray and baked
If you are baking regular Muffin bake it for 20-23 minutes
Topping chocolate chips is optional you can skip it
Jaggery/ brown/white sugar/turbinado/demerara sugar can be used
I had flax seed powder so used it, if you have flax seed, powder it and use
Almond extract can be used for extra flavor
1/8 teaspoon Nutmeg powder can be used of extra flavor
Nuts can be added for extra crunch
Peanut butter can be used instead of almond Butter
For vegan version use Almond milk instead of milk
Ingredients:
Flour - 1 cup (All-purpose-flour/wheat flour)
Baking powder - 1 tsp
Baking soda - 1/2 tsp
Salt - pinch
Cinnamon - 1/4 tsp
Brown sugar - 1/3 cup, packed
Milk - 1/2 cup, Almond milk
Almond Butter - 3 tbsp
Vanilla extract - 1 tsp
Flaxseed powder - 1 tbsp
Water - 3 tbsp
Chocolate chips - 1/2 cup + for topping
How to make a mini chocolate muffin with step by step pictures:
In a bowl add flax seed powder and water; mix well and let it sit for 2-3 minutes
Pre-heat oven to 350 degrees F and place the mini muffin cups in a muffin tray and grease it will cooking spray
In a wide bowl add flour, baking soda, baking powder, salt, and cinnamon; whisk well
Add brown sugar and mix well

Add milk and almond butter; mix well
Add vanilla extract and flax seed+ water mixture and stir well until combined
Gently stir in the chocolate chips and give a final mix
Spoon the batter into muffin cups and top with some chocolate chips on each muffin

Bake in the oven for 10 - 12 minutes or until golden brown. Let cool down and enjoy