Marundhu Kuzhambu | Omam Kuzhambu | Marundhu kulambu | Omam kulambu | pathiya samayal | postpartum recipes with step by step pictures and video recipe. Check out the video recipes for the Marundhu Kuzhambu recipe. If you like the video pls SUBSCRIBE to my channel.

Marundhu kuzhambu is a flavorful southindian rice accompaniment. The goodness of freshly-ground spices like Carom seeds, black cumin, pepper, with ginger and garlic is good for digestion. Marandhu Kuzhambu is a healthy post-partum recipe. Also Kuzhambu is a good home remedy for Cold, cough, flu etc.
Just when I thought of resuming blogging, self-quarantine life started. With my son staying at home I couldn't spend much time for blogging. I recently posted Turmeric tea for immunity booster. This Marundhu Kuzhambu can also considered as a great home remedy for cold/cough/flu.
I am a big fan of Milagu Kuzhambu and Poondu Kuzhambu. I would say this marandhu Kuzhambu is a combination of two. After delivery Amma served me pathiya sapadu (a special postpartum diet). This Marundhu Kuzhambu was one which was prepared often.
Like any other puli Kuzhambu this Marundhu Kuzhambu tastes good the day after it is made.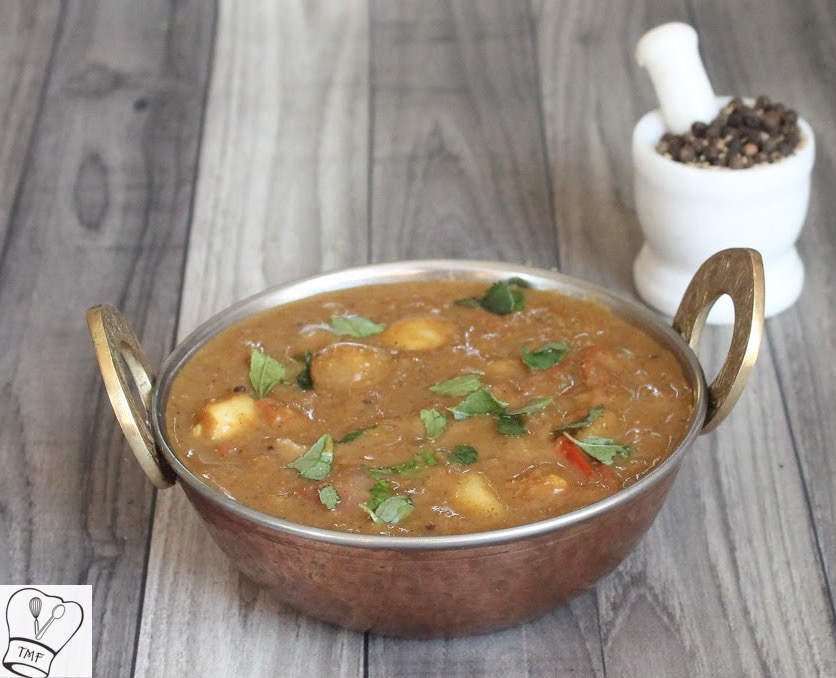 Marundhu Kuzhambu tastes good when mixed with rice. Kuzhambu is also a tasty side for curd rice. Now a days whenever someone is sick in home I prepare this Marandhu Kuzhambu.
For other home remedy based recipes checkout this playlist in TMF,
Though the name is Marundhu(medicine) this Kuzhambu is not a cure for anything.Marundhu Kuzhambu is made using healthy ingredients which is good to be consumed during sick days. Pepper and ginger are very good for health but anything in surplus is might have side effects. Too much of pepper and ginger might make body hot, so do home remedy in moderation. If you are worried about immunitity and drinking lots of ginger tea, then take cucumber and drink buttermilk to compensate.
If you are interested for some tasty South Indian kuzhambu varieties in TMF,
Kuzhambu varieties with tamarind
Kuzhambu varieties without tamarind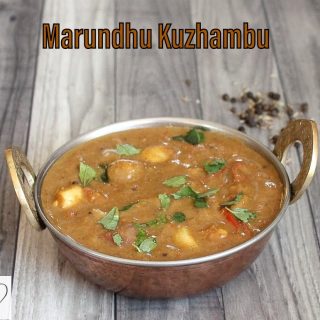 Ingredients
Garlic - 7 to 8

Small onions - 8

Tomato - one big

Sesame oil - 1 tbsp

Mustard seeds - 1/2 tsp

Fenugreek seeds - 1/8 tsp
To grind:
Tamarind - 10 grams

Coriander seeds - 1 tbsp

Channa dal - 1 tbsp

Black sesame seed - 1/4 tsp

Carom seeds - 1/2 tsp

Fenugreek seeds - 1/4 tsp

Cumin seeds - 1/4 tsp

Black cumin seeds - 1/4 tsp

Pepper - 1/4 tsp

Red chili - 1

Ginger - 1/4 inch

hing - generous pinch

salt as needed

Sesame oil - 1/4 tsp
Instructions
Add all the ingredients under "to grind" in a pan and sauté till the dal turns golden brown. Switch off and let it cool down

Grind the mixture with little water

Add 1 tablespoon of oil and when the oil is hot add mustard seeds and fenugreek seeds and do tempering

Add garlic and onion and sauté till they are cooked

Add tomatoes and little salt cook till tomatoes turns mushy

Add ground paste and sauté well for a minute

Add Sambar powder and mix well

Add 3 cups of water, salt and hing and let the Kuzhambu boil;stir inbetween

Cook till the raw smell goes off and kuzhambu becomes thick
Video
Notes
 tsp of jaggery can be added to enhance the flavor and give a slight sweetness to the Kuzhambu
Adjust the spice level according to your taste
I generally add curry leaves while sauteeing onion but I forgot to add them when I took the video
Kuzhambu stays good for 2-3 days
Ghee can be used instead of oil
Ingredients:
Garlic - 7 to 8
Small onions - 8
Tomato - one big
Sesame oil - 1 tbsp
Mustard seeds - 1/2 tsp
Fenugreek seeds - 1/8 tsp
To grind:
Tamarind - 10 grams
Coriander seeds - 1 tbsp
Channa dal - 1 tbsp
Black sesame seed - 1/4 tsp
Carom seeds - 1/2 tsp
Fenugreek seeds - 1/4 tsp
Cumin seeds - 1/4 tsp
Black cumin seeds - 1/4 teaspoon
Pepper - 1/4 tsp
Red chili - 1
Ginger - 1/4 inch
hing - generous pinch
salt as needed
Sesame oil - 1/4 tsp

How to make Omam Kuzhambu with step by step pictures:
Add all the ingredients under "to grind"

in a pan and sauté till the dal turns golden brown. Switch off and let it cool down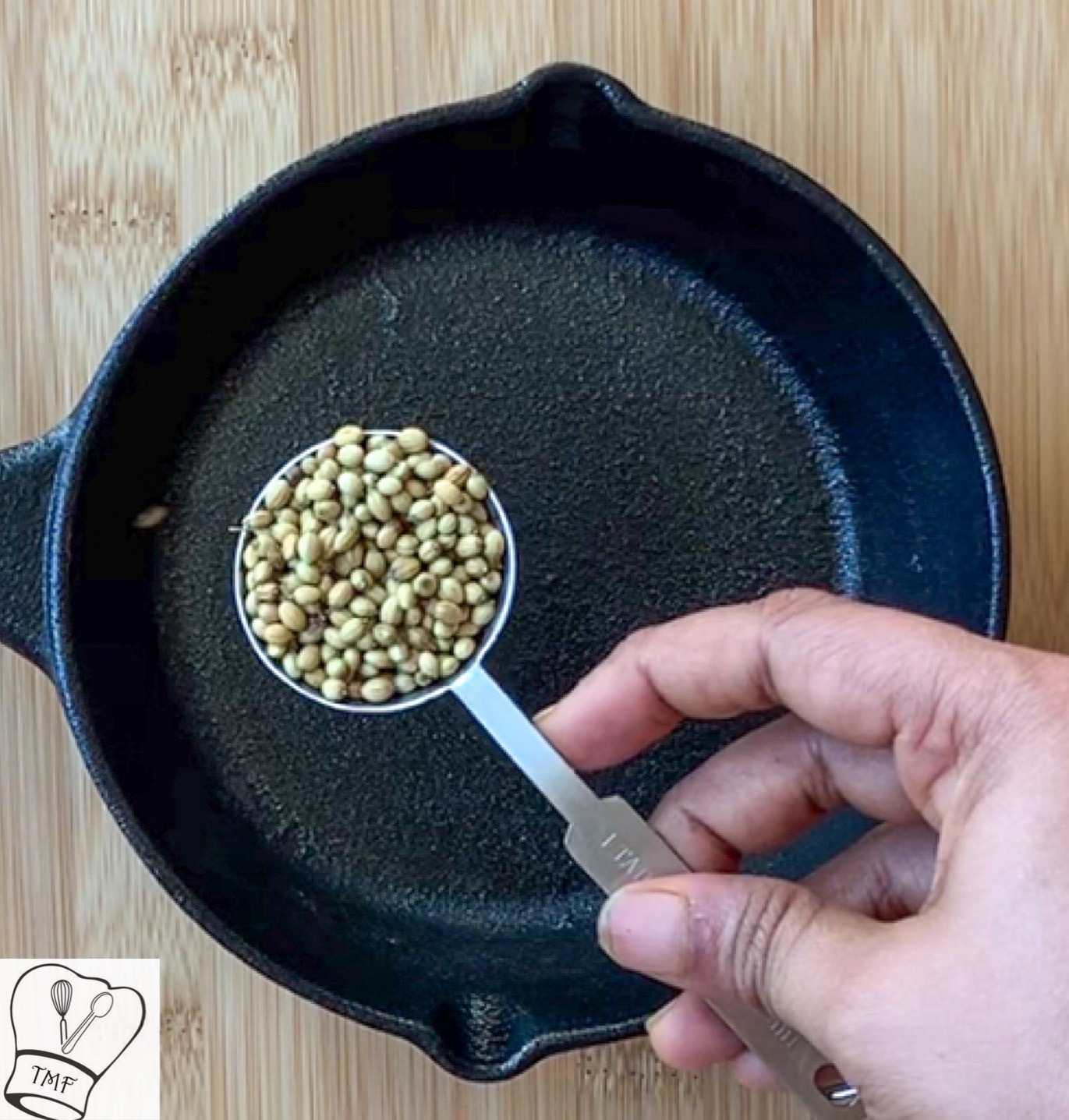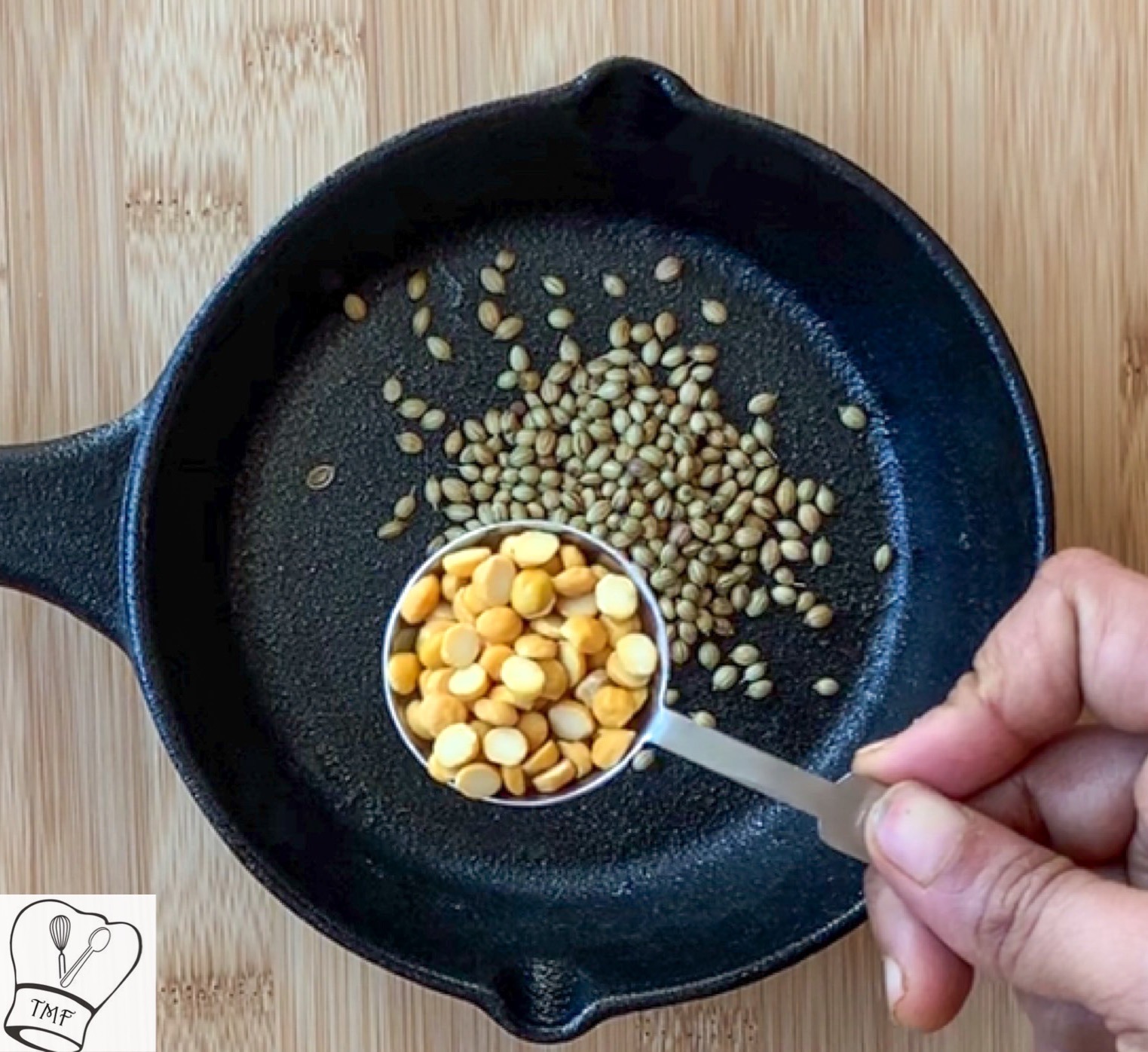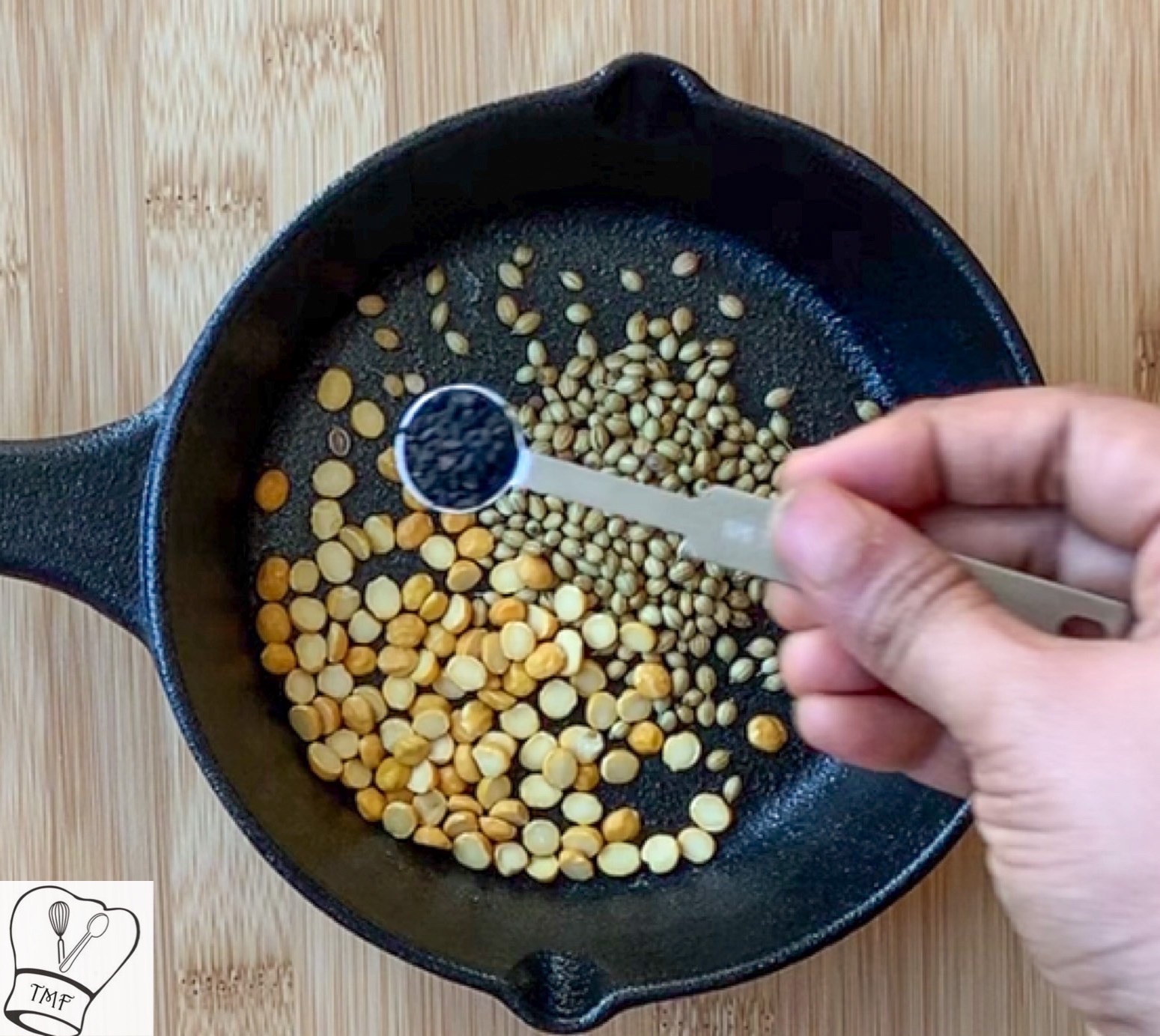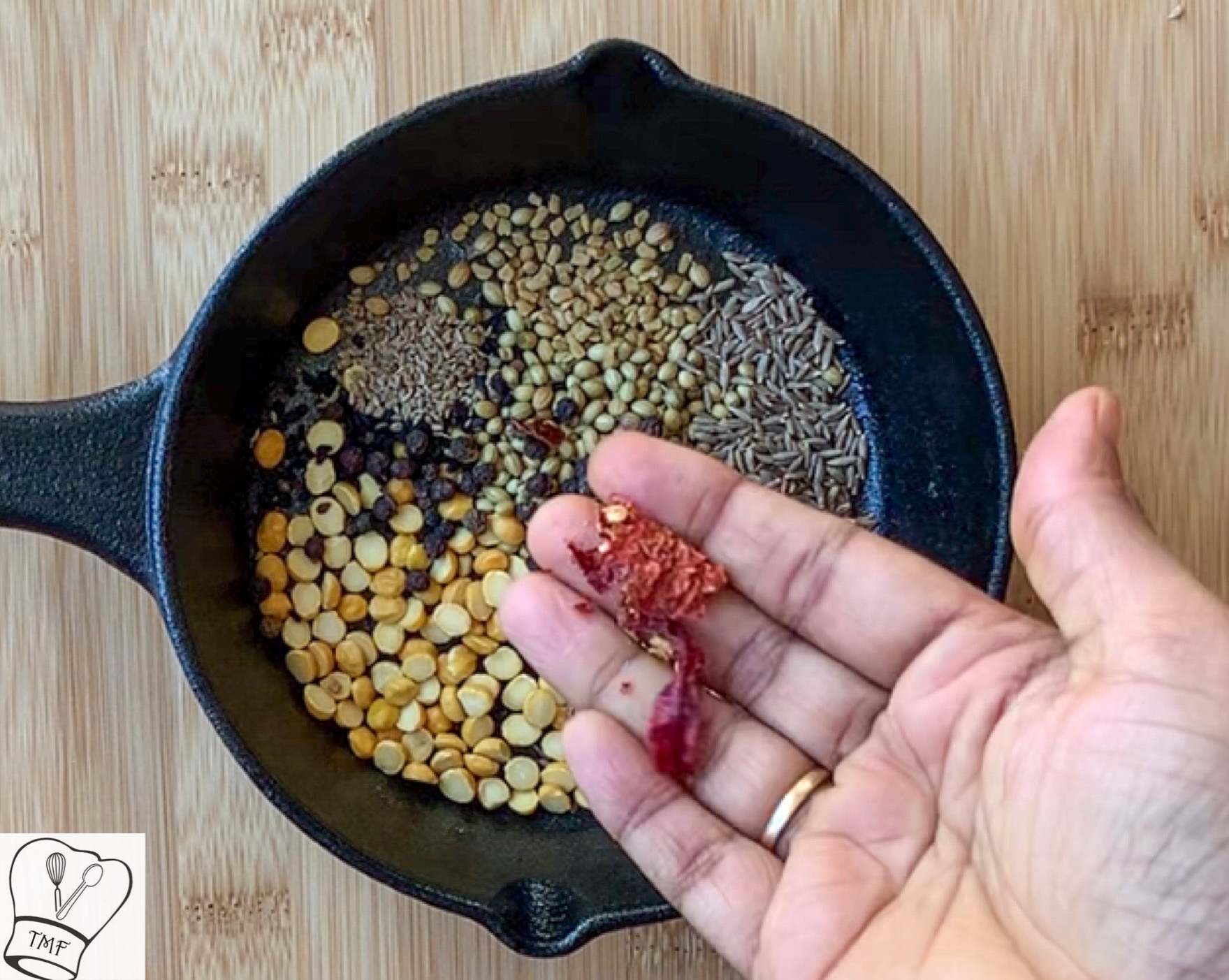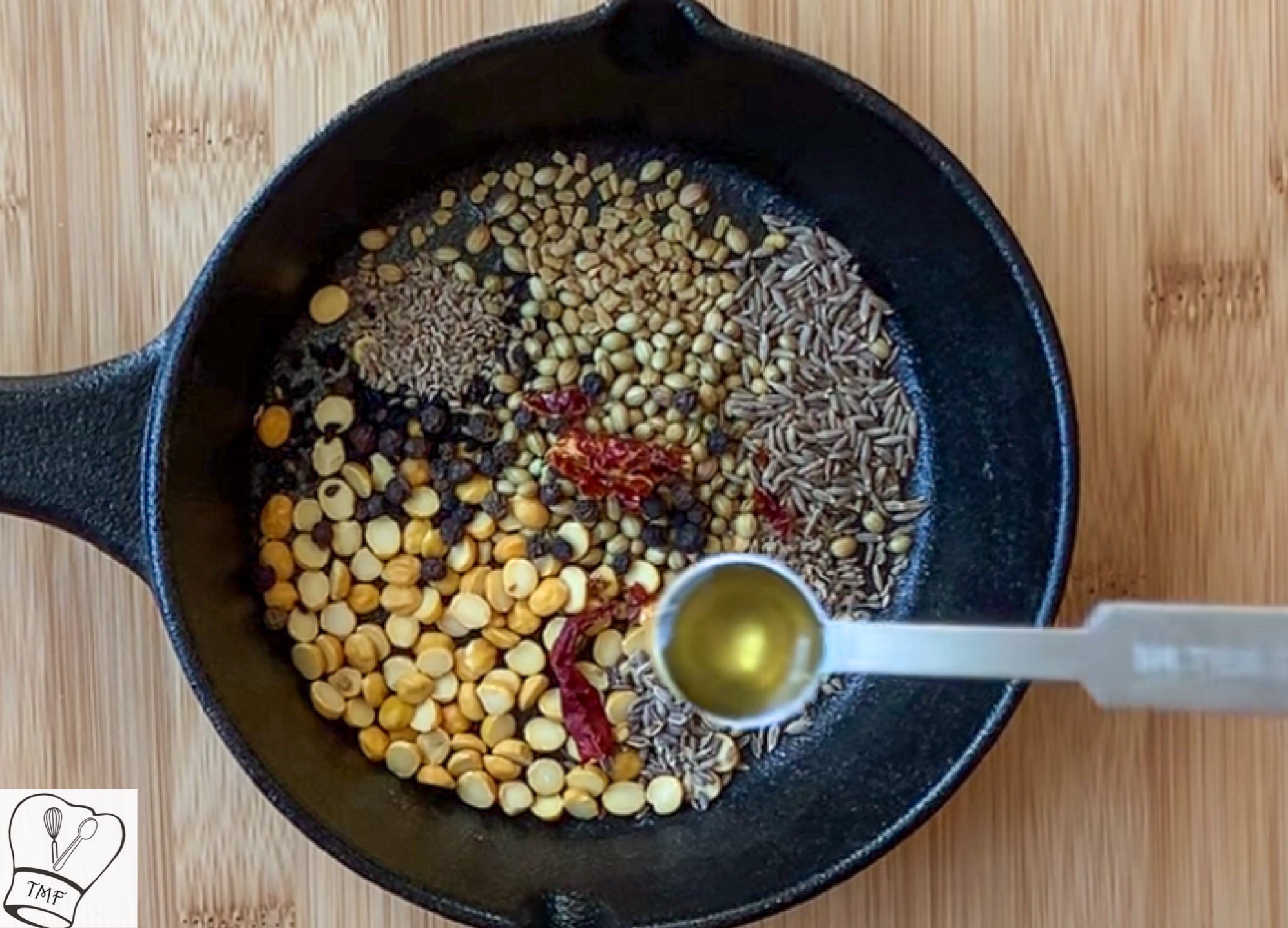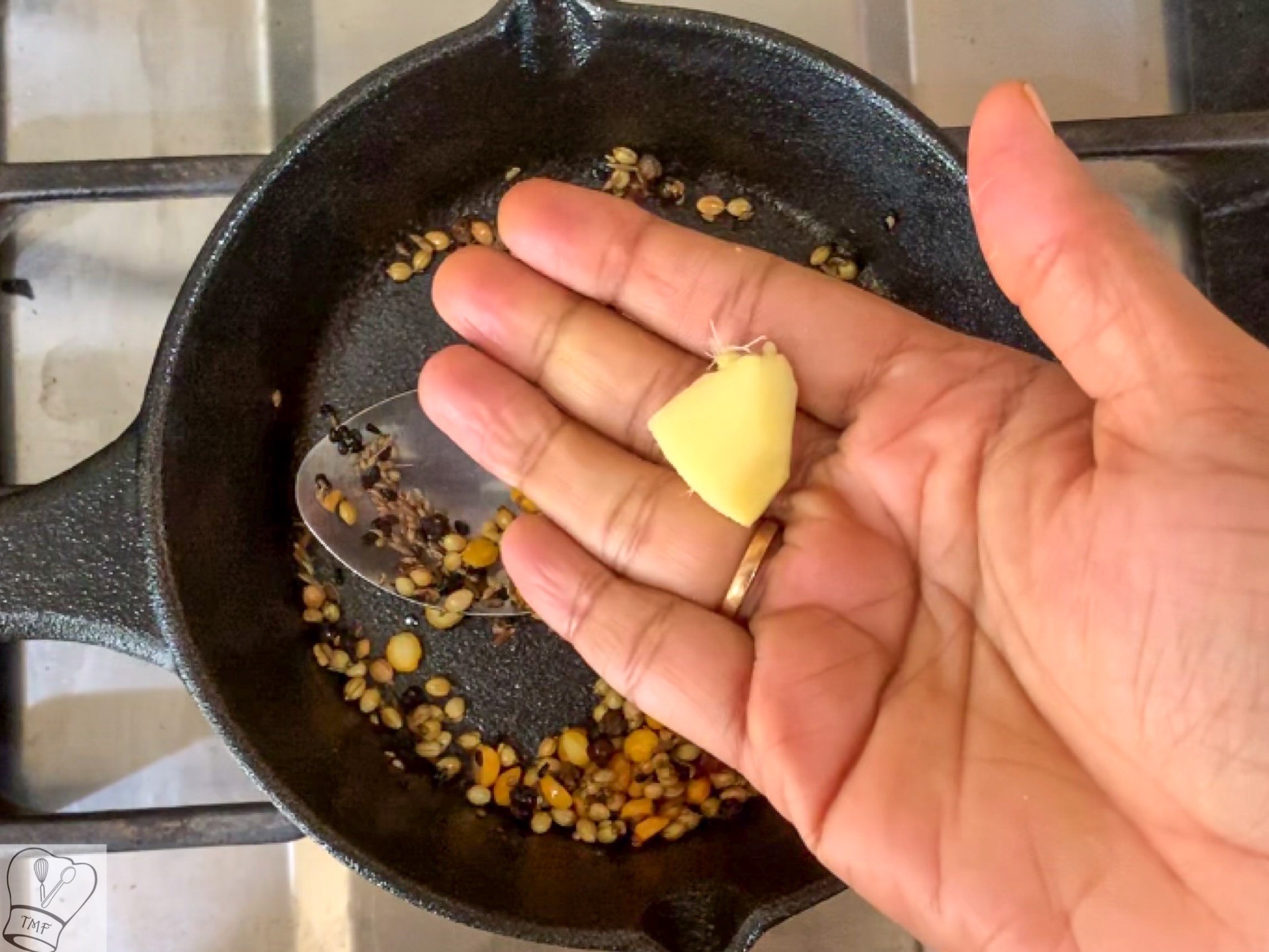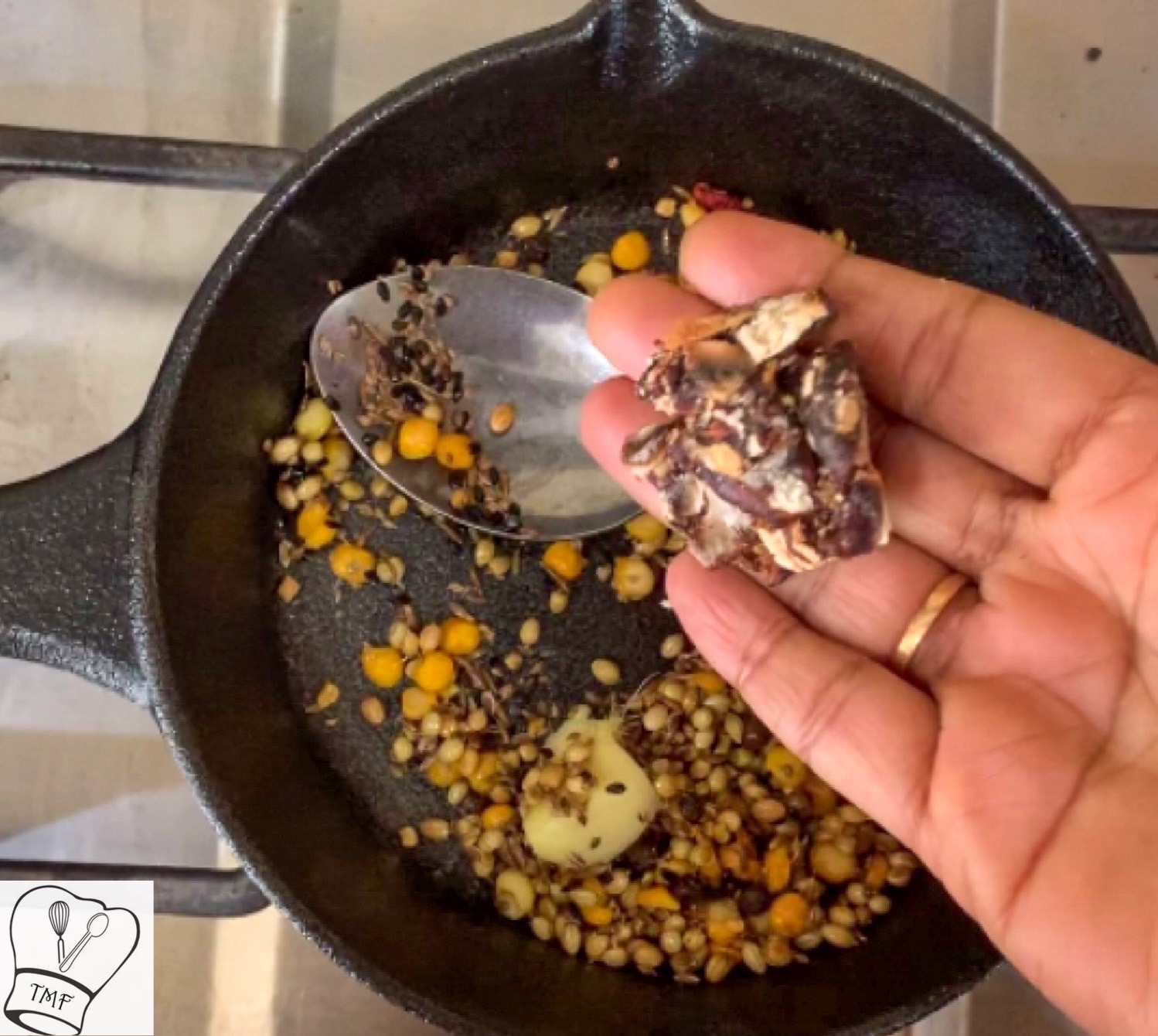 Grind the mixture with little water

Add 1 tablespoon of oil and when the oil is hot add mustard seeds and fenugreek seeds and do tempering
Add garlic and onion and sauté till they are cooked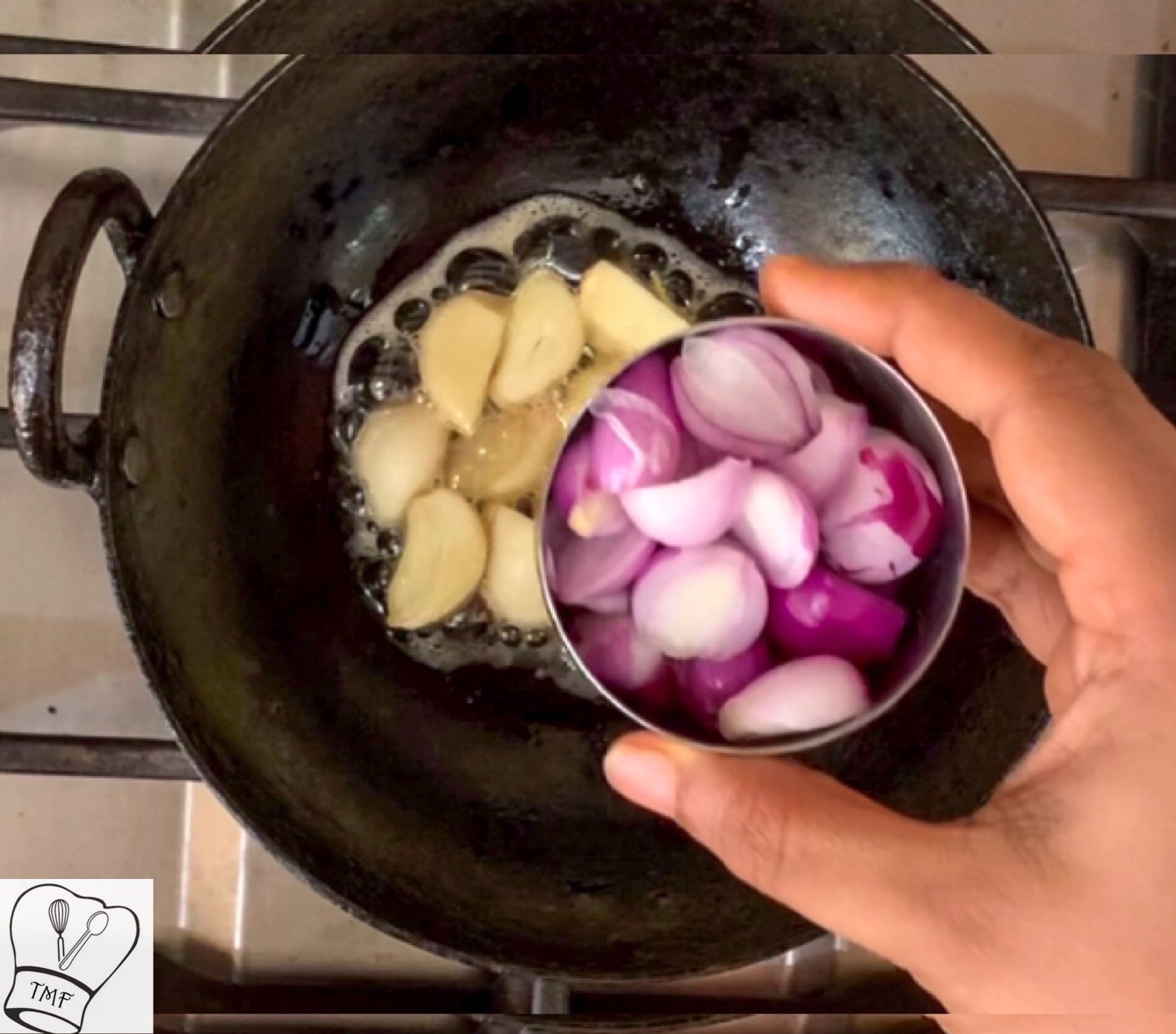 Add tomatoes and little salt cook till tomatoes turns mushy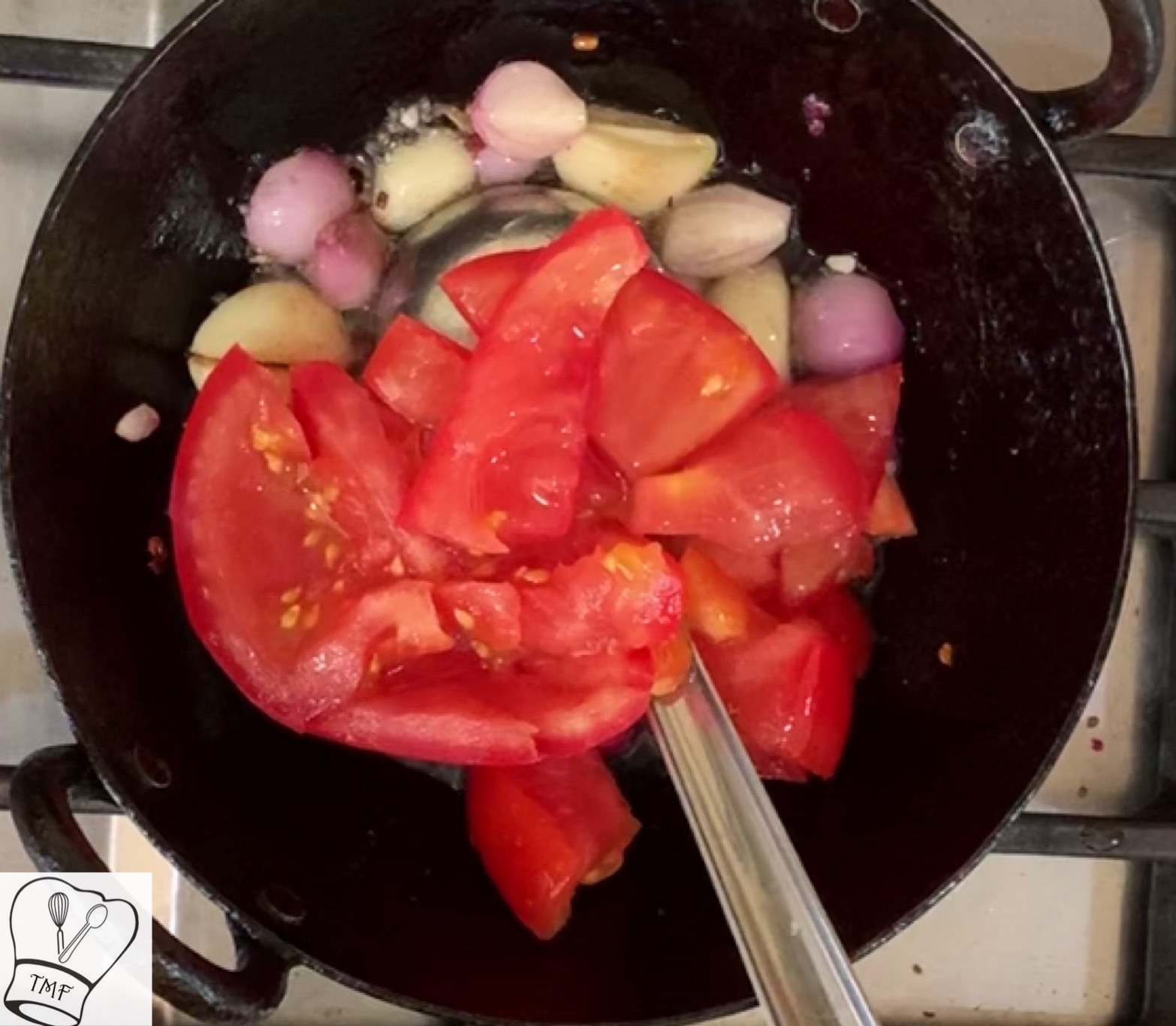 Add ground paste and sauté well for a minute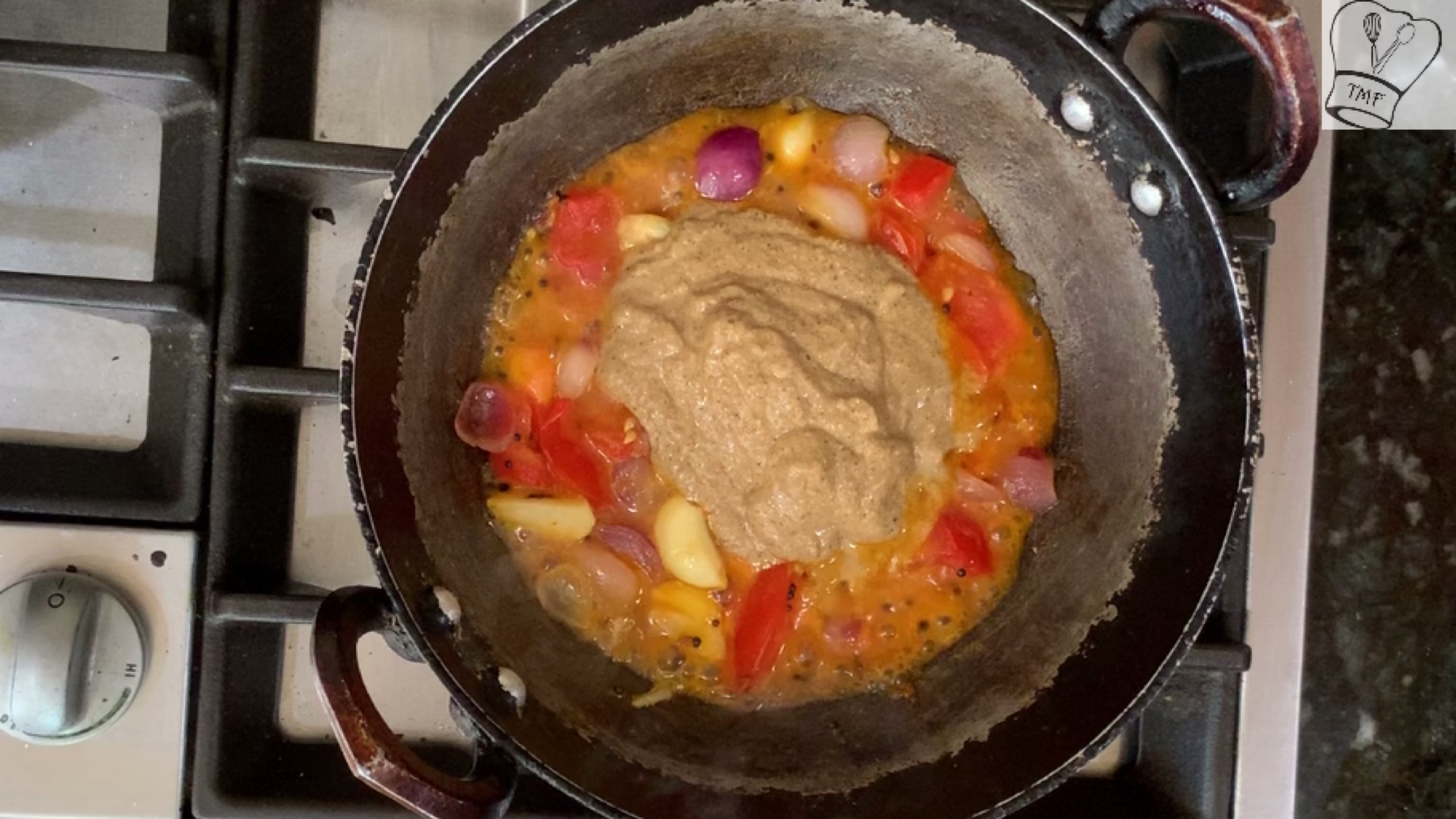 Add Sambar powder and mix well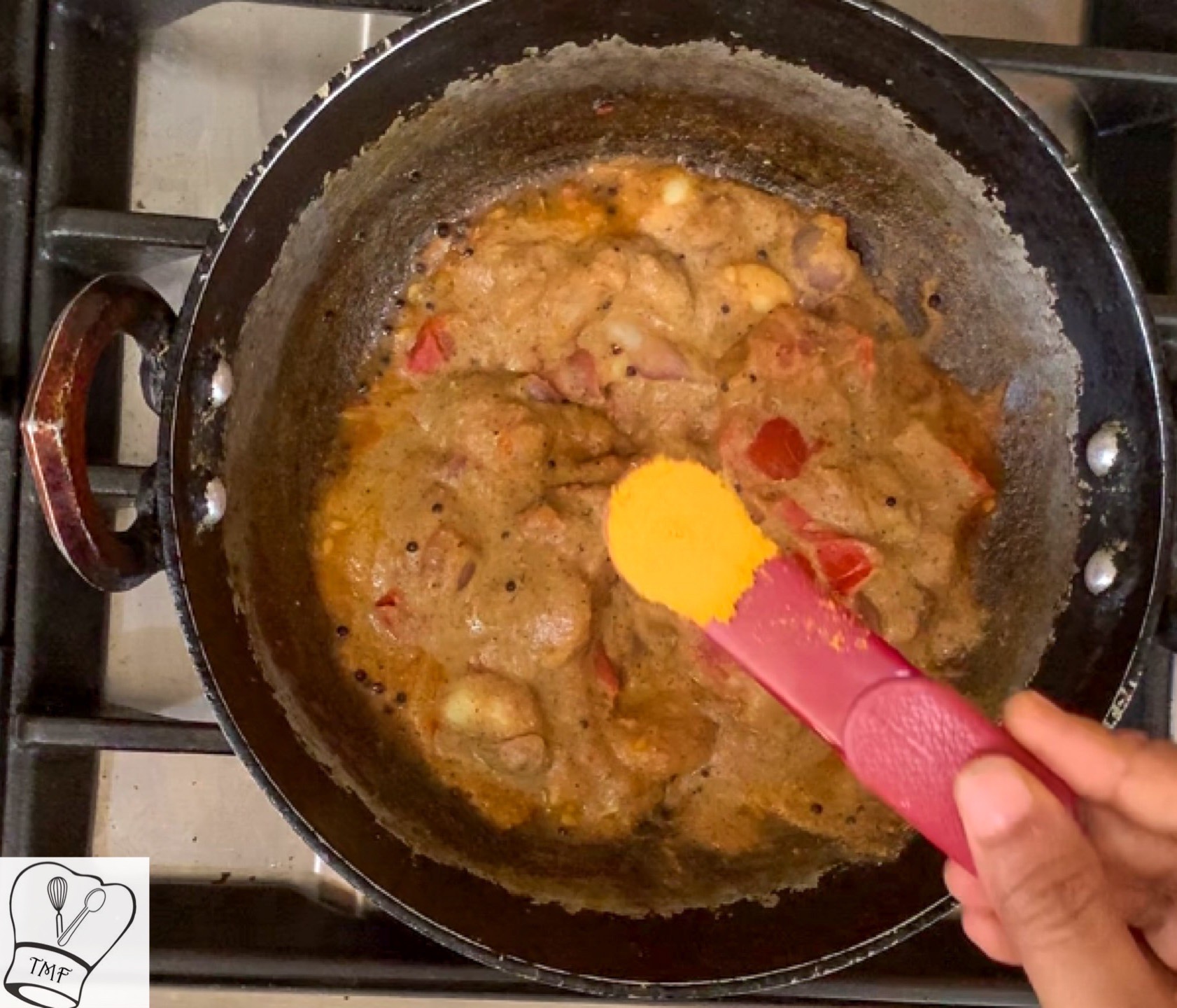 Add 3 cups of water, salt and hing and let the Kuzhambu boil;stir inbetween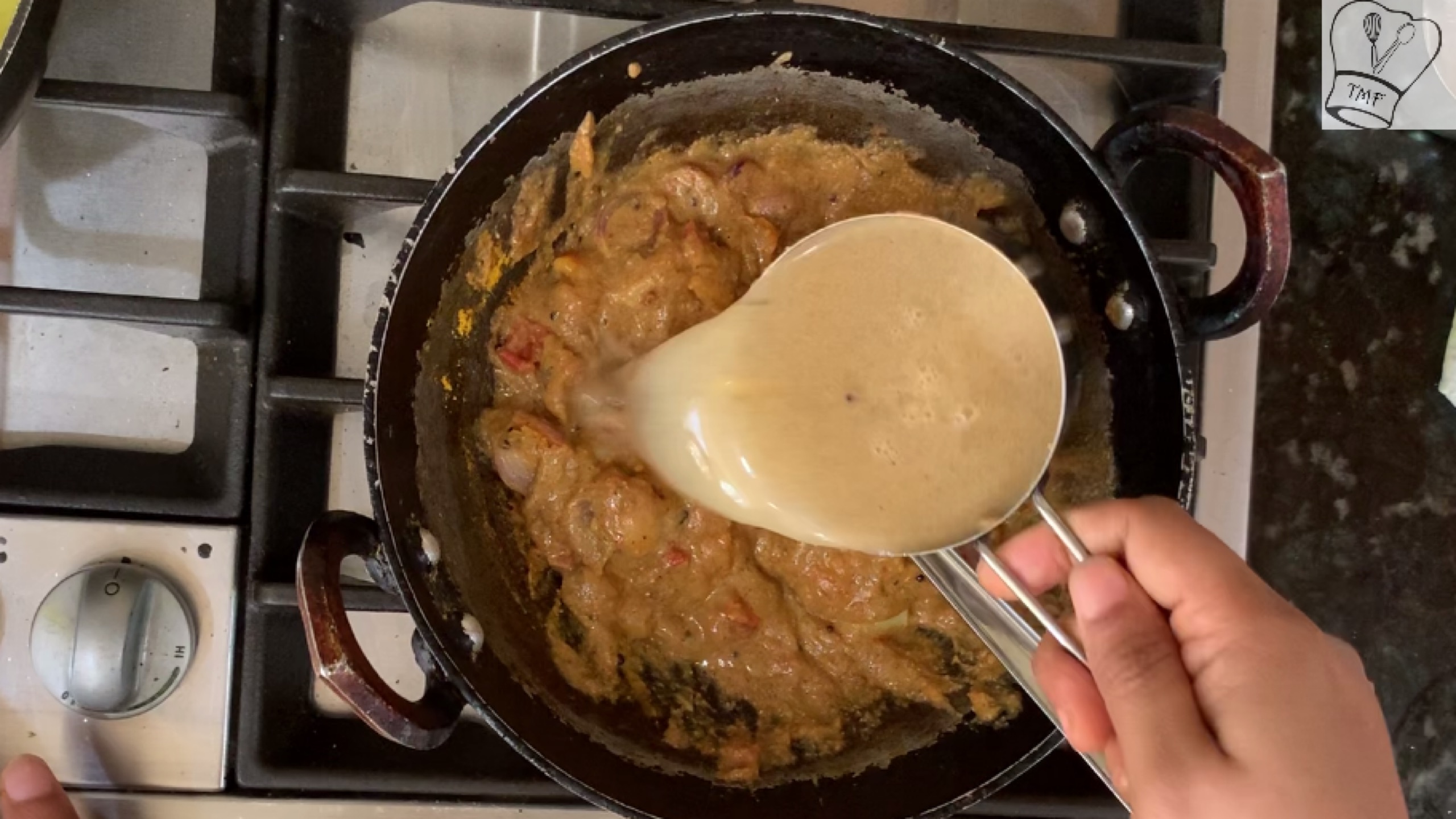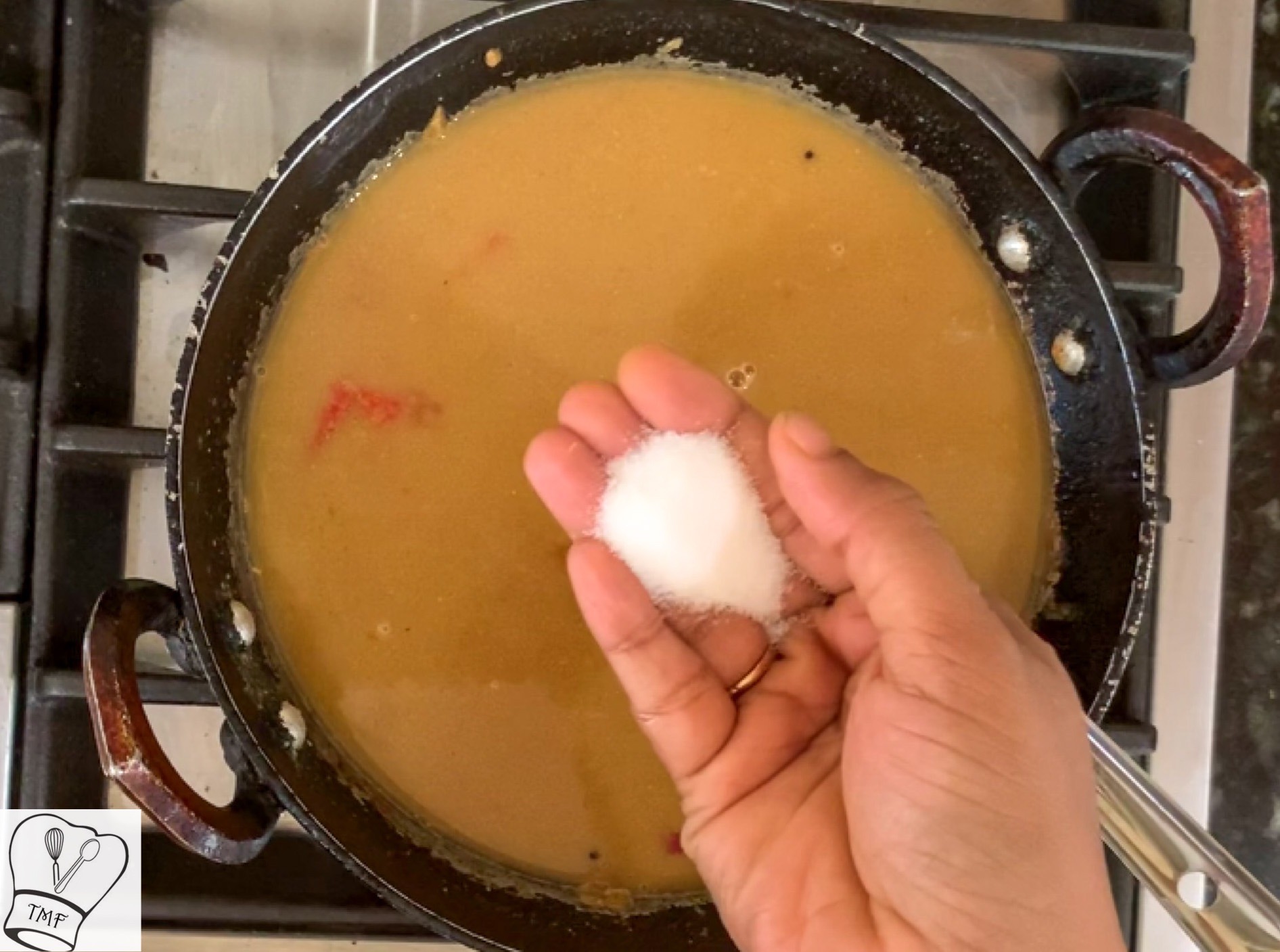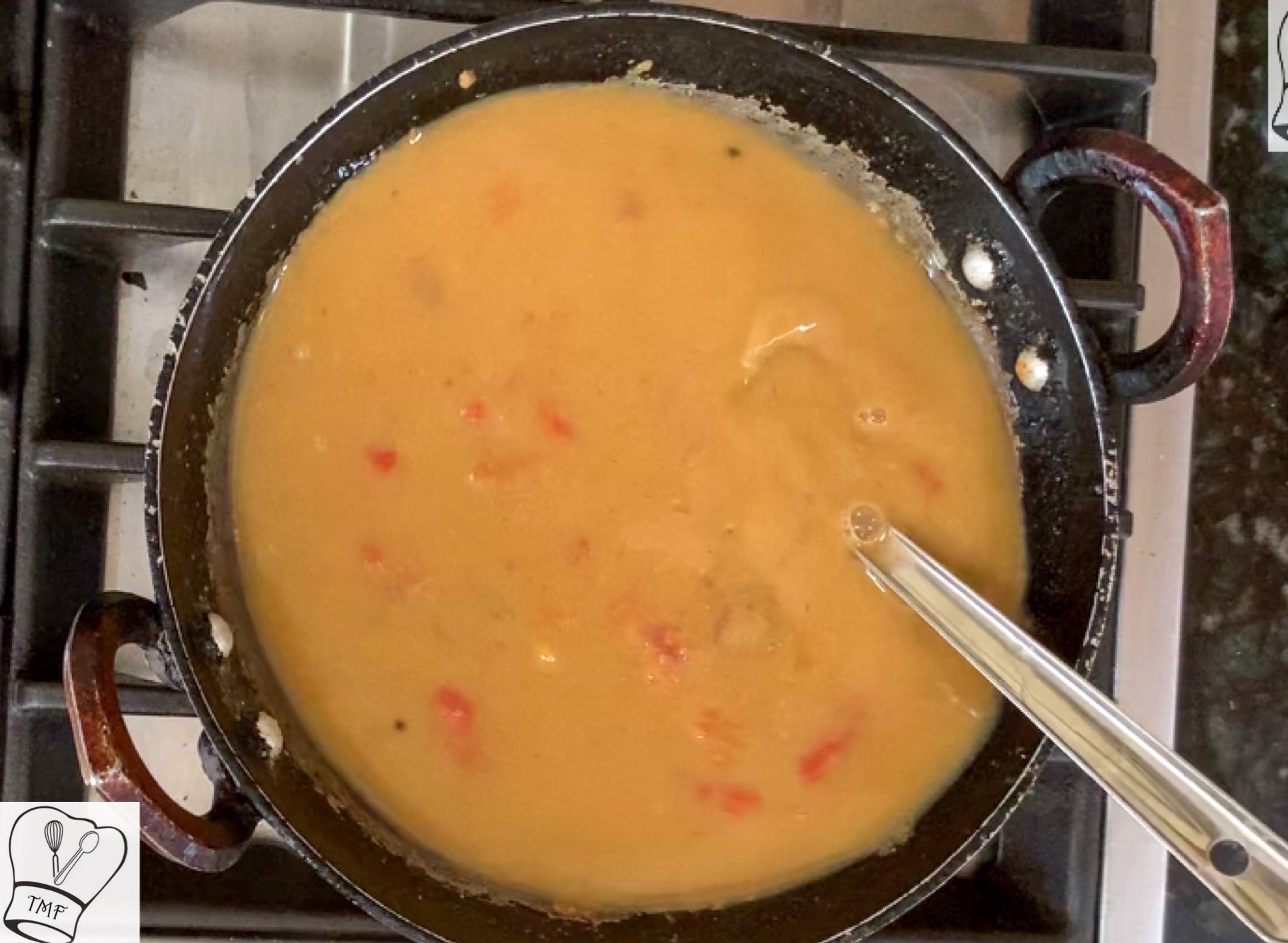 Cook till the raw smell goes off and kuzhambu becomes thick
Follow TMF social links for regular updates,