Mung bean sprouts | Green gram sprouts | moong bean sprouts | easy homemade sprout recipe | Indian style sprouts | sprouts without muslin cloth | best sprout recipe | sprout in Hot case | sprouts in hot pack | how to sprout mung beans at home | chemical-free sprouts Check out the Mung bean sprouts video and If you like the video pls SUBSCRIBE to my channel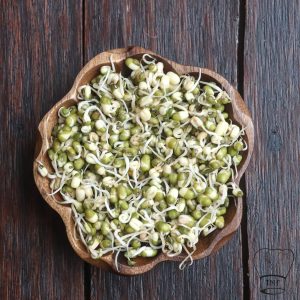 What is green gram
Green gram | Mung bean | Moong bean is a staple lentil variety commonly used in Asian countries to prepare sweet and savory dishes. It is commonly referred as pasi payaru | pachai payaru in Tamil , Pesalu in Telugu, hesarukalu in Kannada, and sabut moong in Hindi.
Why green gram sprouts?
Green gram high in protein is not often popular among kids because of its flavor. Sprouting not only enhance the flavor but also enhance the nutrition and make it easily digestible
Should I rinse moong bean?
Yes, Always rinse the green mung beans well with clean water at least 3 to 4 times. Use cold water for rinsing. If you are worried about quality you can rinse once in warm water but avoid hot water.
Can I soak moong bean in boiling water?
you can soak moong bean in fresh cold water. I sometimes prefer using slightly hot (warm water) as it speeds the process and helps for healthy sprouts. Avoid boiling hot water. Soak beans for at least 12 hours till they turn soft press
Why strain the water in a colander?
Moong bean with excess water won't sprouts well. Straining the moong bean in a colander removes excess water.
Tip for hot case sprouting?
Always make sure hot case |

hot pack | casserole is completely dry before adding the Moong bean

I would recommend a hot case with a wide base which helps for sprouting

Always avoid crowding layers of Moong bean. if you are preparing a large number of sprouts,

use a wide hot case or use multiple hot cases

Seal the hot case and leave it undisturbed for at least 24 hours. Based on your moong bean leave it for additional time. You can shake the hot case once if you feel some beans didn't start sprouting
Why don't my beans sprout?
Always soak mung bean soft press

Use good quality and almost equal size moong bean for even sprouting

Old beans might not sprout well
Shelf life of Sprouts
Keep the sprouts in a hot case till you get desired sprouts texture then transfer them to a storage container and refrigerate. Sprouts taste best for 2 days in the fridge but taste good for 3-4 days.
Can I rinse the sprouts?
Always rinse moong bean well before soaking. you can use cold water to gently rinse only the batch you are planning to use. Avoid rinsing the entire sprouted moong bean before storing
Is it healthy to cook moon bean sprouts?
Yes, you can cook sprouts and consume them. It cooks fast compared to the moong bean. Avoid cooking sprouts for a long time as they might lose nutritions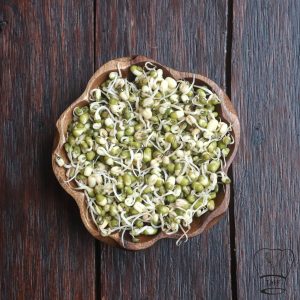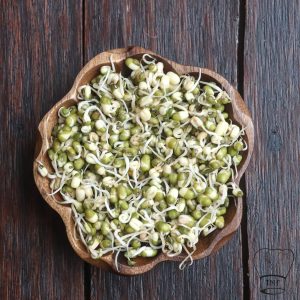 Instructions
Take one cup of moong bean and wash well

soak in cold water for 12 hours or warm water for 8-9 hours or until beans turn the soft press. Avoid boiling hot water

Place the bean in a colander and drain the water

Transfer the Mung bean to a hot pack and spread well

Seal the hot case and keep it undisturbed for 24 hours. Based on the moong bean/weather time to sprout might vary

Open the hot case and shake. Close the hot case and shake gently if feel some beans need more sprouting

Keep the moong bean in a hot case till they sprout to your desired texture then transfer and store in the refrigerator
Video
Ingredients
Moong bean 1 cup
How to make Moong bean sprouts with step by step pictures
Take one cup of moong bean and wash well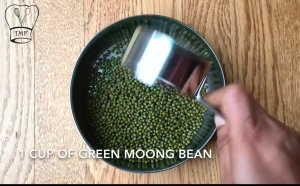 soak in cold water for 12 hours or warm water for 8-9 hours or until beans turn the soft press. Avoid boiling hot water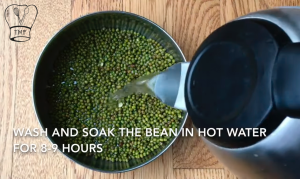 Place the bean in a colander and drain the water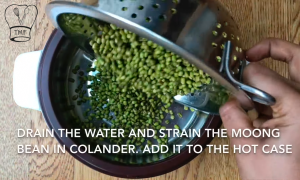 Transfer the Mung bean to a hot pack and spread well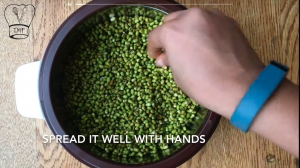 Seal the hot case and keep it undisturbed for 24 hours. Based on the moong bean/weather time to sprout might vary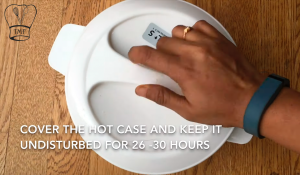 Open the hot case and shake. Close the hot case and shake gently if feel some beans need more sprouting
Keep the moong bean in a hot case till they sprout to your desired texture then transfer and store in the refrigerator