Keto cheese chips | Cheese crisp is a tasty one ingredient side for soup. Keto cheese chips is a healthy guilt free snacks for kids.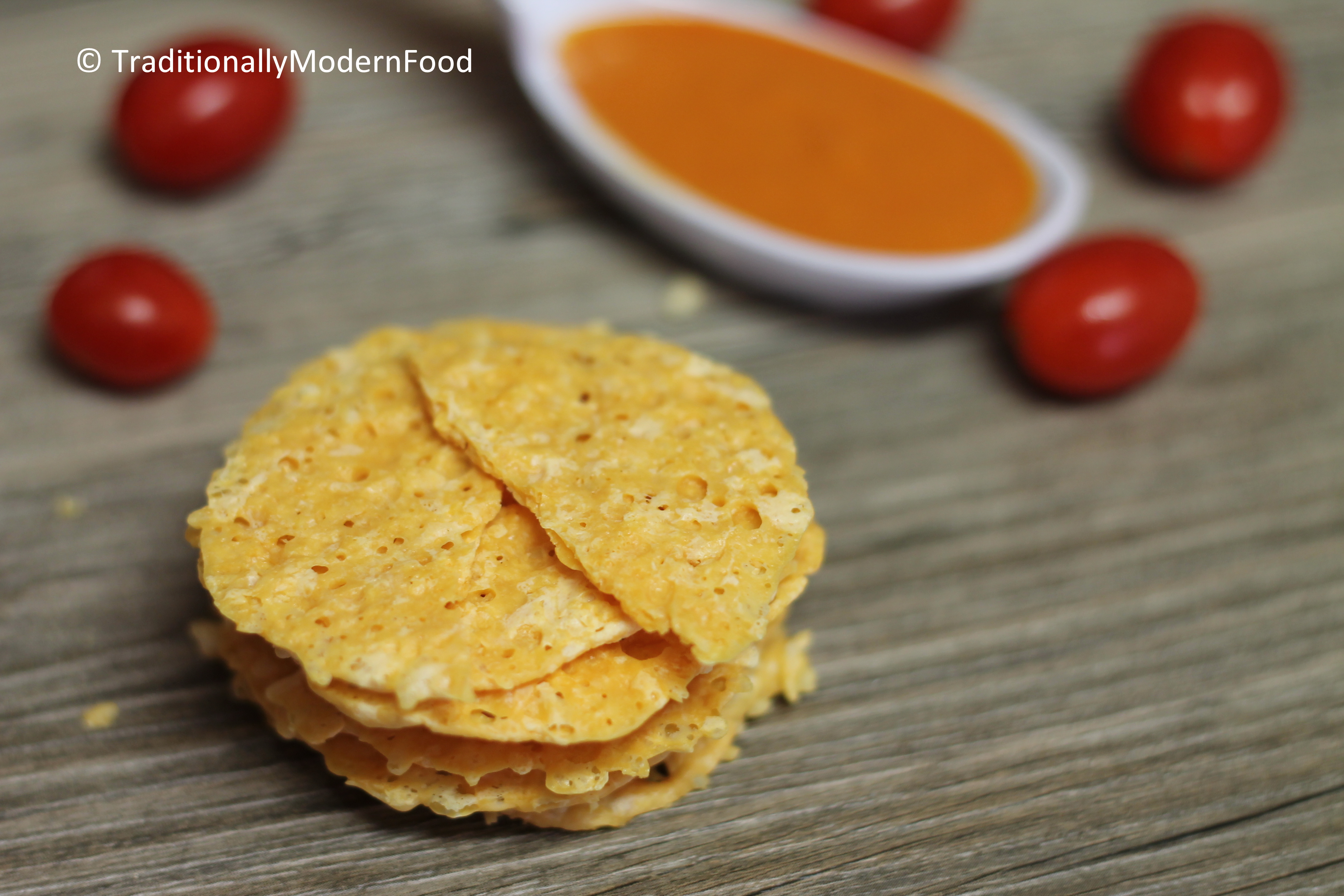 Many a time we feel like having a quick snack without much work, and these one ingredients cheese crisp are perfect for such days. With just one ingredient, this is not only a yummy snack but also a great side for tasty soup. Yes that is how I introduced this cracker to my husband. Now a days when I see cheese in my fridge, my heart starts melting for these lacy cheesy keto cheese chips.
Back in Bentonville, I was watching Barefoot Contessa in food network channel, and Ina Garten was doing a cheese special show. Oh man being a big time cheese lover I was drooling while watching the show. I couldn't stop thinking about the keto cheese chips she prepared with Parmesan cheese. Certain dishes can't be postponed, this is one such dish. If you are a cheese lover halt reading, check your fridge for sharp cheese 🙂 That day I checked my fridge and I didn't have cheese. Luckily it was Friday, grocery shopping day. First thing picked from the shop was sharp cheddar.
As I told in my Roasted Tomato Soup, we had these crackers with it. I was in big dilemma which one to bake first veggies for soup or cheese Chips. My snack addiction tempted me to bake the crackers first. As soon as I saw cheese bubbling I was waiting to pull out. Light salty, crispy, crunchyketo cheese chips disappeared in no time. I gave one to my kiddo, he said Chips nalla irukka (Chips taste good) and asked for more.
Immediately my hubby and I became so happy. Every time we go to see pediatrician we hear the same sentence. Give him more protein. Other than lentils, milk, curd - cheese is my saver. Gone are those days when he used to eat string cheese holding them himself. Other than his favorite Mac and cheese, this is yet another tasty one in his favorite Chips form.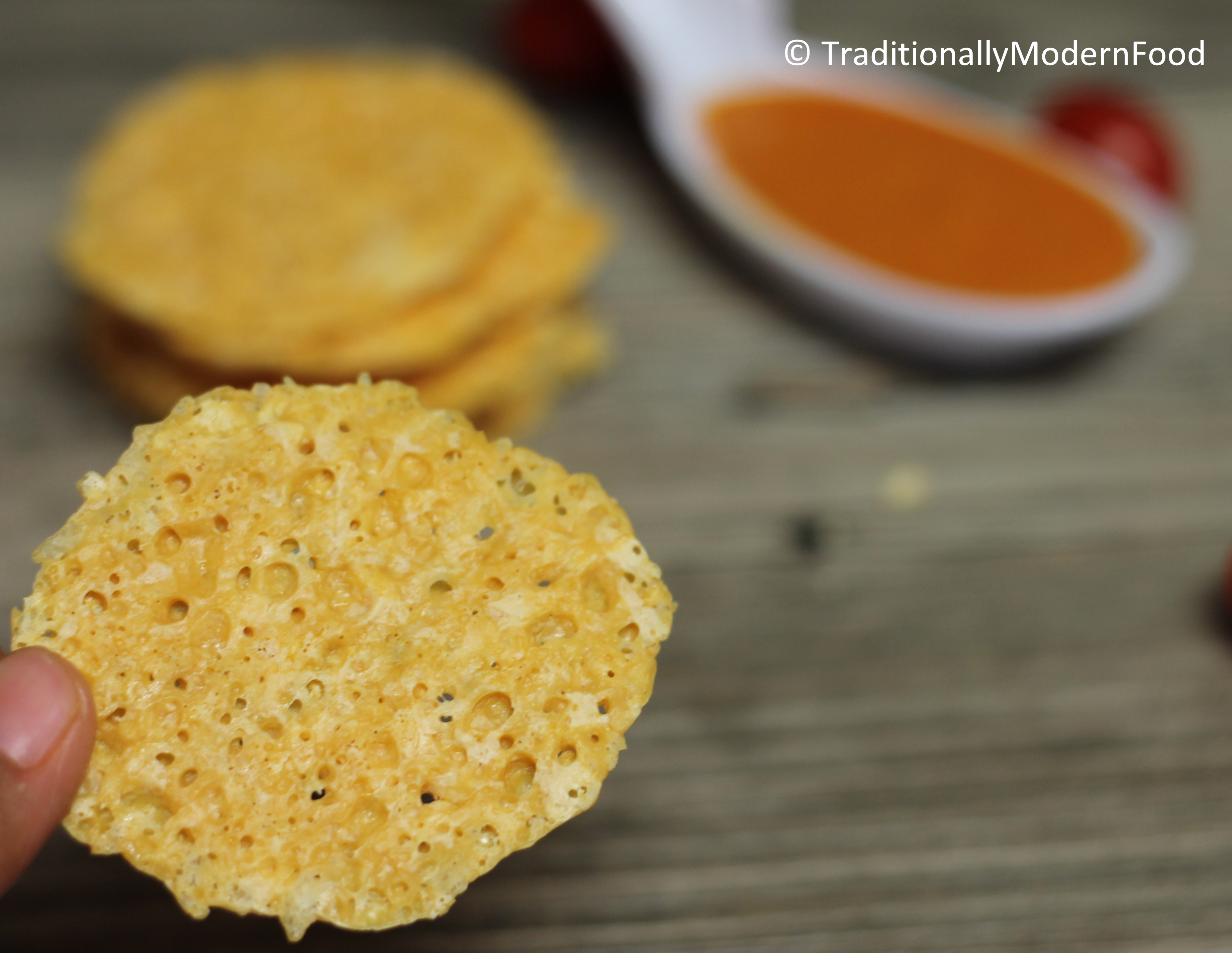 Ingredients:
Cheddar Cheese - 3/4 cup, grated
Method:
Preheat the oven to 350 degree Fahrenheit and grease the baking tray/cookie tray with parchment paper.
Take a tablespoon of grated cheese and place as a mass. Repeat the process leaving 2 -3 inch gap between each blob
Bake it for 5-7 minutes until it forms a lacy circle slightly brown.
Cool it for 2-3 minutes and enjoy
Broil:
Broil for 1-2 minute till the cheese starts bubbling. Let it Cool down completely before tasting
Microwave:
In a parchment paper take a tablespoon of grated cheese and place as a mass. Repeat the process leaving 2 -3 inch gap between each blob
Microwave for 1-2 minutes till it is lacy and slightly browned. Mine took 1 minute and 40 seconds. Cool and enjoy
One Ingredient Cheese Cracker
Single ingredient salty, crispy cheese cracker
Print
Comment
Ingredients
Cheddar Cheese - 3/4 cup

grated
Instructions
Method
Preheat the oven to 350 degree Fahrenheit and grease the baking tray/cookie tray with parchment paper.

Take a tablespoon of grated cheese and place as a mass. Repeat the process leaving 2 -3 inch gap between each blob

Bake it for 5-7 minutes until it forms a lacy circle slightly brown.

Cool it for 2-3 minutes and enjoy
Broil
Broil for 1-2 minute till the cheese starts bubbling. Let it Cool down completely before tasting
Microwave
In a parchment paper take a tablespoon of grated cheese and place as a mass. Repeat the process leaving 2 -3 inch gap between each blob

Microwave for 1-2 minutes till it is lacy and slightly browned. Mine took 1 minute and 40 seconds. Cool and enjoy
Notes
I have used grated sharp cheddar, parmasen or any sharp cheese can be used
As cheese already contains salt no need to add extra salt
Dried herbs like basil, Oregeno, thyme etc.can be added for extra flavor
Baking time may vary from oven to oven and microwave to microwave
If you are using sliced cheese. Cut the cheese into small squares and bake it till it form a lacy circle
Nutrition
Calories:
342
kcal
|
Carbohydrates:
1
g
|
Protein:
21
g
|
Fat:
28
g
|
Saturated Fat:
18
g
|
Polyunsaturated Fat:
9
g
|
Cholesterol:
89
mg
|
Sodium:
526
mg