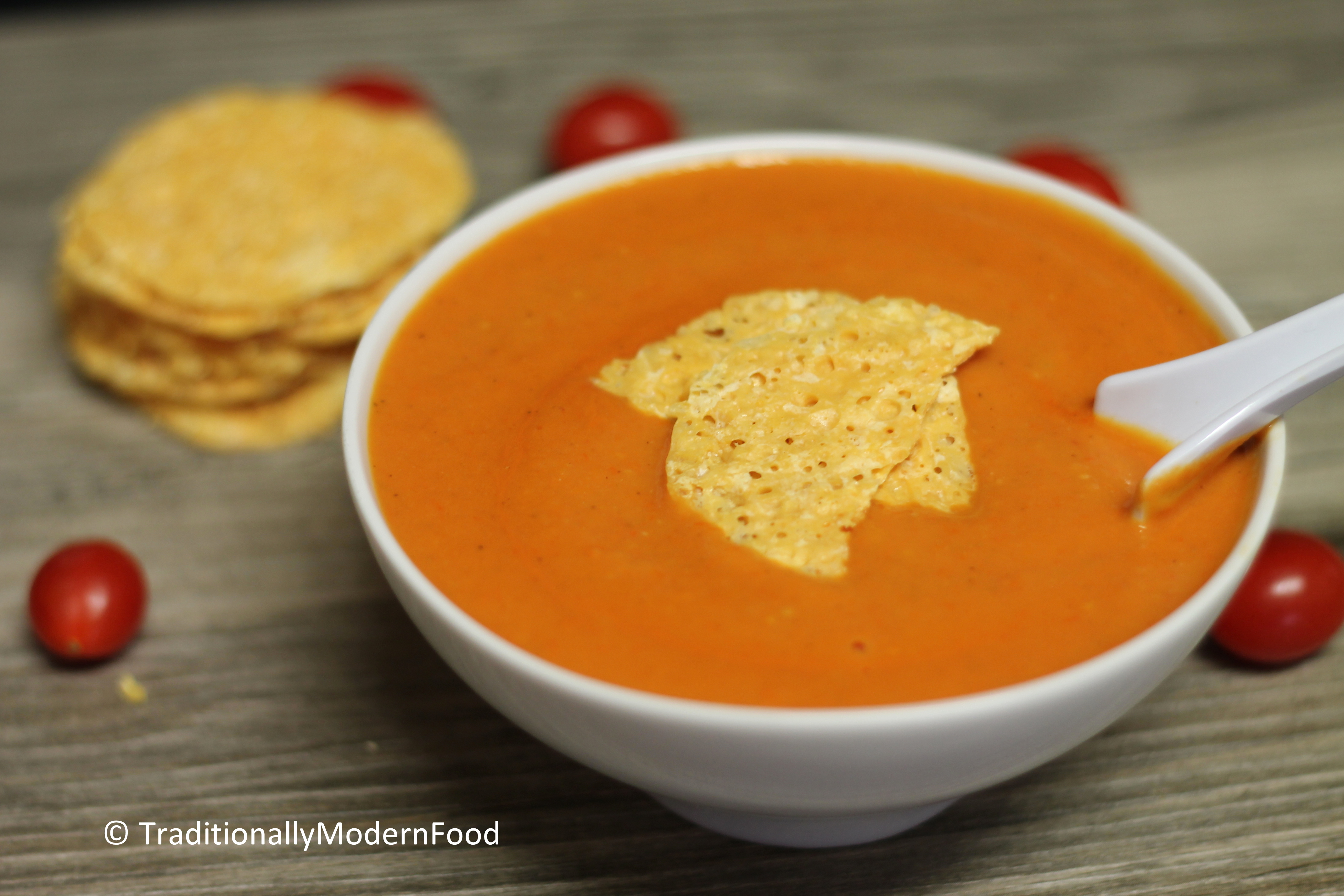 Oven roasted tomatoes gives nice flavor to this Roasted tomato soup. Tomato soup is a great appetizer. With less time in kitchen tasty soup is ready.
Tomatoes - oh man I love this fruit. My grocery lists always have tomatoes and onion. Hubby asks me what will happen if someone tells me no tomato for a week. Well I can survive a day, may be two without it, but after that no way. Every during no onion, no garlic days tomatoes are my keeper for gravy and other cooking.
My tomatoes addiction even reflected in my space. Checkout the few recipes I posted with tomatoes as key ingredient. Other than this, in almost all the gravy I posted, it decorates the recipes. How come I forgot Warm lip-smacking delicacy in a bowl. Perfect for this chill weather.
Ever since my childhood days when I hear soup, I think "Tomato Soup". I can still picture restaurant-style Soup with heavy cream and Bread croutons. Perfect balance of mild sourness with tomatoes, slight sweetness from cream/sugar and heat from pepper.
When I was in college I saw tomato soup recipe in TV. Chef boiled tomatoes, peeled the skin pureed it and boiled with cream, added seasoning and served with deep fried bread. I love it, I used to prepare this regularly and we all enjoy at home.
After moving to US, I started baking the bread and served garlic bread with the soup. One day I thought why not bake the tomatoes and prepare soup. I haven't baked vine/plum tomatoes before, to play a safe game I tried it with grape tomatoes. The mild sweetness in it complimented the dish well.
I told my husband I prepared Tomato Soup, he gave a weird look, with baked tomatoes? I said yes and gave him a bowl. He was licking the spoon and in no time asked for second serve. I don't know whether the Tomato Soup complimented the cheese crackers or it is other way. Yes you heard me right we had the soup with cheese cracker. I can hear you, cheese crackers is my next post. That day he didn't ask me what I cooked for lunch. Even the last bowl of soup was in a hurry for my trial and error picture. Few quick shots, cracker and soup was over in no time 🙂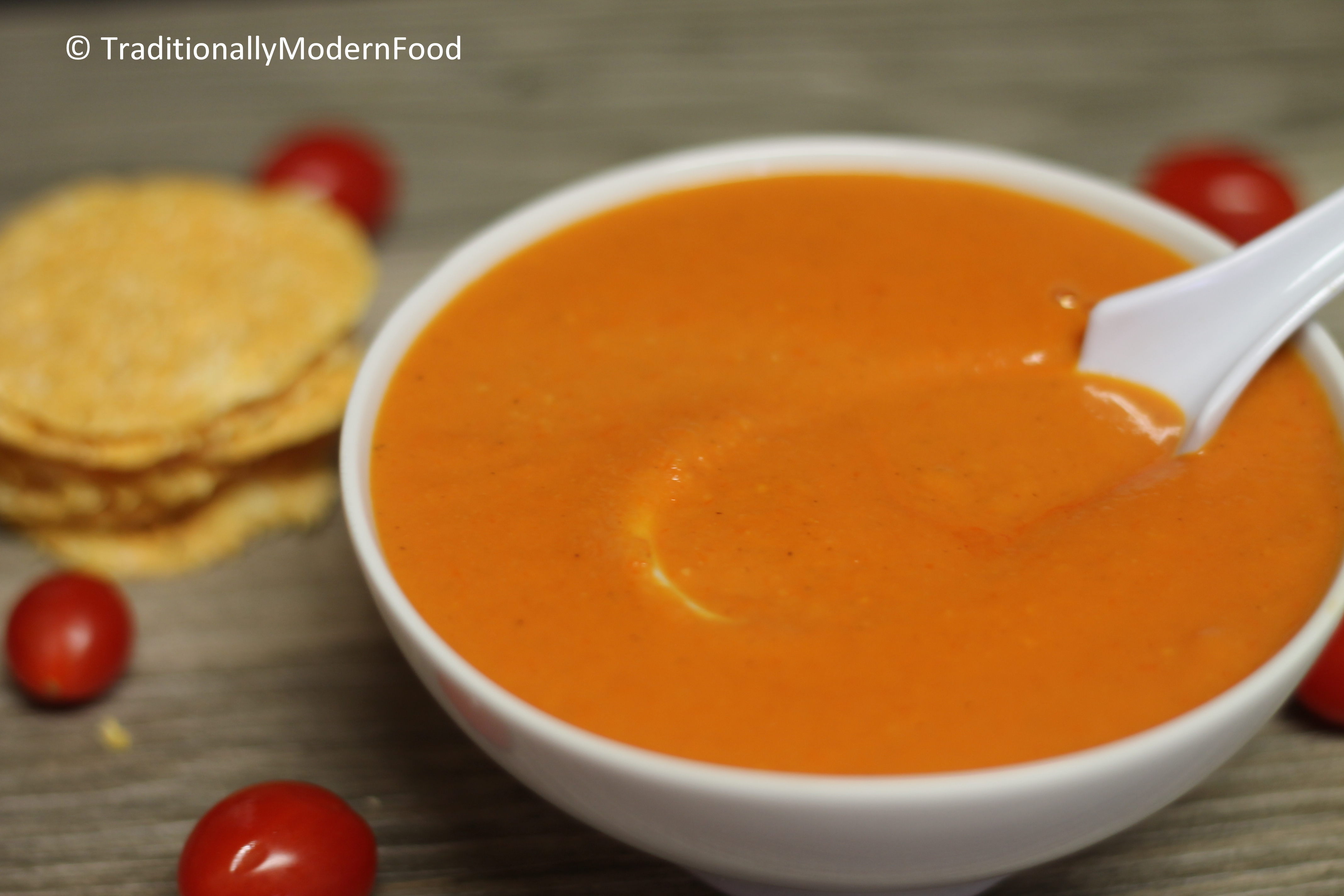 Ingredients:
Grape tomatoes - 2 cup + 3/4 cup
Onion - 1 big (around 1 cup roughly chopped)
Garlic - 3-4 cloves, depends on the size
Salt and Pepper - as needed
Olive oil - 1 tablespoon + 1/2 tbsp
Water/Vegetable broth - 2 cups + 1/2 cup + extra based on the consistency you prefer your soup
Sugar - 1/4tsp
Milk - 1/4 cup
Heavy cream - 3 tbsp
Butter - 1 tsp
Method:
Preheat the oven to 400°F. Place a parchment paper/aluminium foil over the baking tray
In a wide bowl add grape tomatoes, onion, garlic; mix well. Drizzle the oil and toss it well
Transfer the contents into the baking tray. Sprinkle salt and little pepper and bake for about 26 -30 minutes, till the Tomato skin shrinks and onion and garlic are done, tossing them in between

Broil for 1-2 minutes and switch off.
Let it cool down. Puree the veggies with required water/vegetable broth into smooth texture. I didn't use the strainer as it was smooth
In a pan on medium heat, add butter and transfer the Tomato puree. Add salt, pepper, water, milk, sugar and boil for 2-3 mins or till the seasoning blends well. Add heavy cream cook for 20-30 seconds and switch off. Serve it with croutons/garlic bread/cheese cracker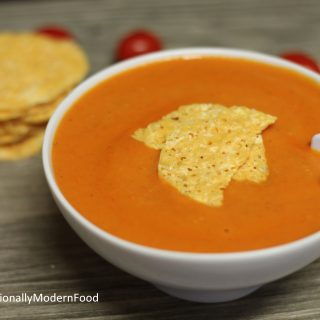 Roasted Tomato Soup - Baked
Aromatic soup with oven roasted tomatoes, onion and garlic
Print
Pin
Comment
Ingredients
Grape tomatoes - 2 cup + 3/4 cup

Onion - 1 big

around 1 cup roughly chopped

Garlic - 3-4 cloves

depends on the size

Salt and Pepper - as needed

Olive oil - 1 tablespoon + 1/2 tbsp

Milk - 1/4 cup

Water/Vegetable broth - 2 cups + 1/2 cup + extra based on the consistency you prefer your soup

Sugar - 1/4tsp

Heavy cream - 3 tbsp

Butter - 1 tsp
Instructions
Preheat the oven to 400°F. Place a parchment paper/aluminium foil over the baking trayIn a wide bowl add grape tomatoes, onion, garlic; mix well. Drizzle the oil and toss it wel

Transfer the content into the baking tray. Sprinkle salt and little pepper and bake for about 26 -30 minutes, till the Tomato skin shrinks and onion and garlic are done, tossing them in between

Broil for 1-2 minutes and switch off.Let it cool down. Puree the veggies with required water/vegetable broth into smooth texture. I didnt use the strainer as it was smooth

In a pan on medium heat add butter and transfer the Tomato puree. Add salt, pepper, sugar and boil till the seasoning blends well. Add heavy cream and switch off. I can still smell the aroma of this delicacy. Serve it with croutons/garlic bread/cheese cracker
Notes
For rich and creamy soup you can add little more heavy cream but more cream downplays the oven roasted taste
Cherry/plum/vine or any other tomatoes can be added. Peel the skin if you are using vine/plum tomatoes for smooth texture
If the tomatoes you are using are sour add little more sugar or heavy cream
Tomato paste can added while boiling tomato soup for extra flavor and color
If you are using canned tomatoes avoid roasting
Carrots can be roasted in oven along with tomatoes, onion and garlic
Coconut milk can be used instead of heavy cream for vegan version and butter can be replaced with oil
Nutrition
Calories:
451
kcal
|
Carbohydrates:
34
g
|
Protein:
6
g
|
Fat:
35
g
|
Saturated Fat:
15
g
|
Polyunsaturated Fat:
19
g
|
Cholesterol:
71
mg
|
Sodium:
217
mg
|
Fiber:
8
g
|
Sugar:
19
g