Paneer payasam recipe | Paneer payasam recipe | Paneer kheer | Payasam recipe | Kheer recipe | Paneer ki kheer | easy paneer dessert | Indian dessert | Indian sweet recipe with step by step pictures and video recipe. Check out the Paneer kheer recipe in Tamil and Paneer kheer recipe in English. If you like the video pls SUBSCRIBE to my channel.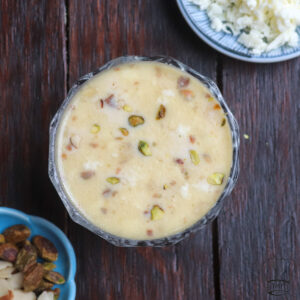 Paneer payasam recipe | Paneer kheer | Payasam recipe is easy, rich and tasty paneer-based caramel payasam. Perfect make-ahead dessert for dinner parties.

Jump to:
IS ghee REQUIRED WHILE MAKING CARAMEL?
Caramel can be made without ghee and it tastes good too. For a beginner, caramel might be challenging as there is a high chance of caramel turning bitter or crystallizing. inspired me from Tirunelveli halwa I started Adding ghee while preparing caramel and it works like a magic. Caramel prepared in this way will never go wrong 😊
CAN I USE JAGGERY OR OTHER TYPES OF SUGAR INSTEAD OF WHITE SUGAR?
You can use brown sugar and make butterscotch paneer kheer and It tastes equally delicious. For a healthy Payasam, you can use jaggery like my caramel makhana but tastes slightly different.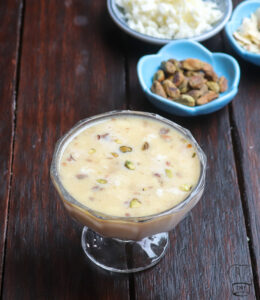 DO I NEED THIS MUCH AMOUNT OF SUGAR FOR Paneer CARAMEL KHEER?
Having a sweettooth I liked it but adjust the milk and sugar according to your preference. The color of the payasam depends on the caramel
CAN I USE ROOM TEMPERATURE MILK FOR CPAYASAM kheer with paneer?
It is preferred to use hot milk while making payasam. Always add the hot milk immediately after making a caramel.
Soft grated paneer
Using the right paneer results in the best Paneer payasam. Always use soft paneer. If the store-bought paneer is hard, soak it in water; wipe the water then grate. Always use grated or crumbled paneer, avoid big pieces of paneer.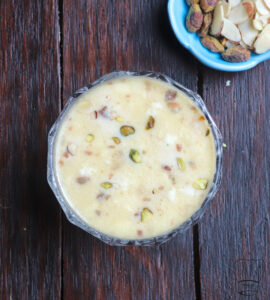 For the Paneer payasam video recipe in English
For the Paneer payasam video recipe in Tamil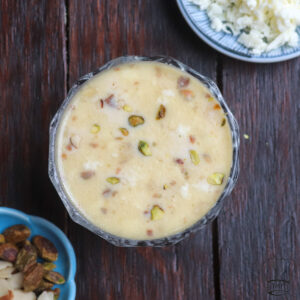 Ingredients
3/4

cup

grated paneer

soft

1/2

cup

sugar

3

cups

milk

Chopped pistachios and chopped almonds

1/8

teaspoon

Cardamom powder

Pinch

of salt

1

tablespoon

ghee
Instructions
In a heavy-bottomed pan add ghee and heat in medium flame

When ghee melts add  sugar and cook on medium flame, keep mixing continuously

Sugar starts to melt and change to a pale color

Keep mixing, and simmer the flame to low

Sugar melts down completely and sugar syrup changes color (like pale jaggery syrup), that is the caramel

Turn down to lowest flame and add hot milk carefully (watch out for splattering)

Milk will raise and become frothy

Turn to  medium flame ; mix well and cook for 10 minutes

Payasam boils well; mix well between

Sprinkle cardamom powder and salt;  mix well and boil for 5 minutes

Add paneer and Boil the Payasam for 2-3 minutes, keep mixing once in a while

Finally, sprinkle roasted Pistachio and almonds, mix well and switch off
Video
Notes
Adjust the milk according to your preferred payasam texture
Avoid burning the caramel as it will make the payasam bitter
Cook the caramel at low flame
Always use hot milk. avoid cold milk
Adjust the sugar according to your taste. the color of the payasam depends on the amount of sugar
Instead of sugar, Jaggery can use for caramel refer caramel Phool makhana
always use soft paneer
Use grated or crumbled paneer. avoid paneer cut into pieces
Ingredients
3/4 cup grated paneer, soft
1/2 cup sugar
3 cups milk
Chopped pistachios and chopped almonds
1/8 teaspoon Cardamom powder
Pinch of salt
1 tablespoon ghee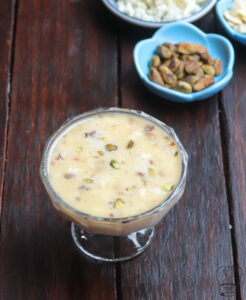 How to make Paneer Payasam with step by step pictures
In a heavy-bottomed pan add ghee and heat in medium flame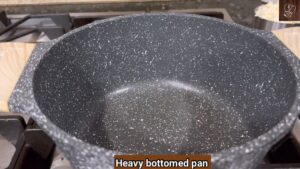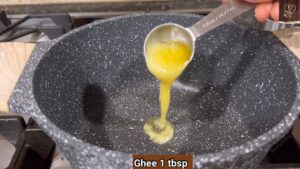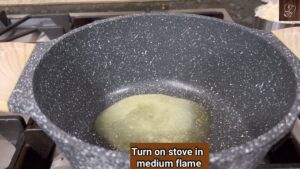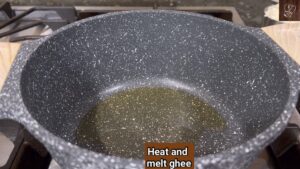 When ghee melts add

sugar and cook on medium flame, keep mixing continuously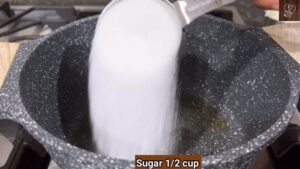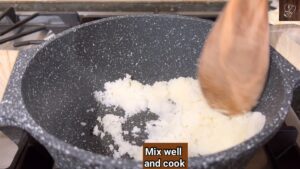 Sugar starts to melt and change to a pale color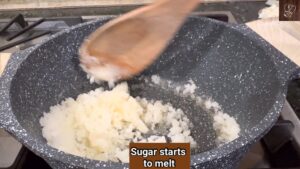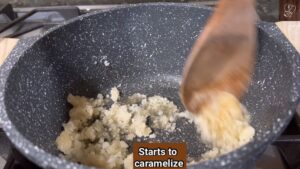 Keep mixing, and simmer the flame to low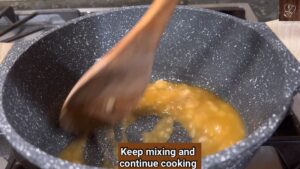 Sugar melts down completely and sugar syrup changes color (like pale jaggery syrup), that is the caramel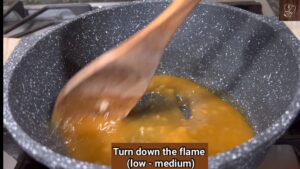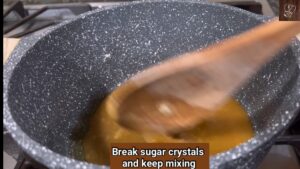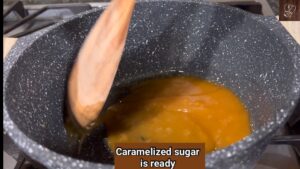 Turn down to the lowest flame and add hot milk carefully (watch out for splattering)
Milk will raise and become frothy

Turn to

medium flame; mix well and cook for 10 minutes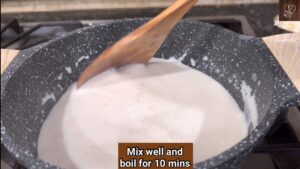 Payasam boils well; mix well between
Sprinkle cardamom powder and salt;

mix well and boil for 5 minutes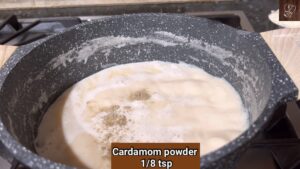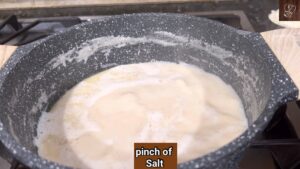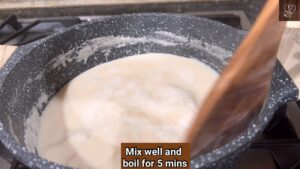 Add paneer and Boil the Payasam for 2-3 minutes, keep mixing once in a while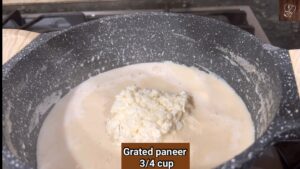 Finally, sprinkle roasted Pistachio and almonds, mix well and switch off