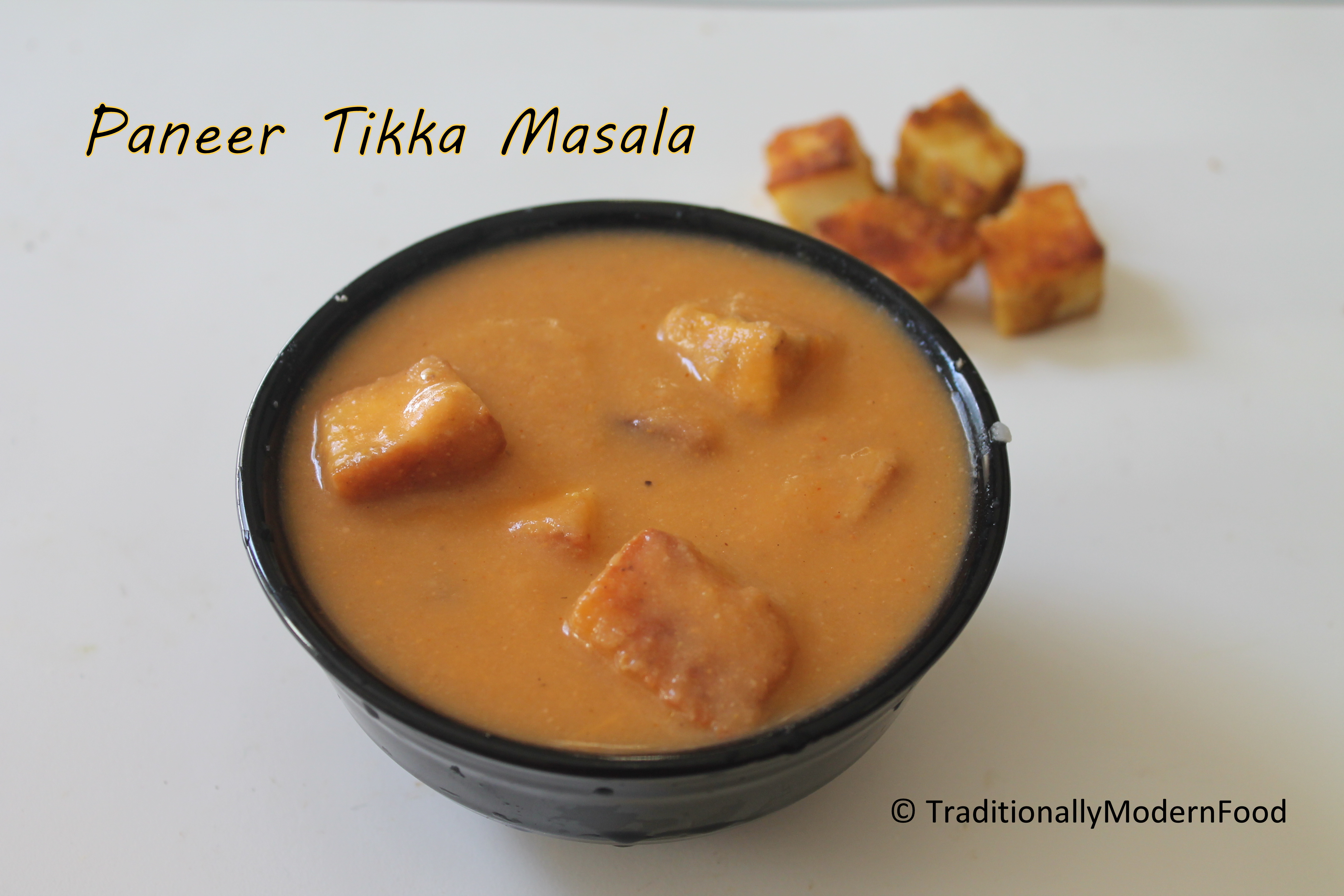 Paneer tikka masala is a flavorful side dish prepared with a flavorful paneer tikka prepared by marinating paneer. Paneer tikka masala tastes yum for mild variety rice, naan, roti.
Recently when I had buffet in Indian restaurant I tasted Paneer Tikka Masala. It was delicious, I could taste paneer butter masala flavor along with paneer tikka taste. I tried combining paneer butter masala and paneer tikka recipe.
Check our other tasty paneer + tofu based dishes in TMF,
Paneer butter masala
Preparation Time : 15 mins | Marination time : 2 hours | Cooking Time : 45 mins
Recipe Category: Side dish
Ingredients:
For Tikka:
Paneer - 1 packet (225 gram)
For marination:
Hung Curd/Sour Cream - 3 tablespoon +1 teaspoon (I used Sour Cream)
Pepper Powder - 1/4 tsp
Turmeric powder - a pinch
Garam Masala powder - 1/4 tsp
Tandoori Masala - 1 tsp
Chat Masala - 1/4 teaspoon (optional)
Lemon juice - 1 tsp
Ginger garlic paste - 1/2 tsp
Oil - 1 tbsp
How to make hung curd:
Hang 1/3 cup curd in a muslin cloth or any thin cloth for an hour to make the required hung curd.
For Gravy:
Onion - 2
Tomato - 3
Ginger garlic paste- 1 tsp
Garam Masala powder- 1 tsp
Chilli powder - 1/2 tsp
Coriander powder - 1/2 tsp
Cumin powder - 1/4 tsp
Heavy Cream - 3 tbsp
Turmeric powder - 1/8 tsp
Cinnamon Powder - 1/4 tsp
Salt - as needed
Butter - 1 tbsp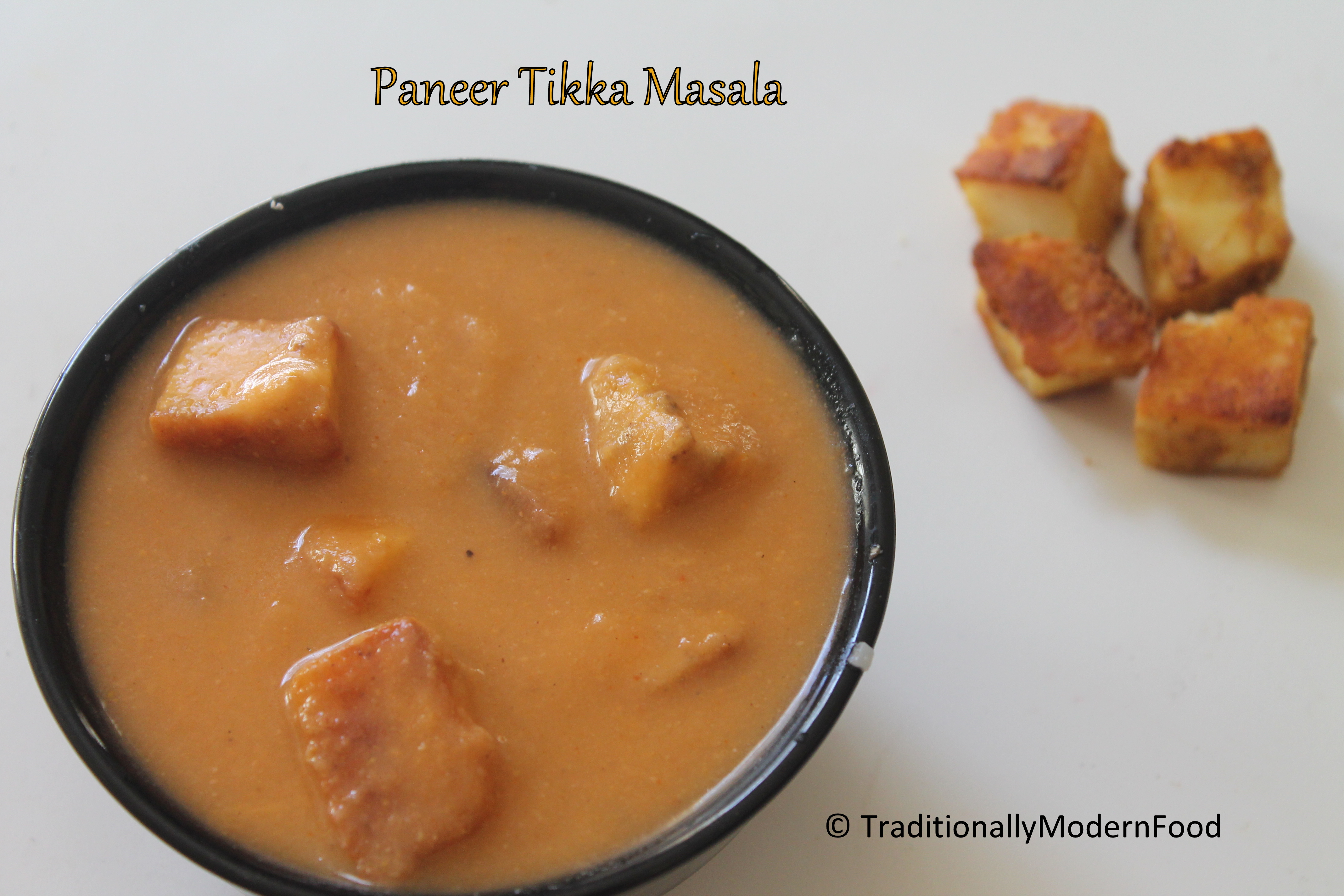 Method:
Preheat the oven at 400 deg F
Cube the Paneer and keep it aside. In a separate bowl Mix the ingredients listed under 'for marination' and keep aside. Mix paneer with the marinated ingredients and keep refrigerated for 2 hours (minimum an hour). Take it out and arrange the Paneer in the baking tray
Bake them for 15-18 mins, turning over in between for even cooking. Paneer tikka is ready
Boil onion and tomato in hot water and strain the water. When it comes to room temperature, blend them into fine paste
Add butter to the pan. Add ginger garlic paste and sauté for 30 seconds. Add the blended tomato and onion puree and cook for 3-5 minutes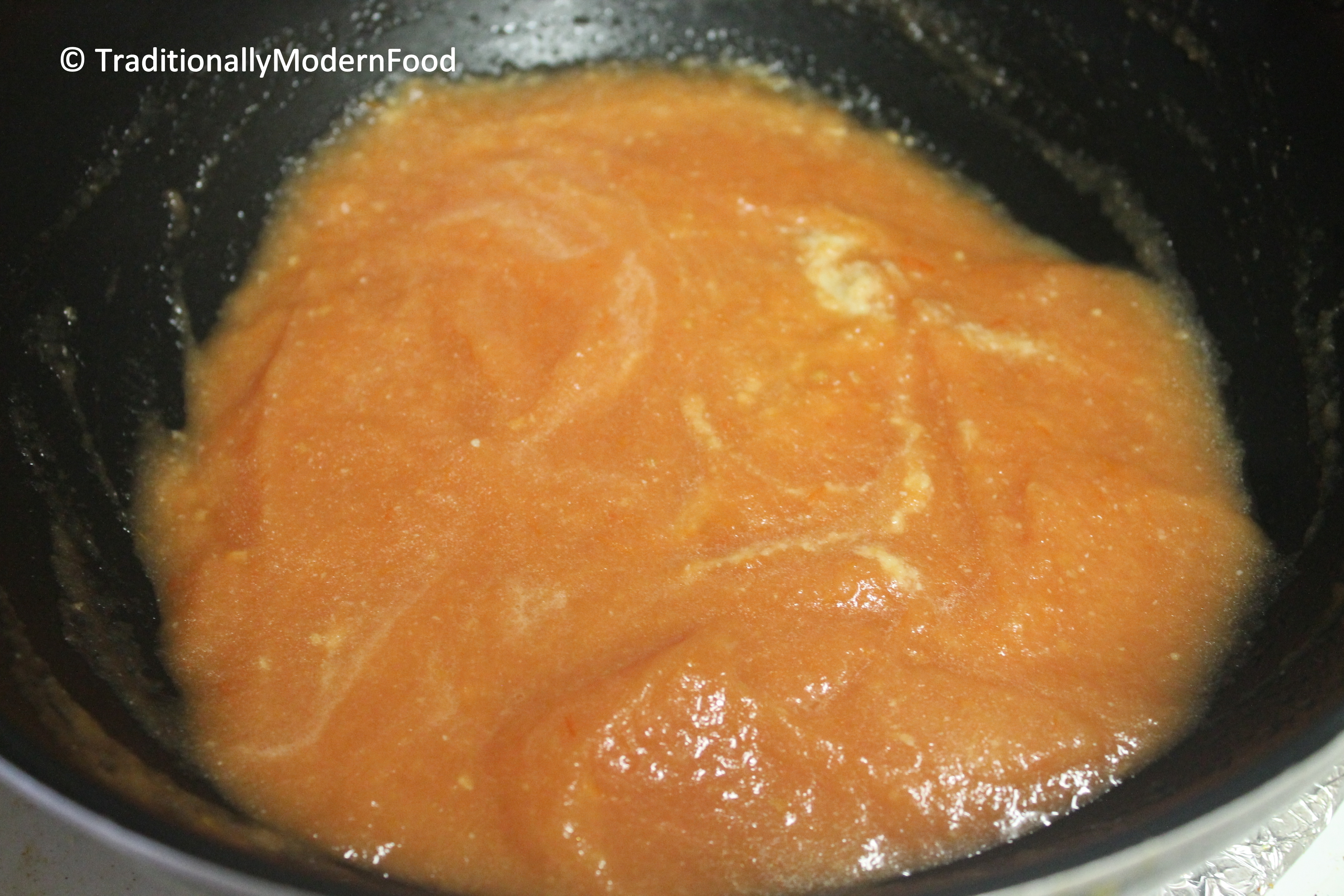 Add garam masala, coriander powder, cumin powder, chilli powder, turmeric powder and allow it to cook for 2-3mins
Add heavy cream and cook till it starts boiling. Add paneer tikka and cook for 2 minutes and switch off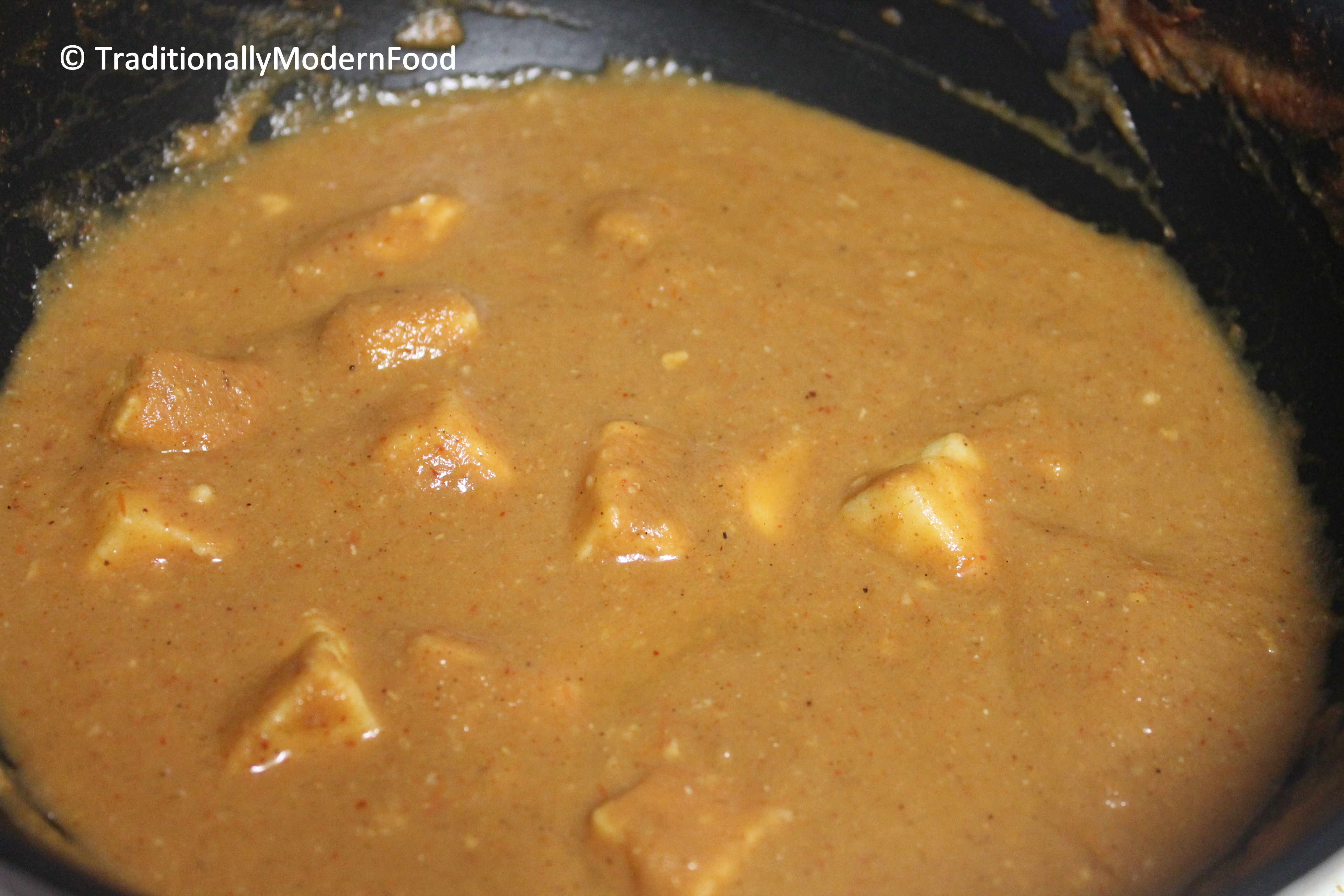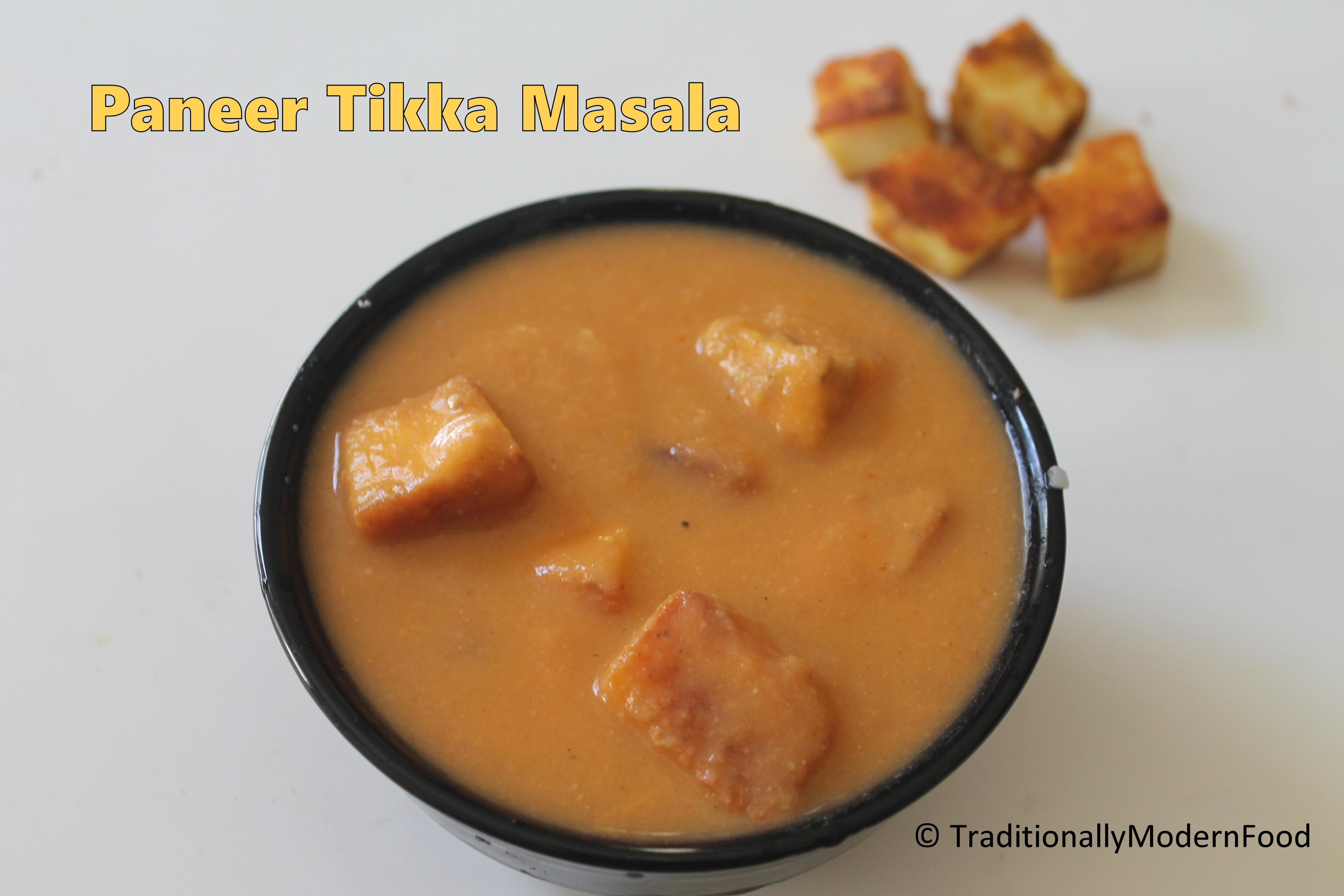 Ingredients
For Tikka:

Paneer - 1 packet

225 gram

For marination:

Hung Curd/Sour Cream - 3 tablespoon +1 tsp

I used Sour Cream

Pepper Powder - 1/4 tsp

Turmeric powder - a pinch

Garam Masala powder - 1/4 tsp

Tandoori Masala - 1 tsp

Chat Masala - 1/4 tsp

optional

Lemon juice - 1 tsp

Ginger garlic paste - 1/2 tsp

Oil - 1 tbsp

How to make hung curd:

Hang 1/3 cup curd in a muslin cloth or any thin cloth for an hour to make the required hung curd.

For Gravy:

Onion - 2

Tomato - 3

Ginger garlic paste- 1 tsp

Garam Masala powder- 1 tsp

Chilli powder - 1/2 tsp

Coriander powder - 1/2 tsp

Cumin powder - 1/4 tsp

Heavy Cream - 3 tbsp

Turmeric powder - 1/8 tsp

Cinnamon Powder - 1/4 tsp

Salt - as needed

Butter - 1 tbsp
Instructions
Preheat the oven at 400 deg F

Cube the Paneer and keep it aside. In a separate bowl Mix the ingredients listed under 'for marination' and keep aside. Mix paneer with the marinated ingredients and keep refrigerated for 2 hours (minimum an hour). Take it out and arrange the Paneer in the baking tray

Bake them for 15-18 mins, turning over in between for even cooking. Paneer tikka is ready

Boil onion and tomato in hot water and strain the water. When it comes to room temperature, blend them into fine paste

Add butter to the pan. Add ginger garlic paste and sauté for 30 seconds. Add the blended tomato and onion puree and cook for 3-5 minutes

Add garam masala, coriander powder, cumin powder, chilli powder, turmeric powder and allow it to cook for 2-3mins

Add heavy cream and cook till it starts boiling. Add paneer tikka and cook for 2 minutes and switch off