Pumpkin Gojju | Parangikai Kuzhambu | Pumpkin tamarind kuzhamby | pumpkin puli kuzhambu | Yellow Pumpkin Gojju with step by step pictures and video recipe. Check out the pumpkin gojju recipe. If you like the video pls SUBSCRIBE to my channel.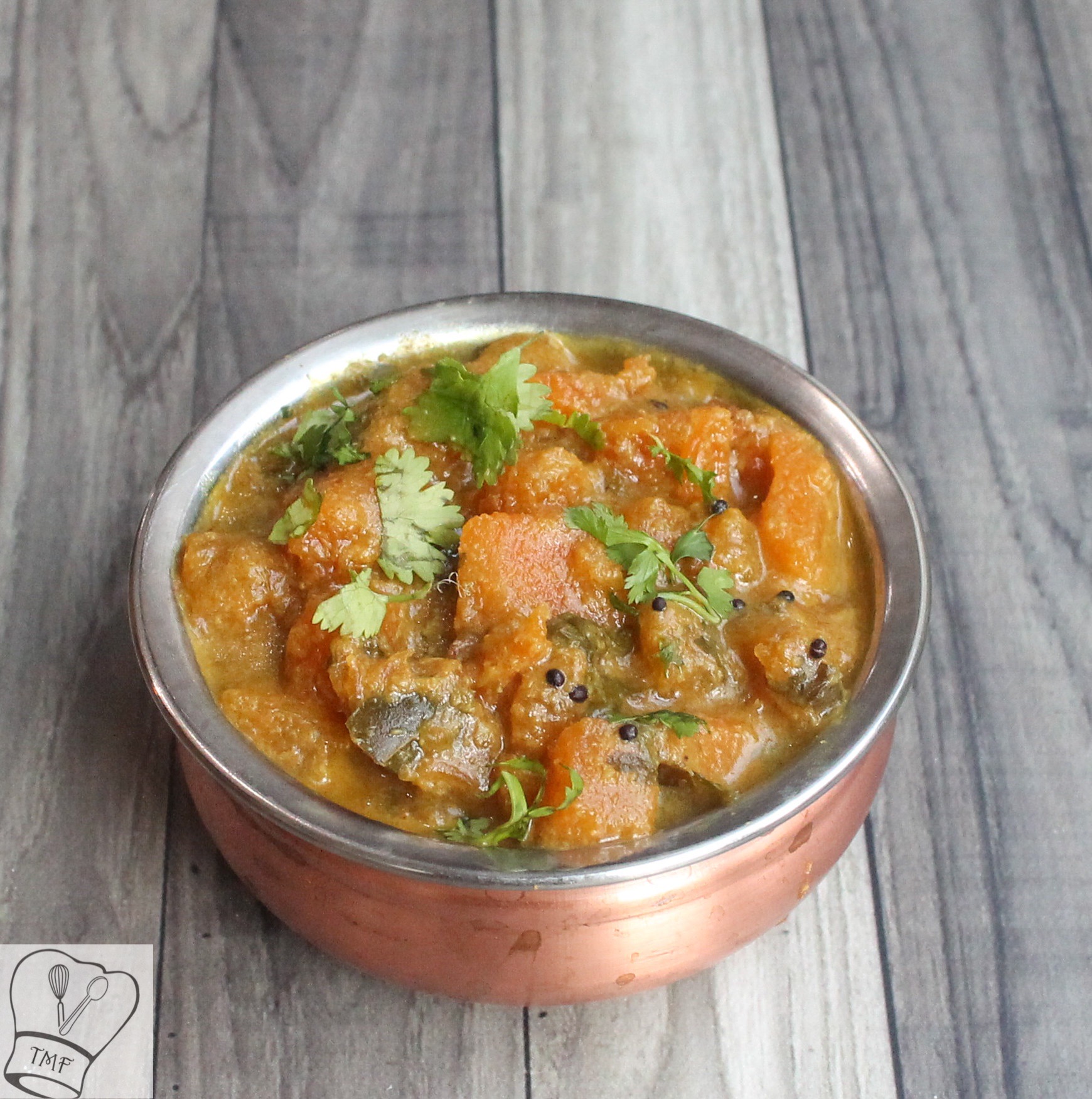 Pumpkin tamarind kuzhamby | pumpkin puli kuzhambu | Yellow Pumpkin Gojju is a delicious, authentic rice accompaniment prepared with a tamarind base. Mild sweetness from pumpkin, with a tangy Tamarind and coconut paste makes the Parangikai kuzhambu delicious.
Having a sweet tooth, I like anything with a touch of sweetness. This yellow pumpkin kuzhambu is one of my favorites since childhood days. Parangikai we get in India is a bit on the sweeter side so I can't say no for this coconut flavored pumpkin gojju . Sutta appalam and yellow Parangikai Kulambu is my sister's favorite combo.
After coming to US during Halloween time I saw lots of pumpkin in grocery store. Got a piece and tried kuzhambu. Yellow pumpkin I picked was extreme hard and it took forever to cook. I have seen Amma cooking vegetable directly in kuzhambu, so tried the same way but after cooking in tamarind water for 20 - 25 minutes, yellow pumpkin hardly got cooked.
I somehow managed to cook that day but was not happy. I discussed with my Amma, she said certain Parangikai takes longer time to cook and suggested cooking in pressure cooker. As always pressure helps for faster cooking.
With one whistle the Parangikai is 3/4 done. If I add it to the parangikai kuzhambu at that stage it cooks well and the flavours are infused in the kuzhambu.
Coconut oil gives nice flavour to the parangikai Kuzhambu . Freshly ground coconut paste adds aromatic taste for the kuzhambu. Yellow pumpkin puli Kuzhambu can be prepared within 30 minutes. Parangikai Kuzhambu Stays good for 2 days
Kuzhambu varieties with tamarind
Kuzhambu varieties without tamarind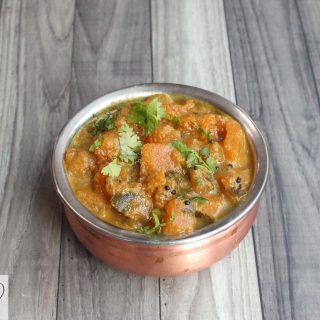 Ingredients
Yellow Pumpkin - 175 grams

Tamarind – 12 grams

Sambar powder/ chilli powder – 1 tsp

Jaggery powder - 1 tbsp

optional

Turmeric powder - 1/8 tsp

Hing - generous pinch

Salt – to taste

To temper:

Coconut Oil – 6 grams

Mustard seeds – 1/2 tsp

Fenugreek – 1/4 tsp

Curry leaves – few

Coriander leaves - few

To grind:

Cumin seed - 1/2 tsp

Coconut - 25 grams

Green chilli - 1

adjust according to your taste
Instructions
Soak tamarind in 2 cups of hot water and keep aside for at least 20 minutes, and extract the juice

In a mixie jar add coconut, green chilli, cumin seed and little water; grind into a paste

For soft ripe pumpkin:

Add oil to the pan, once when the oil is hot add mustard seeds and fenugreek seeds; let them splutter

Add curry leaves and sauté

Add ripe pumpkin and cook for a minute

Add tamarind extract, turmeric powder, hing, salt and Sambar powder; mix well

Let the Kuzhambu books till the raw smell goes off and pumpkin is all cooked soft

Add the ground coconut along with mixie water; let them boil for 5-6 minutes

Add jaggery and boil for 2-3 minutes

Add coriander leaves and switch off

For firm pumpkin:

Add 1/4 cup of water, little salt and pressure cook pumpkin for one whistle and let the pressure release naturally

Add oil to the heavy bottomed pan. When oil is hot add ingredients under "to temper" and let them splutter

Add the tamarind juice, Sambar powder, turmeric powder, 1 cup of water, salt and cook for 10 minutes

Add pumpkin and took till the tamarind raw smell goes off and kuzhambu reduce to 3/4 th of the portion; for about 10 minutes

Add ground paste and cook for 5-7 minutes

Add jaggery and cook for 3- 5 minutes

Add coriander leaves and switch off
Video
Notes
If you are using soft ripe yellow unplug cook directly
For firm pumpkin cook the pumpkin separately for easy cooking
Firm Pumpkin can also be microwaved
Adjust the spice according to your taste. Pumpkin is mild sweet so I add extra spice. If pumpkin used is not sweet reduce the sambar powder
Regular cooking oil can be used instead of coconut oil
Boil the kuzhambu according the consistency you desire and adjust the water accordingly
If you think Kulambu is watery in a small bowl add 1/4 teaspoon of rice flour and mix it with 2 tablespoon of water make a paste, add to kuzhambu and let it boil for 3-4 minutes
Sesame seed can be sauted and added to the kuzhambu
Ingredients:
Yellow Pumpkin - 175 grams
Tamarind – 12 grams
Sambar powder/ chilli powder – 1 teaspoon ( I used Sambar powder)
Jaggery powder - 1 tablespoon (optional)
Turmeric powder - 1/8 tsp
Hing - generous pinch
Salt – to taste
To temper:
Coconut Oil – 6 grams
Mustard seeds – 1/2 tsp
Fenugreek – 1/4 tsp
Curry leaves – few
Coriander leaves - few
To grind:
Cumin seed - 1/2 tsp
Coconut - 25 grams
Green chilli - 1 (adjust according to your taste)
Method:
Soak tamarind in 2 cups of hot water and keep aside for at least 20 minutes, and extract the juice
In a mixie jar add coconut, green chilli, cumin seed and little water; grind into a paste
For soft ripe pumpkin:
Add oil to the pan, once when the oil is hot add mustard seeds and fenugreek seeds; let them splutter
Add curry leaves and sauté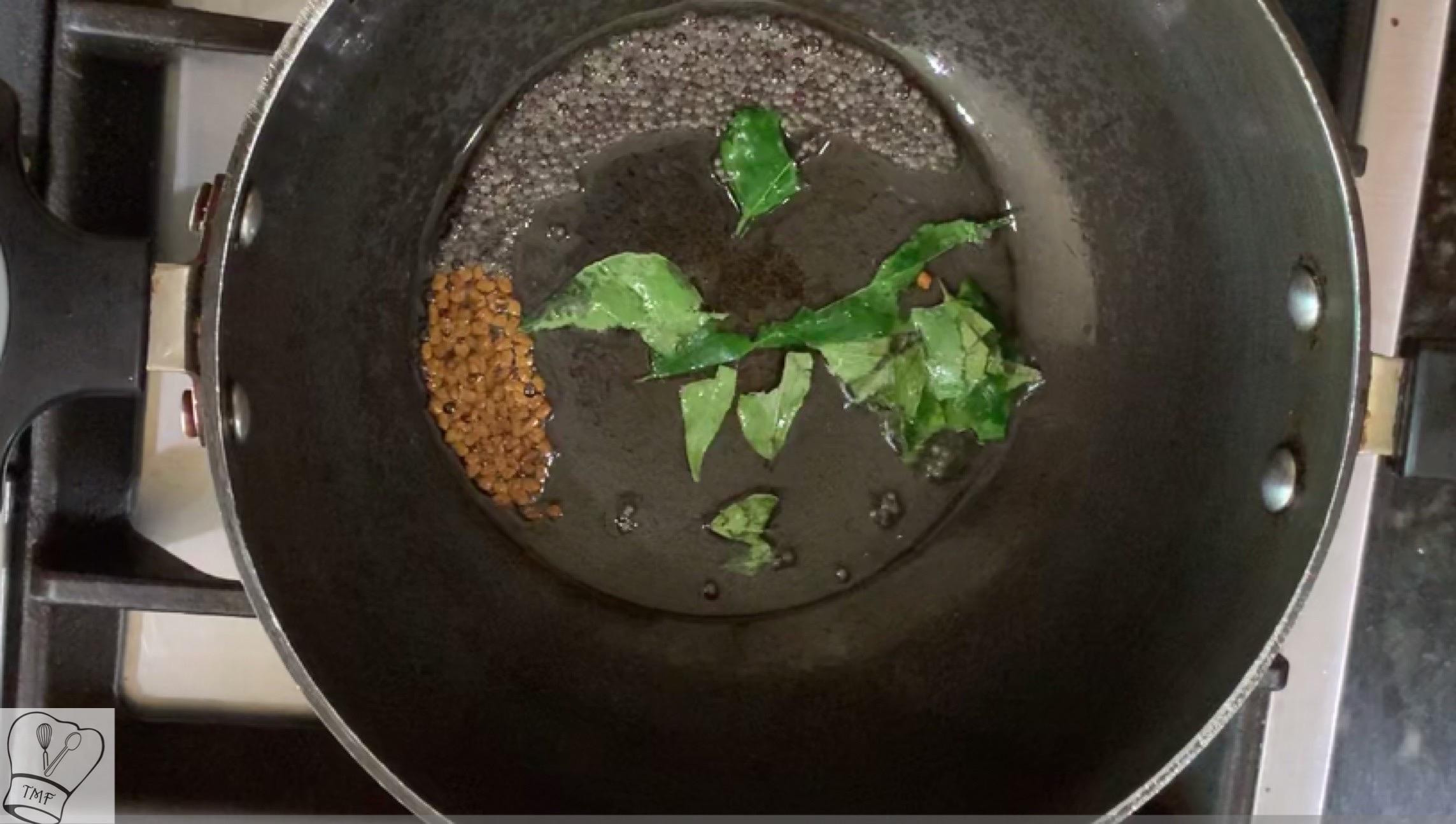 Add ripe pumpkin and cook for 2 mins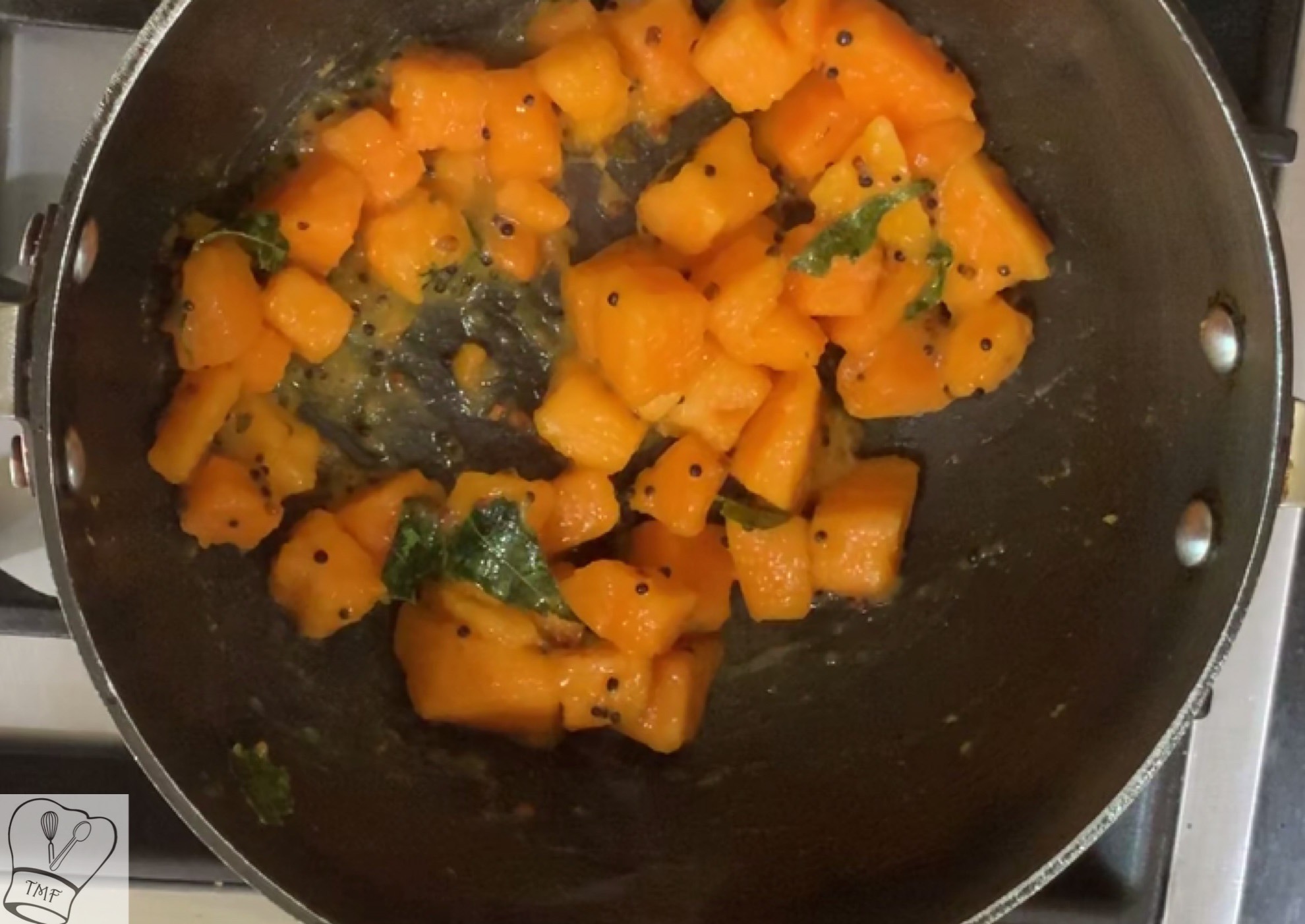 Add tamarind extract, turmeric powder, hing, salt and Sambar powder; mix well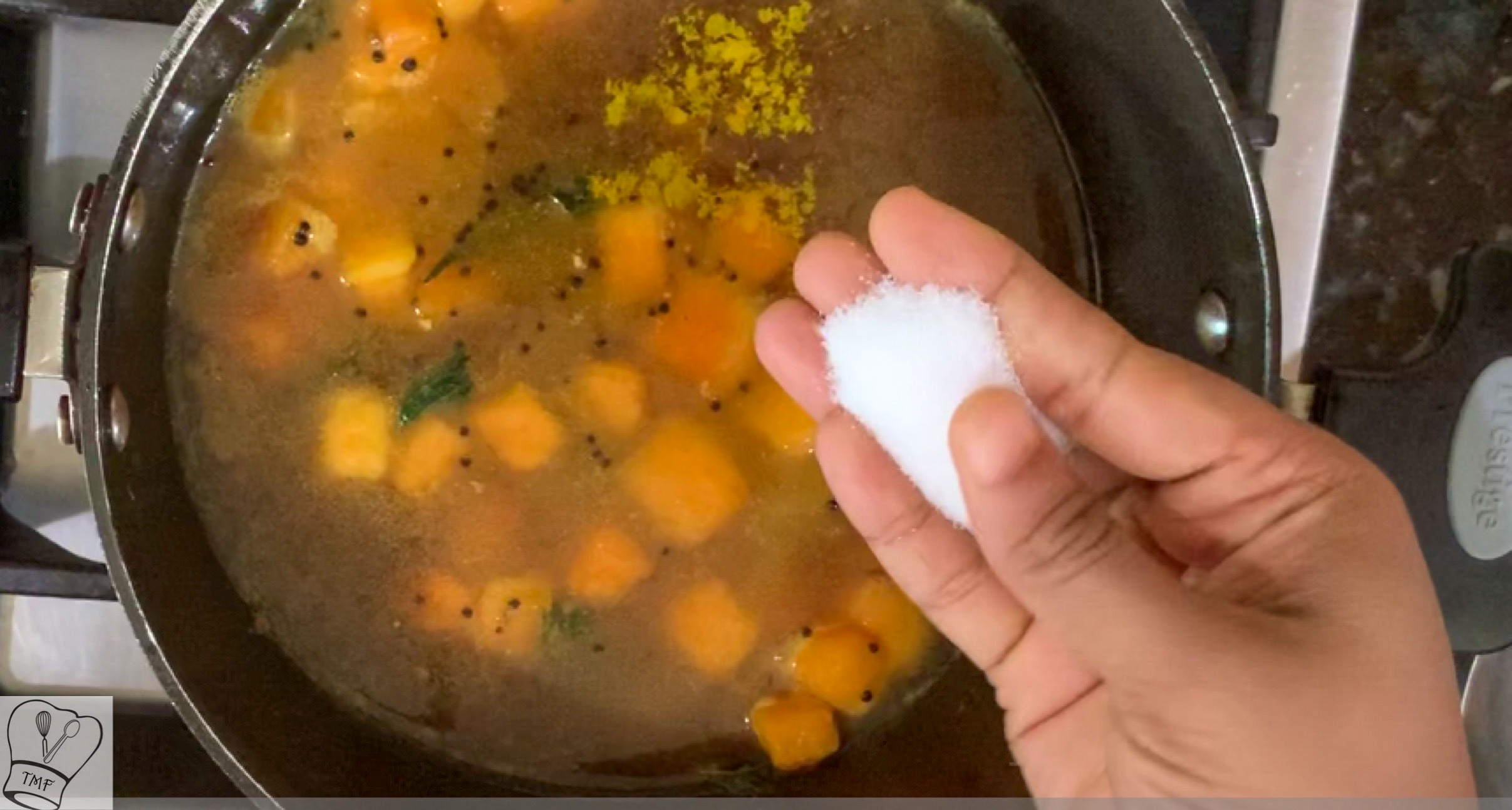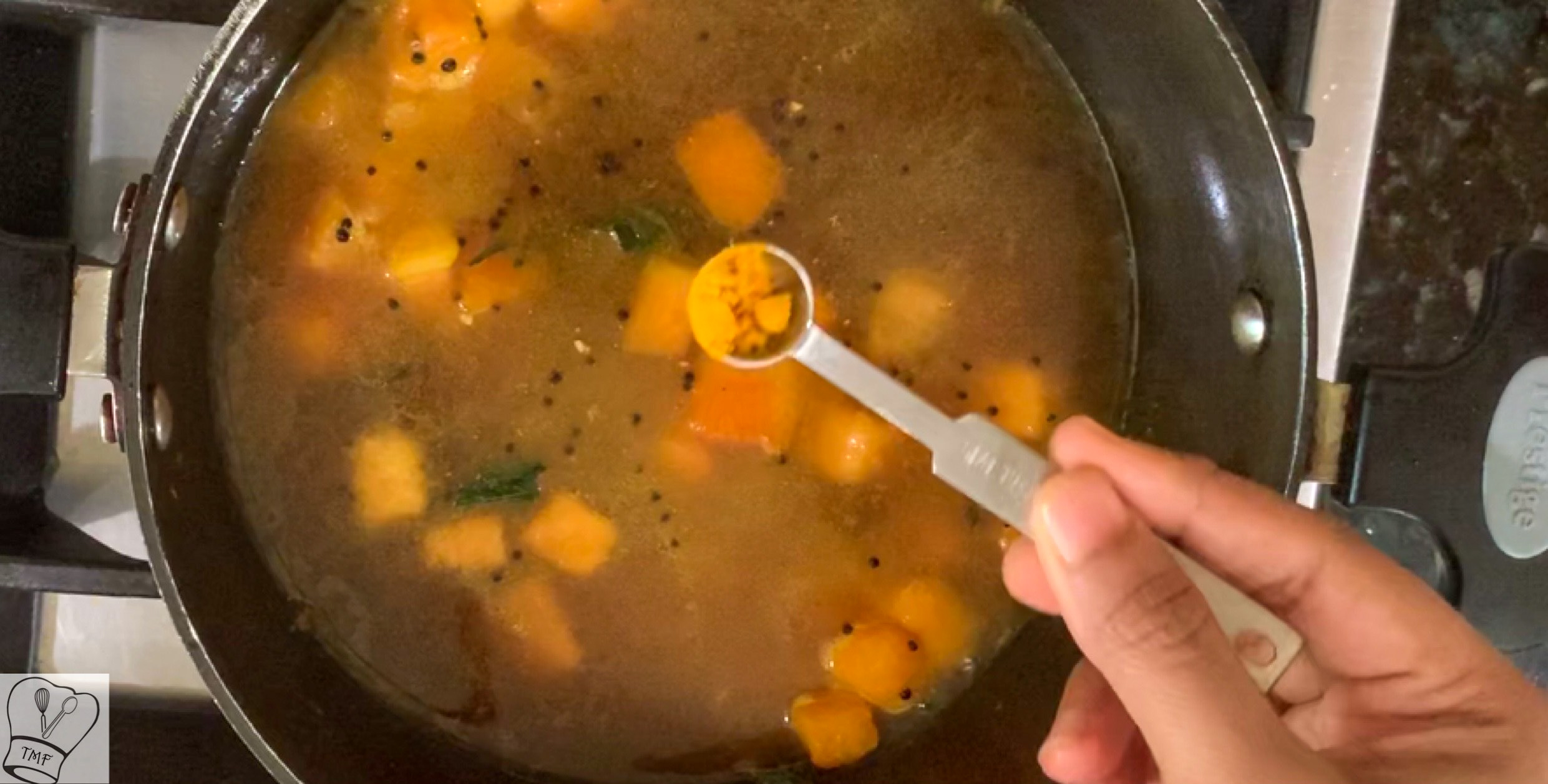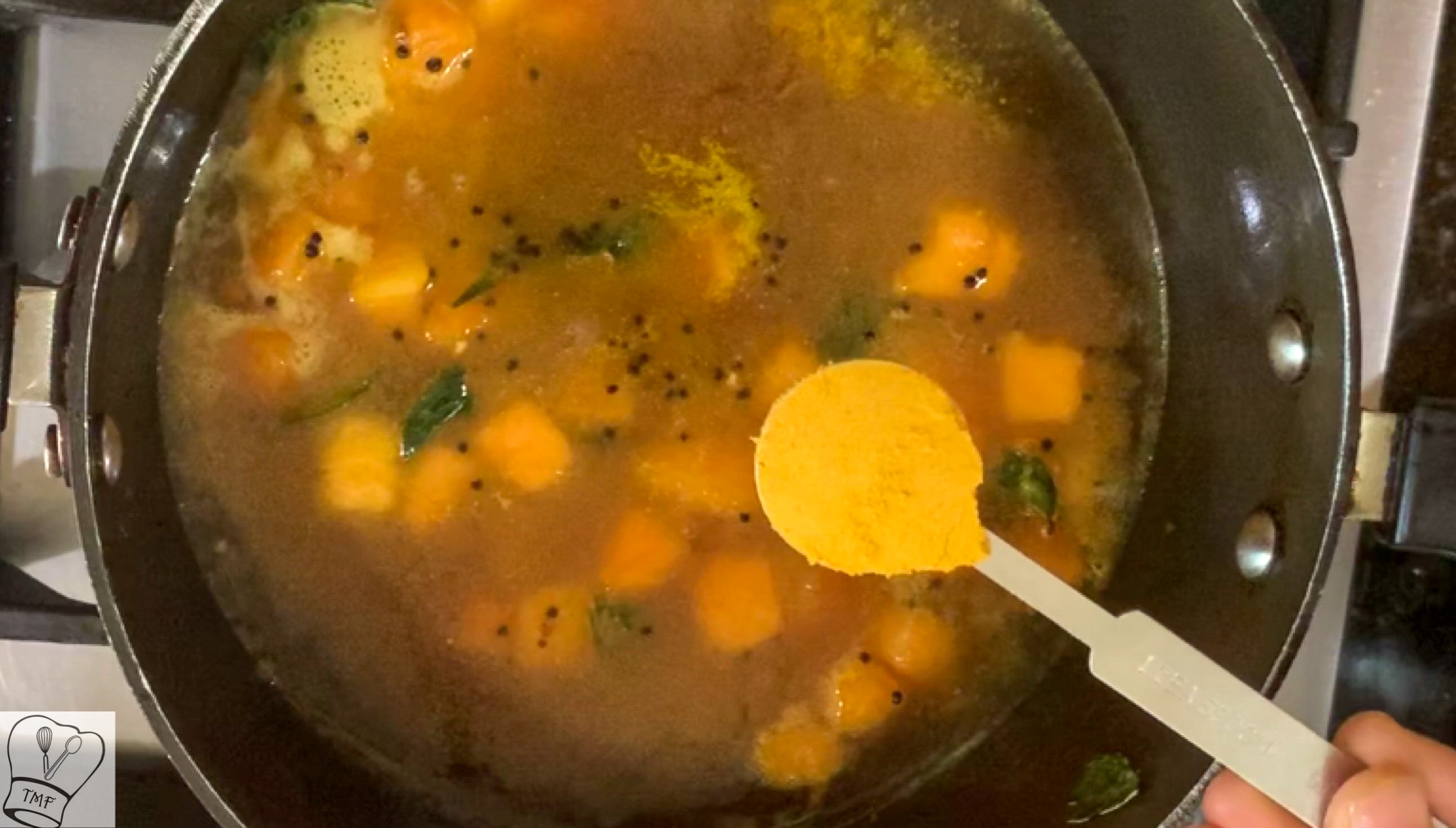 Let the Kuzhambu cooks till the raw smell goes off and pumpkin is all cooked soft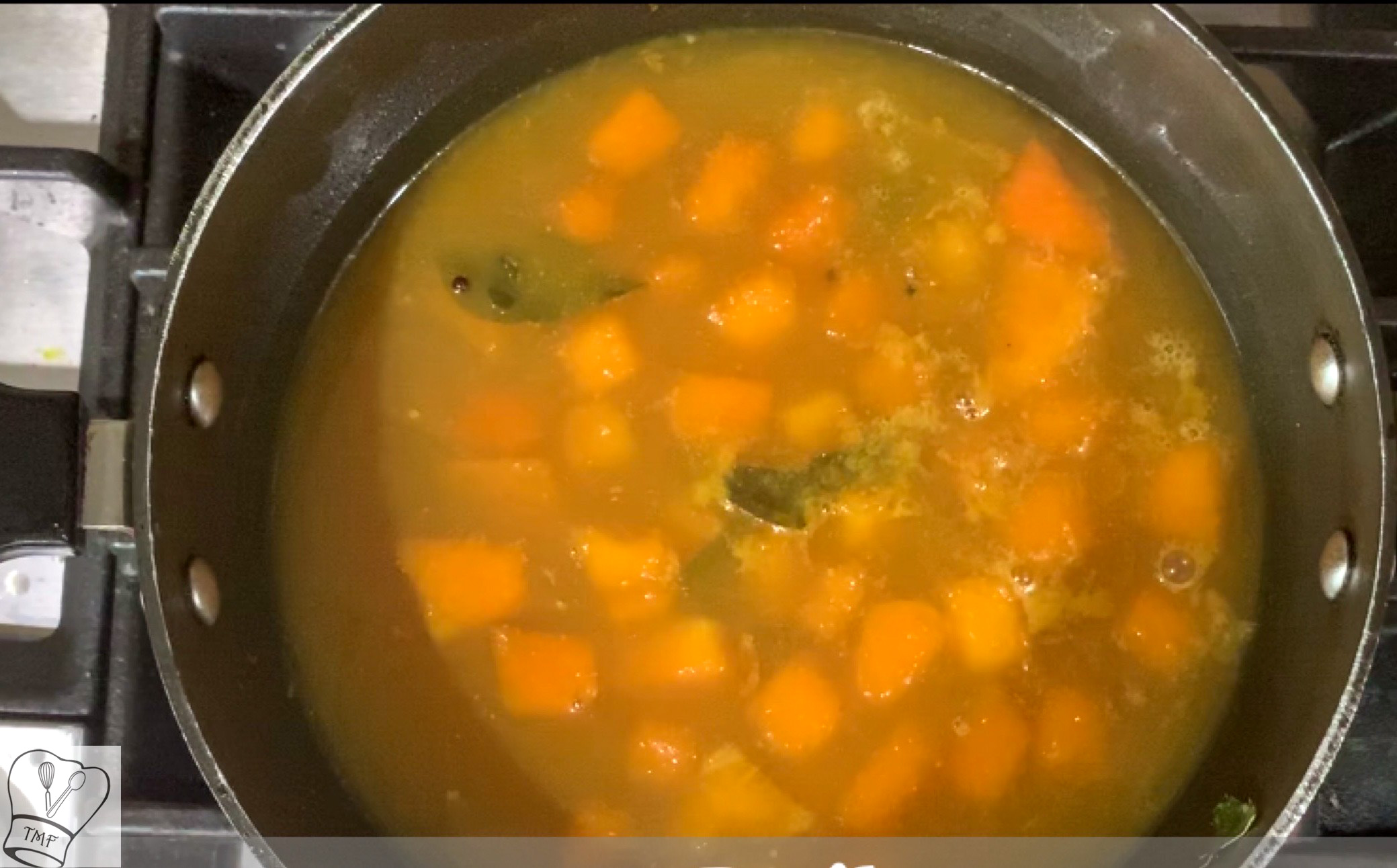 Add the ground coconut along with mixie water; let them boil for 5-6 minutes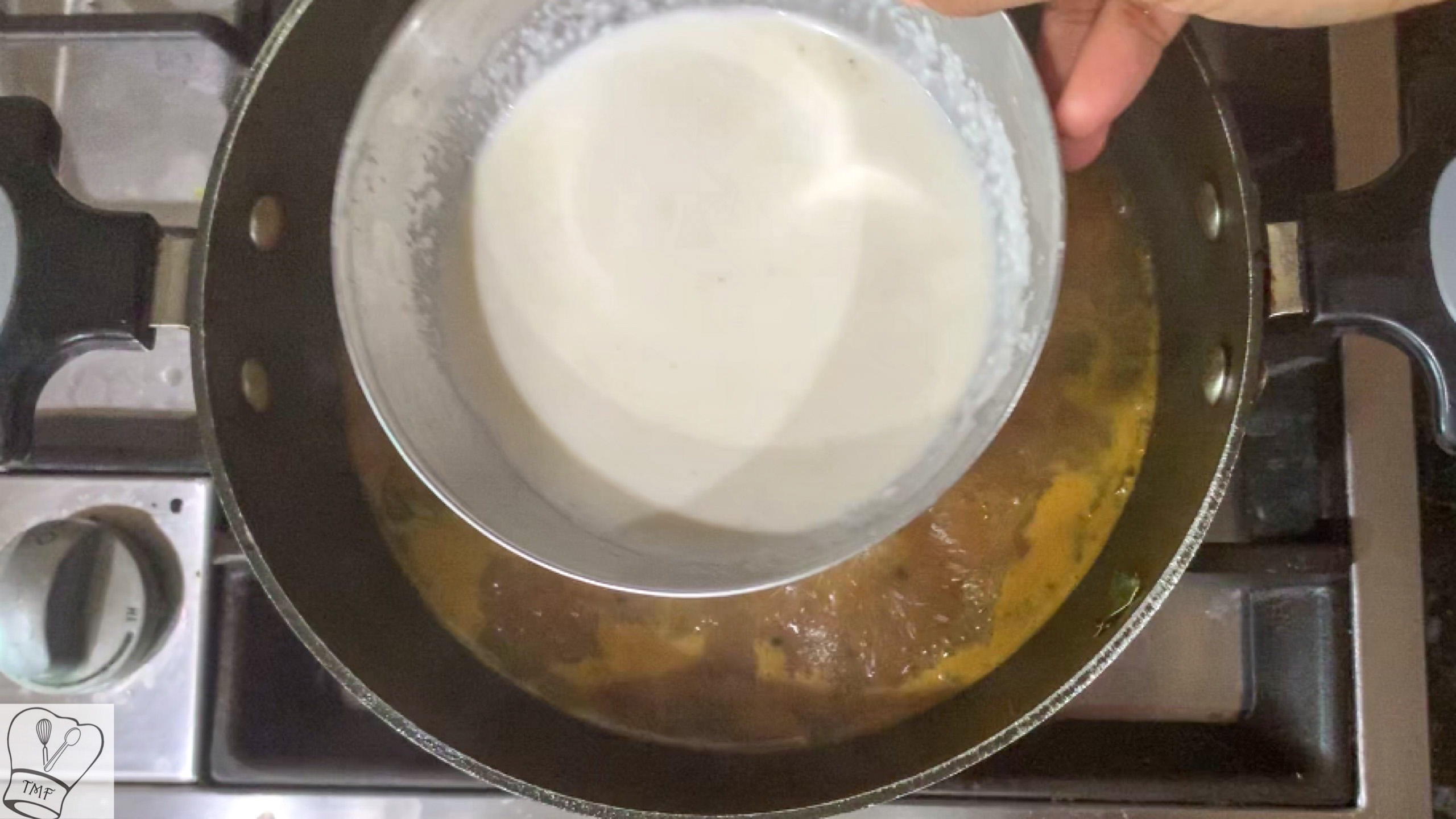 Add jaggery and boil for 2-3 minutes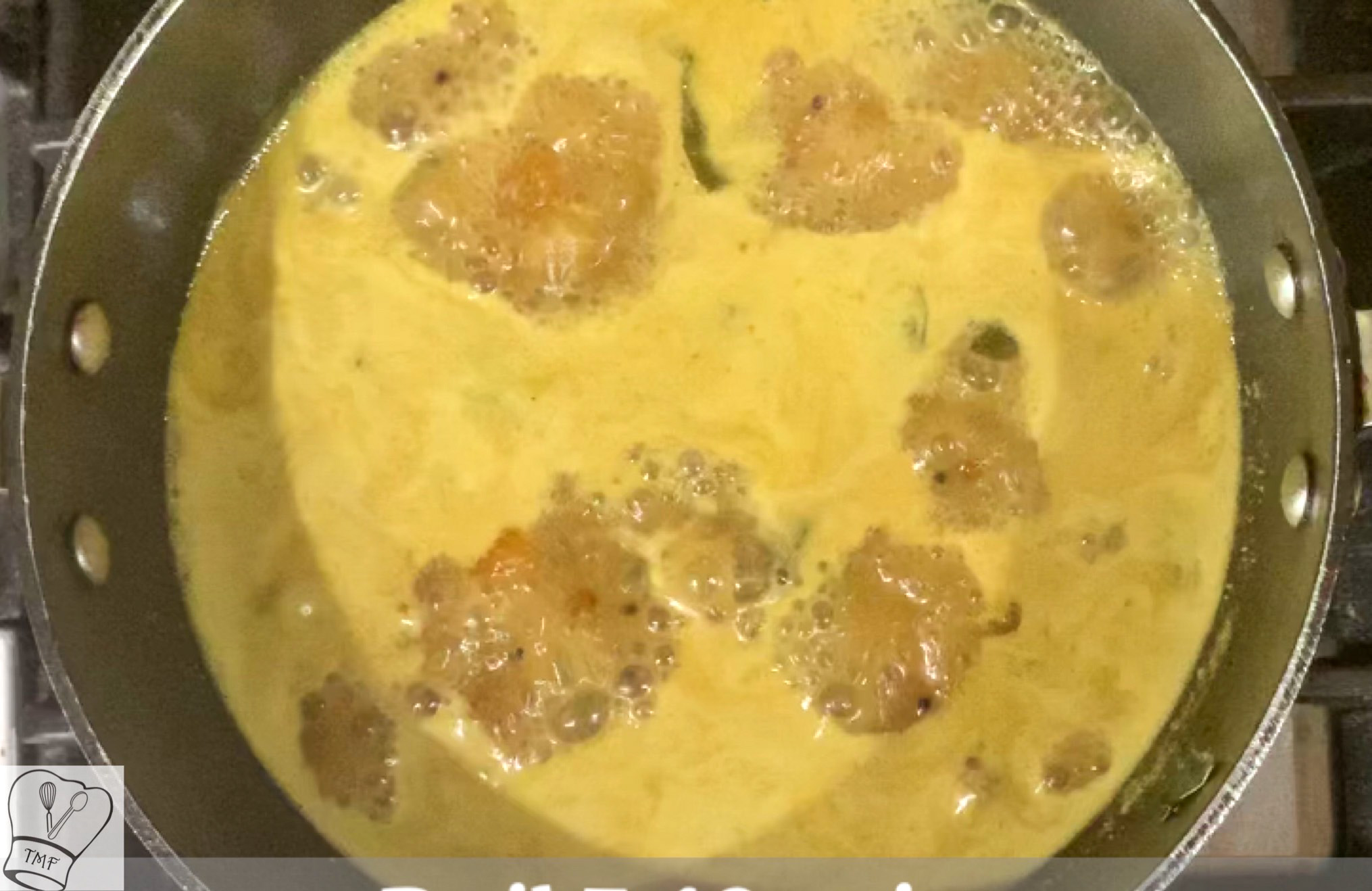 Add coriander leaves and switch off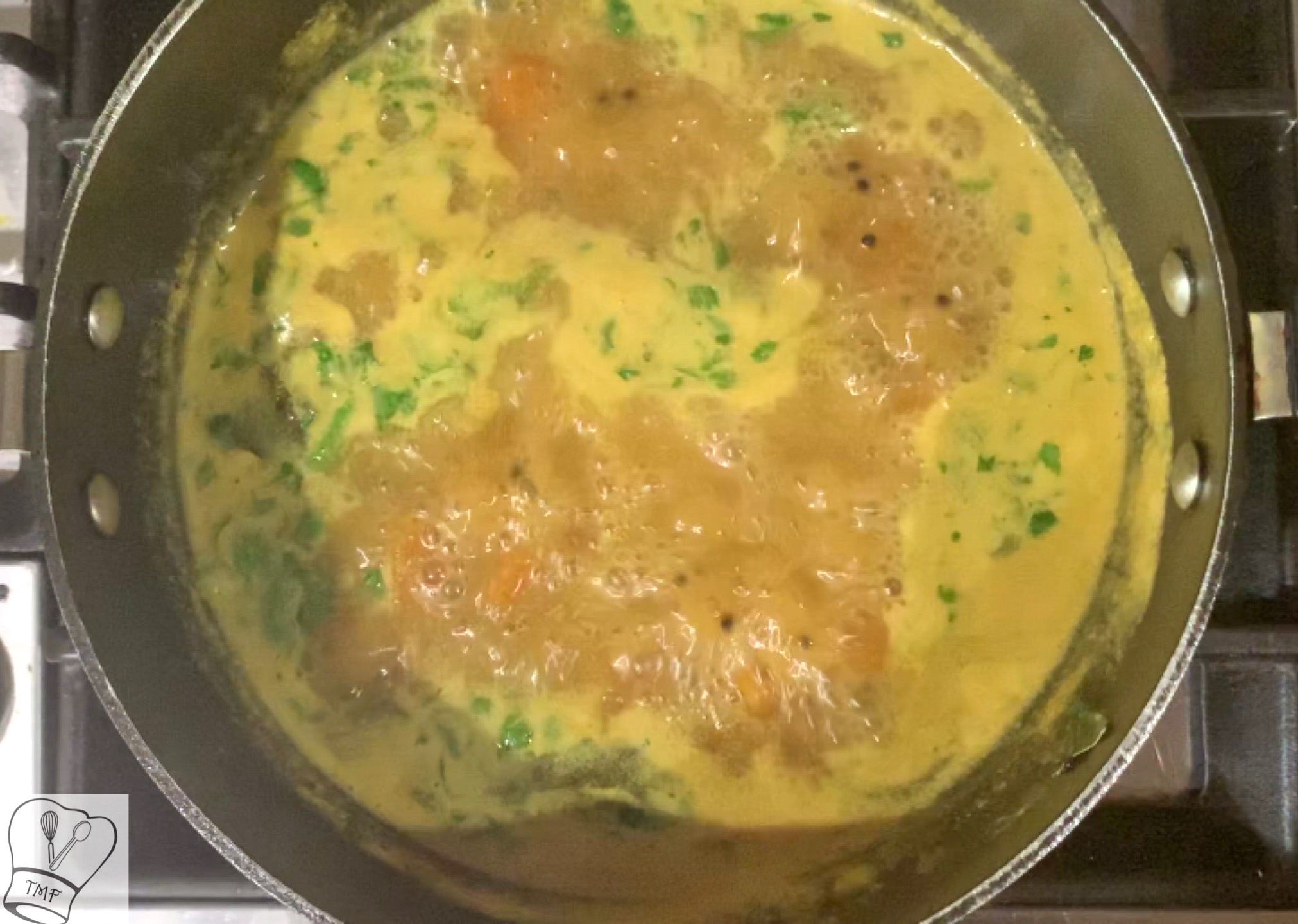 For firm pumpkin:
Add 1/4 cup of water, little salt and pressure cook pumpkin for one whistle and let the pressure release naturally

Add oil to the heavy bottomed pan. When oil is hot add ingredients under "to temper" and let them splutter
Add the tamarind juice, Sambar powder, turmeric powder, 1 cup of water, salt and cook for 10 minutes
Add pumpkin and took till the tamarind raw smell goes off and kuzhambu reduce to 3/4 th of the portion; for about 10 minutes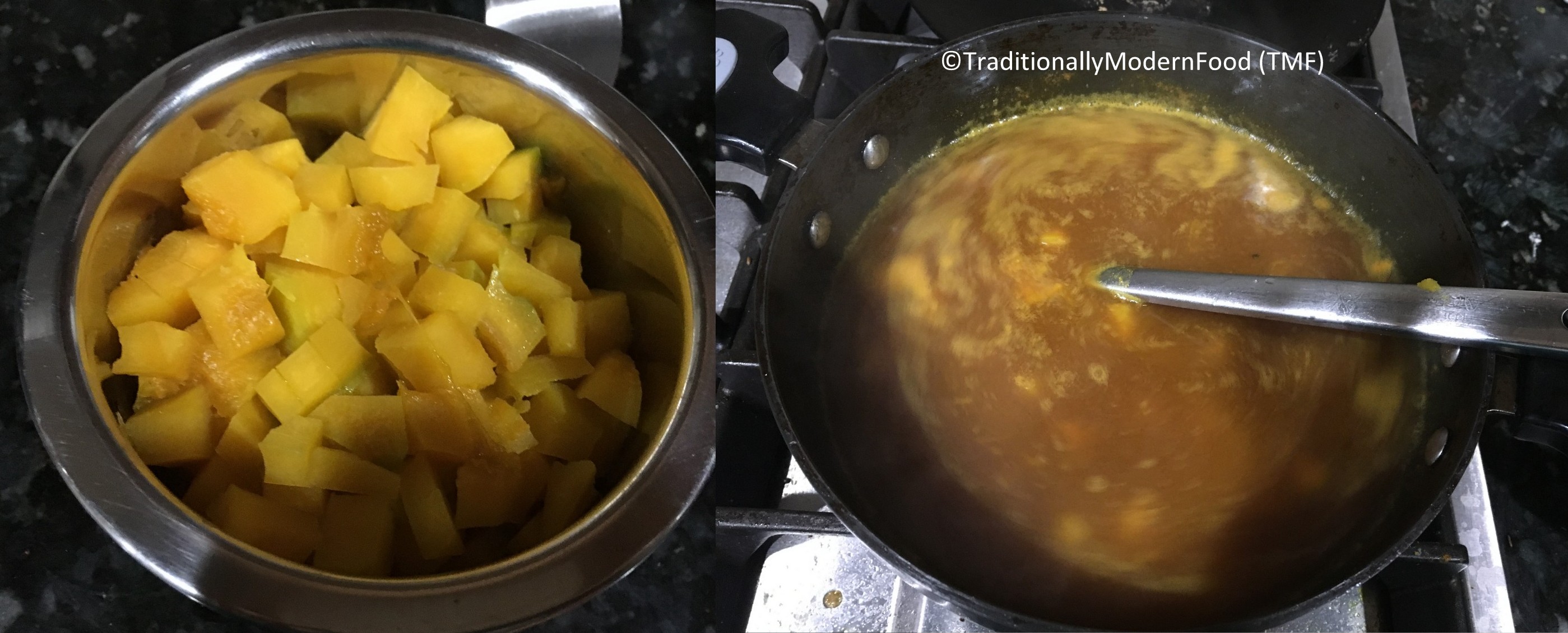 Add ground paste and cook for 5-7 minutes
Add jaggery and cook for 3- 5 minutes
Add coriander leaves and switch off