Dhaniya Podi | Coriander Podi | malli podi- Indian postpartum recipes / pathiya samayal / toddler – friendly podi with step by step pictures and video recipe. Check out the dhaniya podi video and if you like the video pls SUBSCRIBE to my channel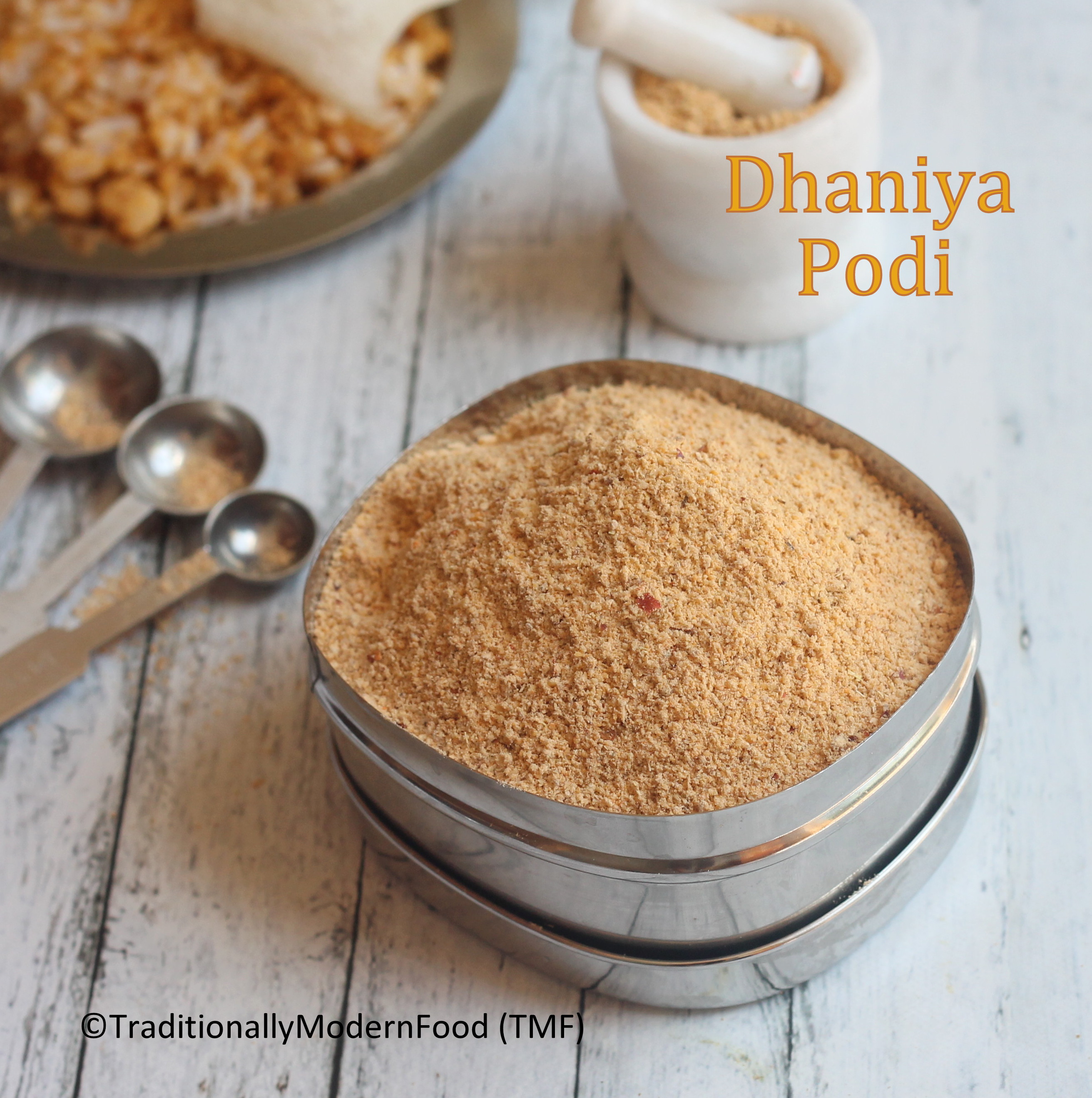 Dhaniya Podi | Coriander Podi | malli podi is a make – ahead Podi which stays good for 2 months if stored in an air-tight container. Dhaniya Podi can be mixed with rice and used a a quick lunch box meal for busy days. It can also be used as a side dish for curd rice. With some sesame oil it tastes great with tiffin varieties like Idli Podi.
My Amma says prepare Podi and keep it handy, It is a great help for rainy days, well the old saying won't work if I live in Seattle. 😂 Rain or shine Podi is a saver during busy days and of course lazy days😆
Hubby starts early for work, and having a three year old I always have coconut Podi / curry leaves Podi in pantry. If I pack with dollop of sesame oil and rice, Podi makes a tasty lunch box special. Podi rice tastes better if consumed after 2-3 hours as the flavour infuses well with the rice.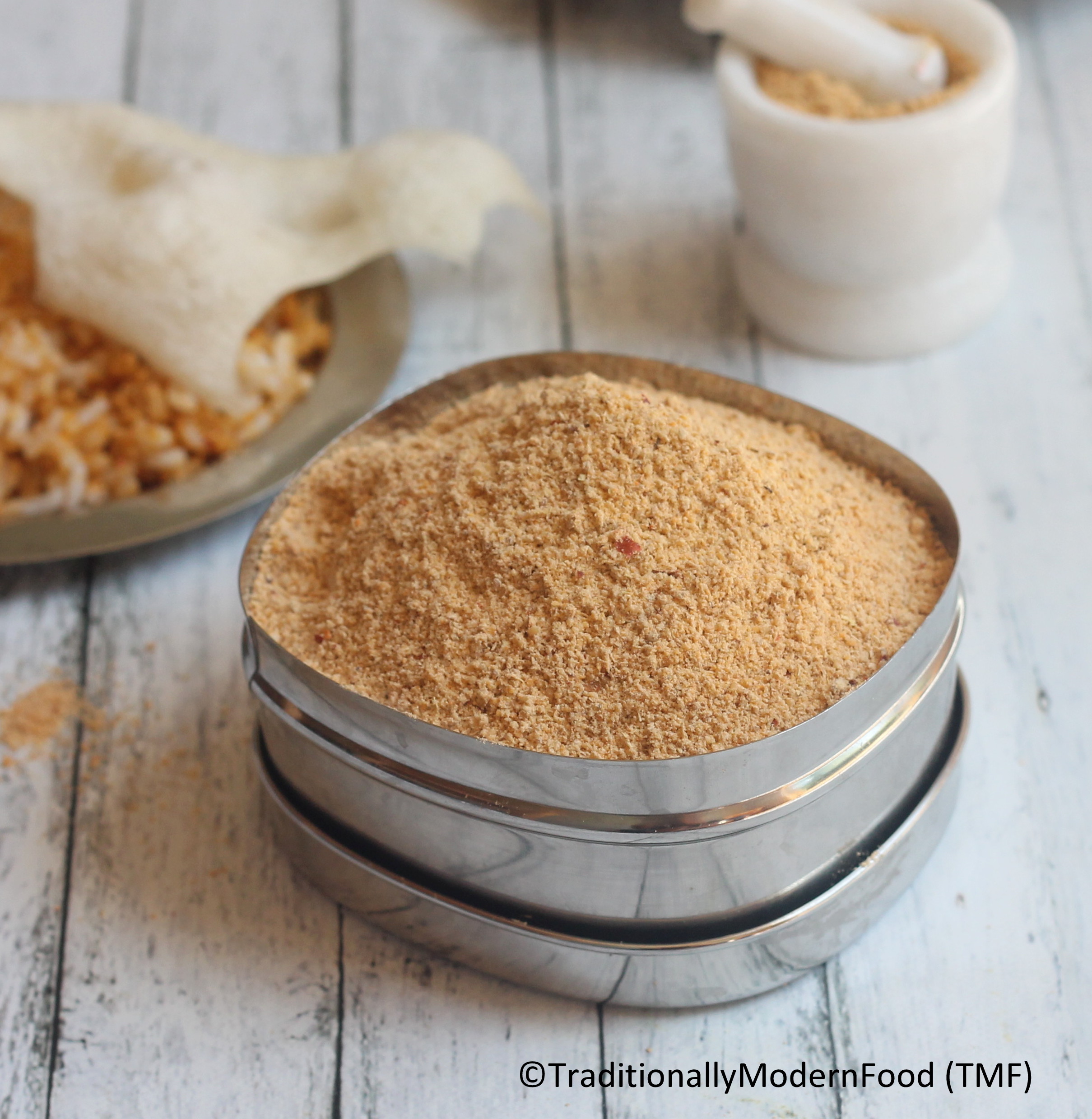 Last year when my parents visited I told Amma to prepare some Podi after two days. And I didn't have enough curry leaves and fresh coconut handy. Amma said without those she can prepare one more Podi with the ingredients I have in one.
She prepared Dhaniya podi, after seeing her sautéing all the ingredients I told it looks similar to curry Podi ( one used for brinjal rice/ capsicum rice/ plaintain Podi Curry). She told Urad dal is present along with the other ingredients used for curry powder. Amount of dhaniya used gives aromatic coriander flavor to the Podi.
Dhaniya Podi stays good for months. I usually keep a very small quantity in pantry and store the rest in a freezer safe zip lock bags. Freshness of the Dhaniya Podi is maintained this way. If stored properly Podi will stay good for months but after few months the aroma goes off. This is Tamil Brahmin no garlic version Podi. dhaniya Thogayal is yet another tasty recipe prepared with coriander seeds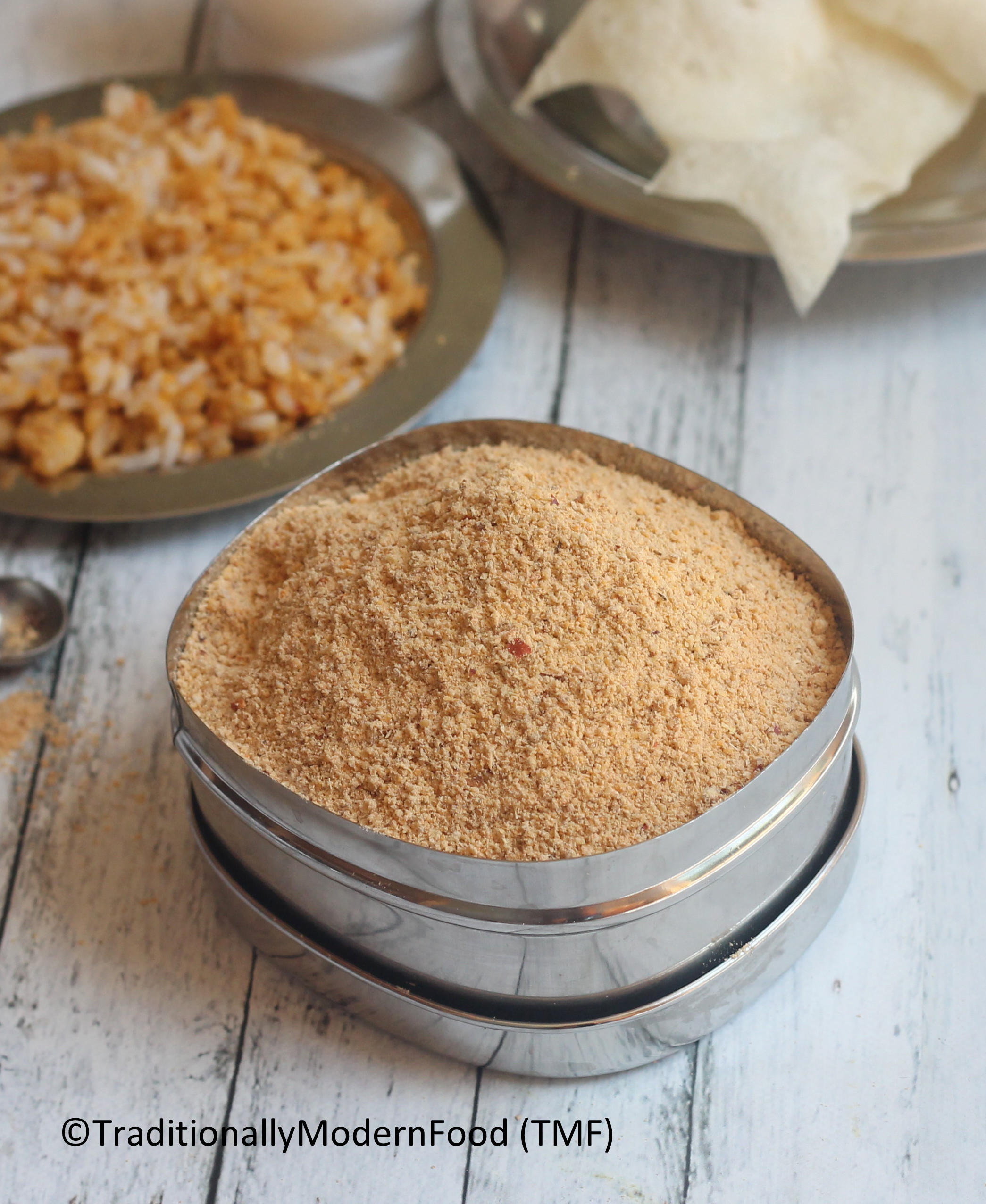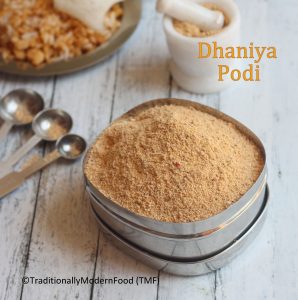 Dhaniya Podi | Coriander Seed Powder
Dhaniya Podi / Coriander Podi is a make - ahead Podi which stays good for 2 months if stored in a air-tight container. Dhaniya Podi can be mixed with rice and used a a quick lunch box meal for busy days. It can also be used as a side dish for curd rice. With some sesame oil it tastes great with tiffin varieties like Idli Podi
Print
Pin
Comment
Ingredients
Coriander seeds - 1 cup

Channa dal - 1/2 cup

Urad dal - 1/2 cup

Red chilli - 8

Adjust according to your taste

Salt - as needed

asafoetida - 1/8 tsp
Instructions
In a pan dry roast coriander seeds till the seeds slightly changes color and starts popping

Transfer them to a plate and let it cool down

Add channa dal and sauté till aroma and dal turns golden brown. Transfer the  Roasted dal to the same plate

Now add urad dal and sauté till the dal turns golden brown. Let it cool down in the same plate

Now add urad dal and sauté till the dal turns golden brown. Let it cool down in the same plate

Add red Chilli and sauté till the Chilli are roasted. Transfer and cool down everything

Before grinding add required salt and pinch of asafoetida

After everything comes to room temperature grind them into coarse powder. Cool it and store in dry airtight container, and always use a dry spoon
Video
Notes
No need to add oil while preparing the podi
Different dal gets to cook in a different time, so cook dal separately to avoid them from getting burnt
Garlic can be added for extra flavor
Little pepper and cumin can be added for pathiya samayal (postpartum) podi instead of dried red chilies
Podi stays good for weeks. Store in a good airtight box
If you are storing for months store in the freezer to retail the freshness
Coriander seeds – 1 cup
Channa dal – 1/2 cup
Urad dal – 1/2 cup
Red chilli – 9 (Adjust according to your taste)
Salt – as needed
asafoetida – 1/8 tsp
Method:
In a pan dry roast coriander seeds till the seeds slightly changes color and starts popping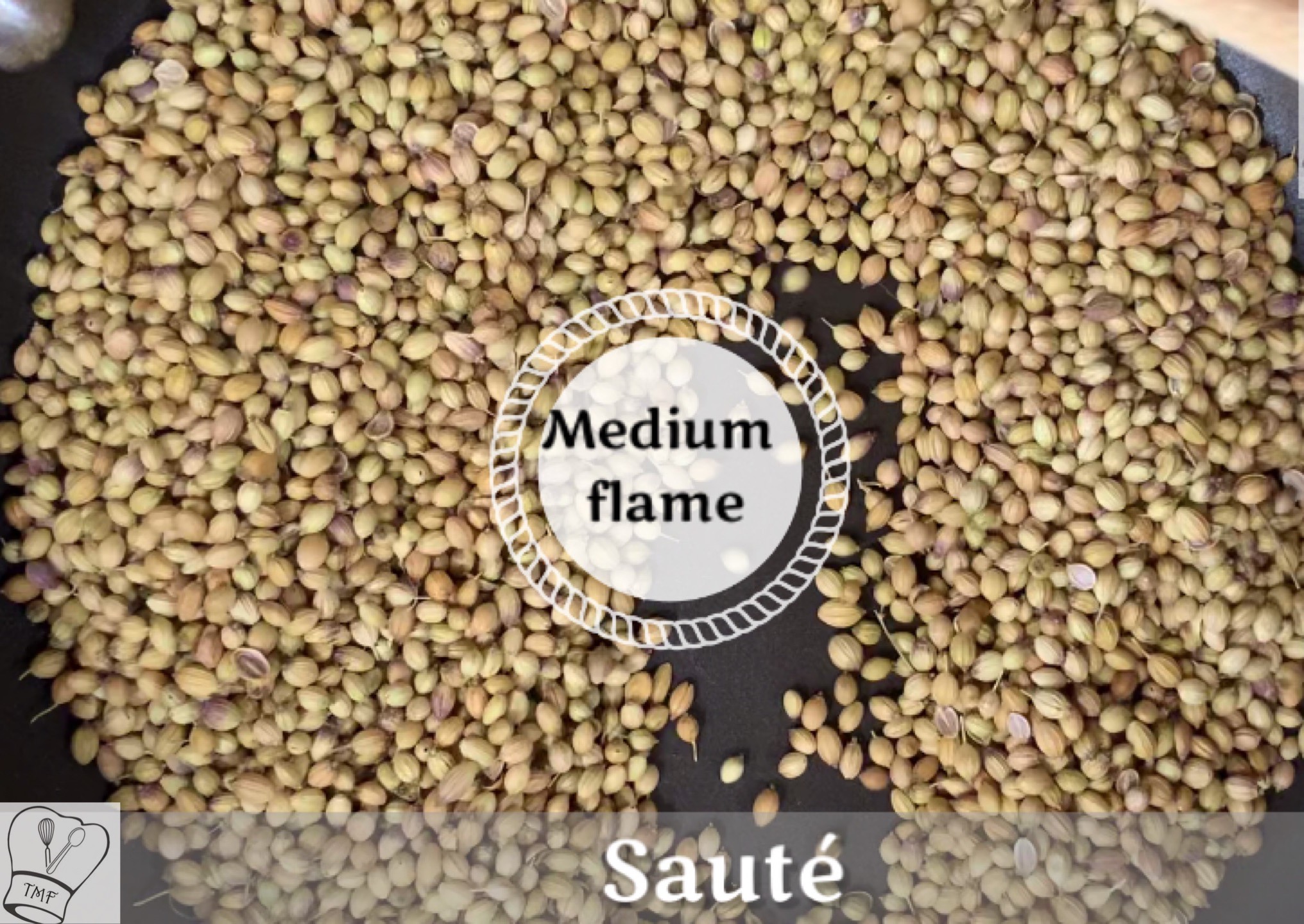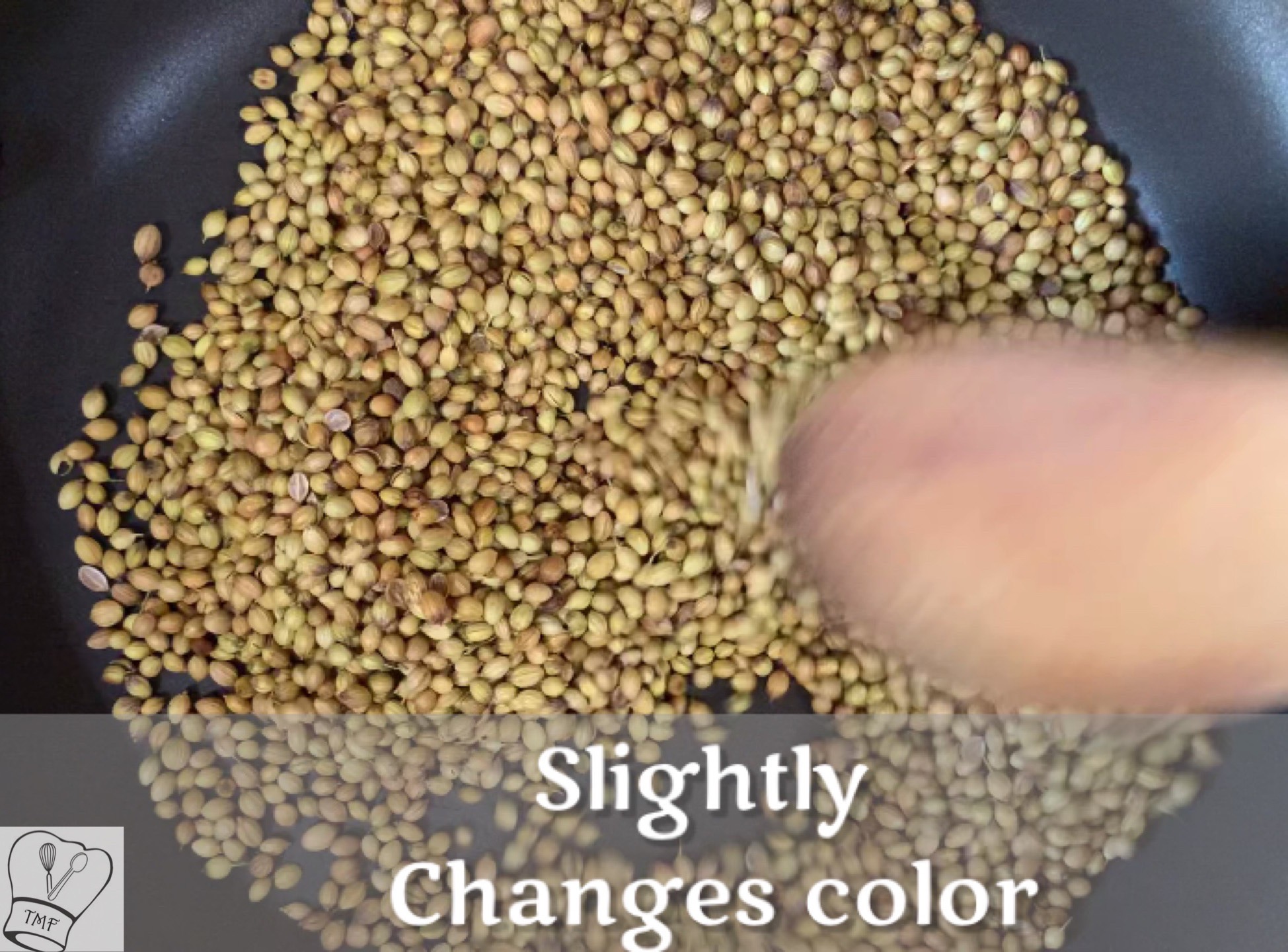 Transfer them to a plate and let it cool down
Add channa dal and sauté till aroma and dal turns golden brown. Transfer the Roasted dal to the same plate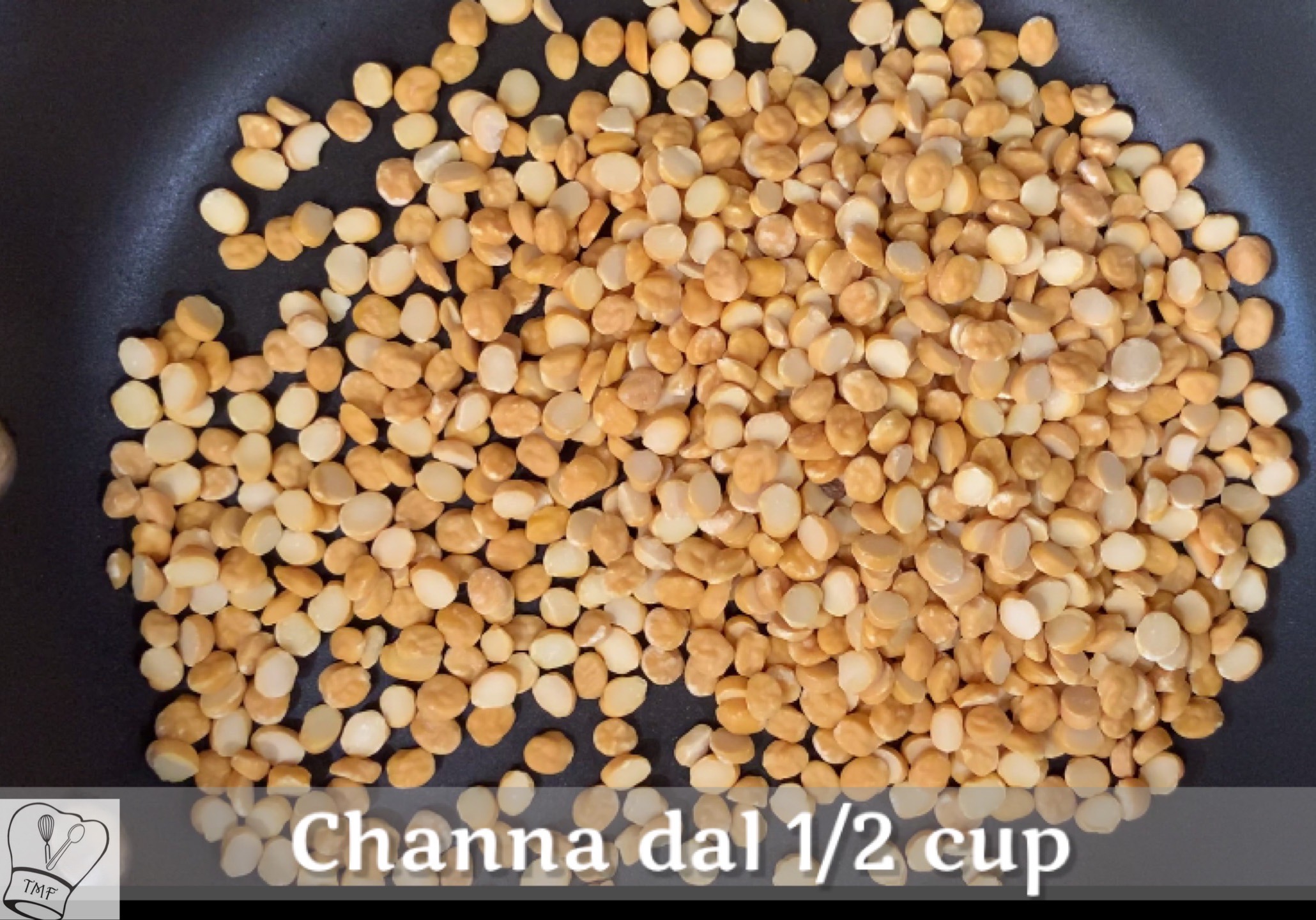 Now add urad dal and sauté till the dal turns golden brown. Let it cool down in the same plate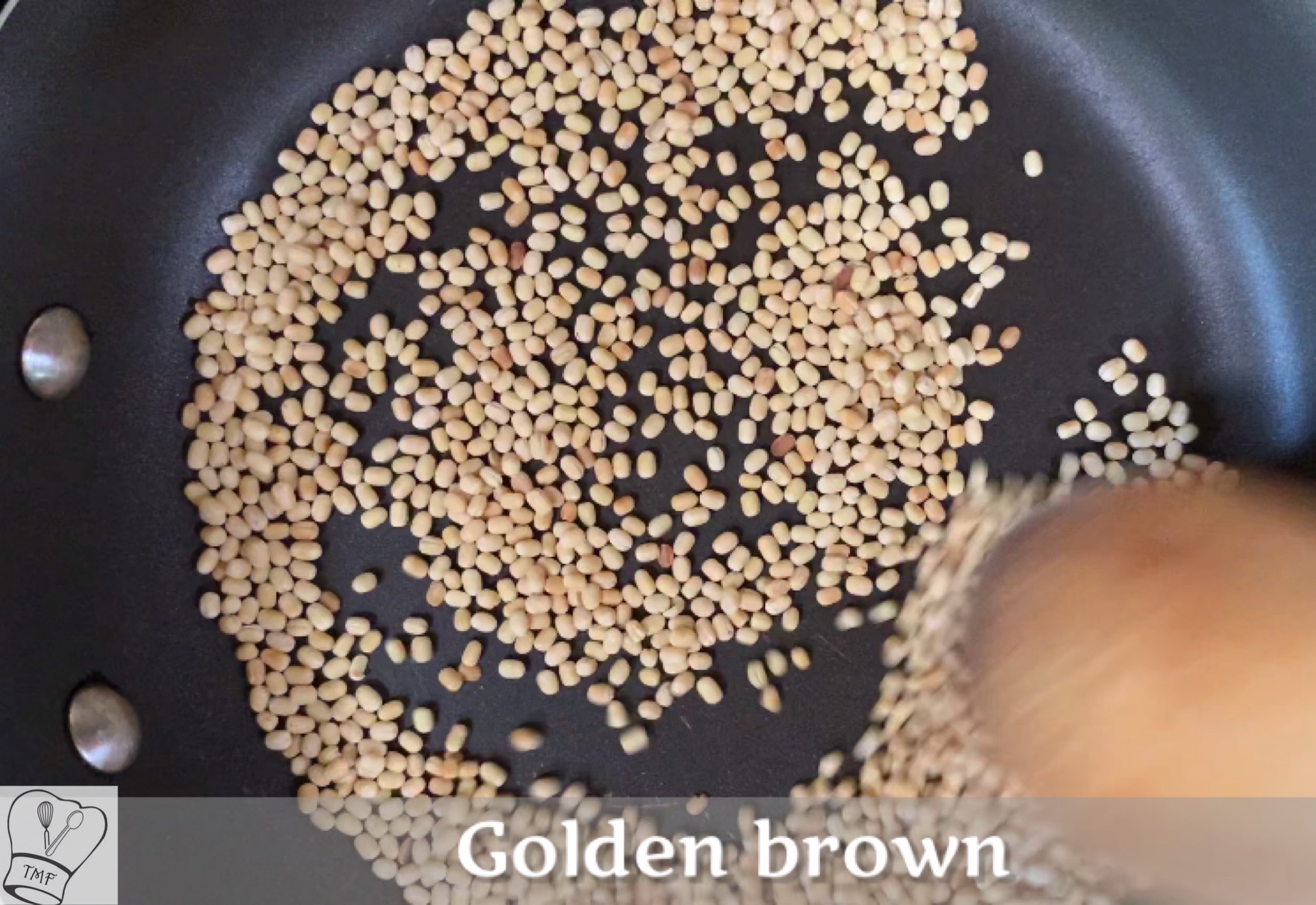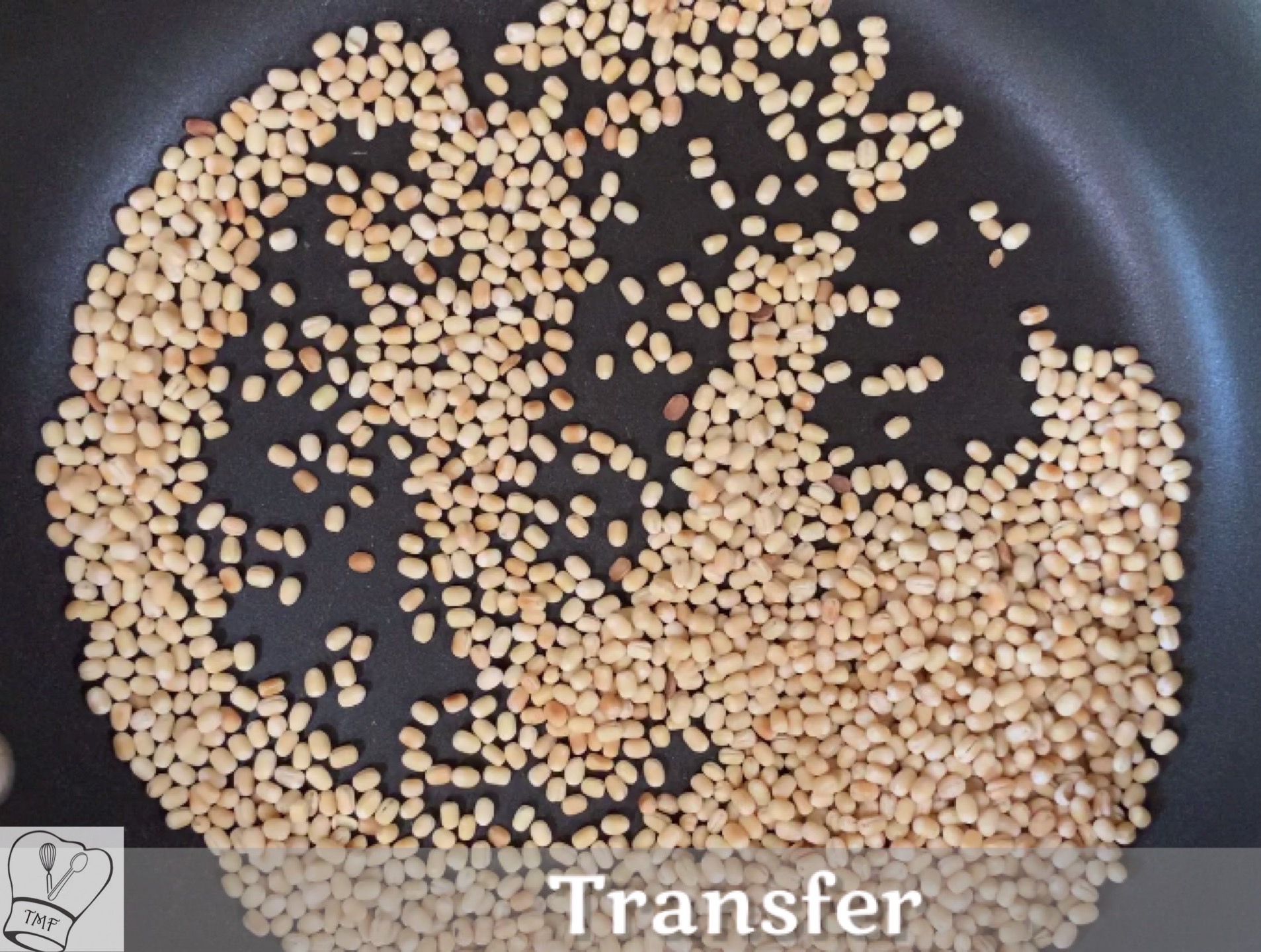 Add red Chilli and sauté till the Chilli are roasted. Transfer and cool down everything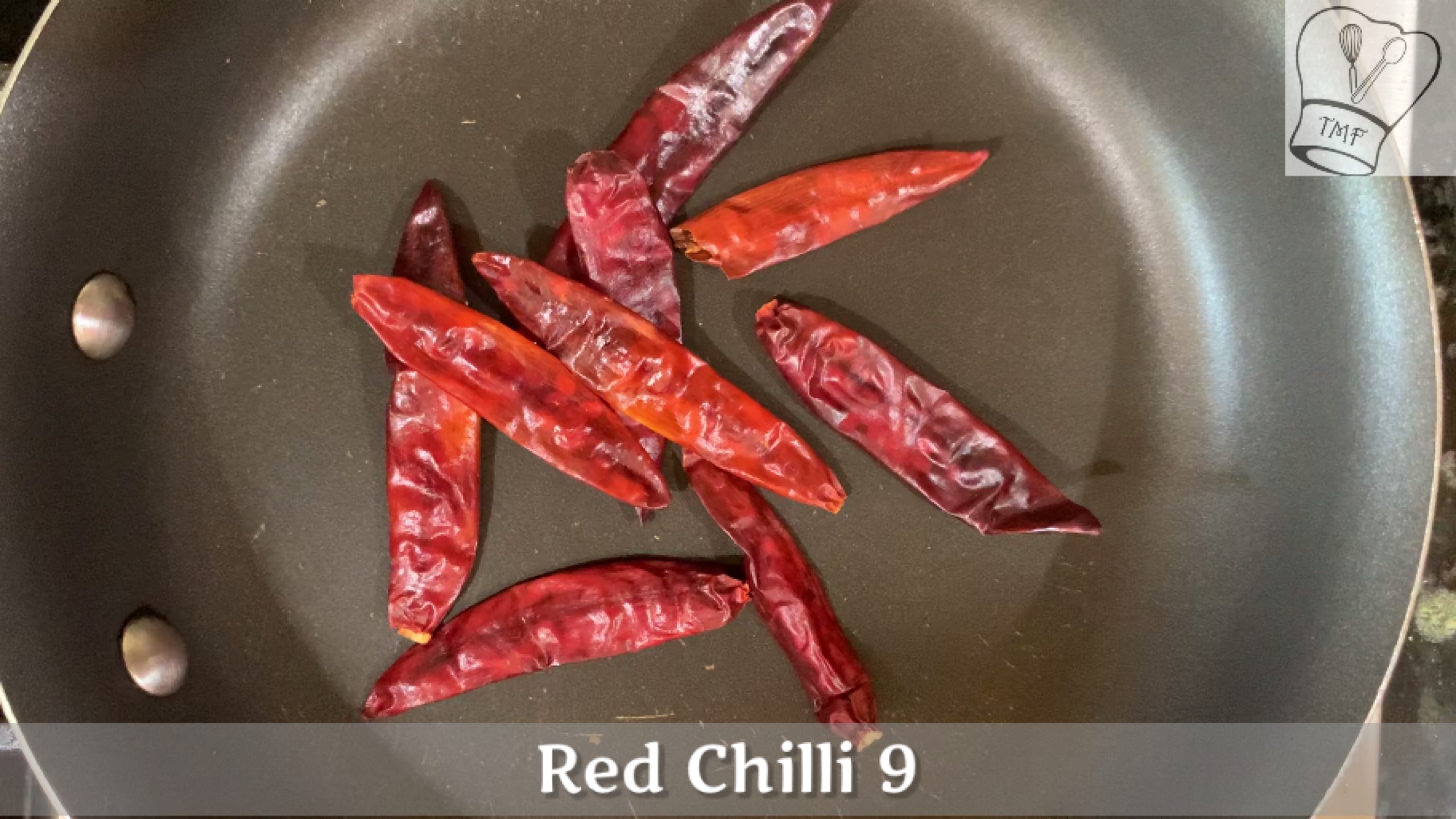 Before grinding add required salt and pinch of asafoetida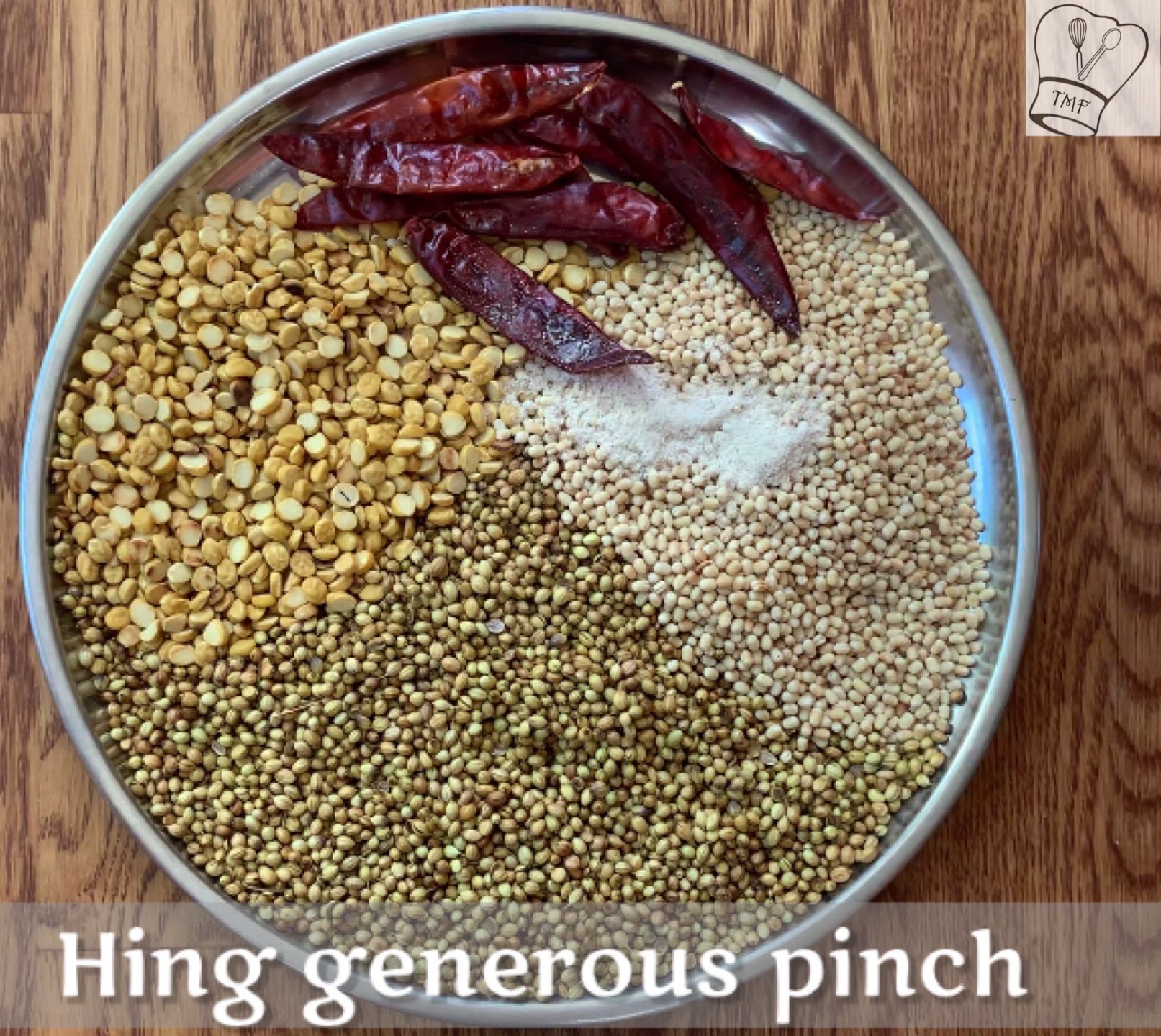 After everything comes to room temperature grind them into coarse powder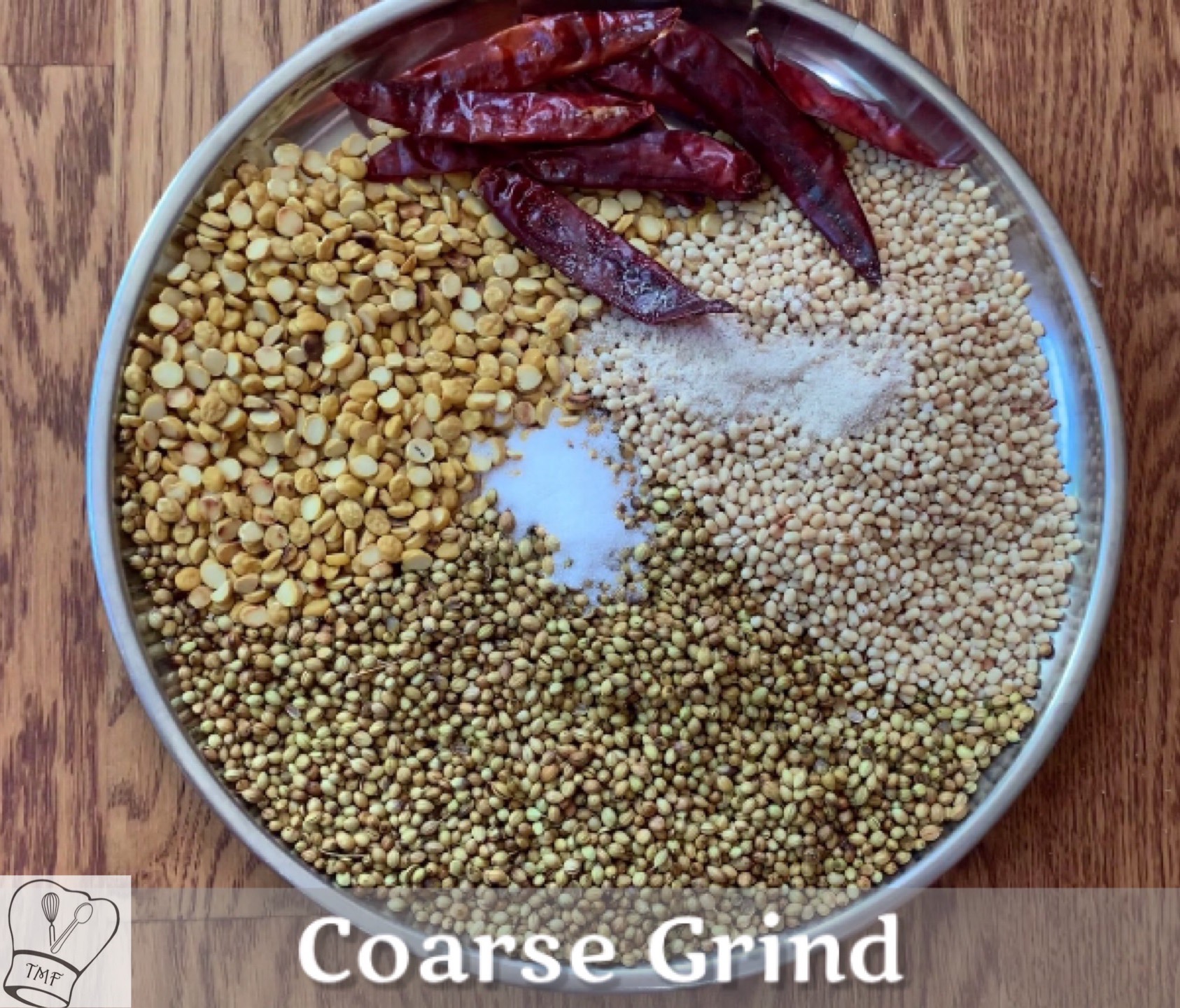 Cool it and store in dry airtight container, and always use a dry spoon