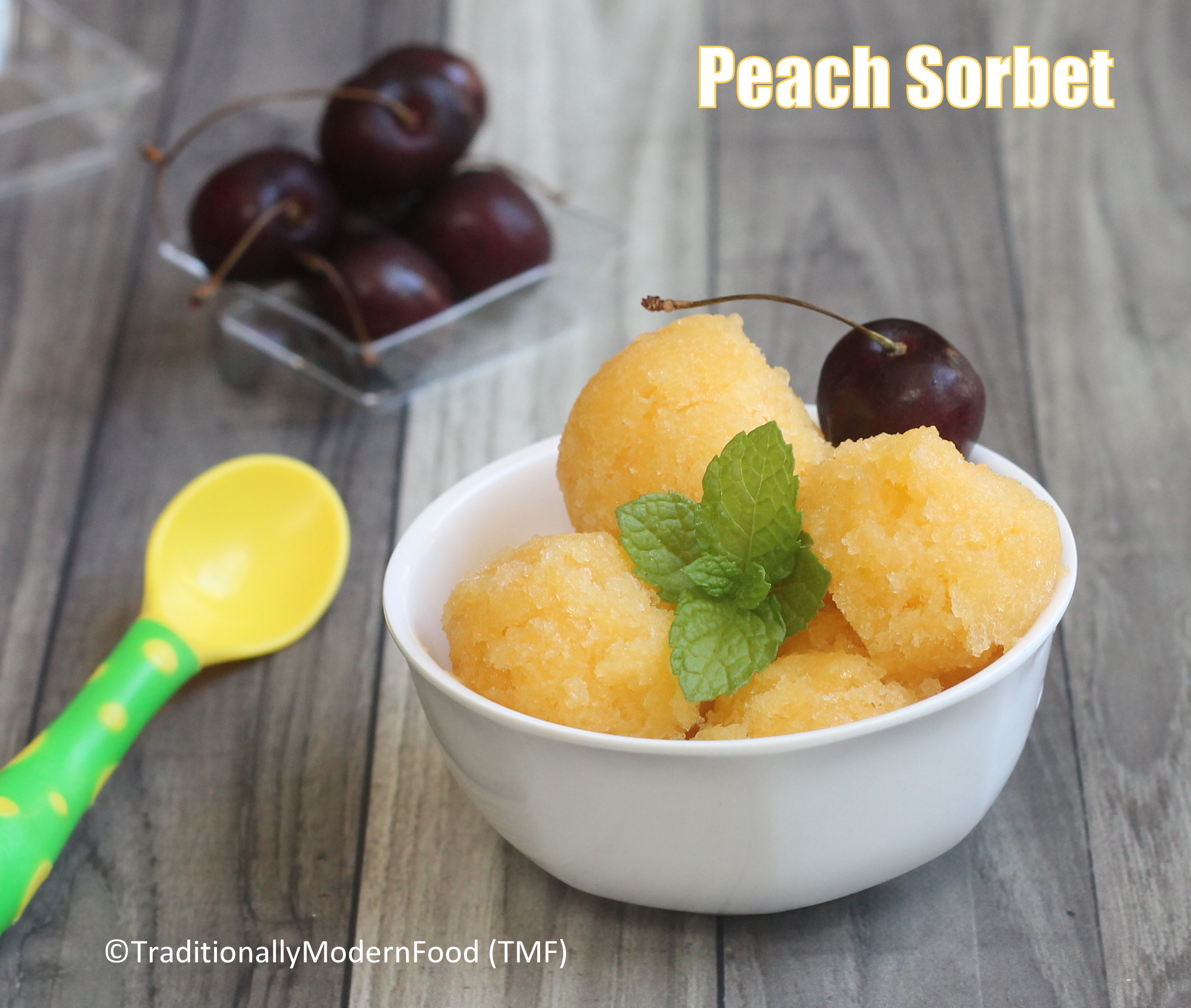 Peach sorbet is a quick and tasty frozen summer treat with just 3 ingredients. Fresh peaches in the market calls for a healthy snacks during the day. If your little one refuse to have fresh fruit try this sorbet, kids can't say no for frozen dessert. Tasty and yummy fruit sorbet without ice cream maker can be prepared within 10 minutes. No cooking required, freeze it for minimum 4-5 hours, yummy sorbet is ready
Two years back when we where in bentonville We went for peach picking, ever since Peach has become one of my favorite. Like I told in Peach Cobbler recipe, those peaches tasted heavenly. Ever since I tasted farm fresh peaches, we don't miss buying it every season. Few weeks back we went to farmers market and got some peaches.
This time I couldn't find any peach picking near by. We went to Raspberry picking and my son had super fun, more raspberry stories when I post yet another frozen treat I made with raspberries, any guesses😊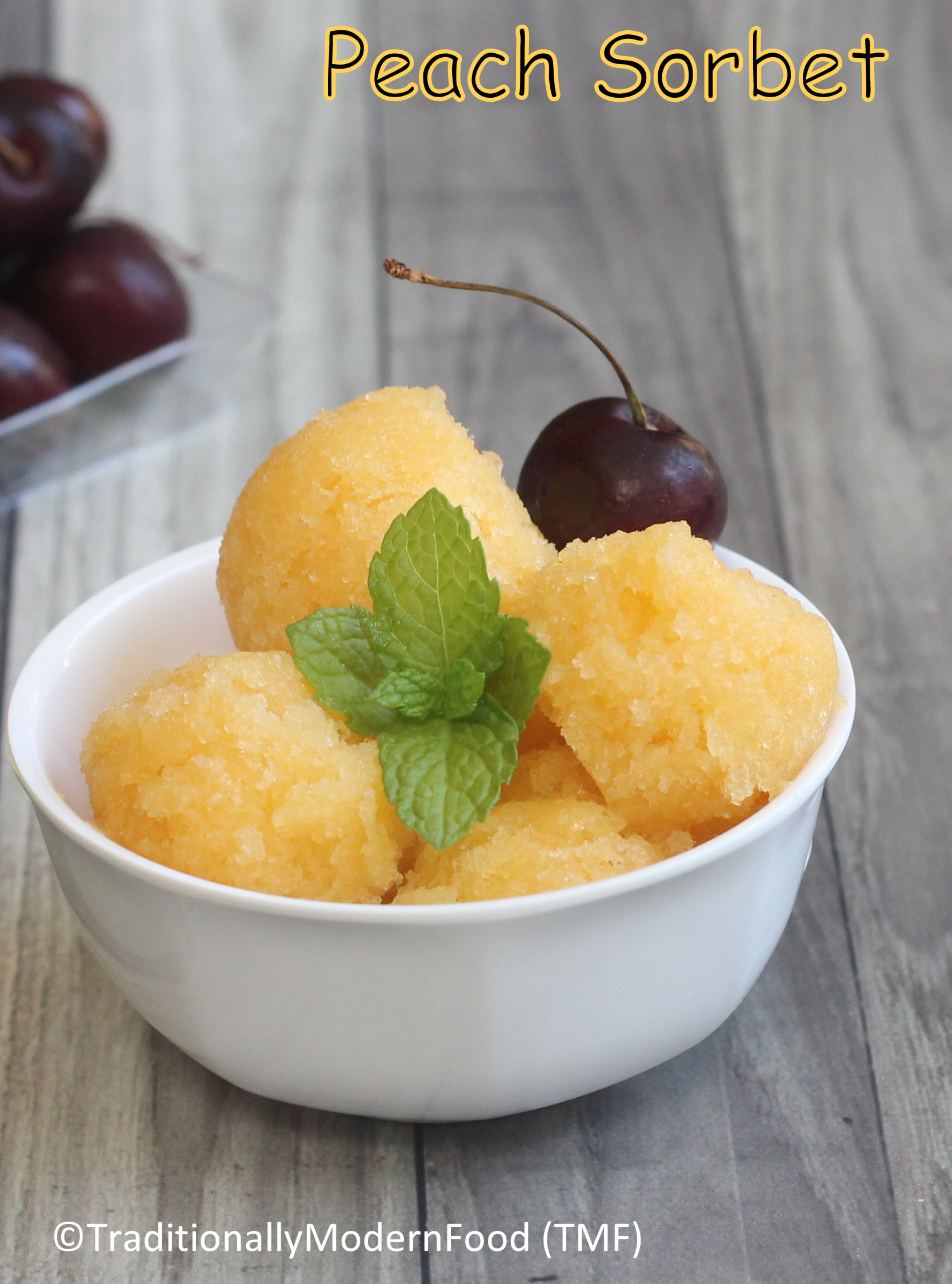 Coming back to Peach sorbet, as we buy peaches frequently I wanted to try some easy and quick recipe. These days it is super hot here so frozen dessert was my choice. Off late I have been using lot of heave cream - condensed milk combo for ice cream recipes. This time a bit healthy version, Sorbet.
We got "sugar - free Peach syrup" in farm so the moment I decided to make sorbet I thought of using it. Sugar in peach syrup is all natural so this is a guilty free treat you can enjoy all day😊 Peach syrup not only gives the sweetness to the dish also delicious peach flavour for the sorbet.
Growing up I was a not big fan of lemon, but off late I started using lemon frequently. Little lemon enhance the peach flavor and makes the Peach sorbet even more delish.
Peach Sorbet in precise,
✔️ 3 Ingredients frozen recipe without ice cream maker
✔️ Within 10 minutes for preparation
✔️Natural Sugar
✔️Good way to make kids eat fruits
✔️No cook frozen dessert
✔️ Just 4 hours to set
✔️Seasonal Fruit dessert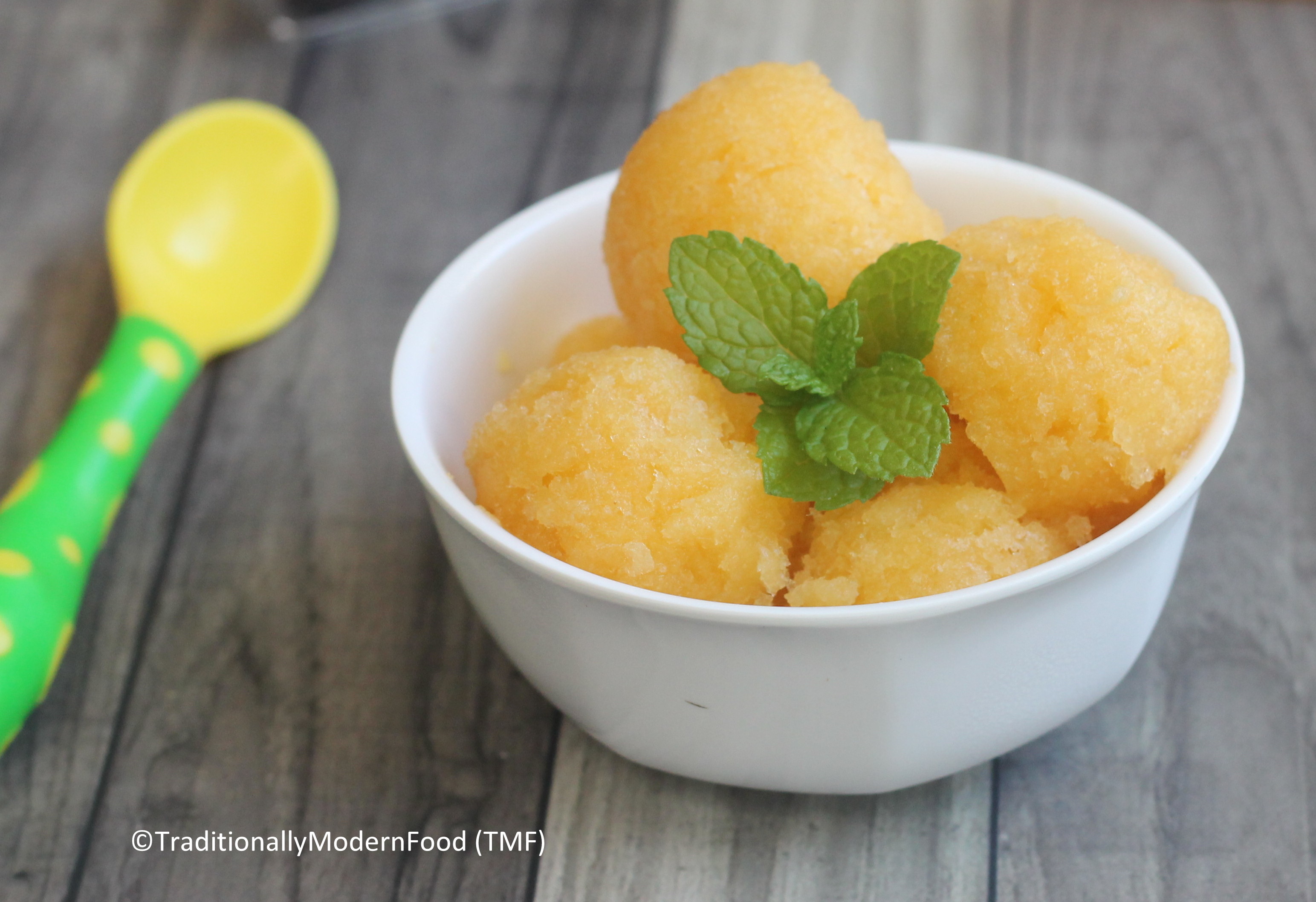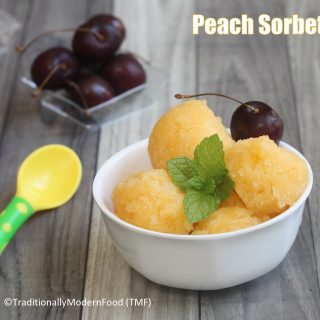 Peach Sorbet - Frozen Dessert
Peach sorbet is a quick and tasty frozen summer treat with just 3 ingredients. With fresh peaches in the market this is a great snack during the day. If your little one refuse to have fresh fruit try this sorbet, kids can't say no frozen dessert. Tasty and yummy fruit sorbet without ice cream maker can be prepared within 10 minutes. No cooking required, freeze it for minimum 4-5 hours, yummy sorbet is ready
Print
Pin
Comment
Ingredients
Fresh Peaches - 3

peeled, pitted and roughly chopped

Peach syrup - 1/3 cup

Lemon juice - 1/2 tbsp

Salt - pinch
Instructions
In a wide bowl add all the ingredients listed and mix well

Transfer the mixture into a mixie jar and grind without adding water

Pour the peach mixture into a freezer safe box and remove all the air bubbles, cover it with cling flim and freeze it for atleast 4 hours. Enjoy with your favorite topping
Video
Notes
Maple syrup/ white sugar/ simple syrup can be used instead of peach syrup
Vanilla extract, lemon, pineapple extract etc. can be used for extra flavour
Adjust the sugar according to your taste
Taste the sorbet before freezing. Avoid sour peaches for better taste
Any other fruits like apple, orange,mango, pineapple, melon etc. can be used instead of peach
Sorbet stays good for 3 days
Frozen peaches can also be used for sorbet
Ingredients:
Fresh Peaches - 3, peeled, pitted and roughly chopped
Peach syrup - 1/3 cup
Lemon juice - 1/2 tbsp
Salt - pinch
Method:
In a wide bowl add all the ingredients listed and mix well

Transfer the mixture into a mixie jar and grind without adding water
Pour the peach mixture into a freezer safe box and remove all the air bubbles, cover it with cling flim and freeze it for atleast 4 hours. Enjoy with your favorite topping