no cook Peanut katli | burfi recipe | Diwali sweets | Deepavali sweets | instant katli | best sweet recipe | Indian sweet recipe | no-cook katli | Groundnut katli | Budget-friendly katli | Mungfali katli | Cheaper kaju katli | Moongphali ki burfi | Singadana katli | peanut burfi | peanut barfi | peanut chakli | verkadalai burfi| instant peanut sweet | peanut mithai | Indian sweet | Indian dessert | Peanut fudge | best sweet recipe | Indian sweet recipe | no-cook katli sweet step-by-step pictures and video recipe. You can also check out the no-cook katli recipe.If you like this recipe pls SUBSCRIBE to my channel. Check out other peanut recipes in TMF
Peanut katli is an easy instant, no-cook Indian sweet. 10 minutes, 5 ingredients is a great beginner-friendly recipe / easy Diwali sweet recipe.
Jump to:
Can I use regular peanuts for the no-cook peanuts burfi recipe?
No, for no-cook katli with peanuts always use roasted, unsalted peanuts. If you have regular peanuts, roast them well then peel the skin. cool and use
CAN I SKIP MILK POWDER?
I would recommend milk powder for the tasty burfi. Always grind peanuts with milk powder
How long should I grind peanuts?
Grounding peanuts help with the dough texture. however, avoid over-grinding as it oozes out oil and makes burfi oily. Always pulse a few times (4-5 times) and grind; mix well in between the grinding. you should able to hold the mixture at the same time easy to crumble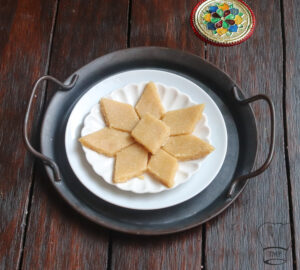 CAN I directly USE REGULAR SUGAR?
No, always use powdered sugar for no-cook burfi recipes. You can fully use store-bought powdered sugar. If you don't have it, grind sugar first; then mix it with all other ingredients
CAN I REDUCE SUGAR?
Yes, adjust according to your taste.
IS 1 TABLESPOON OF WATER ENOUGH FOR THE BINDING?
Yes, knead well the oil in almond flour helps with the binding. Avoid adding more water as it might affect the dough texture.
Is ghee enough for the binding?
Yes, kneading well the oil in peanut along with ghee helps for the binding. Avoid adding more ghee as it might affect the dough texture.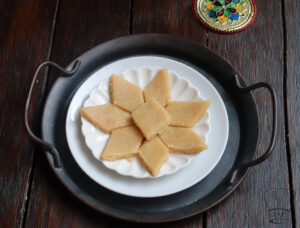 CAN I SKIP

cardamom powder

?
Yes, you can use rose essence, kewra water, or any other flavor according to your choice.
CAN I USE MILK INSTEAD OF WATER?
Milk will reduce shelf life. I would recommend water for longer shelf life.
SHOULD I REFRIGERATE THE peanut katli
It stays good at room temperature for up to 2 weeks. You can refrigerate for longer shelf life.
Peanut barfi video recipe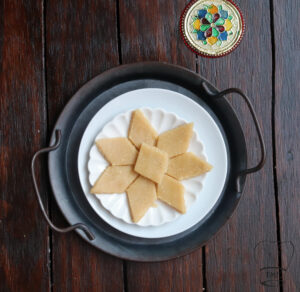 Ingredients
1/2 cup roasted peanuts, unsalted
1/3 cup powdered sugar, tightly press
2 tablespoon milk powder
1/4 teaspoon cardamom powder
1 tablespoon water
1/8 teaspoon rose essence optional
1 teaspoon Ghee to grease
How to make no-cook katli with step-by-step pictures
Keep two silicon mat or Cut a lengthy piece of parchment paper and grease it with ghee, keep aside
Grind
Add peanut, milk powder, sugar, and cardamom powder; pulse a few times, mix well in between then grind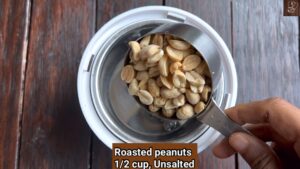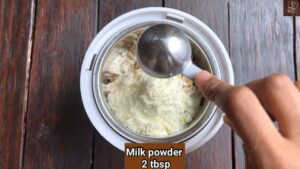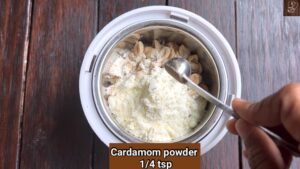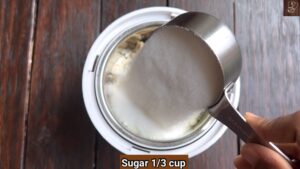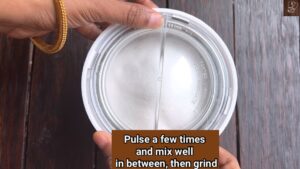 Knead and cut
Based on our sweet preference I added extra powdered sugar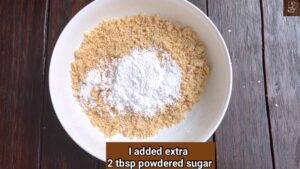 Furthermore, add rose essence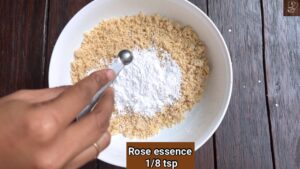 Add water little by little; mix well and knead till the dough comes together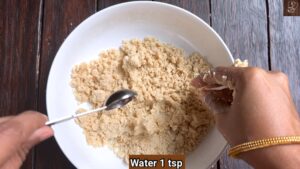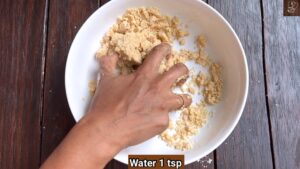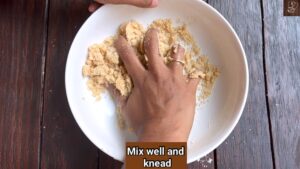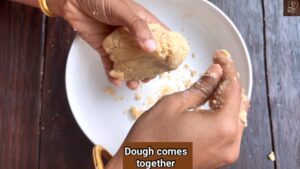 Grease your hands with ghee and combine the mixture to form a non-sticky dough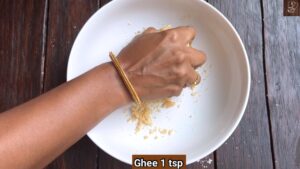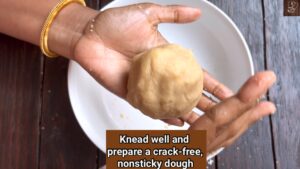 Place the dough on a silicon mat and cover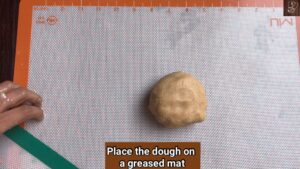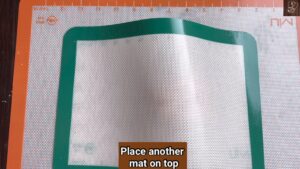 Apply even pressures and rolls the dough to the desired thickness with a chappathi or fondant rolling pin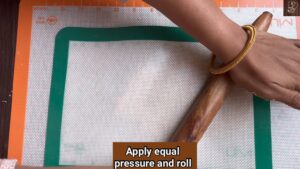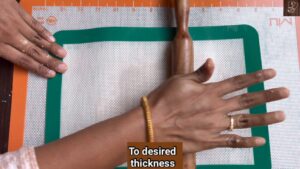 Peanut katli
Cut into soft peanut katli with a knife or pizza cutter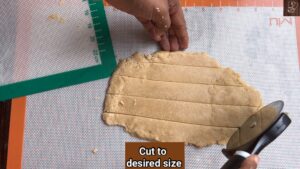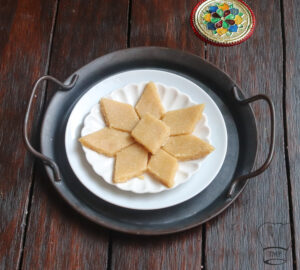 Ingredients
1/2

cup

roasted peanuts

unsalted

1/3

cup

powdered sugar

tightly press

2

tablespoon

milk powder

1/4

teaspoon

cardamom powder

1

tablespoon

water

1/8

teaspoon

rose essence optional

1

teaspoon

Ghee to grease
Instructions
Keep two silicon mat or Cut a lengthy piece of parchment paper and grease it with ghee, keep aside
Grind
Add peanut, milk powder, sugar, and cardamom powder; pulse a few times, mix well in between then grind
Knead and cut
Based on our sweet preference I added extra powdered sugar

Furthermore, add rose essence

Add water little by little; mix well and knead till the dough comes together

Grease your hands with ghee and combine the mixture to form a non-sticky dough

Place the dough on a silicon mat and cover

Apply even pressures and rolls the dough to the desired thickness with a chappathi or fondant rolling pin
Peanut katli
Cut into soft peanut katli with a knife or pizza cutter
Video
Notes
for no-cook katli with peanuts always use roasted, unsalted peanuts. If you have regular peanuts, roast them well then peel the skin. cool and use I would recommend milk powder for the tasty burfi
Always grind peanuts with milk powder 
Grounding peanuts help with the dough texture. however, avoid over-grinding as it oozes out oil and makes burfi oily. Always pulse a few times (4-5 times) and grind; mix well in between the grinding. you should able to hold the mixture at the same time easy to crumble
Always use powdered sugar for no-cook burfi recipes. You can fully use store-bought powdered sugar. If you don't have it,  grind sugar first; then mix it with all other ingredients
 knead well the oil in peanut flour helps with the binding. Avoid adding more water as it might affect the dough texture
 You can use rose essence, kewra water, or any other flavor according to your choice
Use water for longer shelf life
It stays good at room temperature for up to 2 weeks. You can refrigerate for longer shelf life