Shahi tukda | how to make shahi tukra | hyderabadi double ka meetha | bread shahi tukda | Indian bread pudding | shahi toast recipe | shahi tukda with rabri | indian rabri custard | easy diwali sweets step-by-step pictures and video recipe. You can also check out the shahi tukda recipe. If you like this recipe pls SUBSCRIBE to my channel.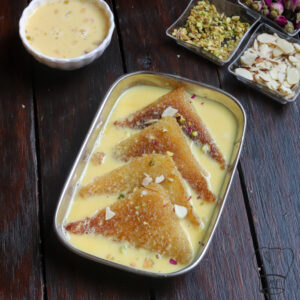 What is shahi tukda
Shahi tukda is a rich Mughlai-based dessert. Traditionally it is prepared with ghee-fried bread slices soaked in cardamom sugar syrup, topped with rabdi, and garnished with nuts.
WHAT KIND OF BREAD WORKS BEST FOR shahi bread?
You can use wheat, oats, or any bread of your choice but maida bread as it gives the best taste and texture.
SHOULD I DEEP FRY BREAD?
Yes, you can deep fry bread in oil/ghee. To reduce the oil/ghee I prefer toasting the bread and then sauté in ghee.
SUGAR SYRUP CONSISTENCY
One-string consistency works best for shahi tukda. Avoid two-string consistency.
What should be the consistency of rabdi?
I prefer the malai in this consistency but if you prefer thick rabri adjust the almond flour accordingly.
How to serve Shahi thukda
You can serve hot or cold according to your preference. In our home, we prefer to serve cold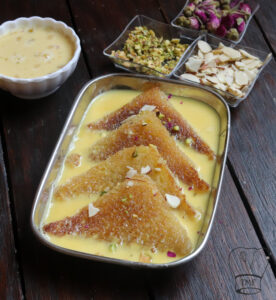 Soft texture or Crispy Bread in your shahi tukda?
For soft bread

, soak the fried bread in warm syrup for 15-20 seconds.

For crisp bread

, just dip the bread on both sides in the syrup and remove it right away.
Ingredients
2 slices of bread
2 tablespoon ghee
Sugar syrup
1/2 cup sugar
1/4 water
3/4 cup rabdi


How to make shahi tukda with step-by-step pictures
Toast the bread in a medium setting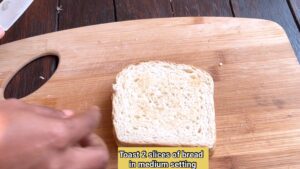 Trim the edges of the bread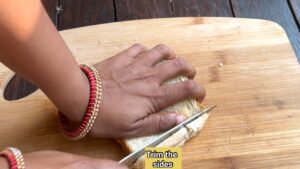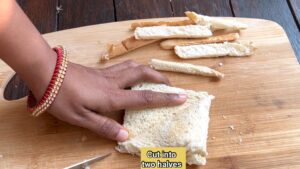 Add ghee to a wide pan and heat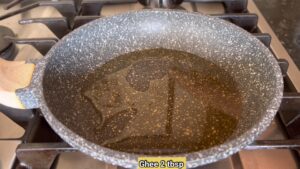 When ghee turns hot add bread and fry
Flip and fry the bread till it turns golden brown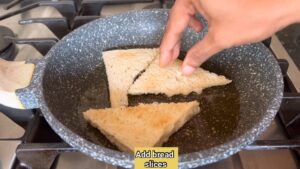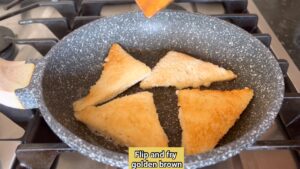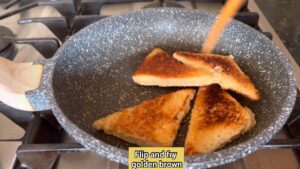 Add sugar and water; bring to a boil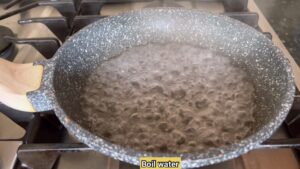 Furthermore, add cardamom powder and boil well
Cook till the sugar syrup come to a one-string consistency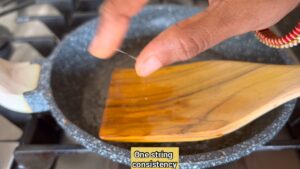 Add bread and turn off the stove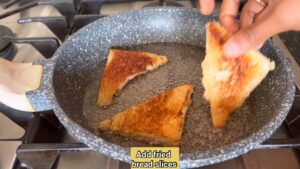 Flip and dip bread slices in sugar syrup. quick dip (a few seconds) for crunchy bread. Longer time soaking for softer version )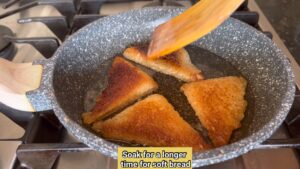 Transfer to a wide deep plate and add chilled /hot rabdi based on your preference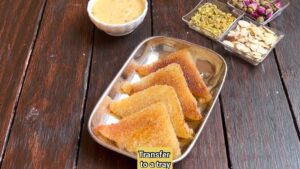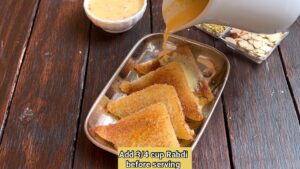 Top it with nuts of your choice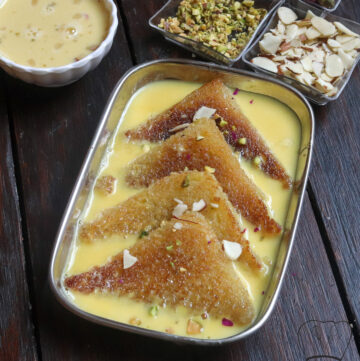 Ingredients
2

slices

of bread

2

tablespoon

ghee
Sugar syrup
1/2

cup

sugar

1/4

water

3/4

cup

rabdi
Instructions
Toast the bread in a medium setting

Trim the edges of the bread

Cut the bread into half

Add ghee to a wide pan and heat

When ghee turns hot add bread and fry

Flip and fry the bread till it turns golden brown

Add sugar and water; bring to a boil

Furthermore, add cardamom powder and boil well

Cook till the sugar syrup come to a one-string consistency

Add bread and turn off the stove

Flip and dip bread slices in sugar syrup. quick dip (a few seconds) for crunchy bread. Longer time soaking for softer version )

Transfer to a wide deep plate and add chilled /hot rabdi based on your preference

Top it with nuts of your choice
Video
Notes
Shahi tukda is a rich Mughlai-based dessert. Traditionally it is prepared with ghee-fried bread slices soaked in cardamom sugar syrup, topped with rabdi, and garnished with nuts
You can use wheat, oats, or any bread of your choice but maida bread as it gives the best taste and texture
Yes, you can deep fry bread in oil/ghee. To reduce the oil/ghee I prefer toasting the bread and then sauté in ghee
One-string consistency works best for shahi tukda. Avoid two-string consistency
I prefer the malai in this consistency but if you prefer thick rabri adjust the almond flour accordingly
You can serve hot or cold according to your preference. In our home, we prefer to serve cold
For soft bread, soak the fried bread in warm syrup for 15-20 seconds.
For crisp bread, just dip the bread on both sides in the syrup and remove it right away
If sugar syrup is kept for a long time it might crystallize so prepare sugar syrup before serving or add little lemon juice to the syrup

Use 1-2 days old bread slices

as dried-out bread absorbs less ghee while frying and holds well