Peanut podi, Palli podi , peanut karam podi , palli podi chutney, Verkadalai podi , Chutney powder, peanut powder, chutney pudi, palli podi, Andhra style peanut podi, Andhra style peanut powder, verkadalai podi, peanut chutney powder, peanut garlic podi, kadalai poondu podu, groundout kaaram podi with step by step pictures and video recipe. Check out the peanut chutney powder recipe. If you like the video pls SUBSCRIBE to my channel. Check out other podi varieties' video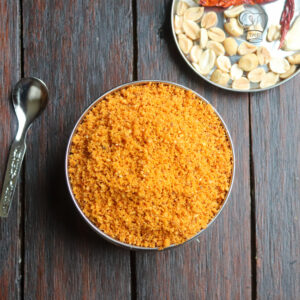 WHAT IS SPECIAL ABOUT peanut chutney powder?
Podi is a south Indian condiment. Andhra-style peanut podi popularly known as palli chutney is super easy to make. It tastes best when mixed with rice with a dollop of ghee or a few drops of sesame oil. you can also serve verkadala podi as chutney powder with sesame oil for idli | dosai tiffin variety
10 mins Andhra-style peanut powder
If you are bored with regular rice accompaniment this instant podi recipe comes in handy. I have used store-bought roasted unsalted peanuts that save the peanuts roasting time
Thaw coconut then use
You can use fresh or dry coconut. If you are using frozen coconut, thaw at room temperature then use.
TIPS TO ROAST RED CHILLI
I would recommend roasting the red chilli along with other ingredients. Always roast the whole red chilli. if you remove the chilli cap, seeds might turn bitter while roasting. remove the cap just before grinding.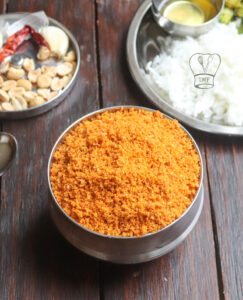 SHELF LIFE OF peanut POONDU PODI
Cool the groundnut podi completely then store nilakadalai podi in an airtight container with a lid. You can store the podi at room temperature or in the fridge. Podi stays good for 2 weeks. Roast the coconut golden brown for longer shelf life. Always use a dry and clean spoon for longer shelf life
WILL THE PODI TASTES SPICY?
I used guntur red chilli and Kashmiri chilli powder. Adjust the quantity according to your spice. My version of peanut poondu podi is not spicy. It is a kids-friendly spice.
PULSE THE PODI
I would recommend pulsing the podi for the perfect grainy texture. Mix well after each pulse. Avoid grinding.
VARIATION for palli garlic chutney powder
You can Pepper and reduce chilli spice

Add curry leaves while roasting other ingredients

coriander seeds can be roasted along with cumin and sesame seeds

Skip garlic for no garlic peanut podi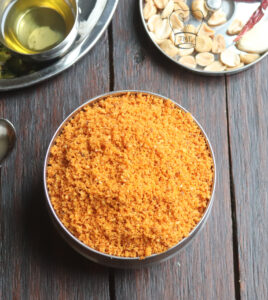 Ingredients
1/2 teaspoon peanut oil
1 teaspoon cumin seeds
1/2 teaspoon sesame seeds
1 Guntur red chilli
Small piece of tamarind
1/4 cup coconut
2 tablespoon pottukadalai
1 cup roasted peanuts, unsalted
Required salt
1 tablespoon Kashmiri chilli powder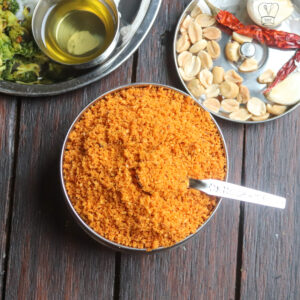 How to make Andhra-style peanut powder with step-by-step pictures
To saute
First, add peanut oil to a wide pan and heat on low- medium heat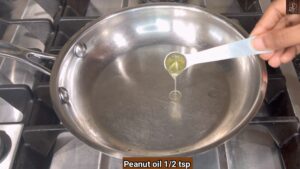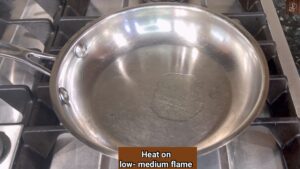 When oil turns hot add cumin seeds, sesame seeds and red chilli; mix well and roast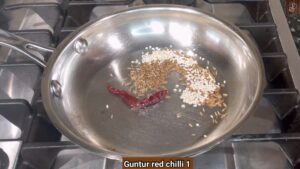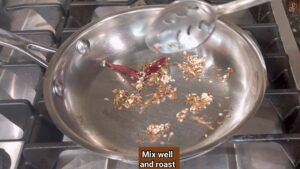 Furthermore, add garlic and tamarind; mix well and saute till garlic changes colour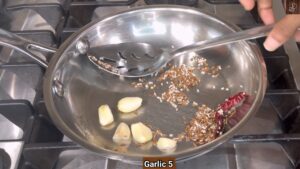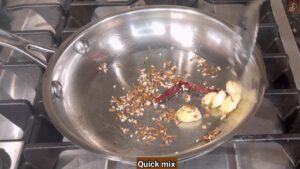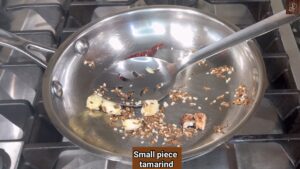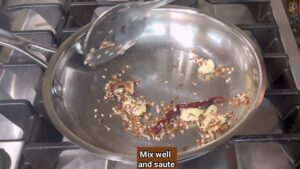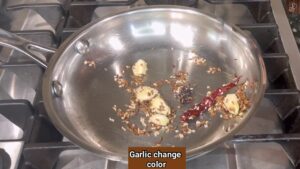 Add coconut and saute for 2 minutes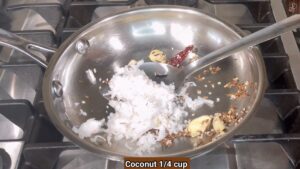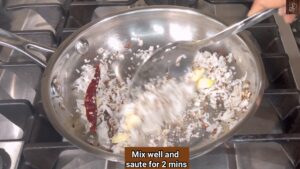 Furthermore, add pottukadalai and saute till moisture evaporates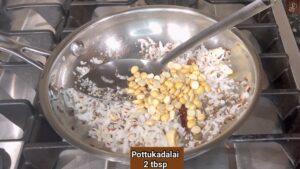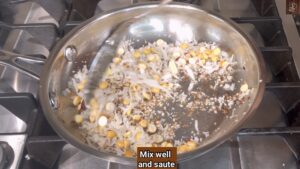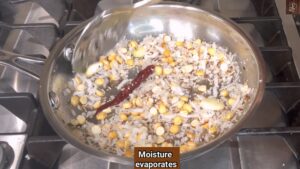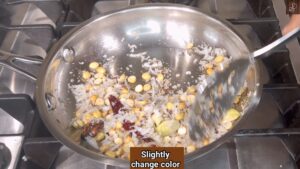 Finally, add roasted peanuts; mix well and turn off the stove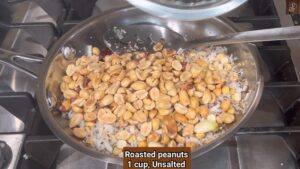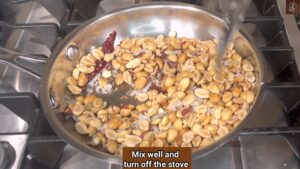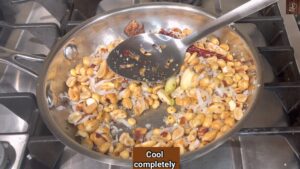 Peanut podi
Separate the garlic and transfer the rest to a mixie jar
Furthermore, add the required salt and Kashmiri red chilli powder; pulse 5-6 times.mix well in between pulsing. Avoid grinding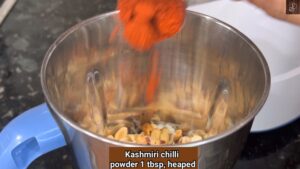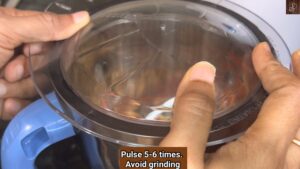 Finally, add garlic and pulse 2-3 times; mix well in between pulsing. Avoid grinding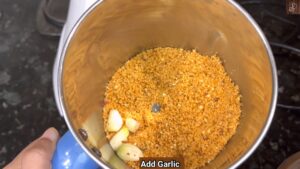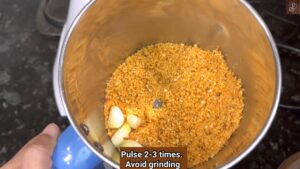 cool completely then store in an airtight container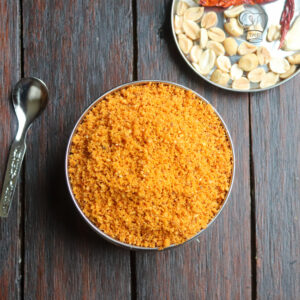 Ingredients
1/2

teaspoon

peanut oil

1

teaspoon

cumin seeds

1/2

teaspoon

sesame seeds

1

Guntur red chilli

Small piece of tamarind

1/4

cup

coconut

2

tablespoon

pottukadalai

1

cup

roasted peanuts

unsalted

Required salt

1

tablespoon

Kashmiri chilli powder
Instructions
To saute
First, add peanut oil to a wide pan and heat on low- medium heat

When oil turns hot add cumin seeds, sesame seeds and red chilli; mix well and roast

Furthermore, add garlic and tamarind; mix well and saute till garlic changes colour

Add coconut and saute for 2 minutes

Furthermore, add pottukadalai and saute till moisture evaporates

Finally, add roasted peanuts; mix well and turn off the stove

Cool completely
Peanut podi
Separate the garlic and transfer the rest to a mixie jar

Furthermore, add the required salt and Kashmiri red chilli powder; pulse 5-6 times.mix well in between pulsing. Avoid grinding

Finally, add garlic and pulse 2-3 times; mix well in between pulsing. Avoid grinding

cool completely then store in an airtight container
Video
Notes
You can use fresh or dry coconut. If you are using frozen coconut, thaw at room temperature then use
I would recommend roasting the red chilli along with other ingredients. Always roast the whole red chilli. if you remove the chilli cap, seeds might turn bitter while roasting. remove the cap just before grinding
Cool the groundnut podi completely then store nilakadalai podi in an airtight container with a lid. You can store the podi at room temperature or in the fridge. Podi stays good for 2 weeks. Roast the coconut golden brown for longer shelf life. Always use a dry and clean spoon for longer shelf life
I used guntur red chilli and Kashmiri chilli powder. Adjust the quantity according to your spice. My version of peanut poondu podi is not spicy. It is a kids-friendly spice
I would recommend pulsing the podi for the perfect grainy texture. Mix well after each pulse. Avoid grinding
VARIATION for palli garlic chutney powder
You can Pepper and reduce chilli spice
Add curry leaves while roasting other ingredients
coriander seeds can be roasted along with cumin and sesame seeds
Skip garlic for no garlic peanut podi