Homemade Pista ice cream, 3 ingredients Pista ice cream, no churn, 3 ingredients, eggless ice cream, how to make no churn Pista ice cream, ice cream without ice cream maker, no machine ice cream, easy ice cream without eggs, condensed milk ice cream step by step pictures and video recipe. You can also check out the Pista ice cream. If you like this recipe pls SUBSCRIBE to my channel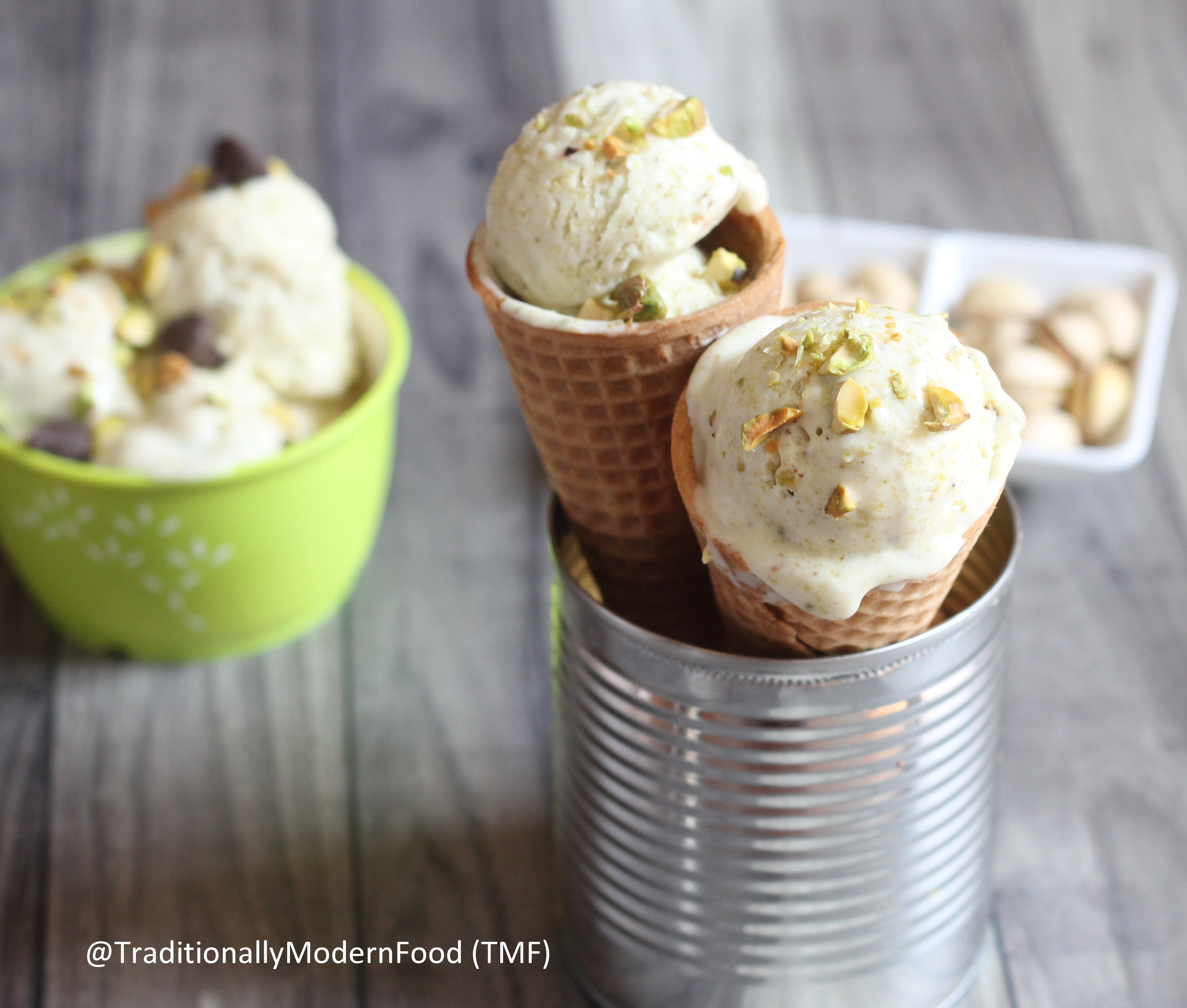 3 ingredients Pista Ice cream is super easy to make. Pistachio ice cream can be prepared within 8 minutes.Eggless Delicious frozen treat with pista, heavy cream and condensed milk. Yummy kid friendly desert. No ice cream maker (machine) required for this.
Ice cream is one desert which I always relish. I still remember those days during summer holidays when my sister and I eagerly wait to hear the bell from ice cream vendor. Every time we see the street ice cream vendor we will rush to the door. See the menu and confuse him going back and fourth among the flavors. At times we tell Amma we need one but end up eating two and save one for later😂
Growing up there was no summer without Rose milk, ice cream, rasna, kirinipazham (musk melon) juice. Ice cream addiction never ends. When I was chennai I always complain about the sun, but now living in Seattle I long for seeing some sun☺️
When it comes to Ice cream Vishvak is totally Amma's follower. When he was around 2 he used to love popsicles. These days he likes ice cream in cone and it never stops with one scoop. He comes with one-last statement for every serving. Well being a mom I take the liberty of telling him to stop after few serving thinking how I bargained with my mom when I was young😜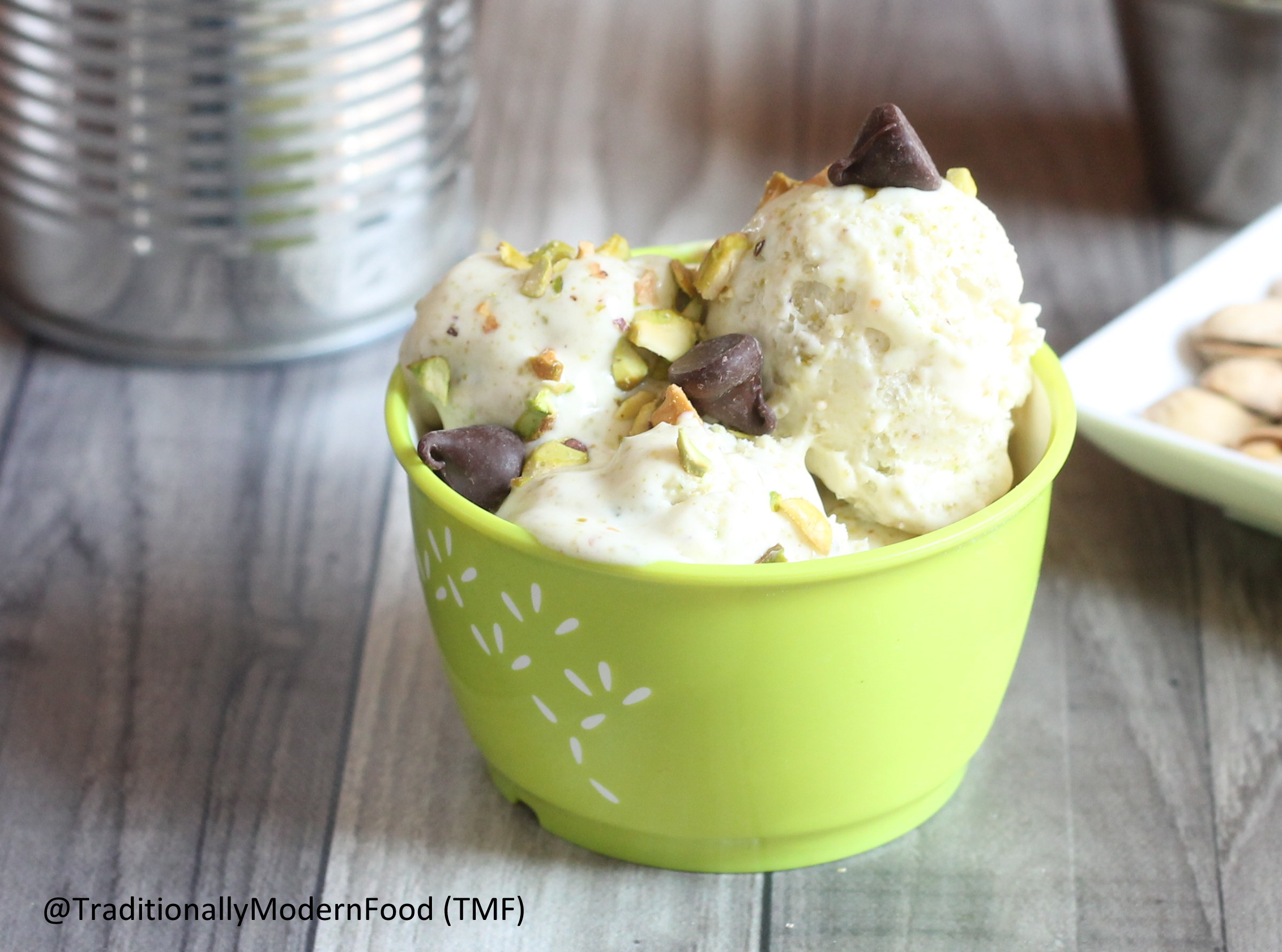 Few weeks back we went Vishvak's friend house for play date. When moms know the vibration of the kids the party is big hit. Pizza, cupcake and pista ice cream was on the menu. Omg kids loved it. Actually I enjoyed everything but pistachio ice cream was defiantly a showstopper for me.
It was so delicious addictive dessert. I asked for the recipe so that I can try in home. The moment she said it was prepared with just three ingredients, I wanted to try. Easy frozen dessert with less ingredients was a instant go for me.
Pista ice cream doesn't need ice cream maker. No need to spend some dollars for buying a machine. With just a mixer the Pista ice cream can be prepared in minutes.
Except the waiting time to freeze pistachio ice cream is such a breeze. Happiness is not only making a tasty kids friendly homemade ice cream but when your kid loves it and ask for more. Also a best compliment from hubby, jagadish said this is much better than store-bought ice cream.
Other frozen dessert in TMF,
I am in love with heavy cream and condensed milk ice cream, you will see lot of ice cream with my trails with third ingredients. Basically it is just two ingredient frozen dessert, third one is the flavor you want to infuse.
Like 3 ingredients ice cream? Also Try Chocolate Ice cream and vanilla ice cream from TMF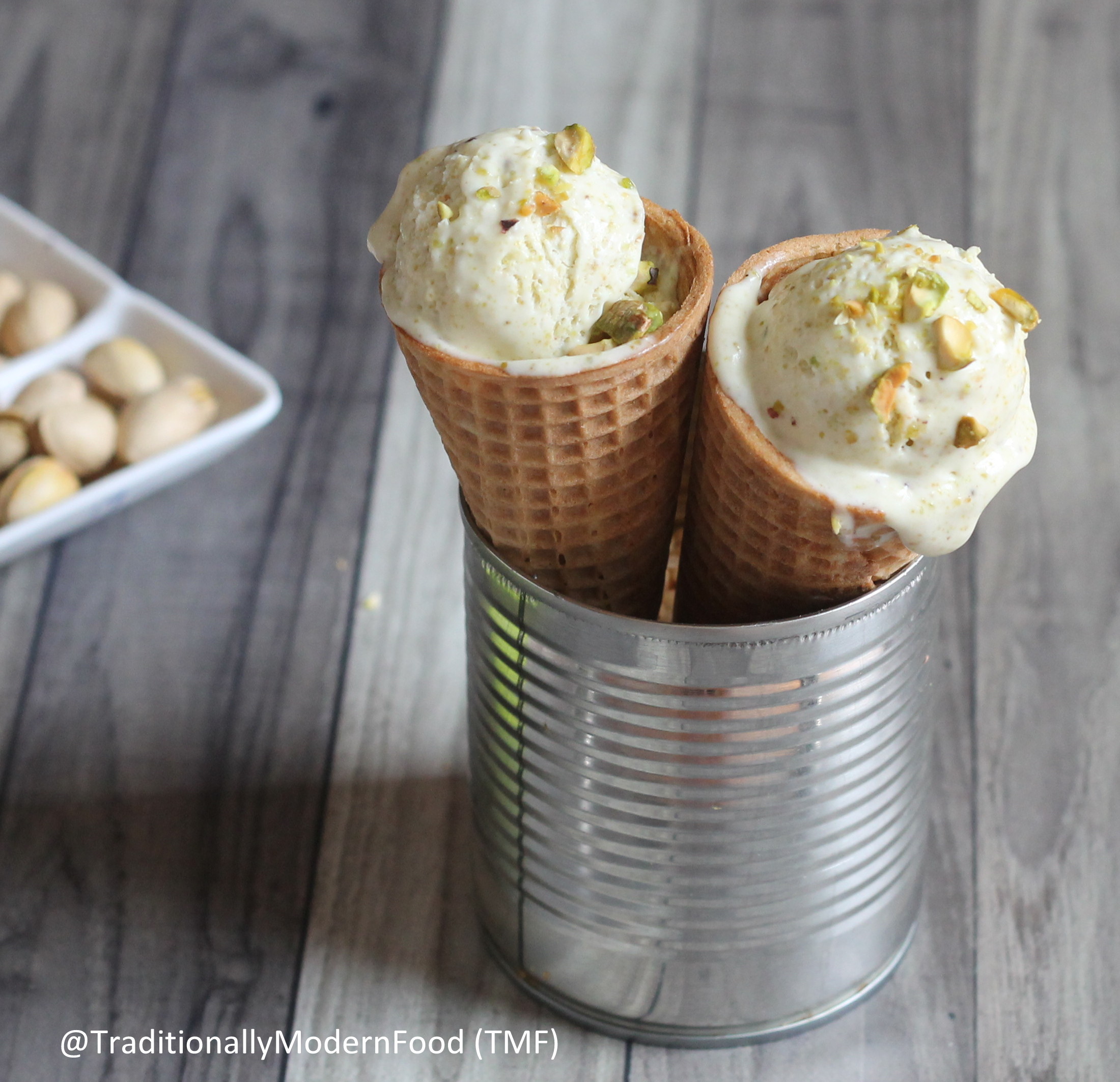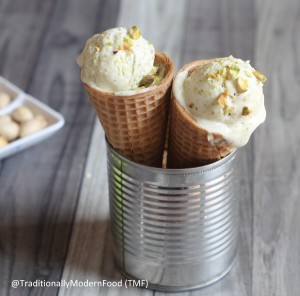 Pistachio Ice Cream |Eggless Pista Ice Cream | Pista Ice Cream without Ice cream maker
Print
Pin
Comment
Ingredients
Whipping cream - 2 cup

Condensed milk - 1 can

14 oz

Unsalted Pistachio - 3/4 cup

grounded
Instructions
Grind the pistachio into coarse powder and keep it aside

In a wide mixing bowl add Whipping Cream, whisk it with a electric mixer for 4- 5 mins till you see firm peaks

Add condensed milk and gently mix till heavy cream and condensed milk are blended together

Add the ground pistachio to the mixture and mix well. Put it in freezer safe box and Freeze it for overnight or atleast 7-8 hours

Before serving take the ice cream out and let it sit for 5 minutes; scoop and enjoy with your favorite topping
Video
Notes
I didn't add food color, if you prefer your ice cream greenish add a drop
Pistachio can be ground into a fine powder, we like the coarse texture while enjoying the ice cream so I do it this way
Keep the ice cream out for 5 minutes before serving. As soon as you pull out from the fridge it is difficult to scoop. No ice crystal will be there in the ice cream
Top the ice cream with chocolate chips, chocolate syrup, sprinkles, nuts etc.
I used electric mixer, you can use whisk but it will be bit tiring for hands
Evaporated milk can be used instead of heavy cream. Grind the ice cream mixture once in 2 hours for 4-5 times in that case
If you don't have Electric mixer use glass or stainless steel container with a solid sealed lid. Add chill heavy cream and shake, shake, shake. Shake till the cream thickness. Be careful not to spill the heavy cream. Add condensed milk and vanilla extract and make ice cream
wash the ice cream scoop in hot water. Discard the water and scoop the ice cream for easy scoop
Ingredients
Whipping cream - 2 cup
Condensed milk - 1 can (14 oz)
Unsalted Pistachio - 3/4 cup, grounded
Method:
Grind the pistachio into coarse powder and keep it aside
In a wide mixing bowl add Whipping Cream, whisk it with a electric mixer for 4- 5 mins till you see firm white peaks
Add condensed milk and gently mix till heavy cream and condensed milk are blended together
Add the ground pistachio to the mixture and mix well

Put it in freezer safe box and Freeze it for overnight or atleast 7-8 hours
Before serving take the ice cream out and let it sit for 5 minutes; scoop and enjoy with your favorite topping