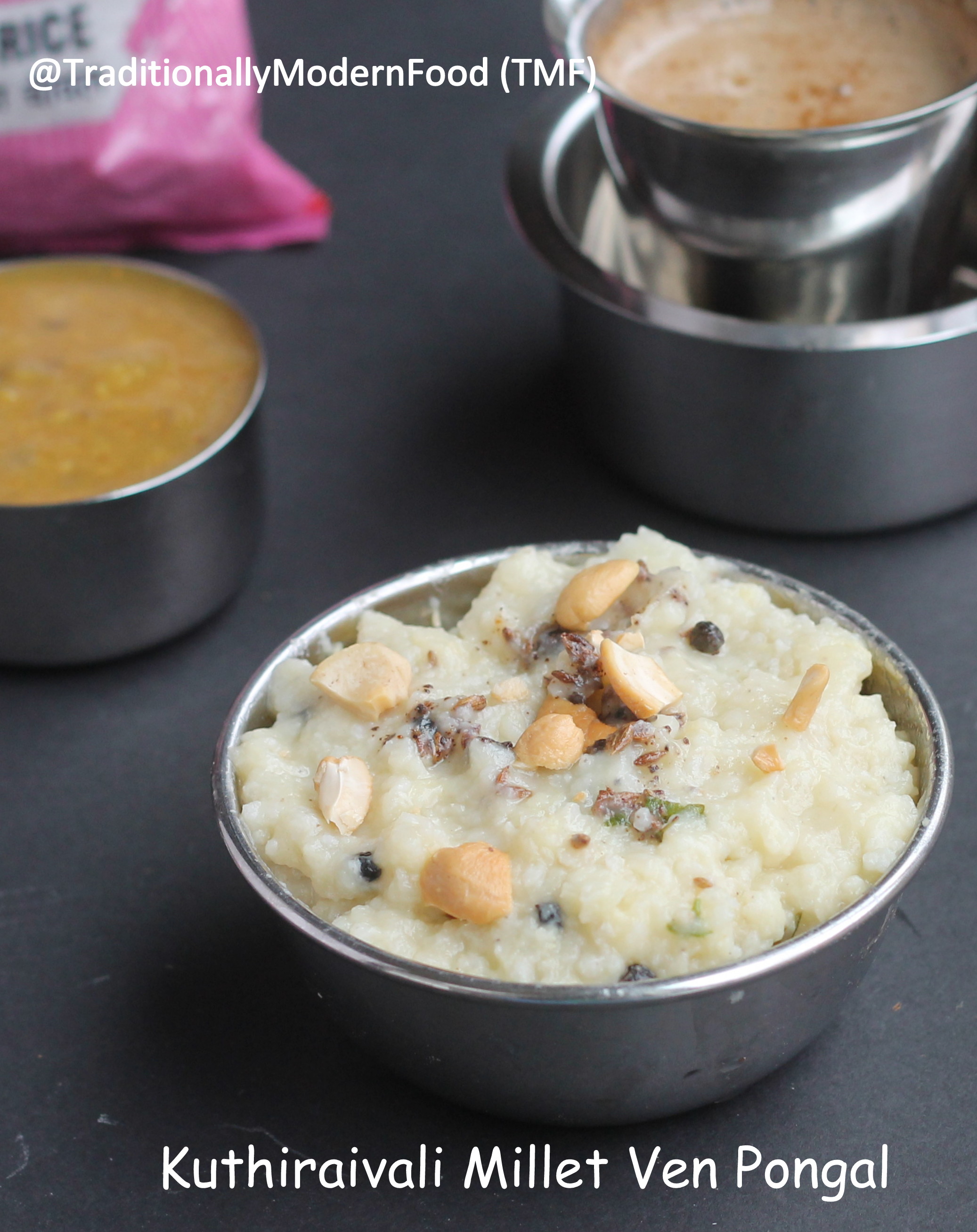 Kuthiraivali Millet Ven Pongal Is a healthy version of traditional South Indian breakfast/tiffin item prepared with rice and moong dal. This is one of the tasty and filling barnyard millet recipes to try.
Pongal is a very common tiffin prepared in home. We generally prefers pongal for weekend brunch, after heavy pongal with lot ghee will watch tv and leisurely spent the rest of the day. I have a big sweet tooth so when we were young Amma always pair Ven pongal with sakkarai pongal. After I started cooking since I make pongal for brunch I make vadai with pongal, but calorie factor alarms me these days.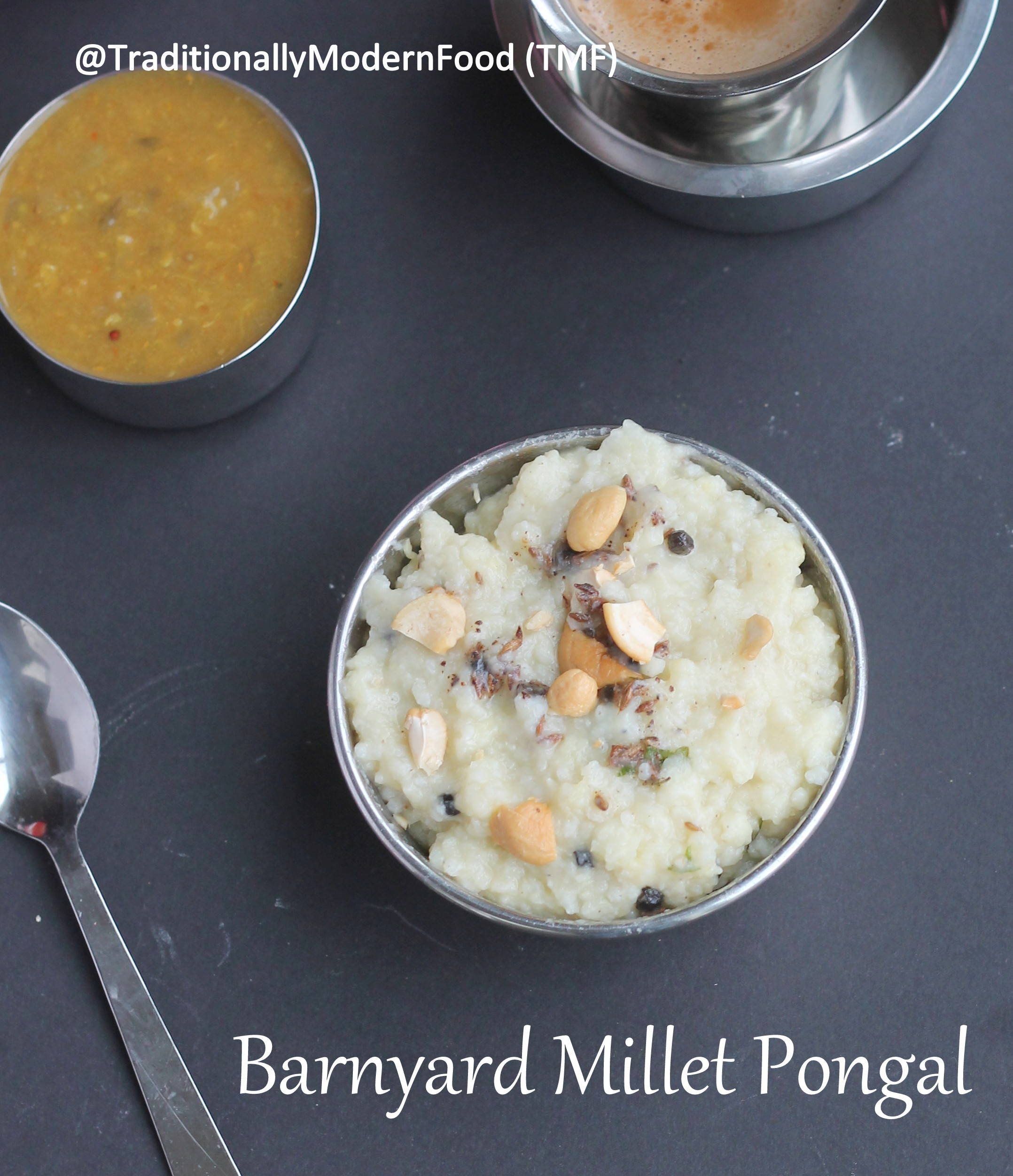 When we where in bentonville my cousin sister husband visited that place. One day I cooked cracked wheat pongal for dinner. While having dinner he was asking if I have tried millets.
I couldn't find it in store during that time. Athimber told me about its healthy benefits and he offers to bring some during his next visit. After that every time whenever both Amma's visit us he send us few packets of millets in different variety.
I have been using lots of millets in everyday cooking but because of this year break I couldn't make a note in my draft. Recently I shared my quinoa Idli in Facebook page. That is when my Amma asked why you haven't posted any Millet recipe. That's when I realized and here is a filling and healthy Kuthiravalli Millet Ven Pongal
Checkout other Pongal varieties in TMF,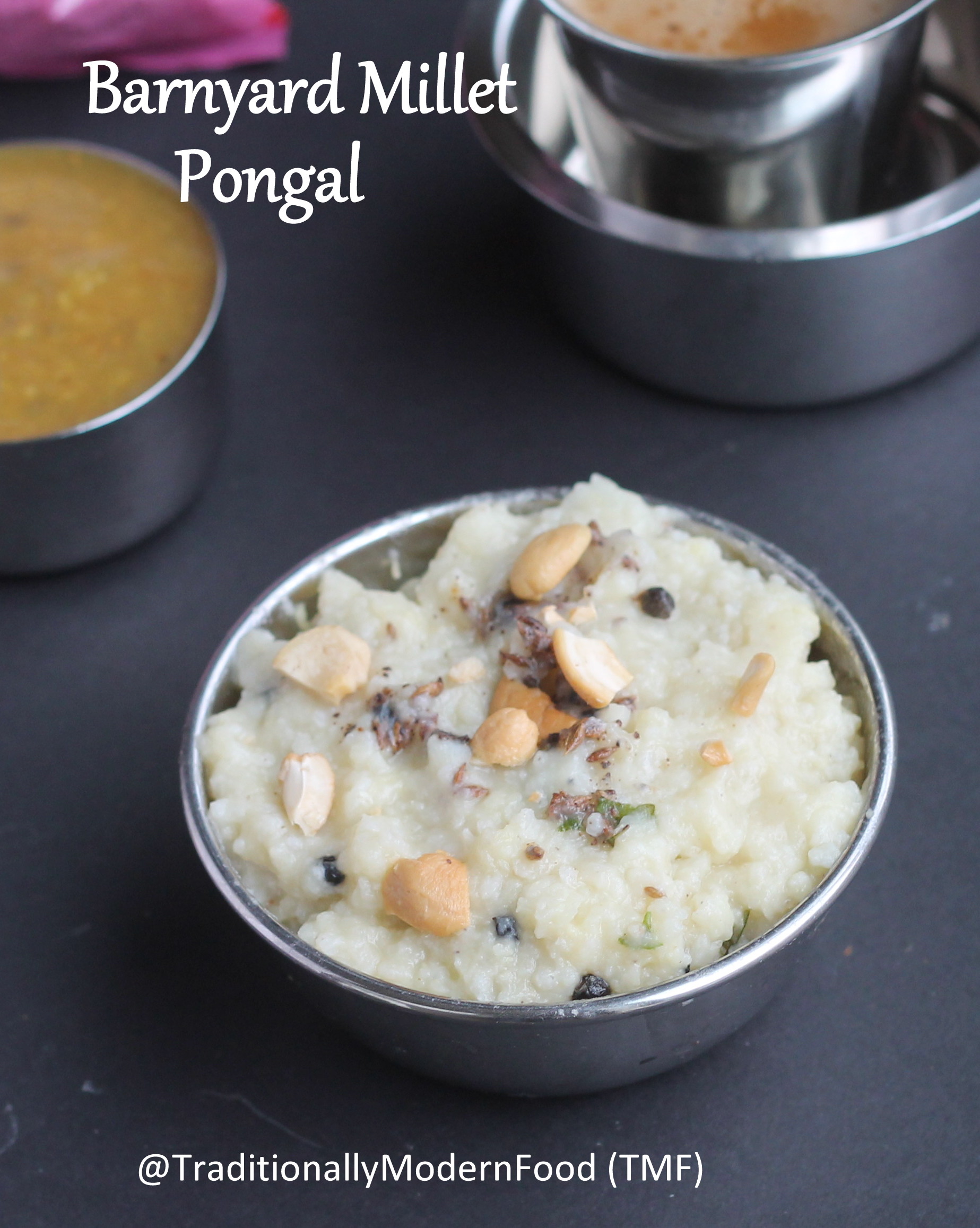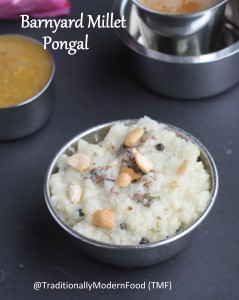 Kuthiraivali Millet Pongal | Barnyard millet Pongal | Ven Pongal
Pongal is a South Indian breakfast /tiffin item prepared with rice and moong dal. Here is a healthy version with barnyard millets.
Print
Pin
Comment
Ingredients
Ingredients:

Kuthiraivali Millet - 1/2 cup

Split yellow moong dal - 1/2 cup

Ginger - 1 tsp

chopped

Water - 3 cups

Salt - as needed

To temper:

Ghee - 1 tbsp

Cumin seeds - 1 tsp

Peppercorns - 1/2 tsp

Fresh curry leaves - 1 spring

Cashew nuts - as needed

Hing - generous pinch

Ginger - 1/2 tsp

peeled and chopped
Instructions
Soak moong dal and Kuthiraivali Millet; set it aside (I soaked in hot water for 30 minutes)

Add ghee to the pressure cooker, saute Kuthiraivali Millet and soaked moong dal for 2 mins

Pressure cook Kuthiraivali Millet and moong dal, along with chopped ginger and salt in 3 cups of water for 3 whistles. Switch off and Keep it aside

Add ghee to the pan, when it is hot add Cumin seeds, peppercorns, ginger, asofetida, curry leaves and hing. Once it splutters, add this seasoning to the cooked pongal and mix well

Garnish with some roasted cashew before serving. Serve hot with any chutney/sambar
Notes
Adjust the ghee according to your taste
Soaking dal and millet is optional
Adding ginger while cooking dal is optional
If you are using Instant pot saute the dal and Kuthiraivali Millet in saute mode and cook them in high temperature for 18 minutes
Any millet variety can be used for pongal
Ingredients:
Kuthiraivali Millet – 1/2 cup
Split yellow moong dal – 1/2 cup
Ginger – 1 tsp, chopped
Water – 3 cups
Salt – as needed
To temper:
Ghee – 1 tbsp
Cumin seeds – 1 tsp
Peppercorns – 1/2 tsp
Fresh curry leaves – 1 spring
Cashew nuts – as needed
Hing – generous pinch
Ginger – 1/2 tsp, peeled and chopped
Method:
Wash Barnyard Millet and moong dal; soak them and set it aside (I soaked in hot water for 30 minutes)
Add ghee to the pressure cooker, sauté barnyard Millet and moong dal for 1 min in low flame
Pressure cook barnyard Millet and moong dal with water for 3 whistles. Switch off and Keep it aside
Add ghee to the pan, when the ghee is hot add the ingredients under "to temper" and let it splutters transfer into ga plate
In the Same pan add the mashed pongal and salt and cook in low flame for 1 minute. Add the tempering and mix well. Serve hot with any chutney/sambar/gotsu/onion tomato thokku