Pudla | Chilla | Eggless Omelette | Besan pancake | Indian pancake | soft instant uthappam with step-by-step pictures and video recipe. Check out the video recipes for Chilla recipe. If you like the video pls SUBSCRIBE to my channel.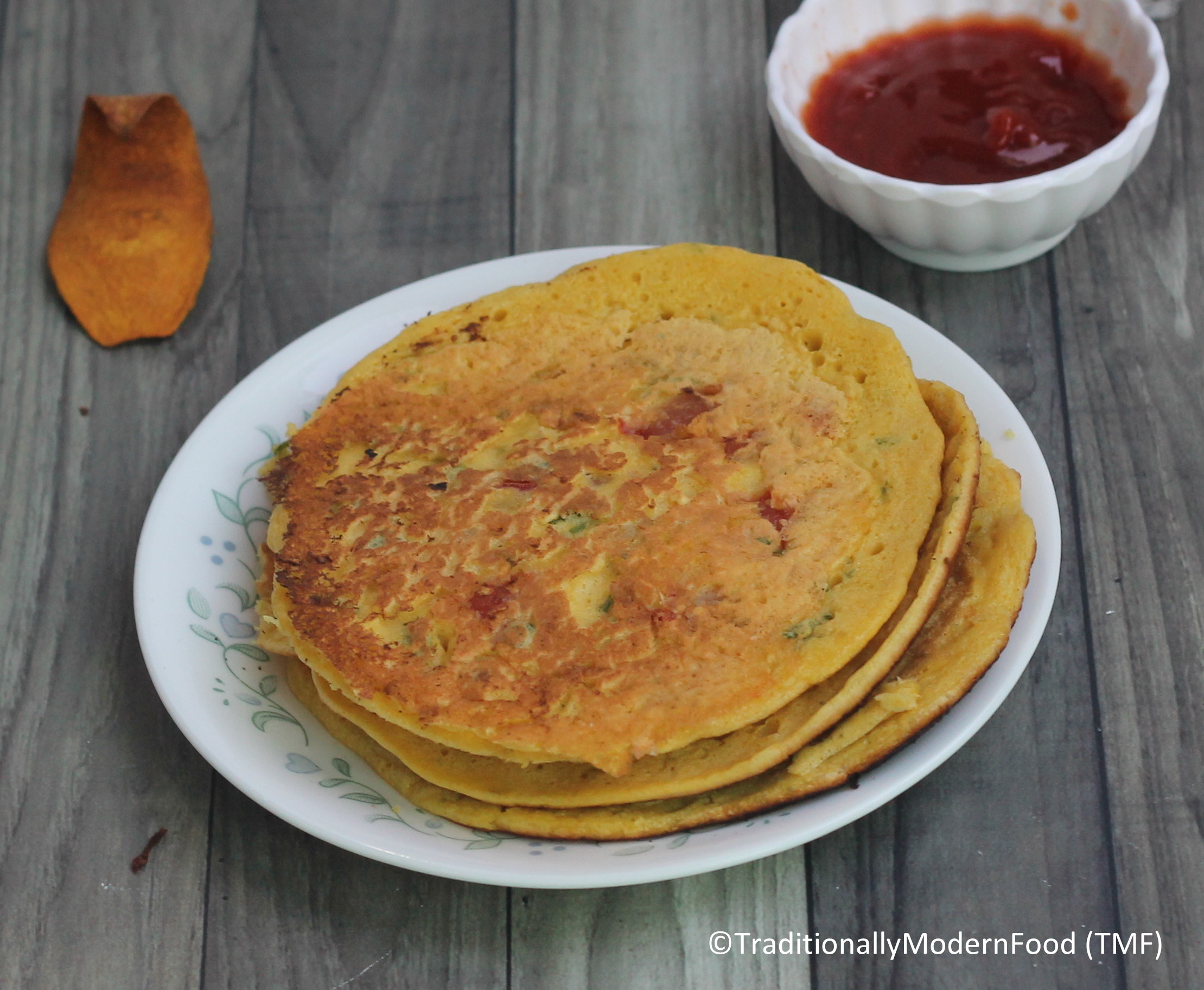 Pudla | Chilla | Eggless Omelette | Besan pancake | Indian pancake | soft instant uthappam is a tasty savory breakfast prepared with besan flour. This is the Indian version of spicy pancakes. Besan Ka Cheela can also be taken as a side for rice. This besan flour breakfast tastes like a vegetarian version of an omelet.
A few weeks back I got the "Simply Indian - Vegetarian Cuisine of western India" book for review. This book is all about Indian food. It has a wide variety of recipes - including breakfast, starters, rice varieties, side dishes, desserts, etc. I have been trying out recipes from this book, and this recipe which was my first try, and became a big hit at home, so decided to post this in TMF.
This is not a paid review. I received a complimentary copy of the book, but the opinion is mine. My son loves pancakes. When it comes to Pancakes, I always go for the traditional sweet version. I was so excited to try a savory version without sugar. Less guilty start for the day. I have already posted a few pancake recipes in TMF
Eggless Wheat Strawberry Pancake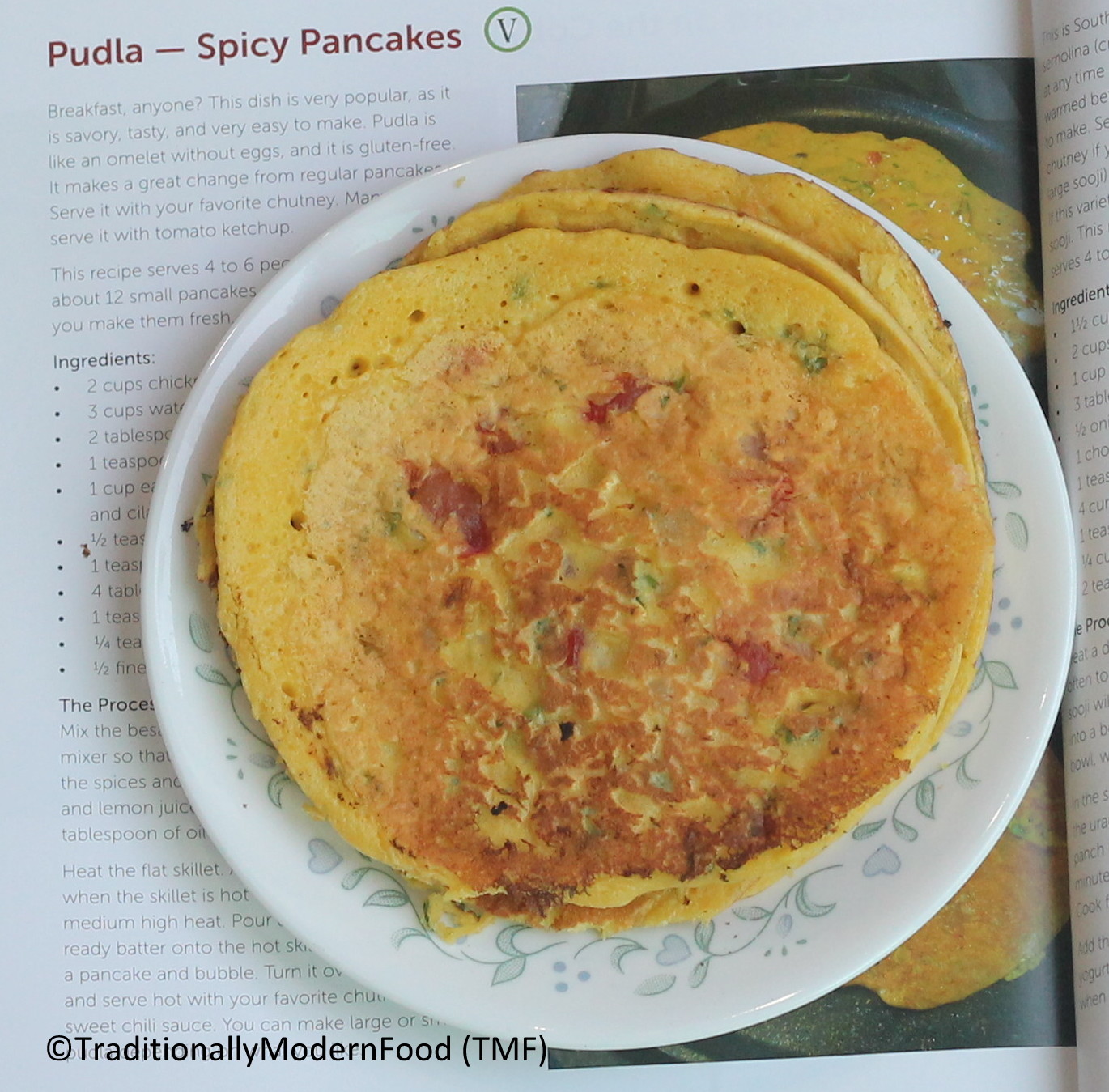 The Pudla pancake recipe calls for besan flour. Pancake with besan flour was new for me. Usually, I use baking soda and baking powder combo for eggless pancakes. This recipe called for lemon juice instead, which is yet another new try for me. I have pretty much followed the recipe, except for the water part. Each besan brand flour differs, so instead of adding 3 cups of water I used 2 + 1/3 cup and gradually added a little more, based on my requirement.
Being a South Indian, I am not familiar with authentic pudla recipes. In our family, we all loved the "Nita Desai" version and decided to follow it regularly. We had it for breakfast with ketchup. My hubby says Besan flour Pudla pancake reminds him of omelette without eggs 🙂 Call it vegetarian omelette or besan flour uthappam or any fancy name, but this is one delicious breakfast.
I thought chickpea flour pudla will taste like Adai because of besan, but this one was super soft.
Pudla Pancake remained soft even after 2 hours. I generally don't prefer keeping the leftover batter after adding baking soda, so always try finishing the batter and freeze it. I haven't tried freezing this savory pancake but after preparing I kept it in a hot pack and it stayed soft for 2 hours. I haven't tried keeping it long so not sure it how long it will be fresh. All I did was microwave for a minute before eating. Perfect make-ahead breakfast recipe.
In precise Vegetairan Omelette is
👉🏻Vegan
👉🏻Filling
👉🏻Eggless
👉🏻Savory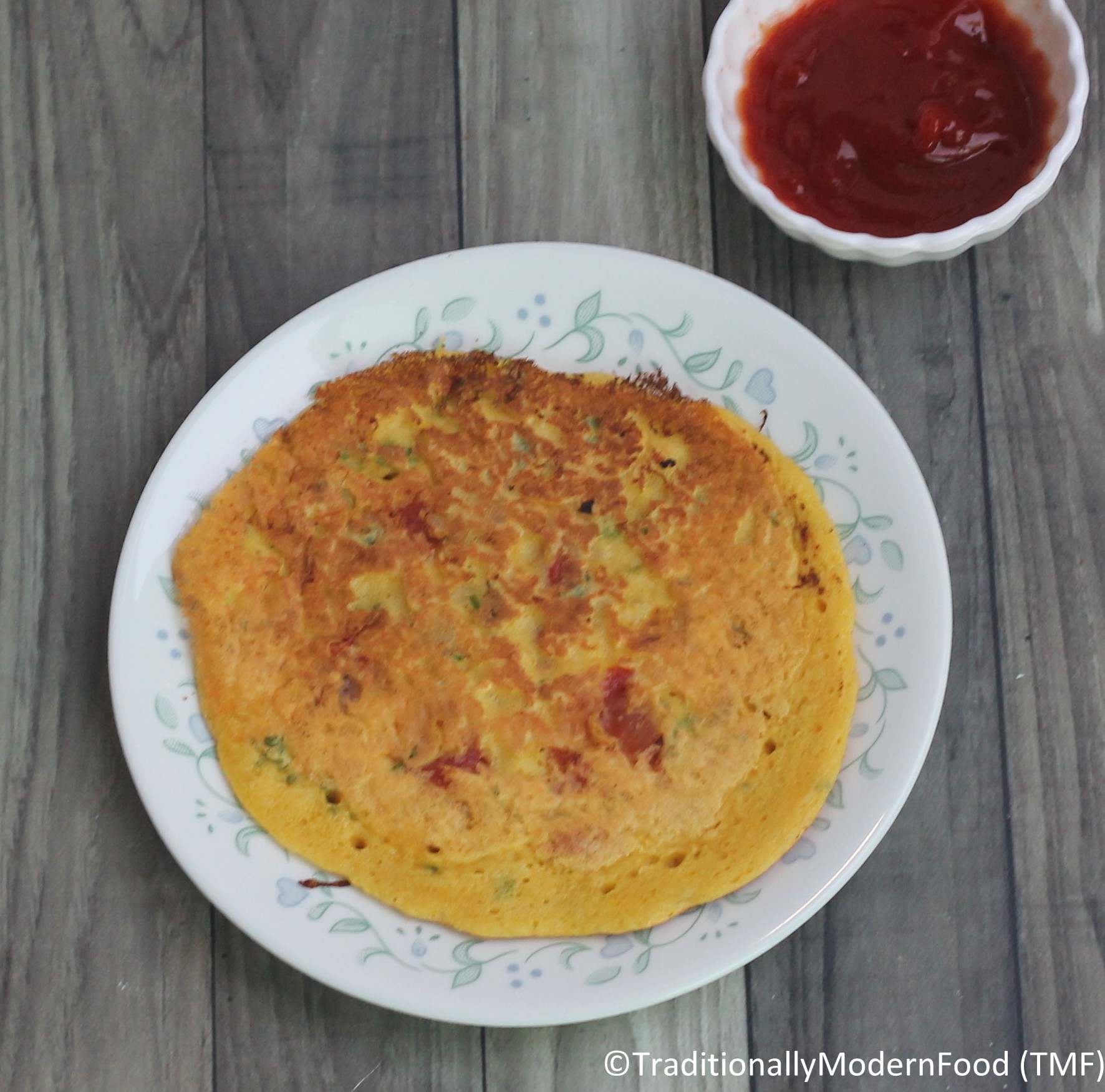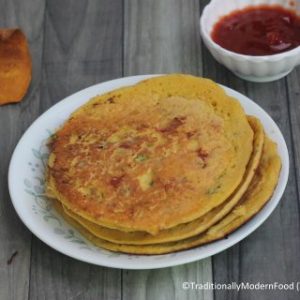 Pudila | Savory Besan Pancake | Vegetarian Eggless Omelette
FewIngredients: Besan flour - 2 cups Water - 2 cups + 1/3 cup Onion - 1/2, finely chopped Tomato - 1 Coriander leaves - 3 tbsp, finely chopped Lemon juice - 2 tablespoon Baking soda - 1/2 teaspoon Turmeric powder - 1/4 teaspoon Salt - as needed Oil - 1 tablespoon + extra to make pancakes
Print
Pin
Comment
Instructions
In a wide bowl add besan flour and 2 cups of water; whisk it well with electric mixer or hand whisk to remove all the lumps

Add all other ingredients mentionedoneby one and mix eveything well

Heat the dosa griddle and add oil to grease. Add 1/3 of water to the batter and mix well. Take around 1/2 cup of water. The batter will spread on its own. Drizzle oil and when you see pores and batter becomes slightly dry flip it. Cook other side and serve with ketchup or green chutney
Video
Notes
Adjust the water according to your consistency
Chili powder can be used instead of green chilli
Pancake stays soft for hours
Capsicum, mushroom etc can be added for extra taste
Cook the pancake well otherwise besan flour might have raw taste. Cook the pancake in medium - low flame
Green chutney, ketchup etc can be used as a side
Original recipe called for 1tsp ajwain seeds but ajwain seeds was not in home so I skipped it
Adjust the pancake size according to your preference
Ingredients:
Besan flour - 2 cups
Water - 2 cups + 1/3 cup
Onion - 1/2, finely chopped
Tomato - 1
Coriander leaves - 3 tbsp, finely chopped
Lemon juice - 2 tbsp
Baking soda - 1/2 tsp
Turmeric powder - 1/4 tsp
Salt - as needed
Oil - 1 tablespoon + extra to make pancakes
How to make Pudla with step by step pictures:
In a wide bowl add besan flour and 2 cups of water; whisk it well with an electric mixer or hand whisk to remove all the lumps
Add all other ingredients mentioned one by one and mix everything well

Heat the dosa griddle and add oil to grease. Add 1/3 of water to the batter and mix well. Take around 1/2 cup of water. The batter will spread on its own. Drizzle oil and when you see pores and batter becomes slightly dry flip it. Cook other side and serve with ketchup or green chutney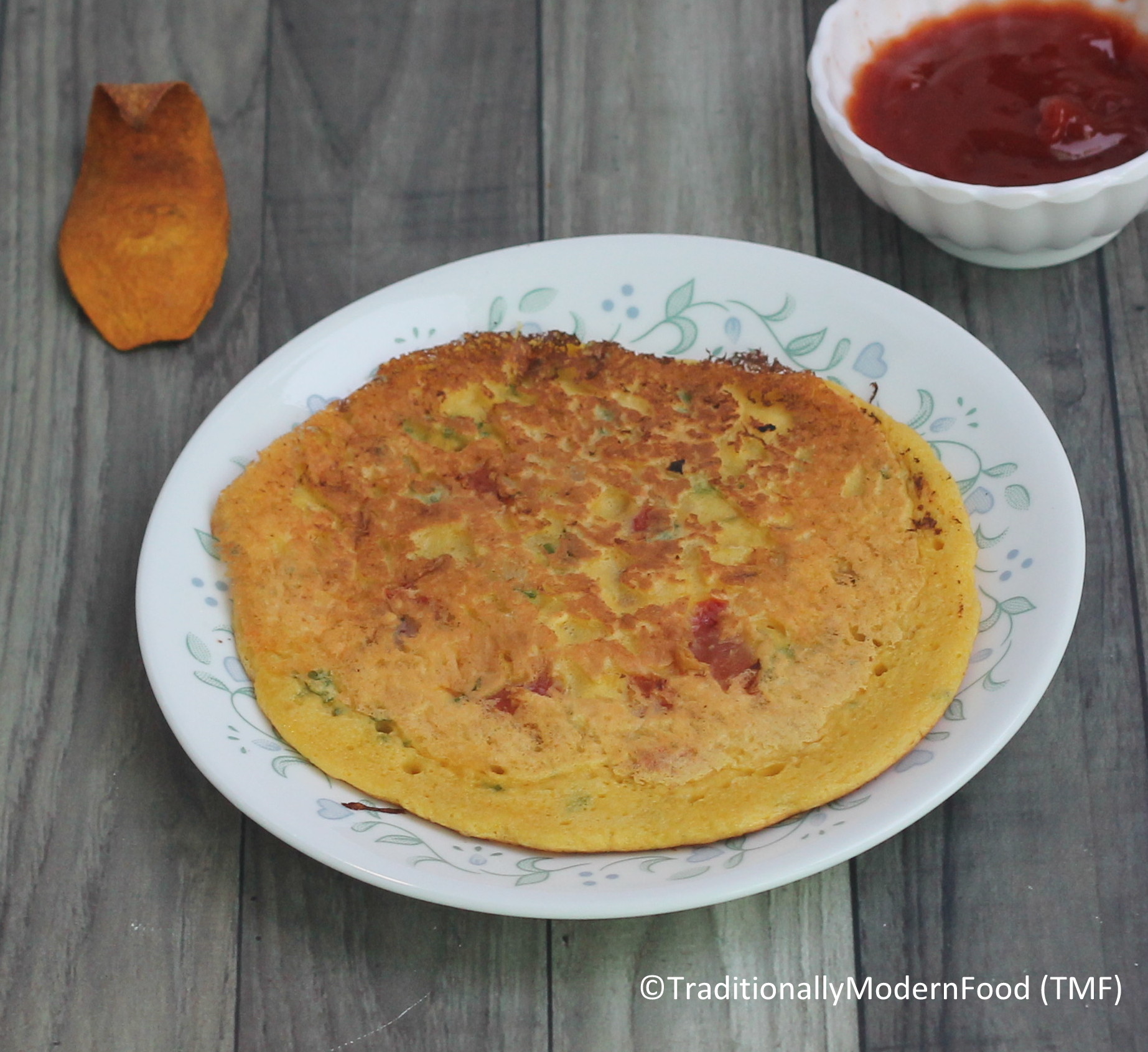 For regular recipe updates pls follow TMF social media,