Punjabi Dum Aloo | Dhaba style | Kashmiri Dum aloo | potato curry step by step pictures, and video recipe. Check out the Punjabi Dum Aloo video in Tamil and Punjabi Dum Aloo video in English. If you like the video pls SUBSCRIBE to my channel
Dum Aloo
Dum Aloo is one of the authentic vegetarian dishes popular in Kashmiri. Fried potatoes cooked in yogurt-based curry taste so flavorful. The freshly ground spice gives amazing flavor to the Dhaba-style dum aloo.
Can I use big potatoes?
Traditionally baby potatoes are used for preparing Dum aloo. If you are out of small potatoes cut big potatoes and prepare the curry.
can I pressure cook potatoes?
for the best Dhaba style potato curry avoid overcooking potatoes. Cooking time might slightly vary based on your potatoes. I would recommend cooking potatoes in a pot or microwave.
Should I blend curd?
Blending curd is optional but I would recommend it as it will avoid curdling. Always use non sour curd
CAN I USE TOMATO?
traditionally curd is used for sourness but if you are using tomatoes reduce curd.
WHAT TASTES BEST WITH Dum aloo?
Jeera rice is the best combo with salan. In our home, we like pairing it with pulao varieties, paratha varieties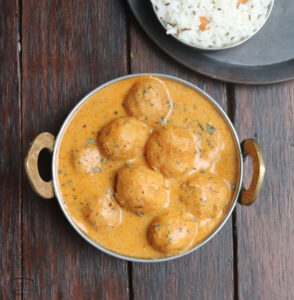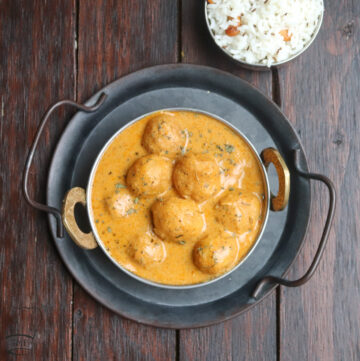 Ingredients
Spice powder
1/2

tablespoon

coriander seeds

1

teaspoon

fennel seeds

2-

inch

cinnamon stick

1/2

teaspoon

cumin seeds

4

green cardamom

2

cloves
onion paste
2

tablespoon

oil

2

large onions

roughly chopped

5

big garlic cloves roughly chopped

1

tablespoon

ginger roughly chopped

1

green chili

10

cashews
Saute potatoes
500

grams

baby potatoes

1/4

cup

oil
Curry
1

teaspoon

cumin seeds

1/2

teaspoon

Asafoetida

1

tablespoon

Kashmiri chilli powder

1/4

teaspoon

black pepper powder

2

+ 1/2 cup water or as needed for consistency of gravy you prefer2 tablespoons heavy cream

1/2

teaspoon

sugar

1/2

teaspoon

garam masala

1

tablespoon

Kasuri methi

Coriander leaves few
Spice oil
1

tablespoon

oil

1/8

teaspoon

turmeric powder

1

tablespoon

Kashmiri chilli powder

Required salt
Instructions
Cook potatoes
Add water to a heavy-bottomed pan and boil water on medium-high heat; bring to boil

Furthermore, add the potatoes and let the water come to a full boil

Cover with a lid. Turn down the flame to low and cook for 3 minutes

Turn off the heat and keep it covered for 25 minutes

After 25 minutes drain the potatoes in a colander and peel the potatoes

Use a fork and prick the potatoes and keep aside
Roast and grind
Add all the ingredients under "to roast" in a wide heavy-bottomed pan and roast on medium heat

Roast for 2 to 3 minutes till they turn aromatic and slightly change color

Turn off the stove and cool completely

Grind and keep aside
Saute and grind onion
Add oil to a wide heavy-bottomed pan and heat

Furthermore, add garlic and give a quick mix

Add green chili and ginger; cook for 2 minutes or until garlic turns brown

Furthermore, add onions and mix well

Add cashews and saute for 4-5 minutes until onions turn translucent and change color

Turn off the stove and transfer onion to a wide plate; cool

Grind without adding water and keep aside
prepare curd
Take non-sour curd and grind/whisk; keep aside
Roast potatoes
Heat oil and add potatoes; roast

Use a fork and gently prick holes

Mix well and fry potatoes till they turn golden brown. Transfer and use the remaining oil for the gravy
Masala
Use remaining oil for the gravy

Add cumin seeds, Kashmiri chilli powder, and asafoetida; quick mix

Furthermore, add the onion-cashew paste and mix well; Cook for 4 minutes

Add the ground spices and mix well

furthermore, add 1/2 cup of water and pepper powder; cook for 4 minutes

Turn down to flame to low and add curd

furthermore add water and mix well

Turn to medium flame and cook for4 minutes
Extra spice
Add oil, salt, Kashmiri red chili powder, and turmeric powder to a small vessel; mix well

Transfer to the gravy and cook for 5 minutes till oil oozes out
Dum aloo
Add fried potatoes; mix well

Furthermore, add 1 + 1/2 cup water. Cover with a lid and Dum cook for 10 minutes on low heat

Add cream, sugar, garam masala, Kasuri methi; mix well

cook for 5-6 minutes. You can add extra water and boil

Finally, sprinkle coriander leaves and Punjabi dum aloo is ready
Video
Notes
Potato
Baby potatoes are recommended 
Avoid overcooking potatoes. Either cook potatoes in a pan or microwave. Avoid pressure cooking potatoes
Never skip pricking holes in potatoes. If you are not comfortable doing in hot oil, prick holes after potatoes turn cold
You can use a toothpick or fork to prick holes
Dum Aloo masala powder
Roast the spice in low- medium flame
Dry roasted spice powder stays good for months. You can also make a big batch
if you don't have pepper powder you can saute pepper and prepare powder
onion paste
Avoid adding water while grinding onion
if you prefer spice Dum aloo increase green chilli
Blending curd
Blending curd is optional but it helps from curdling
you can also whisk curd
always use non-sour curd
Dum aloo
Adjust Kashmiri chilli powder according to your spice
Reducing oil might alter the curry taste
For the best flavor keep the curry covered till you serve 
Ingredients
Spice powder
1/2 tablespoon coriander seeds
1 teaspoon fennel seeds
2-inch cinnamon stick
1/2 teaspoon cumin seeds
4 green cardamom
2 cloves
onion paste
2 tablespoon oil
2 large onions, roughly chopped
5 big garlic cloves roughly chopped
1 tablespoon ginger roughly chopped
1 green chili
10 cashews
whisk Curd
1 cup thick curd
Saute potatoes
500 grams baby potatoes
1/4 cup oil
Curry
1 teaspoon cumin seeds
1/2 teaspoon Asafoetida
1 tablespoon Kashmiri chilli powder
1/4 teaspoon black pepper powder
2 + 1/2 cup water or as needed for consistency of gravy you prefer2 tablespoons heavy cream
1/2 teaspoon sugar
1/2 teaspoon garam masala
1 tablespoon Kasuri methi
Coriander leaves few
Spice oil
1 tablespoon oil
1/8 teaspoon turmeric powder
1 tablespoon Kashmiri chilli powder
Required salt
How to make Dum aloo with step by step pictures
Cook potatoes
Add water to a heavy-bottomed pan and boil water on medium-high heat; bring to boil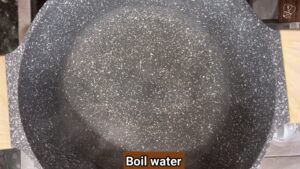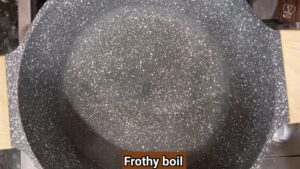 Furthermore, add the potatoes and let the water come to a full boil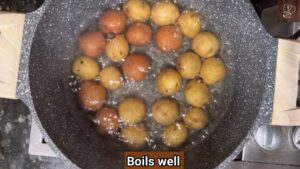 Cover with a lid. Turn down the flame to low and cook for 3 minutes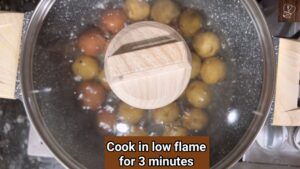 Turn off the heat and keep it covered for 25 minutes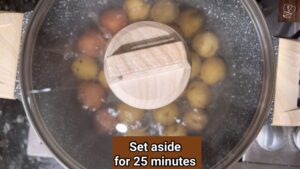 After 25 minutes drain the potatoes in a colander and peel the potatoes

Use a fork and prick the potatoes and keep aside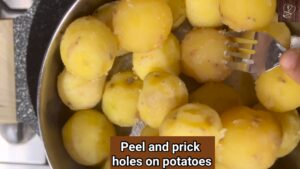 Roast and grind
Add all the ingredients under "to roast" in a wide heavy-bottomed pan and roast on medium heat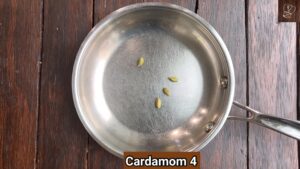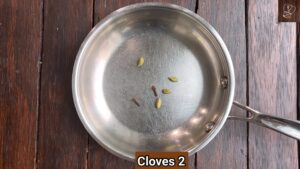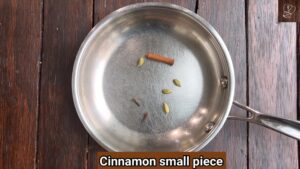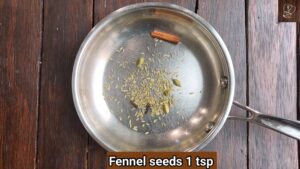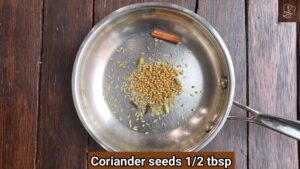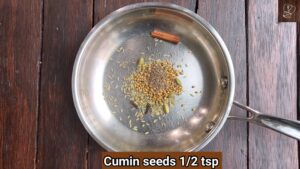 Roast for 2 to 3 minutes till they turn aromatic and slightly change color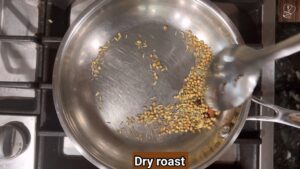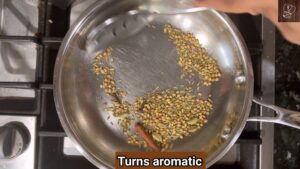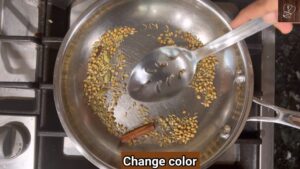 Turn off the stove and cool completely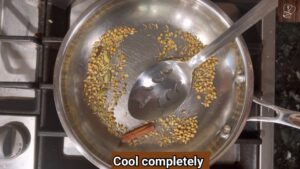 Saute and grind onion
Add oil to a wide heavy-bottomed pan and heat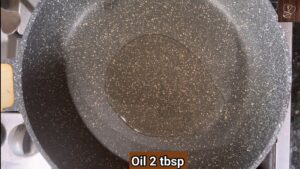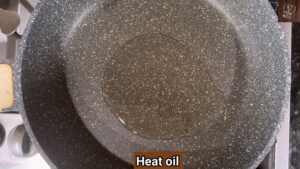 Furthermore, add garlic and give a quick mix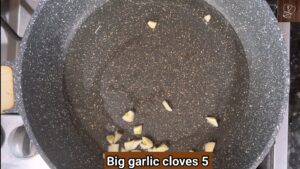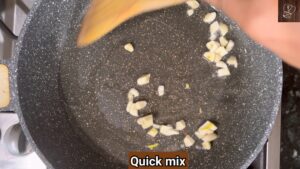 Add green chili and ginger; cook for 2 minutes or until garlic turns brown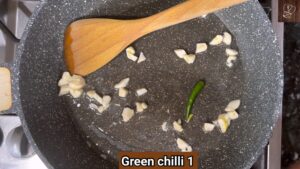 Furthermore, add onions and mix well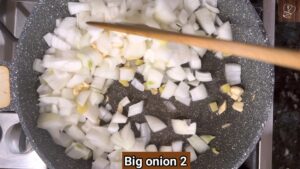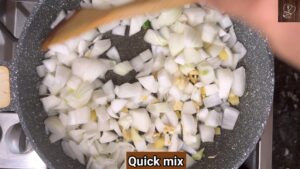 Add cashews and saute for 4-5 minutes until onions turn translucent and change color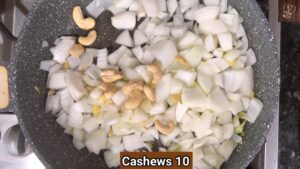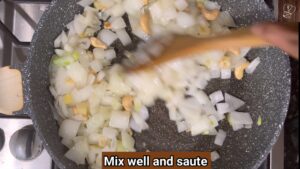 Turn off the stove and transfer onion to a wide plate; cool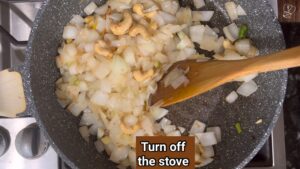 Grind without adding water and keep aside

prepare curd
Take non-sour curd and grind/whisk; keep aside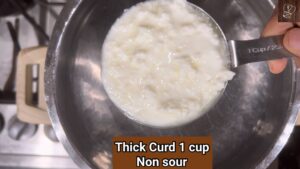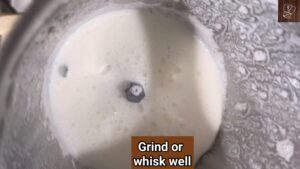 Roast potatoes
Heat oil and add potatoes; roast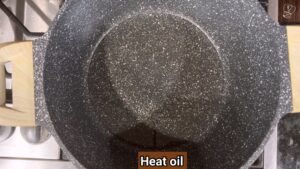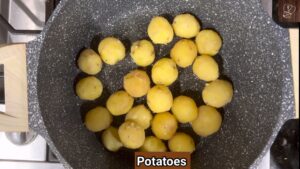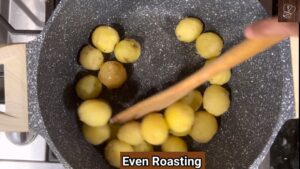 Use a fork and gently prick holes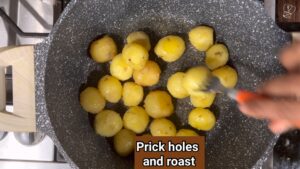 Mix well and fry potatoes till they turn golden brown. Transfer and use the remaining oil for the gravy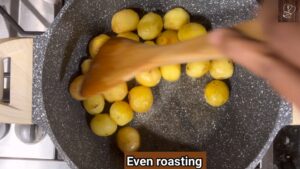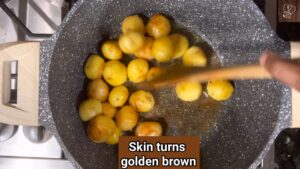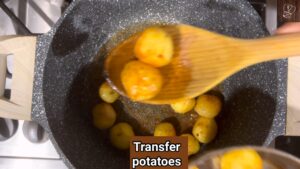 Masala
Use remaining oil for the gravy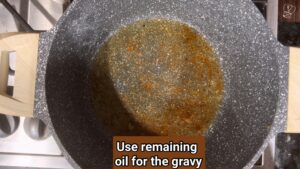 Add cumin seeds, Kashmiri chilli powder, and asafoetida; quick mix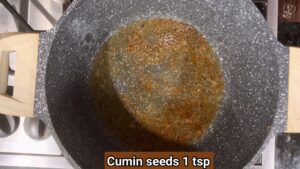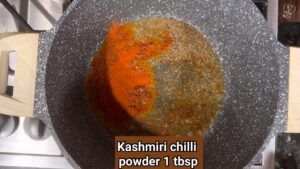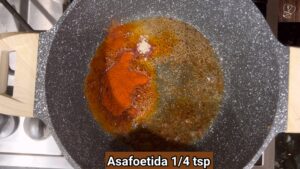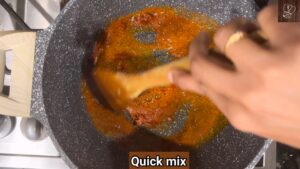 Furthermore, add the onion-cashew paste and mix well; Cook for 4 minutes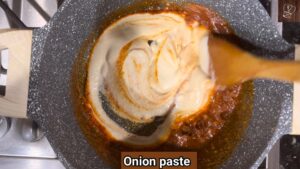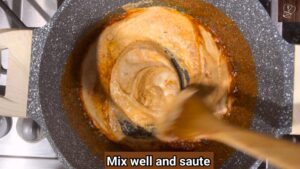 Add the ground spices and mix well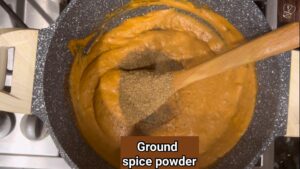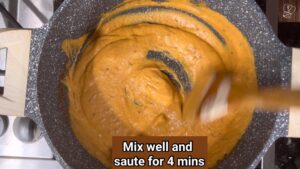 furthermore, add 1/2 cup of water and pepper powder; cook for 4 minutes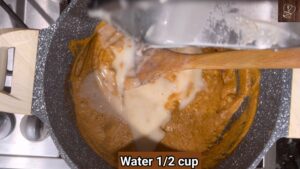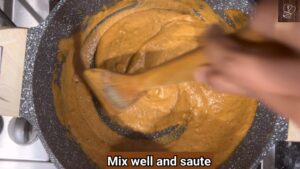 Turn down to flame to low and add curd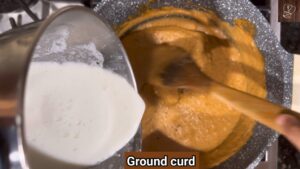 furthermore add water and mix well
Turn to medium flame and cook for4 minutes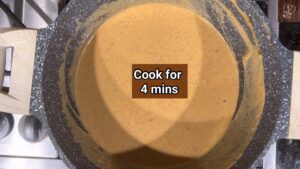 Extra spice
Add oil, salt, Kashmiri red chili powder, and turmeric powder to a small vessel; mix well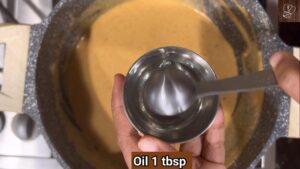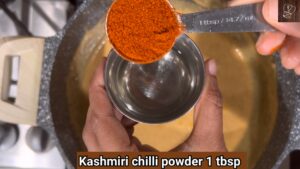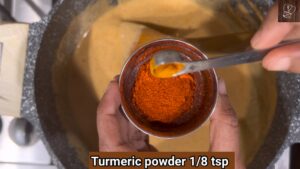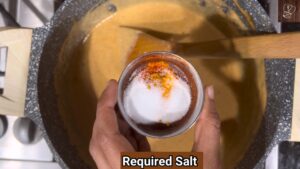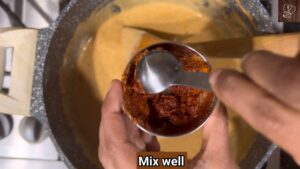 Transfer to the gravy and cook for 5 minutes till oil oozes out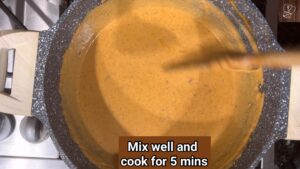 Dum aloo
Add fried potatoes; mix well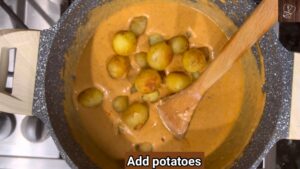 Furthermore, add 1 + 1/2 cup water. Cover with a lid and Dum cook for 10 minutes on low heat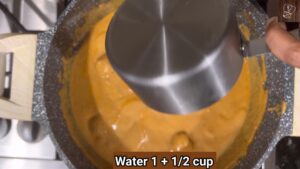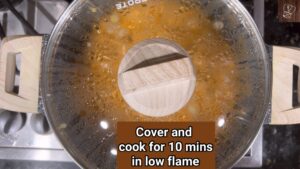 Add cream, sugar, garam masala, Kasuri methi; mix well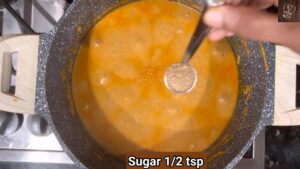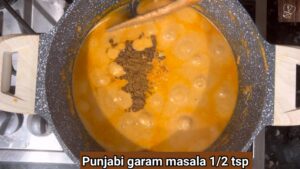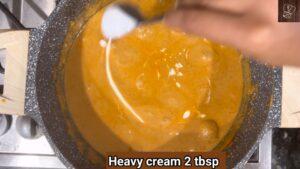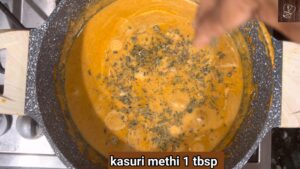 cook for 5-6 minutes. You can add extra water and boil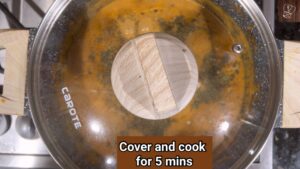 Finally, sprinkle coriander leaves and Punjabi dum aloo is ready