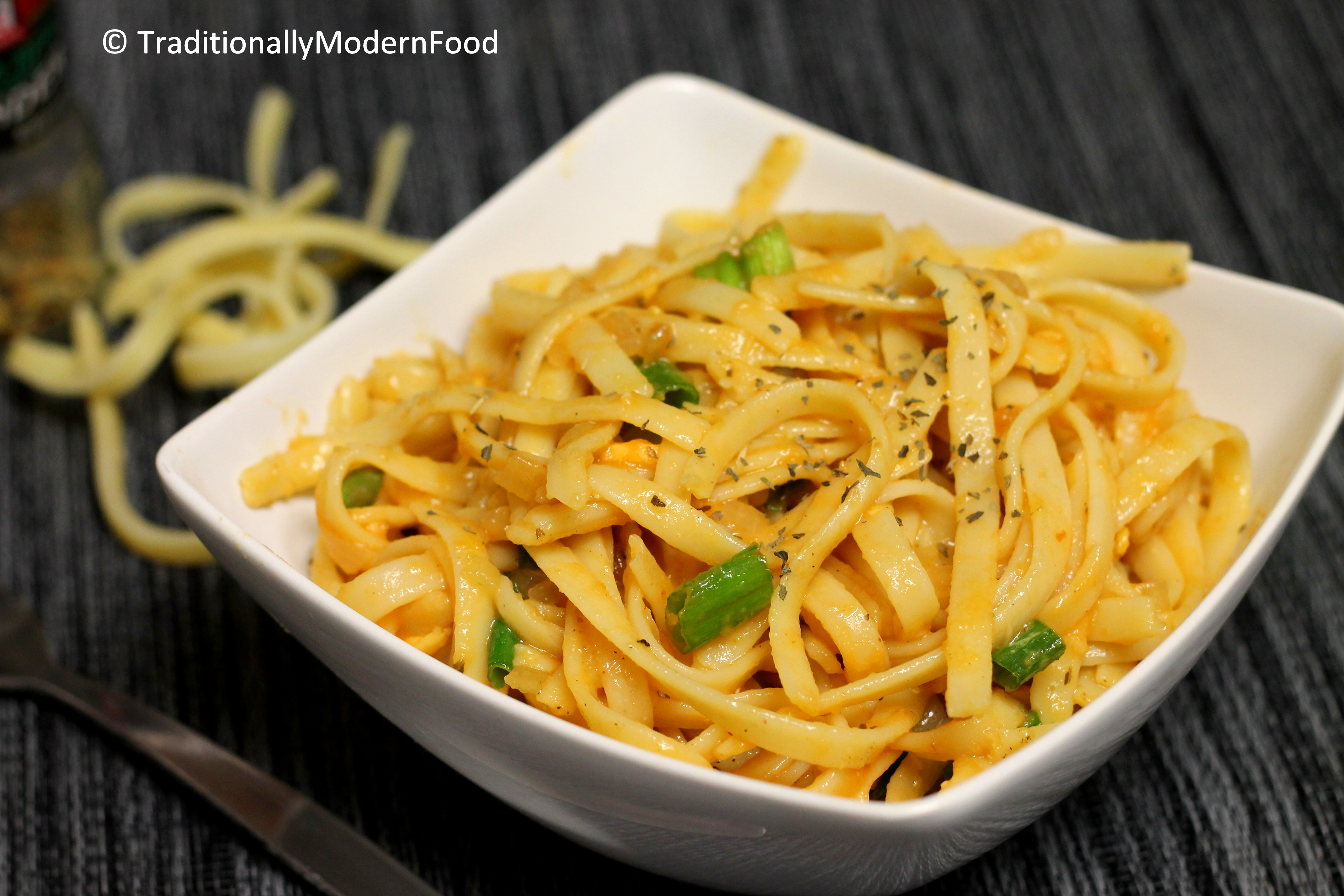 Creamy tomato pasta is a tasty main course with onion- tomato base. Pasta is great for lunch box too.
I am back with yet another Italian dish, this time it is Fettuccini in marinara pasta. Until recent years, I have never imagined I will start eating/cooking red sauce. Not only because I am a big fan of Alfredo/white sauce pasta.
When I started eating pasta for the first time in a restaurant, I don't know how different pasta sauce are cooked, I started reading the menu card. I understood White sauce pasta was Cream based and red sauce was tomatoes based. We ordered both.
The red sauce pasta I had that day was too spicy and from that day onwards silly me always went for white sauce pasta. After years I realized my mistake, the spicy red sauce is Arrabbiata sauce with lots of chilli flakes, well but still something stopped me from trying the tasty pasta.
Couple of months back one day when we to Italian restaurant, we asked the waiter to suggest some vegetarian special. She suggested cheese ravioli in Creamy tomato sauce. Immediately I was about to ask for other option but my hubby insisted to give try. He said if you don't like I will have that, you can have the one I ordered. If I say it was delicious it is under statement. I was literally licking fork.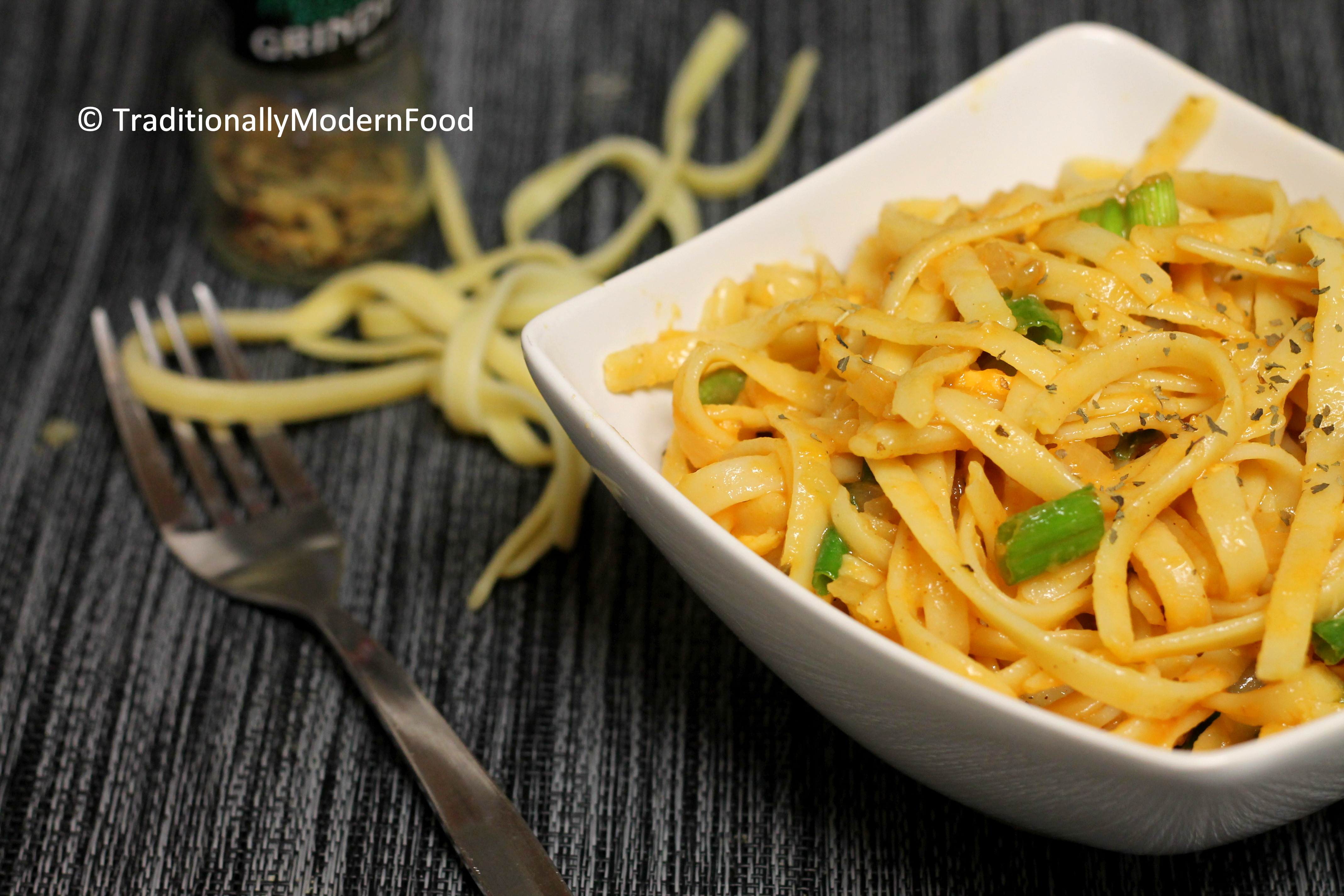 I have already told about my madness for tomatoes, I thought why I wasted all these years without trying this yummy creamy tomato pasta . After coming home I googled how to make creamy tomata sauce, I saw various version with white wine, canned tomatoes, carrot etc. Simple is always best so I opted for this method. I am not sure whether I did 100% justification to that Restaurant taste, but this pasta is enjoyed in our home.
I usually load my pasta with veggies, like my White sauce pasta and pesto pasta, but this I went with a veggie free version so that the star of the dish is highlighted in every bite. Tomatoes flavor with Italian seasoning gives a tasty creamy tomato sauce, little heavy cream gave the extra richness, adding gems to the crown. I didn't add much heavy cream like Mac and cheese.
This sauce is very handy. If there are leftover, Spread it in bread in make sandwich like Pesto sandwich. Spread in bagel/bread and make a quick pizza
If you are looking for tasty pasta without sauce try pasta Primavera. Also pasta kichadi is great for those looking for Indian flavours in pasta.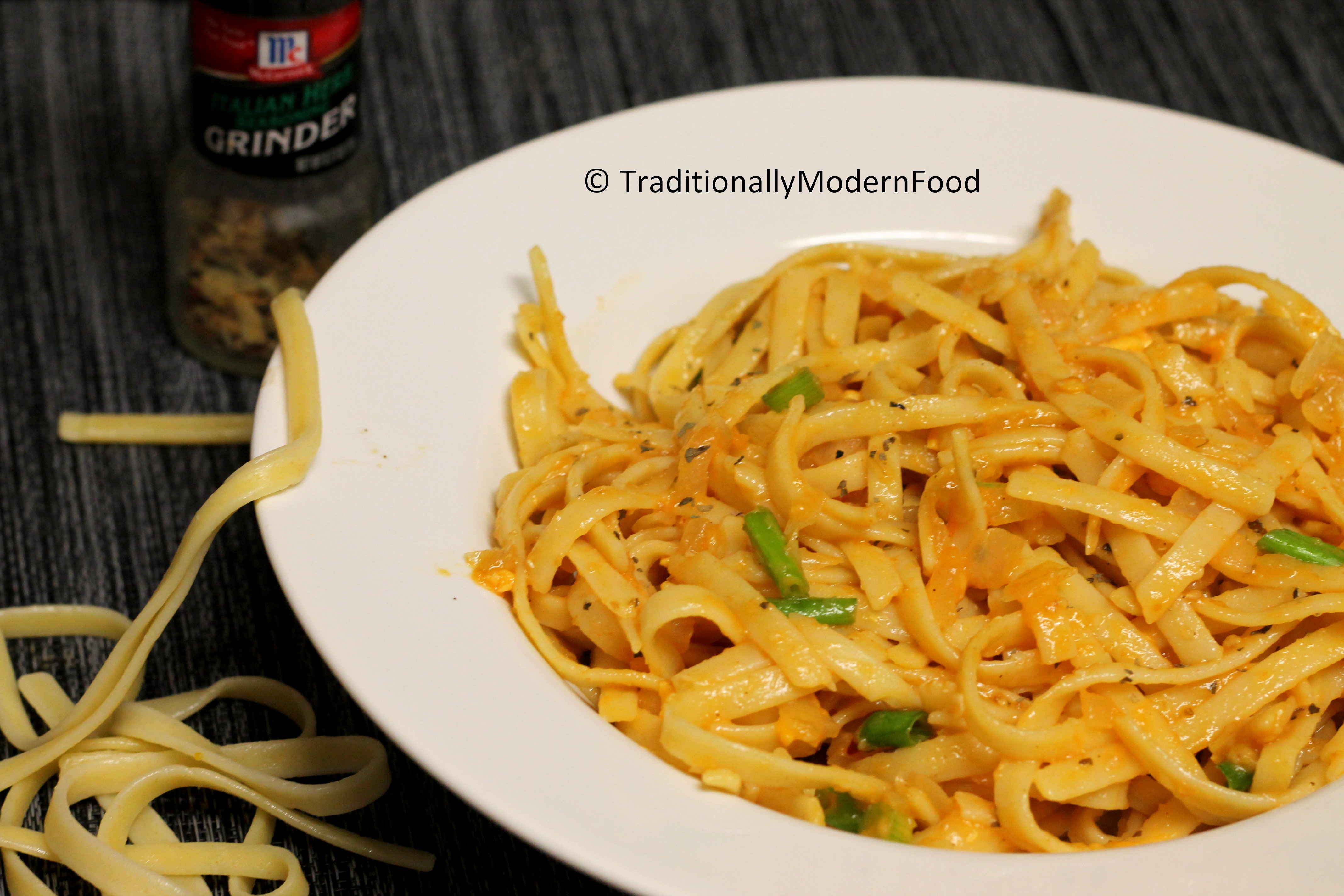 Ingredients:
Pasta - 1 cup + 3/4 cup
Tomatoes - 4
Onion - 1, medium
Spring onion - 2, roughly chopped
Garlic - 3
Tomato paste/Sauce - 1 tbsp
Sugar - 1 tsp(optional)
Olive Oil - 1 tbsp
Salt - to taste
heavy cream - 3 tbsp
Cheese - 3 tablespoon + while serving
Method:
In a sauce pan on medium heat Boil 1 cup + 1/4 of water, when the water starts boiling add the tomatoes and close the lid. Cook till the outer skin perls off for about 5-6 minutes. Strain the tomatoes in a colander and let it cool. Save the water for pasta sauce
After the tomatoes are cooked peel off the skin and puree the tomato flush into fine paste without adding water, keep aside
Heat oil on a medium heat and add onion, garlic, sauté till the onions are translucent.
Add the tomato puree and cook for 2 minutes. Add tomato paste/ ketchup and cook for 2 minutes. Add 1/2 cup + 1 tablespoon of Tomato cooked water, salt, sugar and Italian seasoning and cook till it thickens and form a sauce like consistency for about 10 minutes. Add heavy cream and cook for a minute; switch off
In a large Saucepan, add water and salt, and let the water come to a boil. Add pasta to boiling water and cook pasta as per the instruction given on the package and drain the pasta in a colander. In a wide bowl transfer the pasta, drizzle little oil to the pasta and mix well to prevent pasta from drying out. Add the creamy tomato sauce, cheese and spring onions; toss well. check for seasoning and add salt/ Italian seasoning if required. Creamy tomato pasta is ready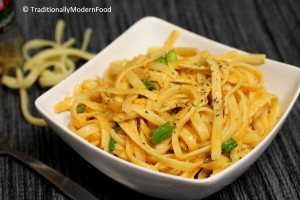 Fettuccine Marinara Sauce | Red Sauce Pasta
Tasty red pasta cooked with rich and creamy marinara sauce, pasta and cheese
Print
Pin
Comment
Ingredients
Pasta - 1 cup + 3/4 cup

Tomatoes - 4

Onion - 1

medium

Spring onion - 2

roughly chopped

Garlic - 3

Tomato paste/Sauce - 1 tbsp

Sugar - 1 tsp

optional

Olive Oil - 1 tbsp

Salt - to taste

Cheese - 3 tablespoon + while serving
Instructions
In a sauce pan on medium heat Boil 1 cup + 1/4 of water, when the water starts boiling add the tomatoes and close the lid. Cook till the outer skin peels off for about 5-6 minutes. Strain the tomatoes in a colander and let it cool. Save the water for pasta sauce

After the tomatoes are cooked peel off the skin and puree the tomato flush into fine paste without adding water, keep aside

Heat oil on a medium heat and add onion, garlic, sauté till the onions are translucent.Add the tomato puree and cook for 2 minutes. Add tomato paste/ ketchup and cook for 2 minutes. Add 1/2 cup + 1 tablespoon of Tomato cooked water, salt, sugar and Italian seasoning and cook till it thickens and form a sauce like consistency for about 10 minutes. Add heavy cream and cook for a minute; switch off

In a large Saucepan, add water and salt, and let the water come to a boil. Add pasta to boiling water and cook pasta as per the instruction given on the package and drain the pasta in a colander. In a wide bowl transfer the pasta, drizzle little oil to the pasta and mix well to prevent pasta from drying out. Add the marinara sauce, cheese and spring onions; toss well. check for seasoning and add salt/ Italian seasoning if required
Notes
Without heavy cream sauce keeps good in refrigerator if stored in a airtight container
Cooked Red bell pepper/ carrot can be added for extra taste and color
Tin/canned tomatoes can be used instead of fresh
Pasta sauce can be made in advance. Before serving heat it, add heavy cream. Toss pasta with sauce and cheese
Tomatoes can also be crushed and cooked instead of grinding
Penne, rotini, bow, shell etc. Can be used instead of Fettuccini