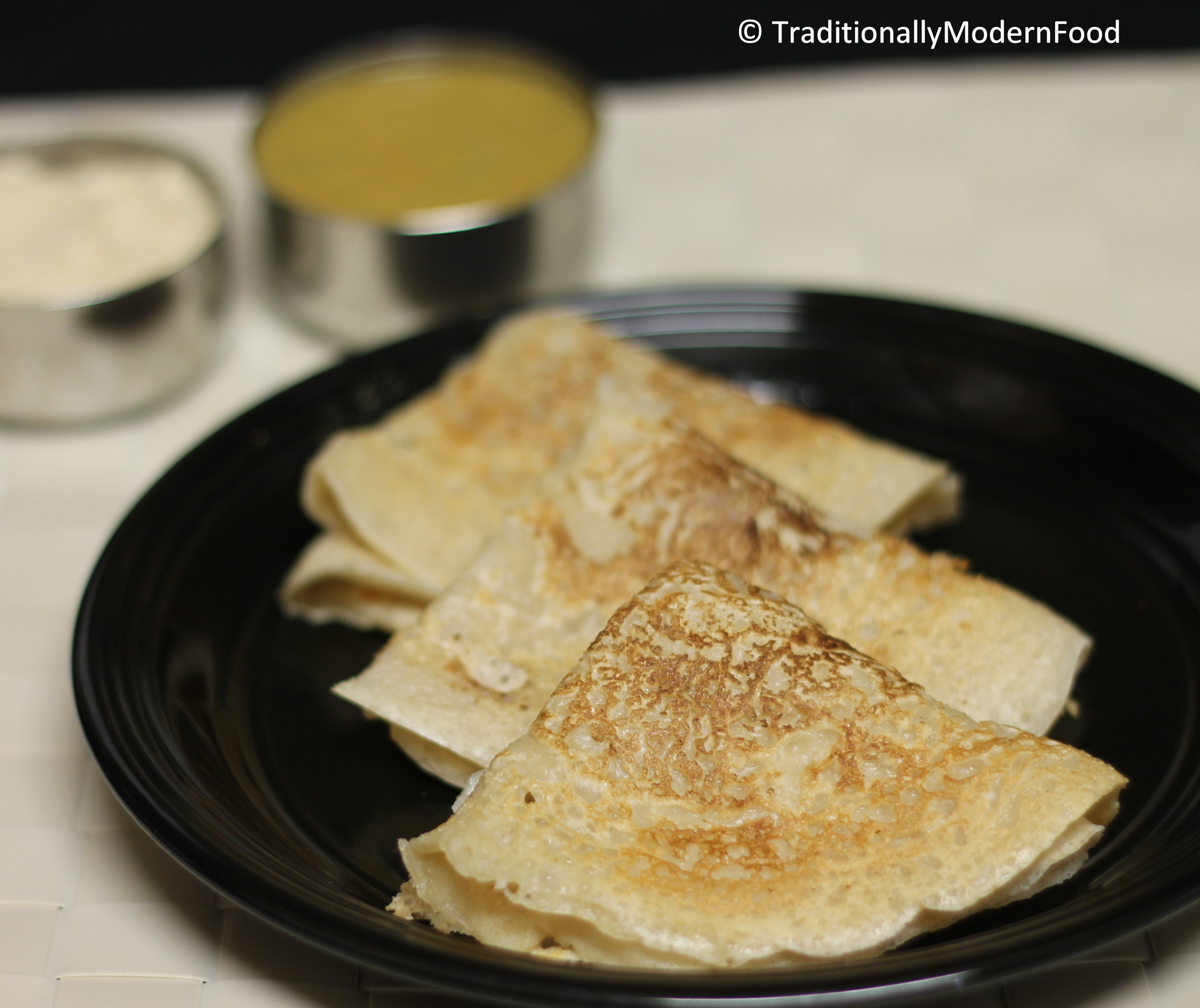 Gothumai dosai is a instant dosai which doesn't require much fermentation. Wheat dosai can be prepared with or without dosa batter. If you want to avoid rice for during night time, wheat dosai is one great option for dinner.
Ever since my childhood, I can't remember a week without Idli/dosai batter, Being a south Indian atleast once or twice a week recipes with it occupy a place in our kitchen. The batter is so handy, with the same batter many varieties of delicious breakfast/tiffin varieties like Idli, dosai, Paniyaram, uthappam, waffle, kunuku, idli upma can be prepared. The usual batter is such a boon in many kitchen, but there are days when we feel like having a dosai/idli without waiting hours to together for fermentation.
Instant gothumai dosai is such a saver during those days. My Amma calls it "Karaithu Vaatha dosai", sorry I couldn't find a exact translation for it. Well in short this is a quick, instant version to satisfy the crêpe desire. When I say quick I really mean it, within just 15 minutes dosai is ready.
Gothumai Dosai is perfect for a busy morning breakfast or night tiffin. If you have time make chutney/sambar/thokku,else have it with milagai podi, anyways it is a winner dish, believe me.
I remember enjoying this dosai for ages, but those are days when my trips to kitchen are just to serve the food. When I got married I knew basic cooking. While travelling overseas my Amma gave me a handwritten book which had all commonly prepared recipes at home. Somehow she missed this tasty yummy dosai and I almost forgot about it.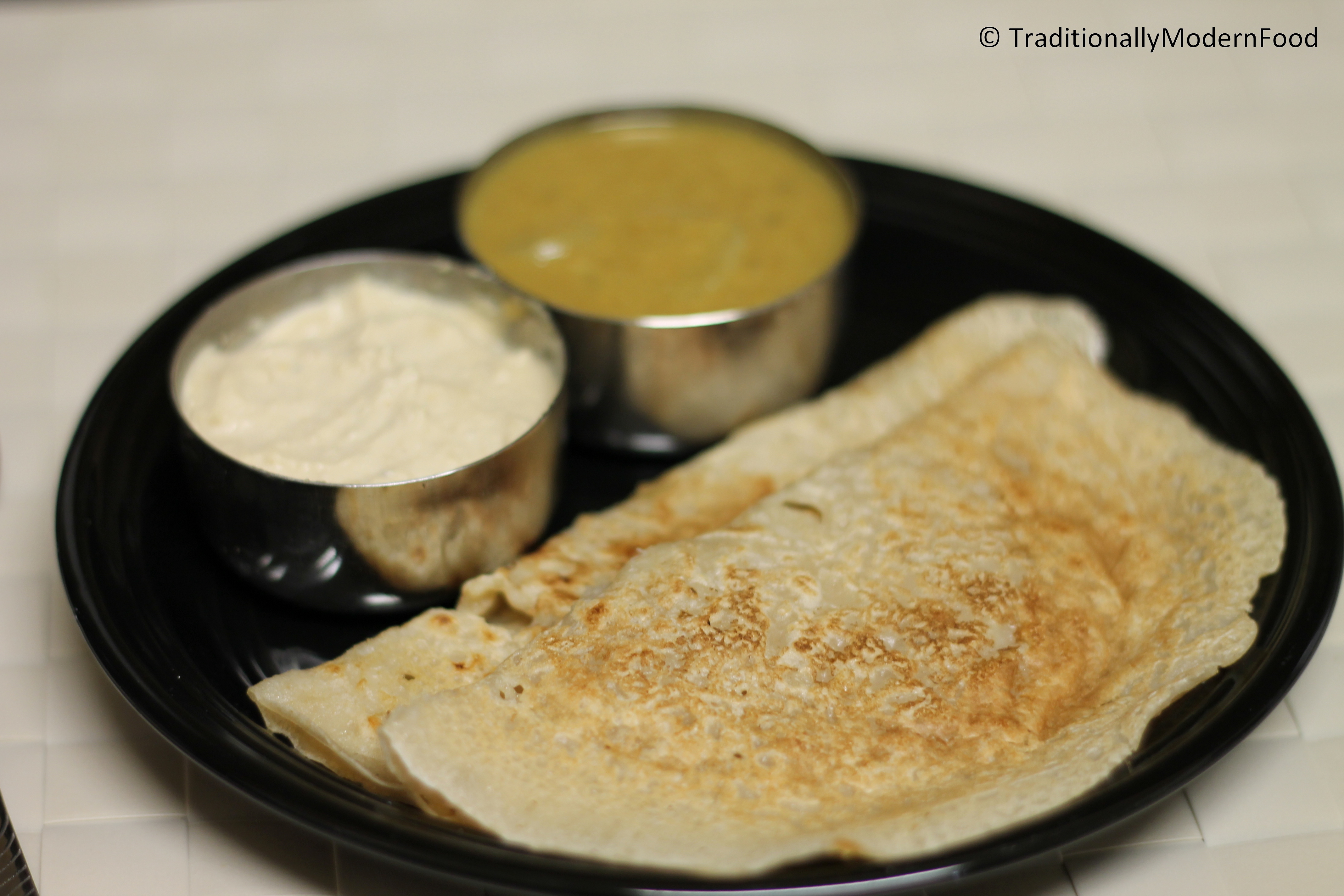 When my Amma came for my delivery she used to cook for us. One day we went out and came home late. In our home most of the days we have chapati for dinner. As it was late that day I asked my Amma to prepare some quick tiffin. Knowing how much my hubby likes dosai, She asked is dosai ok for dinner.
I know we don't have batter in fridge so thought she is preparing Rava dosai. I told my Amma, I don't want rava dosai for dinner. She replied no I thought of preparing gothumai dosai. Oh man how come I forgot that. That day we enjoyed wheat dosai with onion chutney. From that day onwards this dosai is my saver on many days
Recipe with idli / dosa batter in TMF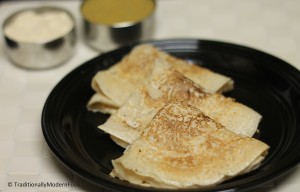 Gothumai Dosa | Instant Whole Wheat Dosa (Crepe)
Quick healthy dosai prepared with wheat flour and rice flour. Perfect for breakfast and dinner
Print
Pin
Comment
Ingredients
Wheat flour - 1/2 cup

Rice flour - 1/4 cup

Maida - 1 tbsp

optional

Onion - 1

medium, finely chopped

Pepper powder - 1/2 tsp

adjust according to your taste

Salt - 1 tsp

Buttermilk - 3 tbsp

Water - Around 1 cup + 3 tbsp

Cumin seeds - 1 tsp

Asofetida - generous pinch
Instructions
In a bowl add all flours and salt; mix well. Add butter milk and water, mix well without lumps. Batter should be thinner than the regular dosai batter consistency

Add all the other ingredients listed except oil and combine well. Keep the batter aside for 10 - 15 minutes

In medium flame, heat a non stick/ iron dosai pan. Check for the batter consistency if it has become thick drizzle 1/2 tablespoon of water

Once the pan becomes hot, take a ladle full of batter and make a outer circle, because the batter is thin it will be spread in the middle. If required fill small portion of batter in between. Drizzle oil and cook on side, after it is cooked carefully flip the other side. Instant wheat dosa is ready, serve it with chutney/sambar/thokku
Notes
If you prefer crispy dosa increase the rice flour proportion. Equal about of wheat flour and rice flour can also be used. Adjust the water accordingly
If you have leftover sour dosa batter add just the wheat flour and make dosa. Rice flour can be skipped in this way
Maida can be avoided in the dosa batter. I have tried godhumai dosai with/without maida
Instant dosai taste great if consumed immediately
Resting the batter for a longtime might change the batter consistency to be thick. Drizzle few tablespoon of water in that case
In low flame dosai can also be cooked for crispy texture
Mustard seeds, urad dal, cumin seeds, green chilli, curry leaves can be tempered and onion can be sautéd and added to the batter. My mom does this way. I am bit sluggish so I avoid that step
Onion can be skipped and no onion version dosai can also be prepared
Usually finely chopped green chilli and ginger are added, as I give this dosai to my toddler I add pepper powder instead
took 1 tablespoon and 1 teaspoon of thick curd and added 3 tablespoon of water for buttermilk. You can also use store stroufht buttermilk
Ingredients:
Wheat flour - 1/2 cup
Rice flour - 1/4 cup
Maida - 1 tablespoon (optional)
Onion - 1, medium, finely chopped
Pepper powder - 1/2 tsp, adjust according to your taste
Salt - 1 tsp
Buttermilk - 3 tbsp
Water - Around 1 cup + 3 tbsp
Cumin seeds - 1 tsp
Asofetida - generous pinch
Method:
In a bowl add all flours and salt; mix well. Add butter milk and water, mix well without lumps. Batter should be thinner than the regular dosa batter consistency
Add all the other ingredients listed except oil and combine well. Keep the batter aside for 10 - 15 minutes
In medium flame, heat a non stick/ iron dosai pan. Check for the batter consistency, and if it has become thick, drizzle 1/2 tablespoon of water
Once the pan becomes hot, take a ladle full of batter and make outer circle, because the batter is thin it will be spread in the middle. If required fill small portion of batter in between. Drizzle oil and cook on side, after it is cooked carefully flip the other side. Instant wheat dosa is ready, serve it with chutney/sambar/thokku
For regular recipe updates pls follow TMF social media,
Facebook | Instagram | Youtube | Pinterest | Twitter