Rose milk Mousse recipe | Rose Mousse | Eggless Rose mousse | White chocolate mousse with rose and pistachio | Rose milk fool | Rose cream | Rose mousse without gelatin | rose milk recipe |easy dessert | Eggless desserts Check out the Rose milk mousse video and If you like the video pls SUBSCRIBE to my channel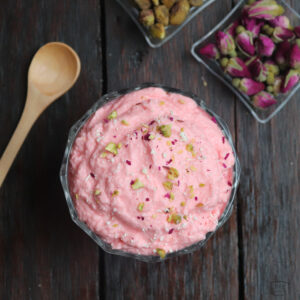 Rose milk Mousse is a rich and creamy 6 - ingredients dessert. Best way to finish leftover heavy cream frosting. Preparation is super easy, it takes less than 10 minutes to make this delicious mousse. It is a tasty make-ahead party dessert for dinner parties, girl baby showers, after-school snacks, etc.
Jump to:
Can I prepare fresh frosting for this dessert?
Yes, you can make fresh cream frosting and prepare the mousse. Since I had leftover frosting I used it. You can use leftover frosting straight from the fridge. Make sure the leftover frosting is not spoiled.
Rose milk-based dessert
I am a big fan of rose milk flavor so I used my leftover frosting to prepare rose milk pudding. You can follow the recipe and prepare mousse with any flavors of your choice.

CAN I SKIP THE PUDDING MIX?
if you prefer rose milk cream | or rose cream you can skip pudding mix. for a smooth mousse texture, I would recommend pudding mix. Without that rose milk cream tastes yum but the texture might slightly vary.
ANY SUBSTITUTE FOR VANILLA PUDDING MIX?
You can use white chocolate pudding mix or any pudding flavor that goes well with rose flavor. If you don't have pudding mix, use little cornflour.
STIFF OR SOFT PEAKS?
rose mousse or rose milk cream depends on the heavy cream frosting texture
Stiff peaks- mousse
Soft peaks - cream
For the rose milk pudding video recipe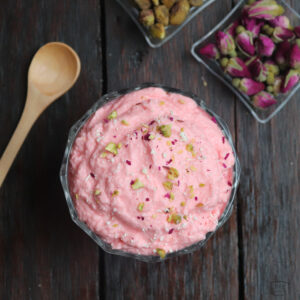 Ingredients
Frosting
1

cup

heavy cream

chilled

1/3

cup

powdered sugar

1/4

teaspoon

vanilla extract
Rose mousse
2

tablespoon

white chocolate chips

grated

1

teaspoon

vanilla pudding mix

2

tablespoon

rose syrup
Topping
Grated white chocolate

crushed rose petals

chopped pistachio
Instructions
Vanilla whipping cream frosting
Firstly Whisk the cream till you see white peaks

Add vanilla pudding mix and powdered sugar; mix well
Rose milk mousse
Add grated white chocolate , rose syrup, and pudding mix

mix gently till everything is combined
topping
Add grated chocolate , crushed rose, and chopped pistachio; serve immediately or chilled
Video
Notes
Yes, you can make fresh cream frosting and prepare the mousse. Since I had leftover frosting I used it. You can use leftover frosting straight from the fridge. Make sure the leftover frosting is not spoiled
if you prefer rose milk cream | or rose cream you can skip pudding mix. for a smooth rose milk mousse texture, I would recommend pudding mix. Without that rose milk cream tastes yum but the texture might slightly vary.
You can use white chocolate pudding mix or any pudding flavor that goes well with rose flavor. If you don't have pudding mix, use little cornflour.
rose  mousse or rose milk cream depends on the heavy cream frosting texture
Stiff peaks- mousse 
Soft peaks - cream
Ingredients
Frosting
1 cup heavy cream, chilled
1/3 cup powdered sugar
1/4 teaspoon vanilla extract
Rose mousse
2 tablespoon white chocolate chips, grated
1 teaspoon vanilla pudding mix
2 tablespoon rose syrup
Topping
Grated white chocolate
crushed rose petals
chopped pistachio

How to make Rose milk pudding with step-by-step pictures
Vanilla whipping cream frosting
Firstly Whisk the cream till you see white peaks

Add vanilla pudding mix and powdered sugar; mix well
mousse
Add grated white chocolate, rose syrup, and pudding mix
mix gently till everything is combined
topping
Add grated chocolate, crushed rose, and chopped pistachio; serve immediately or chilled