Bombay sambar | Kaiyendhi bhavan Sambar | quick Tiffin sambar with chickpea flour| idli sambar | road kadai tiffin sambar | avasara sambar | road style sambar | manjal sambar | tiffin sambhar | kadalai maavu sambar | instant besan sambar | instant sambar without dal | quick tiffin sambar | sambar for idli and dosai | sambar for pongal | kadala mavu sambhar | mixed vegetable sambar, south Indian sambar recipe, vegetable sambar step-by-step pictures, and video recipe. Check out the bombay sambar recipe if you like the video pls SUBSCRIBE to my channel. Check out other Sambar recipes in TMF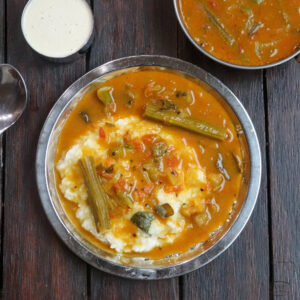 WHAT IS TIFFIN

SAMBAR | besan sambar?
Sambar is one of the most popular traditional south Indian dishes. No dal no tamarind sambar.
Jump to:
WHAT TASTES BEST WITH kadala maavu SAMBHAR?
Sambhar plays a key role in South Indian cuisine. This particular road Kadai style thanni sambar is a tasty side dish for south Indian varieties like Idli, Dosa, Pongal, and poori. It also tastes good with rice.
HOW MUCH WATER SHOULD I ADD for thanni sambhar?
It depends on your preferred sambar consistency. Add 4 cups of water for 2 tablespoon of besan flour. Adjust the extra water according to your preference
HOW MUCH SAMBAR POWDER SHOULD I USE for Bombay sambhar?
For hotel sambar, I prefer using chilli powder for color and sambhar powder for flavor. Adjust the amount according to your preference.
WHAT KIND OF VEGETABLES CAN I USE?
Drumstick, capsicum, and brinjal taste best for road Kadai sambar. You can also use Yellow pumpkin, carrot, potato, sweet potato, etc. for sambhar.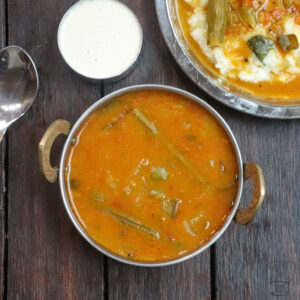 SHOULD I ADD BOTH VARIETIES OF ONIONS?
Yes, both add a tasty flavor to the sambhar with kadalai maavu. Always cut the big onion into thin slices https://youtube.com/playlist?list=PL3zYDDQHDMSv97oLgWERm5k43BRbIuPEi
CAN I REDUCE TOMATOES?
Tomatoes give a good taste to the restaurant sambar so prefer adding more tomatoes. I prefer this sambar without tamarind. if you prefer adding tamarind reduce tomatoes accordingly.
SHOULD I ADD THE GHEE TEMPERING?
I generally use coconut oil for tempering and use little ghee towards the end. In our home, we prefer adding ghee while eating Pongal, etc. You can use ghee according to your choice
WHAT SHOULD BE THE CONSISTENCY OF THE SAMBHAR?
I prefer watery tiffin sambar. if you prefer thick sambar adjust the water accordingly
Can I prepare besan slurry and prepare sambar?
I prefer sauteeing besan then add hot water and prepare sambar as it helps for the flavor and easy lump-free mixing. you can also prepare slurry and boil sambar
Shelf life of sambar
Since we don't add dal. Sambar stays good for a longer time. stays good for 2 days at room temperature.
Can I add extra besan if sambar is too watery?
If you add besan after boiling sambar it will taste raw. Add boiled potatoes to thicken the sambar. 
For the Bombay sambar video recipe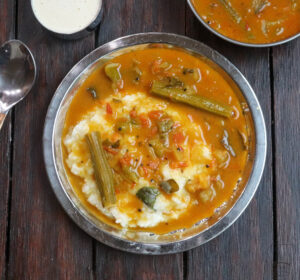 Other Sambar varieties in TMF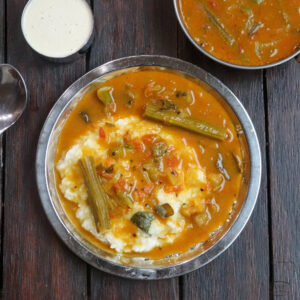 Ingredients
1

tablespoon

+ 1 teaspoon Coconut oil

1

teaspoon

sesame oil

1/2

teaspoon

mustard seeds

1

big onion

thinly sliced

10

small onion

few curry leaves

1/4

cup

capsicum

diced

5

drumstick pieces

2

brinjal

4

big tomatoes

finely chopped

1/2

teaspoon

turmeric powder

required salt

1

teaspoon

sambar powder

1/4

teaspoon

chilli powder

2

tablespoon

besan flour

4

cups

hot water + extra as needed

coriander leaves few

Asafoetida generous portion

jaggery few

1

teaspoon

ghee
Instructions
Firstly add 1 tablespoon of coconut oil and 1 teaspoon of sesame oil to a wide heavy-bottomed pan

Turn on the stove to medium flame and when the oil turns hot, add mustard seeds; let them splutter

Add onion, small onions, and curry leaves; mix well and saute till onion start to change color

Furthermore, add capsicum and saute till the raw smell goes off and the onion changes color

Add drumstick and mix well

Furthermore, add tomatoes and give a quick mix

Add brinjal; mix well and saute for 2 minutes

Furthermore, add turmeric powder and salt; mix well and saute till tomatoes turn mushy

Add green chilli, sambar powder, chilli powder; give a quick mix

Furthermore, add besan flour and mix well for 1 minute

Add 1 teaspoon of coconut oil; mix well and saute for 2-3 minutes on low flame. till raw smell goes off

Furthermore,  2 cups of hot water; mix well to make sure it is lump-free

Add 2 more cups of water; mix well and cook for 5 minutes

Furthermore, add coriander leaves, asafoetida, and jaggery; mix well

Add extra water according to your preferred sambar consistency; boil for 15 mins or until the raw smell goes off

Finally, add 1 teaspoon of ghee; mix well and turn off the stove
Video
Notes
The amount of water depends on your preferred sambar consistency. Add 4 cups of water for 2 tablespoon of besan flour. Adjust the extra water according to your preference
For hotel sambar, I prefer using chilli powder for color and sambhar powder for flavor. Adjust the amount of spice powders according to your preference
Drumstick, capsicum, and brinjal taste best for road Kadai sambar. You can also use Yellow pumpkin, carrot, potato, sweet potato, etc.
Both small onion and big onion add a tasty flavor to the sambhar so I would recommend using both
Tomatoes give a good taste to the road Kadai sambar so prefer adding more tomatoes.  I prefer this sambar without tamarind. if you prefer to use adding tamarind reduce tomatoes accordingly
I generally use coconut oil for tempering and use little ghee towards the end. You can use ghee according to your choice
I prefer watery tiffin sambar. if you prefer thick sambar adjust the water accordingly
I prefer sauteeing besan then add hot water and prepare sambar as it helps for the flavor and easy lump-free mixing. you can also prepare besan slurry and boil sambar
Since we don't add dal. Sambar stays good for a longer time. stays good for 2 days at room temperature
You can add boiled potatoes to thicken the sambar
Ingredients
1 tablespoon + 1 teaspoon Coconut oil
1 teaspoon sesame oil
1/2 teaspoon mustard seeds
1 big onion, thinly sliced
10 small onion
few curry leaves
1/4 cup capsicum, diced
5 drumstick pieces
2 brinjal
4 big tomatoes, finely chopped
1/2 teaspoon turmeric powder
required salt
1 teaspoon sambar powder
1/4 teaspoon chilli powder
2 tablespoon besan flour
4 cups hot water + extra as needed
coriander leaves few
Asafoetida generous portion
jaggery few
1 teaspoon ghee
How to make Bombar sambar with step-by-step pictures
Firstly add 1 tablespoon of coconut oil and 1 teaspoon of sesame oil to a wide heavy-bottomed pan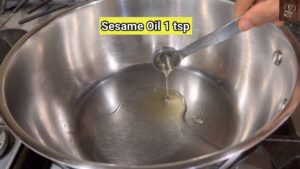 Turn on the stove to medium flame and when the oil turns hot, add mustard seeds; let them splutter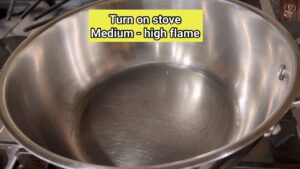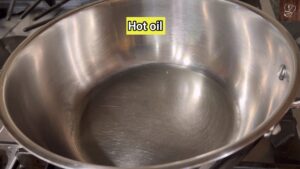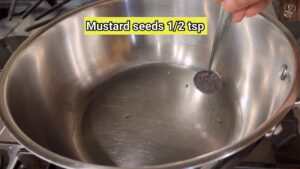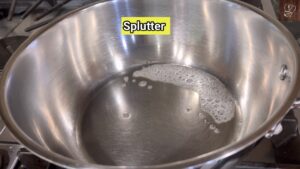 Add onion, small onions, and curry leaves; mix well and saute till onion start to change color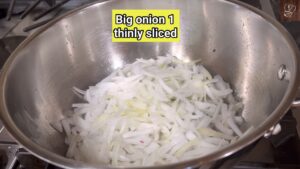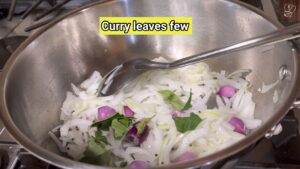 Furthermore, add capsicum and saute till the raw smell goes off and the onion changes color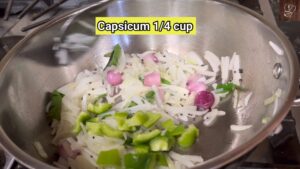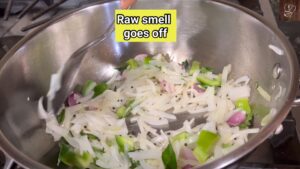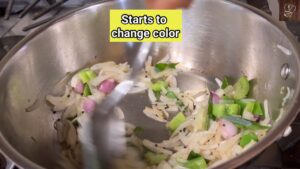 Add drumstick and mix well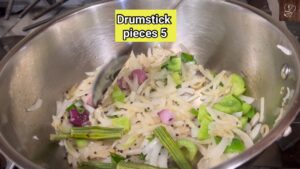 Furthermore, add tomatoes and give a quick mix
Add brinjal; mix well and saute for 2 minutes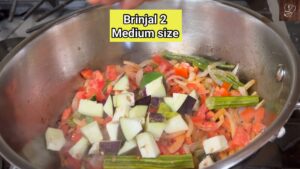 Furthermore, add turmeric powder and salt; mix well and saute till tomatoes turn mushy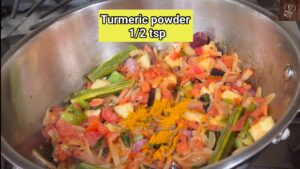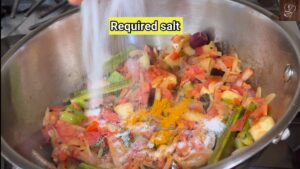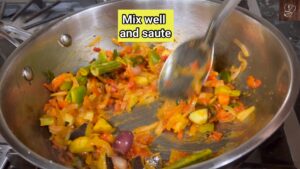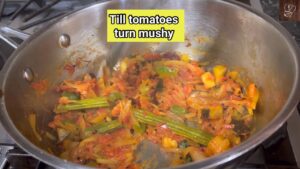 Add green chilli, sambar powder, chilli powder; give a quick mix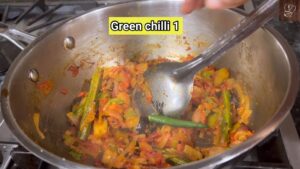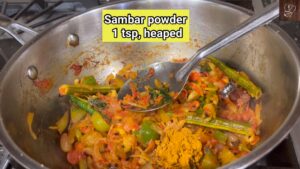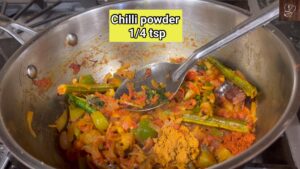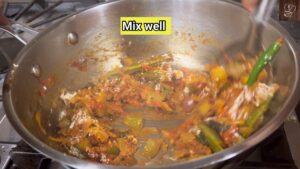 Furthermore, add besan flour and mix well for 1 minute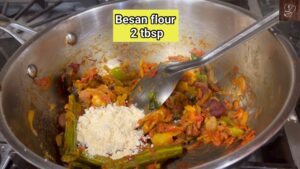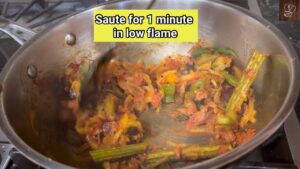 Add 1 teaspoon of coconut oil; mix well and saute for 2-3 minutes on low flame. till raw smell goes off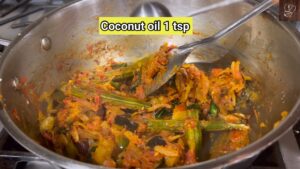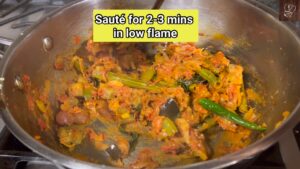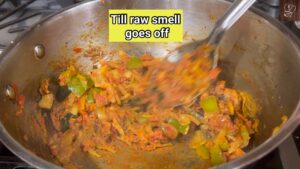 Furthermore, 2 cups of hot water; mix well to make sure it is lump-free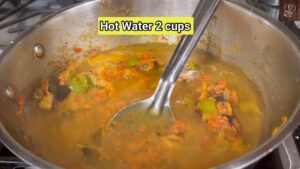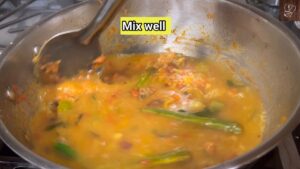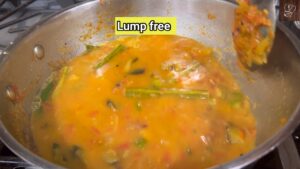 Add 2 more cups of water; mix well and cook for 5 minutes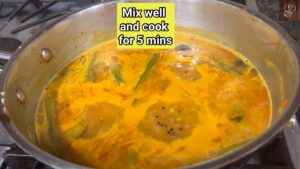 Furthermore, add coriander leaves, asafoetida, and jaggery; mix well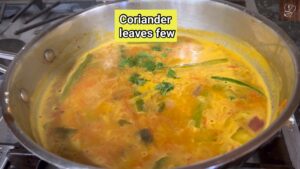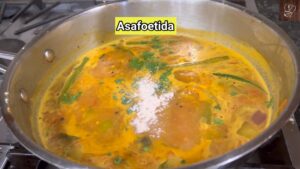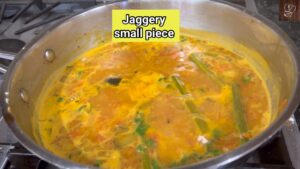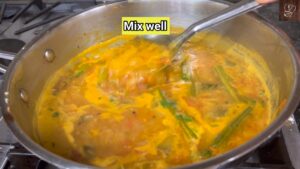 Add extra water according to your preferred sambar consistency; boil for 15 mins or until the raw smell goes off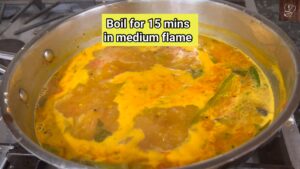 Finally, add 1 teaspoon of ghee; mix well and turn off the stove