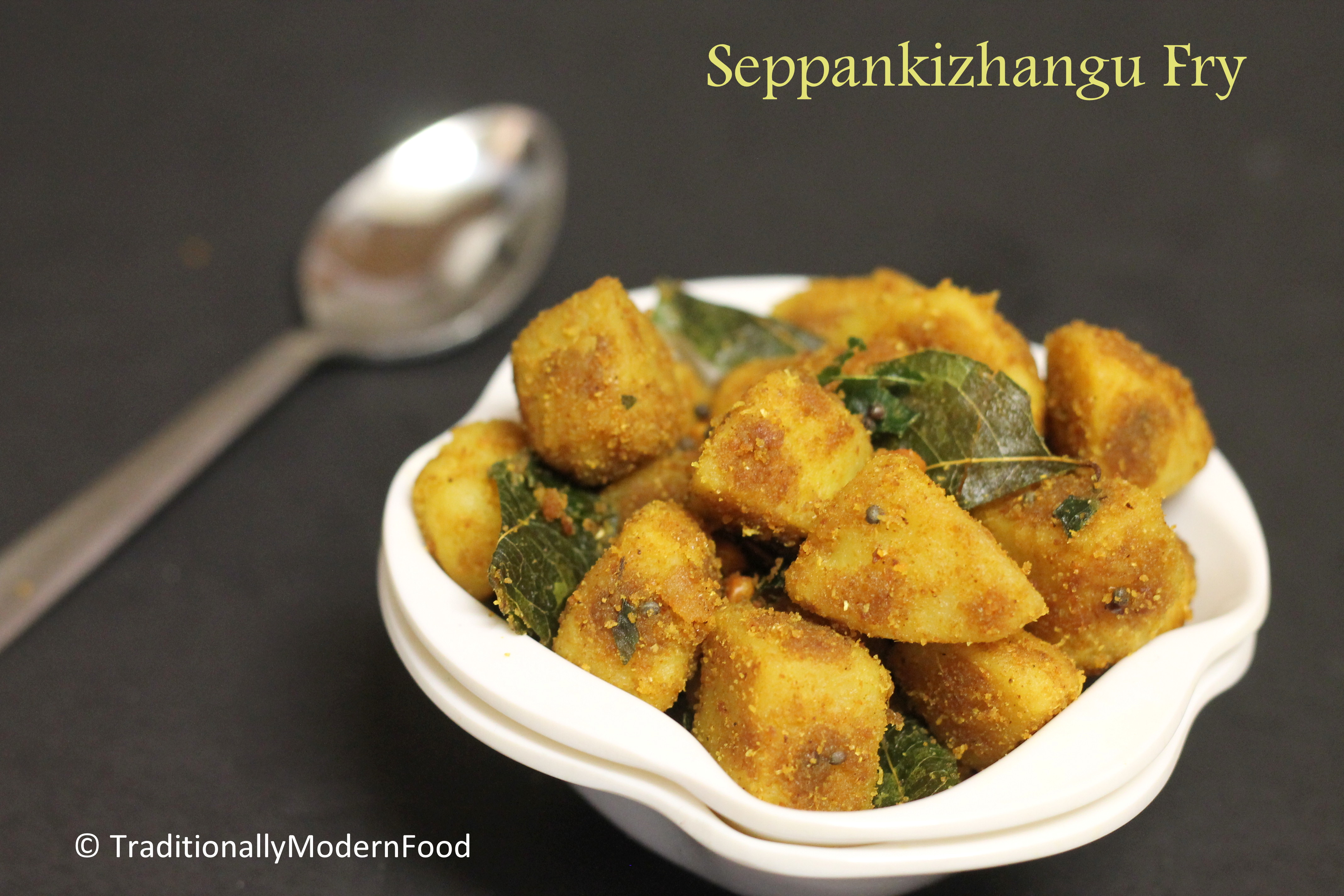 Seppankizhangu Fry Is a tasty South Indian style. Curry taste good with variety rice/ Sambar/rasam/Kuzhambu etc.
Sepppankizhangu is my all time favorite vegetable, during my childhood days if I see varuval like Arbi, Potato, Vazhakkai in my lunch box, I will be super excited.Seppankizhangu Fry make any maincourse extra special, whether it is a variety rice, rasam, kuzhambu or even a curd rice.
All through my life I have just enjoyed eating it, couple of years back I tried cooking Arbi for the first time and it was super duper flop show.Seppankizhangu Fry become mushy, I myself couldn't consider it has fry. After that whenever I go to Indian store I will be tempted to buy but convince myself telling "Sepppankizhangu is here is not as good as the ones we get in India";-)
My mother came for my delivery and one day while seeing Arbi in the grocery store she asked me shal we buy it, as we knows how much I was addicted for it. I told it won't be the same consistency like you cook in India. She told lets buy, I will try.
That week my mother cooked it, after ages I enjoyed seppankizhangu Fry in that way. Next week my hubby went for grocery shopping with the list I gave him, after seeing a Sepppankizhangu, the veggies I didn't write in the list. I understood how desparetly he wanted to eat a non -mushy seppankizhangu varuval.
I saw the way my mother cooked and understood the tactics from that day onwards I stopped complaining the vegetable quality, well how can I tell I don't know cooking in my blog;-) shhhhhh it is a secret!!!!!
P.S: I cooked and took these picture;-)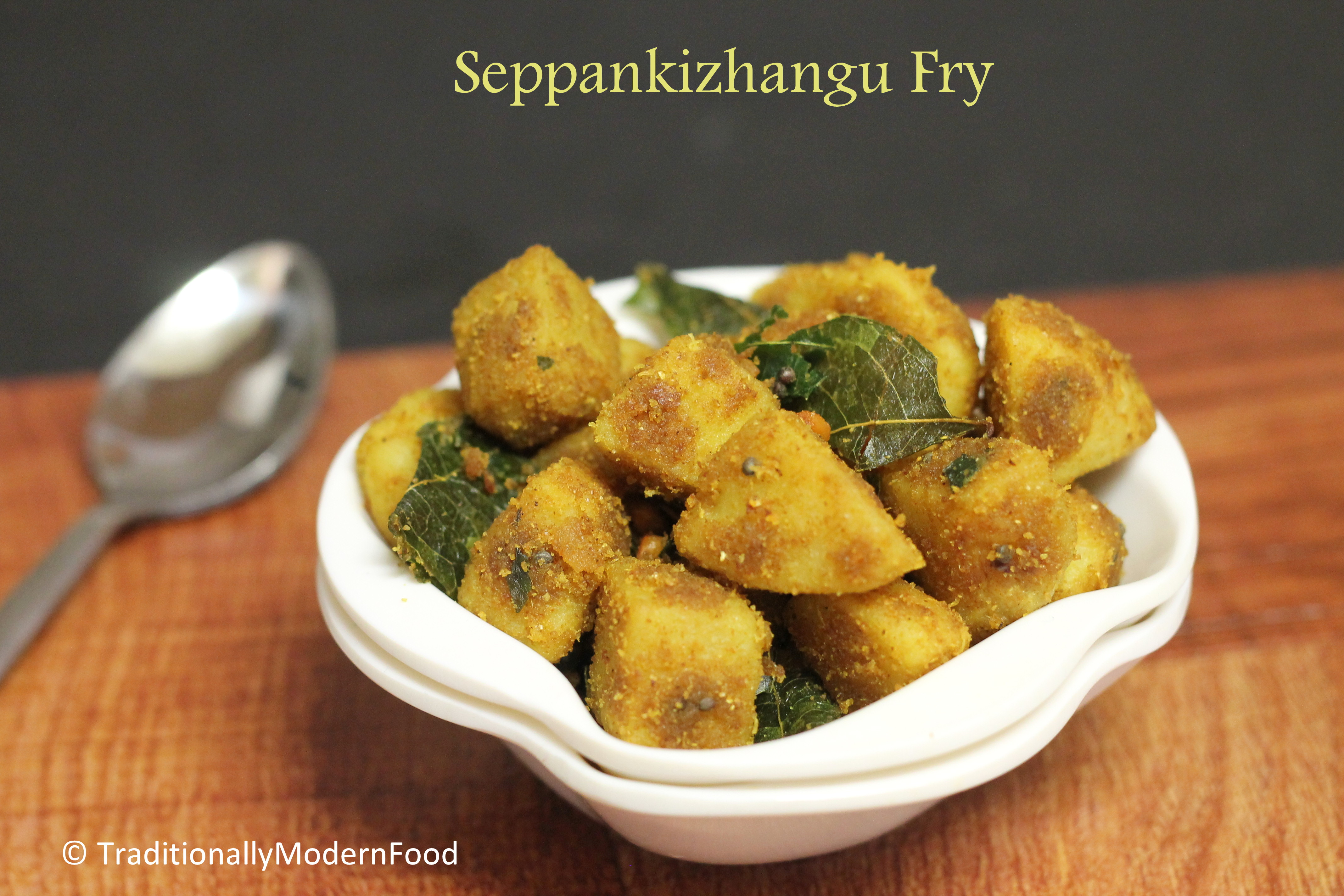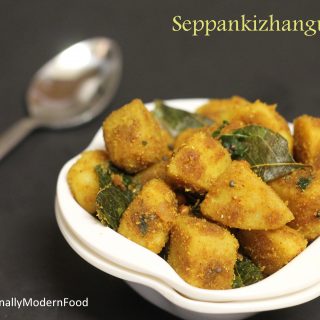 Seppakizhangu Varuval / Colocasia Curry/ Arbi Fry
Crispy dry Seppankizhangu curry with less oil
Print
Pin
Comment
Ingredients
Seppankizhangu/Arbi/ Colocasia - 400 grams

Turmeric powder - 1/8 tsp

Sambar powder/ chilli powder - 1 tsp

Coriander Powder - 1 tsp

Cumin powder -1/2 tsp

Besan flour - 1 tbsp

To Temper:

Oil - 2 tbsp

Mustard seed - 1/8 tsp

Channal Dal - 1/4 tsp

Curry leaves - few

Asafetida - generous pinch
Instructions
Wash Seppankizhangu well to remove any mud particles and pressure cook it with required water for one whistle, switch off. Arbi should be soft, not mushy

After the pressure releases naturally transfer it into a colander and rinse it in cold water. Peel the skin and cut into small pieces

Transfer the arbi into a box and refrigerate for at least 20 minutes. Take it out and spread in a towel and leave in room temperature for atleast 30 minutes. This helps in removing excess moisture in it

Add oil to the pan, once when the oil becomes hot add the items under "to temper" and cook till the mustard seed splutters. Add the chilled Arbi and sauté for a minute
Add all the powders and salt and cook in low - medium flame ( I keep my induction around 4) till the powder are coated to the Seppankizhangu for about 7 - 10 minutes, stirring occasionally to make it cook evenly all sides

Add besan flour and cook for another 5- 8 minutes or till its crispy outside and soft inside. Yummy Arbi fry is ready
Notes
1. Arbi can also be microwaved for 12- 15 minutes taking it out every 2 minutes and stir it. Time vary depending upon the powder of microwave. Microwave won't give the same texture
2. I used non stick pan, if you are using iron use extra oil
3. Spice,oil and seasoning can be combined with Seppankizhangu and marinated for 30 minutes in refrigerator and sautéd
4. Rice flour can be used instead of besan flour
5. Dry Arbi properly to avoid them from sticking to one another
6. Arbi can also be kept overnight in fridge
Ingredients:
Seppankizhangu/Arbi/ Colocasia – 400 grams
Turmeric powder – 1/8 tsp
Sambar powder/ chilli powder – 1 tsp
Coriander Powder – 1 tsp
Cumin powder -1/2 tsp
Besan flour – 1 tbsp
To Temper:
Oil – 2 tbsp
Mustard seed – 1/8 tsp
Channal Dal – 1/4 tsp
Curry leaves – few
Asafetida – generous pinch
Method:
Wash Seppankizhangu well to remove any mud particles and pressure cook it with required water for one whistle, switch off. Arbi should be soft, not mushy
After the pressure releases naturally transfer it into a colander and rinse it in cold water. Peel the skin and cut into small pieces
Transfer the arbi into a box and refrigerate for at least 20 minutes. Take out and spread in a towel and leave in room temperature for atleast 30 minutes. This helps in removing excess moisture in it
Add oil to the pan, once when the oil becomes hot add the items under "to temper" and cook till the mustard seed splutters. Add the chilled Arbi and sauté for a minute

Add all the powders and salt and cook in low – medium flame ( I keep my induction around 4) till the powder are coated to the Seppankizhangu for about 7 – 10 minutes, stirring occasionally to make it cook evenly all sides
Add besan flour and cook for another 5- 8 minutes or till its crispy outside and soft inside. Yummy Arbi fry is ready