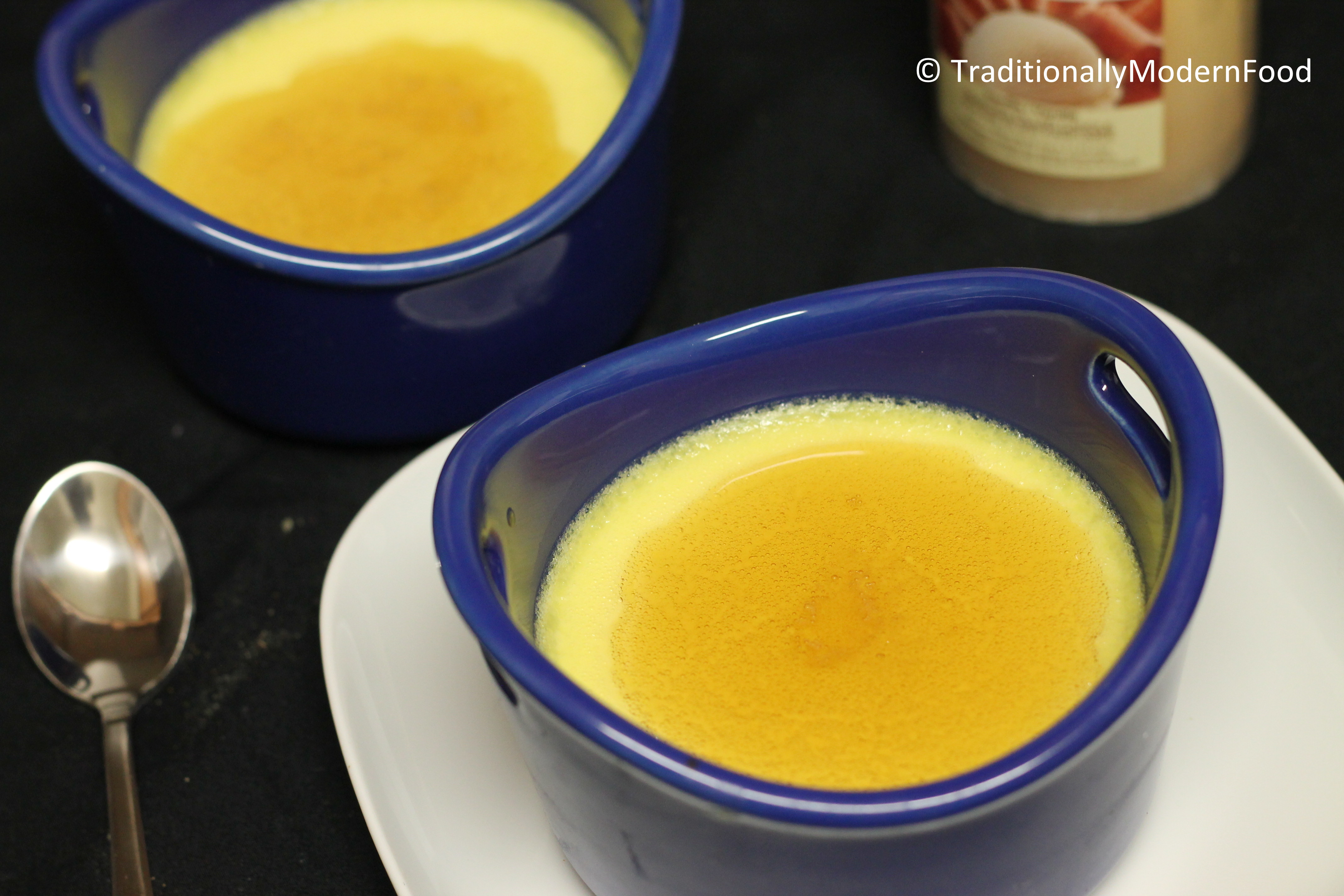 Creme Caramel is a tasty pudding prepared with custard and caramel. Baked pudding makes a great party dessert.
Sometimes bloopers in kitchen become big hit, this is one such recipe. It all started because of my love for Crème Brûlée, french dessert. I envy food network for tempting me with many delicious recipes, this is one such deliciously evil indulgence. After watching it in TV I was so tempted to try at home. I ended up with this custard pudding, creme caramel.
I don't have torch at home, I thought buying it for this dessert is waste of money. I compromised myself telling its loaded with heavy cream and egg, rich in fat not good for health and my brûlée attempt was halted temporarily.
I went to Sam's club and there they gave Crème Brûlée sample, after tasting it again my heart started melting for it. My hubby told buy a pack if you want, but I thought it is better if I make a small portion for us instead of buying from Sam's, and he acknowledged.
We came home and my saver Google showed Alton's Crème Brûlée recipe. Alton is my favorite chef, I love his "Cutthroat kitchen". I prepared the dessert and refrigerated, initially I thought will broil the sugar syrup and enjoy the dessert.
My hubby sneak peeked into the kitchen and tasted a spoon of creme caramel and told he loved it. I said 5 minutes. He thought I am going to give him in 5 minutes, but I quickly prepared sugar syrup and turned my oven. He give me a plain look, I know the meaning of it 🙂 I decided to serve it as such, since it was not burnt the dessert couldn't justify its name. I was totally confused to name the dish, Crème pudding, custard was in my mind, Google showed me Crème caramel in related link so I decided to give that name for this dish.
I told you eat now I will take pictures next day for my blog post and eat. My sweet tooth couldn't justify my statement I attacked his portion and decided anyways I am not great in good photography but I don't want to miss this from posting because of poor-lighting pictures.
I took quick picture and finished the dessert. Well it all happened 4 months back, yesterday I saw Crème Brûlée recipe in a food group and immediately started drafting this post. If you don't eat eggs try similar Italian dessert without eggs, Panna Cotta
Checkout other pudding varieties in TMF,
Mango chai pudding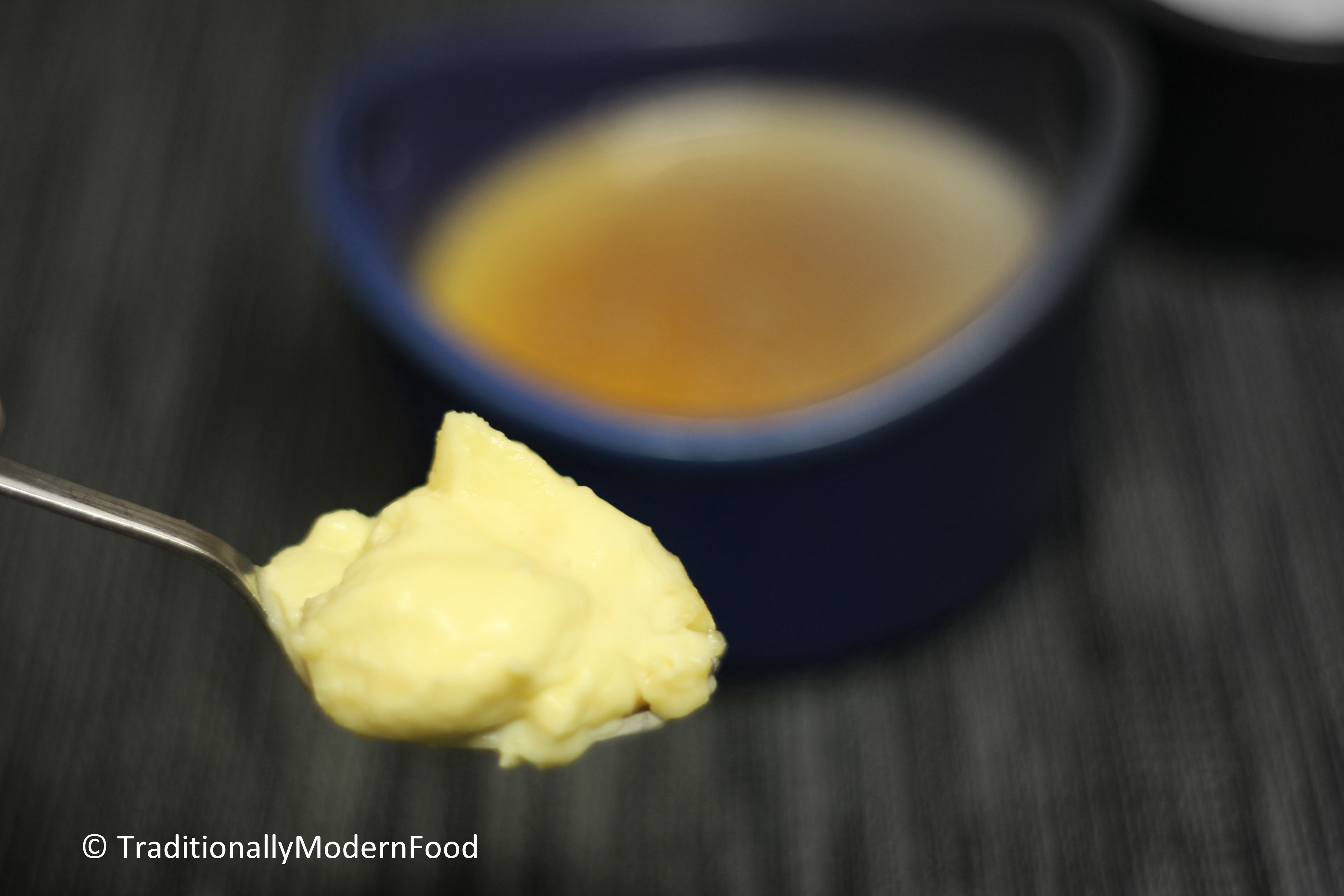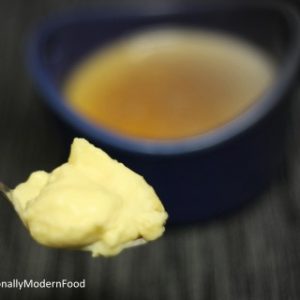 Crème Caramel / Cream Pudding / Custard Pudding
Preparation Time : 15 minutes Cooking time : 1 hour Refrigerating time : 3 hours minimum
Print
Pin
Comment
Ingredients
Heavy Cream - 2 cup

Vanilla extract - 1/4 tsp

Sugar - 1/2 cup

Adjust according to your sweetness

Egg yolk - 3 large egg

Hot water - 4 cups

Salt - Pinch
Instructions
Preheat the oven to 325 degrees Fahrenheit

In a sauce pan, on low- medium heat cook heavy cream and bring it boil. Switch off and let it cool for 15 minutes

In a wide bowl add egg yolk (separate the whites and discard, or use for some other purpose), vanilla extract, salt and 1/4 cup of sugar; whisk until it turns pale (lighten)

Add the room temperature heavy cream in small portions; stirring continuously

Pour the liquid (3/4 th quantity) into individual serving ramekins (bowl)

Take a large cake pan or roasting pan and fill it with hot water upto halfway up the sides of the pudding (Crème) ramekins. Place the ramekins into the pan and carefully place it into the preheated oven without any spilling

Bake for around 40 - 45 minutes till the pudding is set but center is bit trembling. Water in the cake pan will be piping hot so carefully rice the pan from the oven and gently take the pudding ramekins

Cool down and Refrigerate in fridge for at least 3 hours (I kept it for 7 hours)

Add 1 tablespoon of water and remiaing sugar, prepare a thick caramel and pour it over the pudfing. Allow the creme brulee to sit for at least 5 minutes before serving
Notes
Vanilla bean can be used instead of vanilla extract
Almond, rose any other extract can be used for flavouring
Vanilla sugar, dates sugar or any other sugar can be used for sweetness
Cool heavy cream before adding egg yolk to avoid curdling
Flavours like coffee, tea, orange, lemon, berry etc. Can be added
Sprinkle sugar and broil the pudding for 6-10 minutes, watching carefully for Crème Brûlée instead of Crème caramel
Sprinkle sugar and torch can also be used
Preparation Time : 15 minutes
Cooking time : 1 hour
Refrigerating time : 3 hours minimum
Ingredients
Heavy Cream - 2 cup
Vanilla extract - 1/4 tsp
Sugar - 1/2 cup (Adjust according to your sweetness)
Egg yolk - 3 large egg
Hot water - 4 cups
Salt - Pinch
Method:
Preheat the oven to 325 degrees Fahrenheit
In a sauce pan, on low- medium heat cook heavy cream and bring it boil. Switch off and let it cool for 15 minutes
In a wide bowl add egg yolk (separate the whites and discard, or use for some other purpose), vanilla extract, salt and 1/4 cup of sugar; whisk until it turns pale (lighten)
Add the room temperature heavy cream in small portions; stirring continuously

Pour the liquid (3/4 th quantity) into individual serving ramekins (bowl)
Take a large cake pan or roasting pan and fill it with hot water upto halfway up the sides of the pudding (Crème) ramekins. Place the ramekins into the pan and carefully place it into the preheated oven without any spilling
Bake for around 40 - 45 minutes till the pudding is set but center is bit trembling. Water in the cake pan will be piping hot so carefully rice the pan from the oven and gently take the pudding ramekins
Cool down and Refrigerate in fridge for at least 3 hours (I kept it for 7 hours)
Add 1 tablespoon of water and remiaing sugar, prepare a thick caramel and pour it over the pudfing. Allow the creme brulee to sit for at least 5 minutes before serving