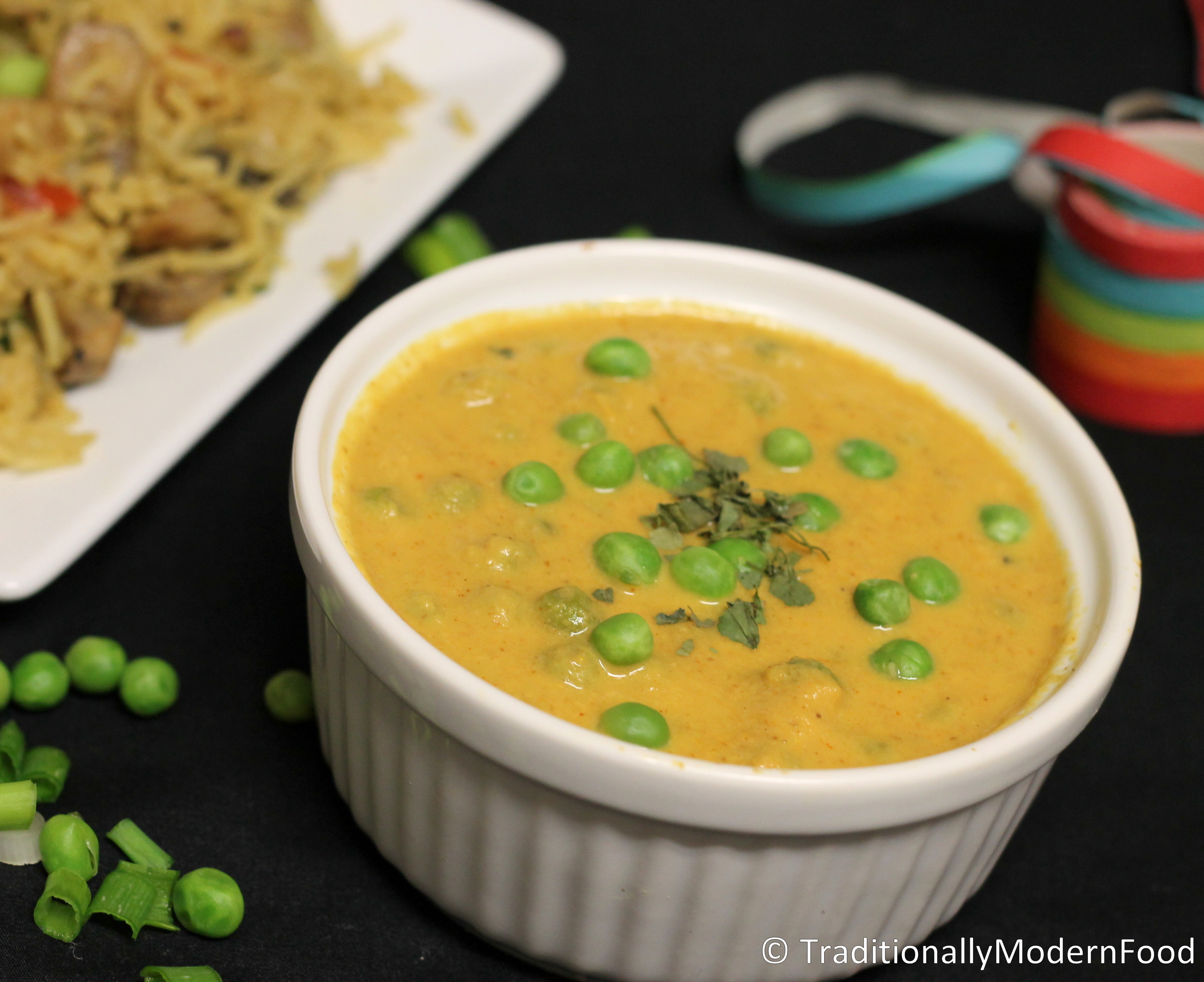 Green peas gravy prepared with onion -tomato based gravy. Walnut not only gives a nutty flavor but also some healthy aspects to this peas masala.
It has been a while since I posted a gravy for roti/ variety rice. Today I was searching my draft for gravy recipes, out of 3 gravy this peas gravy pulled my attention for no reason.
Green Peas is one fancy Ingredient which makes any dish extra special. Usually I add it in conjunction with a main ingredient, and prepare gravies like Aloo Matar, Mushroom peas masala, cauliflower peas gravy. Couple of months back we went to an Indian restaurant for lunch buffet, I liked peas Masala in the menu and thought of trying a restaurant style Matar gravy.
I could taste the richness while having the gravy, guessed cashews played the game well. I love cashew but I was slightly concerned about using it in abundance. Poppy seeds, roasted channa Dal, coconut, nuts came to my mind but walnut in my pantry was the winner, to add some good cholesterol into our every day diet.
In many of my recipes I prefer boiling onion and tomato; grinding it for gravy but after a while tried sauteing them, and it resulted in a different taste complimenting the gravy. For the first time kasuri meethi played a role in my kitchen and we absolutely loved the magic touch it gave. Yet another special ingredient in this gravy is evaporated milk, I have read it is a healthier substitute for heavy cream but never used before. After tasting the gravy I decided to use it regularly.
Do you love peas and looking for interesting recipes with it, checkout my peas recipes.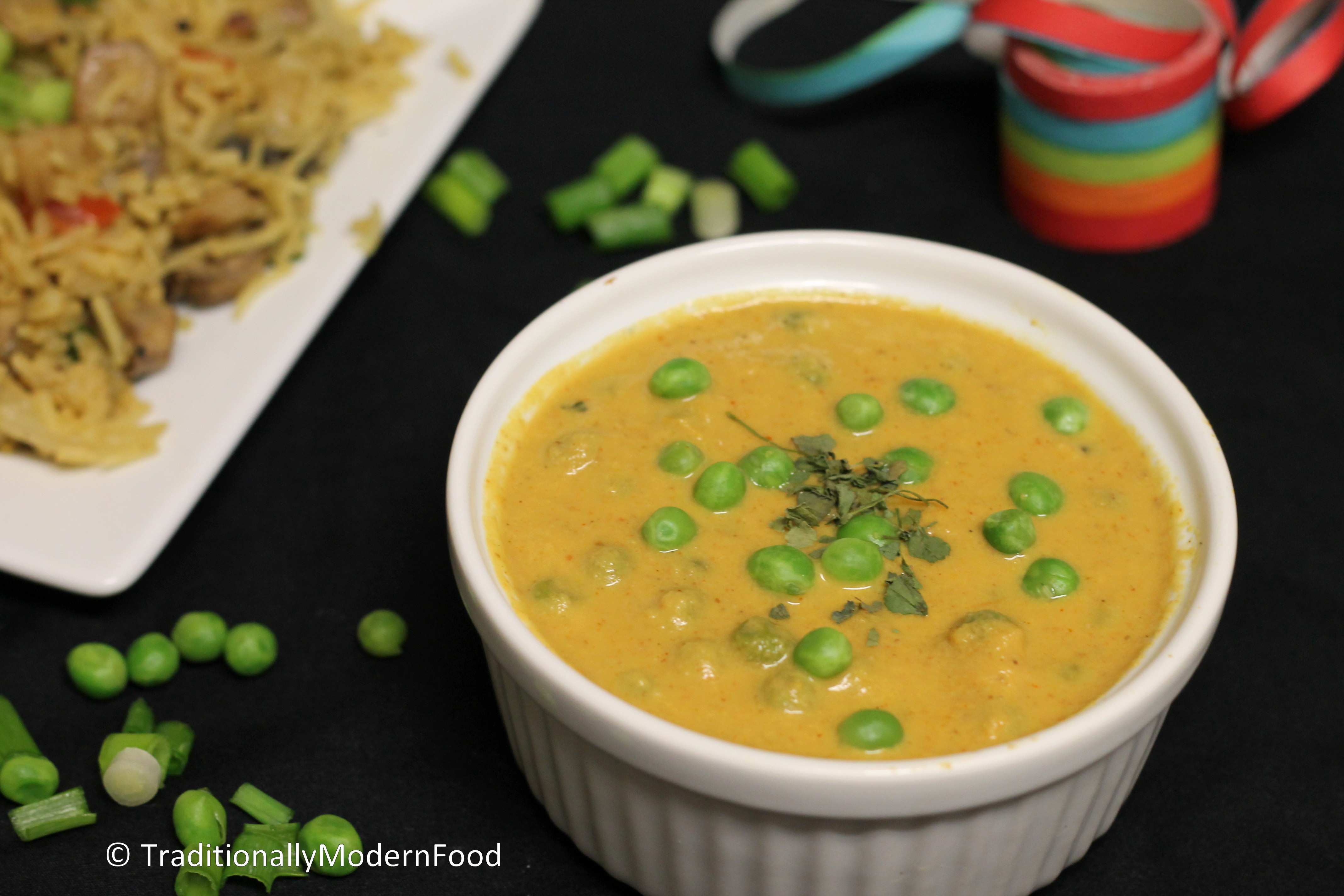 Ingredients:
Peas (fresh/frozen) - 1 cup + 1/3 cup
Walnut - 3 tbsp
Onion - 2, roughly chopped
Tomato - 3, roughly chopped
Evaporated milk - 3 tbsp
Ginger - garlic paste - 1 tsp
Garam Masala powder - 1 tsp
Chilli powder/ pav bhaji powder- 1 teaspoon (I used pav bhaji powder)
Coriander powder - 1/2 tsp
Cumin powder - 1/4 tsp
Turmeric powder - pinch
Cinnamon Powder - 1/8 tsp
Cardamom powder - 1/8 tsp
Kasuri methi - 1/8 tsp
Salt - as needed
Oil/Butter - 1 teaspoon + 1/2 tsp
Method:
In medium heat add 1/2 teaspoon of oil and sauté onion and ginger- garlic paste till onion is translucent. Add tomato and walnut, cook till tomatoes are cooked. Switch off and let it come to room temperature. Grind it into a fine paste without adding water
In the same pan (preferably wide pan as mixture might spill out if its flat) low- medium heat add 1 teaspoon of butter and add the ground paste and cook for 3- 5 minutes
Add the spice powders, salt and cook for 2 - 3 minutes

I used frozen peas so I defrosted it for 40 seconds. Add 1 cup of water and cook for 5 minutes
Add evaporated milk and peas; cook for 3-5 minutes in low flame

• Add kasuri methi and switch off. serve hot with naan/ paratha/variety rice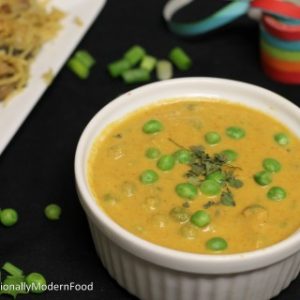 Green Peas Walnut Gravy / Peas Masala
Delicious gravy prepared with green peas in tomoto - onion based gravy. Walnut in the gravy gives great creaminess and healthy touch
Print
Pin
Comment
Ingredients
Peas

fresh/frozen - 1 cup + 1/3 cup

Walnut - 3 tbsp

Onion - 2

roughly chopped

Tomato - 3

roughly chopped

Evaporated milk - 3 tbsp

Ginger - garlic paste - 1 tsp

Garam Masala powder - 1 tsp

Chilli powder/ pav bhaji powder- 1 tsp

I used pav bhaji powder

Coriander powder - 1/2 tsp

Cumin powder - 1/4 tsp

Turmeric powder - pinch

Cinnamon Powder - 1/8 tsp

Cardamom powder - 1/8 tsp

Kasuri methi - 1/8 tsp

Salt - as needed

Oil/Butter - 1 teaspoon + 1/2 tsp
Instructions
In medium heat add 1/2 teaspoon of oil and sauté onion and ginger- garlic paste till onion is translucent. Add tomato and walnut, cook till tomatoes are cooked. Switch off and let it come to room temperature. Grind it into a fine paste without adding water

In the same pan (preferably wide pan as mixture might spill out if its flat) low- medium heat add 1 teaspoon of butter and add the ground paste and cook for 3- 5 minutes

Add the spice powders, salt and cook for 2 - 3 I used frozen peas so I defrosted it for 40 seconds. Add 1 cup of water and cook for 5 minutes

Add evaporated milk and peas; cook for 3-5 minutes in low flame

Add kasuri methi and switch off. serve hot with naan/ paratha/variety rice
Notes
1. If you are using dry peas cook it before adding to the gravy
2. Almonds, pecans, cashew or any other nuts can be used for richness
3. Onion - tomato can be boiled instead of sauting
4. Same quanity of freah cream/heavy cream can be used instead of evaporated milk
5. 1/2 cup of whole / 2 % milk can also used and cooked in low flame to avoid curdling
Coconut milk and coconut oil can used instead of evaporated milk and butter for vegan version