Thengai paal Sadam | Coconut milk rice pulao | coconut milk brinji | thengai paal sadham | coconut milk recipe step-by-step pictures and video recipe. Check out the Thengai paal sadham video and If you like the video pls SUBSCRIBE to my channel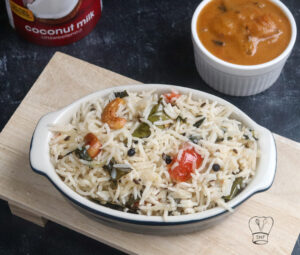 Authentic south Indian style one pot flavorful coconut milk rice
Can I add vegetables to the Thengai paal sadham recipe?
Traditionally this rice is prepared with just onion and tomatoes. You can add vegetables of your choice but the flavor might slightly vary.
Tips to chop tomatoes
Thengai paal sadaam should look white. little tomatoes we add shouldn't change their color. Always deseed the tomatoes and chop them well. Also, avoid sauteeing it for a long time.
Non-sour thick curd
Always use non-sour hung curd for this recipe. I prefer using sour cream as it gives perfect texture. You can also use plain yogurt. avoid curd with whey water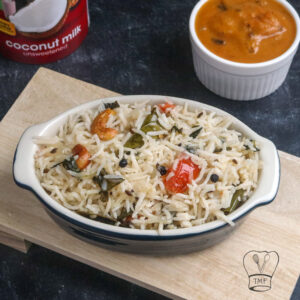 Thick Coconut milk
I used thick coconut milk, hence adding an equal amount of water. if your coconut milk is watery, adjust the water accordingly
Can I increase coconut milk?
To get the best reception-style coconut milk pulao follow the recipe as mentioned. Altering the coconut milk might change pulav flavor.
Can I cook coconut milk pilaf in the instant pot?
Yes, for the instant pot version avoid soaking the rice. cook for 5 minutes and do natural pressure release.
Can I cook vegetable brinji in oil?
Yes, using ghee is optional but it gives a good flavor to the rice. You can use oil for cooking and add a few drops of ghee for aroma.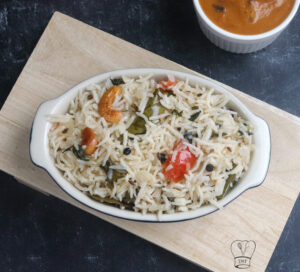 Pressure cooked based recipes in TMF
Ingredients:
To soak
1 cup Basmati Rice
Enough water
Coconut milk rice
1 tablespoon Ghee
1/2 tablespoon oil
8 cashews
2 Clove
Small piece of cinnamon
2 Cardamom
Small piece of bay leaf
1/2 teaspoon fennel seeds
1/4 teaspoon pepper
1/2 cup onion
1 tablespoon curd
2 green chilli
1 teaspoon ginger garlic paste
1/4 cup tomato, deseeded, chopped big
A handful of mint and coriander leaves
few curry leaves
3/4 cup coconut milk
Required salt
3/4 cup water
1/4 teaspoon sesame oil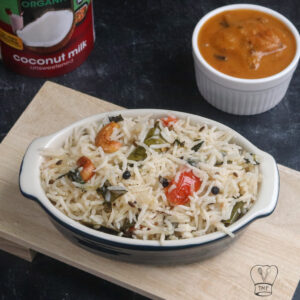 how to make Thengai paal sadam with step by step pictures
First, wash and soak for 20 minutes
Add oil and ghee to the pressure cooker
Turn on the stove to medium flame and heat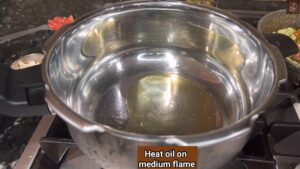 Add cashews and saute till they turn golden brown; turn off the stove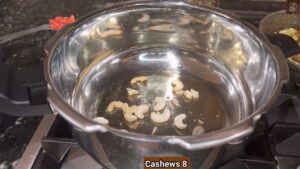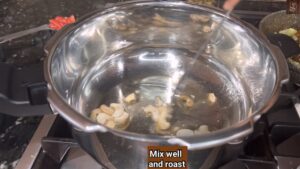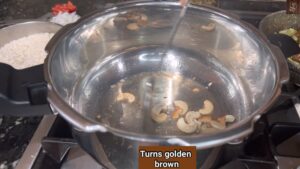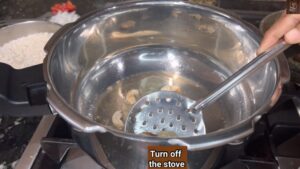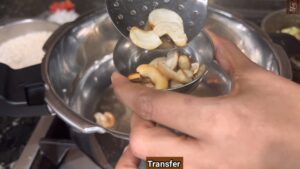 Turn on stove

add bay leaf, pepper, cardamom, cinnamon, fennel seeds, and clove; temper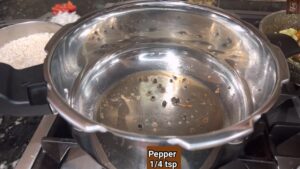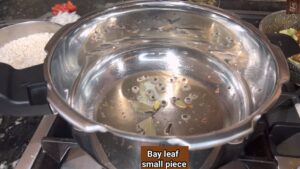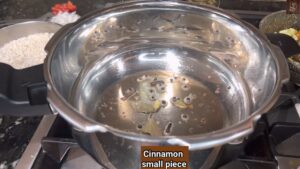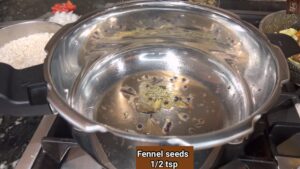 Furthermore, add onion and green chilli; mix well and cook till onion turns translucent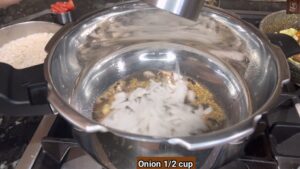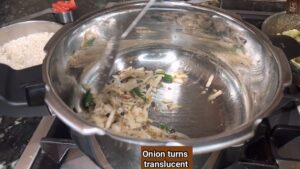 Add ginger-garlic paste, coriander leaves, curry leaves, mint leaves, and tomatoes; mix well and cook for 1+1/2 minutes
Turn down to low flame

Furthermore, add curd; quick mix
Add coconut milk and water; mix well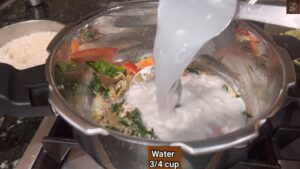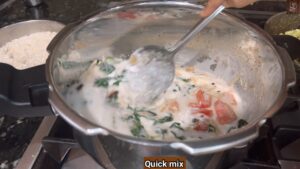 Turn to medium flame

Furthermore, add the required salt and bring to boil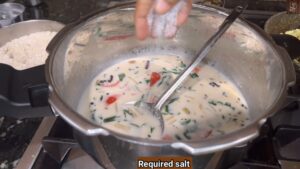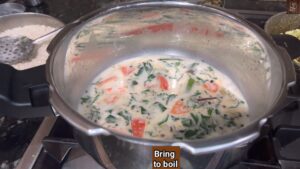 Add rice; mix well and bring to boil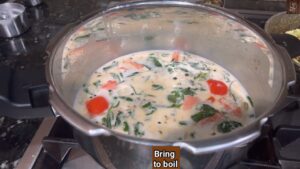 Mix well and make sure nothing is stuck to the pan

Add sesame oil and pressure cook for two whistles; turn off the stove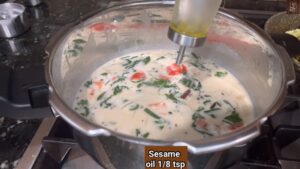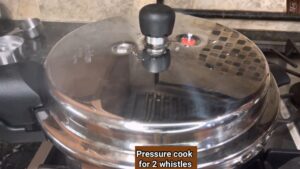 After the pressure subsides naturally, open the cooker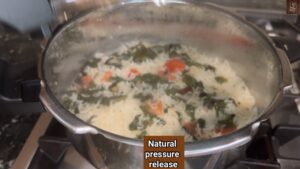 Add cashews and

Gently fluff the rice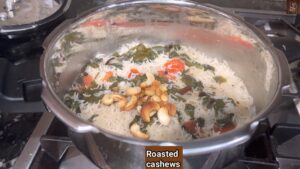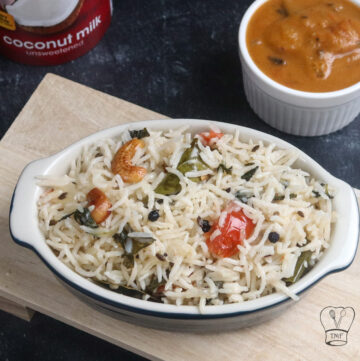 Ingredients
To soak
1

cup

Basmati Rice

Enough water
Coconut milk rice
1

tablespoon

Ghee

1/2

tablespoon

oil

8

cashews

2

Clove

Small piece of cinnamon

2

Cardamom

Small piece of bay leaf

1/2

teaspoon

fennel seeds

1/4

teaspoon

pepper

1/2

cup

onion

2

green chilli

1

teaspoon

ginger garlic paste

1/4

cup

tomato

deseeded, chopped big

A handful of mint and coriander leaves

1

Tbsp

curd

few curry leaves

3/4

cup

coconut milk

Required salt

3/4

cup

water

1/4

teaspoon

sesame oil
Instructions
First, wash and soak for 20 minutes

Add oil and ghee to the pressure cooker

Turn on the stove to medium flame and heat

Add cashews and saute till they turn golden brown; turn off the stove

transfer and keep aside

Turn on stove

add bay leaf, pepper, cardamom, cinnamon, fennel seeds, and clove; temper

Furthermore, add onion and green chilli;  mix well and cook till onion turns translucent

Add ginger-garlic paste, coriander leaves, curry leaves, mint leaves, and tomatoes; mix well and cook for 1+1/2 minutes

Turn down to low flame

Furthermore, add curd; quick mix

Add coconut milk and water; mix well

Turn to medium flame

Furthermore, add the required salt and bring to boil

Add rice; mix well and bring to boil

Mix well and make sure nothing is stuck to the pan

Add sesame oil and pressure cook for two whistles; turn off the stove

After the pressure subsides naturally, open the cooker

Add cashews and Gently fluff the rice
Video
Notes
Thengai paal sadaam should look white. little tomatoes we add shouldn't change their color. Always deseed the tomatoes and chop them well. Also, avoid sauteeing it for a long time
Always use non-sour hung curd for this recipe. I prefer using sour cream as it gives perfect texture. You can also use plain yogurt. avoid curd with whey water
I used thick coconut milk, hence adding an equal amount of water. if your coconut milk is watery, adjust the water accordingly
To get the best reception-style coconut milk pulao follow the recipe as mentioned. Altering the coconut milk might turn coconut milk pulav flavor
 for the instant pot version avoid soaking the rice. cook for 5 minutes and do natural pressure release
using ghee is optional but it gives a good flavor to the rice. You can use oil for cooking and add a few drops of ghee for aroma