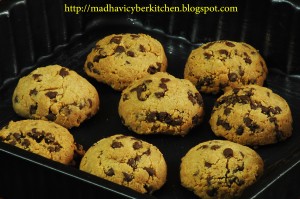 Tofu chocolate chip cookies are healthy and tasty cookie. Perfect vegetarian after school kids friendly snacks.
Time for a guest post, today we have Madhavi from Cyber Kitchen. I happen to know Madhavi for quite sometime through social media. Madhavi's blog is all about baked recipes. Being a big fan of baked recipes, lot of her recipes are in my do list:-)
I approached Madhavi for toddler friendly recipe and she happily accepted. Happy to see "Tofu Chocolate Chip Cookies" recipe. Chocolate is favorite for all, whether its kids or adults, no one can say no to chocolate. When it is combined with protein rich tofu, moms cannot say no to this. Perfect healthy vegetarian cookies 🙂
Over to Madhavi,
In the Food blogging arena Vidya, (Author of Traditionally Modern Food) is quite popular and well known. Her recipes are even published in a couple of daily's and magazines and she has also won few contests.
Such an accredited Blogger (We both do not know personally each other and living in different continent.) wants to give space for me. I'm excited and agreed to do a guest post.
Since, she didn't give me any dead line (She must have regretted for doing so). I took pretty long to submit the post. That's because, I want to give her a pure vegetarian recipe as well a quick and simple one, without compromising the taste.
Since, Egg is an important ingredient in Baking; I took time to experiment a perfect egg less (Protein rich Tofu as an alternative) cookies, up to my satisfaction. With brown sugar and chocolate chip cookies combination, I am sure toddlers won't hesitate.
Thanks Vidya for the Opportunity to do my first guest post.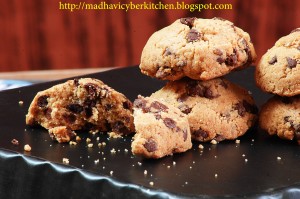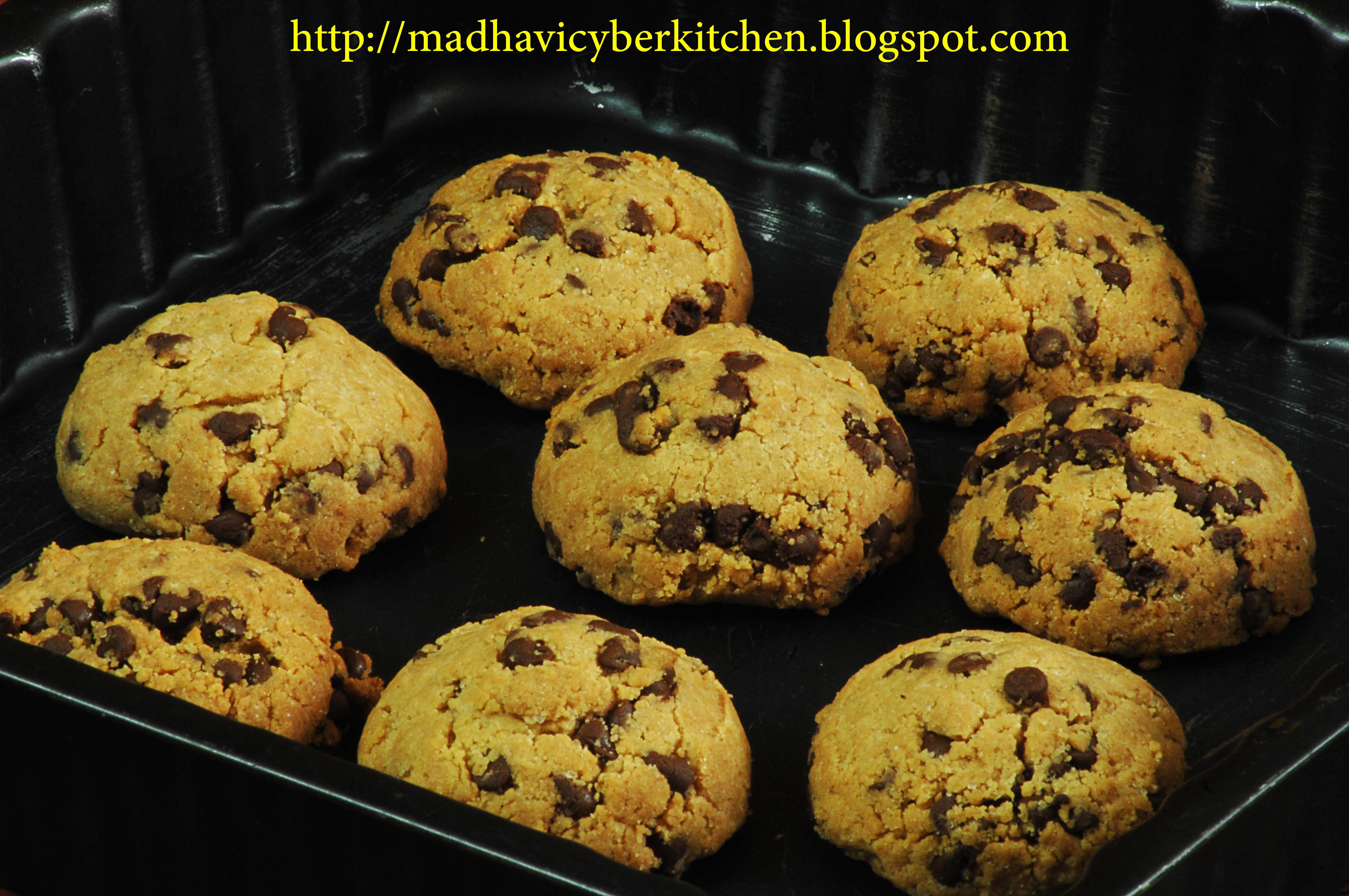 Ingredients
70

gms of butter

melted ;

1/2

cup

of wheat flour ;

1/2

cup

of all purpose flour ;

1/8

cup

of corn flour ;

1/8

cup

of soft tofu ;

1/4

cup

+ 2 tablespoon of light brown sugar

; 1/4 cup of sugar ;

1/4

teaspoon

of baking soda ;

1/2

teaspoon

of vanilla essence ;

a pinch of salt ;

¾

cup

of mini chocolate chip
Instructions
In separate bowl mix the dry ingredients (all purpose flour, wheat flour, cornflower, baking soda and salt) and keep aside.

In a bowl, Add melted butter, light brown sugar, sugar and beat well with hand mixer. Then add the tofu and continue to beat until it combines well.

Now slowly add the dry ingredients mixture into the tofu mixture and blend well. Finally add the mini chocolate chip and gently mix. With the ice cream scoop take the dough and arrange it in the baking tray.

Transfer the tray into the 180ºC pre heated oven and bake about 25 minutes or until the crust turns into brown colour
Tofu Chocolate Chip cookies
Ingredient :
70 gms of butter (melted) ;
1/2 cup of wheat flour ;
1/2 cup of all purpose flour ;
1/8 cup of corn flour ;
1/8 cup of soft tofu ;
1/4 cup + 2 tablespoon of light brown sugar
; 1/4 cup of sugar ;
1/4 teaspoon of baking soda ;
1/2 teaspoon of vanilla essence ;
a pinch of salt ;
¾ cup of mini chocolate chip

Procedure :
In separate bowl mix the dry ingredients (all purpose flour, wheat flour, cornflower, baking soda and salt) and keep aside.
In a bowl, Add melted butter, light brown sugar, sugar and beat well with hand mixer. Then add the tofu and continue to beat until it combines well.
Now slowly add the dry ingredients mixture into the tofu mixture and blend well. Finally add the mini chocolate chip and gently mix. With the ice cream scoop take the dough and arrange it in the baking tray.
Transfer the tray into the 180ºC pre heated oven and bake about 25 minutes or until the crust turns into brown colour