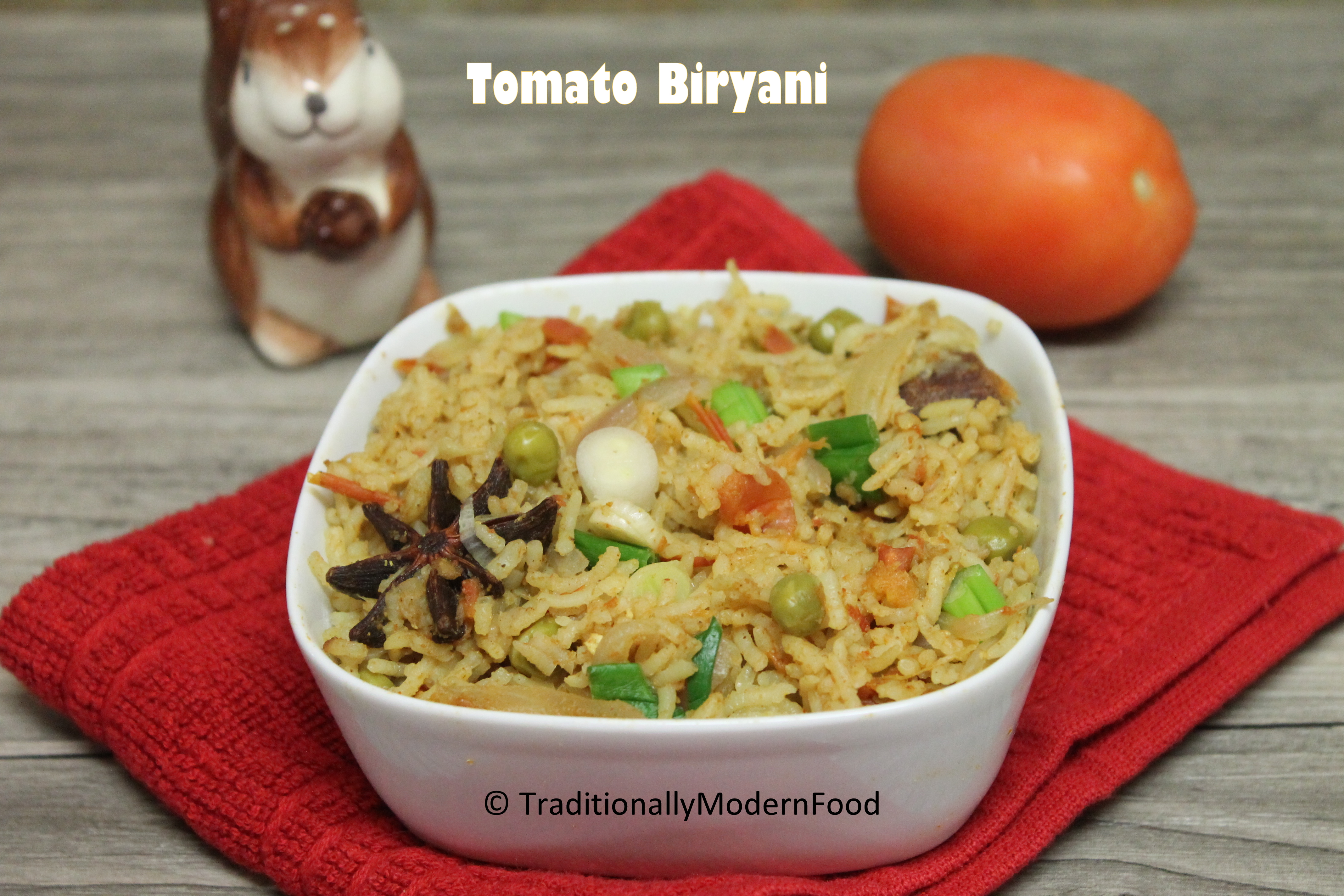 Tomato biryani is a tasty one pot recipe.
Variety rice are easy to make and a perfect lunch box food. Usually I prepare tomato rice with just tomato and onion. After cooking coconut rice with coconut milk, I want to try coconut milk with tomato rice and prepared tomato biryani.
Tomato Biryani
Basmati Rice - 1 cup
Tomatoes - 3, finely chopped
Onion - 1 large sliced thinly
Spring onion - 3
Peas - 1/4 cup
Thin Coconut Milk - 1/4 cup
Water - 1 cup + 1/2 cup
Red Chilli powder - 3/4 tsp (Adjust according to your taste)
Turmeric Powder - 1/8 tsp
Ginger Garlic Paste - 1 tsp
Coriander Powder - 1/2 tsp
Cumin Powder - 1/4 tsp
Garam Masala - 1/2 tsp
Green Chilli - 1, slitted
Salt - as needed
Sugar - 1/8 teaspoon (optional)
Oil - 1/2 tbsp
Cinnamon - 2 inch stick
Cardamom - 2
Fennel Seed powder - 1/4 tsp
Bay leaves - 1
Star Ansie - 1
Method:
Soak rice in warm water for 10 minutes, drain the water and keep it aside
Add oil to the pan. When the oil is hot, add whole spices and cook for 30 seconds. Add the onion and ginger garlic paste and sauté till the raw smell goes off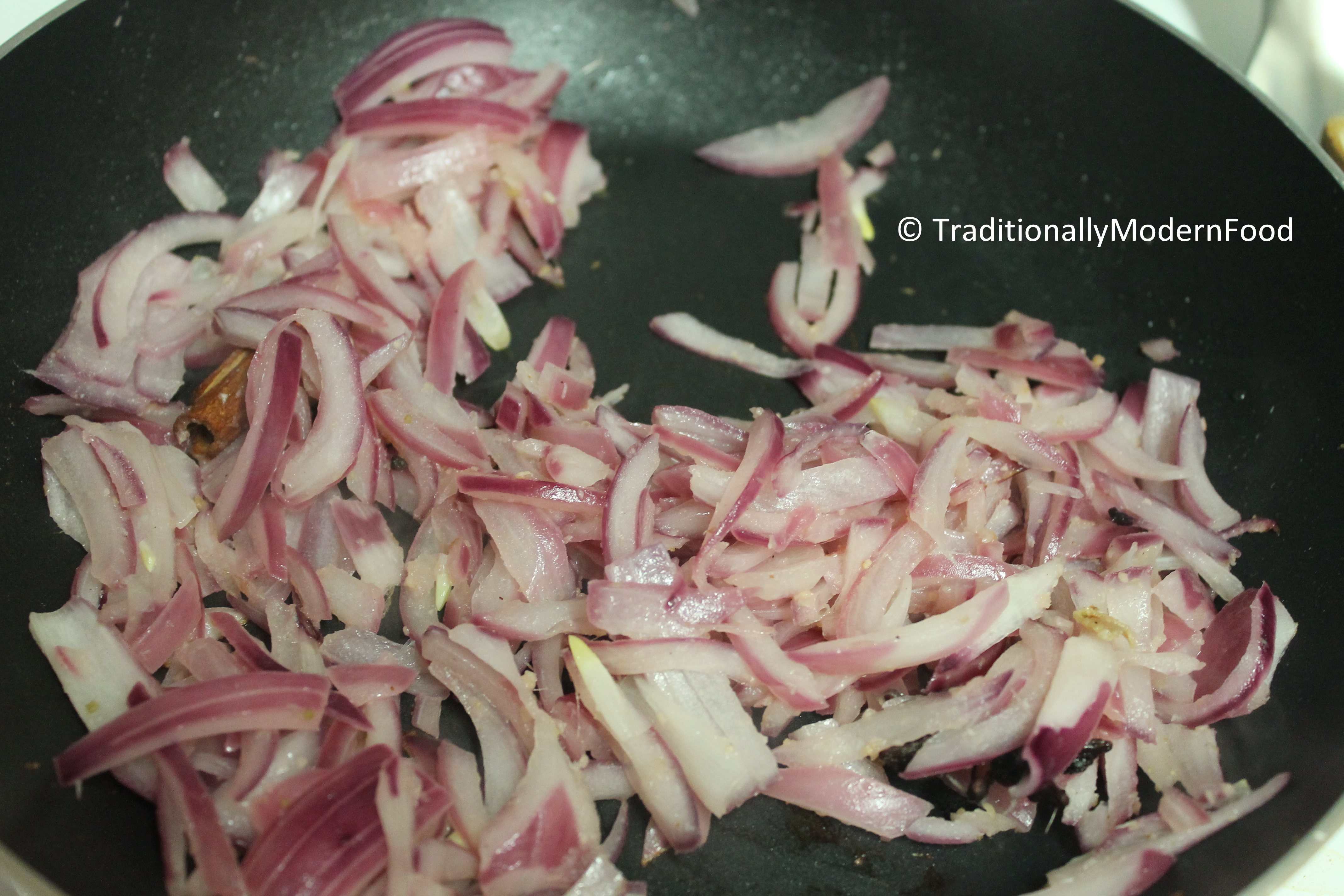 Add the chopped tomatoes and cook till the tomatoes get mushy. Add all the spice powders, salt and sugar; saute for 2 minutes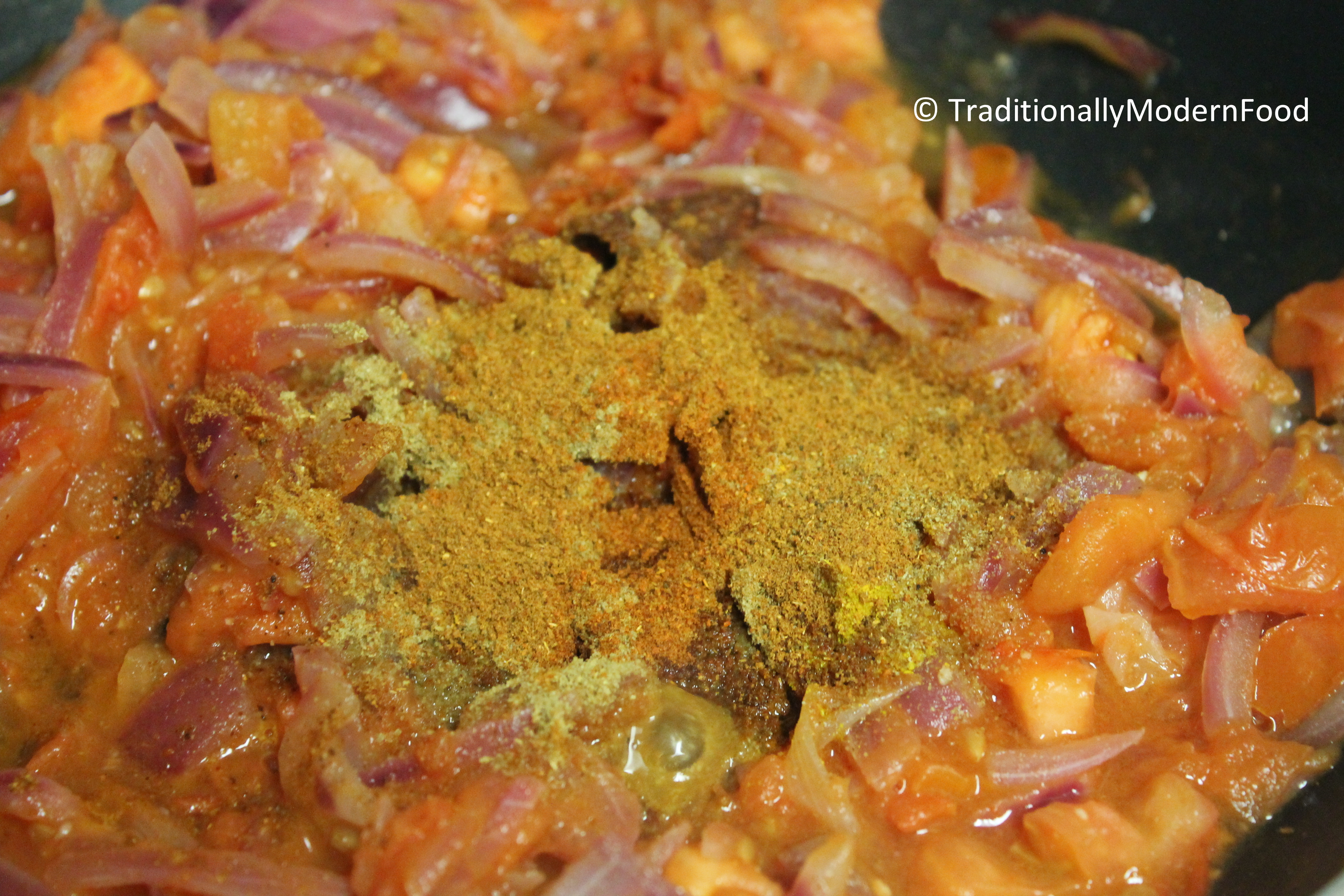 Add peas and rice and saute for a minute. In a rice cooker add the rice - tomato mixture, coconut milk and water. After the rice is cooked sprinkle chopped spring onions on top and Serve it with raita/gravy
For pressure cooker method used 1 cup of water instead of 1+1/2 cup water and cook for 2 whistles.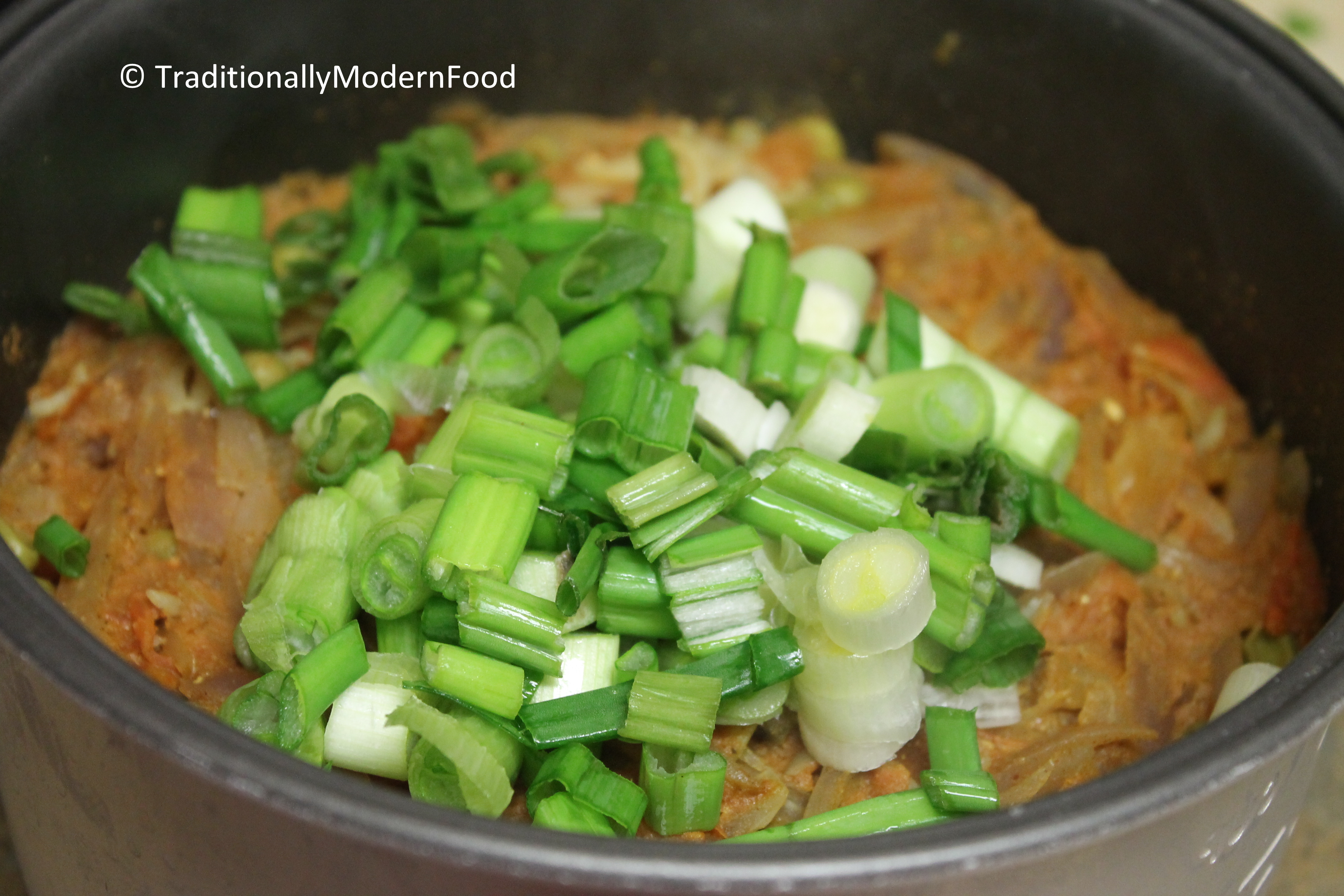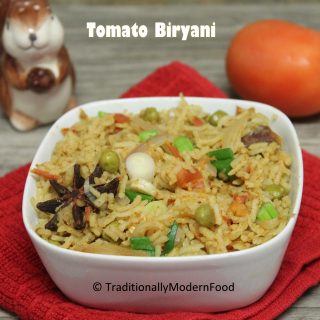 Ingredients
Tomato Biryani

Basmati Rice - 1 cup

Tomatoes - 3

finely chopped

Onion - 1 large sliced thinly

Spring onion - 3

Peas - 1/4 cup

Thin Coconut Milk - 1/4 cup

Water - 1 cup + 3/4 cup

Red Chilli powder - 3/4 tsp

Adjust according to your taste

Turmeric Powder - 1/8 tsp

Ginger Garlic Paste - 1 tsp

Coriander Powder - 1/2 tsp

Cumin Powder - 1/4 tsp

Garam Masala - 1/2 tsp

Green Chilli - 1

slitted

Salt - as needed

Sugar - 1/8 tsp

optional

Oil - 1/2 tbsp

Cinnamon - 2 inch stick

Cardamom - 2

Fennel Seed powder - 1/4 tsp

Bay leaves - 1

Star Ansie - 1
Instructions
Soak rice in warm water for 30 minutes, drain the water and keep it aside

Add oil to the pan. When the oil is hot, add whole spices and cook for 30 seconds. Add the onion and ginger garlic paste and sauté till the raw smell goes off

Add the chopped tomatoes and cook till the tomatoes get mushy. Add all the spice powders, salt and sugar; saute for 2 minutes

Add peas and rice and saute for a minute. In a rice cooker add the rice - tomato mixture, coconut milk and water. After the rice is cooked sprinkle chopped spring onions on top and Serve it with raita/gravy
Notes
Instead of basmati rice samba rice can also be used
Fried onions can be added to garnish
Can be cooked in heavy bottmed pan or pressure cooker for 2 whistles
For Instant pot version use 1 cup of water and 1/4 cup of coconut milk for 1 cup of rice. No need to soak rice for insant pot version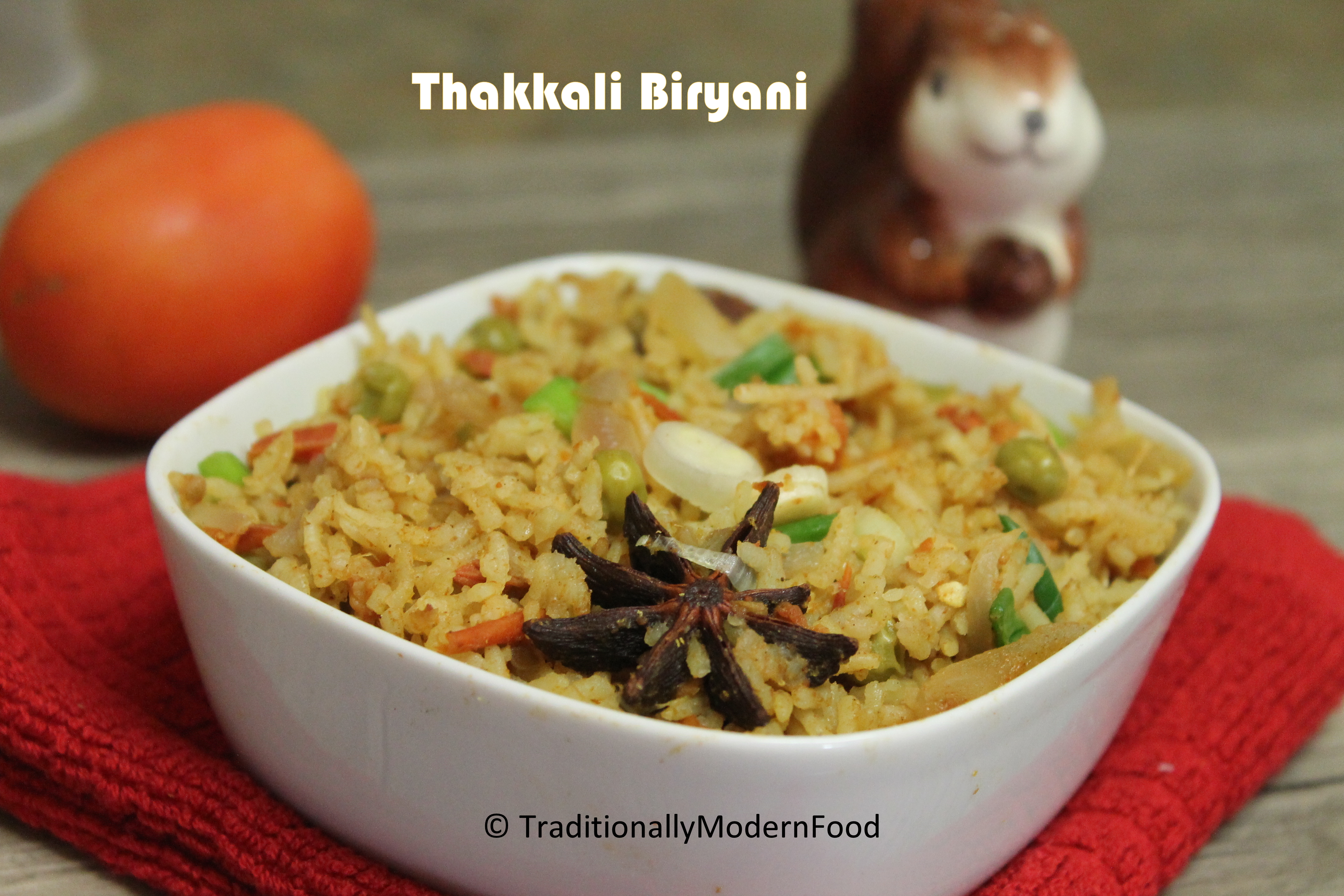 checkout my other variety rice,