Poondu Rasam | Garlic rasam | Arachuvitta rasam | Garlic tomato rasam | Thakkali poondu rasam | Pathiya samayal | south Indian poondu rasam | rasam recipes | rasam variety | Pepper garlic rasam | postpartum recipes | poondu rasam Tamil | quick rasam
with step by step pictures and video recipe. Check out the
Poondu sadam
video and if you like the video pls
SUBSCRIBE to my channel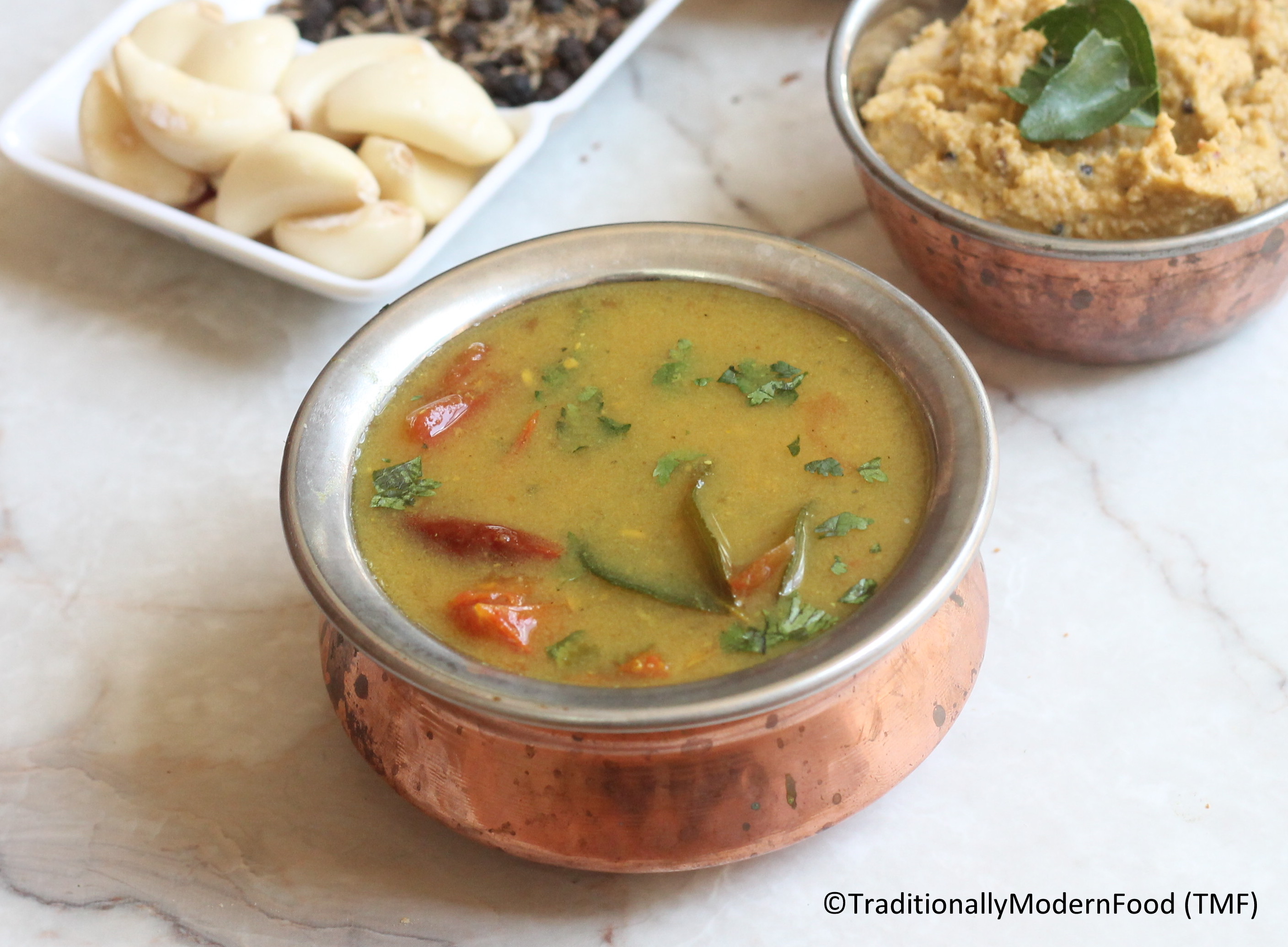 Poondu Rasam | Garlic rasam | Arachuvitta rasam | Garlic tomato rasam | Thakkali poondu rasam | Pathiya samayal | south Indian poondu rasam | rasam recipes | rasam variety | Pepper garlic rasam | postpartum recipes | poondu rasam Tamil | quick rasam is an aromatic tasty rasam that is prepared with the freshly ground spice mix. Poondu rasam is good for digestion and also a great home remedy for cold, sore throat, etc.
Rasam is my comfort food. During childhood days when it comes to quick rasam
gotta rasam
(milagu jeeraga rasam is my favorite). A few years back my neighbor aunty introduced me to this tasty Poondu rasam.
Two easy ways to make a tasty Poondu rasam
With very few ingredients garlic rasam is super easy to make and tastes aromatic. If you planned in advance soak all ingredients and ground; cook the rasam else dry roast and make this a tasty garlic rasam.
Why poondu rasam?
Usually, after heavy homemade food / eating out food, I prefer having poondu rasam for the next meal as it aids indigestion. Poondu rasam is also a great home remedy for sick days or when you have a cold/ sore throat. You can also include poondu rasam in postpartum recipes / pathiya samayal.
Can I use cooked dal for poondu rasam?
Yes, you can use little cooked dal for poondu rasam in that case increase the spice. I will post a detailed recipe for poondu dal rasam soon.
How to make this postpartum-friendly rasam?
To make this poondu rasam postpartum-friendly pathiya samayal, skip a few ingredients. Avoid ginger powder, tomatoes, and red chili.
https://www.youtube.com/playlist?list=PL3zYDDQHDMSvwrmiDPX9ofACLbaooY-da
Other rasam recipes in TMF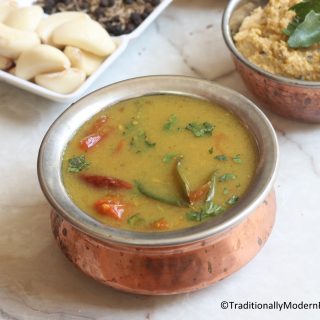 Ingredients
Tamarind - small gooseberry size ball or 1 teaspoon thick tamarind paste

Big Garlic - 3 cloves

peeled and chopped

Tomato - 1 chopped

Water - 2 cup + 1/2 cup

Ginger powder - 1/8 tsp

Turmeric powder - 1/4 tsp

Coriander leaves - few

Curry leaves - few

Salt - as needed

Ghee - 1 tsp
To dry roast or soak
Whole black pepper - 1/2 tsp

Adjust according to your taste

Cumin seeds - 1/2 tsp

Toor dal - 1/2 tbsp

Coriander seeds - 1/2 tbsp

Fenugreek seeds - 4
To temper
Ghee - 1/2 tsp

heaped

Mustard -1/4 tsp

red Chilli - 1

Cumin seeds - 1/4 tsp
Instructions
Method 1
In a heavy-bottomed pan add ingredients listed under "to dry roast or grind" and roast till you get a nice aroma Transfer them

In the same pan add 1/2 teaspoon of ghee and roast garlic till they are nicely roasted

Add the dry roasted ingredients, mix well and turn off the stove; let the mixture cool down

After it is cool grind it with little water and grind it into a paste

In a heavy-bottomed pan add 1/2 teaspoon of ghee and add tomatoes; saute

Furthermore, add turmeric powder and salt and saute till the tomatoes turn slightly mushy

Add the ground mixture and ginger powder; saute everything together, also add little water to the mixie jar; shake it, and add the same

Mix well and let the mixture boil and comes together

Add 1 teaspoon of tamarind extract and 2 cups of water and let the rasam come to froth

Let it boil, meantime add chopped curry leaves and coriander leaves, ginger powder and mix well

Mix well and cook till the rasam boils frothy

In a small tadka pan add ghee and let it turns hot

Add mustard seeds and splutter

Furthermore, add red chili and cumin and let it crackle

Finally, add hing and add the tempering to the rasam. Our tasty poondu rasam is ready
Method 2
Soak tamarind in hot water for 15-20 minutes. Keep the tamarind soaked water for rasam

Add whole black pepper,  coriander seeds, cumin seeds, toor dal, salt, and garlic cloves to the mixie jar and blend into a paste by adding little water

Add ghee to the pan, once the ghee becomes hot add the ingredients in "to temper" and let it splutter

Add the ground mixture and saute till the raw smell goes off

Add tomatoes and give a quick mix

Add 2 cups of water, and turmeric powder and continue cooking. Cook till the raw smell of tamarind goes

Add 1/2 cup of water and cook the rasam till it starts frothing. Garnish with finely chopped coriander leaves and Serve hot with steamed rice or have it as a soup
Video
Notes
For extra taste, you can temper garlic 
To make it postpartum-friendly rasam, skip ginger powder, use extra tamarind instead of tomatoes and avoid red chilli
Ingredients
Tamarind - small gooseberry size ball or 1 teaspoon thick
tamarind paste
Big Garlic - 3 cloves, peeled and chopped
Tomato - 1 chopped
Water - 2 cup + 1/2 cup
Ginger powder - 1/8 tsp
Turmeric powder - 1/4 tsp
Coriander leaves - few
Curry leaves - few
To dry roast or soak:
Whole black pepper - 1/2 teaspoon (Adjust according to your taste)
Cumin seeds - 1/2 tsp
Coriander seeds - 1/2 tbsp
Fenugreek seeds - 4
To temper:
red Chilli - 1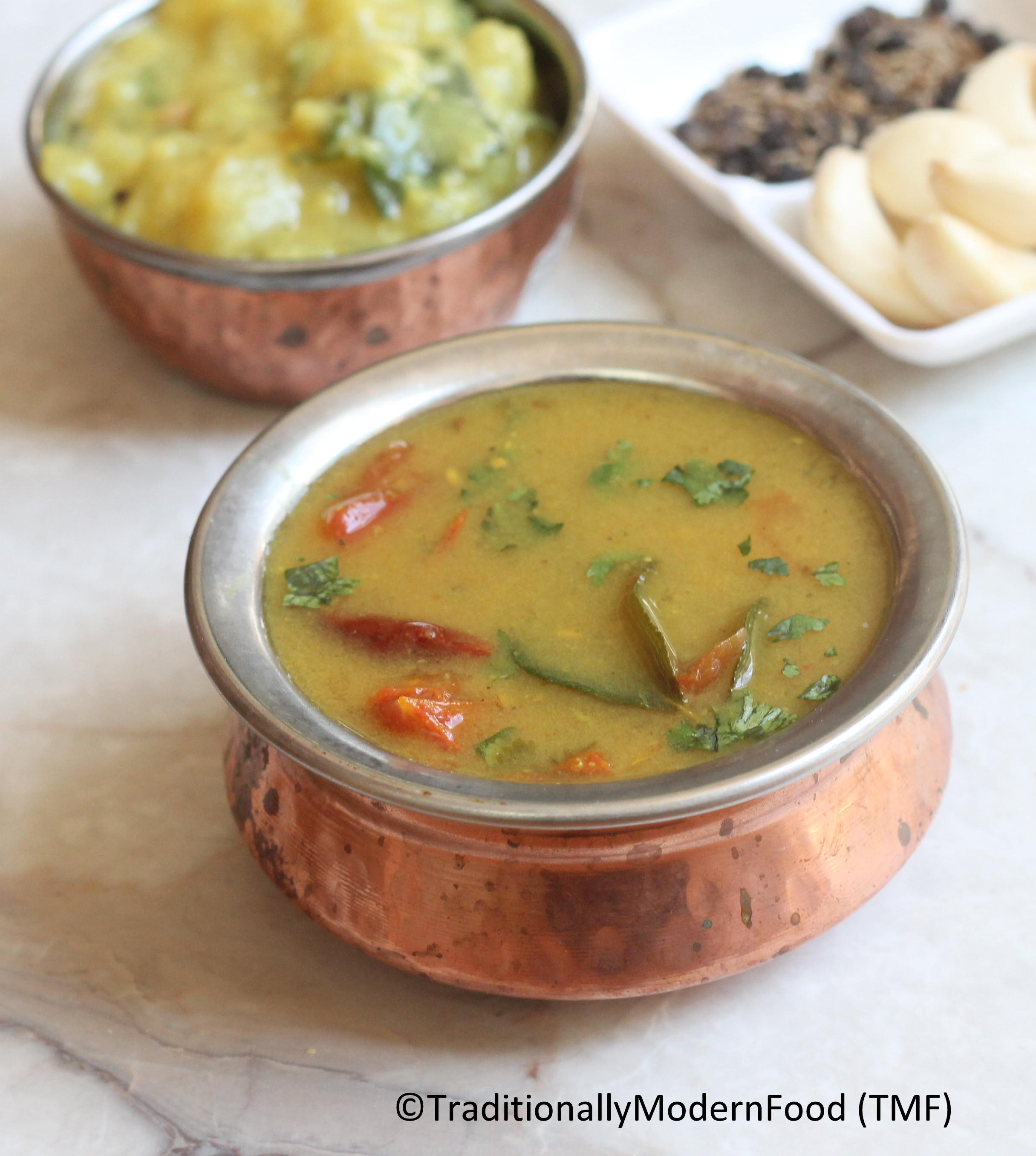 Method 1:
In a heavy-bottomed pan add ingredients listed under "to dry roast or grind" and roast till you get a nice aroma Transfer them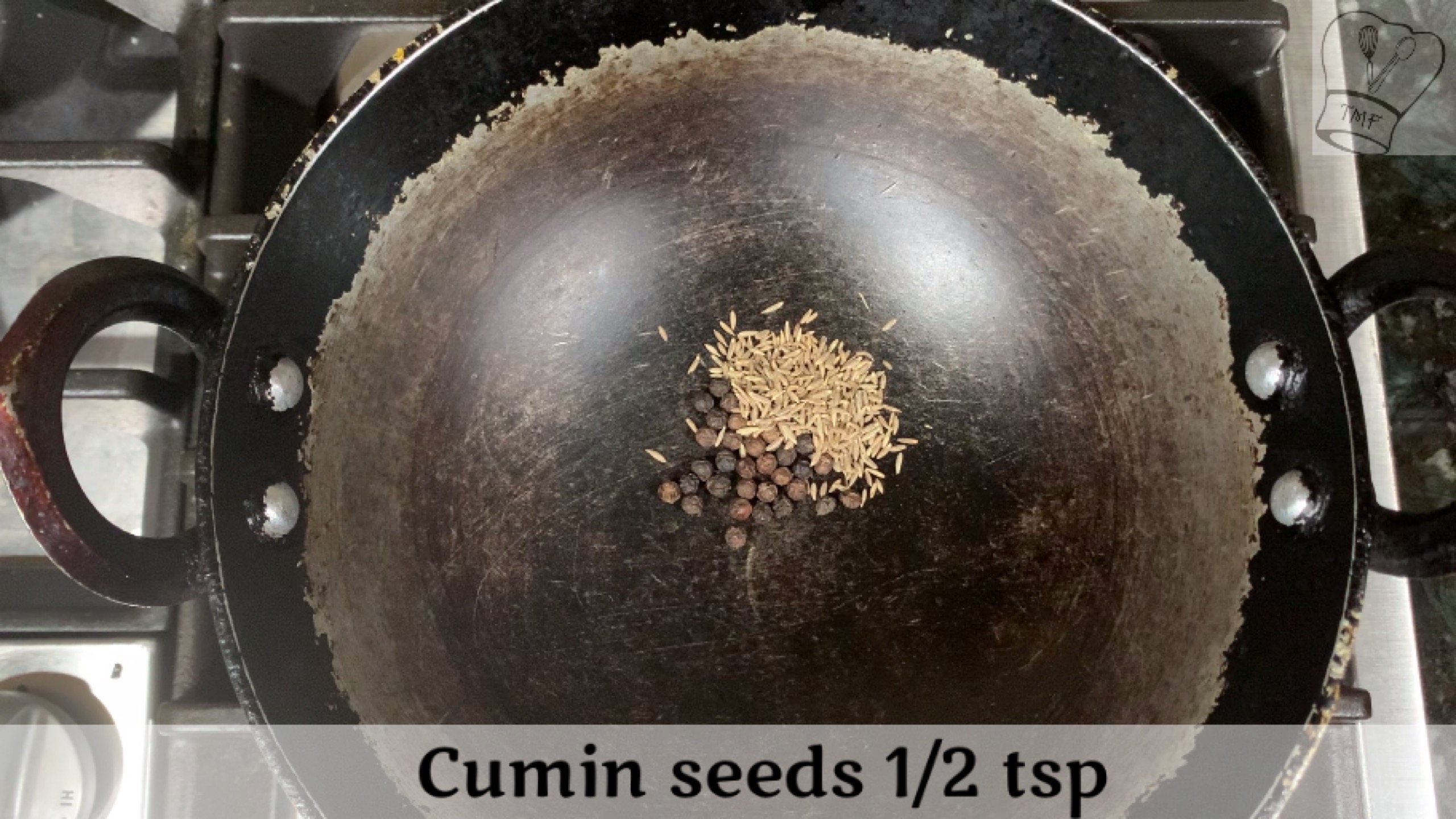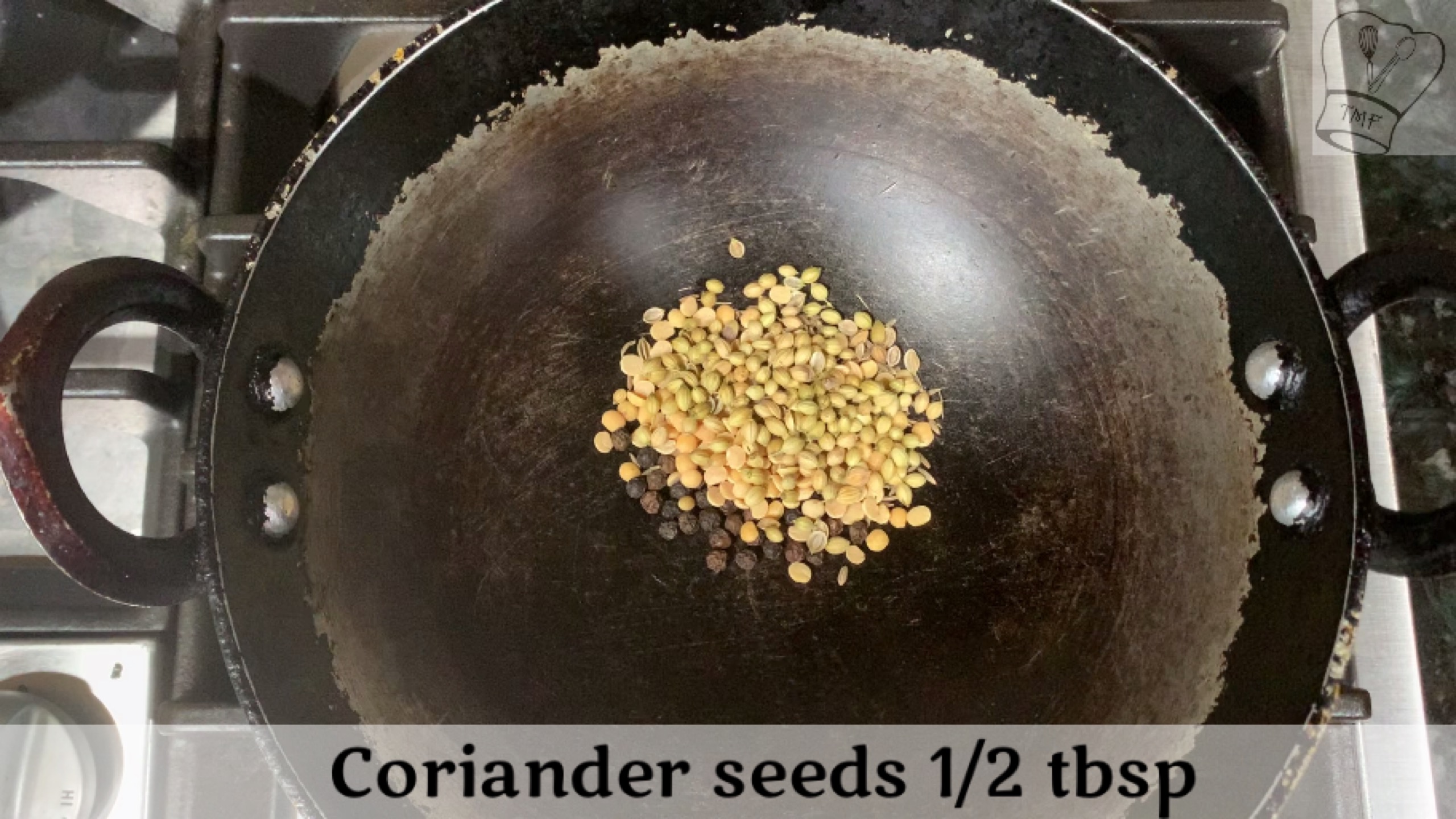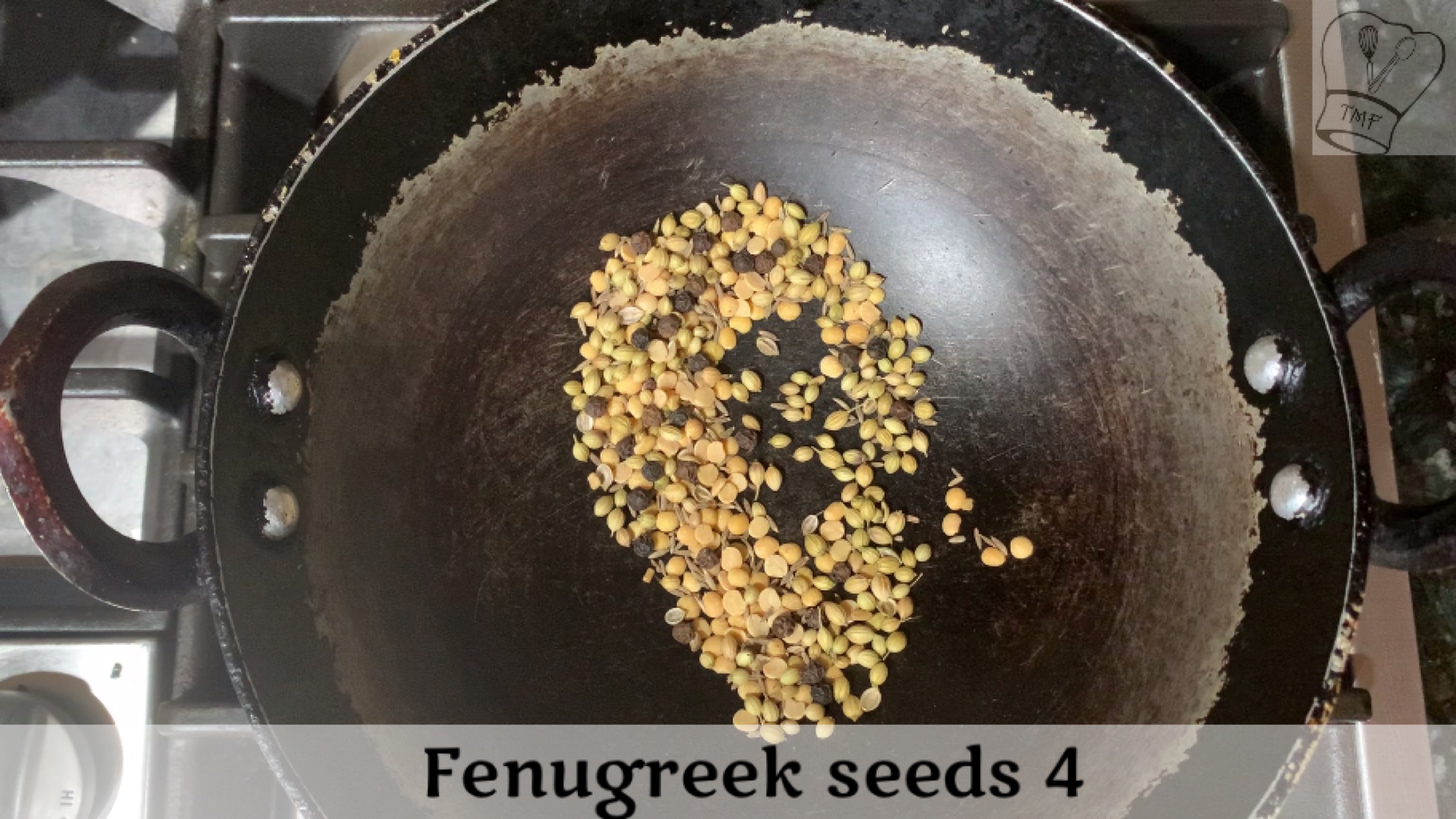 In the same pan add 1/2 teaspoon of ghee and roast garlic till they are nicely roasted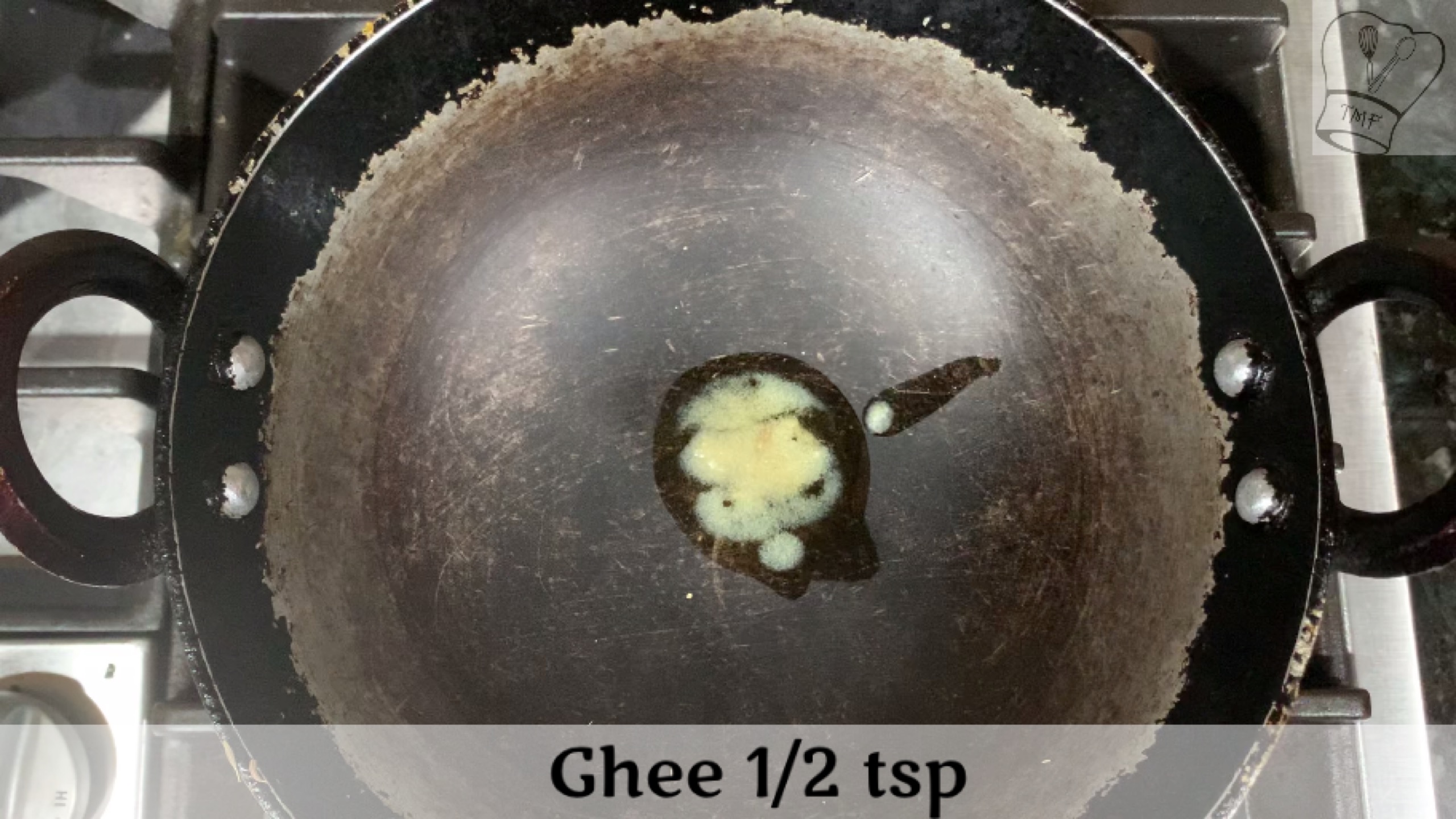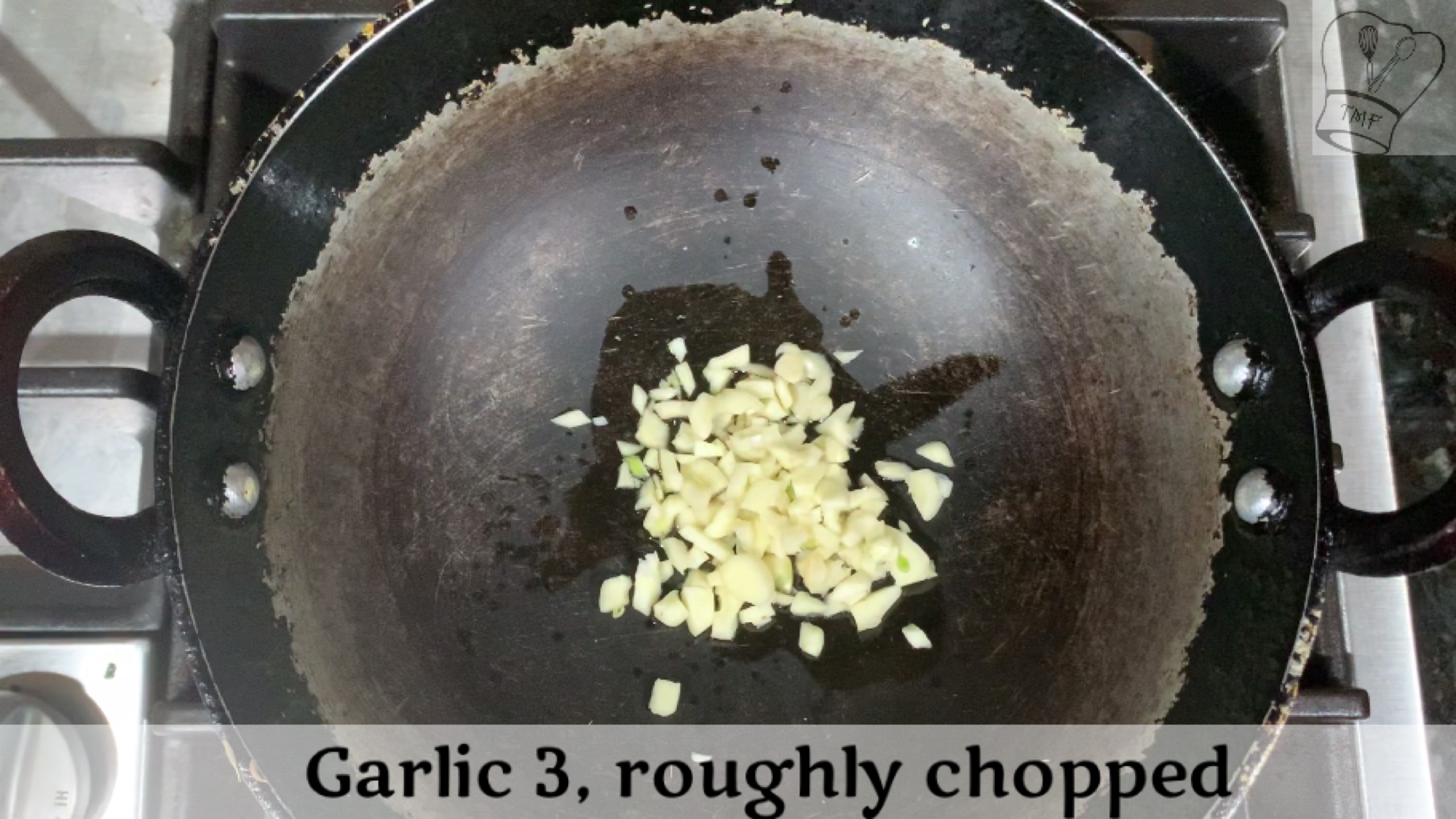 Add the dry roasted ingredients, mix well and turn off the stove; let the mixture cool down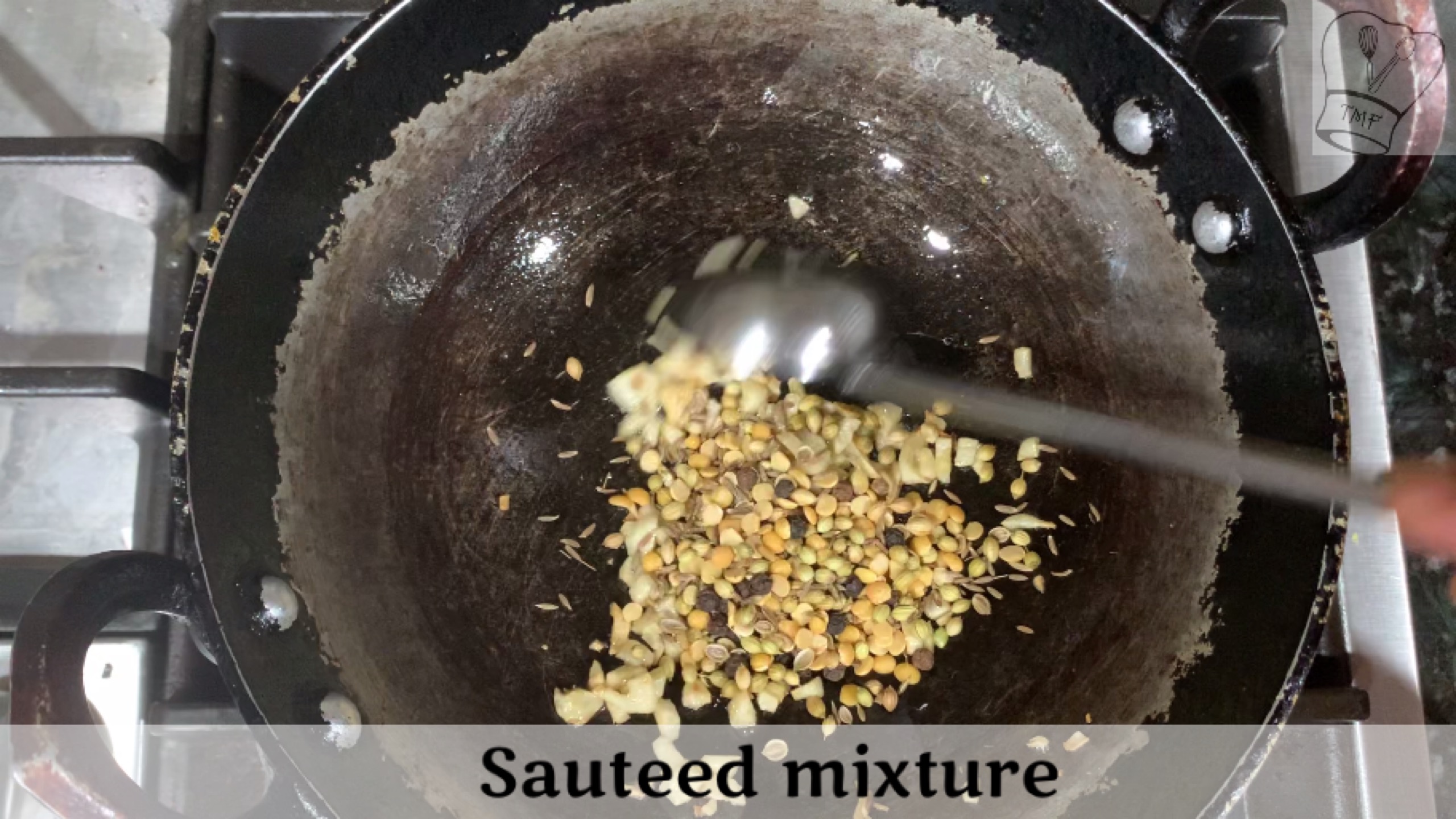 After it is cool grind it with little water and grind it into a paste
In a heavy-bottomed pan add 1/2 teaspoon of ghee and add tomatoes; saute
Furthermore, add turmeric powder and salt and saute till the tomatoes turn slightly mushy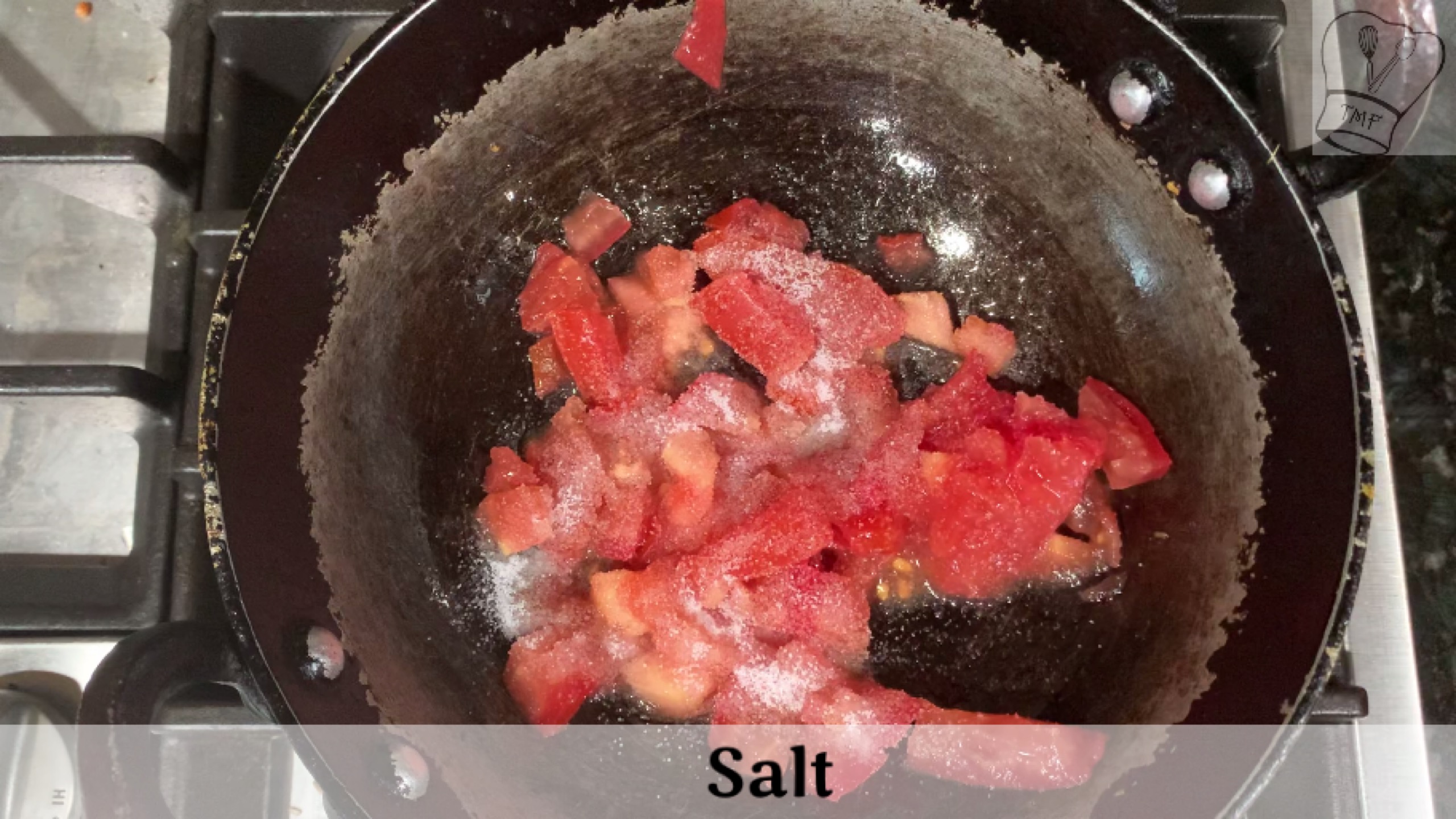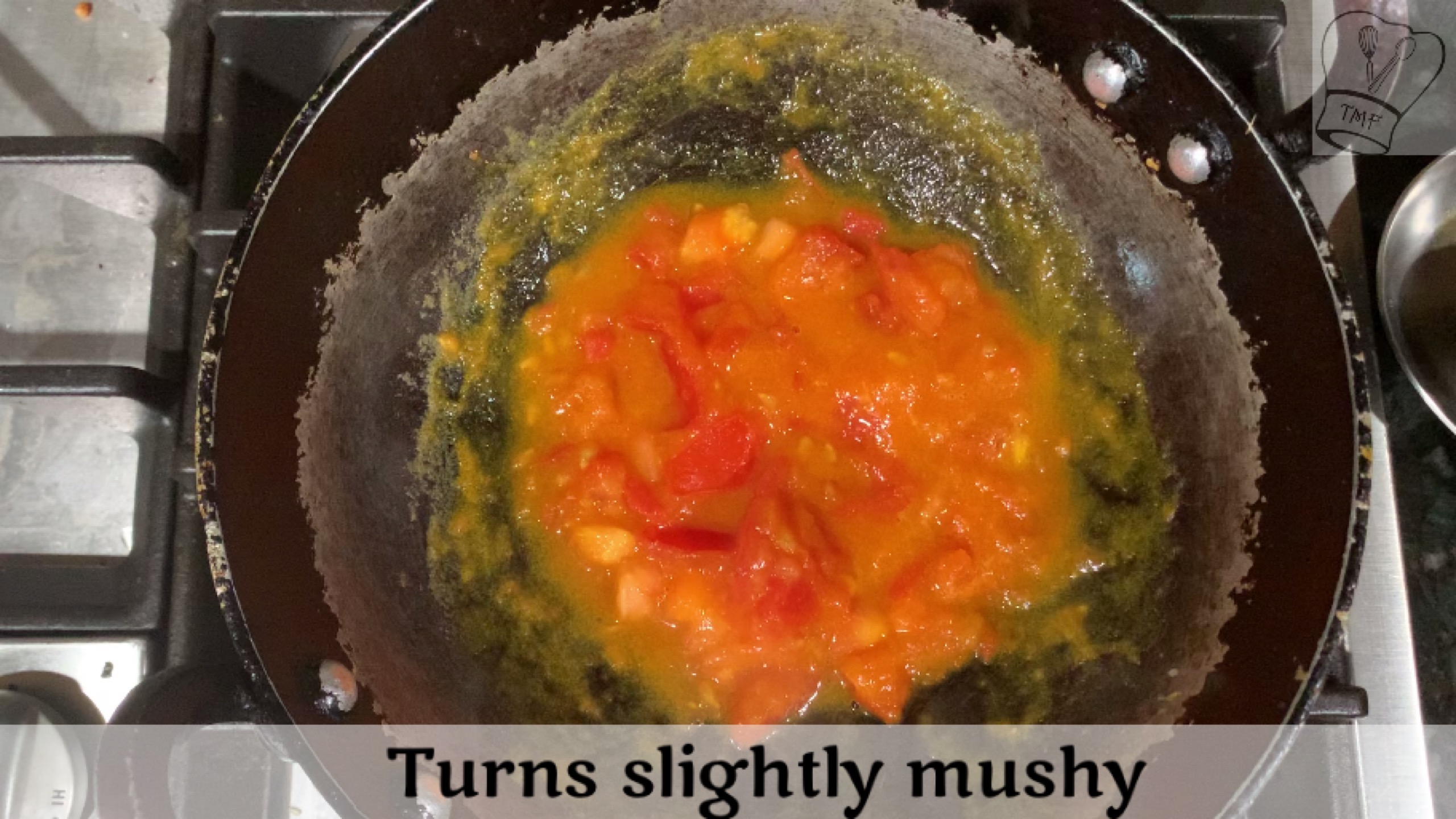 Add the ground mixture and ginger powder; saute everything together, also add little water to the mixie jar; shake it, and add the same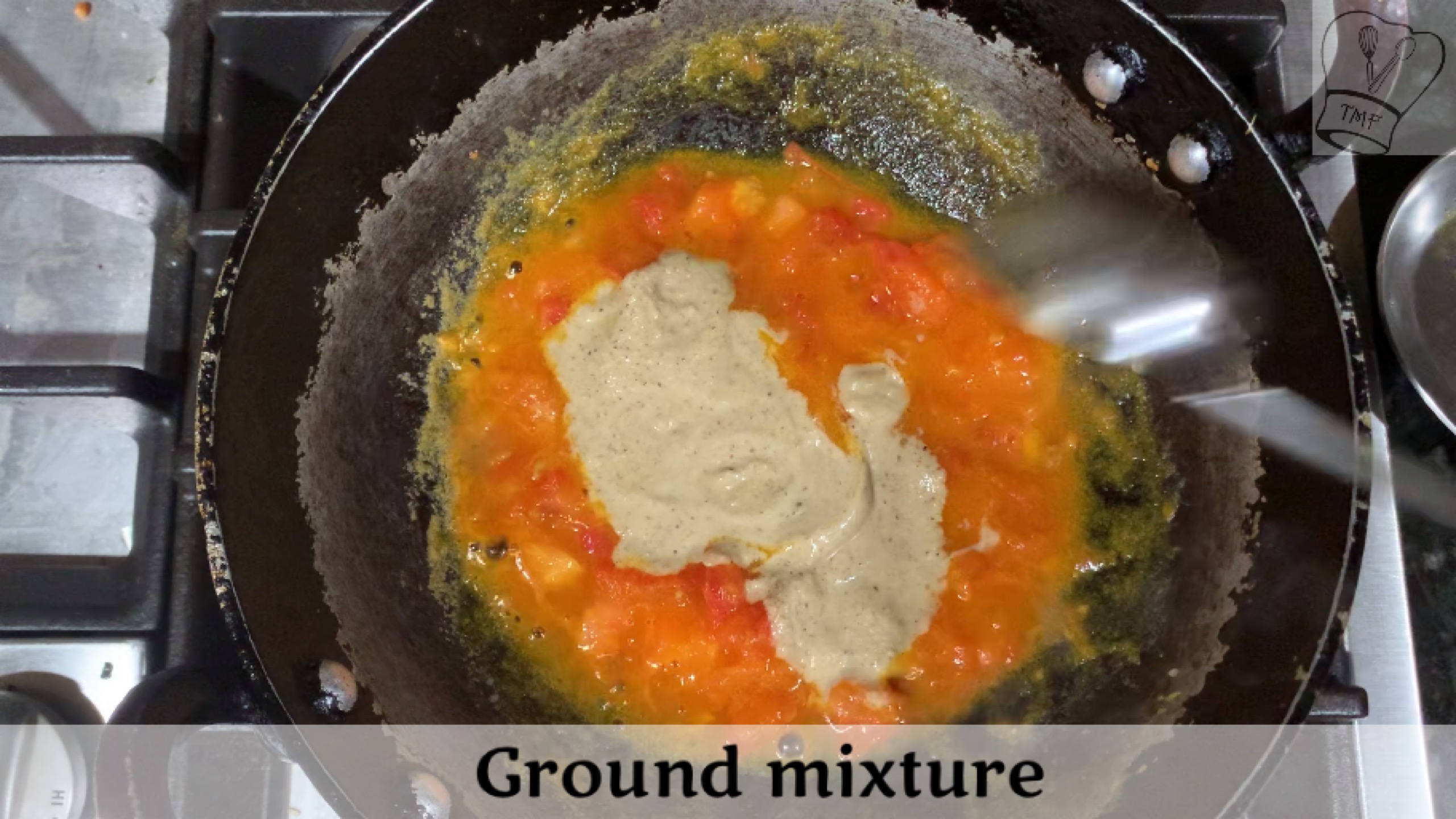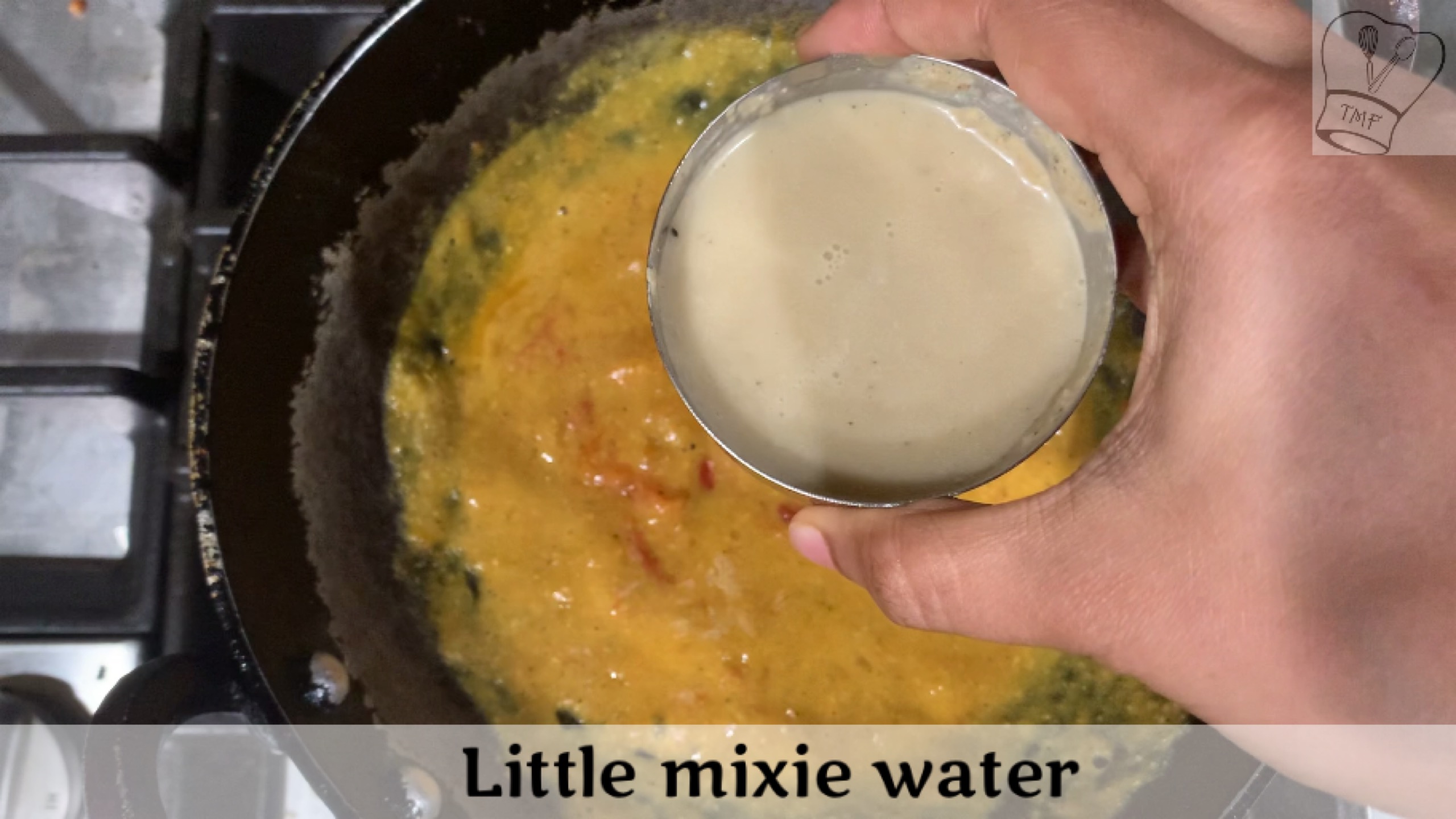 Mix well and let the mixture boil and comes together
Add 1 teaspoon of tamarind extract and 2 cups of water and let the rasam come to froth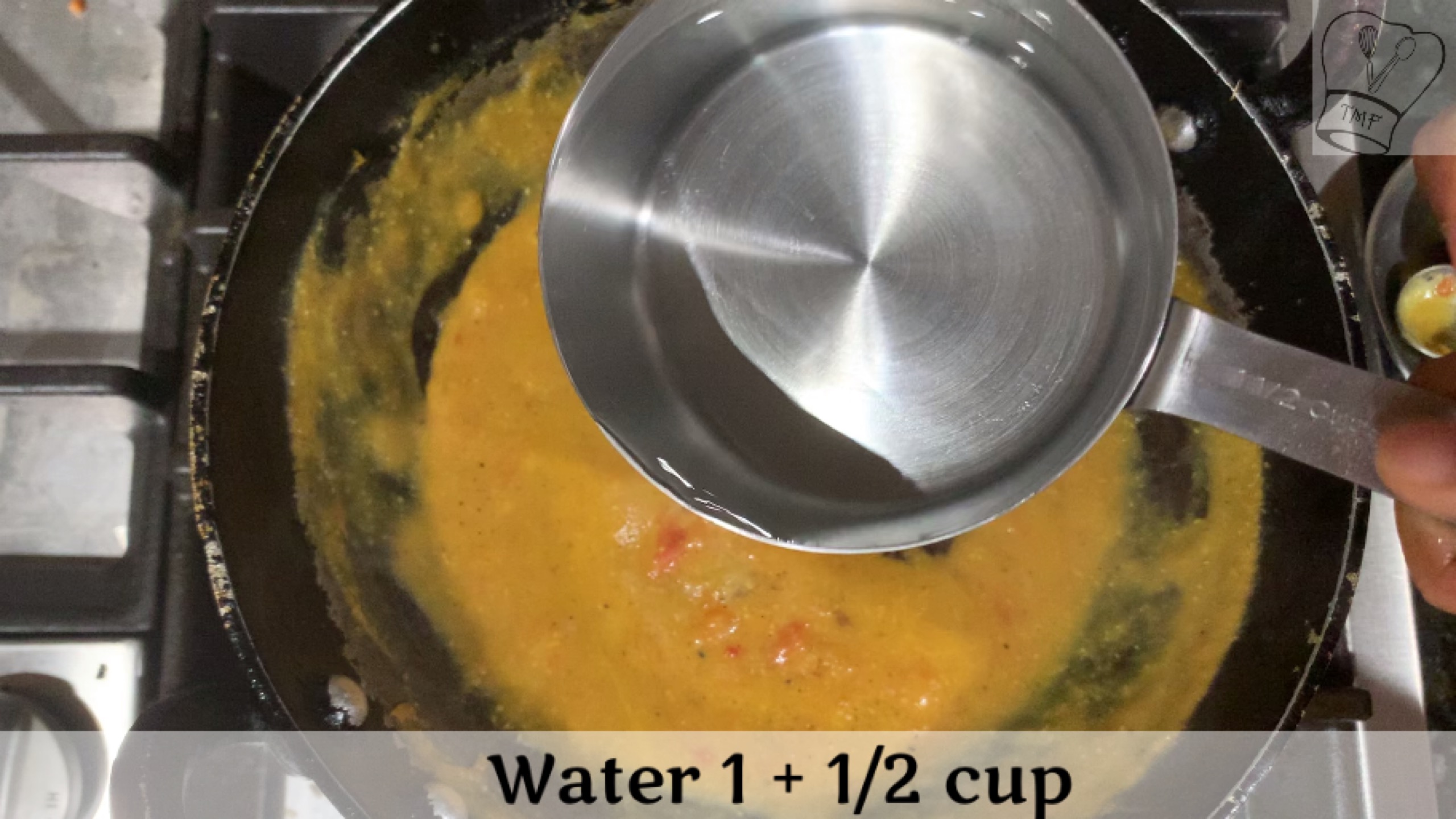 Let it boil, meantime add chopped curry leaves and coriander leaves, ginger powder and mix well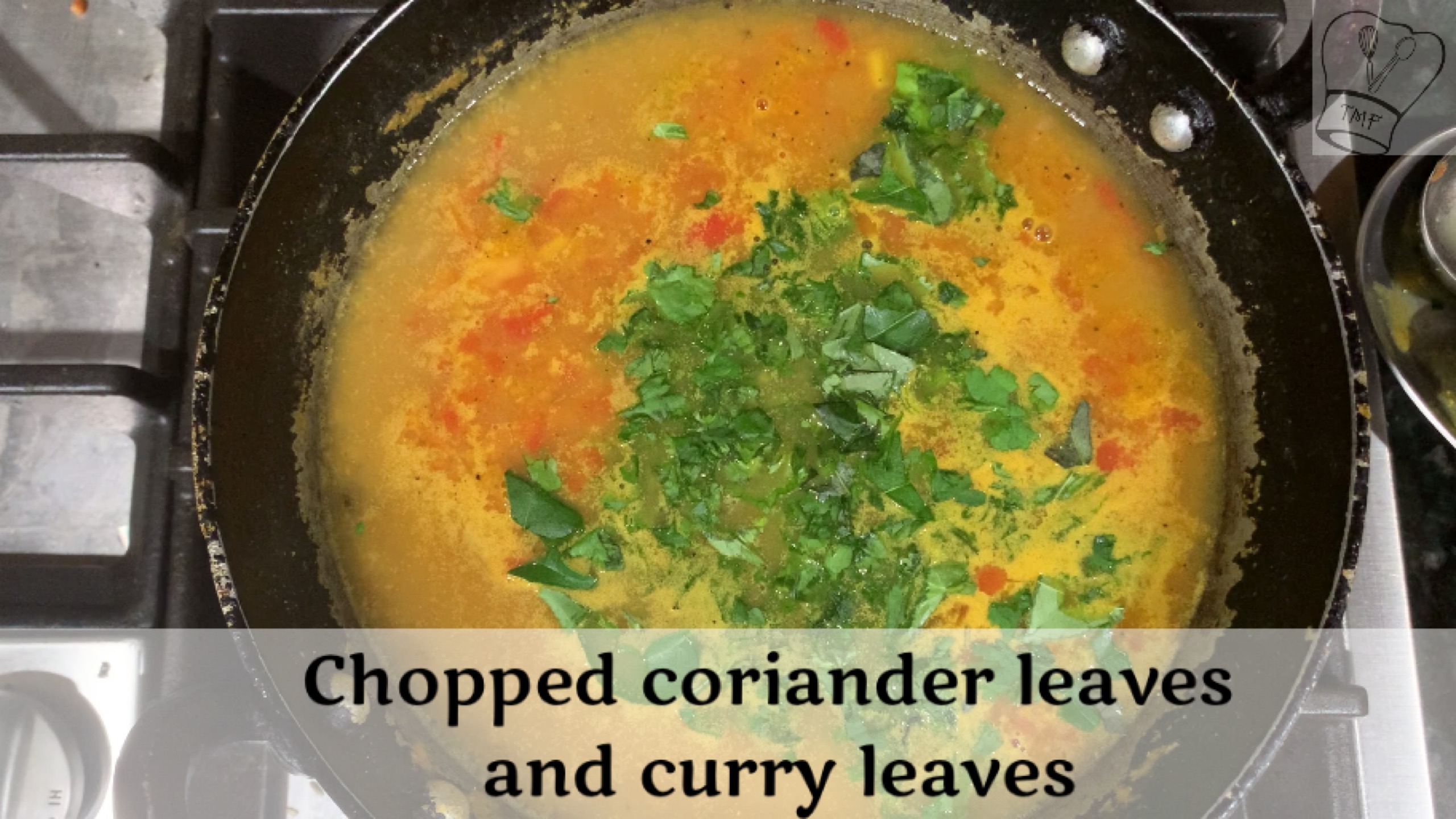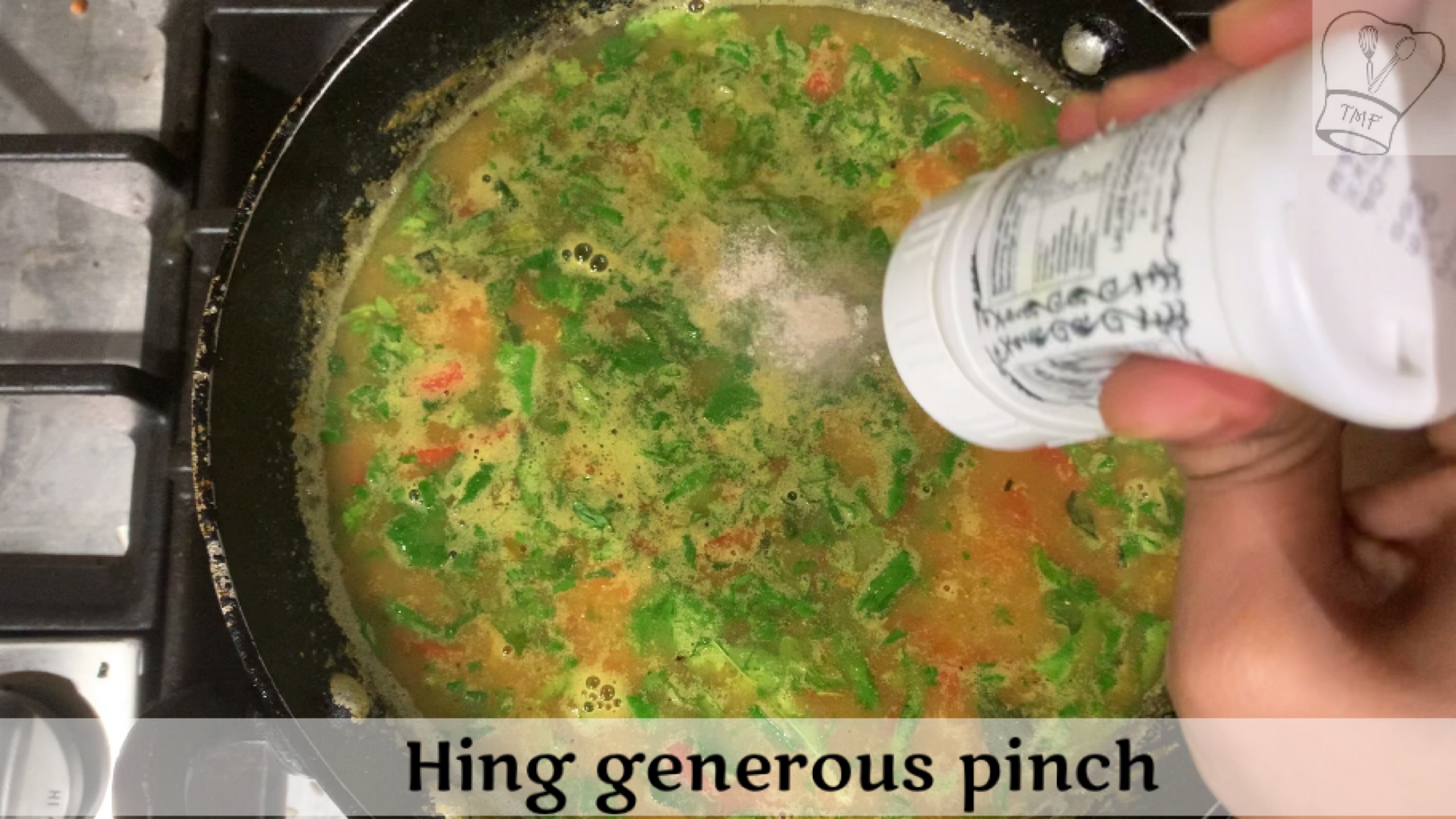 Mix well and cook till the rasam boils frothy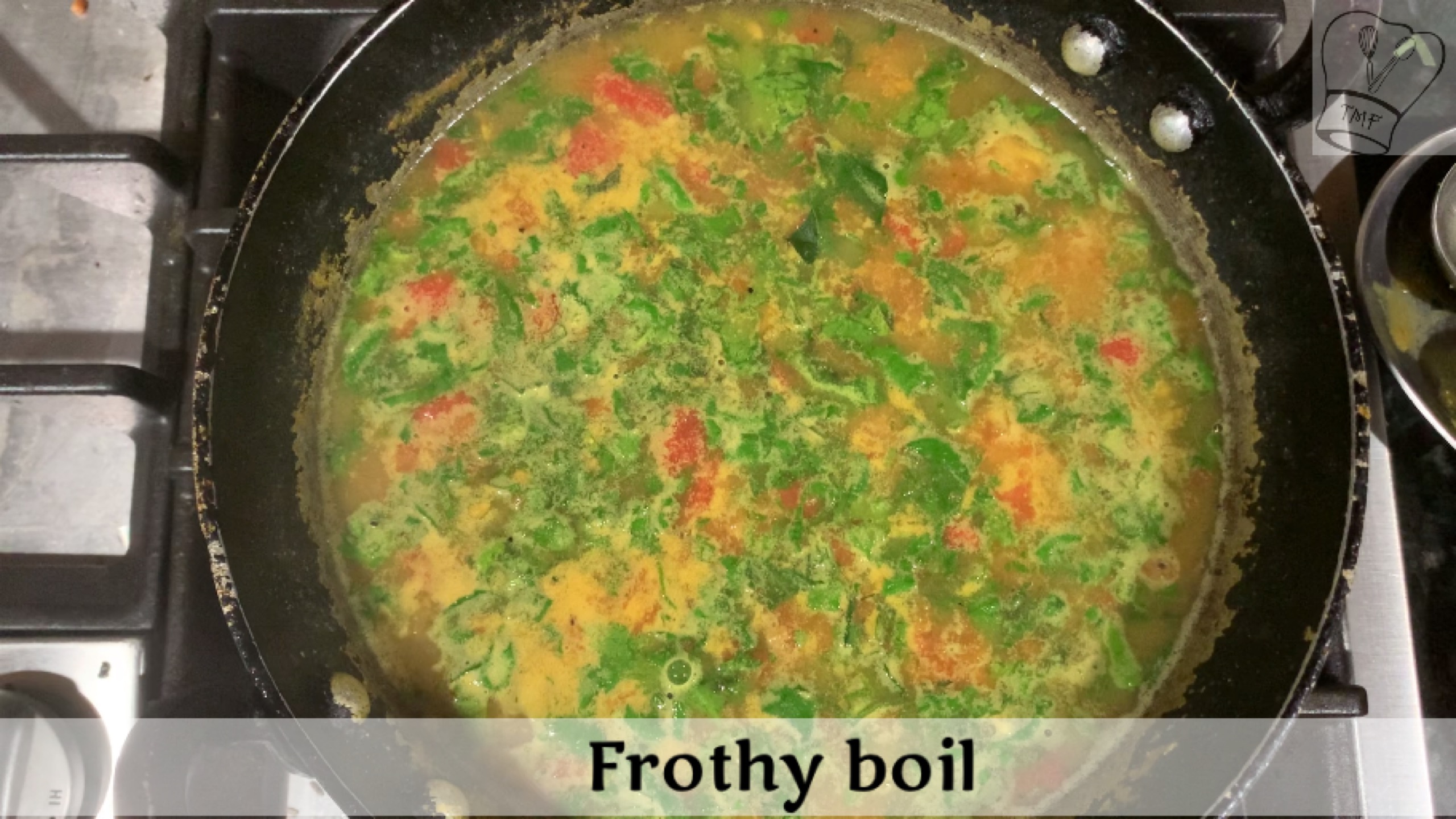 In a small tadka pan add ghee and let it turns hot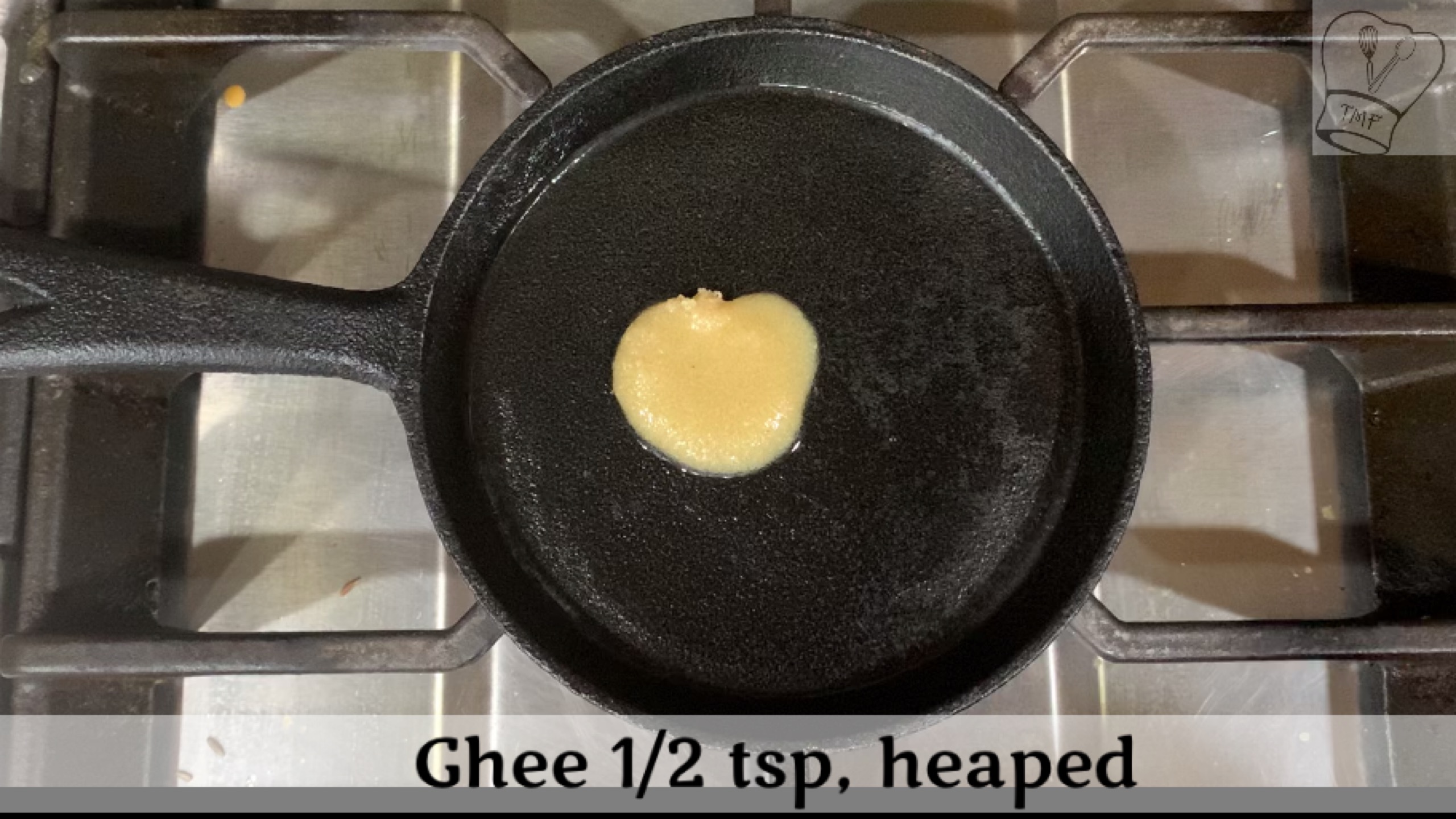 Add mustard seeds and splutter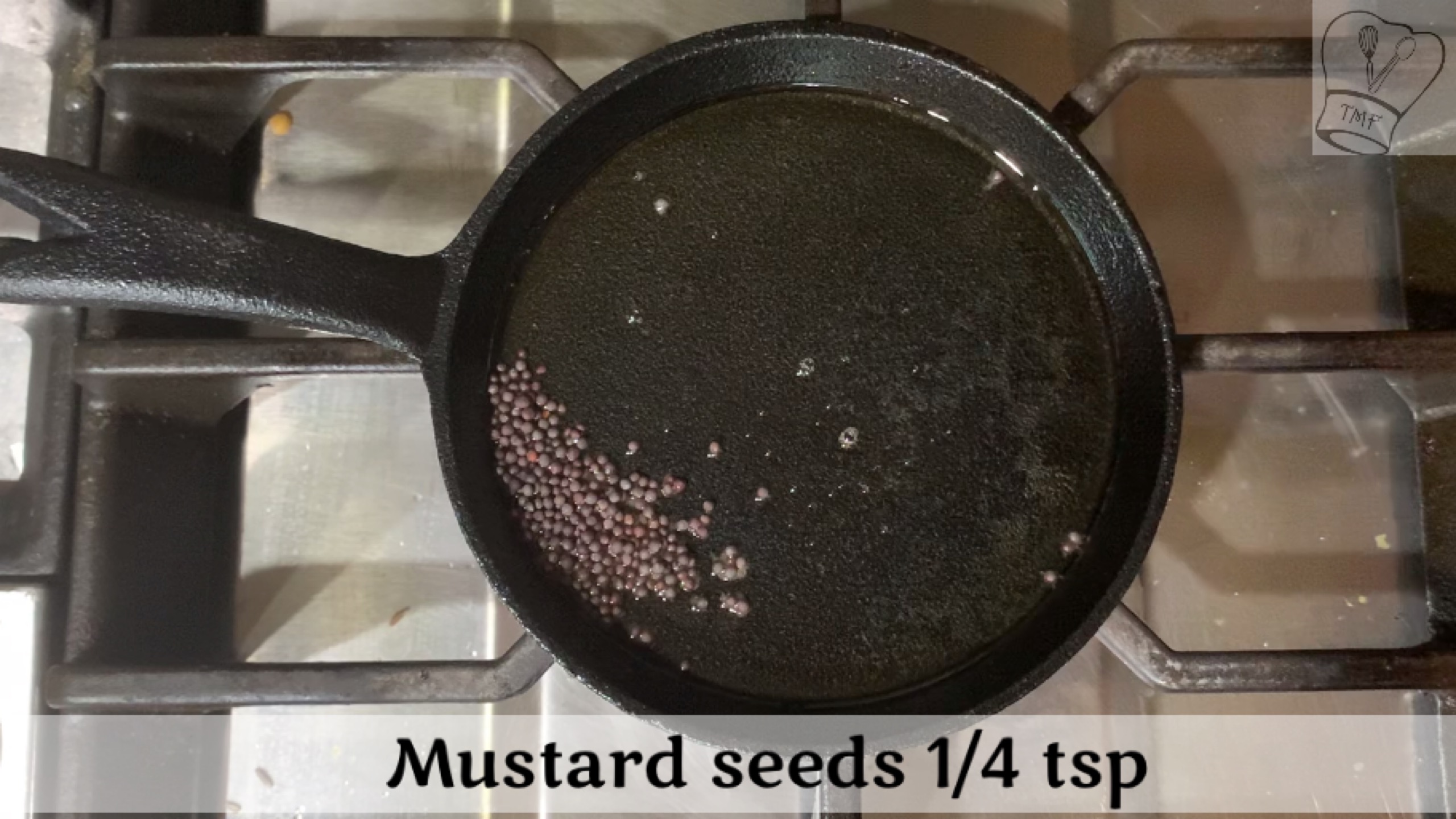 Furthermore, add red chili and cumin and let it crackle
Finally, add hing and add the tempering to the rasam. Our tasty poondu rasam is ready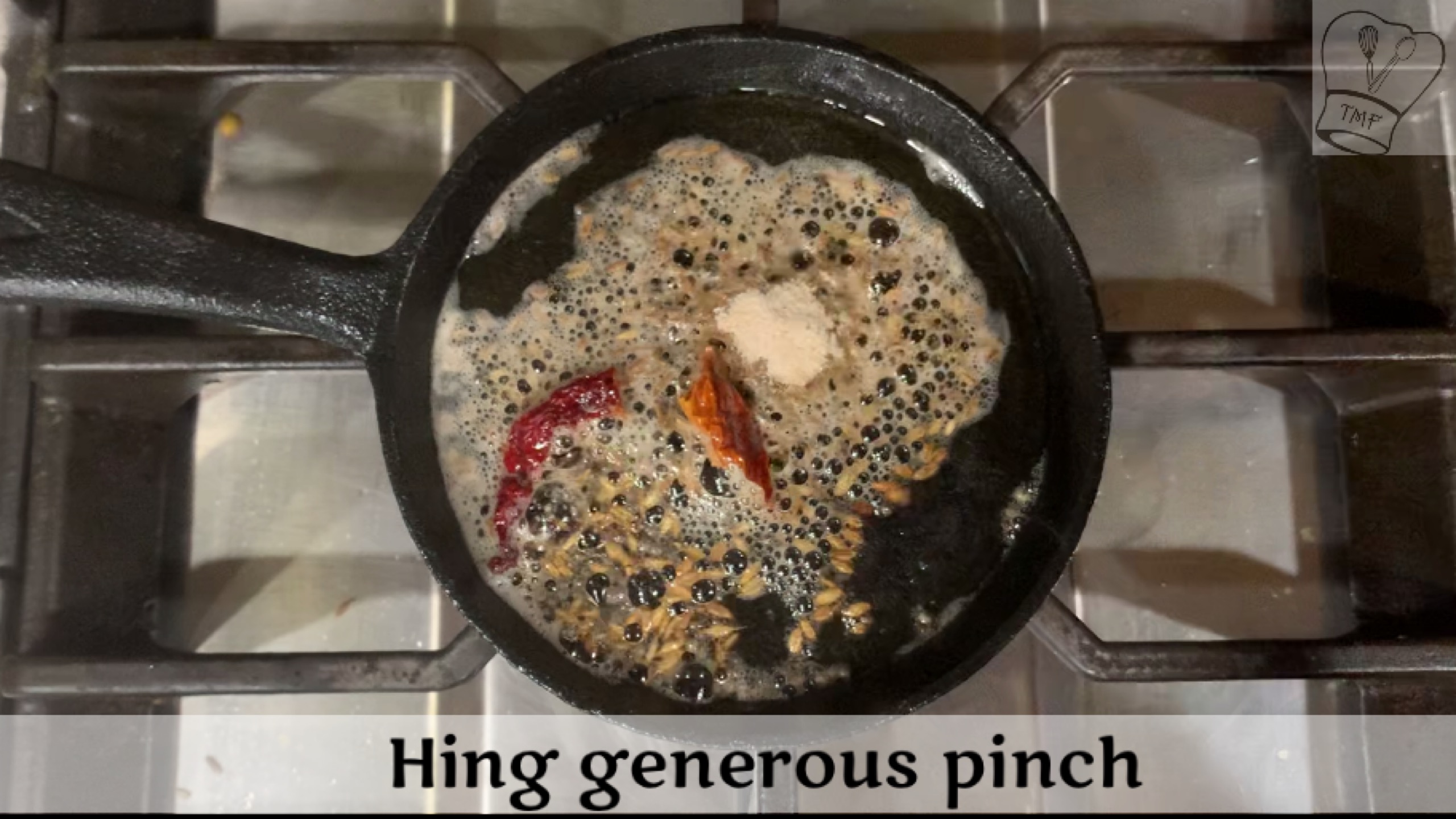 Method 2:
Soak tamarind in hot water for 15-20 minutes. Keep the tamarind soaked water for rasam

Add whole black pepper, coriander seeds, cumin seeds, toor dal, salt, and garlic cloves to the mixie jar and blend into a paste by adding little water

Add ghee to the pan, once the ghee becomes hot add the ingredients in "to temper" and let it splutter
Add the ground mixture and saute till the raw smell goes off
Add tomatoes and give a quick mix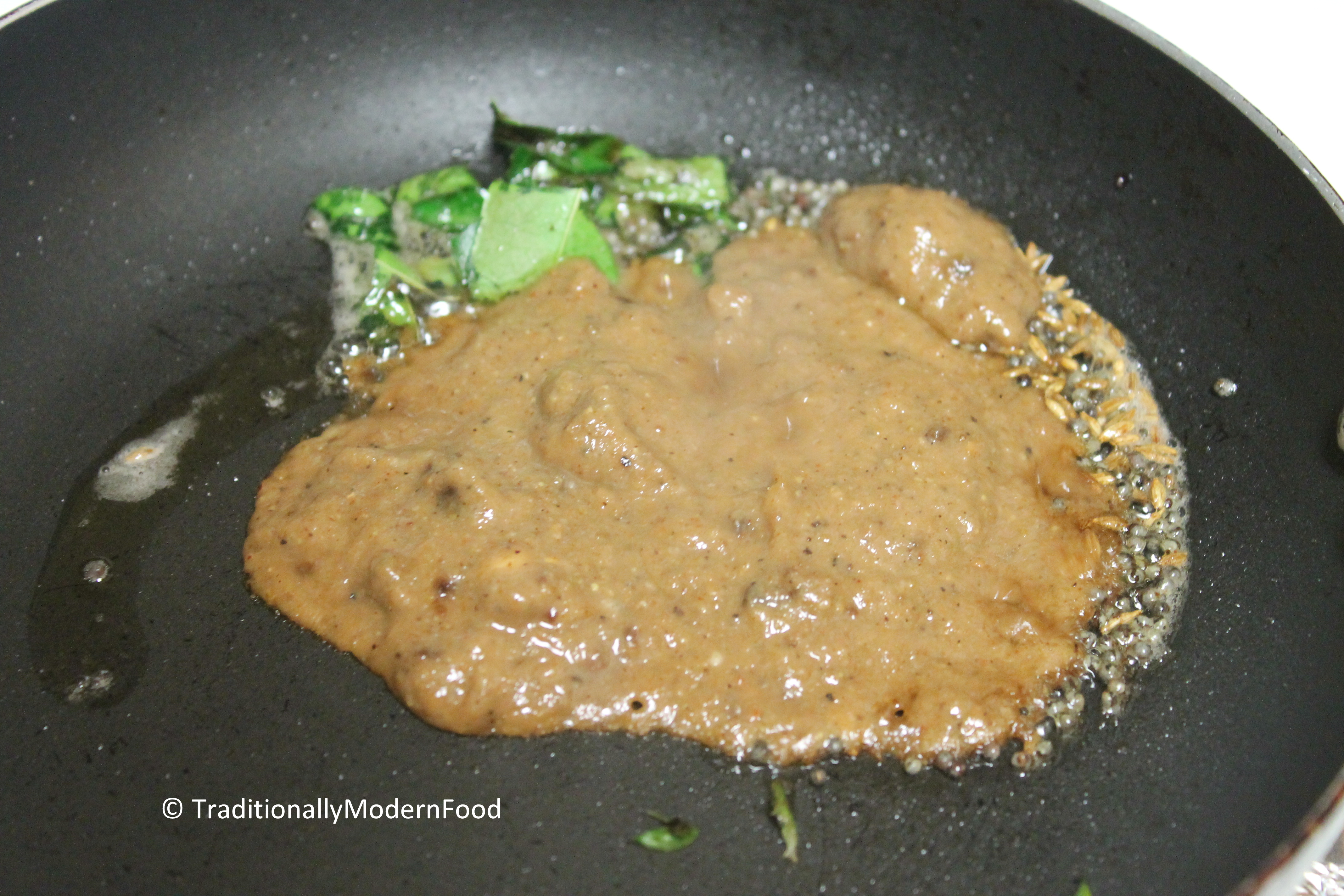 Add 2 cups of water, and turmeric powder and continue cooking. Cook till the raw smell of tamarind goes
Add 1/2 cup of water and cook the rasam till it starts frothing. Garnish with finely chopped coriander leaves and Serve hot with steamed rice or have it as a soup