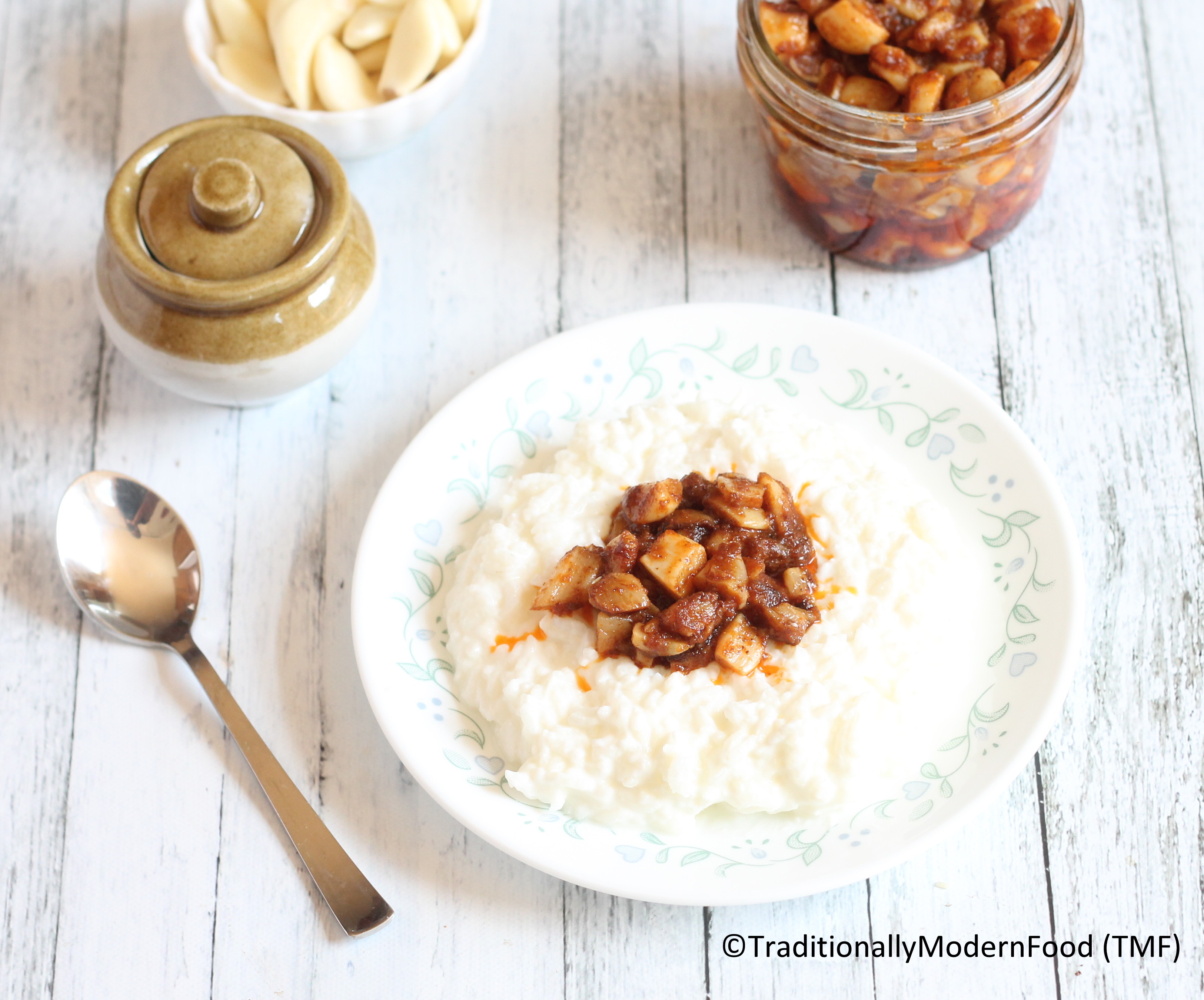 Poondu urugai | Poondu Oorugai | Poondu pickle can be prepared in 3 minutes. Whether it is pressure cooker or instant pot this poondu urugai is the quickest pickle I ever cooked. Garlic pickle tastes yum with curd rice, tiffin varieties etc.
Jagadish and I are addicted to garlic flavor, it will be part of almost everyday cooking. Whether it is gravy, rice variety, pasta little garlic always makes the dish extra special. I have posted a few recipes like milagu kuzhambu, poondu kuzhambu, garlic bread , marundhu Kuzhambu with garlic as key ingredient.
When it comes to Garlic pickle it is always store brought. Ruchi, priya, grant sweets chettinadu vetha kulambu are some of my frequent buys. Couple of weeks ago we went to my cousin's house for lunch.
I have tried lot of pressure cooker based recipes and thanks to RK sir's pressure cooker cooking. I tasted Poondu Oorugai in one of my relative house and heard it is prepared using pressure cooker.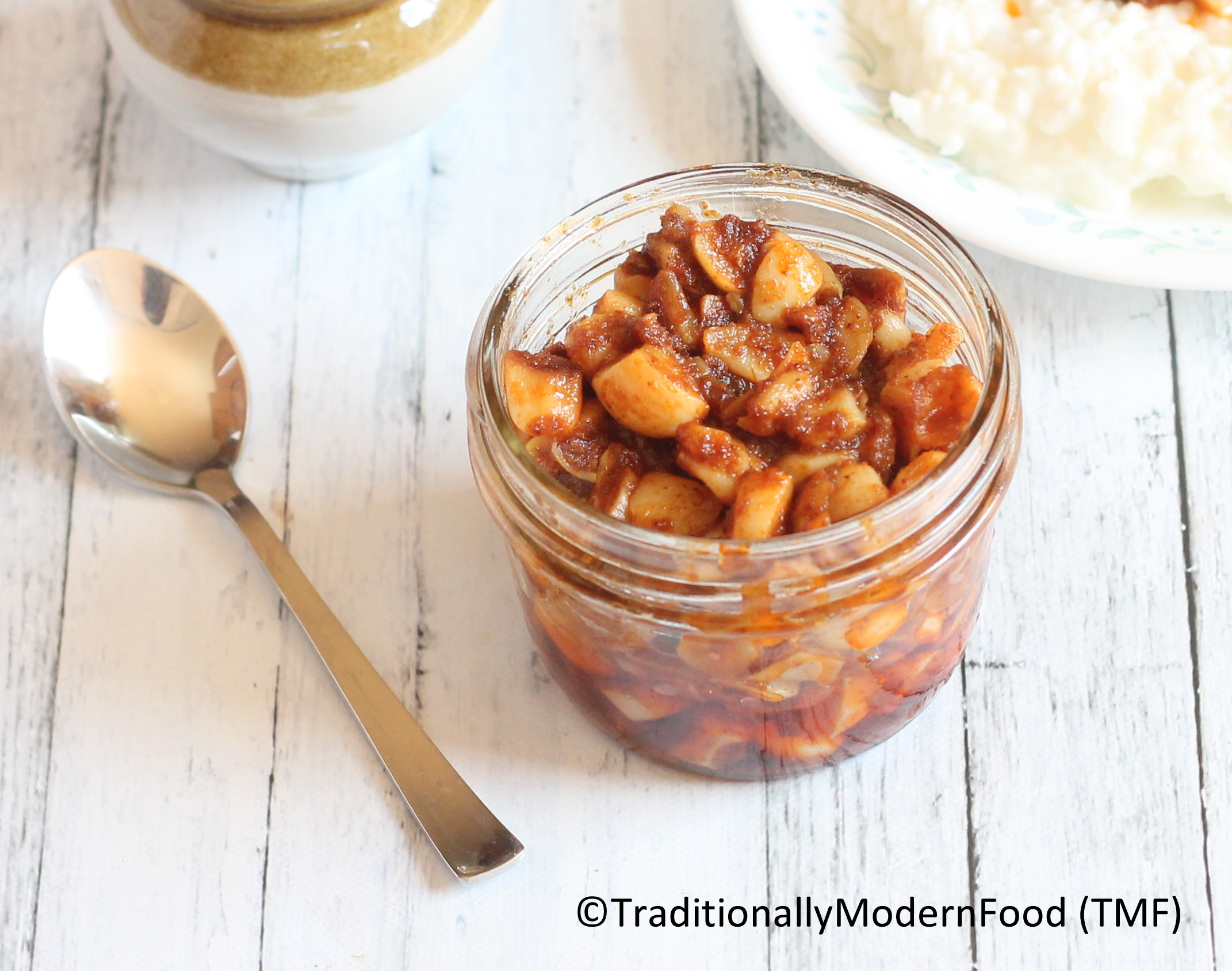 Had peas pulav and malai kofta made me full but pickle tempted me to try. OMG it was super tasty. Instead of having pickle as a side for curd rice I took curd rice as a side. I am not exaggerating Poondu oorugai was heavenly. She said it can be prepared within 5 minutes.
I was awestruck after hearing the recipe. Only thing that made me worry about garlic pickle is to peel garlic. For that also aunty told to buy peeled garlic from Costco. Oh man I should say it saves lot of time.
After hearing the recipe I did a Costco trip following weekend and prepared this Poondu urugai. Every time I make this pickle we finish it in no time and I couldn't have some for pictures. Finally I managed to take pic last week.
Initially I prepared this poondu oorugai with pressure cooker. My recent addiction for instant pot made me try with it and here is Garlic pickle with pressure cooker and instant pot. No complex steps put everything into the pressure cooker/ instant pot pickle is ready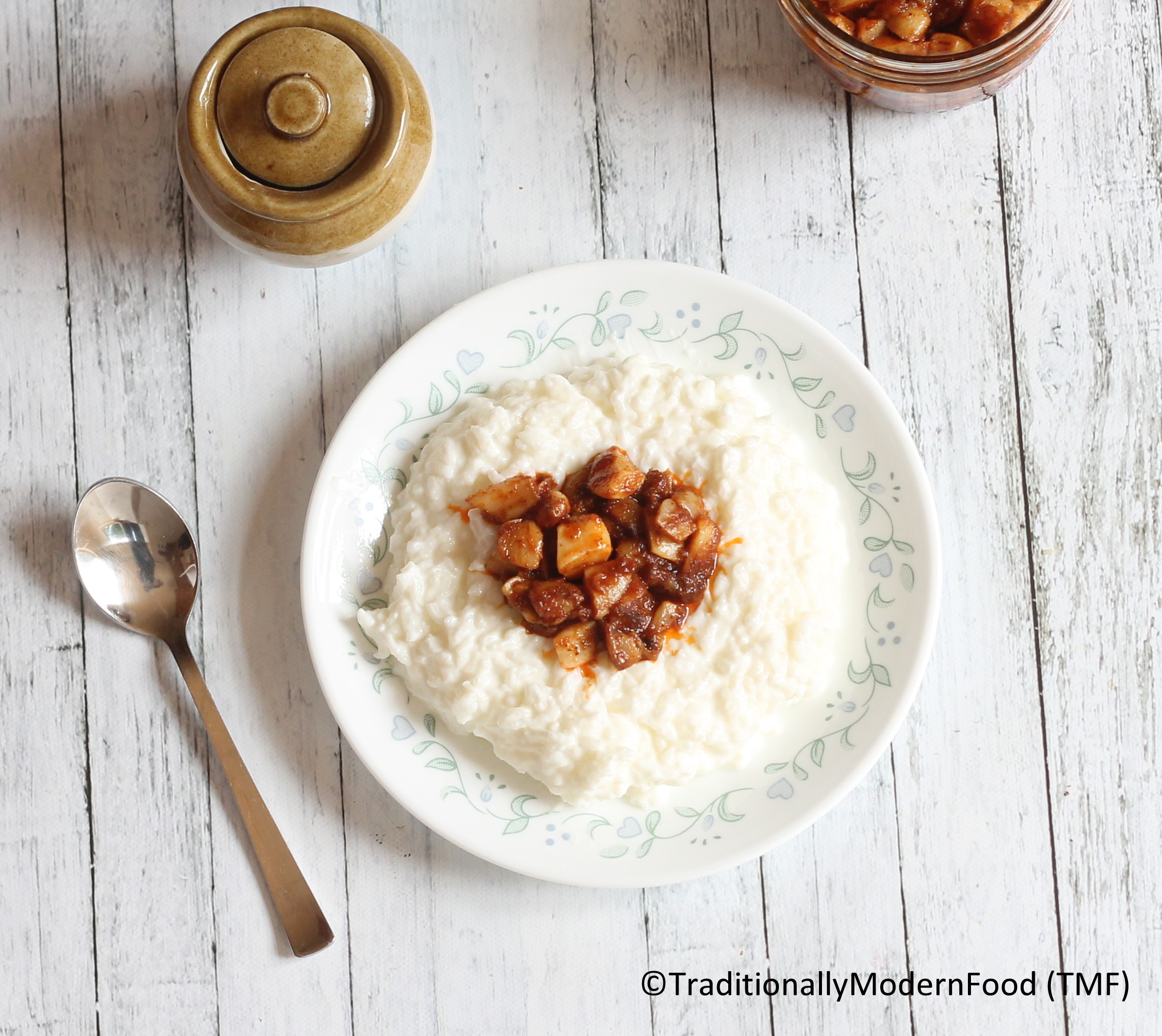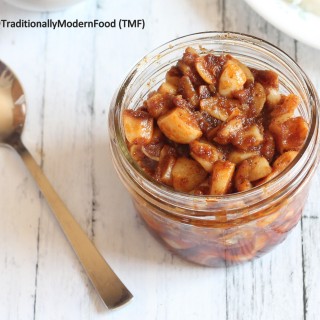 Ingredients
Garlic - 1 cup + 1/3 cup

peeled and roughly chopped

Oil - 1/4 cup + 1/2 tbsp

Chilli powder- 1 tbsp

Mustard seed powder - 1/2 tsp

Fenugreek powder- 1/2 tsp

Asafotida - 3/4 tsp

Salt - as needed
Instructions
Pressure cooker

In a pressure cooker on medium- high flame add all the the ingredients mentioned one by one. Do not stir. Put the lid and whistle

One whistle and carefully release the pressure immediately. Pickle is ready

garlicpicklesteps

Instant pot:

Turn on instant pot in sauté mode add all the ingredients listed one by one. Do not stir

Change instant pot to manual mode and cook in high temperature for 3 minutes in steam. Switch off and turn it to vent immediately. Pickle is ready
Video
Notes
Make sure Chilli powder don't touch the cooker otherwise pickle will get burnt
If you are doubtful about burning the pickle. Cook garlic in a separator and then make the pickle in stove top

Cook garlic in a cooker separator with salt for 3-4 whistles. Drain the excess water. Add oil in the pan and when oil is hot add all the powders and switch off. Add the hot oil to the cooked garlic and serve

Poondu Urugai can also be prepared like Instant mango Pickle
Ingredients:
Garlic - 1 cup + 1/3 cup (peeled and roughly chopped)
Oil - 1/4 cup + 1/2 tbsp
Chilli powder- 1 tbsp
Mustard seed powder - 1/2 tsp
Fenugreek powder- 1/2 tsp
Asafotida - 3/4 tsp
Salt - as needed
Method:
Pressure cooker
In a pressure cooker on medium- high flame add all the the ingredients mentioned one by one. Do not stir. Put the lid and whistle
One whistle and carefully release the pressure immediately. Pickle is ready
Instant pot:
Turn on instant pot in sauté mode add all the ingredients listed one by one. Do not stir
Change instant pot to manual mode and cook in high temperature for 3 minutes in steam. Switch off and turn it to vent immediately. Pickle is ready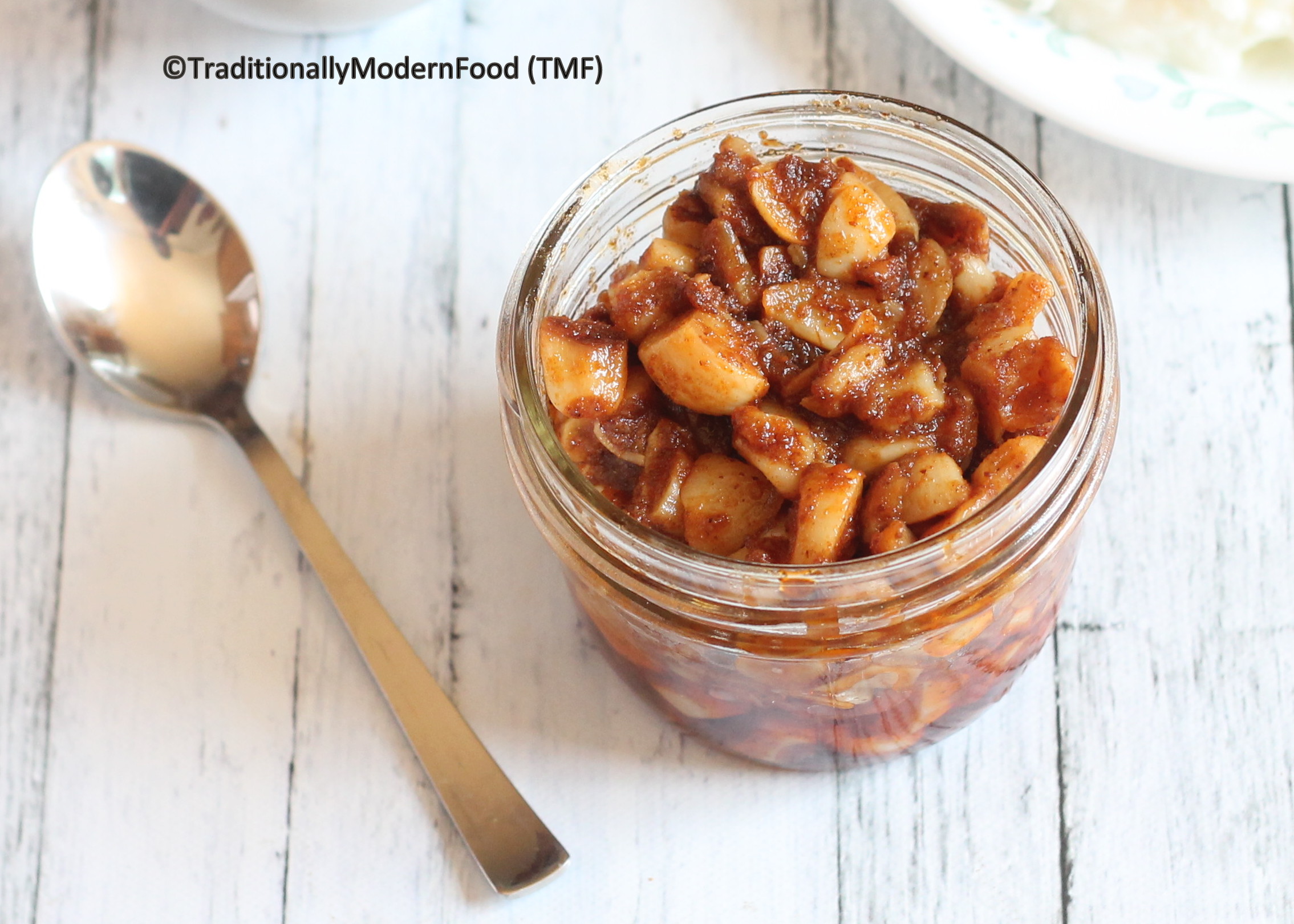 Poondu Urugai can also be prepared like Instant mango Pickle
Cook garlic in a cooker separator with salt for 3-4 whistles. Drain the excess water. Add oil in the pan and when oil is hot add all the powders and switch off. Add the hot oil to the cooked garlic and serve