Eggless Mango pudding is a rich and tasty dessert prepared with mangoes, heavy cream and agar- agar. Perfect single serving dessert for parties. Yummy summer/spring dessert during mango season.
I can't stop myself from buying mangoes whenever mangoes are in season. I am more than addicted to mangoes. 😂Ever since I started seeing mangoes in Costco there is no grocery trip with mangoes.
Few weeks back I prepared Mango Mousse after a year and, got addicted to it. Homemade mango mousse made me buy heavy cream during next grocery trip, and to prepare Mango Mousse again. I made one more batch and refrigerated it, evening after Jagadish came from work I told him about the Mousse. He said it was delicious but I thought this time you would make something different.
First I thought of making mango ice cream like my pistachio ice cream by adding some condensed milk but I was out of condensed milk. One more dessert I know with fruit and heavy cream combo is panna cotta. I immediately haunted for agar agar powder. Luckily I had it my pantry.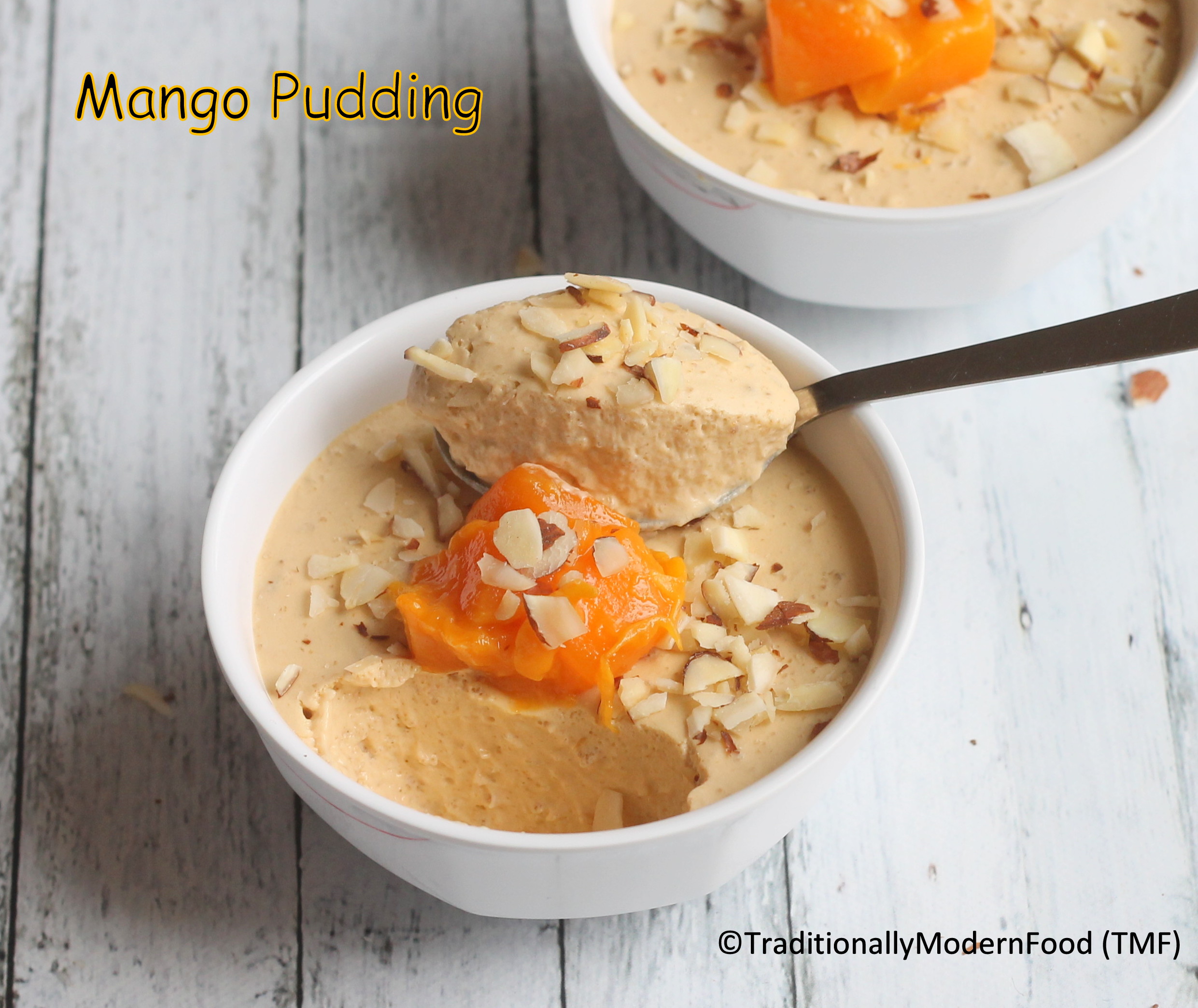 When I was about to make it I remembered I have whisked heavy cream into fluffy peaks for Mousse and I doubted if adding agar agar powder is a good choice. Suddenly Mango Pudding we had in a Chinese restaurant came to my mind. I have seen mango pudding in Thai restaurants too, but not sure how it is prepared.
Browsed for Chinese mango and Thai mango pudding but recipe did not call for whisking heavy cream.
Pot de cereme was one more dessert which struck my mind but it called for custard. As I already have mango and cream so skipped it .
After thinking for a while, I decided to do go ahead with the recipe I thought at first. Worst case Eggless Mango Pudding won't be set, I can still call it mango Mousse and sell it😜
When I took the Eggless Mango Pudding after 8 hours I saw it got set, and I was happy with the look. We tasted it and omg it was creamy and light. The texture is different from panna cotta. Pudding was light and we loved it. I put it in four small cups, by the time we both finished our first cup I hurried to take few picture. This is definitely worth to do it again and if I am not making a note in TMF I might forget about this yummy dessert. This is not an authentic Chinese mango pudding, but my take on it.
Checkout other pudding varieties in TMF,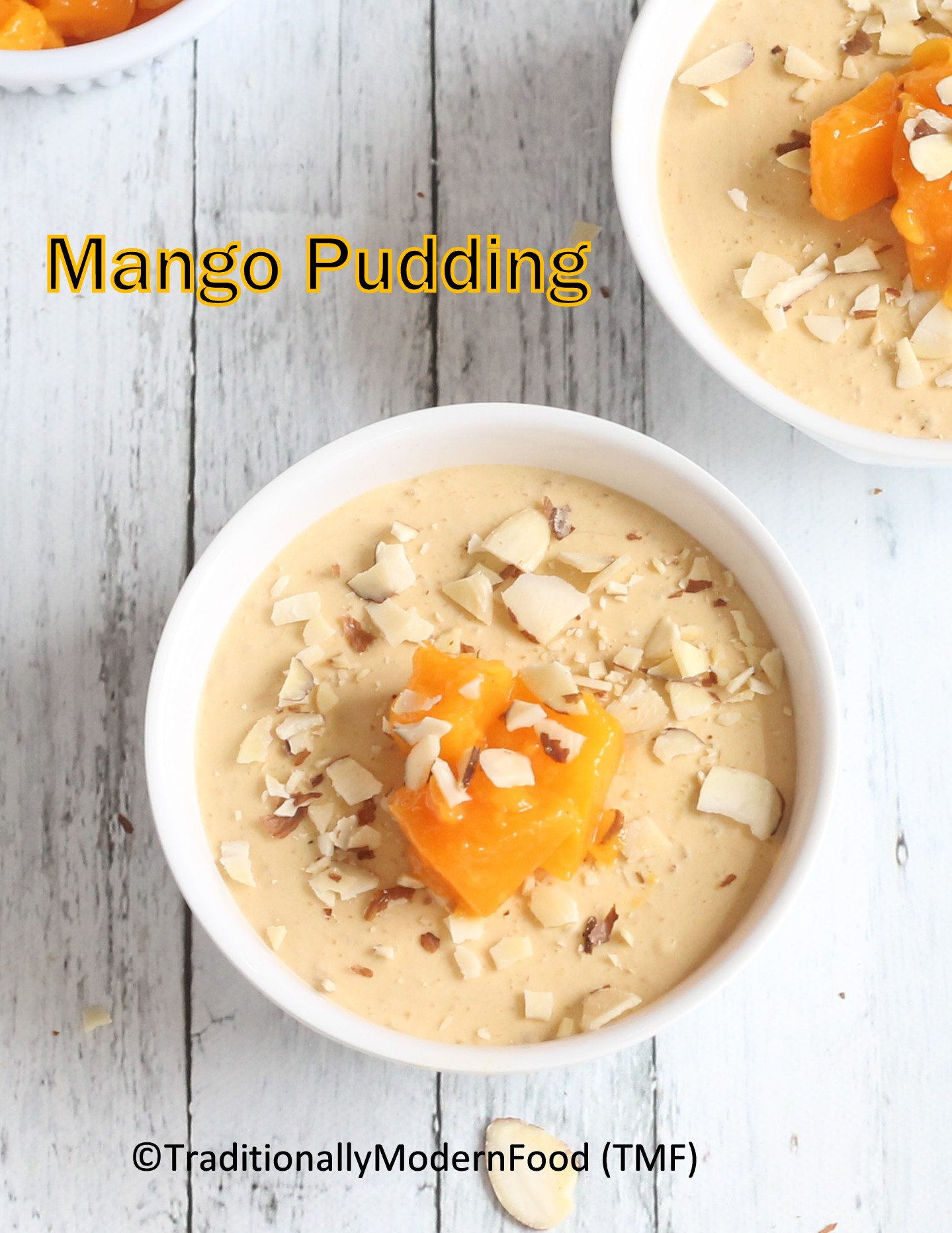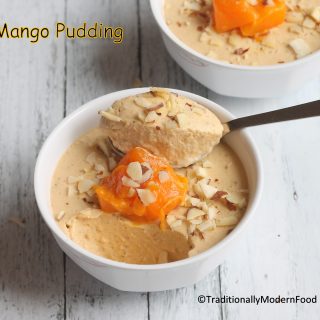 Mango Pudding
Mango pudding is a rich and tasty dessert prepared with mangoes, heavy cream and agar- agar. Perfect single serving dessert for parties. Perfect summer dessert during mango season
Print
Pin
Comment
Ingredients
Pureed mangoes – 1/2 cup

Heavy Whipping cream – 1/2 cup

Fresh mangoes- 3 tbsp

for topping

Sugar – 1/4 cup

Adjust according to your taste

Vanilla extract– ¼ tsp

Milk – 2 tbsp

Agar Agar powder – 1/2 tsp
Instructions
In a bowl combine luke warm milk and agar agar powder, mix well and keep aside till the powder completely dissolves in milk

Mix pureed mango (I have blended mango pulp with 1 teaspoon of water) and vanilla in a bowl. In a separate bowl, whisk Whipping Cream with sugar for 5 mins till you see fluffy peaks

After the agar agar is completed dissolved in milk add it to mango heavy cream mixture. Combine the mixture well

Refrigerate for 6-8 hours or overnight, pudding is ready. Top it up with mango and serve

In a bowl combine luke warm milk and agar agar powder, mix well and keep aside till the powder completely dissolves in milk

Mix pureed mango (I have blended mango pulp with 1 teaspoon of water) and vanilla in a bowl. In a separate bowl, whisk Whipping Cream with sugar for 5 mins till you see fluffy peaks

After the agar agar is completed dissolved in milk add it to mango heavy cream mixture. Combine the mixture well

Refrigerate for 6-8 hours or overnight, pudding is ready. Top it up with mango and serve
Notes
If you are using gelatin use 1/2 tbsp
If you are using agar agar flakes use 1/2 tablespoon of flakes
Pudding can be made with any other print puree
Chocolate sauce, nuts like pistachio, roasted cashew can be topped for extra flavor
Make pudding in small serving cups for easy individual servingG
I didn't remold the pudding like panna cotta

Ingredients:
Pureed mangoes – 1/2 cup
Heavy Whipping cream – 1/2 cup
Fresh mangoes- 3 tbsp, for topping
Sugar – 1/4 cup (Adjust according to your taste)
Vanilla extract– ¼ tsp
Milk – 2 tbsp
Agar Agar powder – 1/2 tsp
Method:
In a bowl combine luke warm milk and agar agar powder, mix well and keep aside till the powder completely dissolves in milk
Mix pureed mango (I have blended mango pulp with 1 teaspoon of water) and vanilla in a bowl. In a separate bowl, whisk Whipping Cream with sugar for 5 mins till you see fluffy peaks
After the agar agar is completed dissolved in milk add it to mango heavy cream mixture. Combine the mixture well
Refrigerate for 6-8 hours or overnight, pudding is ready. Top it up with mango and serve