Microwave Snickerdoodle Mug cake is a tasty super quick delicious cake. Single serving cakes are yummy evening indulgence. If you like snickerdoodle cookies these cakes are perfect 😊
Guest post from Karthika, it's been a year since we had a guest in TMF happy to host Karthika😊 Facebook acquainted me to lot of blog friends. Couple of weeks ago I got connected with Karthika through a fb group. In my one year break I missed some blogs, Karthika blog was one. We initially chatted in messenger. Our mother tongue got us close and we got connected soon. Conversation went to whatsapp in no time.
I am big of karthika pictures and wide range of recipes. Be it a smoothie, baked goodies traditional South Indian recipes her space has got everything. One day I was formatting my blog, I was seeing guest posts and that's when I was chatting with karthika. I thought of asking guest post from Karthika, she instantly agreed and ask me what I want. Being a sweet lover what else I would have asked, I have enjoyed seeing her baked goodies. I said if possible some dessert treats, when she came up with a cake I was double happy.
Their is a famous dairy milk advertisement, "sweet edu kondadu (celebrate happy occasion with a sweet)". Today is Karthika's blog anniversary, wishing her happy blogging with Snickerdoodle mug cake😄
Over to Karthika,
Hello all, This is Karthika, who blogs at
www.karthiskitchenstudio.com
, an accidental software developer, passionate foodie who would travel miles for a crisp samosas, bathroom singer, a crazy explorer of food, a chatterbox, a voracious reader who can spend entire day with books, a true coffee lover who enjoys it without diluting with sugar and insanely interested in everything. Call me as nitwit, but this is me and all of me. I have been blogging for last one year (yes, my blog anniversary is on April 20) and I would say that it is such a great learning curve in terms of cooking, photography and writing. If you would love to know about my mad experiments, do visit my website or connect with
Facebook
/
Instagram
. More than learning, this blogging earned with worldwide loveable and trustworthy friends. Vidya is such a loveable friend among them with such a beautiful heart and cute smile. She is such a down to earth person – been blogging for years, she requested a guest post from someone who is recently into blogging. Do you need more such examples to reveal her nature? Whenever I pestered her with questions, she was patient and answered me with lots of facts and helpful tips. It's such a pleasure and honor to share my creation in her space.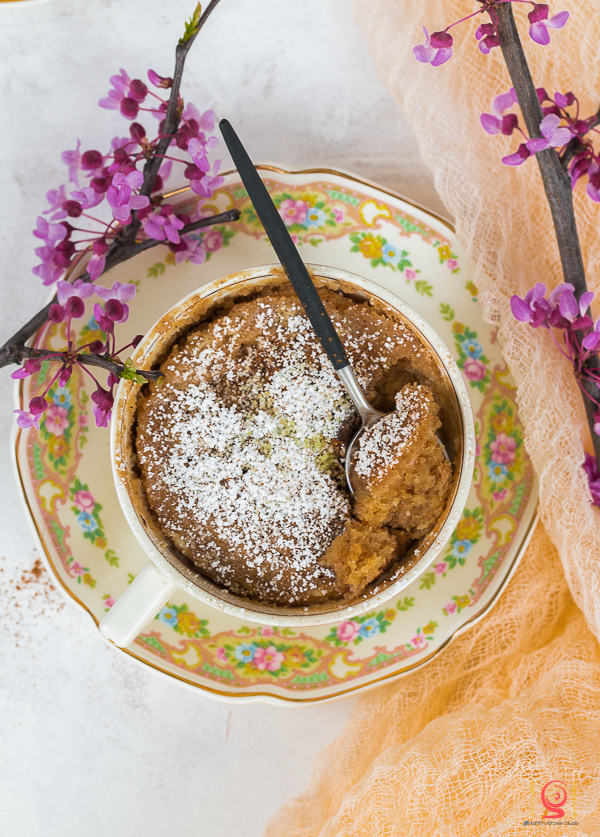 Thank you much Vidya for sharing your awesome space with me. Vidya's space had every recipe I named and it was hard for me to choose one for her space. Look at her variety of kootu, curries and toddler recipes. One can't pass by without gazing around her desserts section. She does amazing job and always on the look out to provide a delicious recipe for her followers. Wish I could be active like her. After much thought process, I decided to prepare a sweet for such a sweet person. What else could justify and complement her space? When it comes to sweet, nothing can beat my love for cakes. I am a cake person who can enjoy cake for breakfast or as midnight snack. And chocolate cake seduces me. My love for chocolates and cakes never fades, in fact it becomes intense every year. But then, not everyone in my circle is a big fan of cakes. So baking a cake is a rare phenomenon in my kitchen. Later on, I discovered mug cakes to relish my love for cakes and avoid wastages. I would love to try variety of flavors but for vidya, I settled on my favorite – snickerdoodle. I baked snickerdoodle cookies for last Christmas. Oh boy, my kitchen smelled delicious and the flavors tantalized me. Such a heavenly combination even a toddler would love. Believe me, my friend's kid (3 years old) couldn't stop himself from munching on these goodies. How about incorporating a classic cookies as a cake, perfect for one serving? It was one fine evening, I experimented microwave snickerdoodle mug cake, just for three (thinking that I would get fair share – 2 cups) but then ended with only one. My husband SJ and my friend, SAN praised and completed the entire mug in a minute. Next time, I baked additional one and left it in microwave just to satisfy my cake lover at the end of day. Did I say it just takes 5 minutes to prepare this deliciousness? Yes, just 5 minutes – 3 minutes to whip up the ingredients and 2 minutes to bake it. Here you go guys! Super addictive Microwave Snickerdoodle Mug Cake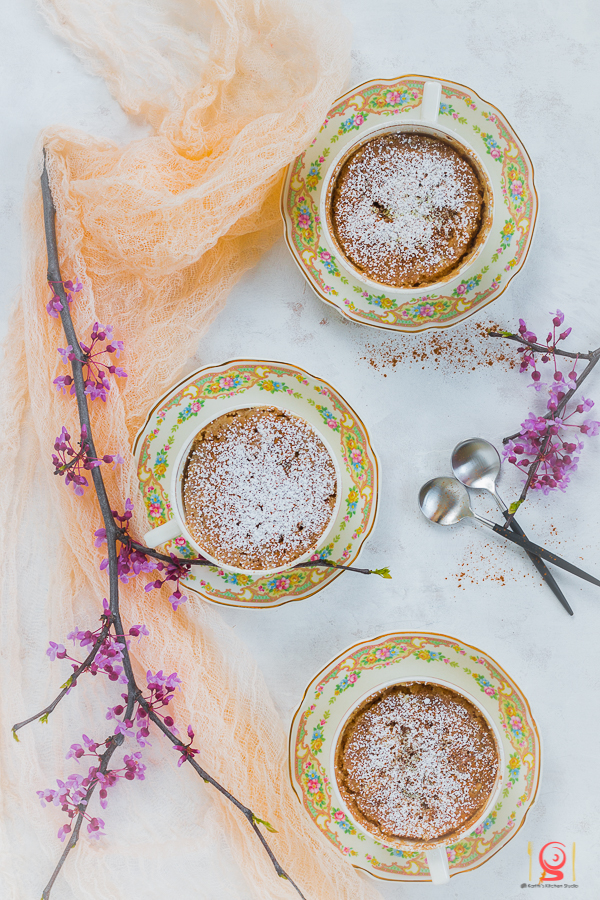 Other cake recipes in TMF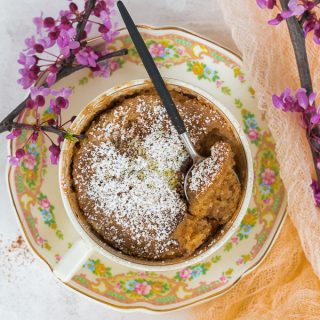 Snickerdoodle Mug Cake
Snickerdoodle cake is a tasty super quick delicious mug cake that is prepared in microwave. Single serving cakes are yummy evening indulgence. If you like snickerdoodle cookies these cakes are perfect 😊
Print
Pin
Comment
Ingredients
For Cake:

All Purpose Flour - ¾ cup

Cane Sugar - 6 tablespoon

Baking Powder - ¾ teaspoon

Cinnamon Powder - ¾ teaspoon

Vanilla Extract - 1 ½ teaspoon

Milk - ¾ cup

Melted Butter - 4 ½ tablespoon

Garnish:

Sugar

Cinnamon
Instructions
In a small bowl, combine flour, cinnamon powder, baking powder and sugar. Mix them well.

Now, add the wet ingredients and whisk them well until they are blended together.

Pour the ingredients into the mug.

Microwave for 2 minutes until the center of the mug is set.

Sprinkle topping on top of the cake.

Serve it warm or let it cool completely before serving.
Notes
Use any microwaveable bowl or mug
Ensure not to fill the entire cup. Fill only ¾ Th of the mug
Mug cakes might sink in but that doesn't make it less than a cake
Add a tablespoon of water/milk on top of the batter in mug. This will prevent over-baking, drying out and prevents becoming rubbery. Addition of water on top results in a moist soft cake
Troubleshoot your cake – test the center of the mug cake. If they stick slightly, then it's perfect. If it doesn't, then you over-baked. If it is still wet, microwave for another 5-10 seconds
Do not add baking powder more than the mentioned level. Adding more baking powder will raise the flour over the edge of the cake but then later, it sinks in providing an undesirably dense chewy texture to the cake
Mug cakes become hard even after 10 minutes. No worries, add a scoop of ice cream with nuts or your favorite nut butter or favorite sauce (chocolate/berry) and enjoy a perfect dessert
Don't forget to save an additional cup for you in the microwave as you never know that you would get your share because it is "Just Perfect Enough to Attract Everyone towards It".
Ingredient
: For Cake: All-Purpose Flour - ¾ cup Cane Sugar - 6 tablespoon Baking Powder - ¾ teaspoon Cinnamon Powder - ¾ teaspoon Vanilla Extract - 1 ½ teaspoon Milk - ¾ cup Melted Butter - 4 ½ tablespoon Garnish: Sugar Cinnamon
Method
:
In a small bowl, combine flour, cinnamon powder, baking powder, and sugar. Mix them well
Now, add the wet ingredients and whisk them well until they are blended together
Pour the ingredients into the mug
Microwave for 2 minutes until the center of the mug is set
Sprinkle topping on top of the cake
Serve it warm or let it cool completely before serving