Tortilla pizza | easy pizza with tortilla | homemade pizza | 5 mins pizza | cheesy bubbly crispy edge pizza with step-by-step pictures and video recipe. Check out the tortilla pizza video If you like the video pls SUBSCRIBE to my channel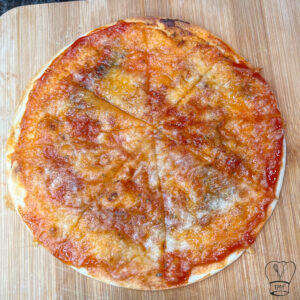 Why cast iron pan
A Cast iron pan gives the best crispy edge and amazing texture to the tortilla pizza. I would highly recommend that. If you don't have it, use a regular pizza board or pan
Flour or wheat tortilla
I have experimented with preparing pizza with both varieties. Personally, I like flour tortilla pizza. You can use wheat too but the taste might differ.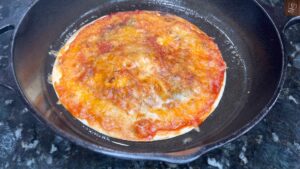 Does the side really matter?
Yes if you want the cheese melted and bubbly pizza always keep the side of the big bubble on top. Avoid placing them on the bottom.
Pizza sauce or ketchup
I used ketchup but you can pizza sauce too. Avoid salsa as it might affect pizza texture
Cheese
You can use any variety of cheese. The texture and taste of pizza might vary accordingly.
Ingredients
1 flour tortilla
2 tablespoon ketchup
1/2 teaspoon oil
Around 1/3 cup of cheese of your choice
Pan
Cast iron pan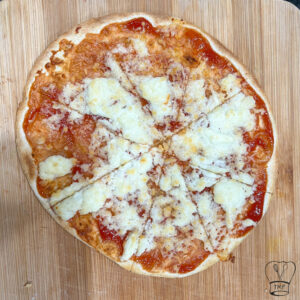 How to make tortilla pizza with step-by-step pictures
First press the "broil" button. Turn down and bring to 400 degrees Fahrenheit. Press "start " and preheat
Place cast iron on a stove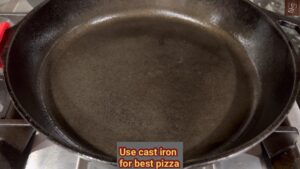 Add oil and spread with a kitchen paper towel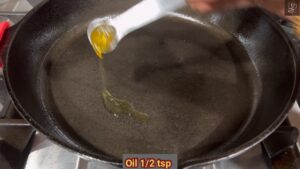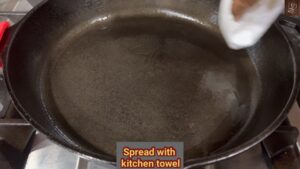 Turn on the stove on medium and heat till you see smoke. Avoid touching. Keep the hand a few inches above and check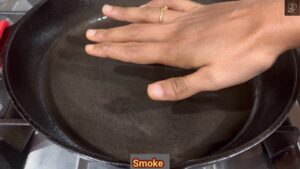 Immediately turn off the stove and place the tortilla. Make sure to place the side with big bubbles on top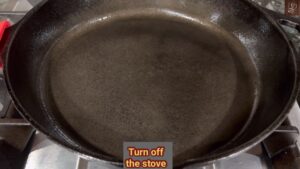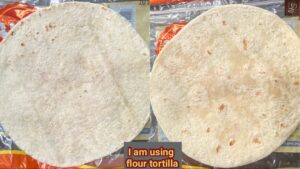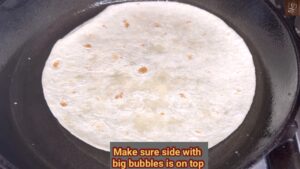 Add a layer of ketchup or pizza sauce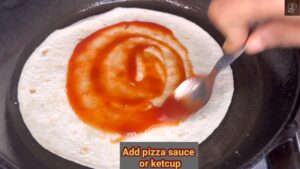 Furthermore, sprinkle Italian seasoning
Top with cheese of your choice. spread and add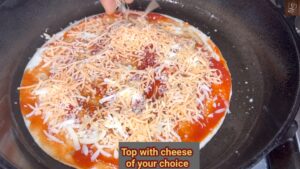 Carefully place the pan into the hot oven
Broil for 3-4 minutes. Till cheese turns bubbly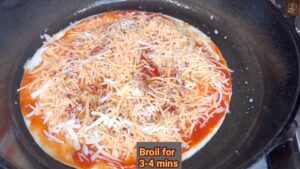 Carefully take it out from the oven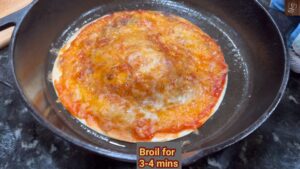 Transfer to the wooden board. Slice and enjoy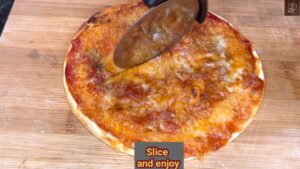 Pizza with just mozzarella cheese
Pizza with triple cheddar and mozzarella cheese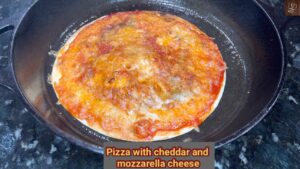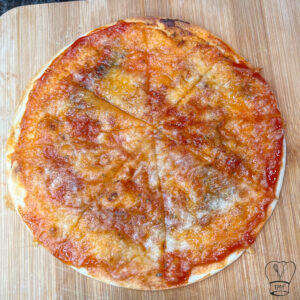 Ingredients
2

tablespoon

ketchup

1/2

teaspoon

oil

Around 1/3 cup of cheese of your choice
Instructions
First press the "broil" button. Turn down and bring to 400 degrees Fahrenheit. Press "start " and preheat

Place cast iron on a stove

Add oil and spread with a kitchen paper towel

Turn on the stove on medium and heat till you see smoke. Avoid touching. Keep the hand a few inches above and check

Immediately turn off the stove and place the tortilla. Make sure to place the side with big bubbles on top

Add a layer of ketchup or pizza sauce

Furthermore, sprinkle Italian seasoning

Top with cheese of your choice. spread and add

Carefully place the pan into the hot oven

Broil for 3-4 minutes. Till cheese turns bubbly

Carefully take it out from the oven

Transfer to the wooden board. Slice and enjoy

Pizza with just mozzarella cheese

Pizza with triple cheddar and mozzarella cheese
Video
Notes
A Cast iron pan gives the best crispy edge and amazing texture to the tortilla pizza. I would highly recommend that. If you don't have it, use a regular pizza board or pan
I have experimented with preparing pizza with both varieties. Personally, I like flour tortilla pizza. You can use wheat too but the taste might differ
if you want the cheese melted and bubbly pizza always keep the side of the big bubble on top. Avoid placing them on the bottom
I used ketchup but you can pizza sauce too. Avoid salsa as it might affect pizza texture
You can use any variety of cheese. The texture and taste of pizza might vary accordingly