Urulai pattani Masala | Urulai Pattai Curry | Urulaikizhangu Pattani Poriyal | Urulai Pattani masala | Urulai kizhangu kara curry | spicy potato green peas curry | Urulaikizhangu Pattani varuval | Urulai Pattai pirattal | urulai masala | potato peas curry | wedding style aloo curry with step-by-step pictures, and video recipe. Check out the Urulai pattani Masala recipe and if you like the video pls SUBSCRIBE to my channel.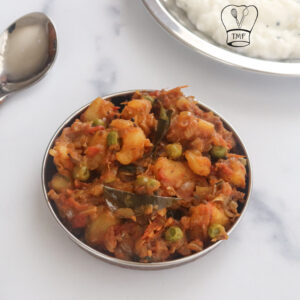 catering style urulai pattani masala
potatoes cooked in flavorful onion -tomato masala is a popular side dish served in south Indian wedding style. It tastes great with a variety rice. You can also mix it with rice and enjoy it. quick 15-minute urulaikizhangu pattani curry is a tasty way to finish a few leftover potatoes
cooking potatoes
I prefer pressure-cooking potatoes. You can cook potatoes in the microwave or instant pot. Cooking potatoes with salt avoids excess cooking potatoes. You can use any variety of potatoes.
ginger garlic crush
freshly crushed ginger garlic gives the best flavor. Instead, you can use ginger garlic paste or finely chopped ginger and garlic.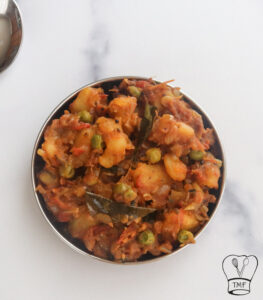 Can I use Sambar powder?
yes in that case skip chilli powder. To make catering style urulai pattani masala i prefer adding garam masala.
Can I reduce tomatoes?
potatoes should be well coated in masala so I would recommend adding a lot of tomatoes.
Serving suggestion
South Indian potato peas curry tastes best with a variety rice, and curd rice. You can also have it as a side for chappathi. It also tastes yummy when mixed with rice.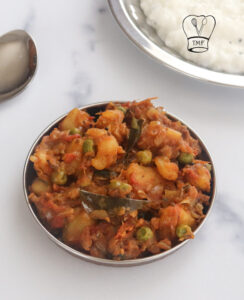 Ingredients
pressure cook
5 potatoes
water
required salt
1/4 teaspoon turmeric powder
ginger garlic crush
4 garlic
1/2 tablespoon ginger
temper
2 tablespoon peanut oil
1/4 teaspoon mustard seeds
1/2 tablespoon fennel seeds
curry leaves few
2 cups onion
1 + 1/2 cup tomatoes
required salt
1/4 teaspoon turmeric powder
1 teaspoon garam masala
1/2 teaspoon chilli powder
1 teaspoon Kashmiri chilli powder
coriander leaves few
1 cup water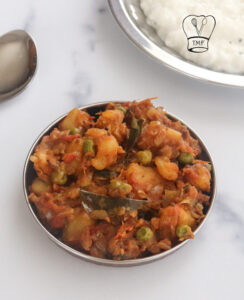 how to make urulai pattai curry with step-by-step pictures
First pressure-cook potatoes with the required water, salt, and turmeric powder for 2 whistles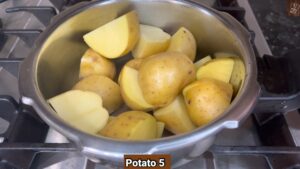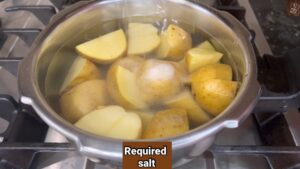 crush ginger and garlic to your preferred texture and keep ready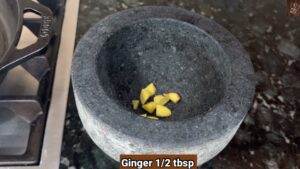 Add oil to a wide heavy bottomed pan and heat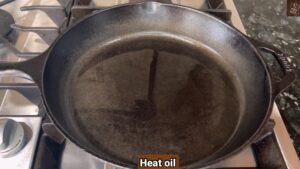 furthermore, add mustard seeds, and fennel seeds; let them splutter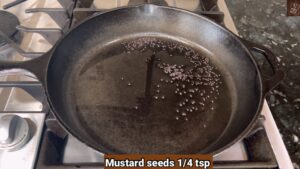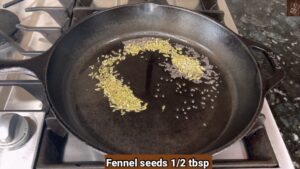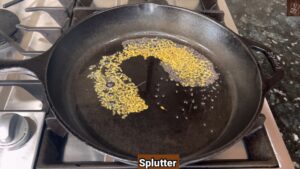 add ginger- garlic and curry leaves; mix well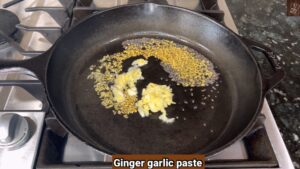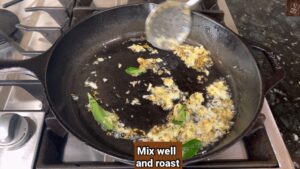 furthermore, add onion; mix well and cook till onion turns translucent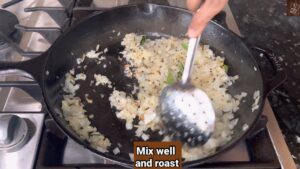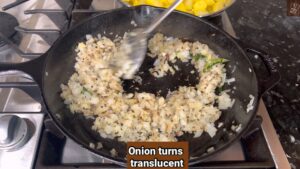 Add tomatoes; mix well and cook till tomatoes turn mushy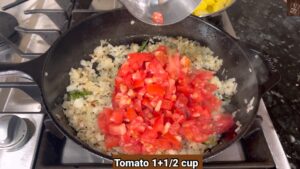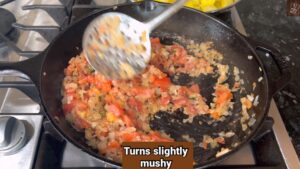 Furthermore add garam masala, chilli powder, turmeric powder, and Kashmiri chilli powder; mix well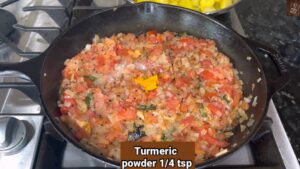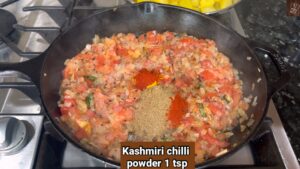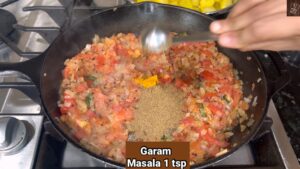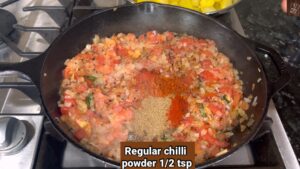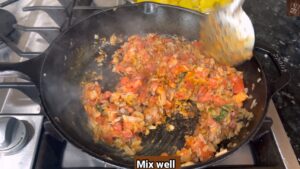 add peas and cook for 3 minutes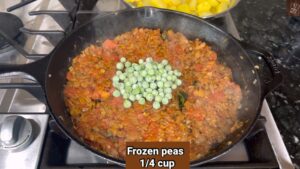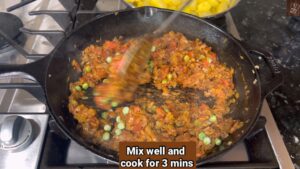 Furthermore, add water; mix well and cook for 4 minutes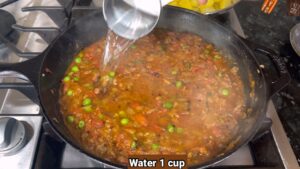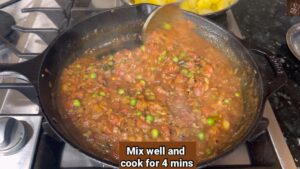 Add cooked potatoes and give a quick mix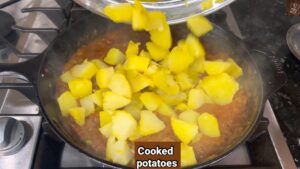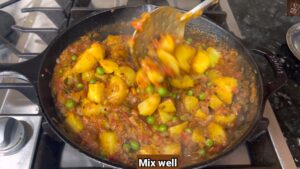 finally, sprinkle coriander leaves; mix well and cook on low-medium flame for 6 minutes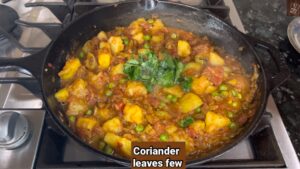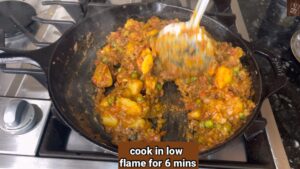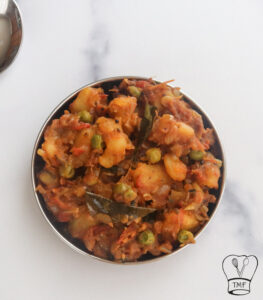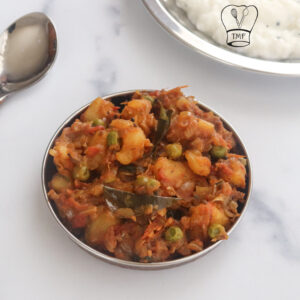 Ingredients
pressure cook
5

potatoes

water

required salt

1/4

teaspoon

turmeric powder

ginger garlic crush

4

garlic

1/2

tablespoon

ginger
temper
2

tablespoon

peanut oil

1/4

teaspoon

mustard seeds

1/2

tablespoon

fennel seeds
poriyal
curry leaves few

2

cups

onion

1

+ 1/2 cup tomatoes

required salt

1/4

teaspoon

turmeric powder

1

teaspoon

garam masala

1/2

teaspoon

chilli powder

1

teaspoon

Kashmiri chilli powder

coriander leaves few

1

cup

water
Instructions
First pressure-cook potatoes with the required water, salt, and turmeric powder for 2 whistles

crush ginger and garlic to your preferred texture and keep ready

Add oil to a wide heavy bottomed pan and heat

furthermore, add mustard seeds, and fennel seeds; let them splutter

add ginger- garlic and curry leaves; mix well

furthermore, add onion; mix well and cook till onion turns translucent

Add tomatoes; mix well and cook till tomatoes turn mushy

Furthermore add garam masala, chilli powder, turmeric powder, and Kashmiri chilli powder; mix well

add peas and cook for 3 minutes

Furthermore, add water; mix well and cook for 4 minutes

Add cooked potatoes and give a quick mix

finally, sprinkle coriander leaves; mix well and cook on low-medium flame for 6 minutes
Video