Iced Caramel Macchiato | copycat starbucks Iced Caramel Macchiato | caramel latte | starbucks summer drink with step-by-step pictures and video recipes. Check out the Iced Caramel Macchiato video and If you like the video pls SUBSCRIBE to my channel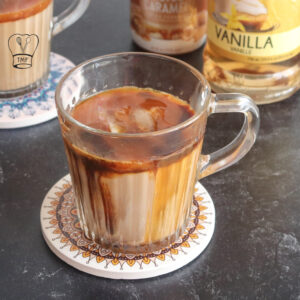 Iced caramel macchiato
most popular espresso-based Starbucks drinks. Rich espresso shots, milk, coffee-flavored ice cubes, and a hint of vanilla topped with caramel sauce is a great refreshing drinks.
How to modify this recipe to make a caramel latte
Increase milk and skip the vanilla syrup.
Can I skip the vanilla syrup?
To get Starbucks taste iced drink I would recommend vanilla.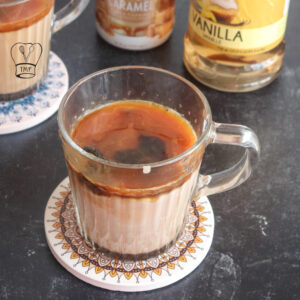 Milk
I have used 2% milk. You can use whole-fat, fat-free, vanilla, soy, or almond milk.
Espresso
Traditionally Starbucks uses espresso. We generally make south Indian filter coffee at home so I used it. You can also mix 1 tablespoon of instant coffee powder to 1/4 cup of hot water and make coffee.
Milk addition - Is Caramel Macchiato different from a caramel latte?
milk goes in first, then the espresso for a caramel macchiato. In a caramel latte, the espresso goes in first, then the frothed milk.
Caramel sauce
For the best flavor, Use a good quality flowing consistency caramel sauce.
Should I add sugar
Caramel contains sugar so I didn't add additional sugar. You can add little sugar according to your taste
Skinny iced caramel macchiato
Use zero-calorie caramel sauce and vanilla syrup. Also, replace regular milk with almond milk.
Should I mix caramel macchiato?
No, you shouldn't mix your iced macchiato. When we sip coffee its components are meant to enjoy in order.
Hot caramel macchiato
Skip ice and use hot milk instead of cold milk. Follow the rest of the steps.
Can I use regular ice?
Yes, you can add regular ice but if you are a coffee lover like me try this extra step, I am sure you will love this version more than regular caramel macchiato.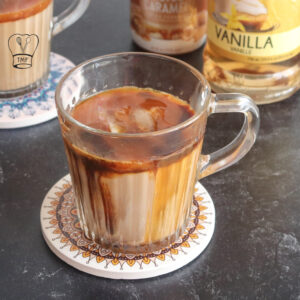 Ingredients
Coffee flavored ice
1/4 cup coffee decoction or espresso shots
1/2 teaspoon caramel sauce
1/8 teaspoon vanilla syrup
Iced caramel macchiato
1 teaspoon vanilla syrup
3/4 cup cold milk
2 iced coffee cubes
1/2 tablespoon strong coffee decoction | espresso
1 tablespoon caramel sauce
How to make Starbucks caramel macchiato with step-by-step pictures
First mix coffee decoction, caramel sauce, and vanilla syrup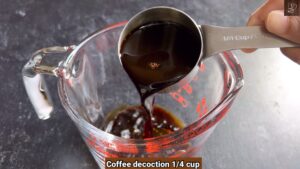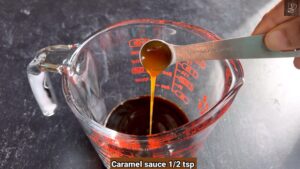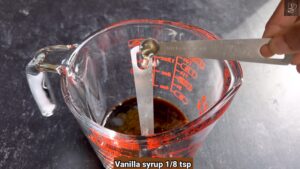 Transfer to an ice tray and freeze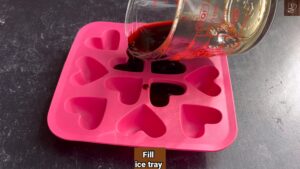 Add vanilla syrup to the coffee mug first, then milk, ice, and coffee decoction on top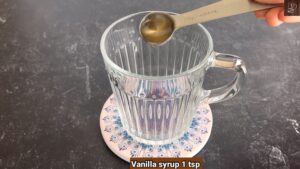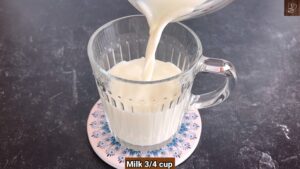 Finally, Drizzle caramel sauce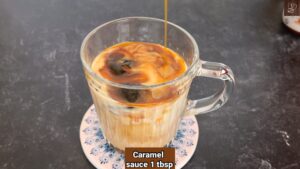 Optionally add regular ice cubes accordingly to your taste and serve immediately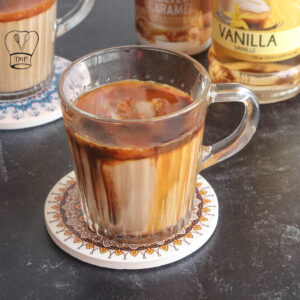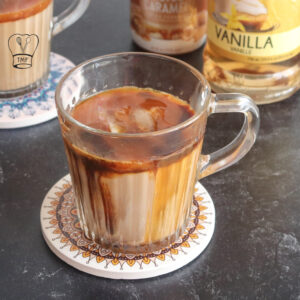 Ingredients
Coffee flavored ice
1/4

cup

coffee decoction or espresso shots

1/2

teaspoon

caramel sauce

1/8

teaspoon

vanilla syrup
Iced caramel macchiato
1

teaspoon

vanilla syrup

3/4

cup

cold milk

2

iced coffee cubes

1/2

tablespoon

strong coffee decoction | espresso

1

tablespoon

caramel sauce
Instructions
First mix coffee decoction, caramel sauce, and vanilla syrup

Transfer to an ice tray and freeze

Add vanilla syrup to the coffee mug first, then milk, ice, and  coffee decoction on top

Finally, Drizzle caramel sauce

Optionally add regular ice cubes accordingly to your taste and serve immediately
Video
Notes
 to make a caramel latte, Increase milk and skip the vanilla syrup
To get Starbucks taste iced drink I would recommend vanilla syrup
I have used 2% milk. You can use whole-fat, fat-free, vanilla, soy, or almond milk
Traditionally Starbucks uses espresso. We generally make south Indian filter coffee at home so I used it. You can also mix 1 tablespoon of instant coffee powder with 1/4 cup of hot water and make coffee
in Caramel Macchiato, milk goes in first, then the espresso for a caramel macchiato. In a caramel latte, the espresso goes in first, then the frothed milk
For the best flavor, Use a good quality flowing consistency caramel sauce
Caramel contains sugar so I didn't add additional sugar. You can add little sugar according to your taste
for Skinny iced caramel macchiato, Use zero-calorie caramel sauce and vanilla syrup. Also, replace regular milk with almond milk
Never mix caramel macchiato. When we sip coffee its components are meant to enjoy in order.
you can add regular ice but if you are a coffee lover like me try this extra step, I am sure you will love this version more than regular caramel macchiato
Iced coffee melts soon so serve immediately