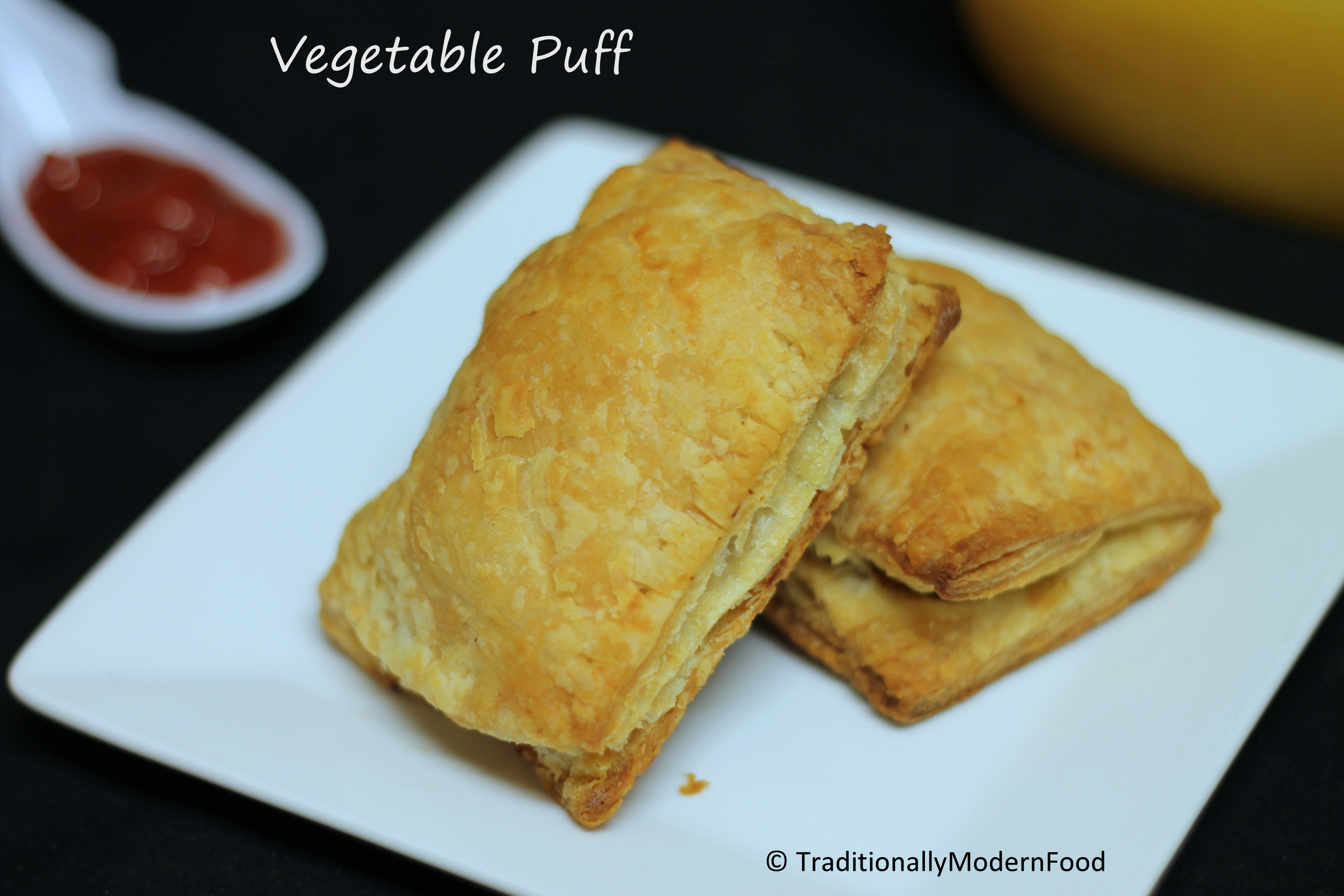 Bakery style Veg Puff has a Crispy and flaky outer crust with a tasty mixed vegetable stuffing. Is Vegetable puff your favorite snacks from bakery? Bake veg puff in home and enjoy.
This is my long due guest post for VVk vidhya. Last year I gave her this post but I took a break and couldn't post it. When I wanted to get back to blogging, I pinged her to ask if it's ok to post Vegetable puff after 2 or 3 posts. She replied I am glad you are coming back, post it anytime. How sweet😊. We get a connect with certain people without frequent meet/ frequent talk. Sri is one much friend I always treasure.
When I gave this guest post a year back I wrote few lines about her last year.
I am so happy to write a post for my dear friend Sri. I happened to know Sri couple of years back, initially we spoke through our blogs, but within no time we developed a great rapport and started pinging each other regularly. Sri is one friend with whom I have discussed A-Z about blogging, my personal life. In these two years my blog has undergone many small transformations; Sri's help was there all the time in some ways.
I always adore her commitment towards blogging. In spite of her busy schedule she somehow squeezes time and be regular with her post. I should learn time management from her. Remember my Minestrone soup, it s form her😊
Sri asked me to write a guest post for her space few months ago (now it's a year old) but somehow I had lot of random reasons to delay. May be I took little advantage since it is her. I gave her few options for the guests post, she picked this Puff. Tasty, baked kid-friendly snack!!
Ever since childhood days I love Bakery style Veg puff. It is one of my favorite bakery snacks. During my school days I was so addicted for Veggie Puff and cutlet, every now and then I ask my Amma to buy.
Bakery style Veg puff with some ketchup, hmmmmm heaven is the word. I always thought making puff at home is a big deal, until my friend told about Puff pastry sheet. Home cooking is always best but there are times we can go for few store-bought stuff, as it makes things simple and saves a lot of time. With a delicious stuffing this puff is definitely a winner recipe in any party. Perfect snacks for parties, get together
Check out my Bakery style Veg puff recipe in Sri's Page
http://www.vidhyashomecooking.com/2016/03/08/veggie-puffs-guest-post-by-vidya-tmf/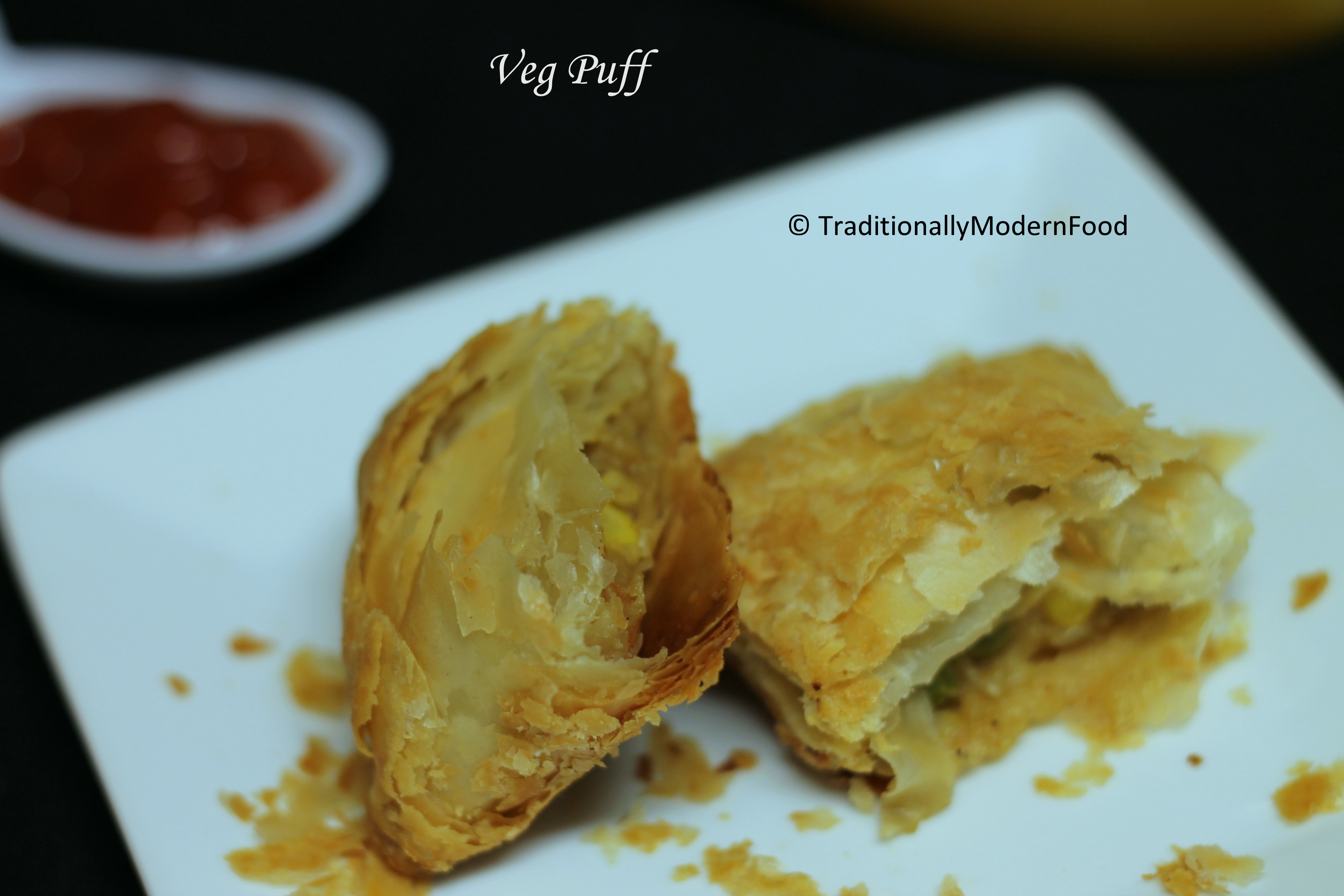 Kids after school snacks recipe collection
Ingredients
Readymade puff pastry sheet - 1

thawed

Mixed veggies

chopped - 1/2 cup, finely chopped (I used beans, carrot, peas, corn)

Potato - 2

medium

Onion - 1

finely chopped

Ginger- garlic paste - 1/2 tsp

Cumin Seeds - 1 tsp

Red chilli powder/ pav bhaji powder - 1 teaspoon + 1/4 tsp

I used pav bhaji powder

Coriander powder - 1 tsp

Cumin Seed - 1/4 tsp

Garam masala powder - 1/2 tsp

Fennel seed powder – 1/8 tsp

optional

Chat masala – pinch

Turmeric powder - 1/8 tsp

Oil/ ghee - As needed

Salt - as needed
Instructions
Cook the potatoes in pressure cooker/ microwave and peel the skin; mash the potatoes

Add oil to the pan and heat it on medium flame. When the oil becomes hot add fennel seed powder and cumin seeds; let it crackle.

Add ginger garlic paste and sauté for 30 seconds. Add onion and sauté till it becomes translucent. Add garam masala, coriander powder, pav bhaji masala, turmeric powder and allow it to cook for 3 – 5 mins

Add the Veggies, 3 tablespoon of water and salt; close the lid and cook for 6-8 min till the veggies are cooked. If required sprinkle extra water. Add the mashed potato and 1 tablespoon of water; sauté for 2-3 minutes till the masala blends well

Pre heat the oven to 425 Degree Fahrenheit and line the baking tray with parchment paper/ aluminum foil; grease it with cooking spray/ oil

Thaw the pastry sheets as per the instructions on the cover

Cut into rectangles of the desired size and place it on the parchment paper

Put 2-3tbsp of filling on one of the sheets; fold and cover the stuffing. Seal the edges with fork marks. Repeat the process and grease the puff with oil/ghee

Bake for 15-20 mins, until golden brown in color. Let it cool for 2-3 minutes, enjoy the puff with some ketchup
Notes
1. Paneer/tofu, cabbage, capsicum etc. can also be added for stuffing
2. I stuffed the puff directly in the baking sheet instead it can be done in a plate and transferred
3. If you desired to cut down oil, grease the puff with egg wash
4.If you are consuming the puff after sometime, let it remain in the oven till you consume to retain he crispness
Ingredients:
Readymade puff pastry sheet - 1, thawed
Mixed veggies, chopped - 1/2 cup, finely chopped (I used beans, carrot, peas, corn)
Potato - 2, medium
Onion - 1, finely chopped
Ginger- garlic paste - 1/2 tsp
Cumin Seeds - 1 tsp
Red chilli powder/ pav bhaji powder - 1 teaspoon + 1/4 tsp(I used pav bhaji powder)
Coriander powder - 1 tsp
Cumin Seed - 1/4 tsp
Garam masala powder - 1/2 tsp
Fennel seed powder – 1/8 teaspoon (optional)
Chat masala – pinch
Turmeric powder - 1/8 tsp
Oil/ ghee - As needed
Salt - as needed
Method​:
Cook the potatoes in pressure cooker/ microwave and peel the skin; mash the potatoes
Add oil to the pan and heat it on medium flame. When the oil becomes hot add fennel seed powder and cumin seeds; let it crackle
Add ginger garlic paste and saute for 30 seconds. Add onion and sauté till it becomes translucent. Add garam masala, coriander powder, pav bhaji masala, turmeric powder and allow it to cook for 3 – 5 mins
Add the Veggies, 3 tablespoon of water and salt; close the lid and cook for 6-8 min till the veggies are cooked. If required sprinkle extra water. Add the mashed potato and 1 tablespoon of water; sauté for 2-3 minutes till the masala blends well
Pre heat the oven to 425 Degree Fahrenheit and line the baking tray with parchment paper/ aluminum foil; grease it with cooking spray/ oil
Thaw the pastry sheets as per the instructions on the cover
Cut into rectangles of the desired size and place it on the parchment paper
Put 2-3tbsp of filling on one of the sheets; fold and cover the stuffing. Seal the edges with fork marks. Repeat the process and grease the puff with oil/ghee
Bake for 15-20 mins, until golden brown in color. Let it cool for 2-3 minutes, enjoy the puff with some ketchup