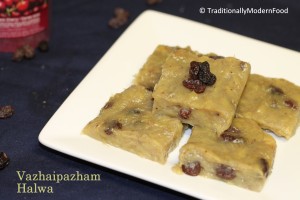 Do you have Over ripe bananas in your pantry and thinking what to do, try this Banana halwa. Banana fudge is not only easy but my toddler who hate banana also enjoys it.
I started experimenting with fruit based recipes for my son. As I mentioned before my son is very choosy when it comes to fruits. I have posted few Banana based recipes before, pls check it out if you are interested.
Before my India trip I was in a mode to finish all perishables. Some over ripe bananas in the fruit basket, remembering Nendrapazham halwa, wanted to try something similar with very less sugar that is how this banana halwa happened.
I wouldn't say banana and raisins gave the exact amount of sweetness sugar gives, but for a mild snack we thought raisins did justice. Also over ripe banana was also on the sweeter side.
I added very little amount of corn flour so That It will be like a fudge but still It. won't hold a proper shape like custard powder Halwa. If you prefer to omit corn flour can do it and have the banana Halwa with a spoon😊
Checkout other halwa recipes in TMF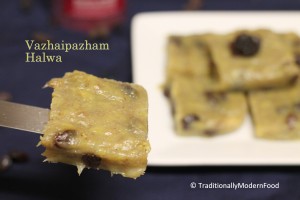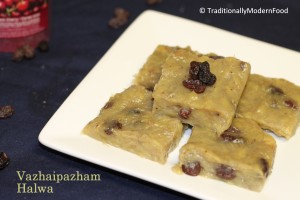 Ingredients
Over ripe Banana - 3

big

Sugar - 2 tbsp

Raisin - 1/4 cup

Adjust according to your preference

Ghee - 1/2 tbsp

Corn flour - 1 tablespoon + 1 tsp

Salt - a pinch

Cardamom powder – 1/8 tsp
Instructions
Grease a pan with melted butter/ghee and keep aside

In a mixing bowl mash Banana with potato masher/mathu. If there are small lumps it goes away while cooking. Add sugar, salt and mix well

Transfer it into a heavy bottomed pan and cook on medium heat

Add raisins and corn flour and continue cooking, stirring occasionally. Cook still it starts selparating from the pan with glossy texture. Add ghee and cook for a minute till it begins pulling away from the sides

Transfer the halwa to the greased pan and level the top. Chill it for an hour and cut them
Notes
Food color can be addedD
Shelf life of Banana halwa is very less. Stays good for two days in fridge
Adjust the sugar according to your Sweetness. Raisin gave Sweetness so I felt the sugar I added was enough
Any nuts of choice can be added
I preferred cutting the halwa instead you can also enjoy it in a cup
Extra ghee can be added to make halwa rich
Ingredients:
Over ripe Banana - 3, big
Sugar - 2 tbsp
Raisin - 1/4 cup (Adjust according to your preference)
Ghee - 1/2 tbsp
Corn flour - 1 tablespoon + 1 tsp
Salt - a pinch
Cardamom powder – 1/8 tsp
Method:
Grease a pan with melted butter/ghee and keep aside
In a mixing bowl mash Banana with potato masher/mathu. If there are small lumps it goes away while cooking. Add sugar, salt and mix well
Transfer it into a heavy bottomed pan and cook on medium heat

Add raisins and corn flour and continue cooking, stirring occasionally. Cook still it starts selparating from the pan with glossy texture. Add ghee and cook for a minute till it begins pulling away from the sides

Transfer the halwa to the greased pan and level the top. Chill it for an hour and cut them