Beetroot paratha | beets flatbread | beetroot parantha | beetroot chappati | chappathi | beetroot roti | toddler-friendly recipe | weight loss | beetroot chapati | whole wheat beetroot parantha | beetroot paratha for toddler | beetroot paratha without stuffing | red flatbread | easy Indian flatbread recipe Check out the Beetroot paratha recipe and If you like the video pls SUBSCRIBE to my channel.
Jump to:

WHY Beetroot paratha
Beetroot is one healthy vegetable that is often less popular among kids. High fiber content beets are good for weight loss. Kids-friendly spice and texture beetroot chapati are suitable for toddlers too. Parathas are a great delicious tiffin option.
DHABA STYLE PARATHA
The best way to serve paratha is with butter, raita varieties, chutney varieties, pickled onion, etc. Some prefer parantha with a cup of hot tea. Soft and tasty Restaurant-style paratha is super easy to make.
NO, FAIL beetroot chappathi
Healthy beets are often less used because of their taste but if cooked right you can make tasty kids-friendly super soft beets flatbread.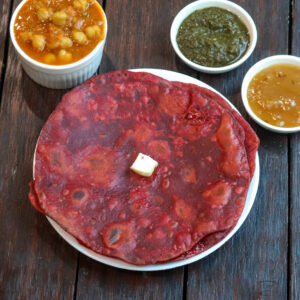 Can I grind beetroot without cooking it?
Beets I get here in the USA take a longer time to cook. I prefer cooking them soft than grinding them. It also helps with the paratha texture
Can I stuff beetroot?
To make it toddler-friendly I prefer cooking beets soft then grinding and then kneading the dough. You can also grate the beets, saute then stuff them like paneer paratha
Tips to note for Paratha dough
firstly, prepare a moist dough for paratha. Paratha dough should be a non-sticky, and soft dough, without any cracks. If you add less water dough might crack. Pliable soft dough makes for the best parantha. Also, it is important to knead the dough well. The addition of ghee and oil gives a lot of difference in beets parathas texture so don't skip it
RESTING THE DOUGH
Resting the dough is highly recommended for the best soft paratha.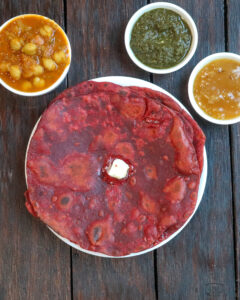 SPRINKLE FLOUR AND ROLL PARATHA
Since our dough is soft and pliable sprinkle a generous amount of flour and roll paratha.
OPTIMAL HEAT FOR COOKING PARATHA?
When you are cooking paratha, maintaining the heat from low - to medium is the key. Add ghee and cook the paratha. Press it gently with a spatula often so that it is evenly cooked.
SHOULD I USE GHEE WHILE MAKING Beets roti?
You can use any cooking oil, but ghee gives a nice aroma and makes the chappati super tasty.
CAN I MAKE THE paratha SPICY?
It is totally according to your tastes. To make it suitable for my toddler I make it less spicy. You can add extra chilli powder or add coriander powder, cumin powder, gram masala, etc.
For the Beetroot paratha video recipe
Ingredients
To pressure cook
150

grams

beetroot

peeled and roughly chopped

1/2

cup

water
To grind
1/2

tablespoon

oil

1

teaspoon

salt

1/4

teaspoon

Kashmiri chili powder

1

cup

wheat flour
To knead
1/8

teaspoon

ajwain | Carom seeds | omam

heaped

1/2

cup

wheat flour

Little ghee
Instructions
Firstly pressure cook beetroot with water for 5 whistles; do natural pressure release; let it cool

Add oil, cooked beets along with water, salt, Kashmiri chilli powder, and wheat flour, and  grind well

transfer to a wide bowl

furthermore, add carom seeds and wheat flour; mix well and knead a pliable dough

grease your hands with little ghee and knead well for 2 minutes

cover with a damp cloth and rest the dough for at least 1 hour

knead the dough once and divide the dough into equal parts

sprinkle little flour and roll the paratha

Add ghee and heat the griddle

Place paratha and  drizzle ghee around and top

After one side puffs up flip and cooks other side

serve hot
Video
Ingredients
To pressure cook
150 grams beetroot, peeled and roughly chopped
1/2 cup water
To grind
1/2 tablespoon oil
1 teaspoon salt
1/4 teaspoon Kashmiri chili powder
1 cup wheat flour
To knead
1/8 teaspoon ajwain | Carom seeds | omam, heaped
1/2 cup wheat flour
Little ghee
To cook
Ghee or oil (I used ghee)
How to make Beetroot chappathi with step-by-step pictures
Firstly pressure cook beetroot with water for 5 whistles; do natural pressure release; let it cool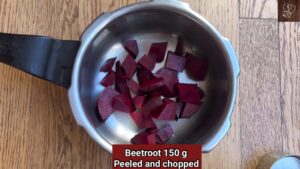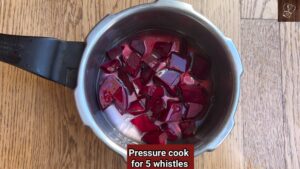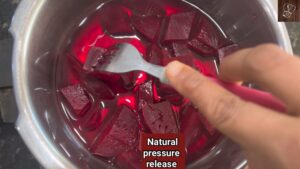 Add oil, cooked beets along with water, salt, Kashmiri chilli powder, and wheat flour, and grind well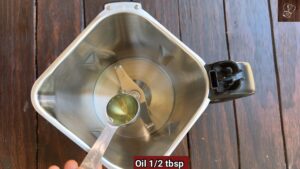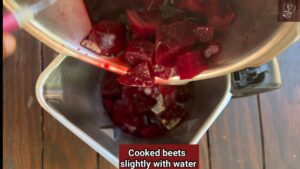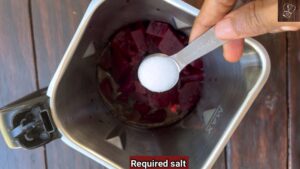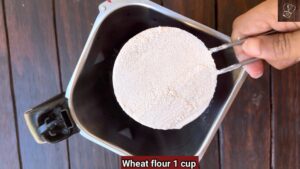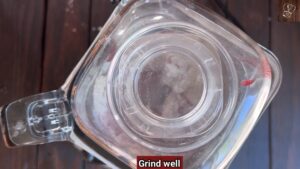 transfer to a wide bowl
furthermore, add carom seeds and wheat flour; mix well and knead a pliable dough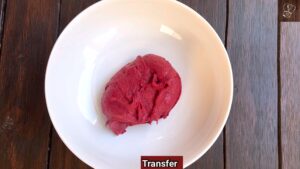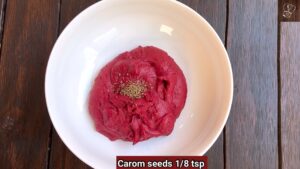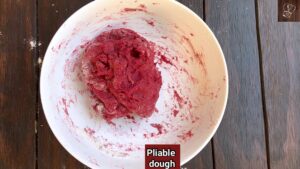 grease your hands with little ghee and knead well for 2 minutes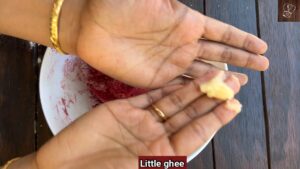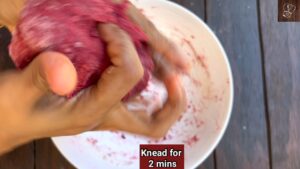 cover with a damp cloth and rest the dough for at least 1 hour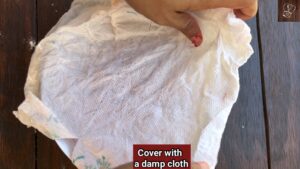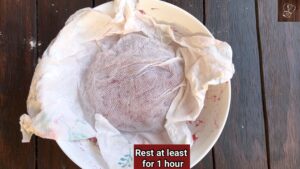 knead the dough once and divide the dough into equal parts
sprinkle little flour and roll the paratha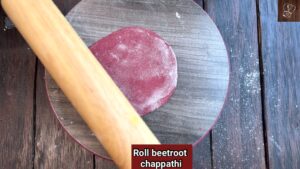 Add ghee and heat the griddle
Place paratha and drizzle ghee around and top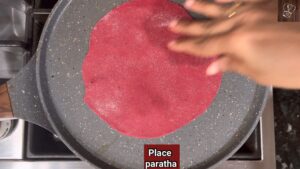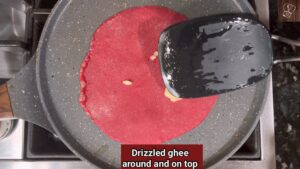 After one side puffs up flip and cook another side