How to store coconut, grated coconut in the freezer, how to keep coconut fresh for a long time, Tips and tricks to store coconut with step by step pictures and video recipe. Check out the how-to store coconut and If you like the video pls SUBSCRIBE to my channel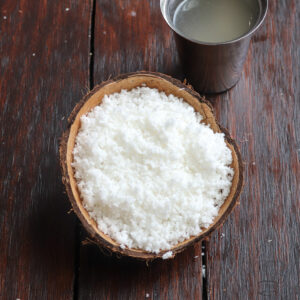 Why homemade frozen coconut
Here in the US, I prefer using frozen coconut as I don't have any special tools to break the coconut. Whenever we buy a coconut for poojai I try to freeze it for later use. It stays fresh for a longer time without any compromise in taste .it is preservative-free and super easy to make
How to break coconut
The best way to break coconut without any tools is to use a hard surface. We use the backyard concrete edge ( stone surface) to break the coconut. You can also use a Hammer, the back of a knife, aruval, etc. Avoid breaking the coconut parallel to the 3 eyes.
Why Freezing coconut is better
After breaking the coconut, unused coconut flesh might get dry and spoiled soon. Frozen coconut stays fresh for months. Even after thawing, we can freeze them multiple times.
Indian coconut
Always use Indian coconut as it is best for Indian cooking. Other Asian coconuts might be too big to fit the idli pan.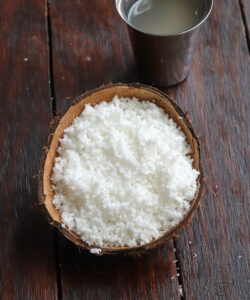 Will the coconut stay longer in the fridge?
No frozen coconut has long shelf life compared to coconut stored in the fridge. If you don't have time to make the process for frozen coconut, store the whole coconut in the fridge. Steam and freeze when you find time
Can I freeze coconut water?
Coconut water tastes best when consumed immediately. I have never frozen coconut water
How to steam coconut
Always steam the broken open coconut. Never add water and cook. Steam cooking works best. Steaming coconut helps for easy unmolding
The idea of steam cooking is inspired by my favorite Instagrammer Kavitha Akka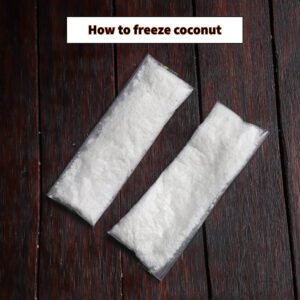 Cool then pulse coconut
Pulsing coconut gives the best texture. Avoid grinding. Always pulse after the coconut comes to room temperature. Discard the steamed water completely then pulse
Tips for freezing coconut
Use a spoon to transfer the coconut

You can store the entire batch of grated coconut in one ziplock bag or split it into batches and store

Label the frozen coconut if you have many ziplock bags of frozen coconut

Always make sure you remove air bubbles, then fold

If you are freezing for a long time use freezer-safe ziplock bags to prevent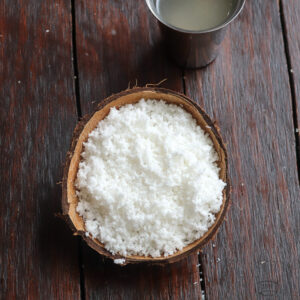 How to store coconut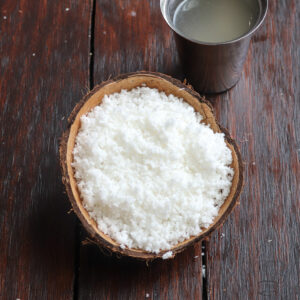 Instructions
Break the coconut according to your preferred way and save the coconut water

Add water to the idli pan, place the coconut on the idiyappam plate; stems cook for 10-12 minutes

Turn off the stove. Tilt the coconut and discard the water

Transfer to a plate and cool the coconut

Use a sharp ladle or back of the knife; prick the coconut and unmold

Cut into the desired size for easy peeling

Peel the brown part. If it is difficult with the peeler use knife to discard the brown part

Cut into small pieces and transfer to a mixie jar

Pulse multiple times till you get desired size. Mix in between for even pulsing

If you are planning to use it soon, store it in the fridge but for a longer shelf life freeze

Add the coconut to ziplock bags, fold and remove air bubbles then freeze
Video
Notes
The best way to break coconut without any tools is to use a hard surface
Always use Indian coconut as it is best for Indian cooking. Other Asian coconuts might be too big to fit the idli pan.
If you don't have time to make the process for frozen coconut, store the whole coconut in the fridge. Steam and freeze when you find time
Coconut water tastes best when consumed immediately. I have never frozen coconut water
Always steam the broken open coconut. Never add water and cook. Steam cooking works best
Pulsing coconut gives the best texture. Avoid grinding. Always pulse after the coconut comes to room temperature. Discard the steamed water completely then pulse
Use a spoon to transfer the coconut
You can store the entire batch of grated coconut in one ziplock bag or split it into batches and store
Label the frozen coconut if you have many ziplock bags of frozen coconut
Always make sure you remove air bubbles, then fold
If you are freezing for a long time use freezer-safe ziplock bags to prevent
Ingredient
Coconut
How to keep coconut fresh for a long time with step by step pictures
Break the coconut according to your preferred way and save the coconut water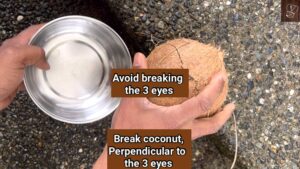 Add water to the idli pan, place the coconut on the idiyappam plate; stems cook for 10-12 minutes
Turn off the stove. Tilt the coconut and discard the water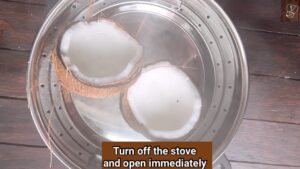 Transfer to a plate and cool the coconut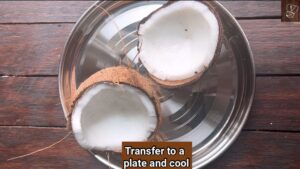 Use a sharp ladle or back of the knife; prick the coconut and unmold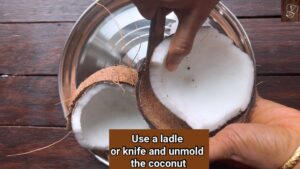 Cut into the desired size for easy peeling
Peel the brown part. If it is difficult with the peeler use knife to discard the brown part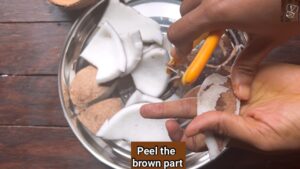 Cut into small pieces and transfer to a mixie jar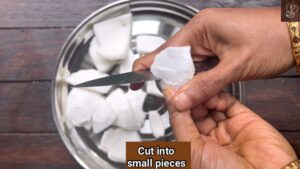 Pulse multiple times till you get desired size. Mix in between for even pulsing
If you are planning to use it soon, store it in the fridge but for a longer shelf life freeze
Add the coconut to ziplock bags, fold and remove air bubbles then freeze