Watermelon Rind Halwa Recipe | தர்பூசணி அல்வா | Watermelon peel halwa recipe | How to make watermelon rind halwa | Indian dessert | Halwa recipes with step by step pictures and video recipe. Check out the Watermelon rind Halwa recipe. If you like the video pls SUBSCRIBE to my channel. Also, check out other Halwa varieties in TMF
Leftover Watermelon rind halwa
Watermelon is a summer special fruit. After consuming watermelon we generally discard the rind. Try this tasty halwa with watermelon rind. Easy to make Indian sweet without any food color
IS IT A TIME-CONSUMING INDIAN DESSERT | watermelon pudding?
It is a quick 15 minutes easy halwa. Perfect for a sudden sweet craving.
What kind of watermelon rind works best?
Make sure the rind is not spoiled. Always peel the green skin completely and also make sure the rind is without any traces of watermelon flesh.
Can I grate the watermelon rind?
Yeah, you can grate watermelon rind and prepare halwa. I prefer grinding as it saves time and effort for grinding. If you are grating rind, increase milk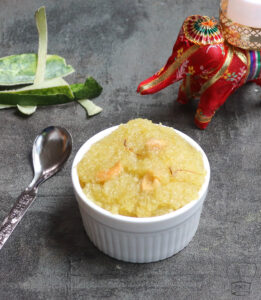 Can I fine grind watermelon for peel halwa?
Yes, you can grind rind according to your preferred texture. The way you grind will alter the halwa texture. I prefer fine coarse grinding
Can I skip milk?
Milk gives the best flavor for the halwa so I would recommend that. You can also prepare halwa without milk. instead of milk, you can add khoya or condensed milk. Adjust sugar accordingly.
CAN I INCREASE SUGAR?
Yes, adjust the sugar according to your sweetness.
KEEP MIXING AND COOK
Always use a wide heavy-bottomed nonstick pan. Keep mixing to avoid halwa from turning brown.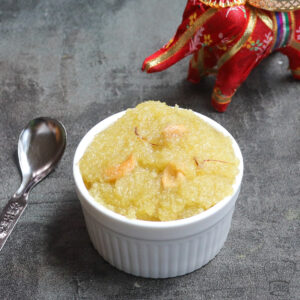 HOW LONG SHOULD I COOK HALWA?
Cook till halwa thicken and leave the side of the pan. Halwa turns thick even after turning off the stove so avoid cooking for a long time. That will alter the halwa texture.
SHOULD I TRANSFER THE HALWA IMMEDIATELY?
Yes, if you keep halwa in the same pan it thickens and alters the texture so always transfer immediately
CAN I SKIP cashew?
Yes, you can skip mixed and prepare halwa or add any other nuts choice
CAN I ADD FOOD COLOR
Yes, you can add orange food color to the Halwa. I have used a pinch of saffron as it gives nice color and taste.
Shelf life of watermelon halwa
Since we added milk refrigerate the halwa. refrigerated halwa stays good for 3-4 days. Halwa tastes best when served Warm so microwave before serving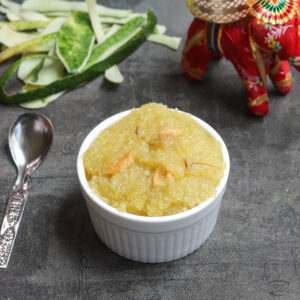 For watermelon rind halwa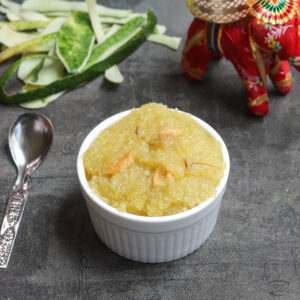 Ingredients
1

cup

+ 1/4 Watermelon rind

peeled and cubed

1

cup

of hot milk

1/3

cup

Sugar

2

tablespoon

+ 1 teaspoon Ghee

Pinch

of Cardamom powder

4

Cashews

4

strands of saffron
Instructions
Firstly remove the pink watermelon flesh completely from the rind and save it aside

Use a peeler, remove the green outer skin and discard

Grind the rind without adding water. I ground it into a coarse mixture. Avoid making them paste

Add ghee and heat in low- medium flame

When ghee turns hot, add cashews and roast till they turn golden brown. Turn off the stove and Transfer

Add ground watermelon rind and turn on the stove

Sauté well till the moisture in the ground rind evaporates

Furthermore, add hot milk and saffron; mix well and cook till it thickens and comes together

Add sugar, and cardamom powder and mix well

After adding sugar halwa loosen up. Mix well and cook till it thickens

Furthermore, add roasted cashews and mix well

finally, add ghee and fried cashews give a quick mix, and turn off the stove. Move the pan aside and transfer. Serve warm
Video
Notes
Make sure the watermelon rind is not spoiled. Always peel the green skin completely and also make sure the rind is without any traces of watermelon flesh
you can grate watermelon rind and prepare halwa. I prefer grinding as it saves time and effort for grinding. If you are grating rind, increase milk
grind according to your preferred texture. The way you grind will alter the halwa texture. I prefer fine coarse grinding
Milk gives the best flavor for the halwa so I would recommend that. You can also prepare halwa without milk. instead of milk, you can add khoya or condensed milk. Adjust sugar according
Always use a wide heavy-bottomed nonstick pan. Keep mixing to avoid halwa from turning brown
Cook till halwa thicken and leave the side of the pan. Halwa turns thick even after turning off the stove so avoid cooking for a long time. That will alter the halwa texture
if you keep halwa in the same pan it thickens and alters the texture so always transfer immediately
You can add food color to the Halwa. I have used a pinch of saffron as it gives nice color and taste
Since we added milk refrigerate the halwa. refrigerated halwa stays good for 3-4 days. Halwa tastes best when served Warm so microwave before serving

Ingredients
1 cup + 1/4 Watermelon rind, peeled and cubed
1 cup of hot milk
1/3 cup Sugar
2 tbsp + 1 teaspoon Ghee
Pinch of Cardamom powder
4 Cashews
4 strands of saffron
How to make watermelon rind halwa with step by step pictures
Firstly remove the pink watermelon flesh completely from the rind and save it aside

Use a peeler, remove the

green outer skin and discard

Grind the rind without adding water. I ground it into a coarse mixture. Avoid making them paste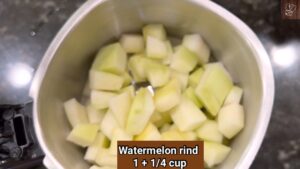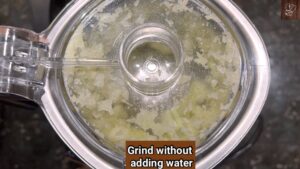 Add

ghee and heat in low- medium flame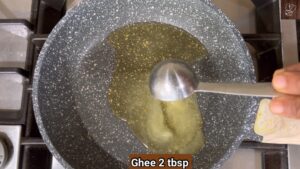 When ghee turns hot,

add cashews and roast till they turn golden brown. Turn off the stove and Transfer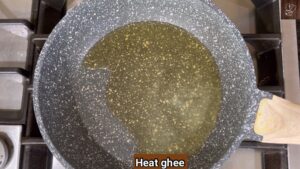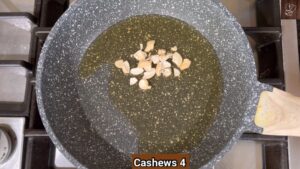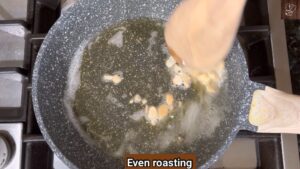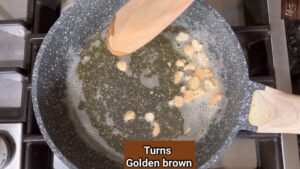 Add ground watermelon rind and turn on the stove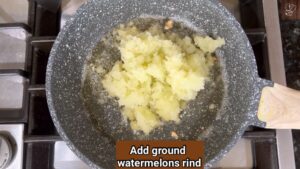 Sauté well till the moisture in the ground rind evaporates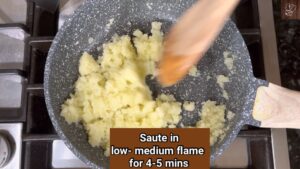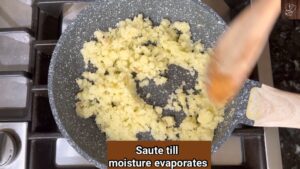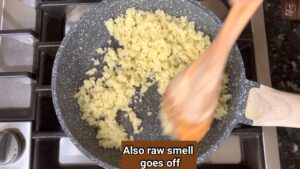 Furthermore, add hot milk and saffron; mix well and cook till it thickens and comes together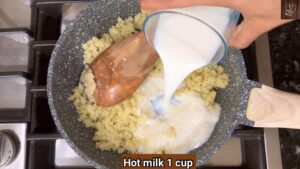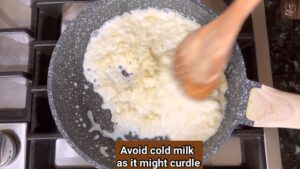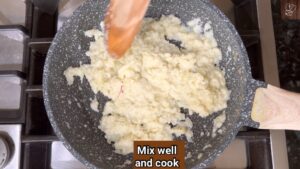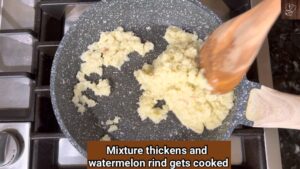 Add sugar, and cardamom powder and mix well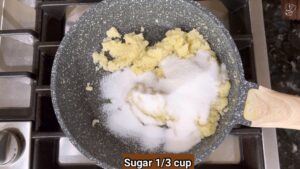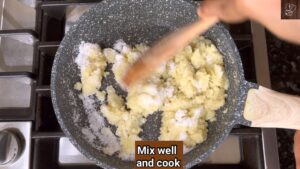 After adding sugar halwa loosen up. Mix well and cook till it thickens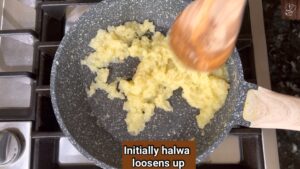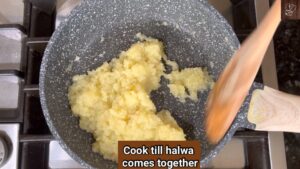 Furthermore, add roasted cashews and mix well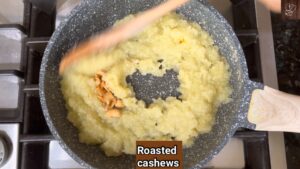 finally, add ghee and fried cashews give a quick mix, and turn off the stove. Move the pan aside and transfer. Serve warm