Kerala Appam | Kerala Palappam recipe | lace hoppers | how to make Appam | vellayappam | appam batter | traditional appam with yeast | soft homemade Appam | best appam | coconut hoppers with step-by-step pictures and video recipe. Check out the video recipes for the Kerala appam recipe. If you like the video pls SUBSCRIBE to my channel.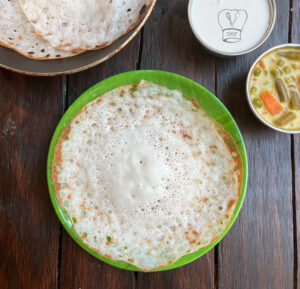 Kerala Appam is soft and lacy tiffin. Restaurant-style Kerala lacy appam with yeast is super easy to make and tastes delicious.
Jump to:
What kind of rice works for Kerala Appam?
For the best Kerala-style Appam, add sona masoori rice or raw rice. 8 hours or overnight fermentation is a must as it gives the best texture to the Appam.
Yeast proofing must for the lacy soft Appam
Well-proofed yeast gives the best soft lacy appam. perfectly Proofed yeast turns frothy bubble. if not it means the yeast has expired, avoid using it. proofing the yeast for 30 minutes is optional. You can just proof it till they turn frothy then add it to the batter.
Kerala Appam batter in a mixie?
You can prepare the batter in a mixie or grinder. Since I have used 2 cups I prefer using a grinder but you can also use mixie and grind batter with cold water. also, give intervals in-between grinding, Avoid adding much water while grinding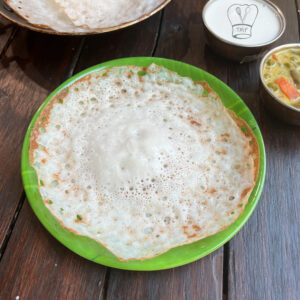 Can I reduce coconut?
Coconut and coconut milk give amazing flavor to the lacy Kerala appam. If you are using frozen coconut, thaw them then use them. Always add coconut initially else it won't grind well.
Why leftover rice for spongy appam?
Cooked rice helps for soft and spongy appam. I would highly recommend leftover cold rice from the refrigerator. if you don't have leftover color rice, use room-temperature rice. avoid hot rice
Consistency of Appam batter?
Appam batter is watery (liquid consistency )compared to dosai/ adai batter. to check if the batter is at the right consistency, take a little batter at the back side of the ladle, if you wipe the batter, you should be able to wipe clean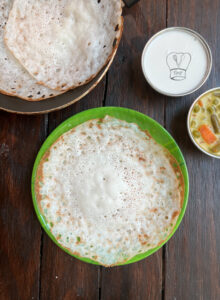 BEST SIDE DISH FOR APPAM
Appam tastes yummy with Vegetable stew and Sodhi is a tasty side. Coconut chutney, tomato onion thokku, kadala curry, and kurma are my other favorite side dishes.
Can I reduce sugar?
I would recommend the mentioned quantity of sugar as it helps for the perfect appam texture and also balances the yeast flavor. If you use little fresh coconut water to grind the batter you can slightly reduce the sugar.
For the Kerala appam video recipe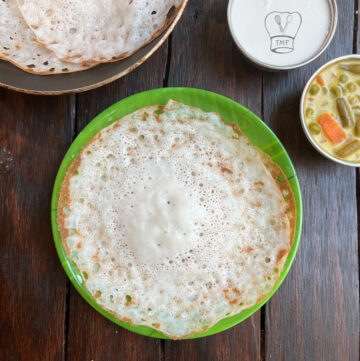 Ingredients
Soak rice
sona masoori rice | raw rice 2 cups

Water
Yeast proofing
Warm Water

1/4 cup 105 degree

Sugar 1 tsp

Active dry yeast 1 tsp
To grind
Grated coconut 1 cup

Cooked rice 1 cup leftover cold rice works best

Coconut milk 1 can

Salt 1/2 tbsp
To prepare Appam
Sugar 1 tablespoon + 1/2 tbsp

Coconut oil as needed
Instructions
Soak rice
Firstly wash and soak the rice with enough water overnight or for around 8 hours
Yeast proofing
Take active dry yeast, hot water, and sugar in a small bowl; mix well and leave it undisturbed
Grind batter
Add soaked rice along with little water, cooked rice, and coconut to a grinder and grind well

Sprinkle water little by little and grind the batter for around 30 minutes till the rice is ground to a fine rava / semolina-like texture

Meanwhile check if the yeast is frothy, if yes mix well and add it to the grinder

Furthermore, add thick coconut milk and salt; continue grinding

Grind till the batter turns smooth

Transfer the batter to a big bowl and ferment for 8 hours. I turn on the oven light and keep the batter for fermentation
Prepare batter
After 8 hours mix the batter well for 2-3 minutes

Add sugar and mix again

Flip the ladle and try to wipe the batter, if it wipes clean then the batter is of the right consistency

Rest the batter for 20 minutes
Prepare Appam
Mix the batter well

Heat appam pan | Appa Kadai | appa chatti in low to medium flame

When hot add a ladle full of batter in the middle. Hold both handles and gently tilt the pan to make the appam batter and spread the batter

Cover with a lid and let it cook for a minute or till it is cooked

Avoid flipping. serve hot
Video
Notes
For the best Kerala style Appam, use sona masoori rice or raw rice. 8 hours or overnight fermentation is a must as it gives the best texture to the Appam
well-proofed yeast gives the best soft lacy appam. perfectly Proofed yeast turns frothy bubble
proofing the yeast for 30  minutes is optional. You can just proof it till they turn frothy then add it to the batter
You can prepare the batter in a mixie or grinder
for mixie grinding - give intervals in-between grinding, Avoid adding much water while grinding
Coconut and coconut milk gives amazing flavor to the lacy Kerala appam. If you are using frozen coconut, thaw them then use them
Always add coconut initially else it won't grind well
leftover cold rice from the refrigerator works best. if you don't have leftover color rice, use room temperature rice. avoid hot rice
To check if the batter is at the right consistency,  take a little batter at the back side of the ladle, if you wipe the  batter, you should be able to wipe clean
I would recommend the mentioned quantity of sugar as it helps for the perfect appam texture
For extra coconut flavor, you can use coconut water for grinding
Ingredients
Soak rice
sona masoori rice | raw rice 2 cups
Water
Yeast proofing
Warm Water, 1/4 cup 105 degree
Sugar 1 tsp
Active dry yeast 1 tsp
To grind
Grated coconut 1 cup
Cooked rice 1 cup leftover cold rice works best
Coconut milk 1 can
Salt 1/2 tbsp
To prepare Appam
Sugar 1 tablespoon + 1/2 tbsp
Coconut oil as needed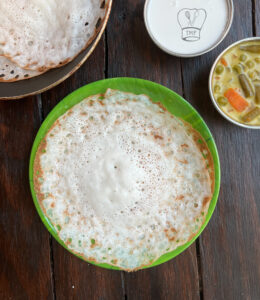 How to make Kerala Appam with step-by-step pictures
Soak rice
Firstly wash and soak the rice with enough water overnight or for around 8 hours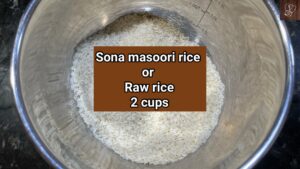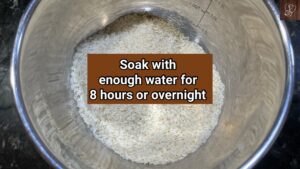 Yeast proofing
Take active dry yeast, hot water, and sugar in a small bowl; mix well and leave it undisturbed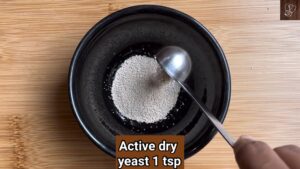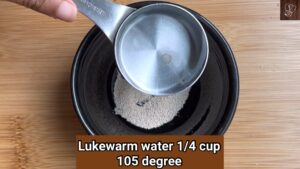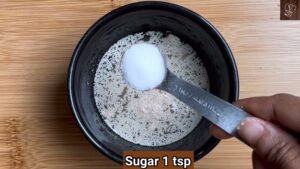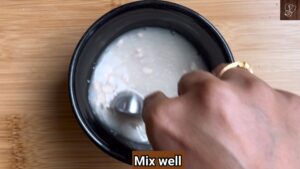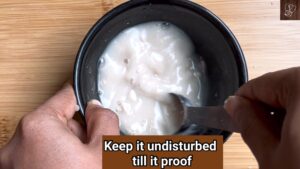 Grind batter
Add soaked rice along with little water, cooked rice,

and coconut to a grinder and grind well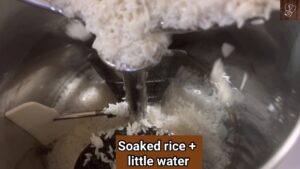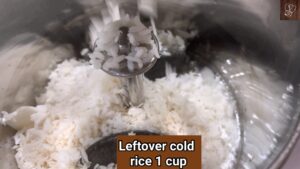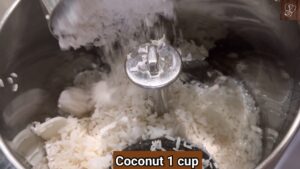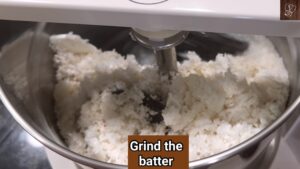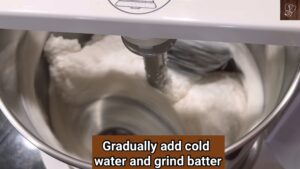 Sprinkle water little by little and grind the batter for around 30 minutes till the rice is ground to a fine rava / semolina-like texture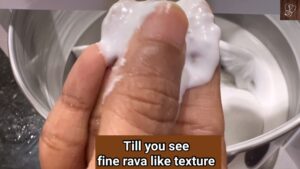 Meanwhile check if the yeast is frothy, if yes mix well and add it to the grinder
Furthermore, add thick coconut milk and salt; continue grinding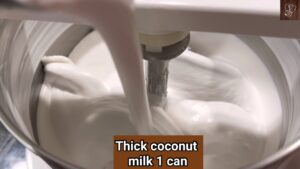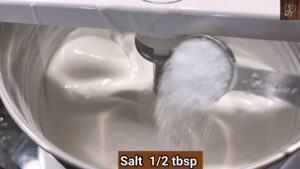 Grind till the batter turns smooth

Transfer the batter to a big bowl and ferment for 8 hours. I turn on the oven light and keep the batter for fermentation
Prepare batter
After 8 hours mix the batter well for 2-3 minutes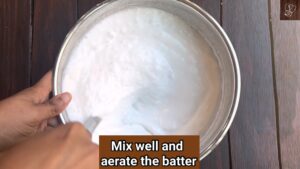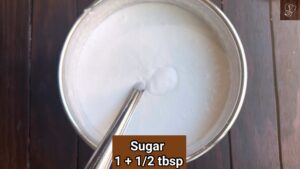 Flip the ladle and try to wipe the batter, if it wipes clean then the batter is of the right consistency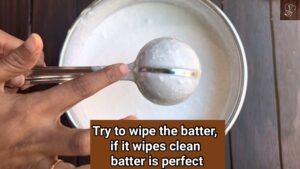 Rest the batter for 20 minutes
Prepare Appam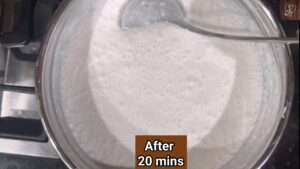 Heat appam pan | Appa Kadai | appa chatti in low to medium flame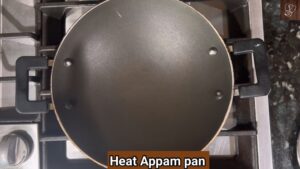 When hot add a ladle full of batter in the middle. Hold both handles and gently tilt the pan to make the appam batter and spread the batter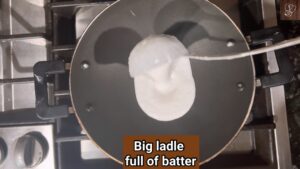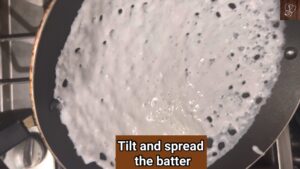 Cover with a lid and let it cook for a minute or till it is cooked
Avoid flipping. serve hot