Thakkali Vengayam Thokku | Onion tomato thokku | Thokku for chappati | thakkali thokku recipe | onion tomato relish | onion tomato gojju | thakkali vengayam vathakal | recipe side dish for Idli/dosa | tomato thokku recipe, spicy tomato thokku variety |Tomato thokku | Thakkali thokku | pressure cooker thakkali thokku | easy cooker thokku recipe | one pot thokku recipe step by step pictures and video recipe. Check out the Thakkali Vengayam Thokku video and If you like the video pls SUBSCRIBE to my channel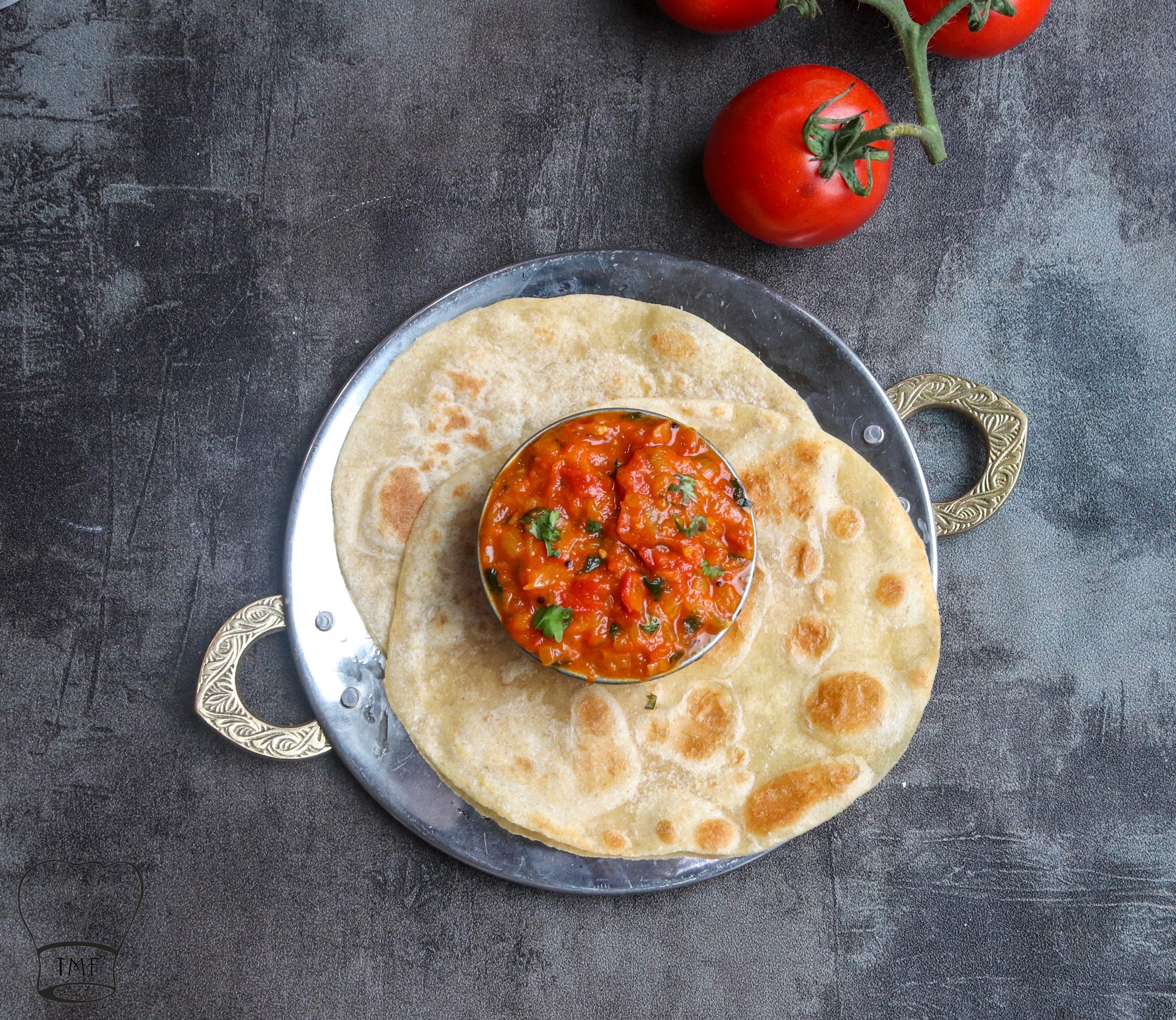 Thakkali Vengayam Thokku | Onion tomato thokku | Thokku for chappati | thakkali thokku recipe | onion tomato relish | onion tomato gojju | thakkali vengayam vathakal | recipe side dish for Idli/dosa | tomato thokku recipe, spicy tomato thokku variety |Tomato thokku | Thakkali thokku | pressure cooker thakkali thokku | easy cooker thokku recipe | one pot thokku recipe is a tasty side dish for tiffin varieties. The pressure cooker Thakkali vengaya thokku is a quick beginner-friendly recipe that stays good for 2-3 days
Thakkali Vengaya Thokku my favorite side dish for many breakfast items like Paniyaram, dosa, idli, chapati, poori etc., and many more. Though its preparation is simple, the usual procedure demands stirring occasionally. Growing up Amma use to make this often at the home. One day I was in a hurry so instead of stirring continuously I tried this pressure cooker method Thakkali Vengaya Thokku.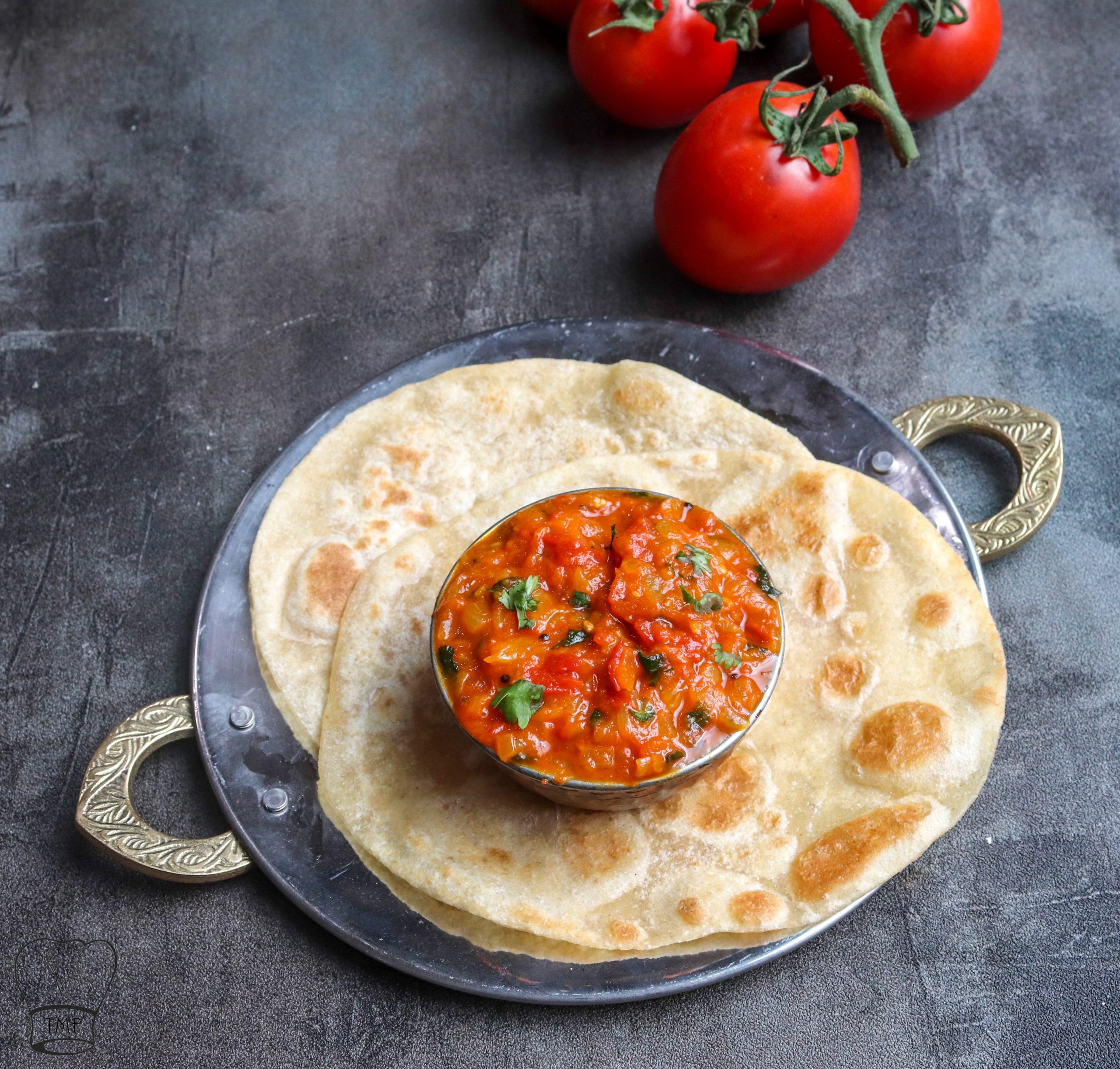 After trying this method, I started preparing this way regularly, which doesn't require me to stay in the kitchen for longTime. With a toddler running around this method is so handy.
Thakkali Vengaya Thokku Is a base for many gravy varieties. I have prepared no garlic version of Thakkali Vengaya Thokku. Instead, you can add ginger and garlic, masala powders of your choice, and prepare gravy base in no time using this method.
The same recipe can be followed for Celery Thokku or Poondu Thokku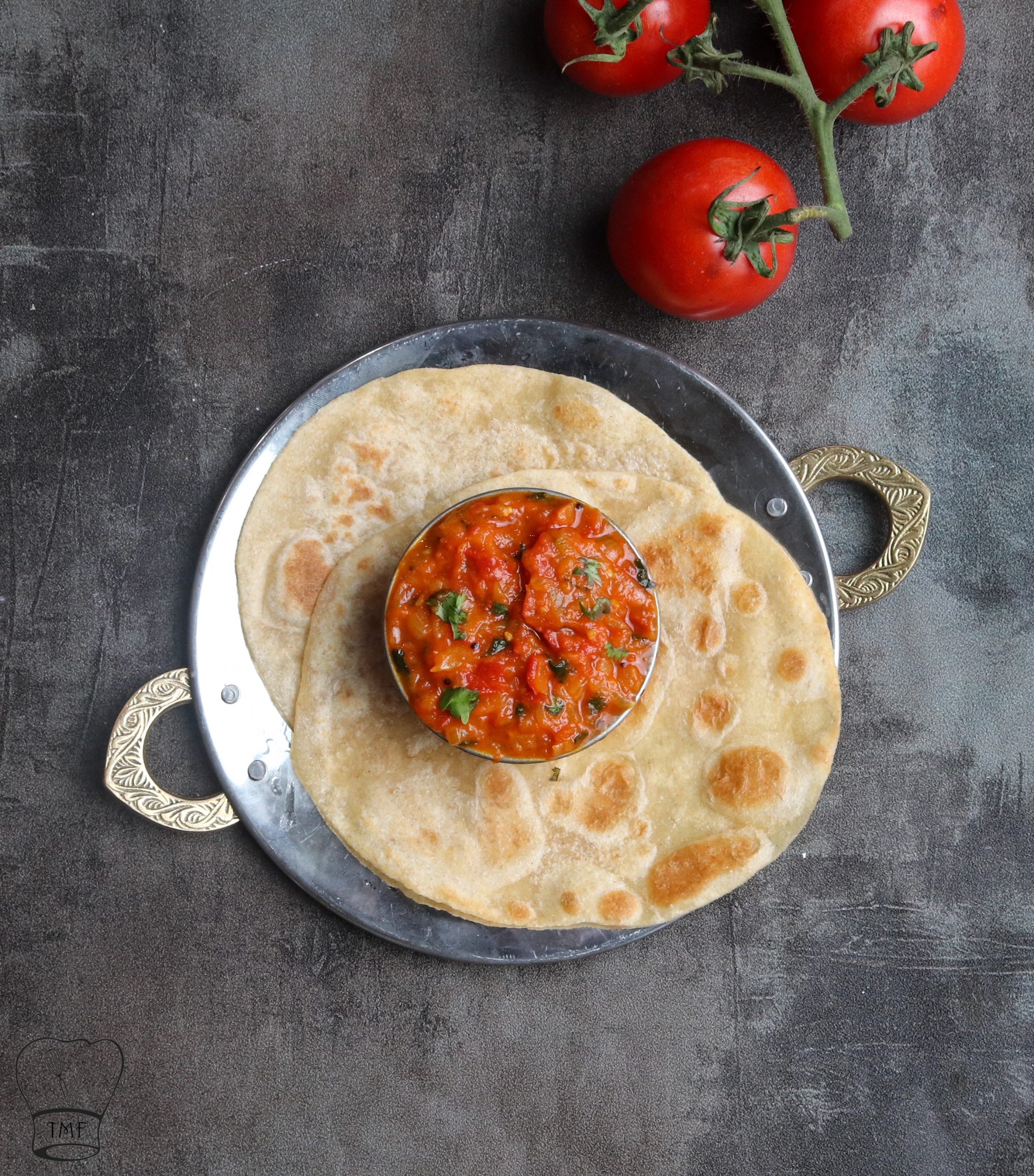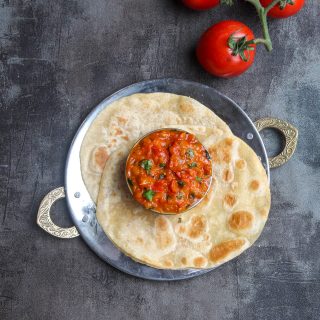 Ingredients
Onion – 2 cups

finely chopped

Tomato – 2 cups

Turmeric powder – 1/4 tsp

Kashmiri red Chilli powder - 3/4 tsp

Green Chilli - 1

Adjust according to your taste

Coriander leaves - few

sugar/jaggery - Pinch

Besam flour - 1 tsp

Salt – as needed

Mustard Seeds - 1/4 tsp

Oil – 1 tablespoon + 1 tsp
Instructions
Place a pressure cooker on the stove and add oil. When the oil turns hot add mustard seeds and  splutter

Add onion and cook for 2 minutes

Furthermore, add green chilli and cook for 2 more minutes

Add red chilli powder, turmeric powder and mix well

After the spice powder is well mixed.   Add tomatoes, salt, and a pinch of sugar and mix well. no need to add water

Let the mixture comes to a boil. Mix once and make sure no spice powder is stick to the cooker

Close the cooker and cook for 20 minutes (23-25 whistles).  Once steam releases naturally, open the cooker lid and mix well

Add besan flour and mix well and cook

Finally, add coriander leaves and cook till the thooku comes together; switch off and serve with tiffin varieties like idli/ dosai/ chappathi
Video
Notes
Water in tomato and onion is enough for the gravy so no need to add water. Excess water will make the gravy thinner
Besan flour is optional but it gives a nice consistency to the thokku
Can add ginger garlic paste/ garam masala
Make sure turmeric powder or chilli powder is not stuck to the pan
Kashmiri red Chilli powder gives a nice color to the thokku. If you are using regular Chilli powder adjust the quantity accordingly
I directly cooked this gravy in the pressure cooker, instead, it can also be cooked in the pan. Saute onions till they turn translucent then add tomatoes
thokku Will masala powders make a great gravy base for North Indian gravy
Can avoid tempering and prepare this gravy oil-free
Ingredients:
Onion – 2 cups, finely chopped
Tomato – 2 cups
Turmeric powder – 1/4 tsp
Kashmiri red Chilli powder - 3/4 tsp
Green Chilli - 1 (Adjust according to your taste)
Coriander leaves - few
sugar/jaggery - Pinch
Besam flour - 1 tsp
Salt – as needed
to temper:
Mustard Seeds - 1/4 tsp
Oil – 1 tablespoon + 1 tsp
How to make Thakkali Vengayam Thokku:
Place a pressure cooker on the stove and add oil. When the oil turns hot add mustard seeds and splutter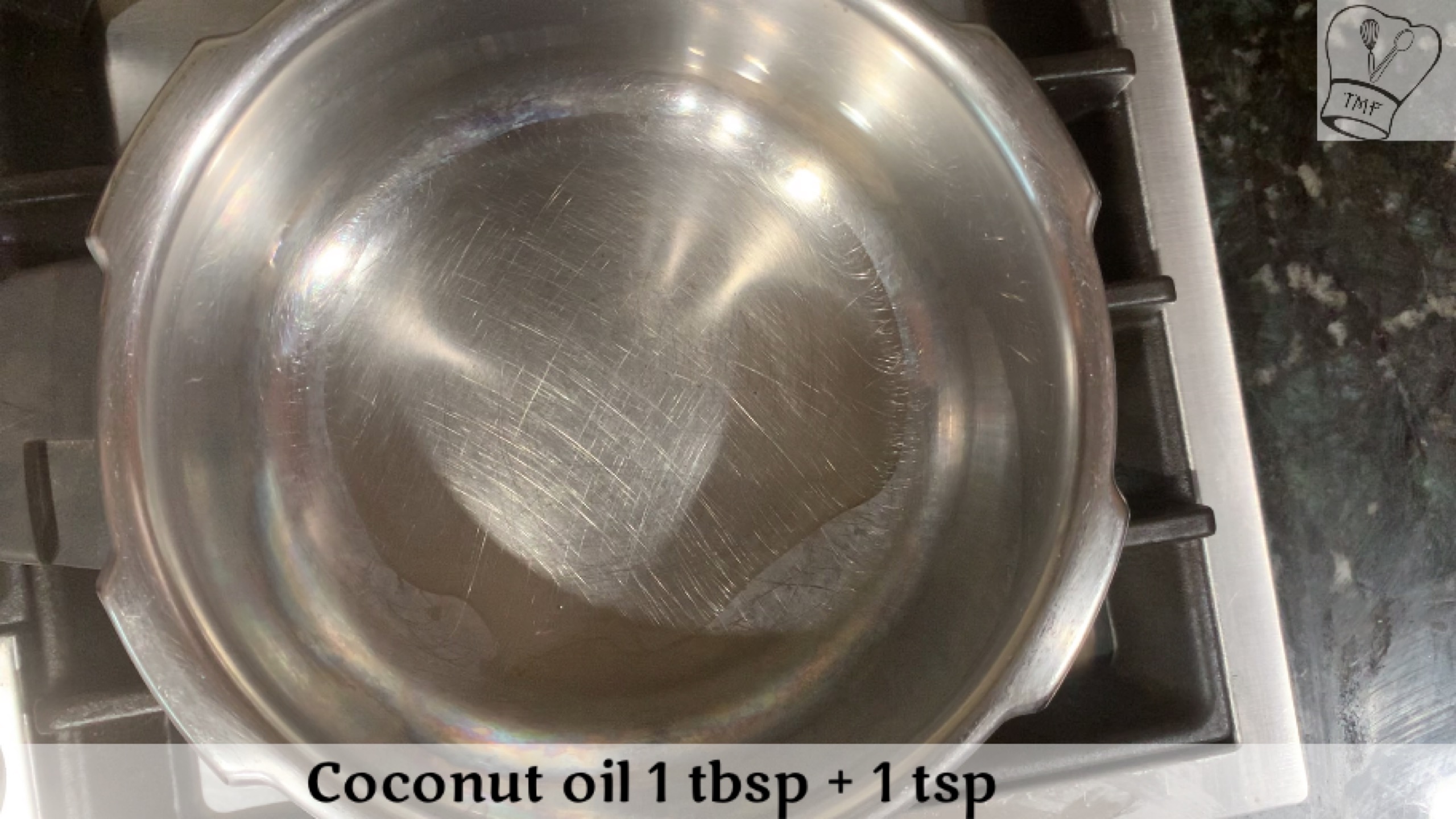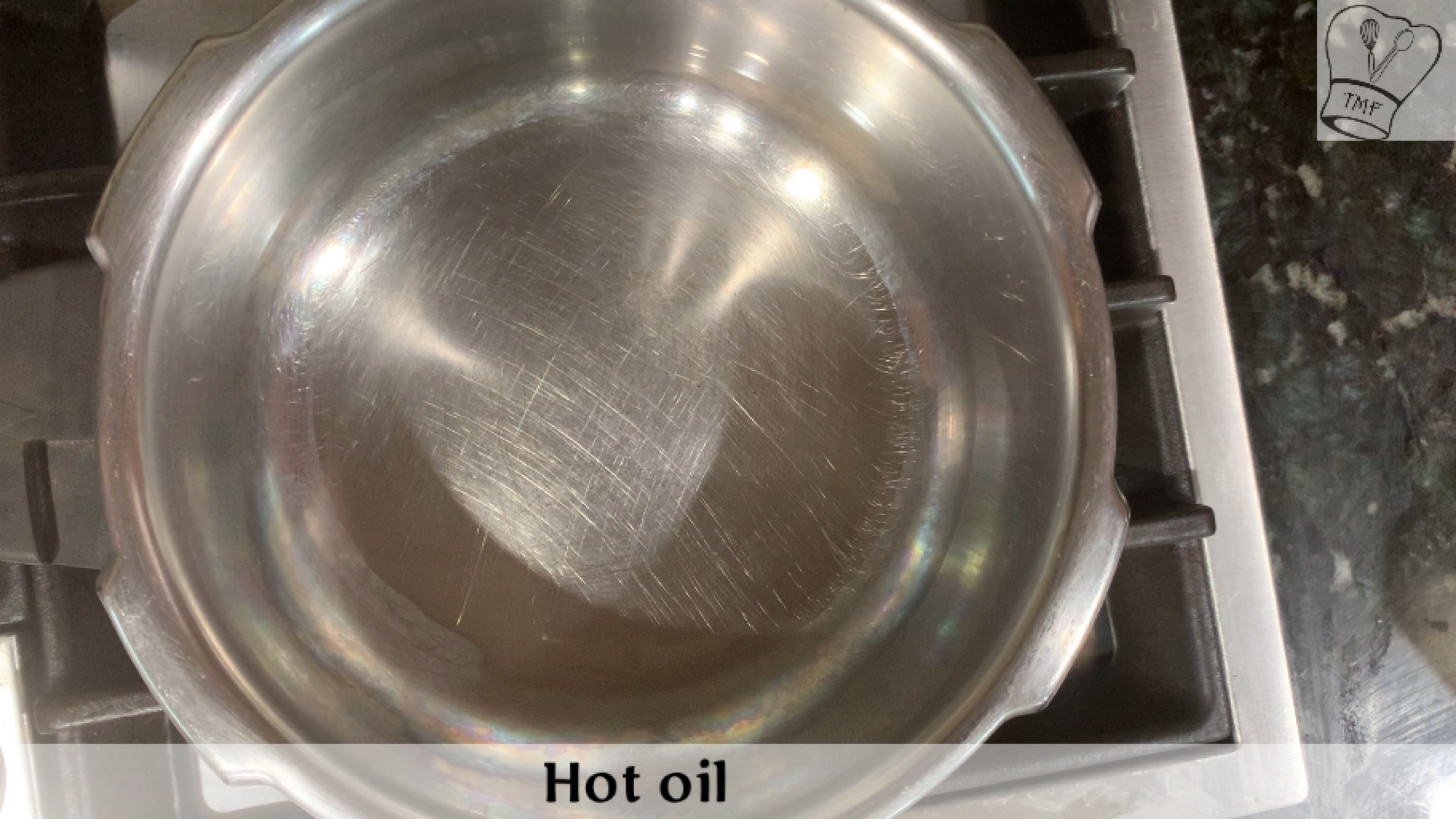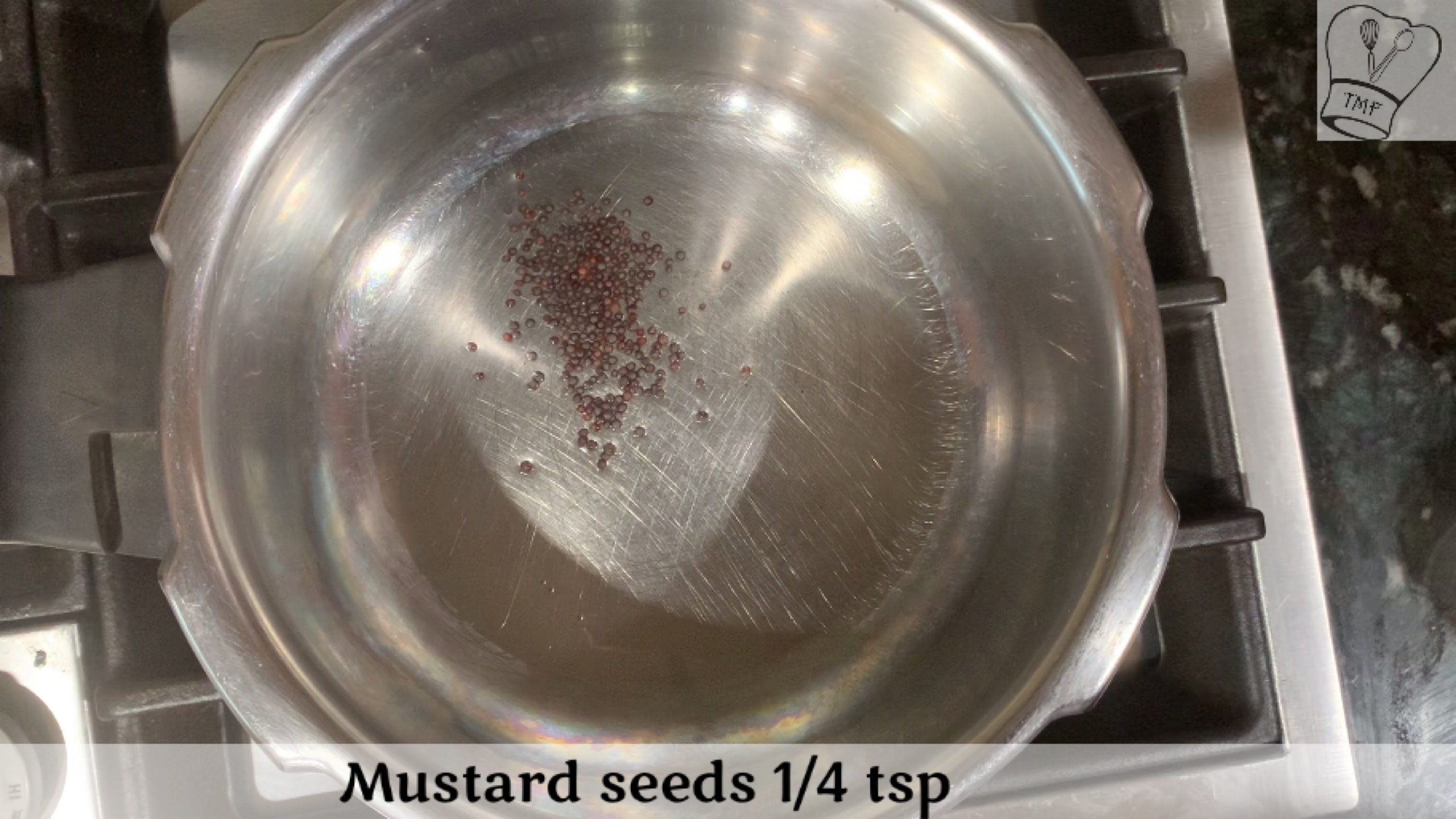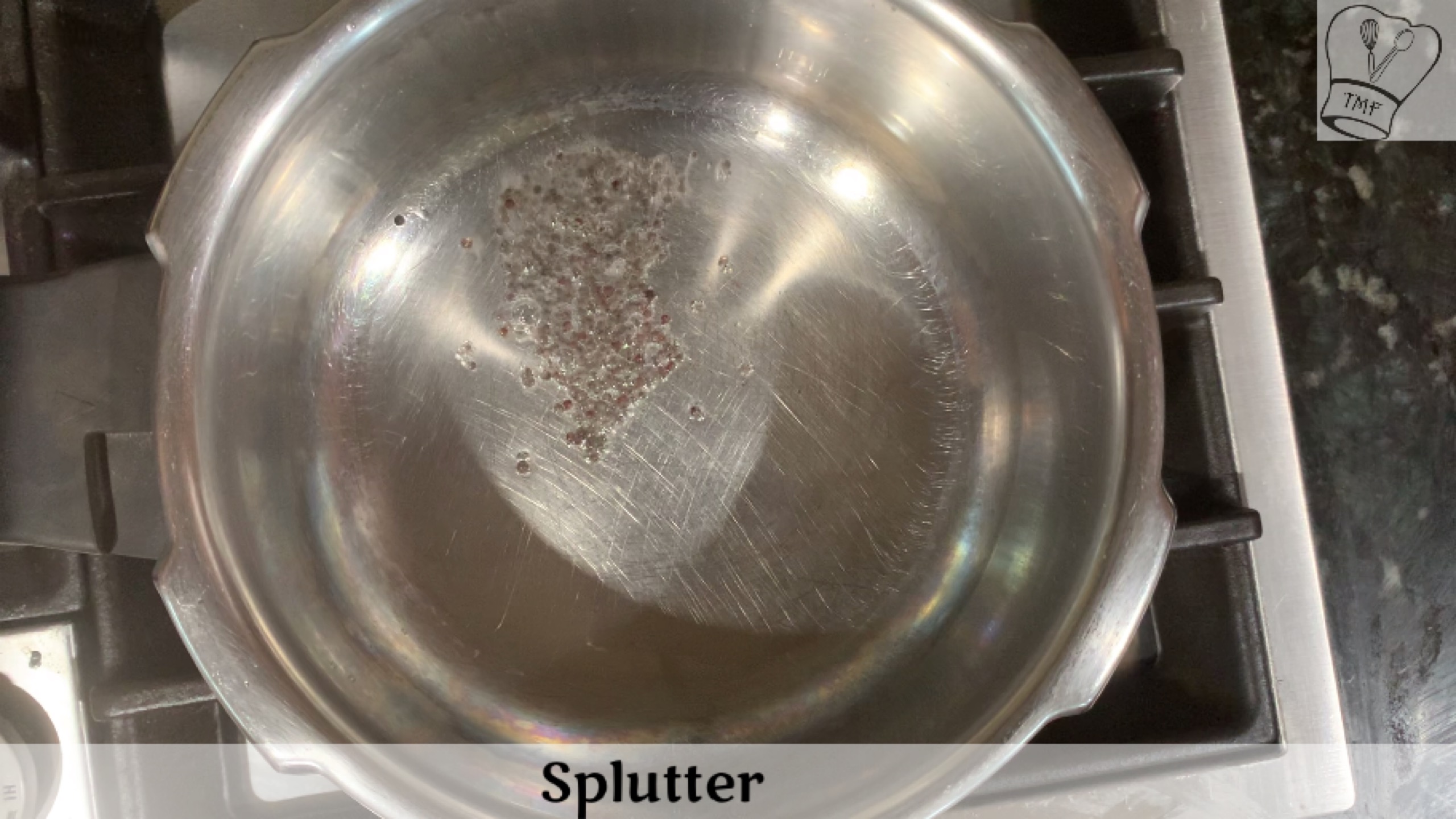 Add onion and cook for 2 minutes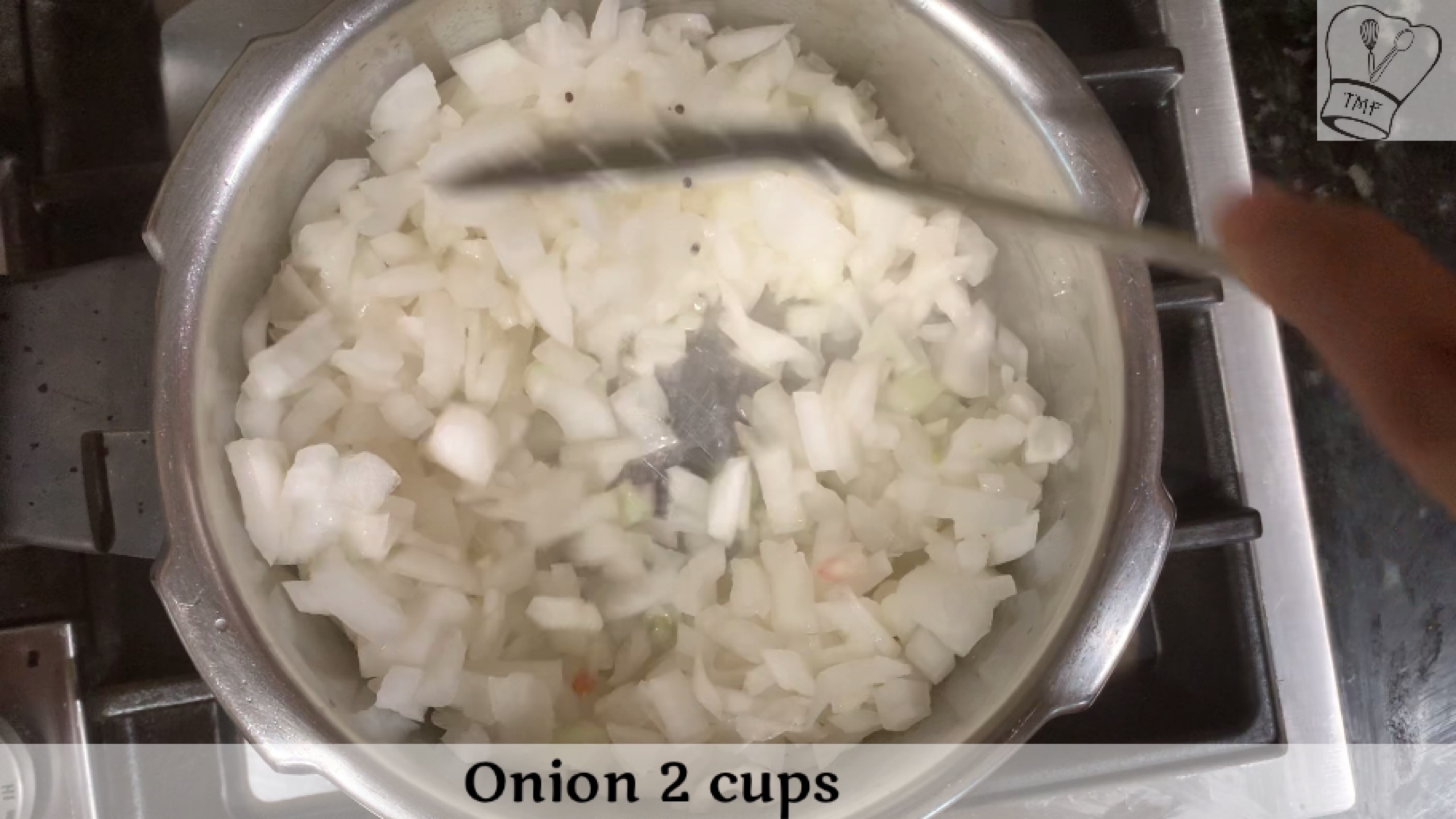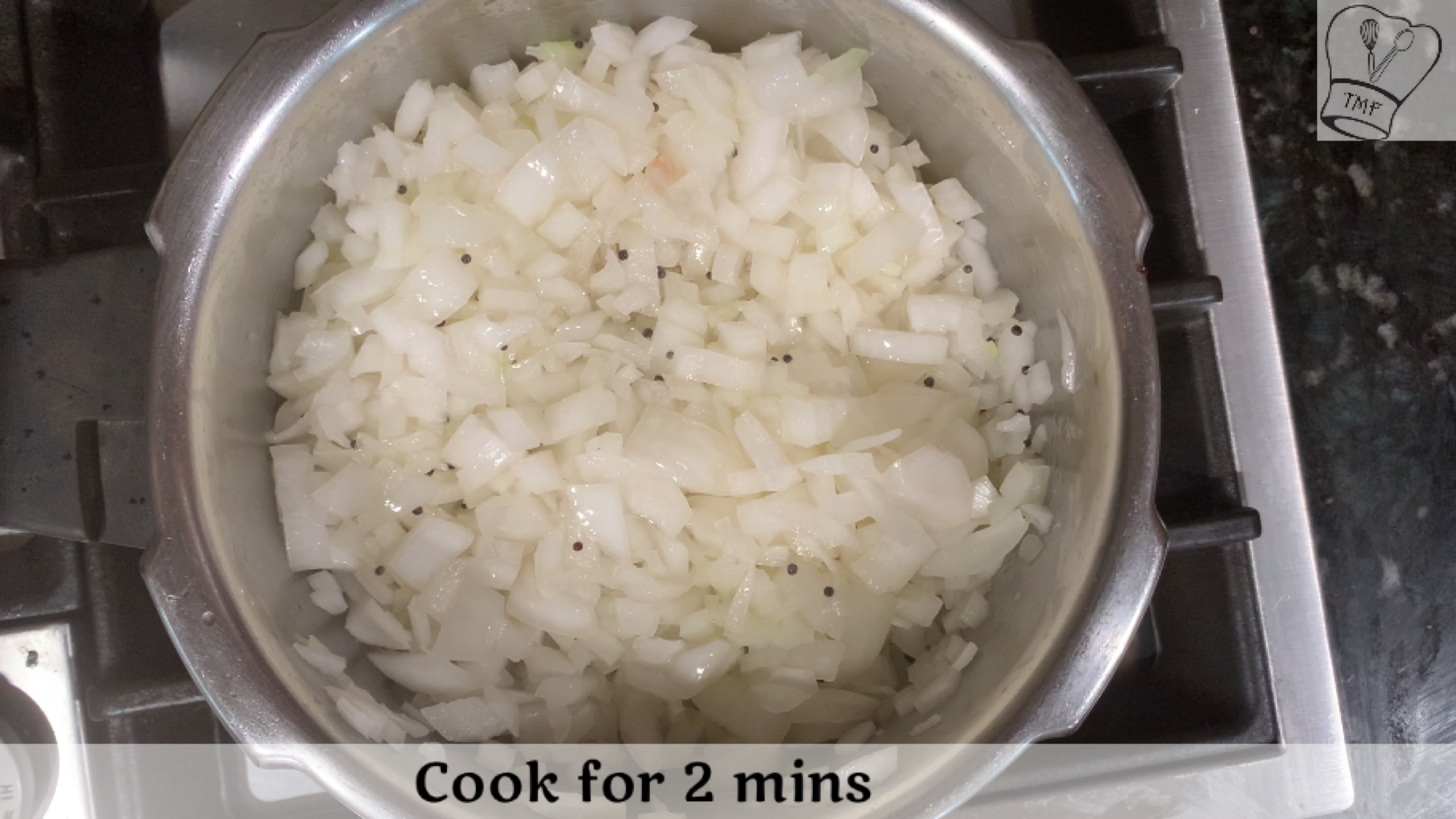 Furthermore, add green chilli and cook for 2 more minutes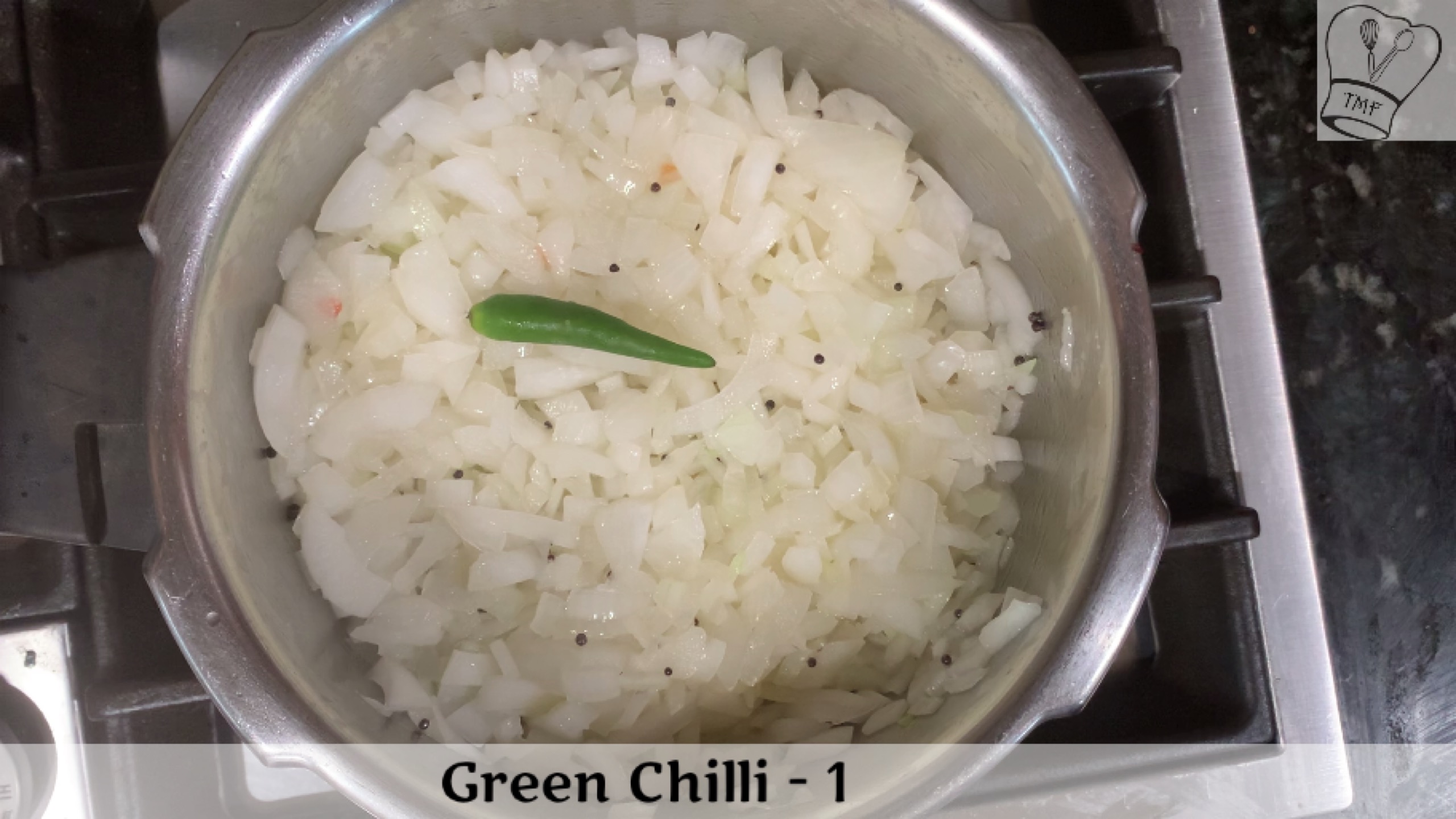 Add red chilli powder, turmeric powder and mix well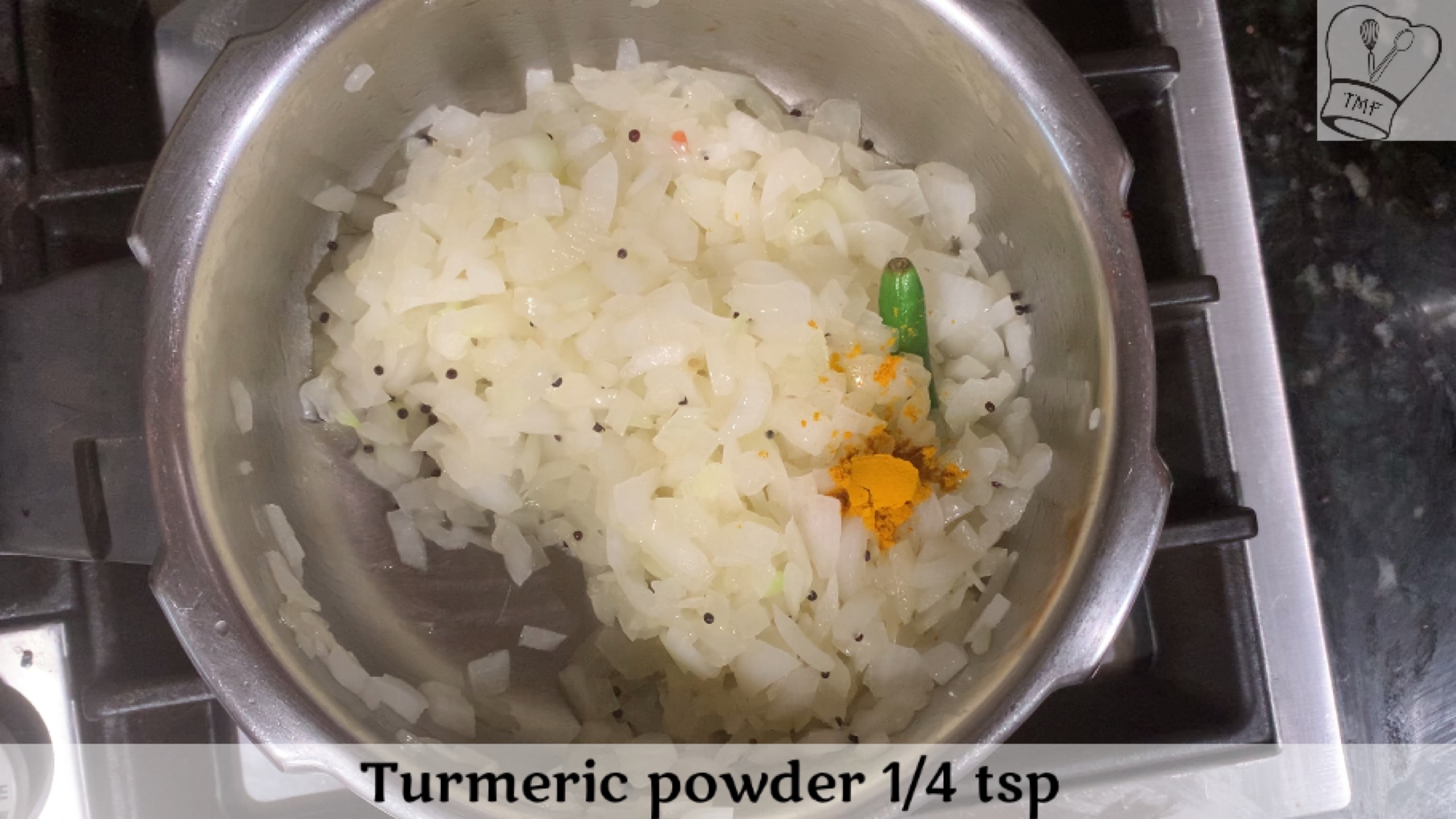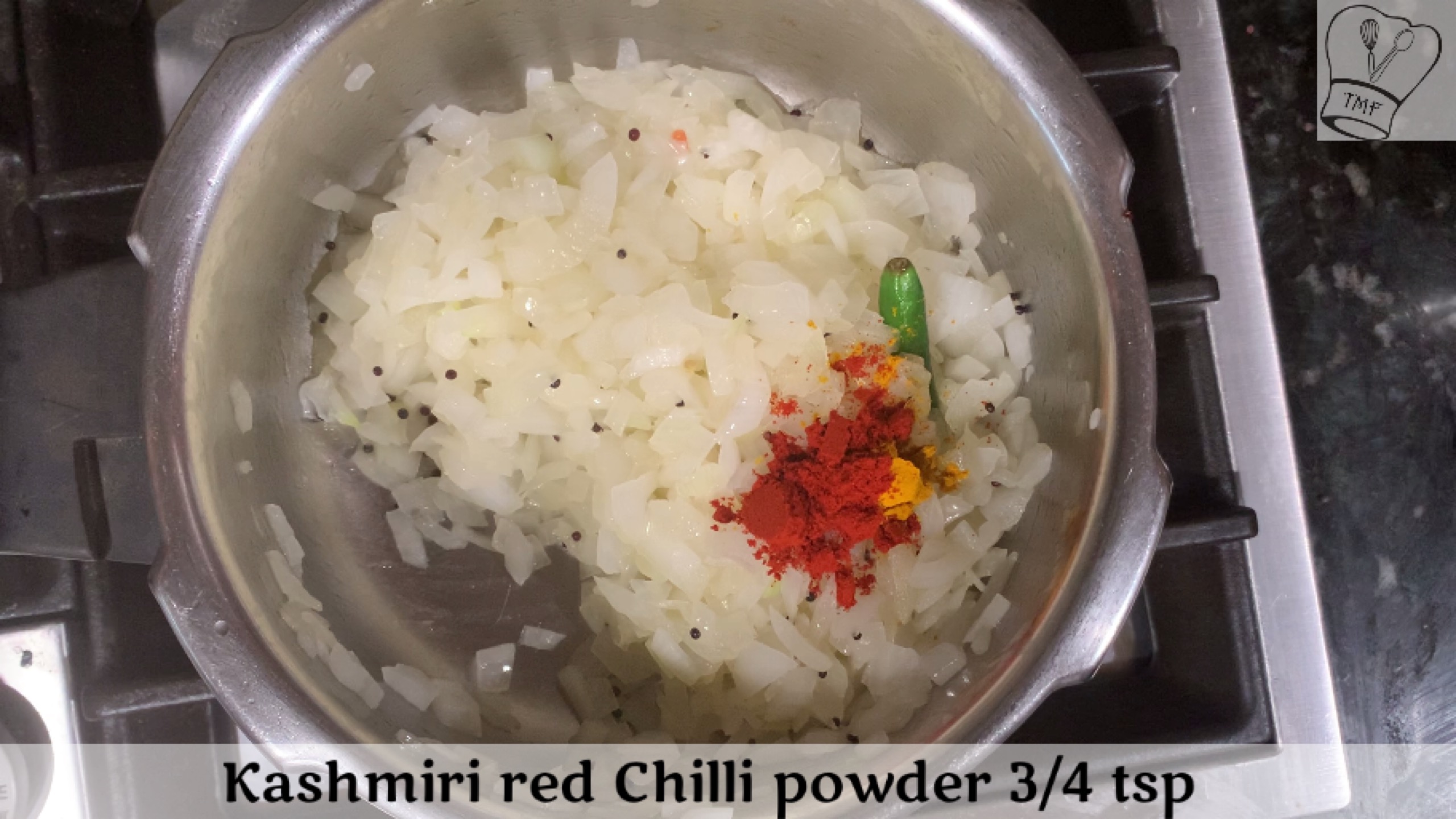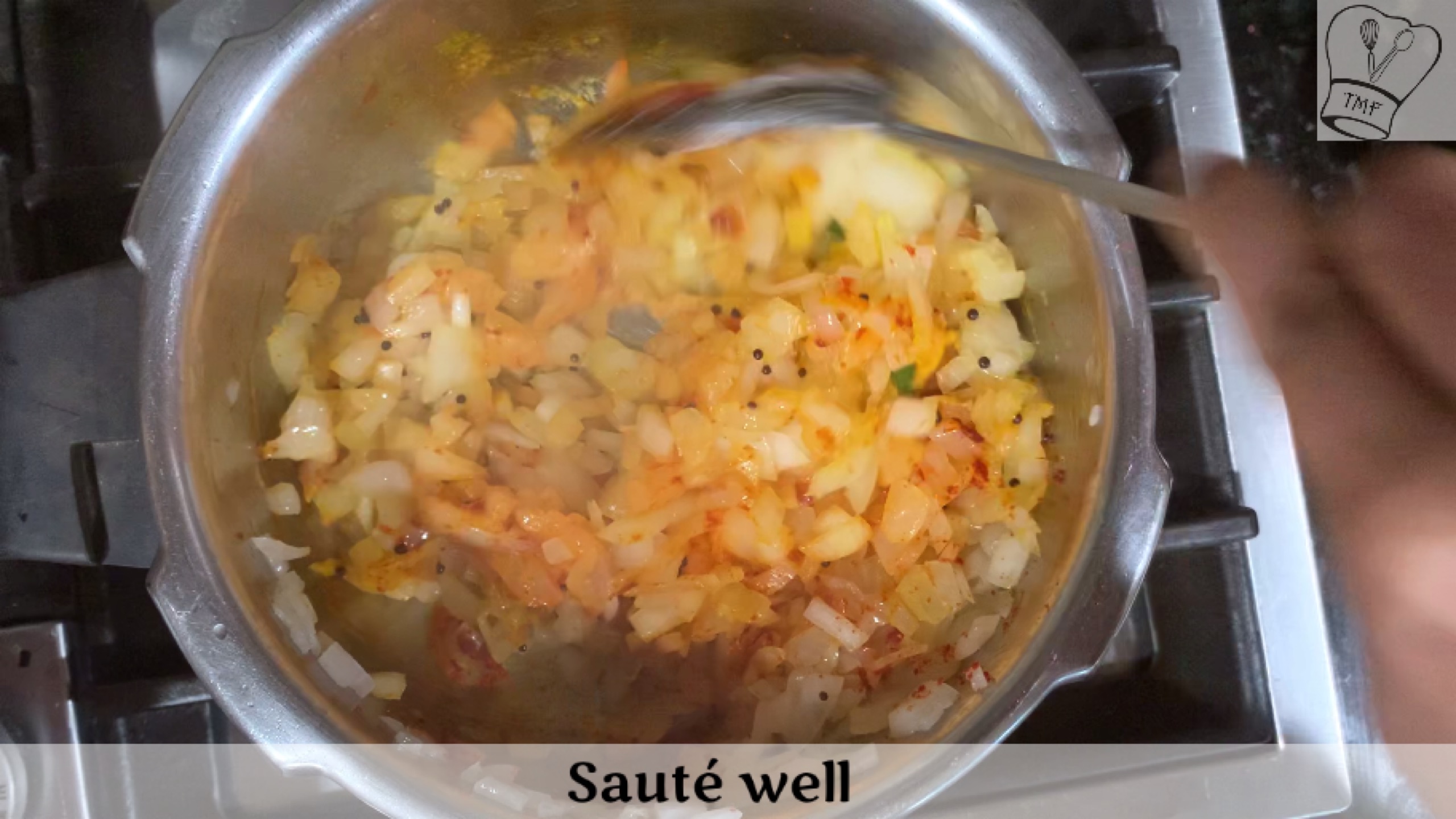 After the spice powder is well mixed. Add tomatoes, salt, and a pinch of sugar and mix well. no need to add water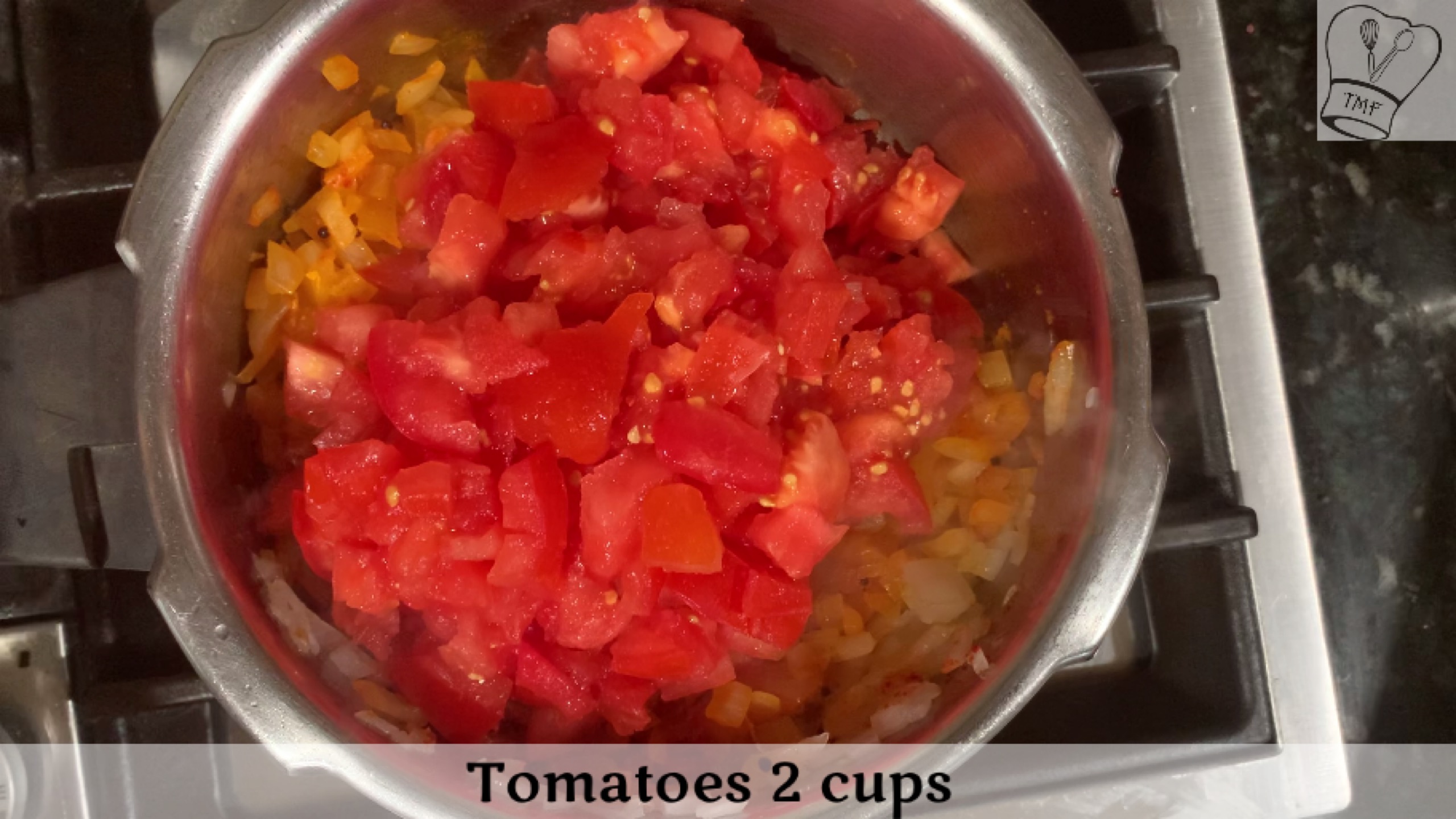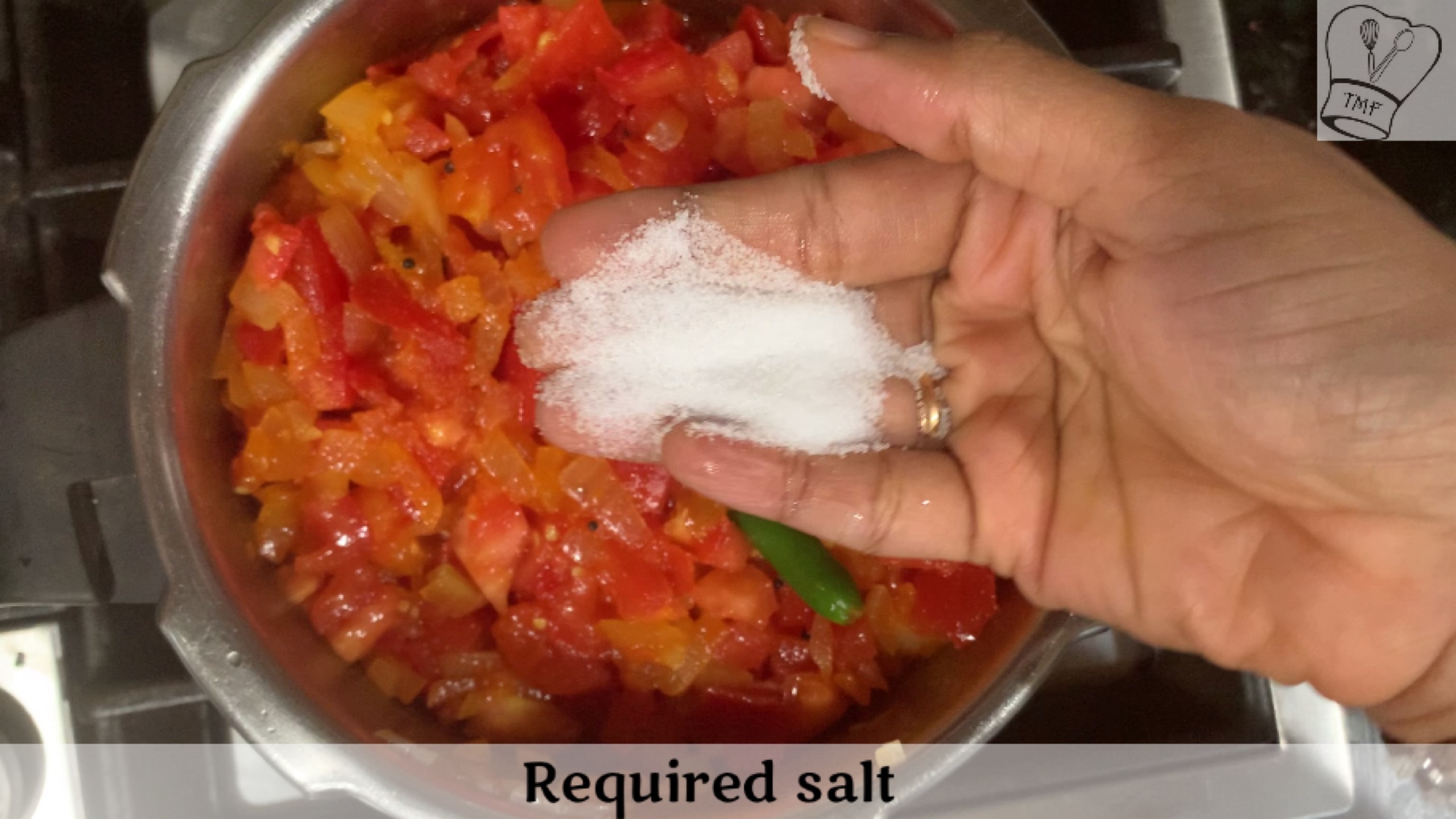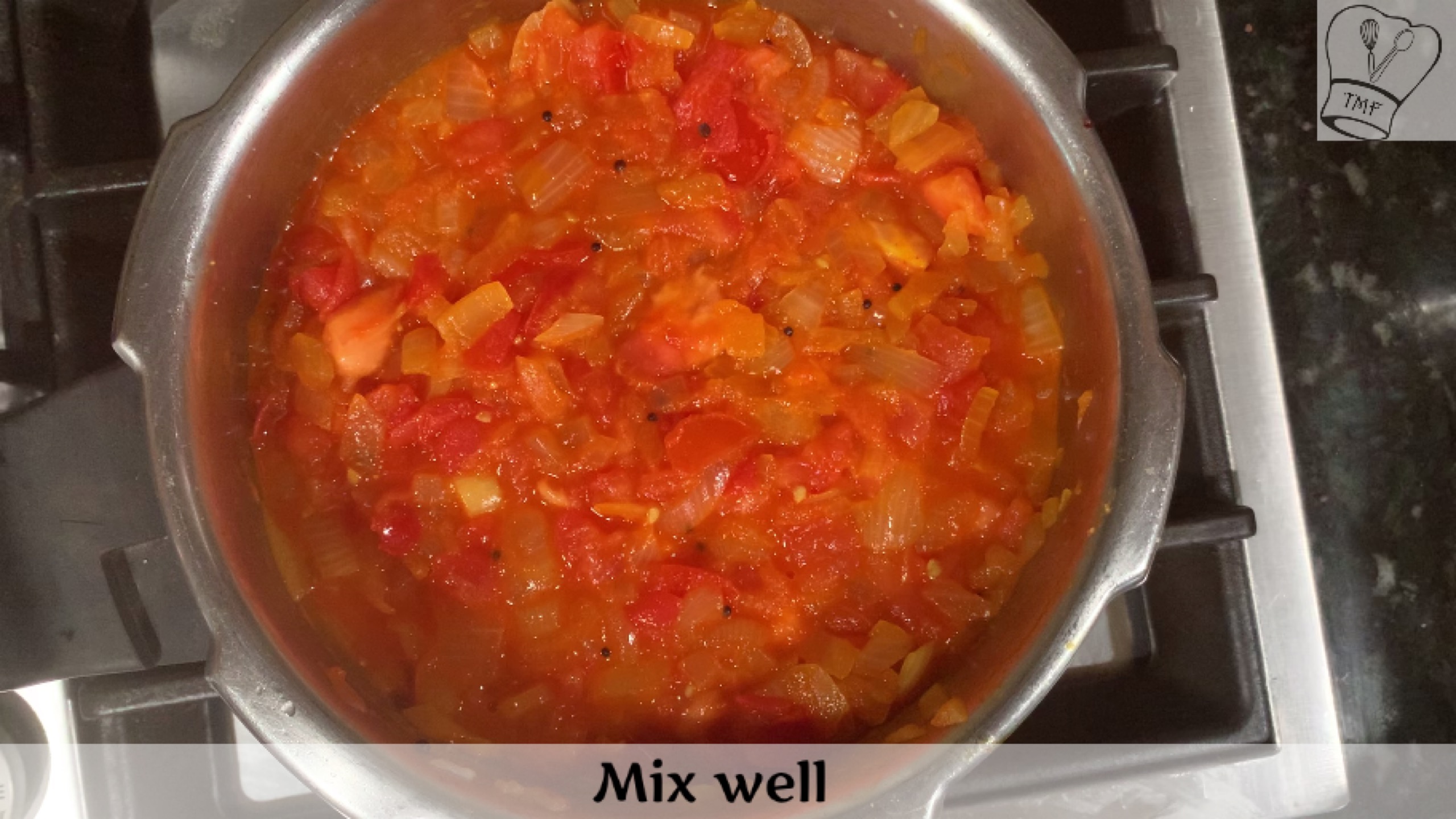 Let the mixture comes to a boil. Mix once and make sure no spice powder is stick to the cooker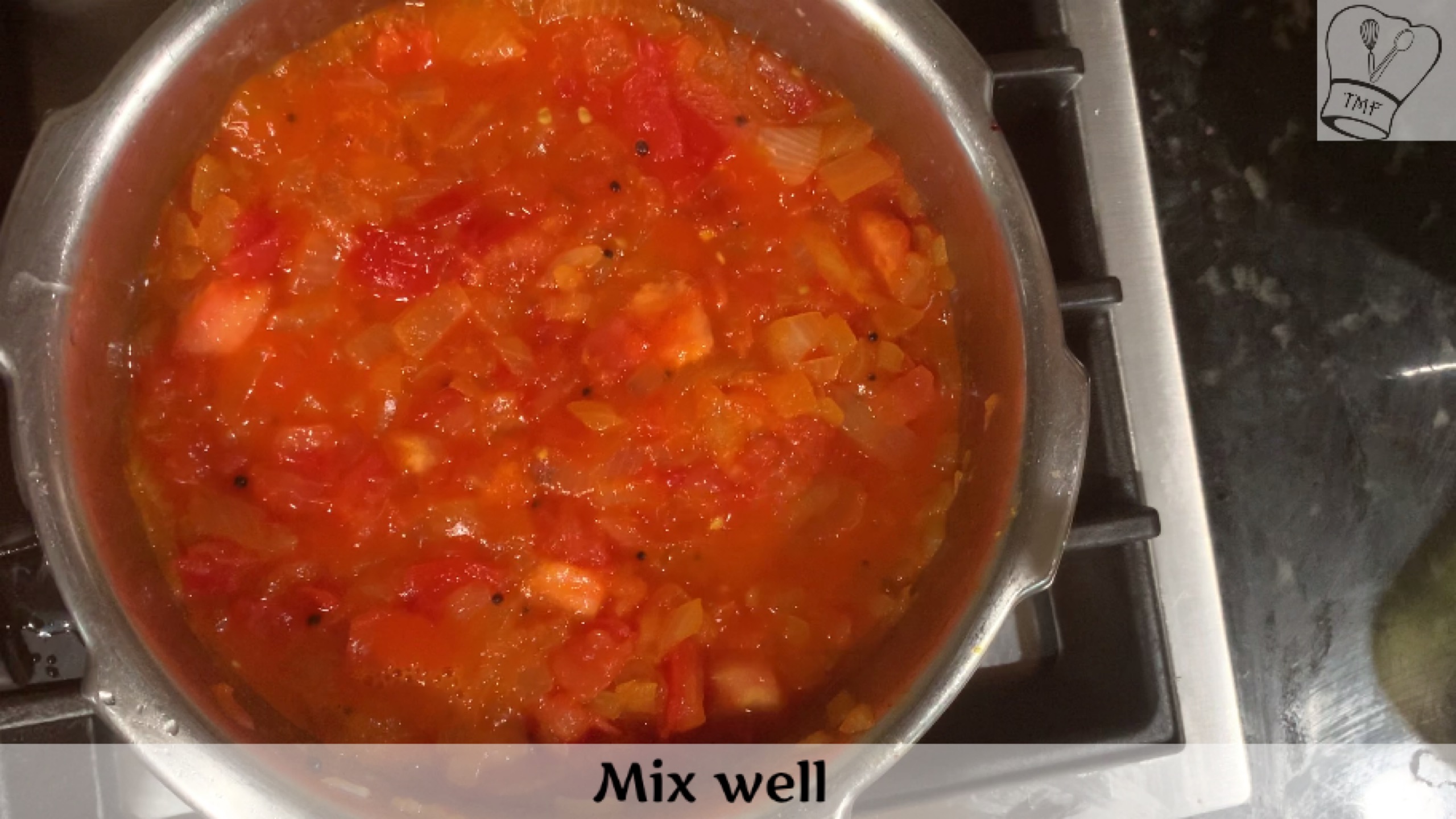 Close the cooker and cook for 20 minutes (23-25 whistles). Once steam releases naturally, open the cooker lid and mix well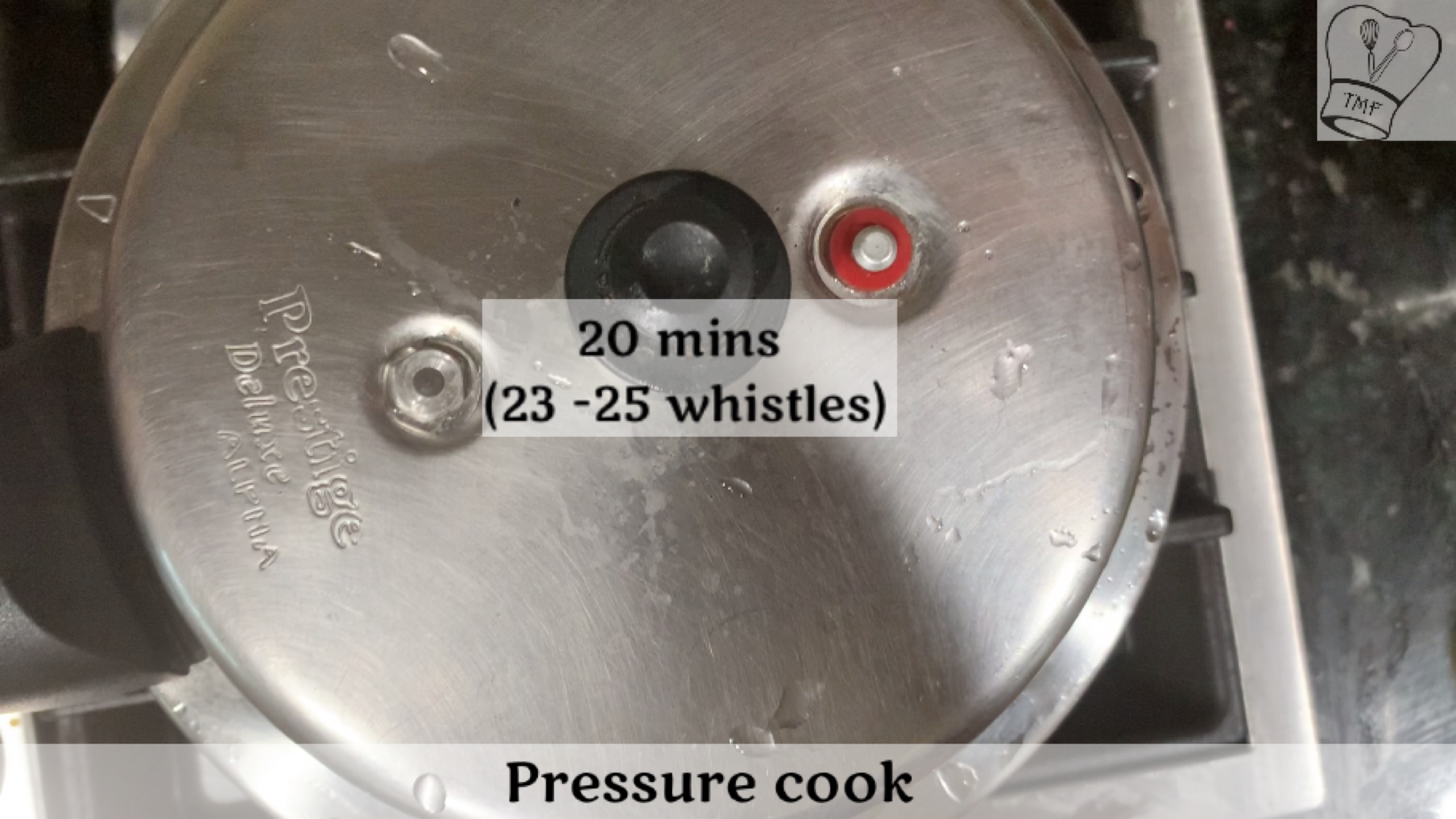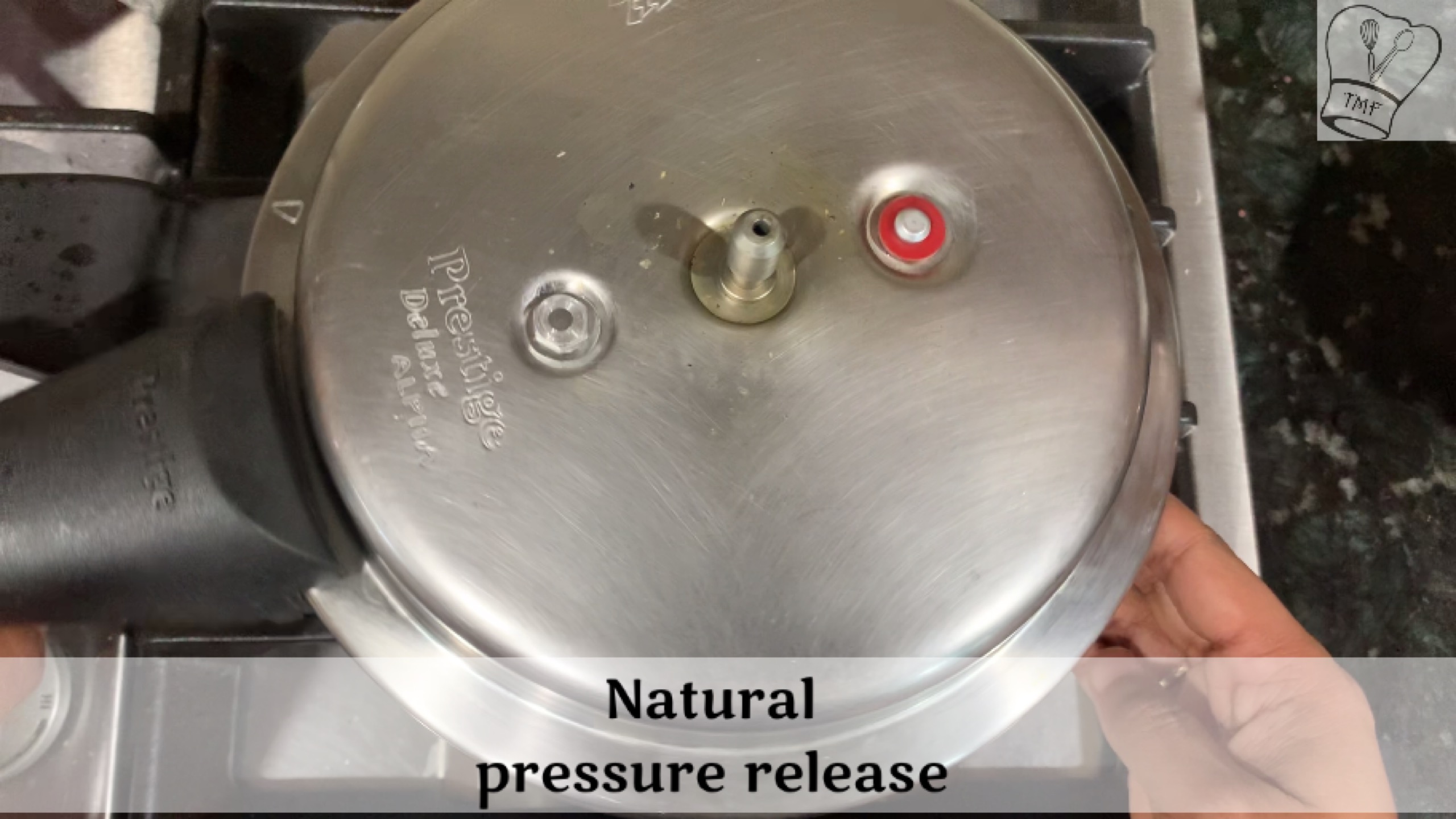 Add besan flour and mix well and cook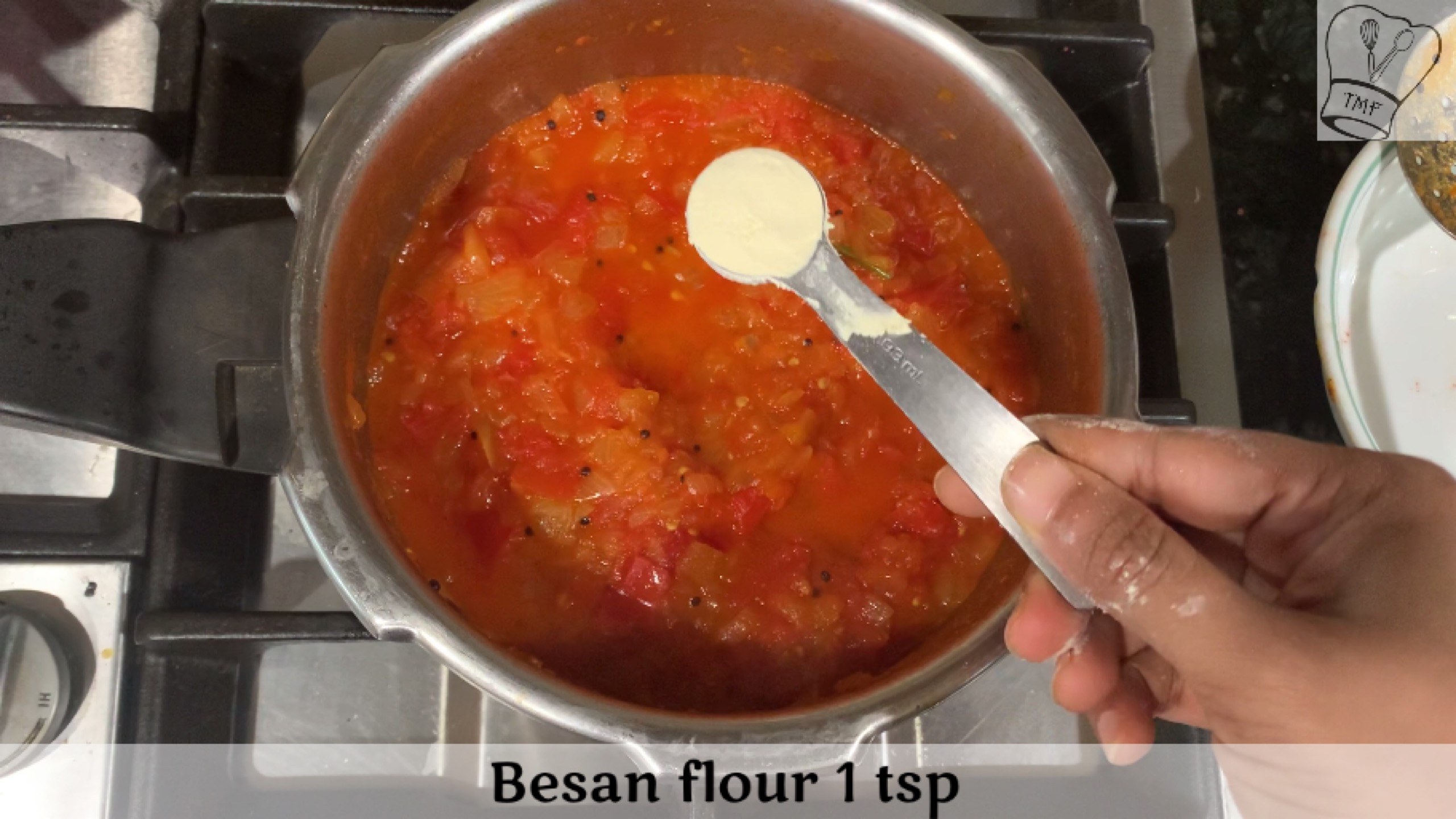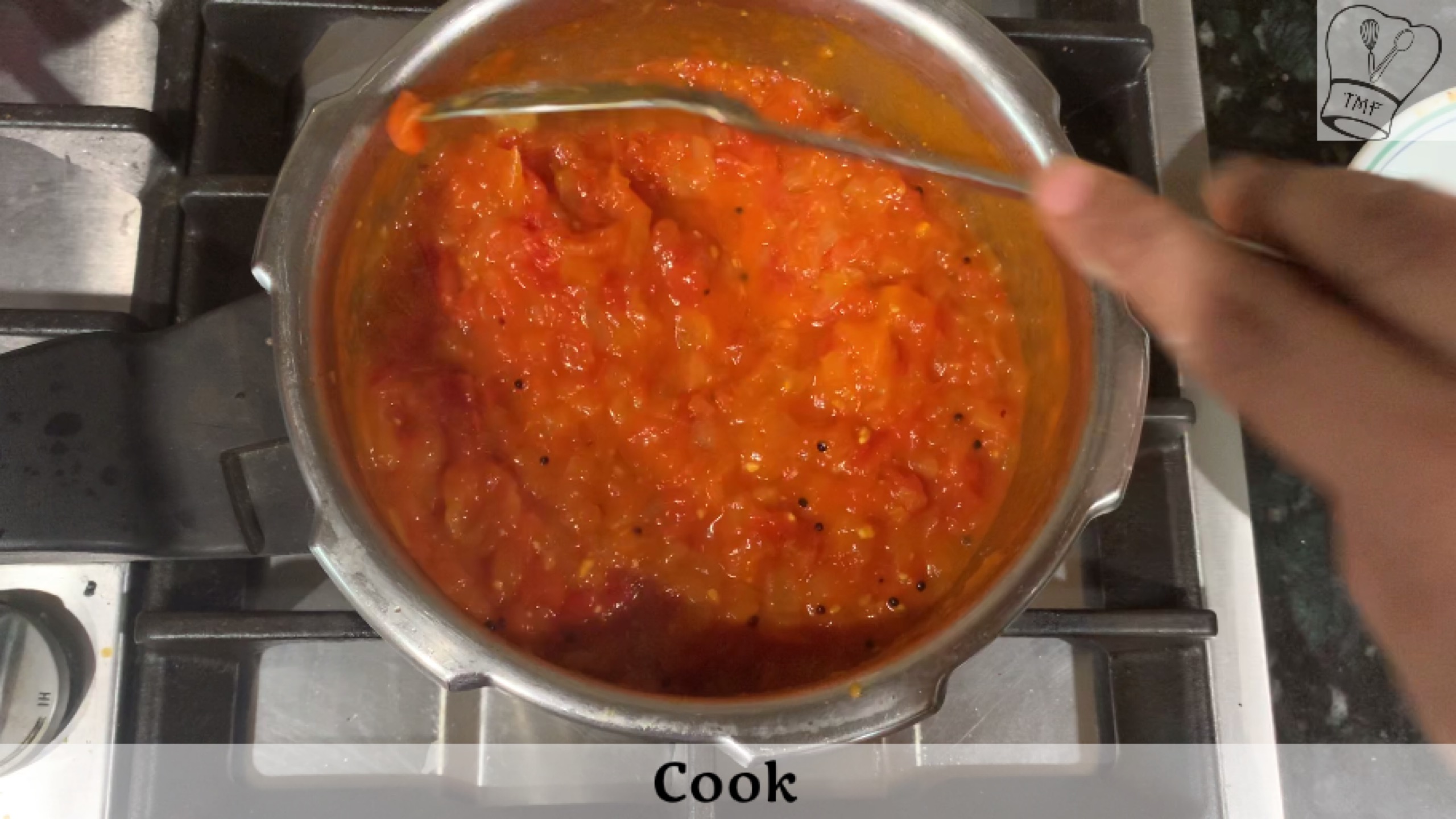 Finally, add coriander leaves and cook till the thokku comes together; switch off and serve with tiffin varieties like idli/ dosai/ chappathi